Cilantro lime brown rice has lots of flavor and is a great side dish for so many main dishes! See how to make ultra fluffy brown rice for this filling and healthy rice recipe.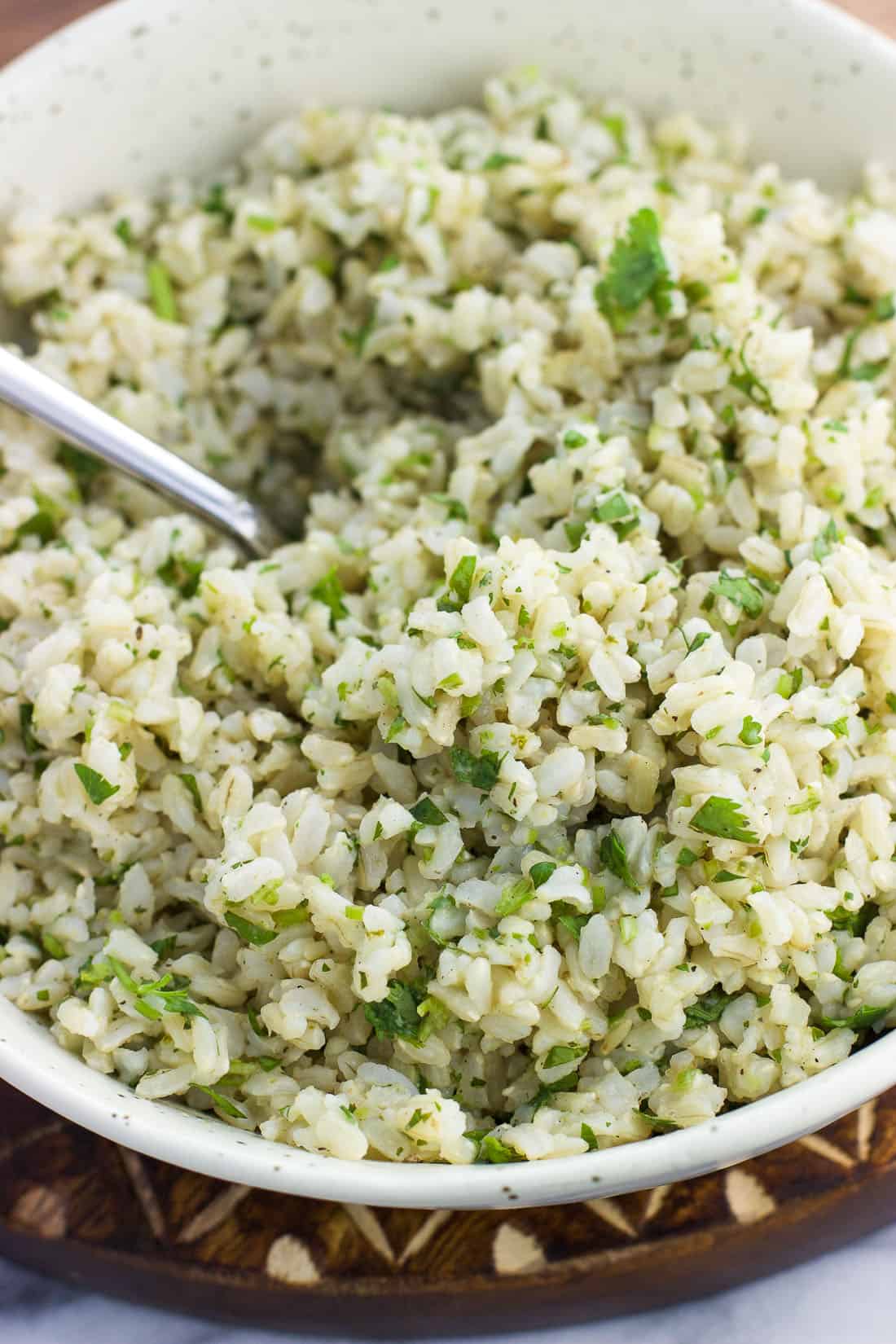 Before I get into the deets of this cilantro lime brown rice, I feel compelled to say that I'm not claiming it to be a copycat of something from a certain fast casual Mexican grill.
The only reason being that I haven't been there in years, so I've long forgotten what their rice tastes like.
But! It's hard to go wrong with cilantro and lime in southwestern style dishes, and a quick glance at said fast casual Mexican grill's website shows a simple lineup of ingredients that mostly match up with what we've got going on here. I'll take it.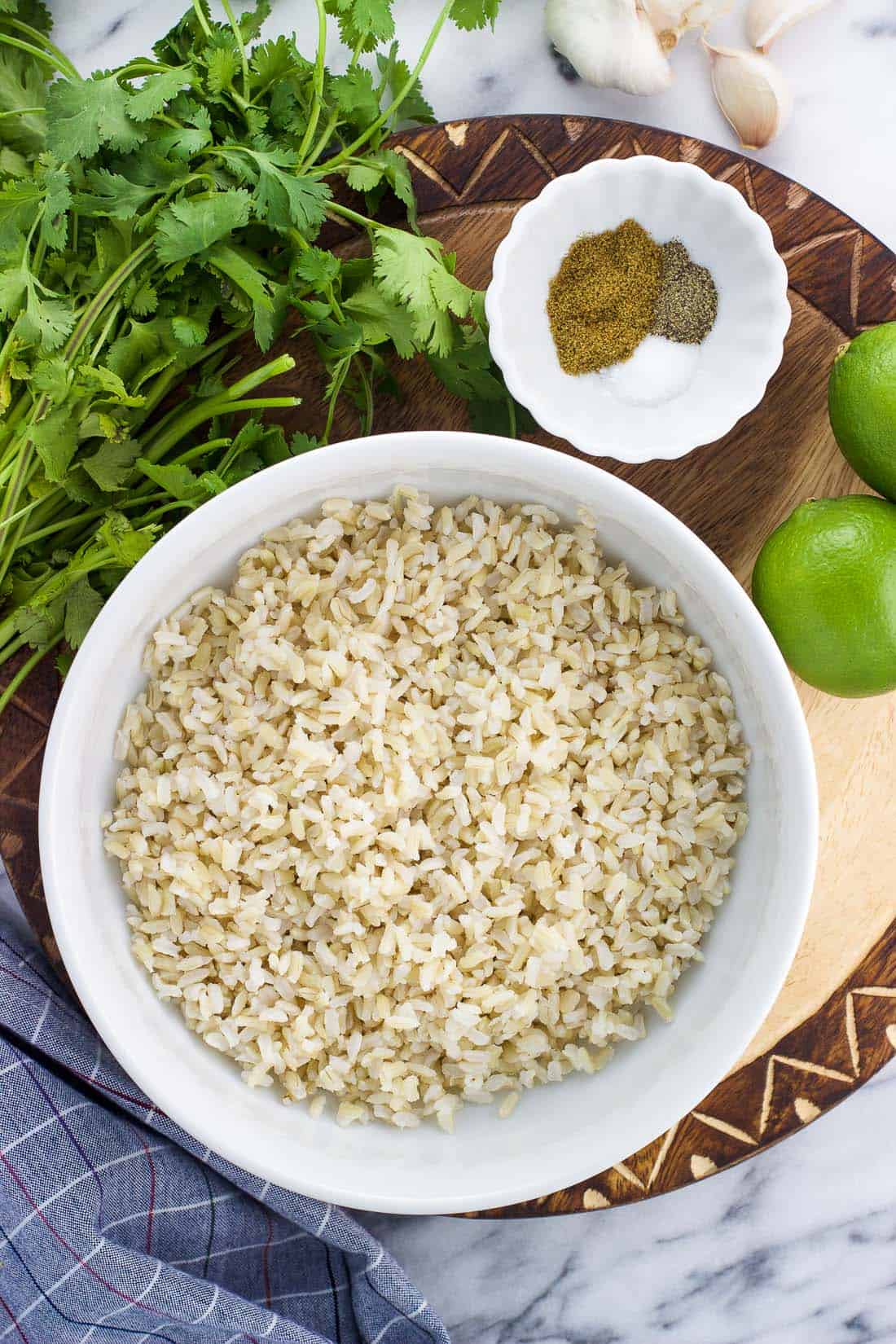 How to cook fluffy brown rice
My go-to/very hands off/semi-lazy way to cook long grain brown rice is in the Instant Pot (method detailed in these creamy chicken and rice soup recipe notes). That way works perfectly for dishes where the rice will be submerged in liquid, as it turns out very chewy and doesn't mush up much over time.
Here though the rice stands alone, and light and fluffy is what we're after. I found this tutorial from Saveur that piqued my interest as it treats the rice like pasta, and it's become my standard brown rice method for rice-centered dishes like this one.
Once the rice is rinsed, it'll boil in a big pot of water for thirty minutes. Just like with pasta you'll drain the water once it's done, and then let the rice sit in the covered pot (off the heat) for ten or so minutes. This allows the rice to steam and become light and fluffy.
Once the rice is cooked, just stir in the rest of the ingredients and your side dish is all ready to go.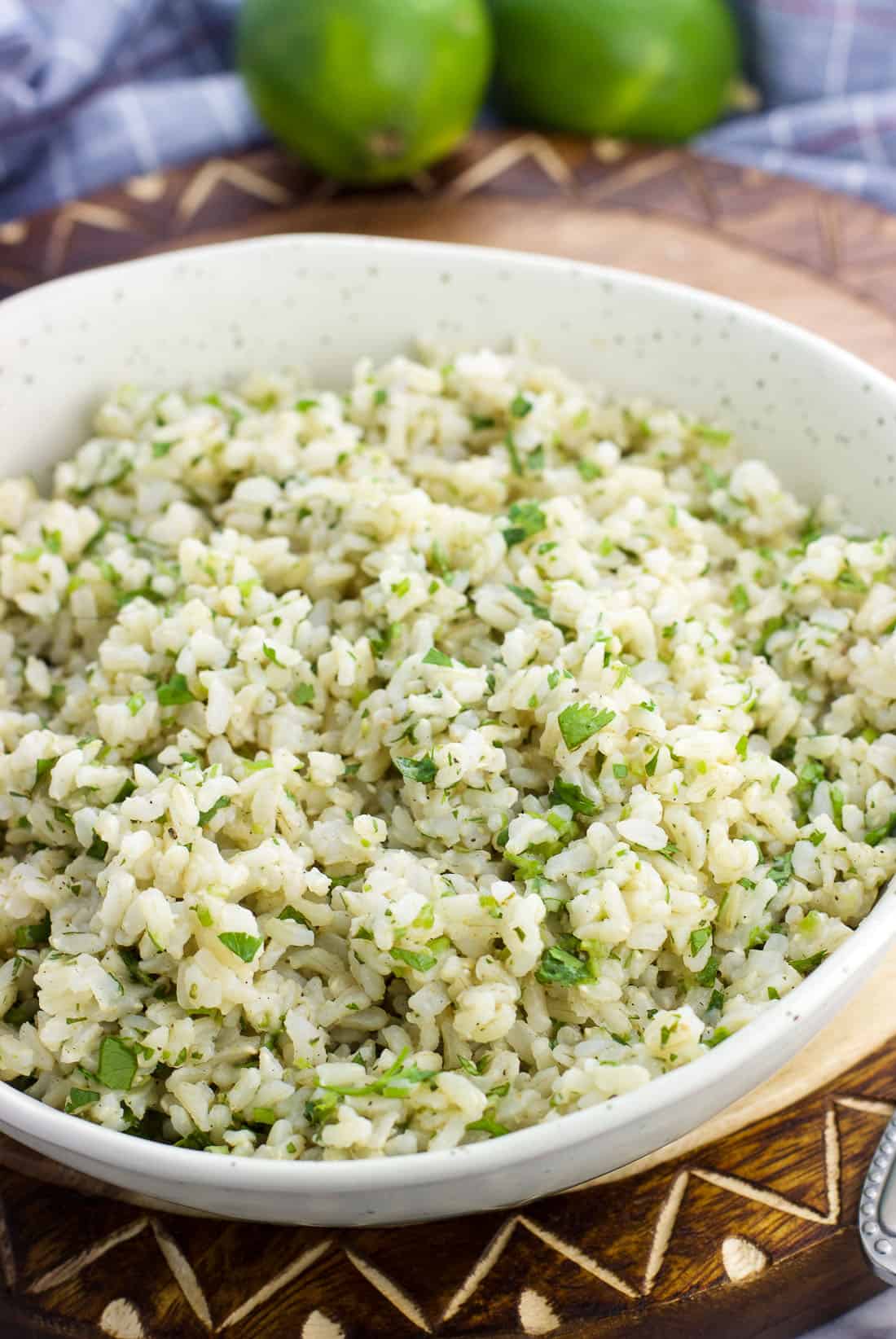 Recipe ingredients
The rest of the ingredients are pretty straight-forward. Lots of fresh lime juice, lime zest, and chopped cilantro (duh to those), garlic, cumin, salt, and pepper. Easy enough.
The one ingredient that might be unexpected is the bay leaf. Now the first couple of times I made this seasoned brown rice I didn't include it, but I noticed it as an ingredient on that restaurant's website and decided to give it a shot. The rice already boils in plenty of water so there wasn't anything to lose.
Bay leaves have a knack for adding a subtle something to a recipe that isn't ever the focus. In fact it's usually really difficult to call it out on its own. A great support ingredient, you know?
It works its magic here. It provides a little oomph that helps bring all the flavors together, so I recommend throwing one in there with the rice. But don't worry if you don't have one or don't feel like using one. It isn't make-or-break, and this rice is still delicious without.
How to reheat rice
While it won't be quite as fluffy as freshly made rice, you can cook the rice ahead of time and heat up before mixing in the rest of the ingredients.
Here's the way I do it: I'll transfer the cooked rice to a microwave-safe dish and add a little bit of water. Think about one tablespoon of water per cup of cooked rice. Then I tightly cover the bowl with plastic wrap. As it heats in spurts the plastic wrap will create a 'steam' atmosphere and refresh the rice.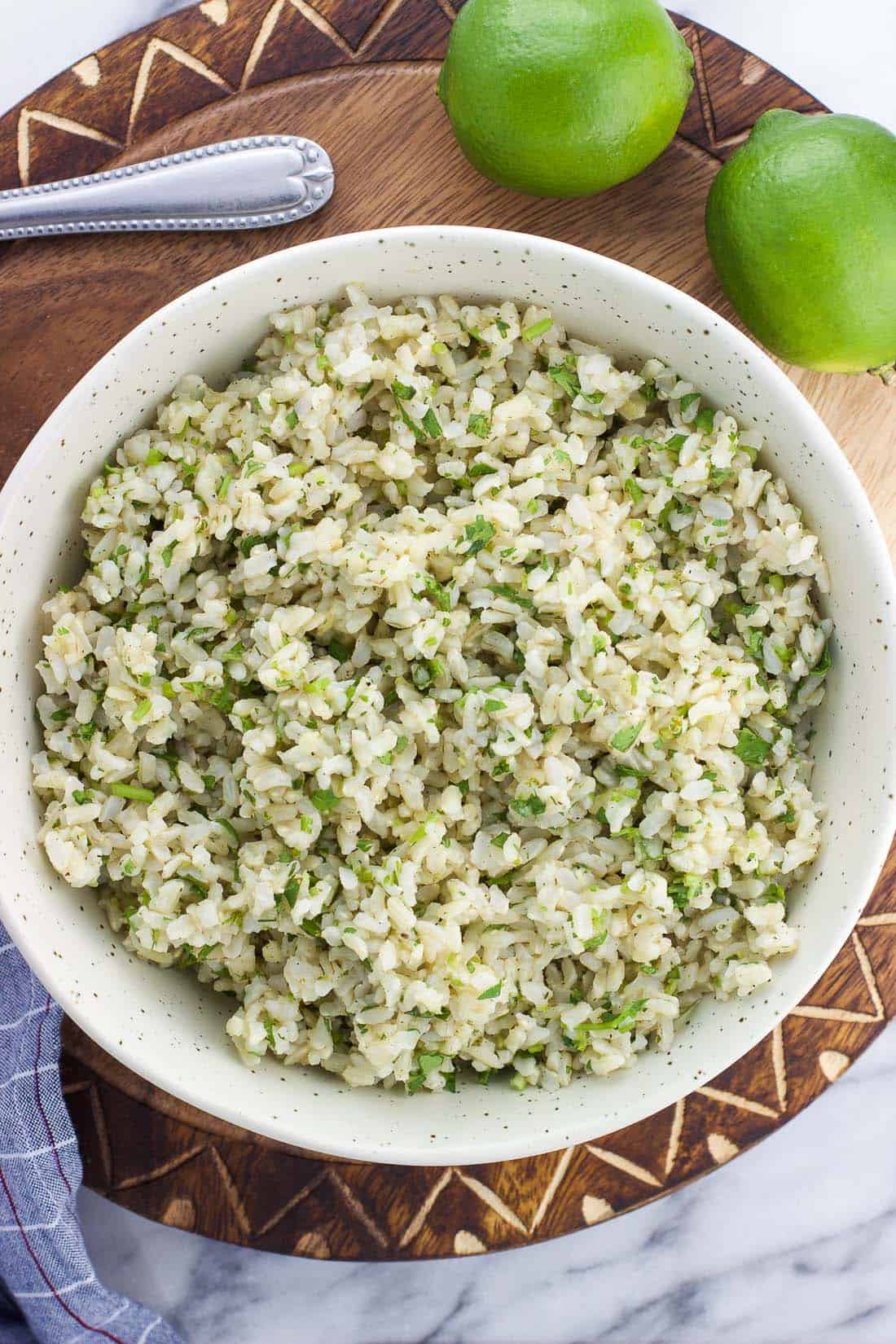 Serving suggestions
This rice is a nutritious addition to many southwestern/Mexican recipes such as tacos. This is my gold-standard homemade taco seasoning recipe, which is what I use every time in making juicy taco meat (with either ground beef or turkey).
Also on the taco front: grilled carne asada tacos would be killer with a scoop of this rice.
One of my favorite ways is to serve a seasoned salmon fillet (like baked chili lime salmon) over this rice, with a big scoop of pico de gallo over top.
Recipe notes
While it is a bit of extra work, treating the rice like pasta as described in the recipe card below really does the trick in producing fluffy long grain brown rice.
You can omit the bay leaf if you prefer.
Adjust the seasonings to your taste. There's a lot of wiggle room when you're adding things at the end.
It goes without saying, but this probably isn't going to be a favorite for cilantro haters out there. One-half cup of chopped cilantro brings a bold flavor. If you're not a super cilantro lover, start at one-quarter or one-third cup and take a taste and see if you'd like to add more.
Cilantro Lime Brown Rice
This brown rice, seasoned with cilantro and lots of lime, has lots of flavor and is a great side dish for so many main dishes! See how to make ultra fluffy brown rice for this filling and healthy rice recipe.
Print
Pin
Rate
Ingredients
1

cup

uncooked brown rice

(about 3 1/2 cups cooked)

1

bay leaf

2

cloves

garlic,

minced

1/2

cup

chopped fresh cilantro,

more or less to taste

1/4

cup

lime juice

(from 2 limes)

1 1/2

tsp

lime zest

(from 1 lime)

3/4

tsp

ground cumin

1/4

tsp

salt

1/4

tsp

ground black pepper
Instructions
To cook the rice:
Fill a large pot with 12 cups of water. Place on the stove over high heat and bring to a boil.

Meanwhile, rinse 1 cup of uncooked brown rice under cold water for at least 30 seconds. Once the water is boiling, add the bay leaf and carefully stir in the rinsed rice.

Let the rice boil for 30 minutes (uncovered), then drain the water. Remove the bay leaf. Add the rice back to the pot off the heat and cover. Let rice "steam" for 10 minutes, then fluff with a fork and continue with the recipe.
To assemble everything:
Add the rest of the ingredients to the pot with the cooked rice and stir to combine. Adjust seasonings to your liking and serve.
Notes
Flavoring: The cilantro flavor is bold! If you like, start with 1/4 or 1/3 cup of chopped cilantro, stir it up, and take a taste before seeing if you'd like to add more.
Nutrition
Serving:
7
(1/2 cup servings)
|
Calories:
103
kcal
|
Carbohydrates:
22.1
g
|
Protein:
2.2
g
|
Fat:
0.8
g
|
Saturated Fat:
0.2
g
|
Sodium:
83
mg
|
Potassium:
97
mg
|
Fiber:
1
g
|
Sugar:
0.2
g
|
Calcium:
10
mg
|
Iron:
0.5
mg
Nutritional information is provided as an estimate. As it can vary due to many factors (brands used, quantities, etc.), we cannot guarantee its accuracy.