This chili lime salmon is glazed in bold, spiced up southwestern flavors and is so simple to make. There's no need for marinating this quick oven baked salmon recipe, which is done in about 30 minutes for a perfect weeknight meal.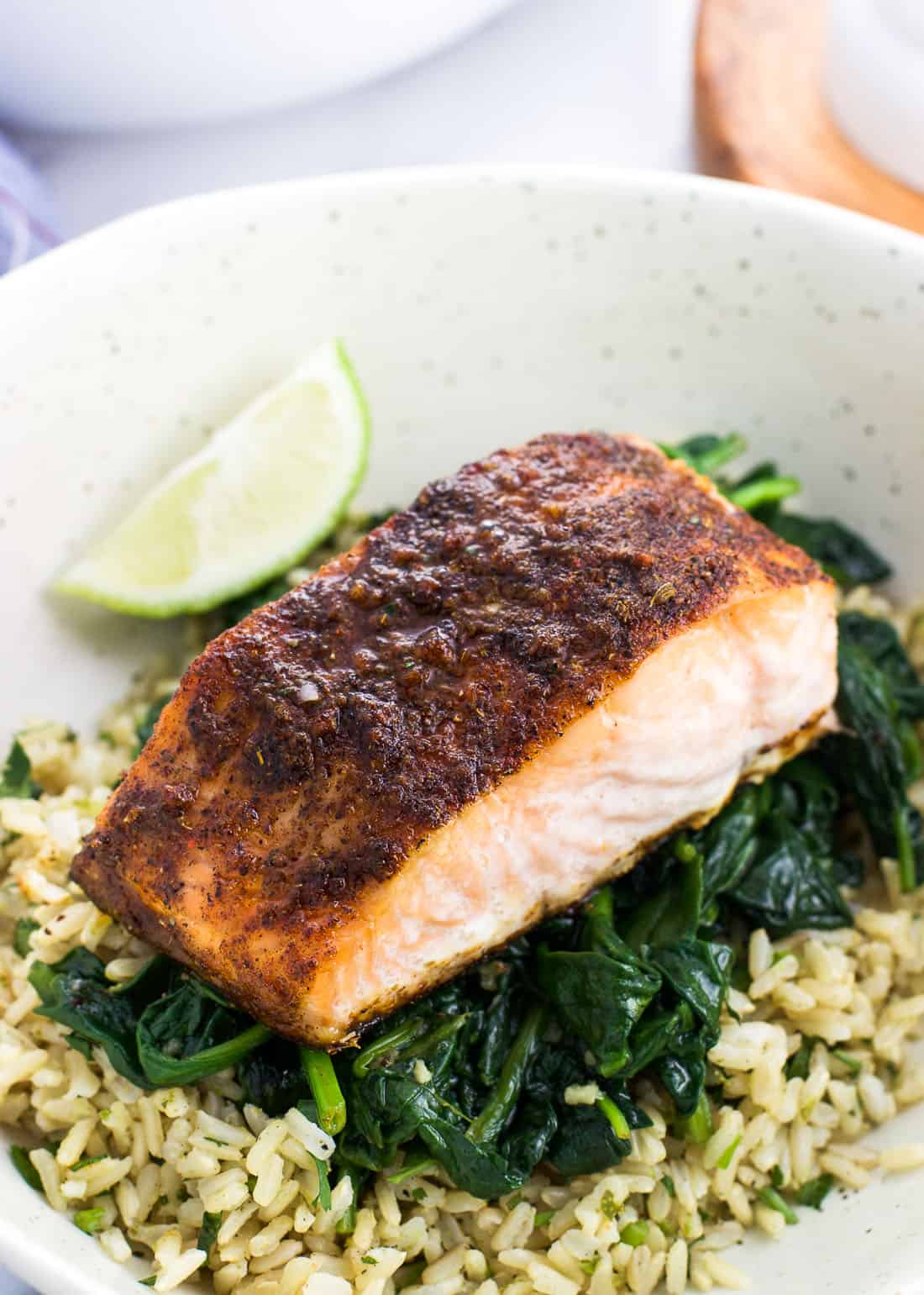 Even though I basically think about food all day (and have a recipe idea list a mile long), I space out on what to make for dinner every now and then. Well, more than 'every now and then' if I'm being honest.
I think too many options leads to analysis paralysis on the meal-deciding front. Kind of like writer's block in the kitchen?
On those days I've taken to calling my mom and asking what they're having for dinner. The perks of growing up in a foodie family means food is a big topic of discussion, and she always gives me the full report of what they're having for dinner today, what they had yesterday, recent ingredients that were on sale at the grocery store, and what they're going to make over the weekend.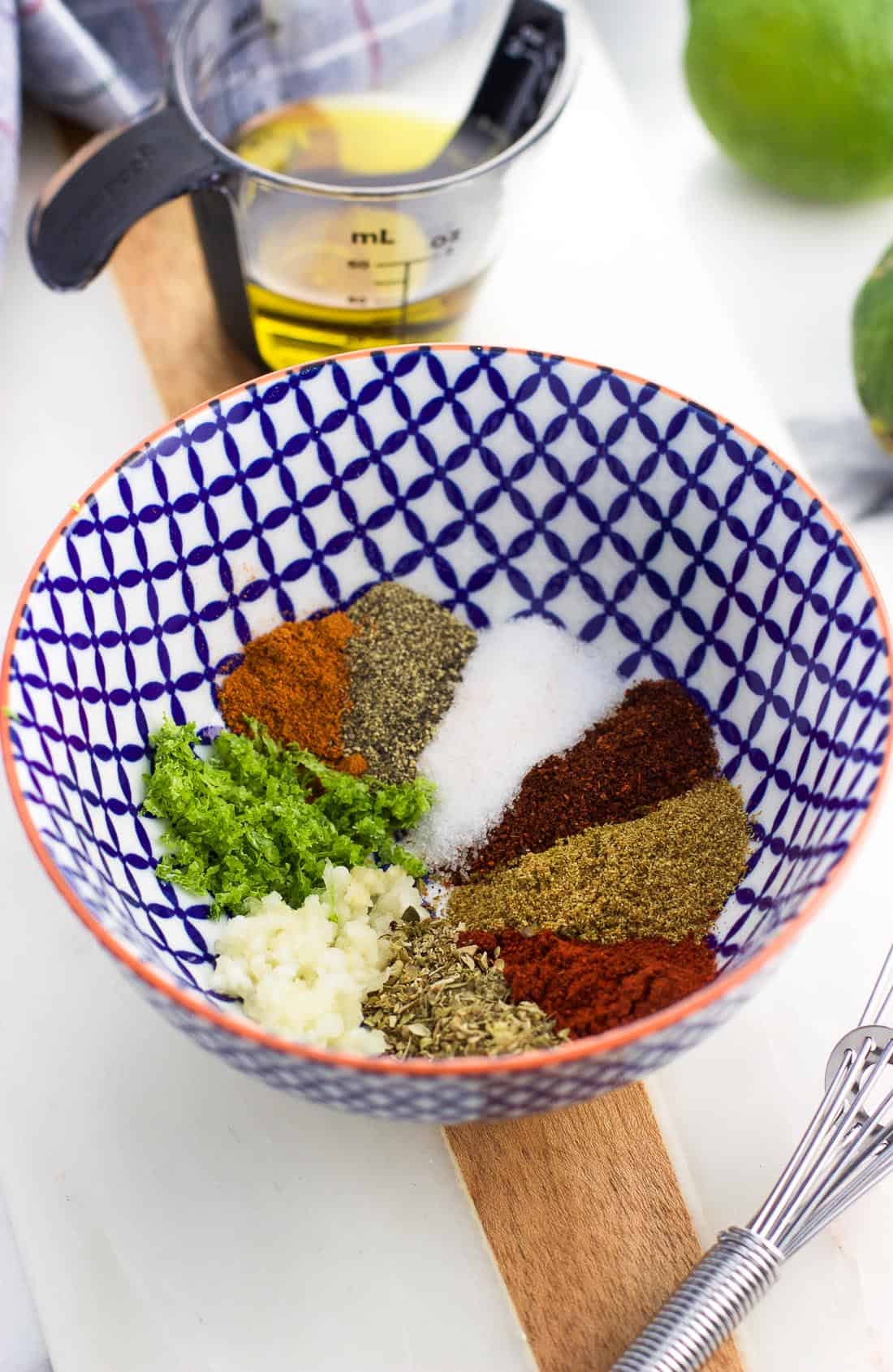 That's how Italian sausage soup with orzo and spinach came to be, and now this baked chili lime salmon.
This quick and easy baked salmon recipe is modeled after a dish my mom orders at a local Mexican restaurant. I haven't had this particular salmon dish myself (yet), but the run-down of flavors sounded so great that I happily started experimenting with them at home.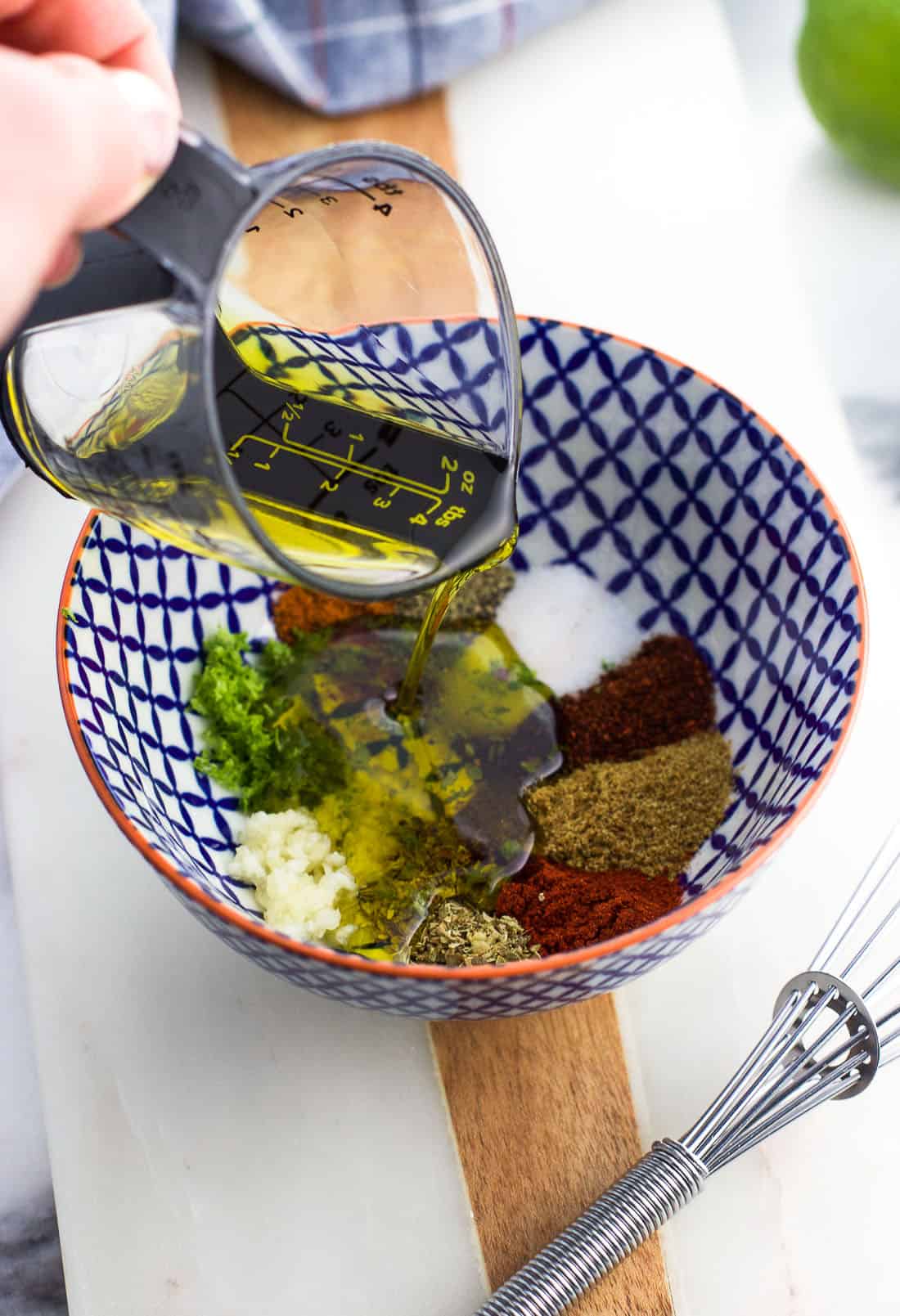 Recipe ingredients
This baked salmon recipe all starts with the seasonings! Cumin, chili powder, and paprika bring a warm southwestern flavor, along with oregano, cayenne, salt, and pepper. One-eighth teaspoon of ground cayenne pepper brings a fairly mild amount of heat if you're concerned about this salmon being too spicy.
Of course you can always add more!
Along with the dry spices goes minced garlic and lime zest, and then a drizzle of olive oil. Whisking everything together will result in a thickened glaze that gets poured over the salmon fillets and then baked.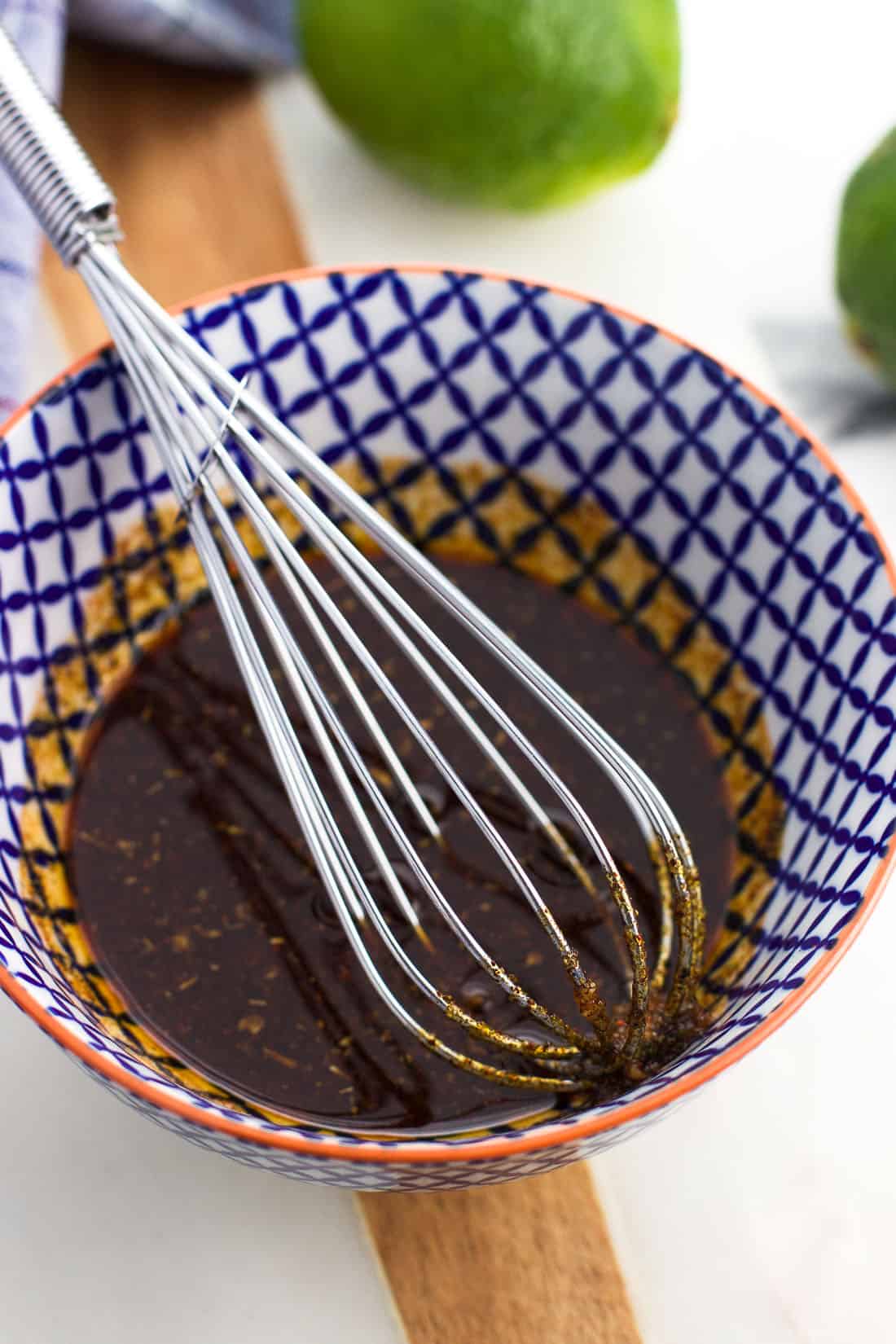 Make sure you brush the mixture over all of the top and side surfaces of the salmon. Thicker/narrower fillets will have a bit more excess that runs off, while thinner/wider cuts of salmon will use up just about all of the spice glaze on the fillets themselves.
In any case there will be some runoff, so using aluminum foil helps make clean-up easier.
Right at the end of the cook time I like to pop the sheet under the broiler and broil for a minute or so, or until the top browns. This chili lime salmon recipe is packed with flavor and stays perfectly moist while being baked.
We like many different cuisines when it comes to salmon preparation (sheet pan horseradish salmon, coconut macadamia crusted salmon, smoked salmon risotto...) but I can't recall making any southwestern-style before playing around with this recipe. I'm happy to report that husband and I both deemed it worthy of being on our regular rotation.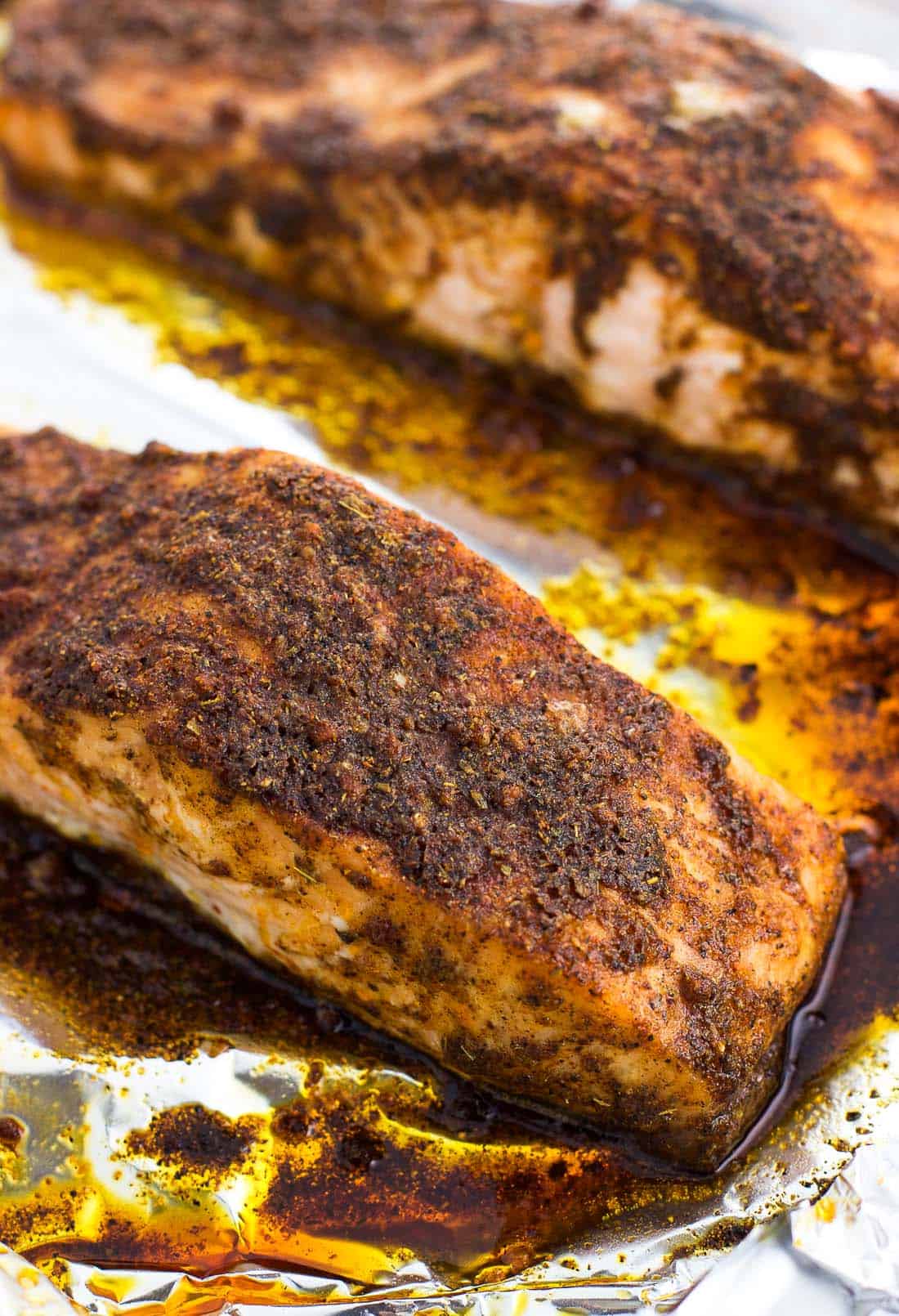 How long to bake salmon in the oven
It's hard to give a narrow range of cook time needed for salmon fillets given how much they vary in thickness. The rule of thumb I follow when baking salmon in the oven at 400°F is to cook it for six minutes for every half-inch of thickness.
I usually find fillets between 1 - 1-½" thick, so somewhere between 12-18 minutes (or a little more) is for how long I cook salmon. Per the USDA, salmon should reach 145°F at the center of its thickest part, and when done it will be opaque and should flake easily for you with a fork.
If you're buying multiple fillets at the store, ask that they all be of a similar thickness, if possible, to make things easier for you come time to cook.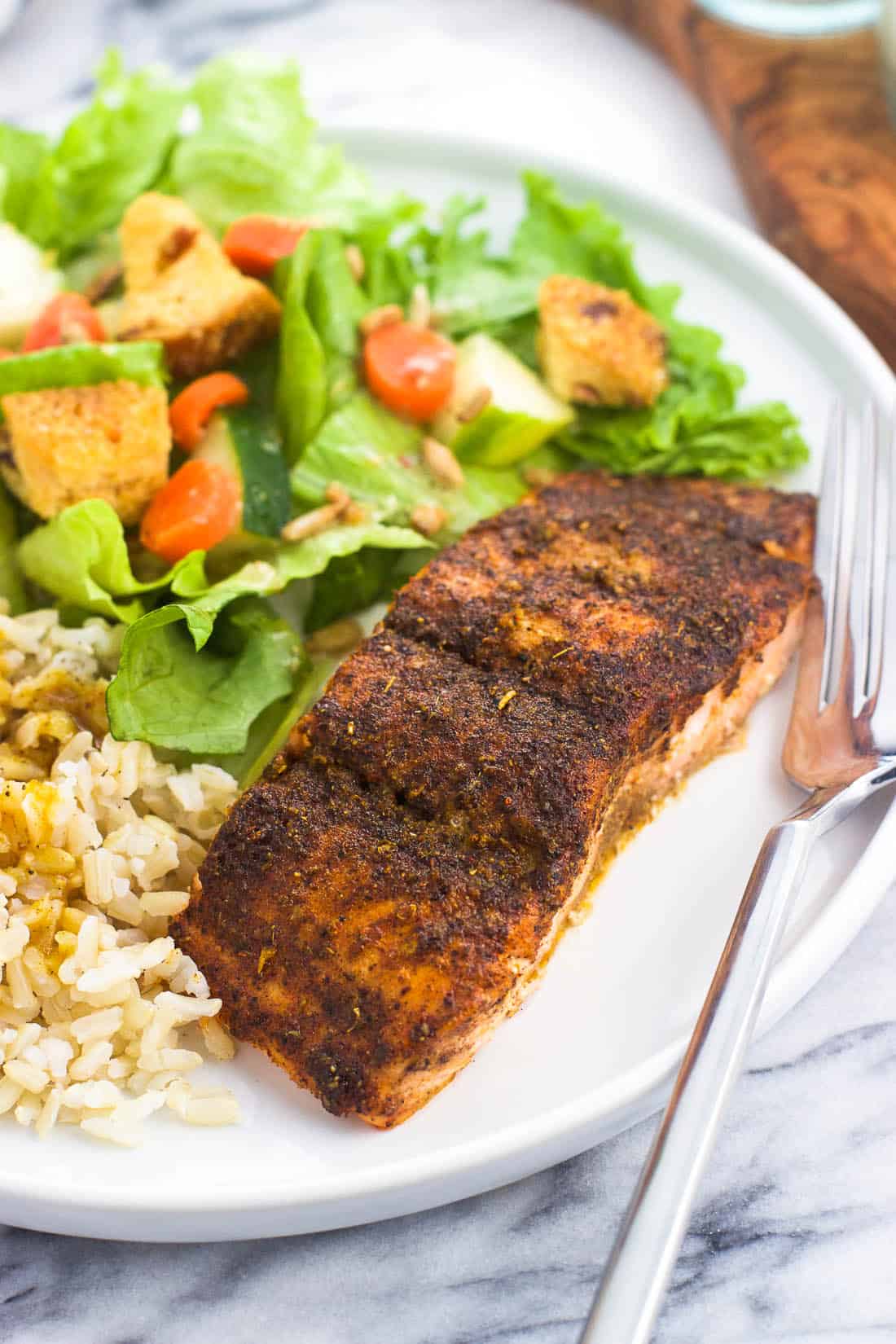 Serving suggestions
If you're a keen observer you may have noticed serving pictures from two different meals in this post. My menu planning indecisiveness seems to be carrying over to selecting pictures, too. We've enjoyed this baked salmon several ways so far with great success!
Serving it over fluffy cilantro lime brown rice brings a ton of complementary flavor and works to form a nutritious and filling meal. On this occasion I sauteed fresh spinach with olive oil and lots of pressed garlic to serve alongside and loved it.
It's also great as the protein in any variety of southwestern-inspired salads, like a taco salad. This is how I like to eat leftover portions. I usually don't even reheat it, just slice it up cold.
No matter how you serve it, a squeeze of fresh lime juice is a great touch.
Recipe notes
When choosing salmon fillets, try and get ones that are as close in thickness as you can so they cook in the same amount of time.
As written this recipe isn't overly spicy from the cayenne. Add more if you know you like things hot.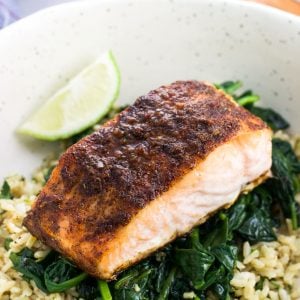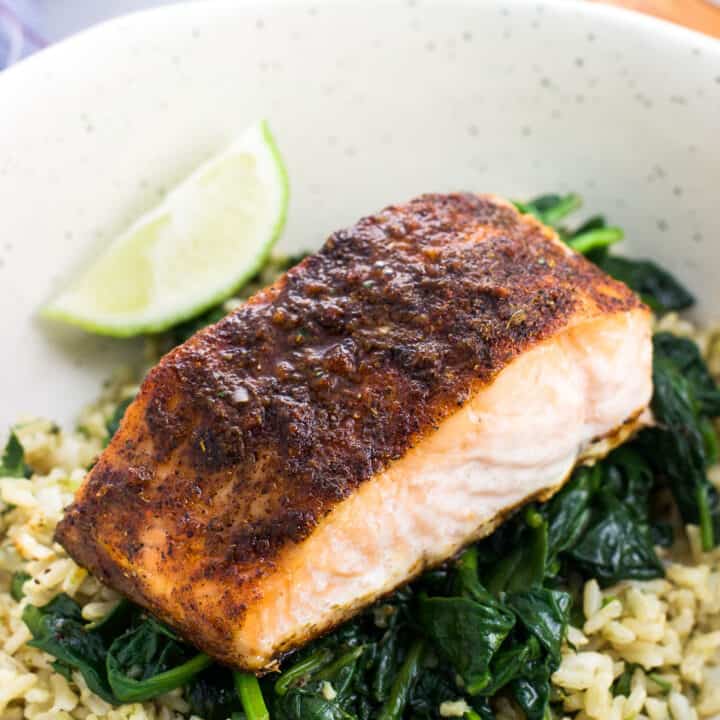 Baked Chili Lime Salmon
This chili lime salmon is glazed in bold, spiced up southwestern flavors and is so simple to make. There's no need for marinating this quick oven baked salmon recipe, which is done in about 30 minutes for a perfect weeknight meal.
Print
Pin
Rate
Ingredients
1

lb

salmon fillets

2

cloves

garlic,

minced

1

teaspoon

lime zest

1

teaspoon

cumin

¾

teaspoon

chili powder

¾

teaspoon

paprika

½

teaspoon

salt

½

teaspoon

ground black pepper

¼

teaspoon

dried oregano

⅛

teaspoon

ground cayenne pepper

2

tablespoon

olive oil
Instructions
Preheat oven to 400°F and line a rimmed baking sheet with aluminum foil. Spray the foil with cooking spray so the skin won't stick. Place salmon fillets skin-side down on the foil.

Add minced garlic, lime zest, cumin, chili powder, paprika, salt, black pepper, oregano, and cayenne pepper to a small bowl. Stir to combine evenly.

Pour olive oil into the bowl and stir everything up. Pour over each of the salmon fillets, coating the tops and sides. Bake about 6 minutes per every half-inch of thickness, so 12 minutes for a 1"-thick fillet, 18 for 1 ½"-thick, etc.

Near the end of the cook time, switch the oven to broil and broil the salmon for a minute or two until the top browns. Salmon is fully cooked when it's opaque, the center of the thickest part reaches 145°F, and it can flake easily with a fork. Recommended: serve with lime wedges to squeeze over top.
Nutrition
Serving:
4
oz
|
Calories:
299
kcal
|
Protein:
23.9
g
|
Fat:
20.1
g
|
Saturated Fat:
4.3
g
|
Cholesterol:
50
mg
|
Sodium:
516
mg
|
Potassium:
447
mg
Nutritional information is provided as an estimate. As it can vary due to many factors (brands used, quantities, etc.), we cannot guarantee its accuracy.
Food Safety and Nutrition Disclaimer