Instant Pot collard greens are a Southern-inspired side dish made much quicker in an electric pressure cooker. These Southern greens have a ton of flavor from bacon and ham, and you'll want to drizzle the cooking liquid on everything!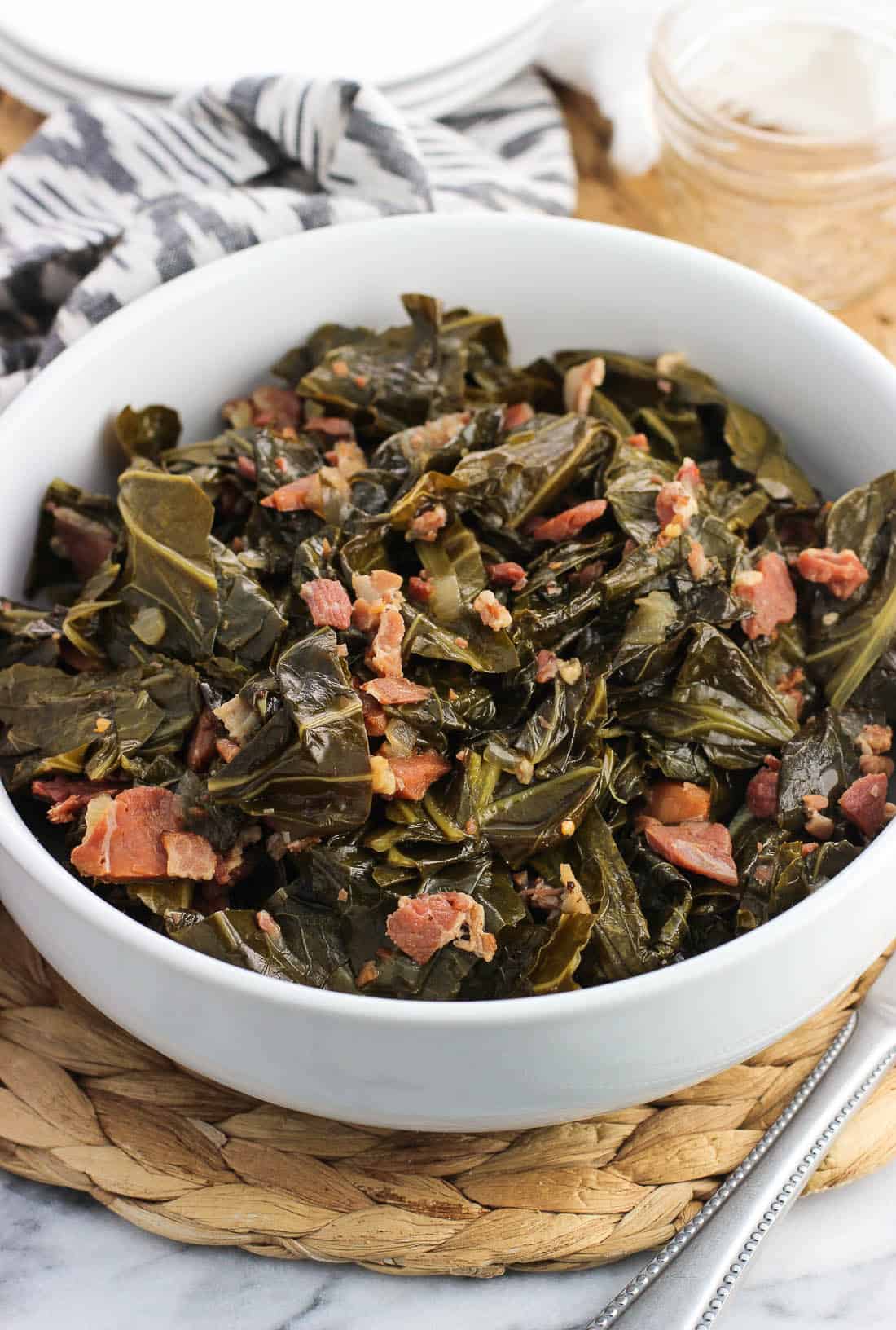 Now I don't like to keep secrets from you, but I've been playing with an Instant Pot for awhile now behind the blog scenes. I'm not an 'early adopter' by nature, so it took months of seeing Instant Pot recipe after Instant Pot recipe on social media before I worked up the courage to dive on in myself.
After studying the user manual and the work process flow chart (not super helpful) and watching a few YouTube set-up tutorials (much more helpful!), I crossed my fingers and pressure cooked for the first time ever.
Succ-ess. Remind me again what I was nervous about? Though it obviously didn't come as a surprise, I was still wowed at how quickly a big chuck roast became perfectly shreddable. Just an hour of cooking time! While my slow cooker is definitely not going anywhere, the same chuck roast I use in this slow cooker shredded beef takes eight-ish hours on high heat in the slow cooker. Hello, time saver Instant Pot.
Saving the day when you forget to start cooking dinner at breakfast and still want to eat dinner that night. 🙂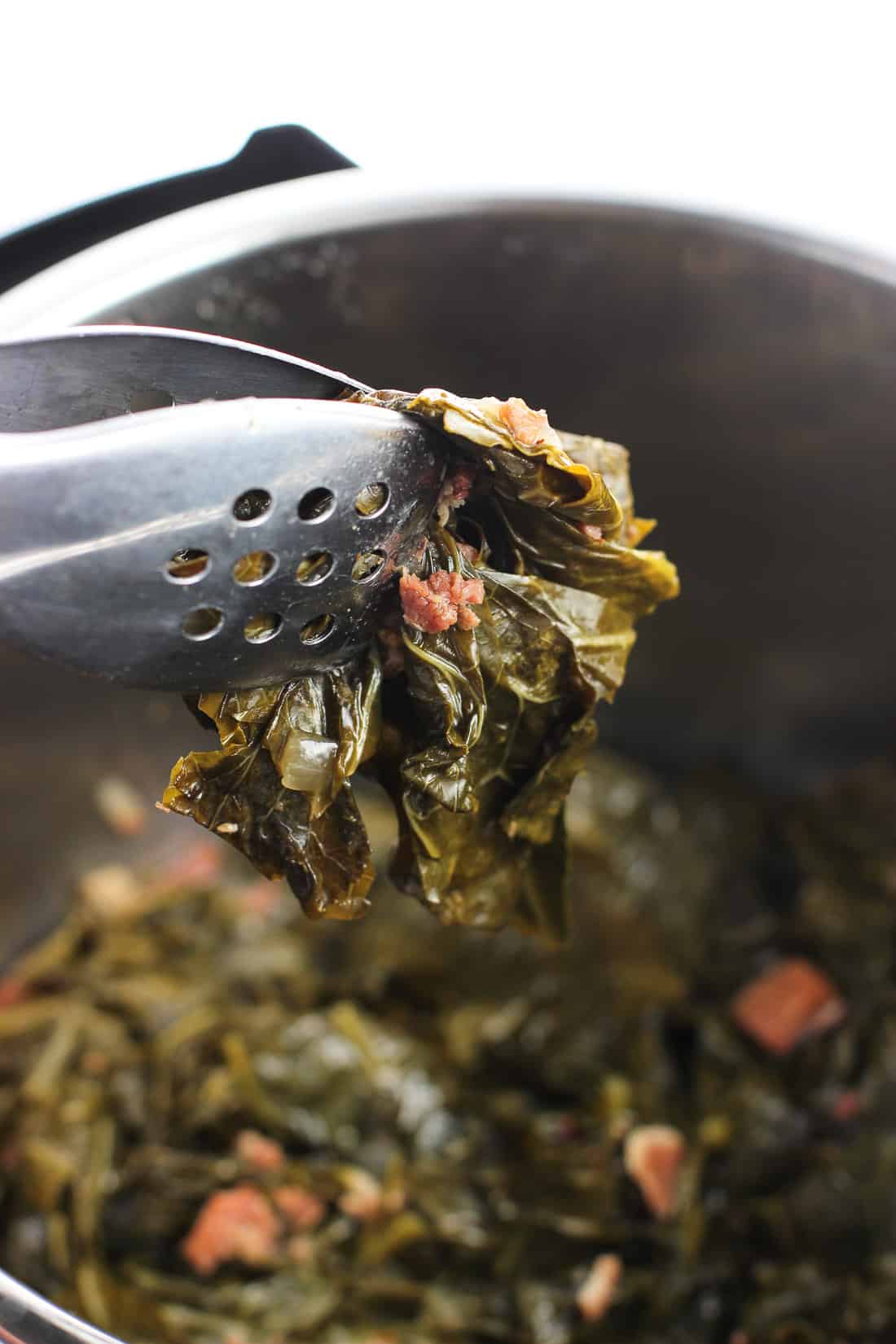 With this idea in mind, I wanted to see about adapting other longer cooking favorites, starting with this Southern Instant Pot collard greens.
Now I'm probably taking advantage of how prevalent Southern greens are on the menu at restaurants all over Nashville and Asheville (another city we visit frequently). I certainly didn't eat them when I lived up north or out west. But they're my favorite side dish to order alongside hot chicken, BBQ, or any other Southern-inspired dish.
Tender collard or turnip greens are cooked with a bit of meat, sometimes bacon and/or country ham (more on country ham later), in an AMAZING savory cooking liquid. This cooking liquid is called 'pot liquor', which sounds intimidating but is actually a combination of water/broth, apple cider vinegar, brown sugar, and spices.
I'm willing to bet that even the leafy green vegetable haters in your life wouldn't be able to pass up these Southern Instant Pot collard greens.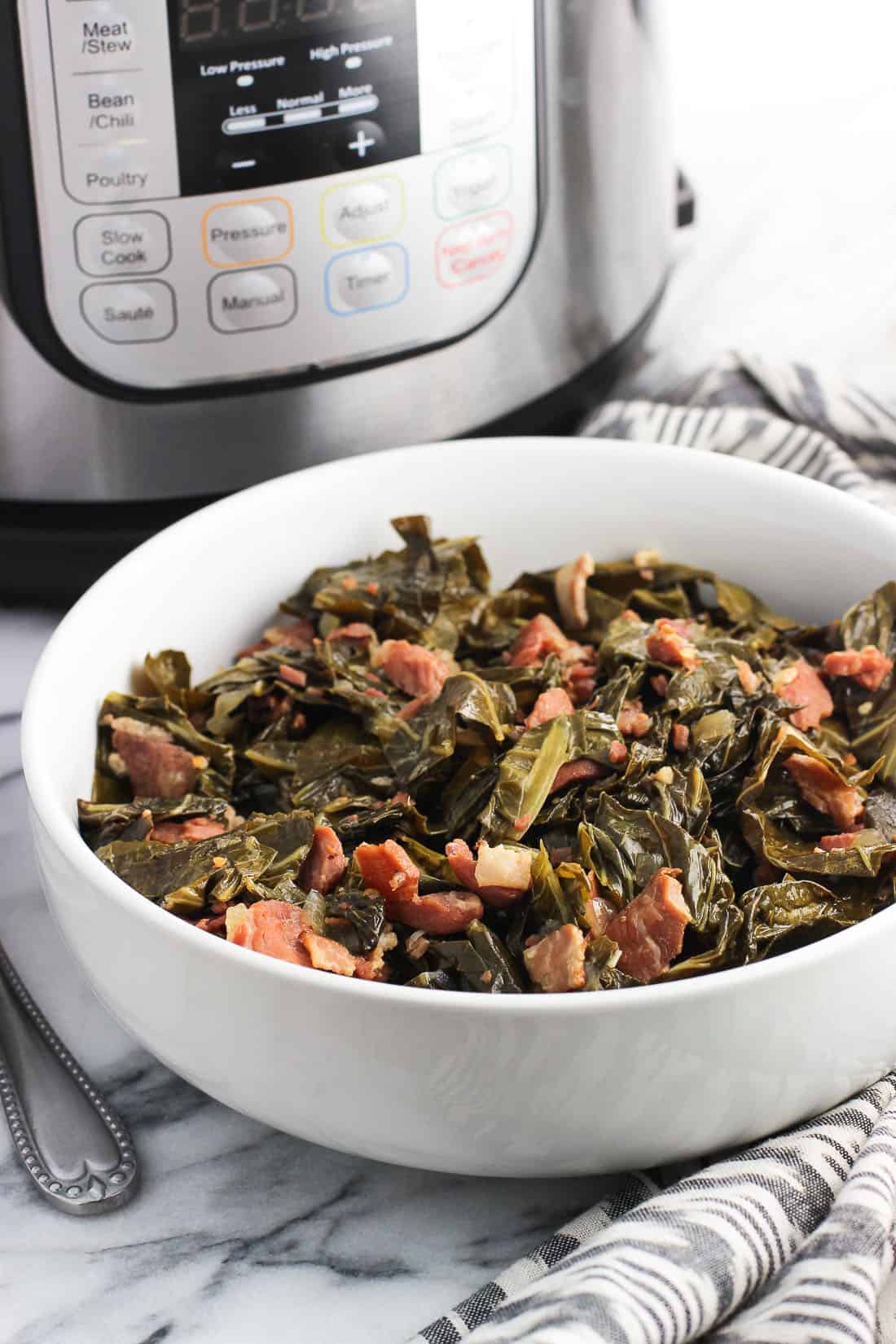 This recipe is adapted from the Southern greens side dish at The Loveless Cafe, which were probably the first Southern greens I'd ever eaten. It was to my surprise when I went on their website in the hopes of learning if they use collard or turnip greens that, upon clicking their picture, the full recipe appeared.
I made a few changes, notably using the Instant Pot for five minutes of cooking time instead of simmering on the stovetop for hours. I also used much less liquid, and went with collard greens instead of turnip greens. Either would work, however collard greens are easier to find in the grocery store (at least in my experience).
Southern Instant Pot collard greens recipe notes:
What's country ham? Believe me, I had to Google because I had no clue. It's a salt-cured ham that I found uncooked, cut into small slices, and vacuum-sealed. Once removed from the package, I roughly chopped it as I did with the uncooked bacon slices. The chopped country ham should be relatively similar in thickness to the bacon, so I cooked them together on the saute function.
I got my country ham at my usual grocery store, though that may be because I live in country ham territory. If you can't find it, double the bacon and omit the country ham.
You can use turnip greens if you prefer, or even kale (though I haven't tested it with kale update: it works great with kale).
And a few Instant Pot notes...
This Southern Instant Pot collard greens recipe was made and tested with the

6-quart Instant Pot

(affiliate link).
Be sure to deglaze the pan with a bit of the broth after sautéing the bacon/country ham/onion mixture, as written in the recipe below. The stuck on bits will come up from the bottom of the pot very easily. This helps to prevent the "burn" message you might have read about, which displays when the food at the bottom of the pot is too hot/overcooked.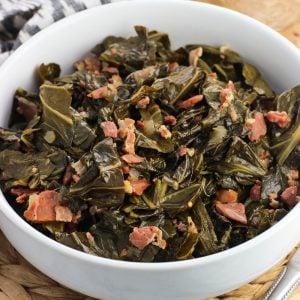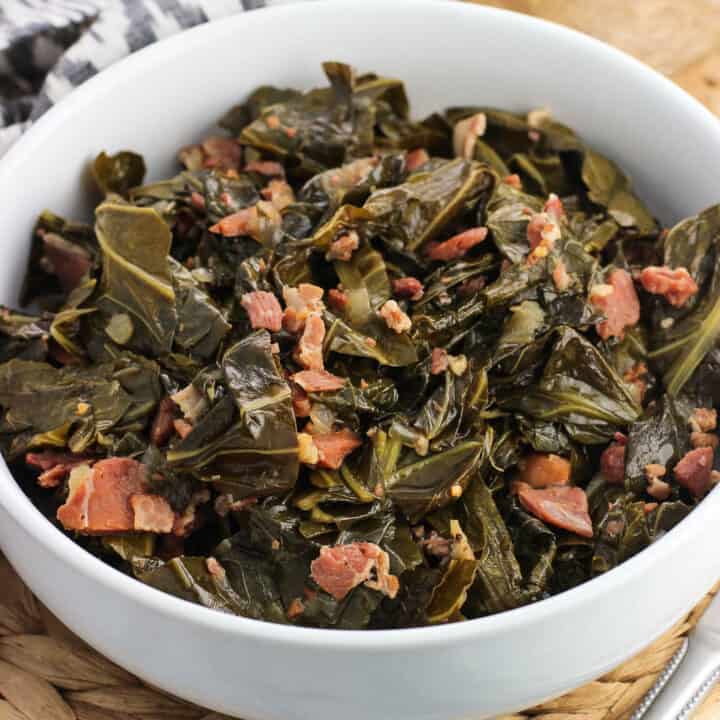 Southern Instant Pot Collard Greens
Instant Pot collard greens are a Southern-inspired side dish made much quicker in an electric pressure cooker. These Southern greens have a ton of flavor from bacon and ham, and you'll want to drizzle the cooking liquid on everything!
Print
Pin
Rate
Ingredients
2

teaspoon

olive oil

2

slices

uncooked bacon

chopped

4

oz

country ham

sliced and chopped

1

small onion

chopped

¾

cup

reduced-sodium chicken broth

⅓

cup

apple cider vinegar

2

tablespoon

brown sugar

½

teaspoon

crushed red pepper flakes

16

oz

collard greens

roughly chopped
Instructions
Rinse collard greens very well. Remove the thick center stem and roughly chop them into large bite-sized pieces.

Add olive oil to the Instant Pot. Press the "Saute" button, leaving the lid off.

Once the oil has heated, add the chopped bacon and country ham. Saute for 4-5 minutes, and then add the chopped onion. Stir everything around periodically (there still may be sticking to the bottom of the pot).

Once the bacon and country ham has cooked and the onion has become golden, deglaze the pot with about one-third cup of the chicken broth (amount doesn't need to be precise). Using a wooden spoon, scrape up the stuck-on bits from the bottom of the pot and stir.

Add the rest of the chicken broth, apple cider vinegar, brown sugar, and crushed red pepper flakes and stir to combine.

Add the chopped collard greens to the Instant Pot and pack them in well. Press the "Keep Warm/Cancel" button to shut off the Saute function. You want to allow for adequate space in the Instant Pot before cooking with pressure, so I paused for a minute or two at this point to allow for some of the collard greens to reduce in size before proceeding. Packed in, aim for the Instant Pot to be about two-thirds full.

Close and lock lid. Ensure the pressure release valve is set to "sealing".

Press the "Manual" button. Then using the down button, reduce the cooking time to 5 minutes.


The Instant Pot will take a few minutes to pressurize, during which you may hear a little hissing noise once it's almost there. Then "5" minutes will appear on the display, which will count down until it's done.

At this point you can allow the Instant Pot to naturally pressure release, or do the quick release. Do whichever one you're comfortable with. Natural pressure release for this recipe took about 20 minutes for me, and I didn't find the greens to be mushy or overdone at all.

Once the pressure is released, carefully remove the lid and stir everything up. Serve while warm.
Notes
For a time-saving shortcut, you can use bagged collard greens.
Nutrition
Calories:
89
kcal
|
Carbohydrates:
6
g
|
Protein:
6
g
|
Fat:
5
g
|
Saturated Fat:
1
g
|
Cholesterol:
13
mg
|
Sodium:
377
mg
|
Potassium:
99
mg
|
Fiber:
2
g
|
Sugar:
2
g
|
Calcium:
50
mg
|
Iron:
0.4
mg
Nutritional information is provided as an estimate. As it can vary due to many factors (brands used, quantities, etc.), we cannot guarantee its accuracy.
Food Safety and Nutrition Disclaimer