Slow cooker shredded beef is easy to make and versatile to use in sandwiches, over rice or salads, and more! It cooks in a balsamic peanut sauce that tastes amazing made in the crock pot.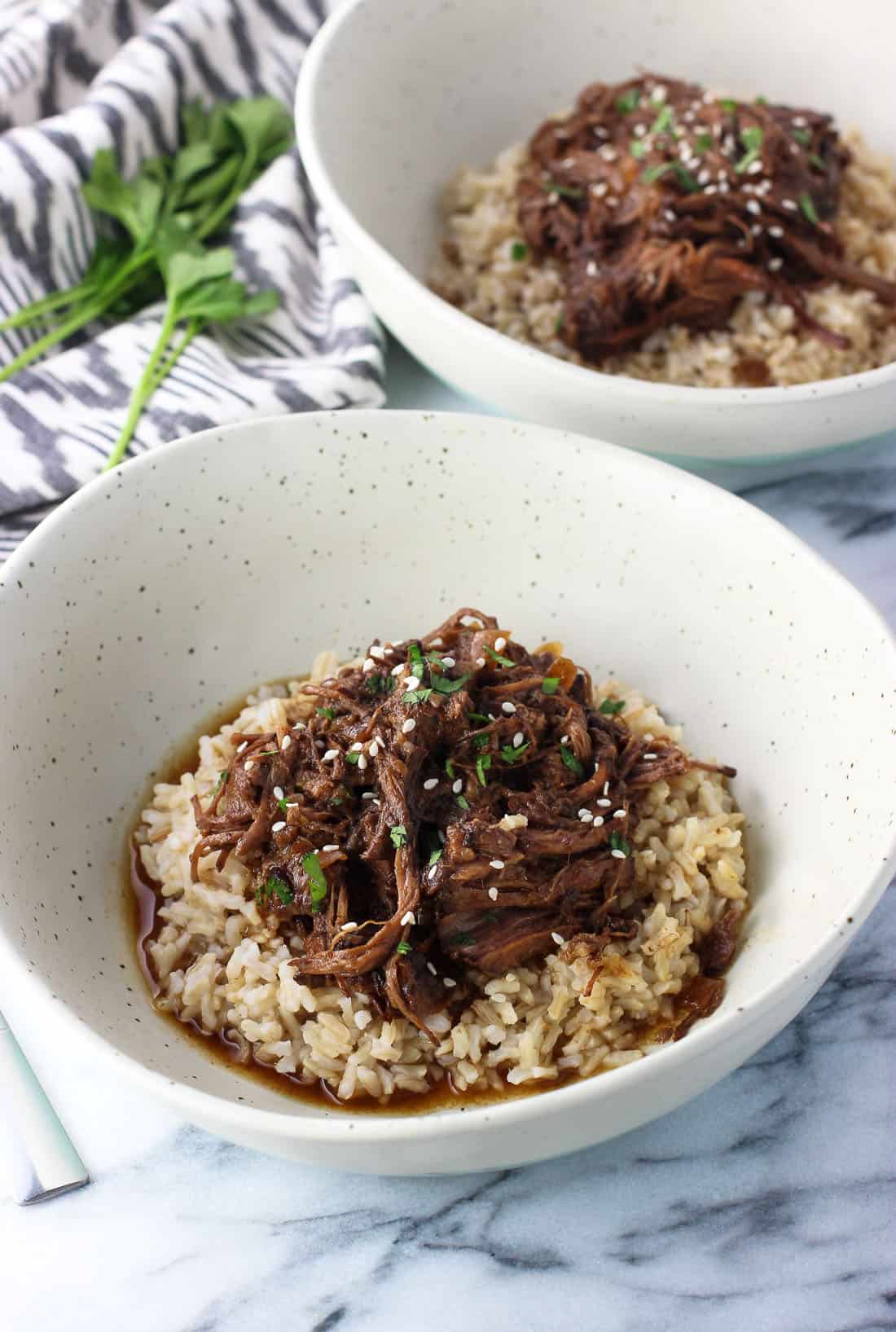 When it comes to the slow cooker, I like to think of myself as an equal opportunist. Just on the blog alone there are a wide variety of slow cooker recipes, from the *best* chipotle beef queso dip (made with real cheese) all the way to slow cooker apple pie.
But today we're talking about beef. A chuck roast to be precise, but we're not cooking it up pot roast style. Instead we're letting it spend a few extra hours in the slow cooker until it can shred easily with just two forks <-- worth it! Promise.
Slow cooker pot roast certainly has its time and place, but slow cooker shredded beef? It's so versatile. This particular batch was served over brown rice for these photos, but was also eaten on sandwiches, salads, tacos, and even a ultra rando toasted bagel thin/smashed avocado/shredded beef situation. Enjoyable on all counts.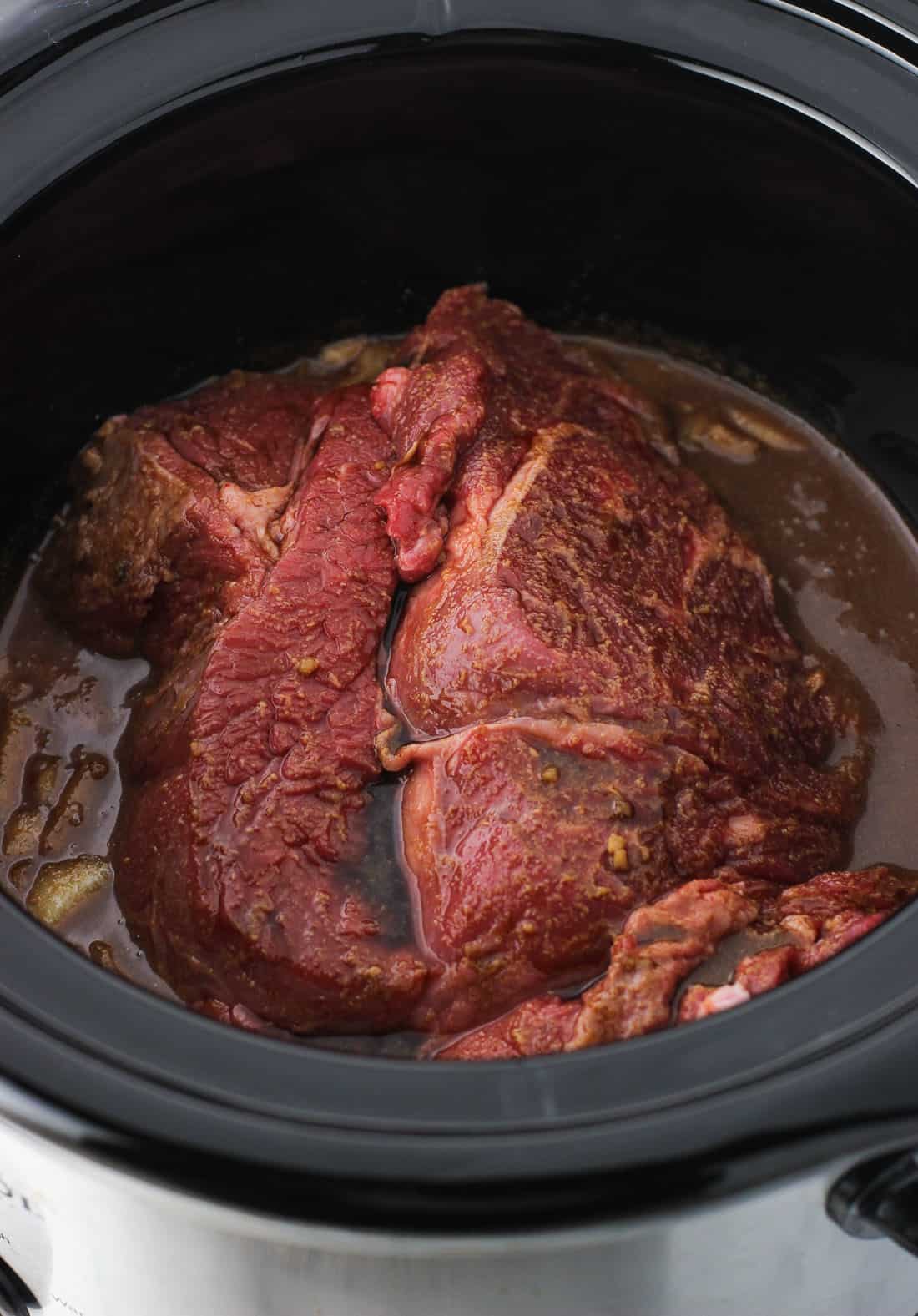 What cut to use for shredded beef
As it turns out I didn't intend to pick up a chuck roast when I made this slow cooker shredded beef. Lately I've been responsibly winging my meal planning and choosing proteins based on what's on sale at the store.
Boneless chuck roast was it this time, and a big three-pound one at that, which typically isn't my first choice as that's a lot of meat for just the two of us, but with the balsamic peanut sauce (from this beef stir fry recipe) in mind, I knew making leftover portions disappear wouldn't be a difficult task.
Don't be dissuaded by the fact that it cooks for so long, between seven and eight hours on high. Chuck roast takes awhile to break down the connective tissues to reach that 'fall apart' stage, but when it does? YUM.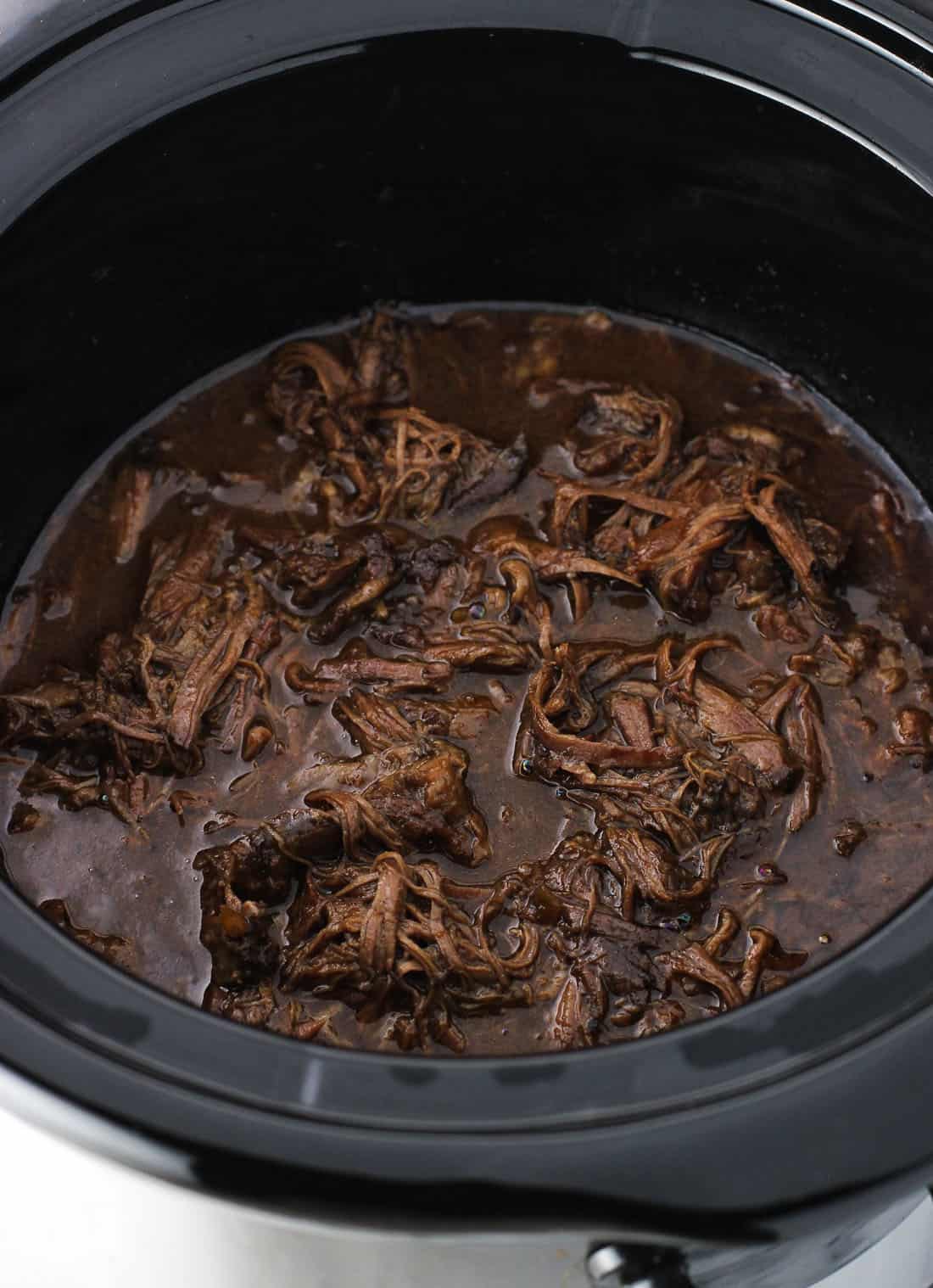 Recipe ingredients
Now that we've covered the beef, let's move on to the rest of the ingredients. There are multiple flavors going on here, but they complement each other so well that one doesn't overpower or distract from the rest. Which is great, but it makes it tough to come up with a name for it!
I went with balsamic peanut sauce, but the balsamic vinegar and peanut butter aren't ultra prominent. Rather they round out the sauce perfectly when combined with soy sauce, brown sugar, sesame oil, sriracha, ginger, and garlic. One flavor by itself doesn't dominate.
Diced or sliced onion is always a mainstay of my slow cooker recipes, so one onion is thrown in here, too. There's no pre-cooking required, and I love how it blends right into the beef once the recipe is done.
While one tablespoon of sriracha looks a little scary, it only brings a very mild spiciness to the sauce once it combines with the rest of the ingredients. That said, if you're a big fan of all things hot and spicy feel free to add more.
Quick recipe steps
While slow cooking a chuck roast certainly isn't quick, thankfully the active time needed to make this slow cooker shredded beef is!
First dice the onion and throw it in the slow cooker. Then trim as much visible fat as you prefer from the chuck roast and throw that in, too.
All that's left is to whisk the sauce ingredients together and pour over the meat. Cover and cook on high heat for 7-8 hours, or until the beef is able to separate into shreds.
Once shredded, serve with the cooking liquid as a sauce over rice or salads, on sandwiches, tacos, quesadillas...many possibilities here.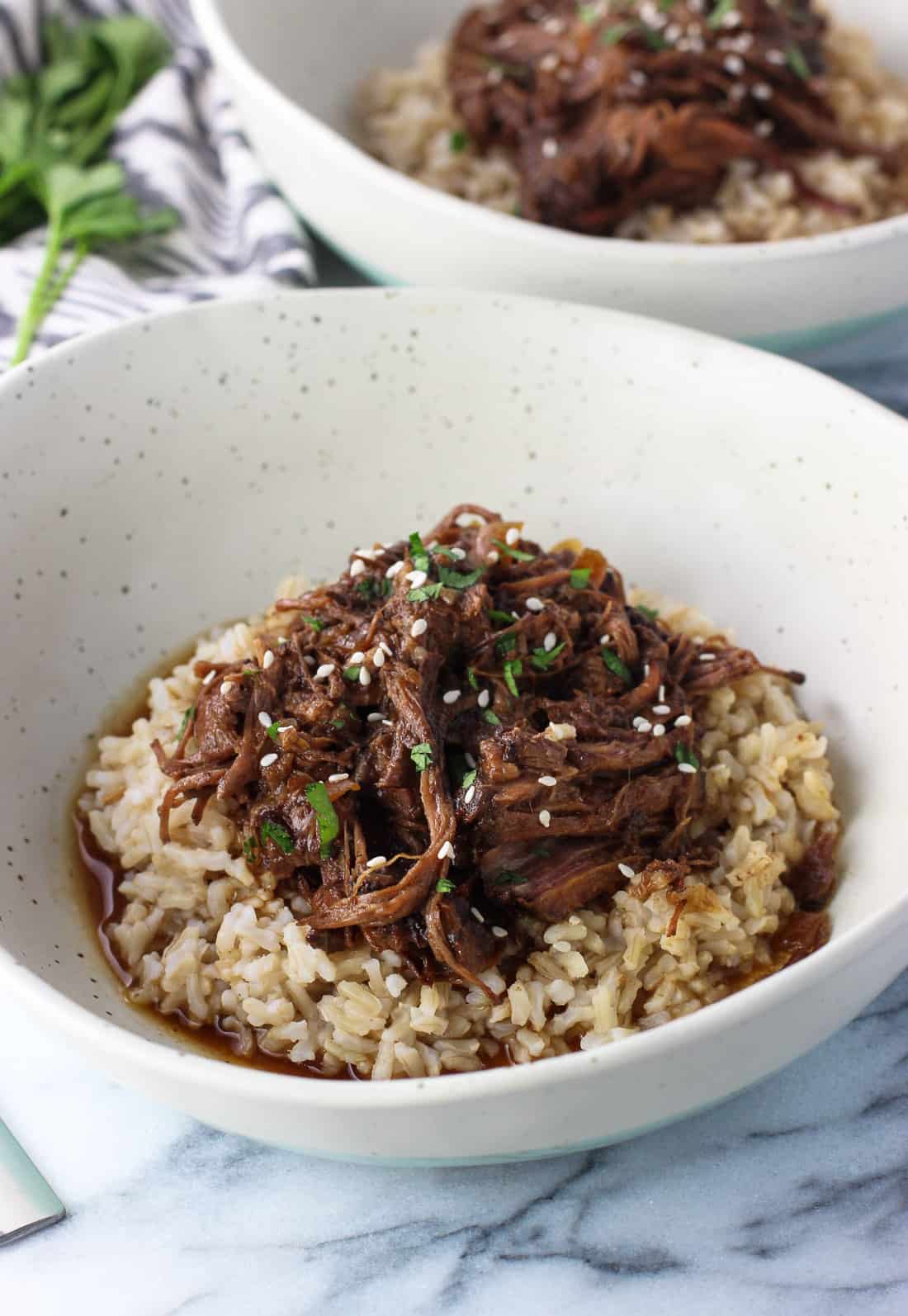 Related recipes
If you're into lower prep slow cooker recipes, these other main dishes may interest you!
On the chicken front, slow cooker buffalo chicken has been a reader favorite for years. It features just about the same recipe steps as this shredded beef, swapping out the balsamic peanut buttery sauce for a spiced up buffalo wings version. This one is beloved by game day homegaters and healthy meal preppers alike.
And for pork, this slow cooker pulled pork features just one tiny extra step: rubbing the Boston butt with a deliciously smoky and spiced up rub before cooking. There are SO many different ways to enjoy pulled pork.
Recipe notes
When it comes to trimming the fat from a chuck roast, you don't have to go crazy. I remove any excessively large pieces from the outside as they turn into unpalatable fatty chunks amid the shredded beef. But do leave the interior fat as that will render out during the slow cook time.
The chuck roast doesn't have to be three pounds precisely, rather you just want a roast that fits comfortably in your slow cooker. For reference, the slow cooker seen in these photos is round and has a 4.5-quart capacity.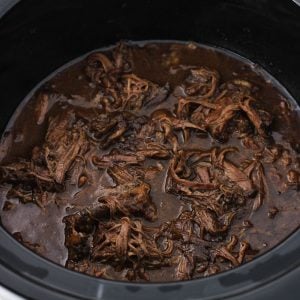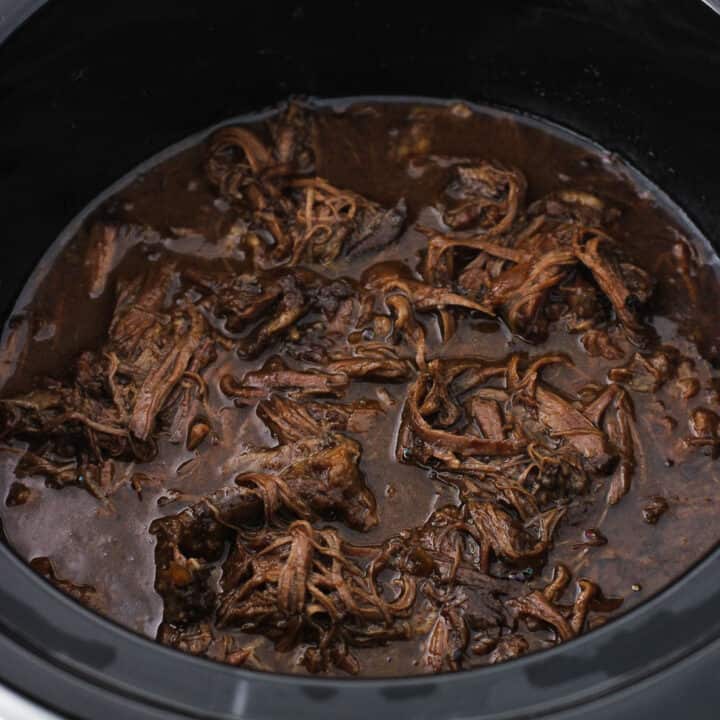 Slow Cooker Shredded Beef with Balsamic Peanut Sauce
Shredded beef is so easy to make in the slow cooker, and versatile to use in sandwiches, over rice or salads, and more! It cooks in a balsamic peanut sauce that tastes amazing made in the crock pot.
Print
Pin
Rate
Ingredients
1

onion,

finely chopped

3

lb

boneless chuck roast,

excess visible fat removed

½

cup

reduced-sodium soy sauce

⅓

cup

balsamic vinegar

¼

cup

water

¼

cup

brown sugar

¼

cup

peanut butter

(creamy)

1

tablespoon

sesame oil

1

tablespoon

sriracha

2

teaspoon

grated fresh ginger

2

garlic cloves,

minced or pressed
Instructions
Chop onion and place it in the bottom of your slow cooker.

Trim excess visible fat from the outside of the chuck roast (to the extent that you prefer) and place the roast in the slow cooker.

Whisk together all other ingredients in a bowl and once smooth, pour into the slow cooker over the roast.

Cook on high heat for 7-8 hours, or until the roast can easily shred with two forks. Shred everything and stir the shredded beef around with the cooking liquid.

Serve over rice, in tacos, on salads, on sandwiches, etc.
Notes
Nutrition: Nutritional info is an estimate based on trimming the visible fat on the chuck roast and is for the meat and sauce ingredients. Rice or whatever you serve it with/over is not included.
Nutrition
Calories:
444
kcal
|
Carbohydrates:
9.4
g
|
Protein:
47.5
g
|
Fat:
23.1
g
|
Saturated Fat:
6.6
g
|
Cholesterol:
102
mg
|
Sodium:
724
mg
|
Potassium:
634
mg
|
Fiber:
0.9
g
|
Sugar:
6.4
g
|
Calcium:
20
mg
|
Iron:
5.9
mg
Nutritional information is provided as an estimate. As it can vary due to many factors (brands used, quantities, etc.), we cannot guarantee its accuracy.
Food Safety and Nutrition Disclaimer