Slow cooker pulled pork is a versatile main dish recipe perfect for sandwiches, nachos, tacos, and more. With easy prep and a slightly smoky and spiced up seasoning rub, this crock pot pulled pork has such a great flavor!
It's a new year and I'm already crossing off a resolution from my list: share my slow cooker pulled pork recipe on the blog.
Not that that's a great big achievement or anything. I've been meaning to for years, actually, so if anything it's a sign of how successfully I can procrastinate.
But still, let's round out the first month of the year with an easy win.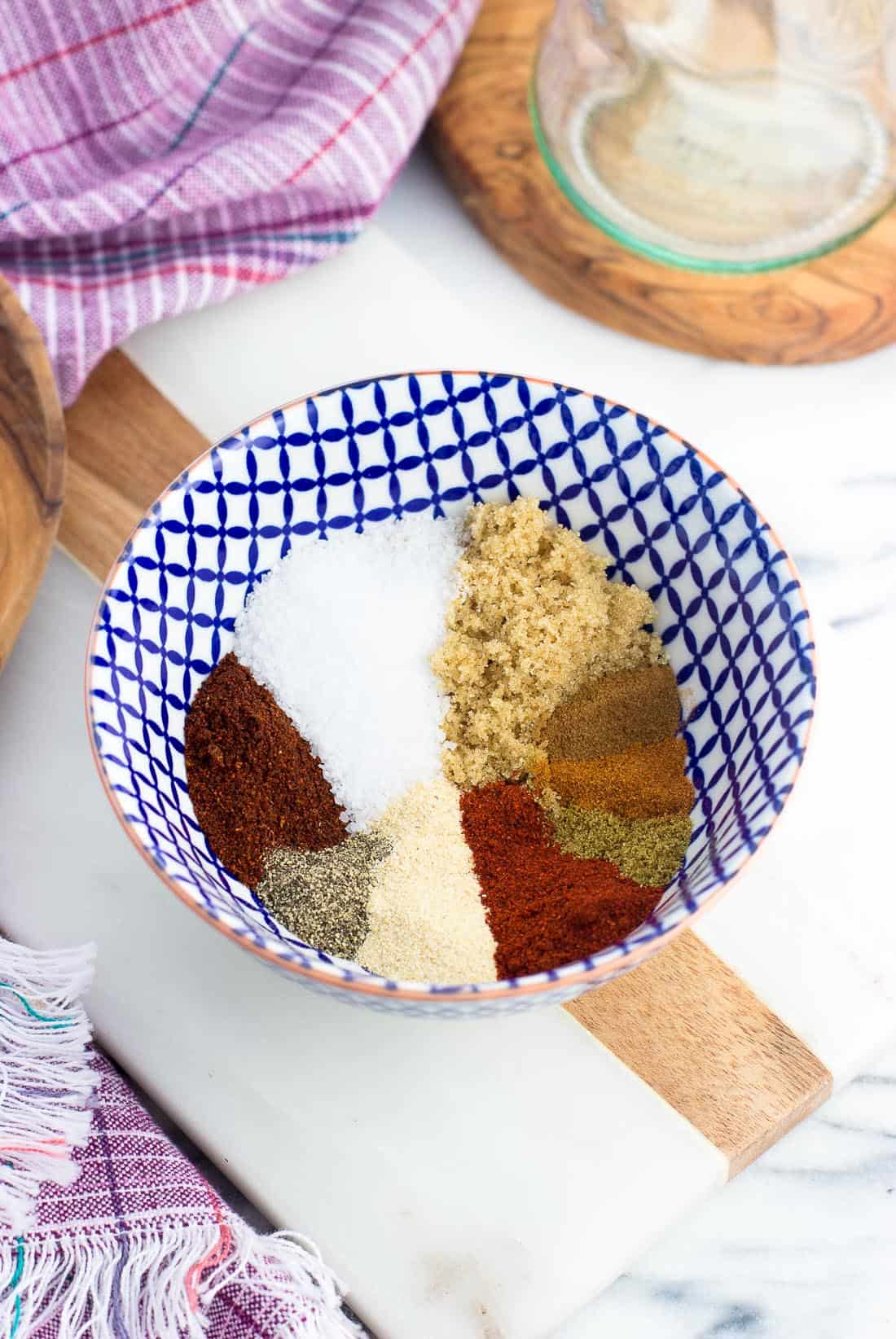 For starters, let's chat about the MEAT.
What's the best cut for pulled pork?
We want a fattier cut of pork for pulled pork. Now's not the time for super lean pork tenderloin, a loin roast, or pork cutlets . 🙂
I like to use pork shoulder/Boston butt to make slow cooker pulled pork. These cuts are from the thick shoulder region that has a ton of great marbling, which brings the flavor. Since both cuts are best prepared when cooked for a long while (low and slow!), either is an excellent choice for making pulled pork in the slow cooker.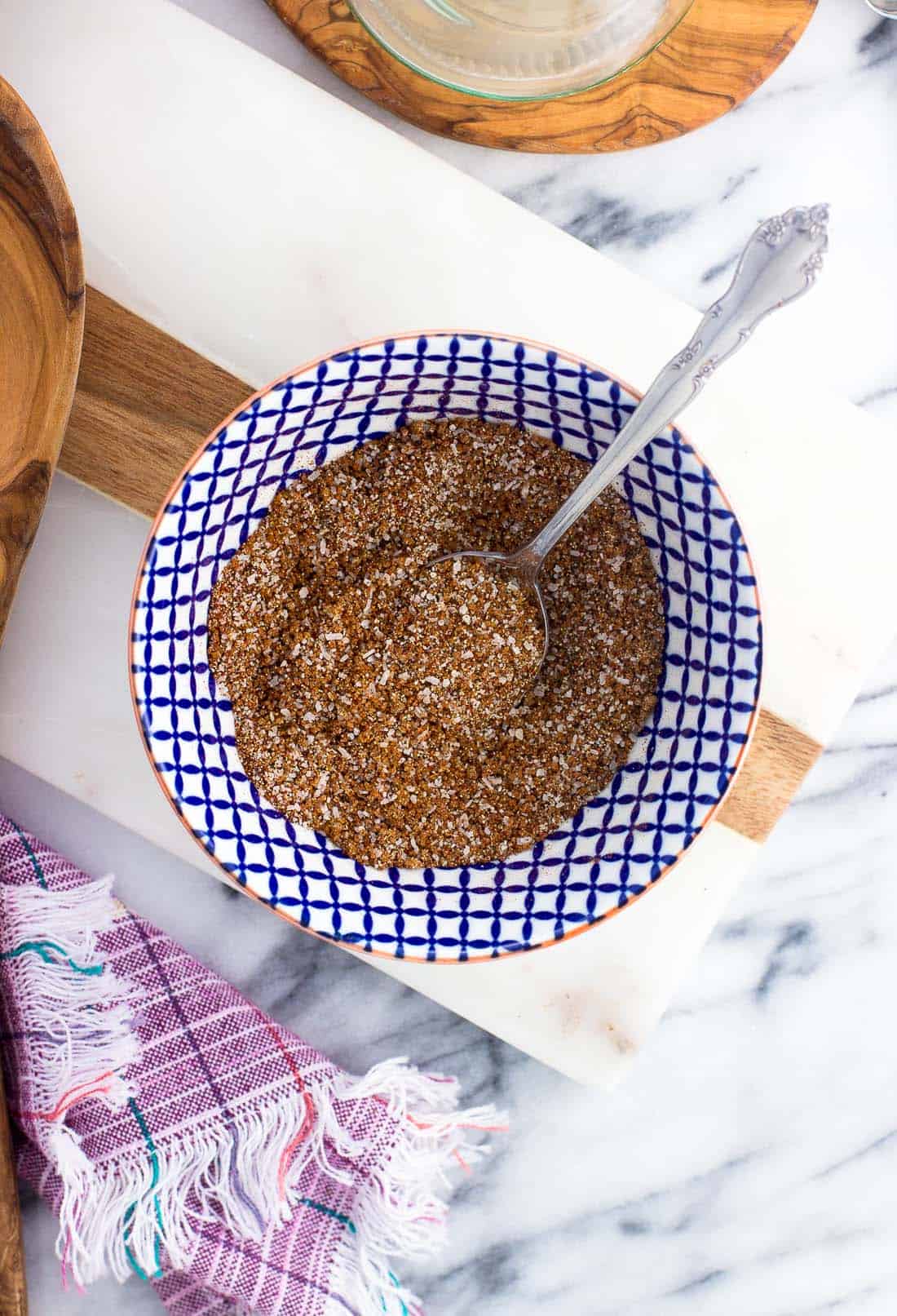 Do you trim the fat cap?
I know I just said that we want the fat in our pork shoulder or Boston butt to make pulled pork, but my preference is to trim away SOME of the fat cap, which is the very thick, hard, and solid white layer of fat along one side of the meat.
Reason being is that we want the spice rub to get a chance to get in there with the meat, and this super thick layer can get in the way. There's plenty of fat marbled throughout the meat that I've never found pulled pork made with a somewhat trimmed fat cap dry or lacking in flavor.
It also doesn't break down entirely as the meat cooks, and will have to be sliced into small pieces in order to mix into the pulled pork at the end. When doing that with a full cap-on cut of meat, I usually end up discarding a portion of the fat cap when slicing because it's just too fatty.
Disclaimer: I know there are multiple schools of thought here, making do-you-or-do-you-not-trim-the-fat-cap a controversial subject. Some say leaving it on and placing it cap-side up helps baste the meat as it cooks.
Curious if I have been in the wrong for years by trimming the fat cap, I found this interesting article that digs into the science behind all things fat cap. They advocate for trimming the cap in most circumstances to between one-eighth and one-quarter of an inch. (Since the slow cooker most certainly does not produce a crisp exterior on anything, I say we're exempt from the situation where leaving it on would be beneficial.)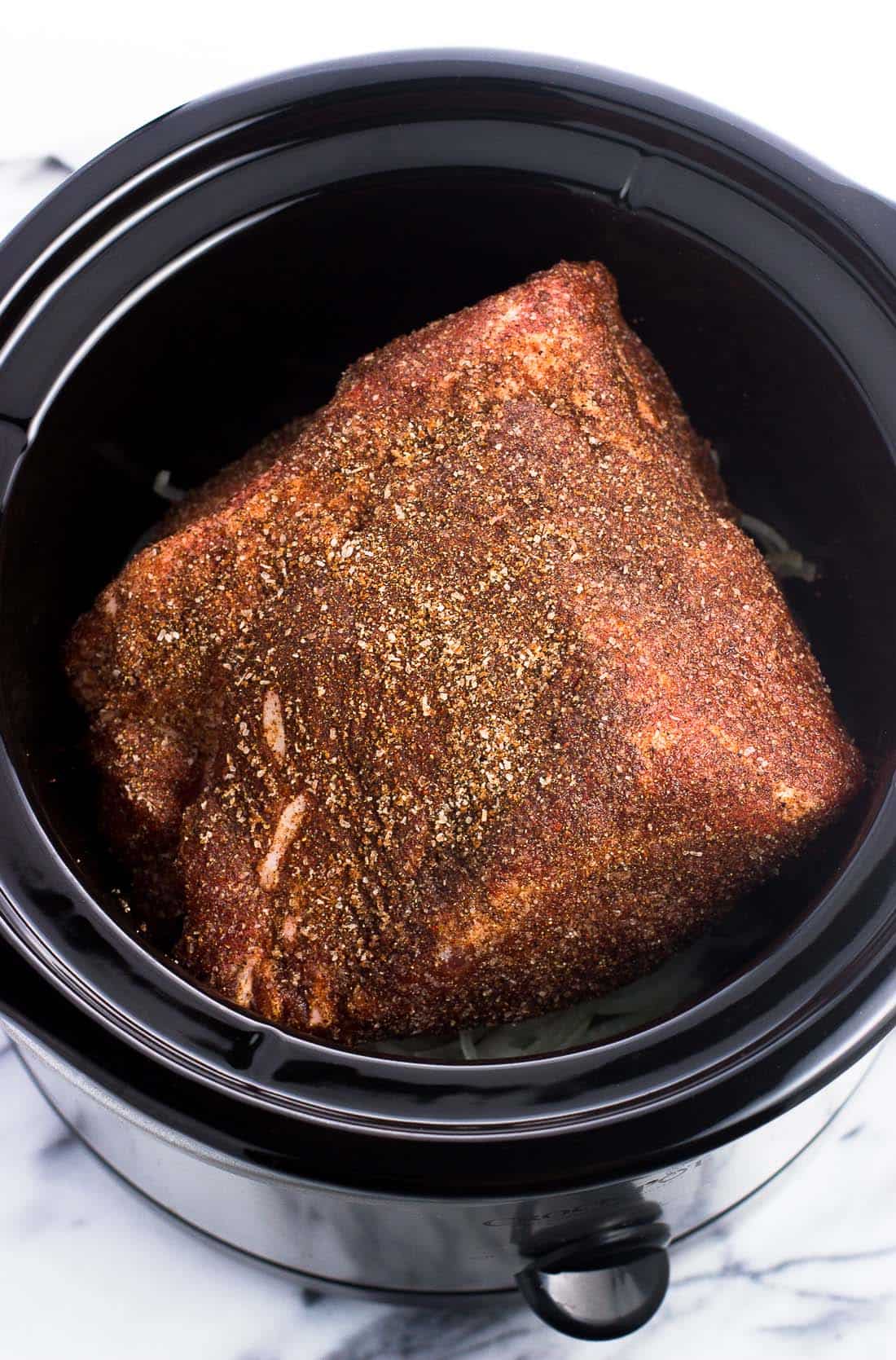 Spice blend for pulled pork
Next comes the spices. While your favorite pre-made spice rub would definitely work, I'm partial to this blend of herbs and spices, made with all (or nearly all) pantry staples. This pulled pork spice blend includes:
brown sugar
kosher salt
chili powder
black pepper
paprika
garlic powder
cumin
cayenne pepper, and
cinnamon
It's spiced, smoky, and warm, from the tiniest bit of cinnamon. It might seem out of place adding cinnamon to a savory meat recipe, but it really ties the flavors together and adds something special.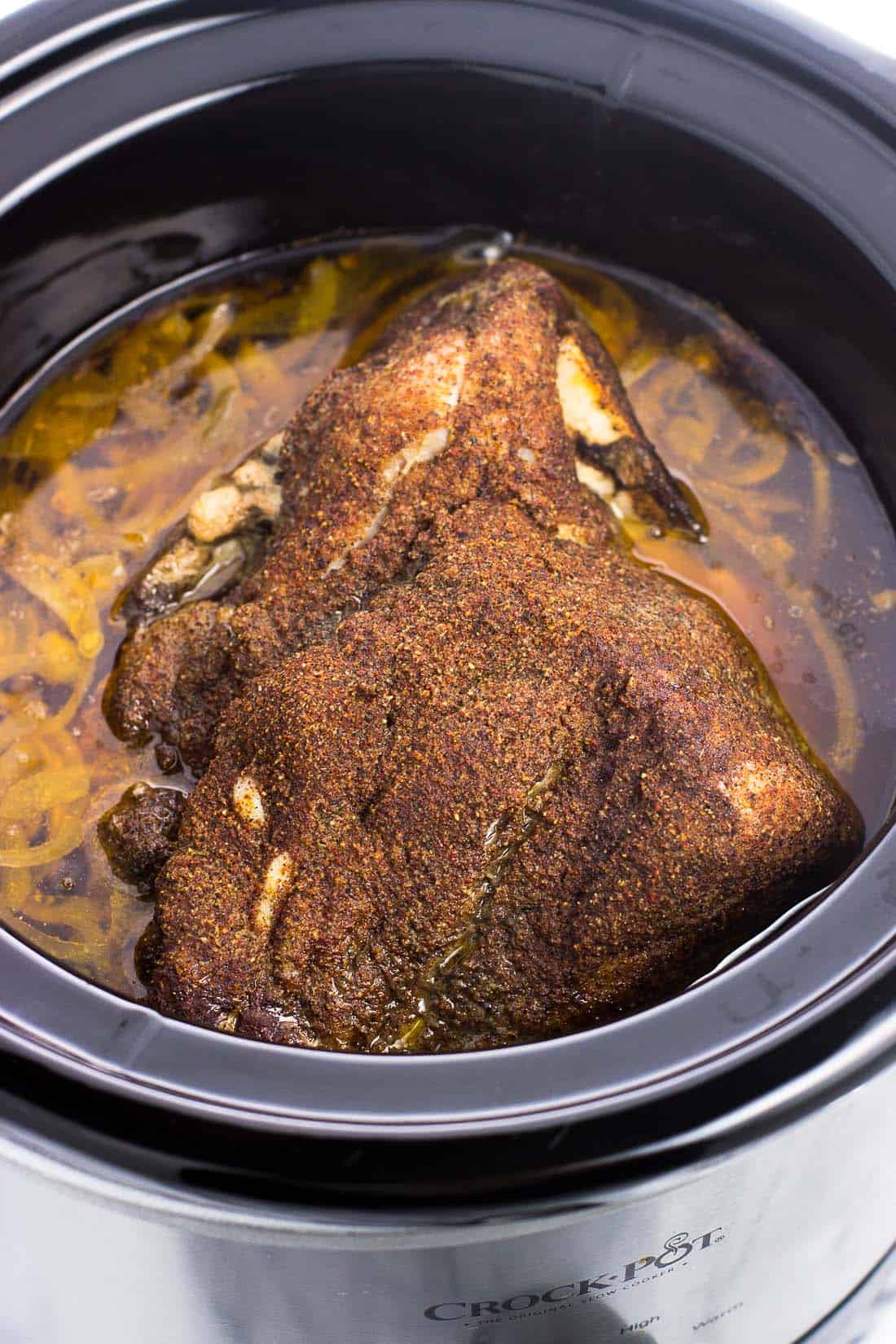 One of the great parts of this slow cooker pulled pork is that there aren't any cooking prep steps like browning.
Thinly sliced onion makes an excellent first layer in the crock pot as it gets mixed in with the pulled pork shreds at the end. We need liquid for slow cooking, and I use one cup of either reduced-sodium beef or chicken broth. Since the broth doesn't really any impart flavor here, I usually use just whatever container I have open in the fridge.
So! In go the onions, broth, and then the spice-rubbed pork. Place the lid on and slow cook on high heat for 7-8 hours, or on low heat for 8-10. The size of the meat and the quirks of your particular slow cooker will determine when it's done. Pulled pork is done when it's tender enough that a fork can easily be inserted to break it up into shreds.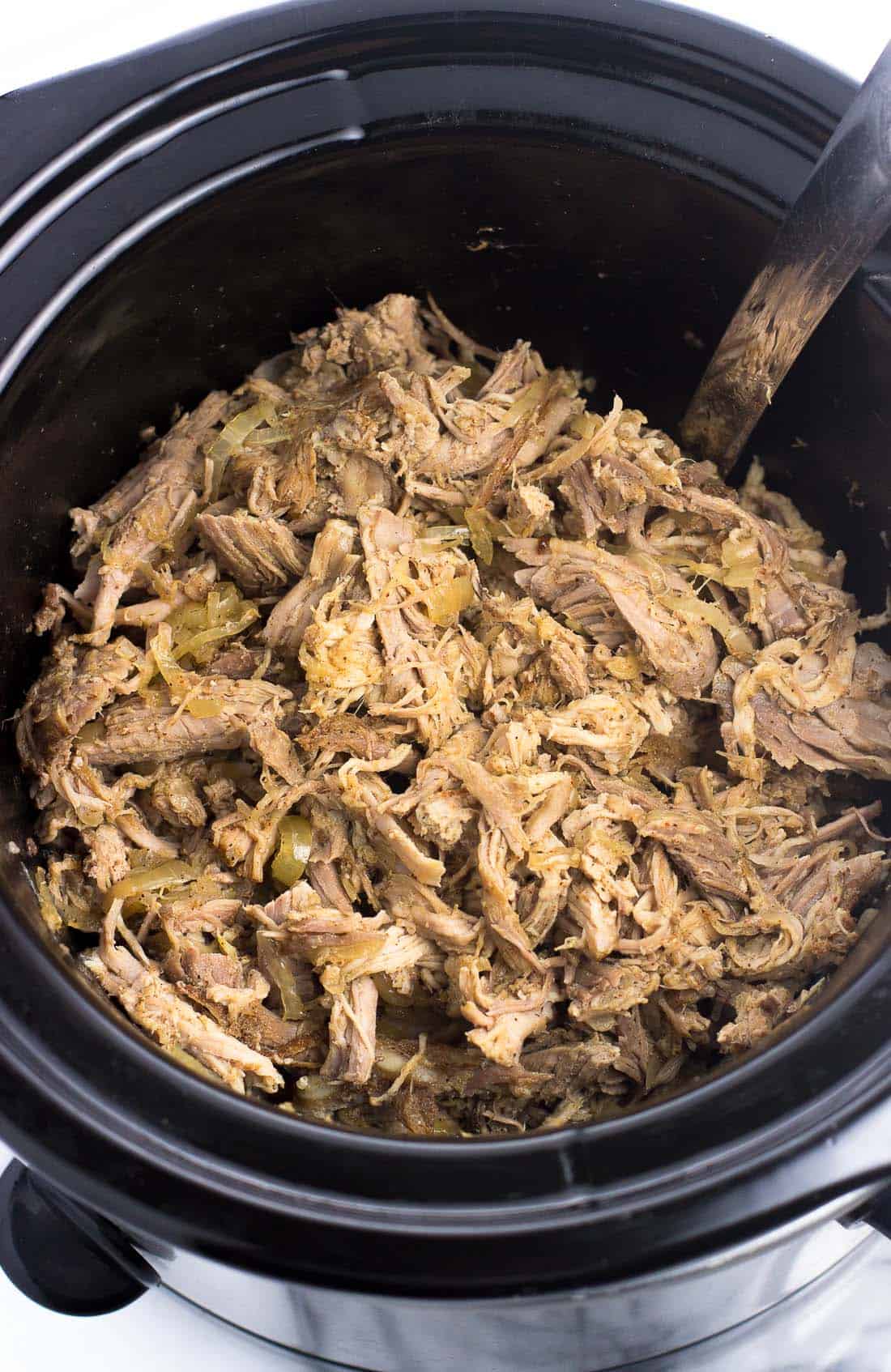 Once all is said and done, a four- to four-and-a-half-pound-ish pork shoulder/Boston butt will produce around…ten servings? It's hard to say as portion sizes can differ wildly depending on sandwich roll size or however else you plan to eat it.
But it does produce a lot! In these pictures I served this slow cooker pulled pork with a drizzle of BBQ sauce on my very favorite type of roll: an onion roll. Paired up with southern Instant Pot collard greens, this was one fab dinner.
Other ways to use up leftover pulled pork
Eating the same pulled pork sandwich over and over again can get a little boring. Check out these less conventional ways you can use some of your leftover portions of pulled pork.
Looking for a hearty appetizer recipe?

Loaded BBQ pulled pork nachos

are just the thing. I say appetizer but I actually prefer to eat these for a meal with a nice side salad.
Inspired by a dish I ordered at a downtown Nashville restaurant, this

pulled pork breakfast bowl

is SO good. Most of the time I crave a savory breakfast over sweet, and this one totally hits the spot.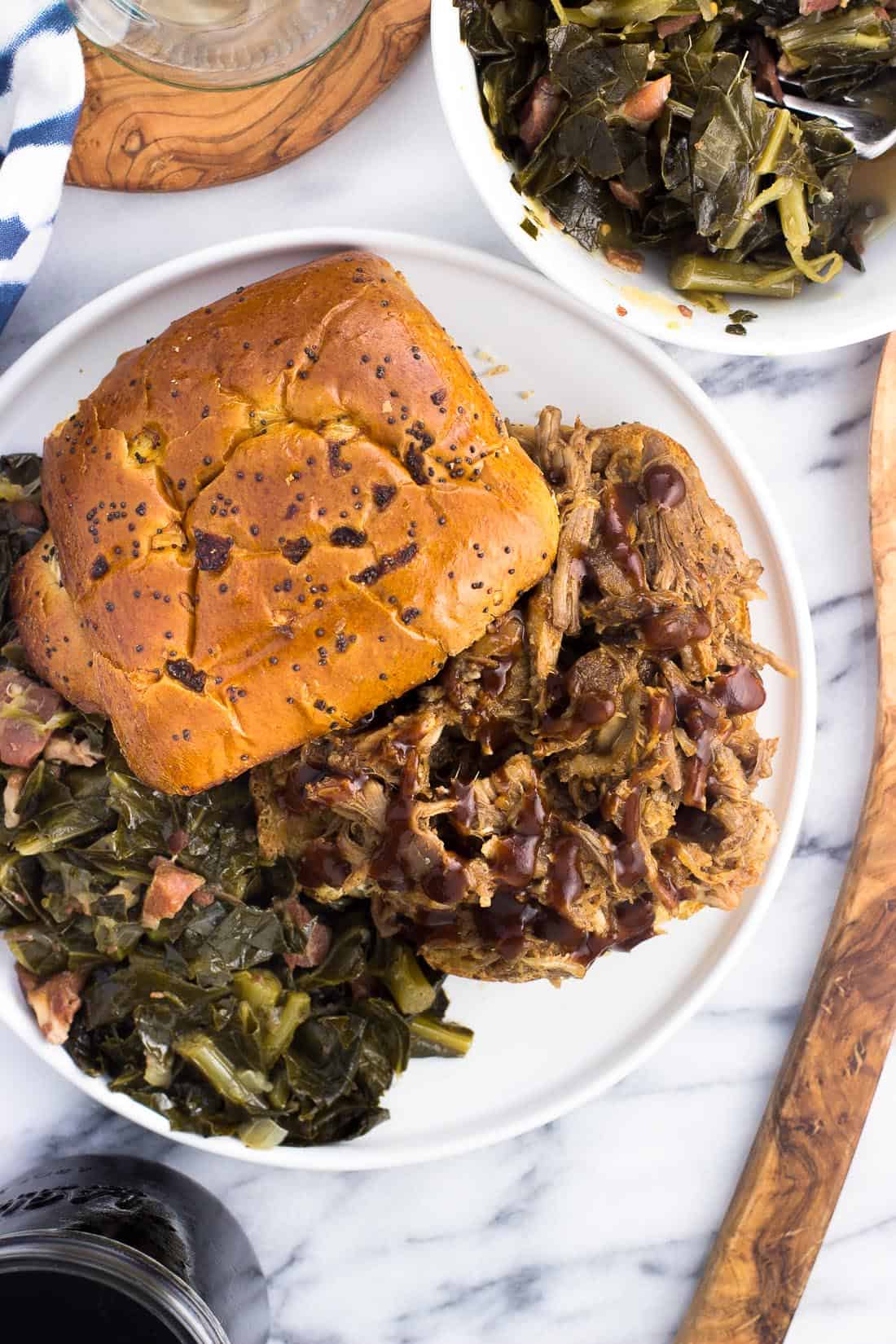 P.S. If you're pressed for time, check out my coffee rubbed Instant Pot pulled pork recipe. I started making it in the IP by accident, when the pork I had been thawing in the fridge for what felt like a million years was still frosty from the freezer and wouldn't thaw in time to set up in the slow cooker. Love that spice rub, too!
Recipe notes:
The slow cooker you see in these photos is round and has a 4.5-quart capacity. It fits a 4 to 4 1/2-lb pork shoulder/Boston butt comfortably.
Slow Cooker Pulled Pork
Slow cooker pulled pork is a versatile main dish recipe perfect for sandwiches, nachos, tacos, and more. With easy prep and a slightly smoky and spiced up seasoning rub, this crock pot pulled pork has such a great flavor!
Print
Pin
Rate
Ingredients
2

onions,

thinly sliced

1

cup

reduced-sodium beef or chicken broth

1

tbsp

brown sugar

1

tbsp

kosher salt

1 1/2

tsp

chili powder

1

tsp

ground black pepper

1

tsp

paprika

1

tsp

garlic powder

1/4

tsp

ground cumin

1/4

tsp

ground cayenne pepper

1/8

tsp

ground cinnamon

4 - 4 1/2

lb

Boston butt (pork shoulder)

bone-in or boneless
Instructions
Thinly slice onions and place them in the bottom of the slow cooker. Pour in broth over the onions.

Add brown sugar, kosher salt, chili powder, black pepper, paprika, garlic powder, cumin, cayenne pepper, and cinnamon to a small bowl and stir to combine evenly.

If desired, trim some excess fat from the fat cap (the thick solid white layer of fat along one side of the Boston butt). I aim to leave an 1/8"-1/4" layer. Rub all sides of the Boston butt well with the spice mix, then place it into the slow cooker on top of the onions.

Set the slow cooker on HIGH heat for 7-8 hours, or LOW heat for 8-10 hours, or until fully cooked and a fork can easily pierce the meat to pull off shreds.

Remove cooked Boston butt to a cutting board and shred using two forks, discarding the bone if you have a bone-in cut.

Strain the liquid in the slow cooker, then add the onions back to the slow cooker. Add the shredded pork back to the slow cooker, too.

At this time you can toss the pulled pork with your favorite BBQ sauce, or use some of the reserved liquid. If using the liquid, skim off the fat that rises to the top before adding a little bit to the slow cooker and tossing, until it's moist to your liking.
Notes
Fat cap: Scroll up to the body of the post to read why I trim a portion of the fat cap before making slow cooker pulled pork.
Nutritional information is an estimate for the meat only/cooking liquid and additional BBQ sauce, sandwich buns or whatever else you might serve it with.
Nutrition
Nutritional information is provided as an estimate. As it can vary due to many factors (brands used, quantities, etc.), we cannot guarantee its accuracy.
Method with slicing the onions/base spice rub adapted from chowhound.