Italian sausage stuffed mini peppers make such a great appetizer recipe! Two-bite, sweet mini peppers are filled with a creamy mix of Italian sausage, cheeses, onion, garlic, and fresh herbs in this easy dish.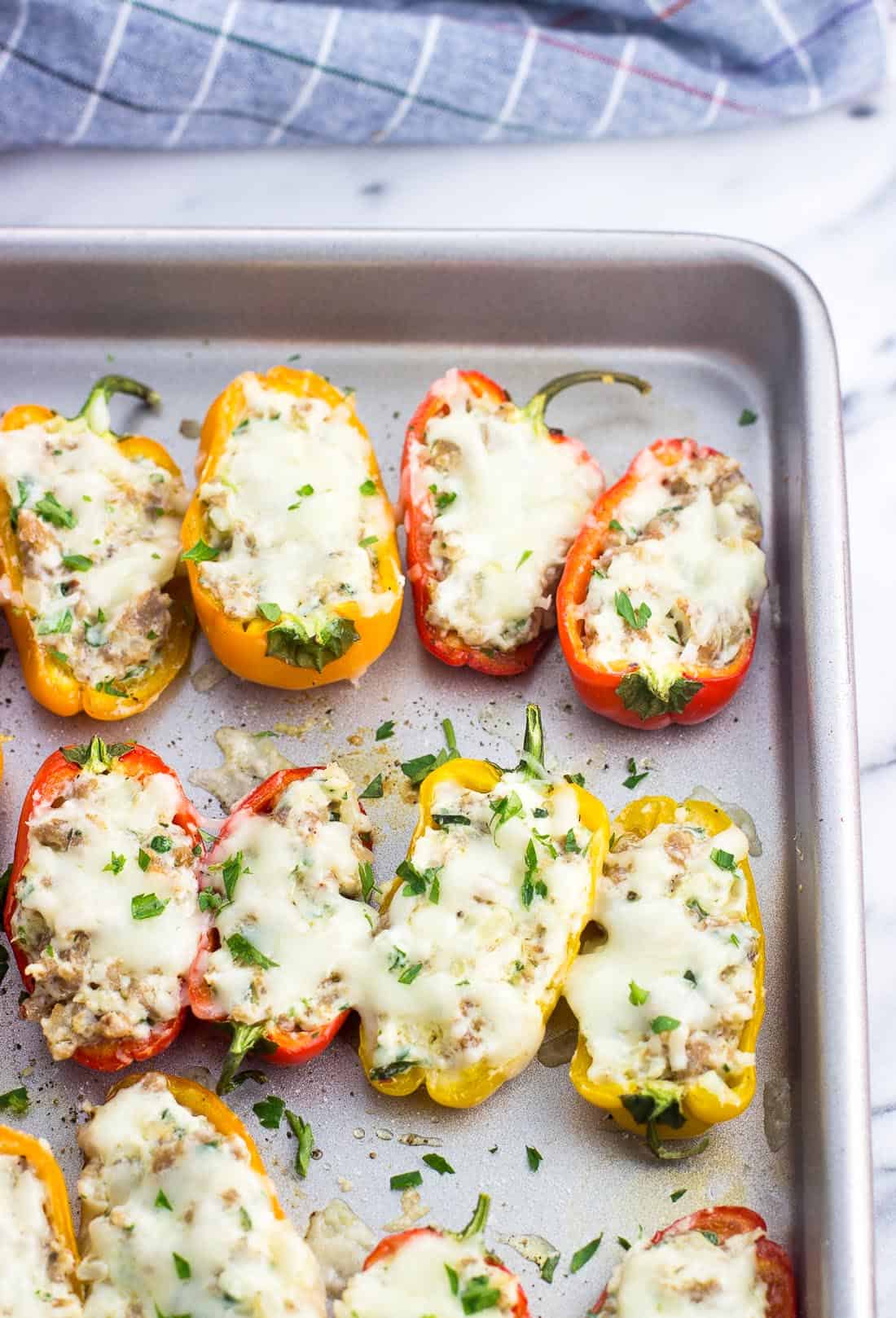 I'm one of those people who hover around the appetizer table at parties. Always have been! A little of this and a little of that is my M.O. when it comes to party food.
Sometimes at home we'll even make a few traditional appetizer-type recipes and share them for dinner. These crispy brussels sprouts with sesame glaze are a frequent pick, as is baked clam dip. <– I seriously think I could eat the whole thing.
These sausage stuffed mini peppers are cousins of the more popular jalapeno popper, except they're meatier, less spicy, and more Italian in flavor. All those descriptors work for me!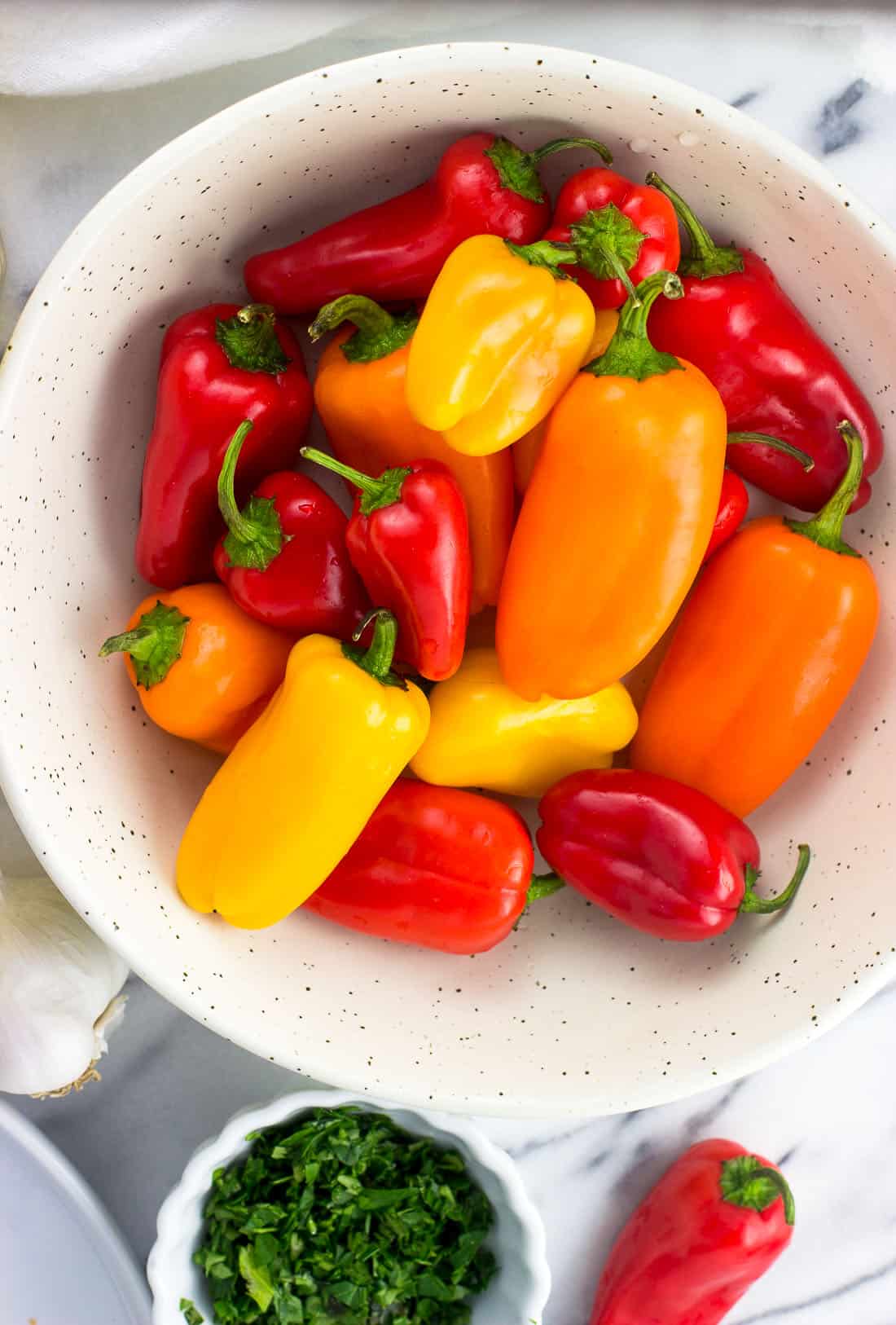 What are mini sweet peppers?
Mini sweet peppers are tiny, slightly sweeter versions of bell peppers. Even though some of the smaller, curvy red ones look like red jalapenos, just like bell peppers they're not spicy at all.
They do have seeds though, so slicing them in half and removing the seeds and pith (the white center part that the seeds attach to) is the first step in prepping these mini peppers.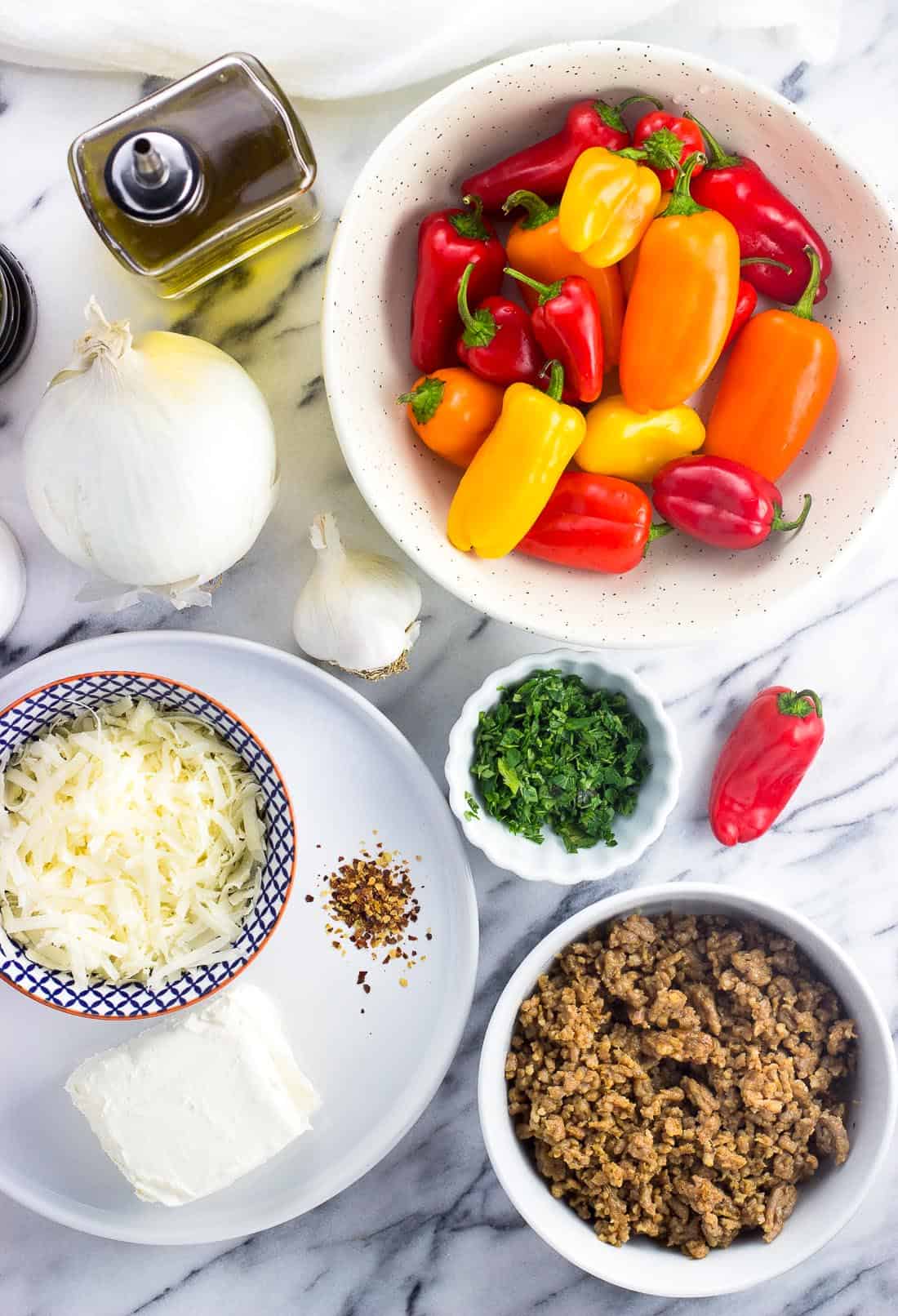 While you can totally eat mini peppers raw, I like to roast them briefly before stuffing them with all that goodness above and baking them. Just for seven minutes or so to soften them up some.
Place the sliced mini peppers on a baking sheet, drizzle them with olive oil, and then season them to taste with salt and pepper. Just a little bit of olive oil will do as too much excess will cause the filling to more easily slip out.
You can always pat the slightly-roasted peppers with a paper towel to remove some moisture if you need before filling them, so no worries with this step. This hearty appetizer recipe has a significant amount of wiggle room, so things don't have to be ultra precise.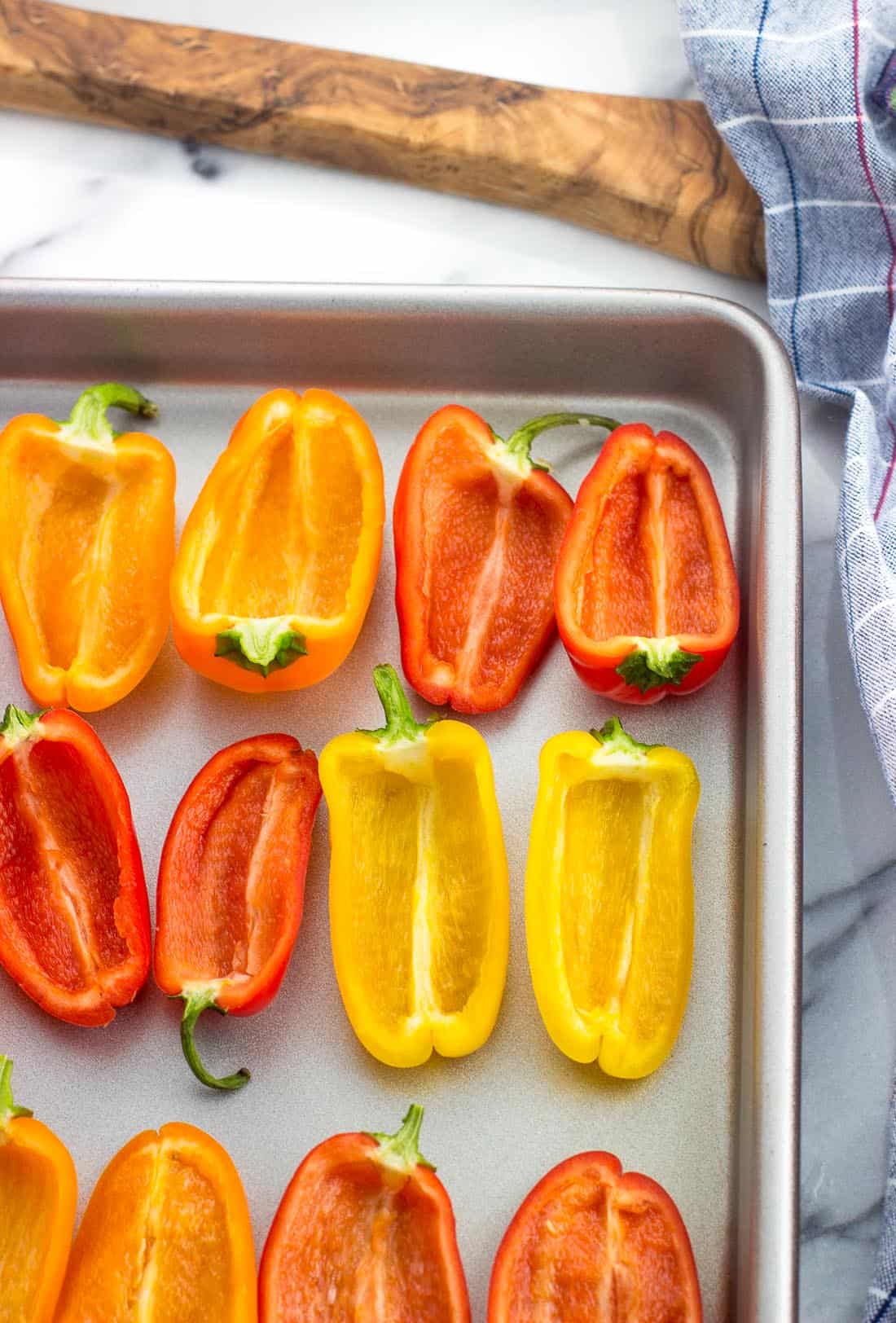 So! Into the oven they go for seven minutes. When compared to other peppers, these mini peppers (just like bell peppers) don't need to have that thin layer of skin removed in order to be pleasantly chewable, so we're not going full roast like we do in my how to roast poblano peppers in the oven post.
We just want them in the oven enough to soften up a little bit. Too long in there would cause the peppers to lose their shape and become floppy and tricky to stuff. You can see that conundrum in action with these healthy stuffed poblano peppers. 😅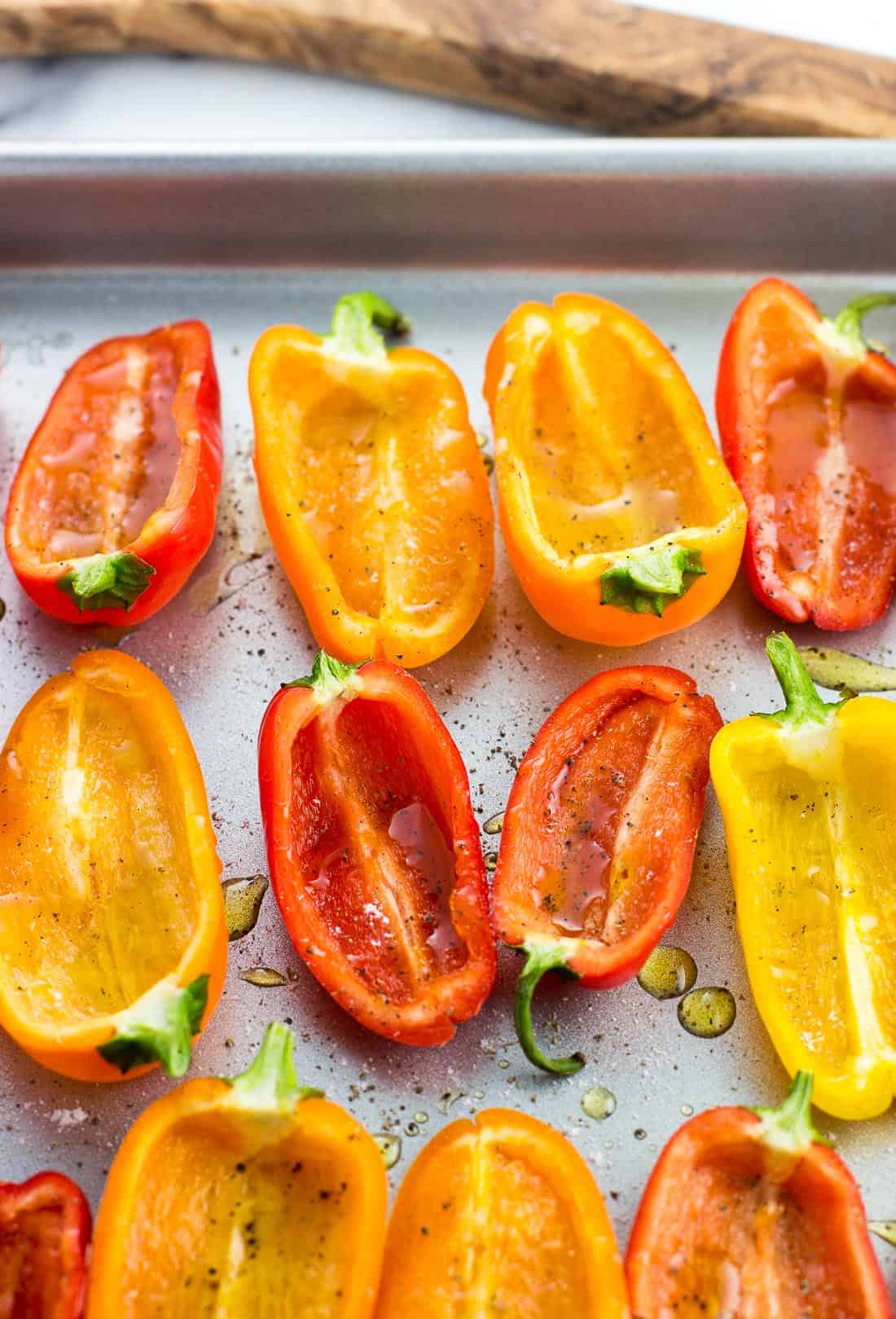 Now let's talk filling. We've got ground Italian sausage, sauteed onion and garlic, cream cheese, your favorite shredded cheese, fresh basil, fresh parsley, and crushed red pepper.
Now it's just my preference, but I like to use mild Italian sausage. Sweet Italian sausage would also work, which is also mild in spiciness but with the addition of sweet basil, but I can only find ground Italian sausage in either mild or hot at my #1 grocery store.
If you definitely like spicy foods, then by all means go for the hot Italian sausage. That way you can leave out the crushed red pepper and cut down on an ingredient.
I don't mind reasonably spicy foods, but after buying and eating one brand of hot Italian sausage that was hot, hot, HOT, I'm a little shy with it and stick with mild. Of course I can't remember which brand I had that was off the charts so I don't know which to stay away from. Maybe it was an off batch?
Anyway, mild Italian sausage plus a little bit of crushed red pepper is the name of the game for sausage stuffed mini peppers that are comfortably zippy.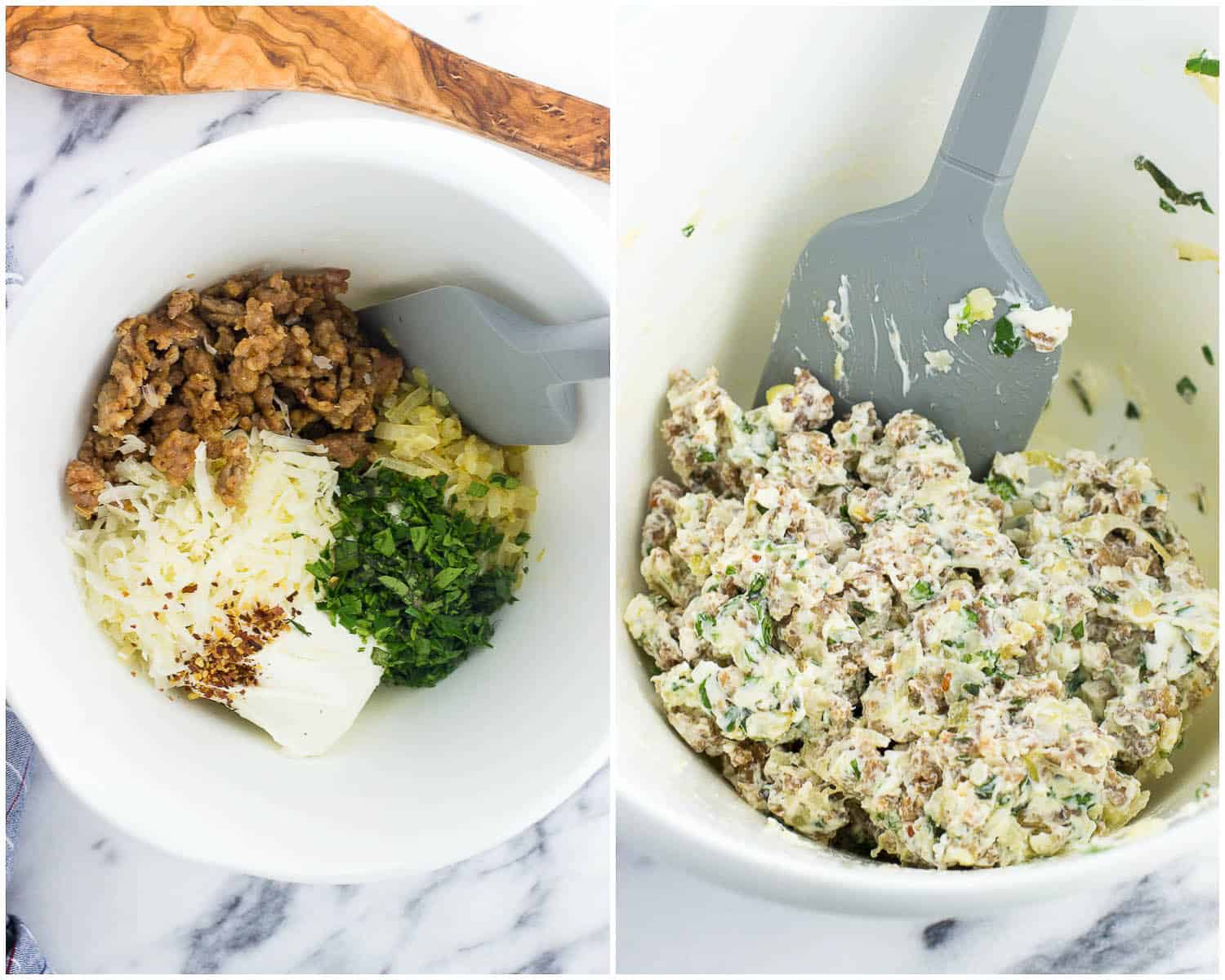 Either variety works, but reduced-fat cream cheese is my pick here and for many savory dishes that call for cream cheese, like healthy buffalo chicken dip. Usually there are so many other flavors going on that the absence of full-fat cream cheese isn't missed like it would be in a cheesecake.
As for the other cheese, you can basically use whatever variety you like or have on hand. This stuffed mini peppers with sausage recipe uses two-thirds of a cup in total, divided between the filling and the topping.
For this particular batch I used a blend of mozzarella and extra sharp white cheddar. Mozzarella is a melty dream but doesn't have the boldest flavor, which is where the extra sharp cheddar comes in for an assist. All mozzarella, all cheddar, any kind of jack cheese, etc. would totally work just fine, too.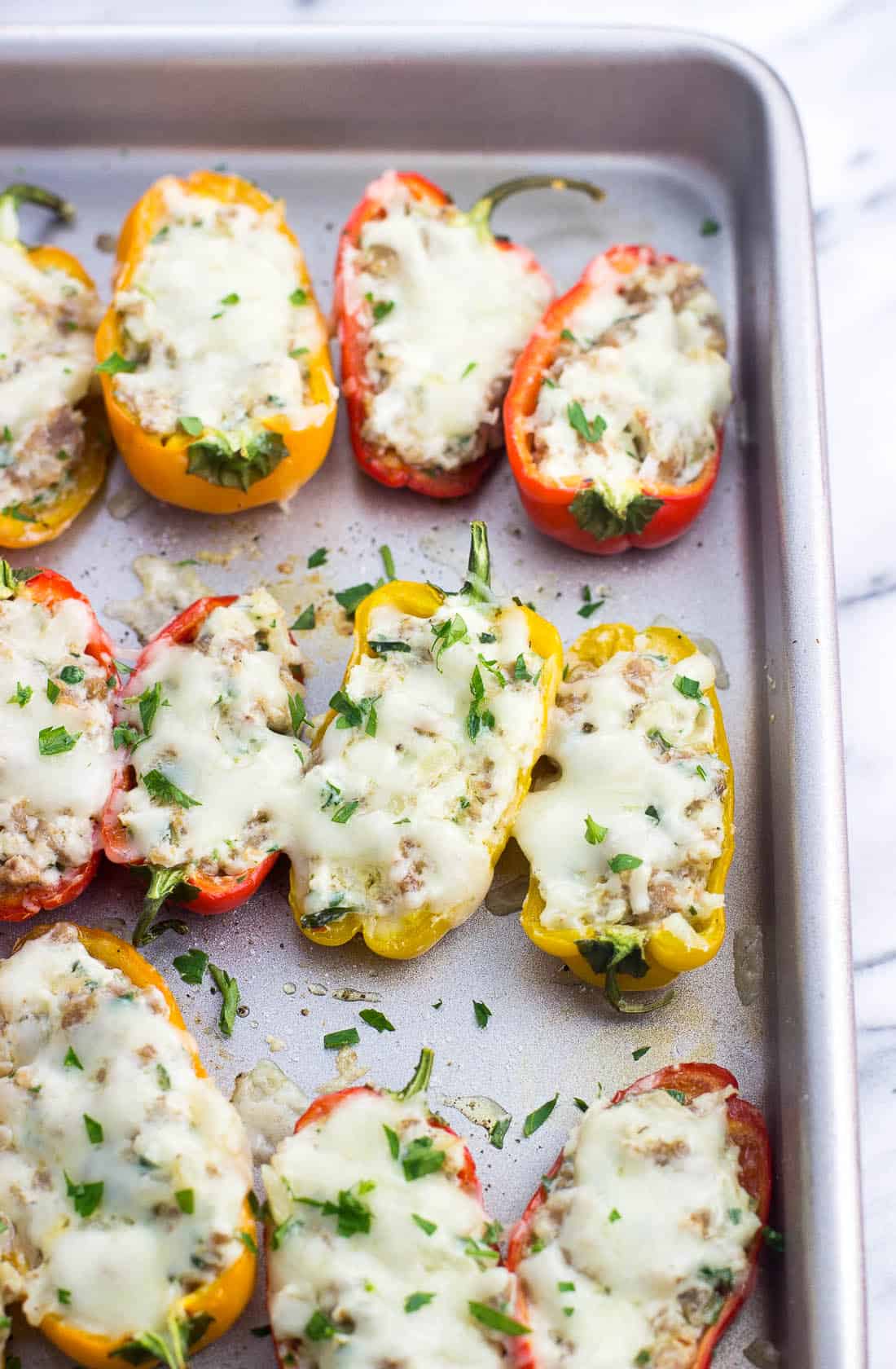 I find mini sweet peppers in eight-ounce bags at my grocery store, which works well with eight ounces of Italian sausage. You can totally scale this recipe up to use up a whole pound of meat, but if not, here are some ideas to use up the remaining half-pound of sausage.
Italian sausage quesadillas

are always a hit! Half a pound of sausage will yield approximately one big quesadilla (two round tortillas with filling in-between), or two tortillas folded over on themselves to contain the filling. Done in 30 minutes!
Just like the quesadillas above,

creamy pesto gnocchi with white beans and sausage

is 30-minute comfort food. This recipe calls for three-quarters of a pound of sausage, but you can totally swing it with a little less.
You can make a half batch of either

Italian sausage soup

or this

sausage strata

for all my fellow savory breakfast lovers out there.
Any of those recipes use the sausage once it's already been browned, so cooking the whole pound together and then dividing it once done is an easy way to get prepping for a future meal.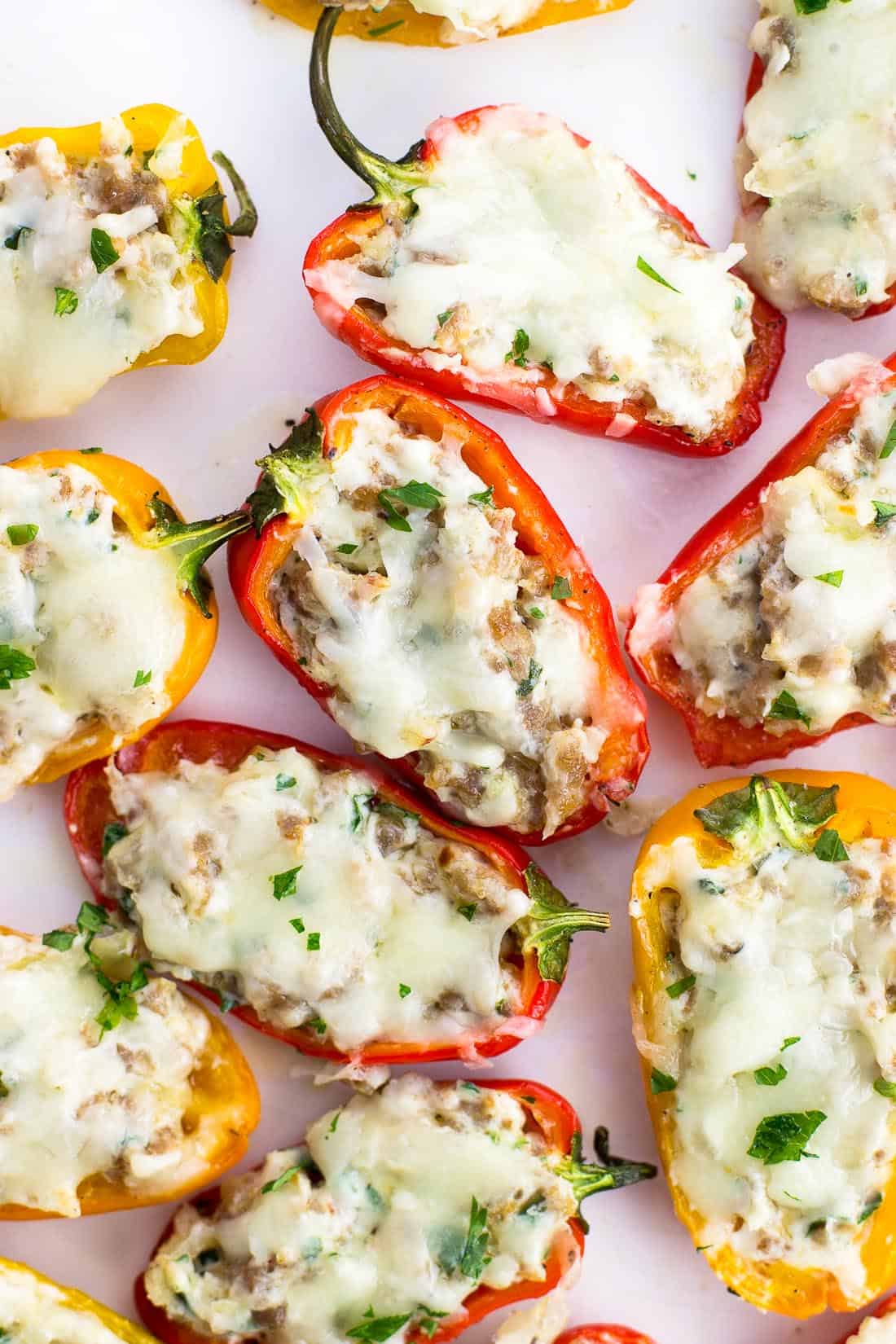 Recipe Notes
Full-fat or reduced-fat cream cheese work here. Same with your preferred variety of shredded cheese.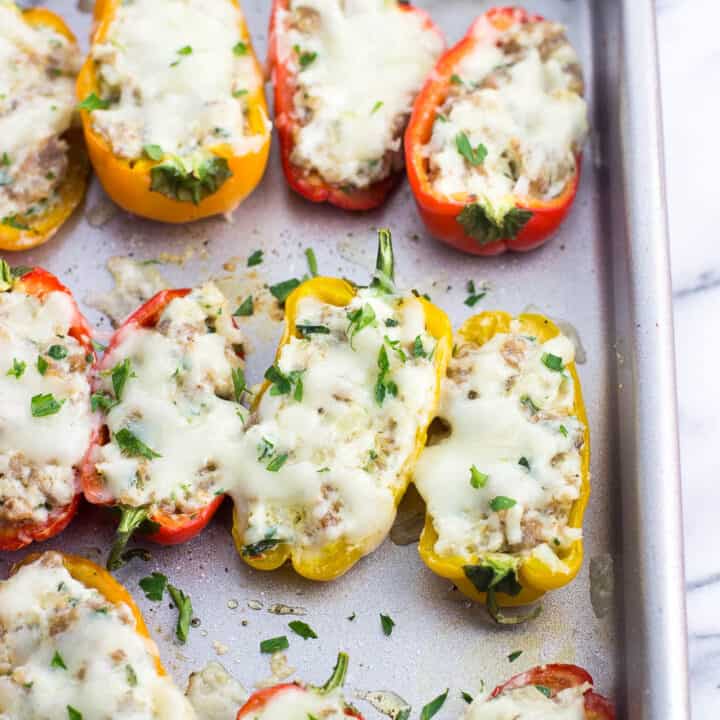 Italian Sausage Stuffed Mini Peppers
Italian sausage stuffed mini peppers make such a great appetizer recipe! Two-bite, sweet mini peppers are filled with a creamy mix of Italian sausage, cheeses, onion, garlic, and fresh herbs in this easy dish.
Print
Pin
Rate
Ingredients
For the peppers:
8

oz

mini sweet peppers

Olive oil,

for drizzling

Salt and pepper,

for seasoning peppers
For the filling:
8

oz

mild Italian sausage,

cooked and crumbled

1

tbsp

olive oil

Half of an

onion,

diced small

5

cloves

garlic,

minced or pressed

4

oz

cream cheese

(I used reduced-fat)

2

oz

shredded cheese,

(about 2/3 cup) like mozzarella, white cheddar, etc., divided

1

tbsp

fresh parsley,

finely chopped

5

fresh basil leaves,

finely chopped

1/4

tsp

crushed red pepper,

or to taste
Instructions
Heat the oven to 400°F. Slice each mini sweet pepper in half lengthwise, then slice/scoop out the pith and seeds and discard. Place each pepper half on a rimmed baking sheet with the cut-side up.

Once all of the peppers are on the baking sheet, lightly drizzle them with olive oil and season with salt and pepper. Bake for 7 minutes to slightly soften them up, then set aside. Lower the oven temperature to 350°F once the peppers are done.

Add Italian sausage to a pan set over medium heat, breaking it into small crumbles as it cooks. Once fully cooked (no longer pink), transfer to a paper-towel lined plate to cool.

Clean out pan to use again. Add 1 tbsp olive oil to the pan and set it over medium/low heat. Add diced onion and cook for 5-6 minutes, then add garlic. Cook, stirring occasionally, until the onions are golden and tender. Remove pan from the heat.

In a medium mixing bowl, add cooked and crumbled sausage, sauteed onion and garlic mixture, cream cheese, 1 oz (about 1/3 cup) of the shredded cheese, parsley, basil, and crushed red pepper. Stir well to break up the cream cheese until all ingredients in the filling mixture are evenly combined.

If you find excess liquid has pooled in the peppers as they've cooled, you may wish to blot it before stuffing them so the filling doesn't slide around. Stuff each pepper half with the filling, pressing it into the peppers well. Top evenly with the remaining shredded cheese.

Bake (now at 350°F) for 8-10 minutes, or until the cheese has melted and the stuffed mini peppers are heated well throughout. Serve warm.
Nutrition
Calories:
175
kcal
|
Carbohydrates:
11.3
g
|
Protein:
8
g
|
Fat:
11.2
g
|
Saturated Fat:
4
g
|
Cholesterol:
29
mg
|
Sodium:
267
mg
|
Potassium:
234
mg
|
Fiber:
1.8
g
|
Sugar:
7.7
g
|
Calcium:
54
mg
|
Iron:
1
mg
Nutritional information is provided as an estimate. As it can vary due to many factors (brands used, quantities, etc.), we cannot guarantee its accuracy.
Recipe adapted from kroger.