Baked clam dip is a warm, creamy dip that features all of the flavors of baked clams with much less work! Chopped clams are cooked with onion, breadcrumbs, Parmesan, and spices for a crowd-pleasing appetizer.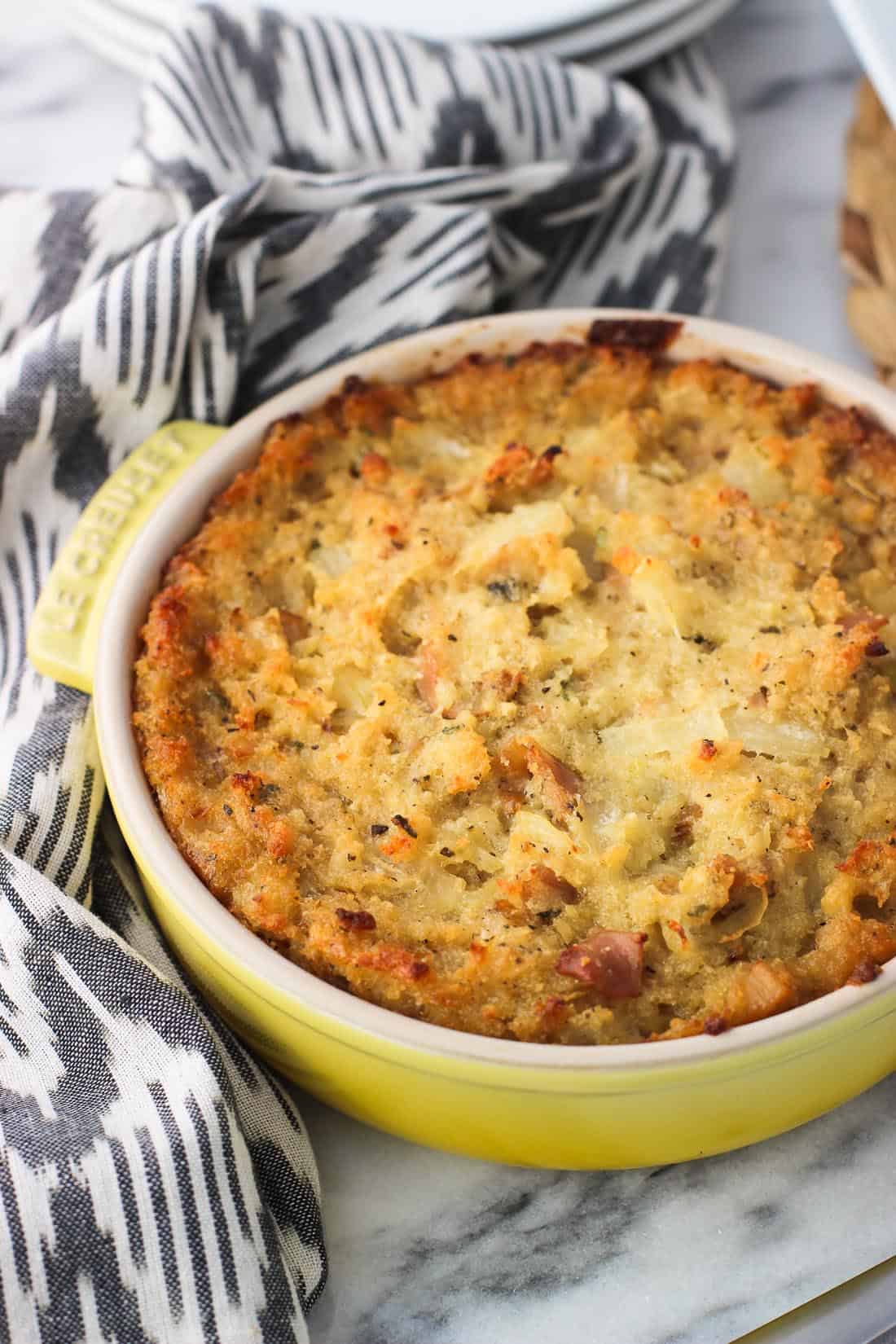 Last week I posted a recipe for struffoli, which stands as my very favorite dessert we enjoy every year at Christmas. So it's only fitting that I share a family recipe that we absolutely devour as a Christmas Eve appetizer: baked clam dip.
This hot dip features all of the savory flavors that people have come to love in baked clams, including the clams themselves, in a MUCH easier to prepare version. I look forward to this night of eating every year because our traditional baked clam dip precedes a hearty dinner of baked ziti and meatballs. It's important to choose an outfit with some room in the waistband.
But back to the recipe at hand. It feels a little dangerous to have a speedy shortcut way to indulge in an appetizer classic. This dip is that good.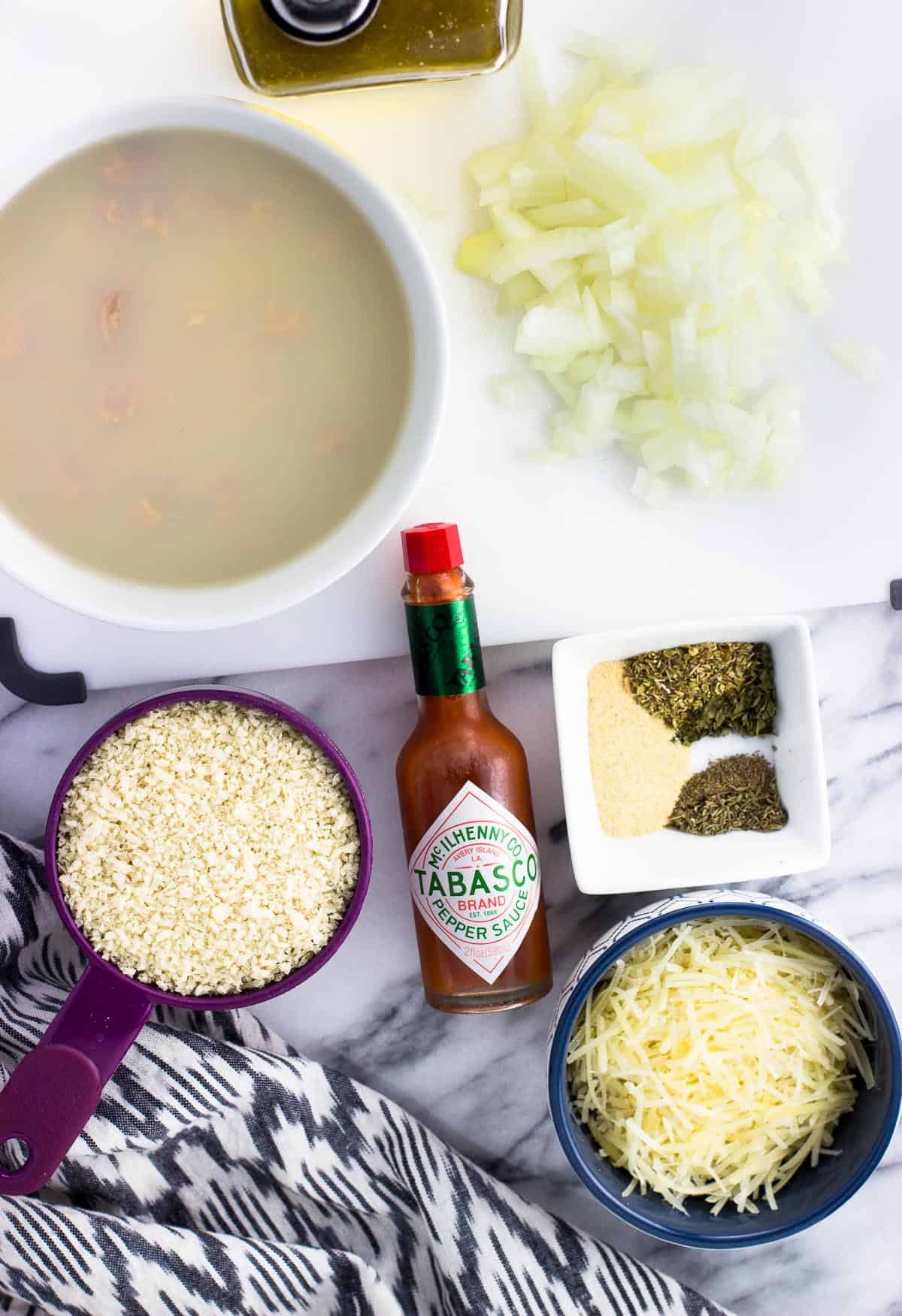 Recipe ingredients
Canned chopped clams are what make this baked clam dip much simpler to make. Now I'll admit that what began as a once-a-year Christmas Eve recipe has slowly crept into an appetizer that makes an appearance on multiple special occasions, so keeping two (or more likely, four) cans of clams in the pantry is the norm around here.
All of the other ingredients, like onion, olive oil, Parmesan, breadcrumbs, and pantry staple spices are always on hand, so throw in cans of clams two at a time, and you're less than an hour away from a warm, creamy, and crowd-pleasing dip. They're truly my appetizer secret weapon.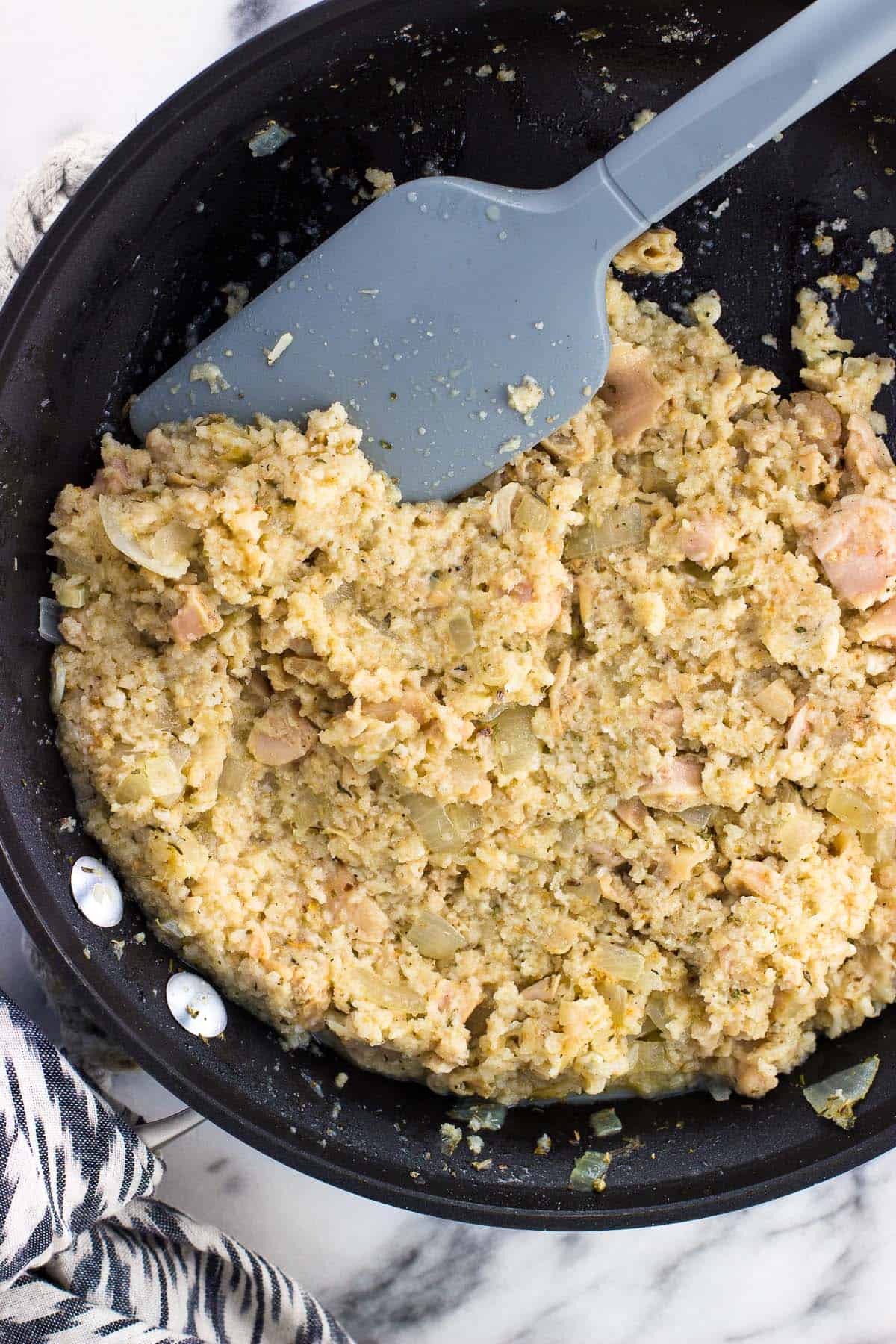 Step-by-step instructions
This recipe begins by sauteing onion in olive oil until golden. Always a good start! Then take the pan off the heat and add the rest of the ingredients, including the clams and all the liquid in the cans.
Give it all a stir as the breadcrumbs absorb the liquid and the spices are evenly dispersed. You can certainly tweak the recipe at this point (my mom never really measures the breadcrumbs), but you want to end up with a mixture at this point that resembles paste in consistency. Moist but not too liquid-y, just like the photo above.
All that's left is to transfer it into a greased baking dish and bake for 35-40 minutes, or until the edges are golden-brown. The hardest part of this clam dip recipe might be waiting for it to cool slightly once it comes out of the oven before digging in. I can't even count the number of times through the years that I've burnt my tongue on this with my impatience.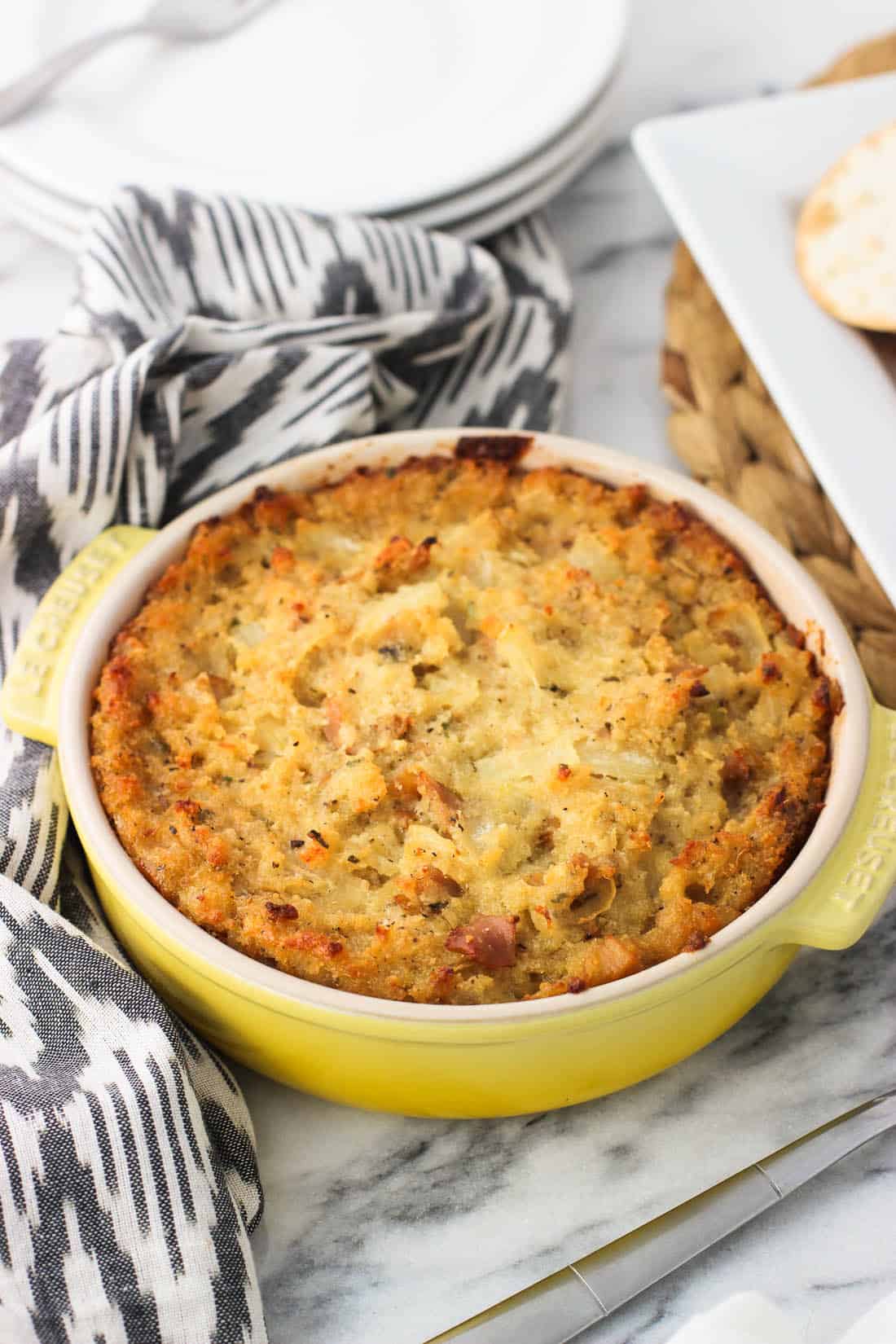 This baked clam dip recipe yields about twenty ounces of dip, making it a great size for a gathering. If the craving hits when it's just you and a small crowd (or...just you), leftover dip can be refrigerated and reheated no problem. Or you can make half the recipe! Thankfully the ingredients are easily halved.
When my mom makes this recipe, she bakes it in some sort of oven-safe crock dish that I cannot find online no matter what I Google. I used this dish (affiliate link), which has a 17-ounce capacity. Because there's NO way I can let any bit of this baked clam dip go to waste, I filled exactly one greased muffin cup in addition to this dish and baked them at the same time.
At first I was bummed, but you know what? It's genius. If you're preparing this dip for a get-together, you can enjoy your own personal portion before guests arrive without mussing up the main dish. 😉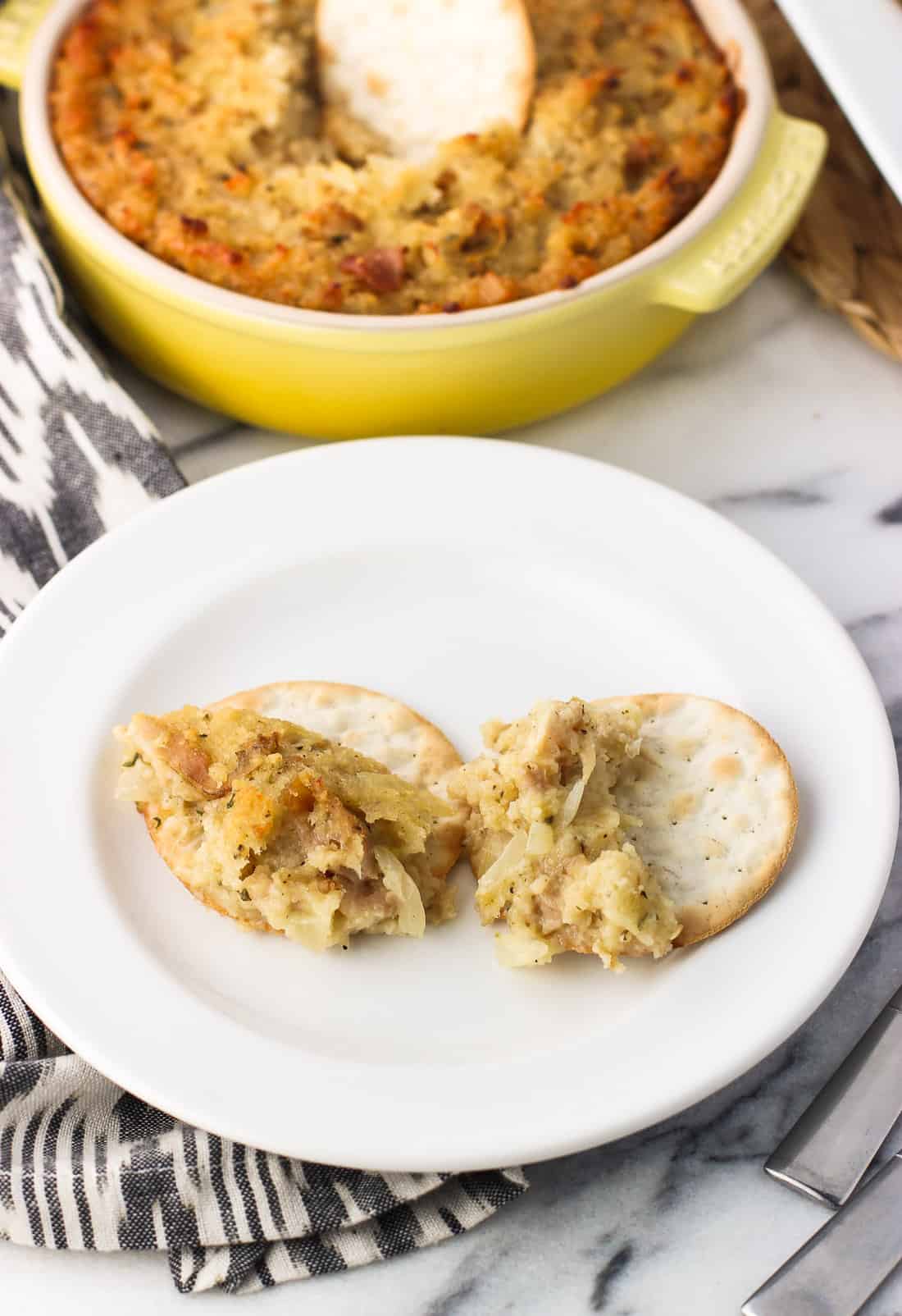 Ritz crackers are a classic serving suggestion here (and my favorite!), but really any type of mild-flavored cracker will do the trick.
Recipe notes
The spices here have wiggle room. The hot sauce adds more flavor than anything as this clam dip isn't spicy. You can totally omit it if you'd rather not, though.
For a shortcut you can use Italian seasoned breadcrumbs instead of the panko (just adjust the seasonings). On occasion I've also subbed in half regular breadcrumbs when I was running out of panko and it works just fine, too.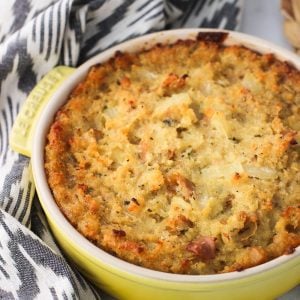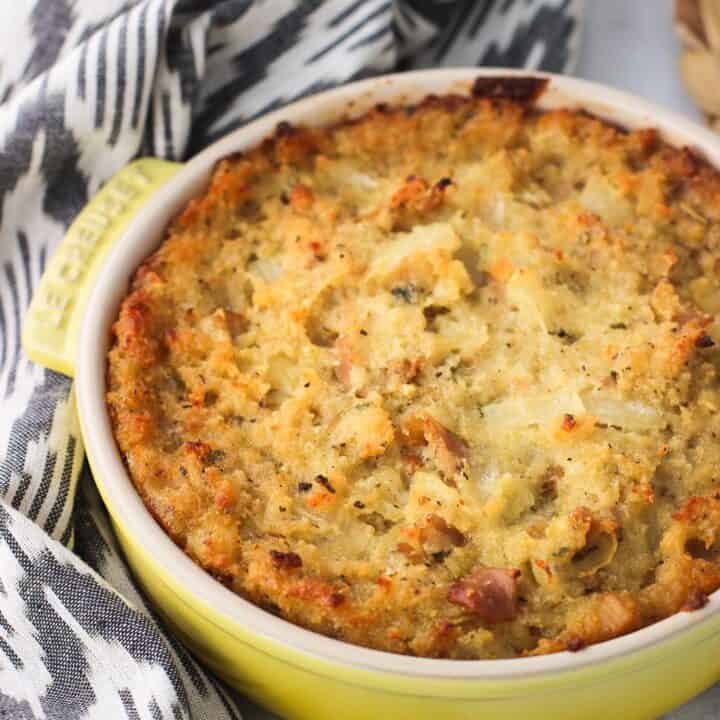 Baked Clam Dip
Baked Clam Dip is a warm, creamy dip that features all of the flavors of baked clams with much less work! Chopped clams are cooked with onion, breadcrumbs, Parmesan, and spices for a crowd-pleasing appetizer.
Print
Pin
Rate
Ingredients
Half of a

large onion,

diced

1

tablespoon

olive oil

2

6.5-oz cans

chopped clams in clam juice

(retain the juice)

½

cup

grated Parmesan cheese

or shredded

¼

teaspoon

hot sauce

(optional)

1

teaspoon

garlic powder

1

teaspoon

dried oregano

½

teaspoon

dried parsley

¼

teaspoon

dried thyme

¼

teaspoon

salt

¼

teaspoon

ground black pepper

1

cup

panko breadcrumbs
Instructions
Preheat oven to 350°F. Add olive oil to a skillet and set over medium heat. Add chopped onion and saute for 5-6 minutes, or until the onion is golden.

Turn off the heat and add the two cans of clams, including the juice. Add Parmesan, hot sauce, garlic powder, oregano, parsley, thyme, salt, and pepper and stir to combine.

Add breadcrumbs and stir as the mixture thickens.

Transfer dip to a greased baking dish and bake for 35-40 minutes, or until the top is golden and the crust around the edges is golden brown. Serve warm with crackers.
Notes
You can also use Italian seasoned breadcrumbs in place of the panko and the dried herbs.
You'll want the consistency of the mixture to be like a paste without being too dry.
This recipe yields approximately 20 oz in total, serving size varies.
Nutrition
Serving:
2
oz
|
Calories:
102
kcal
|
Carbohydrates:
10
g
|
Protein:
7.4
g
|
Fat:
4.1
g
|
Saturated Fat:
1.9
g
|
Cholesterol:
15
mg
|
Sodium:
354
mg
|
Potassium:
8
mg
|
Fiber:
0.5
g
|
Sugar:
0.6
g
|
Calcium:
100
mg
|
Iron:
0.2
mg
Nutritional information is provided as an estimate. As it can vary due to many factors (brands used, quantities, etc.), we cannot guarantee its accuracy.
Food Safety and Nutrition Disclaimer