This Panettone French Toast Bake features dried fruit- and citrus-studded panettone bread, maple syrup, and a crumb cake topping. There's no overnight soaking or french toast flipping required for this special breakfast or brunch dish. Perfect for the holiday season!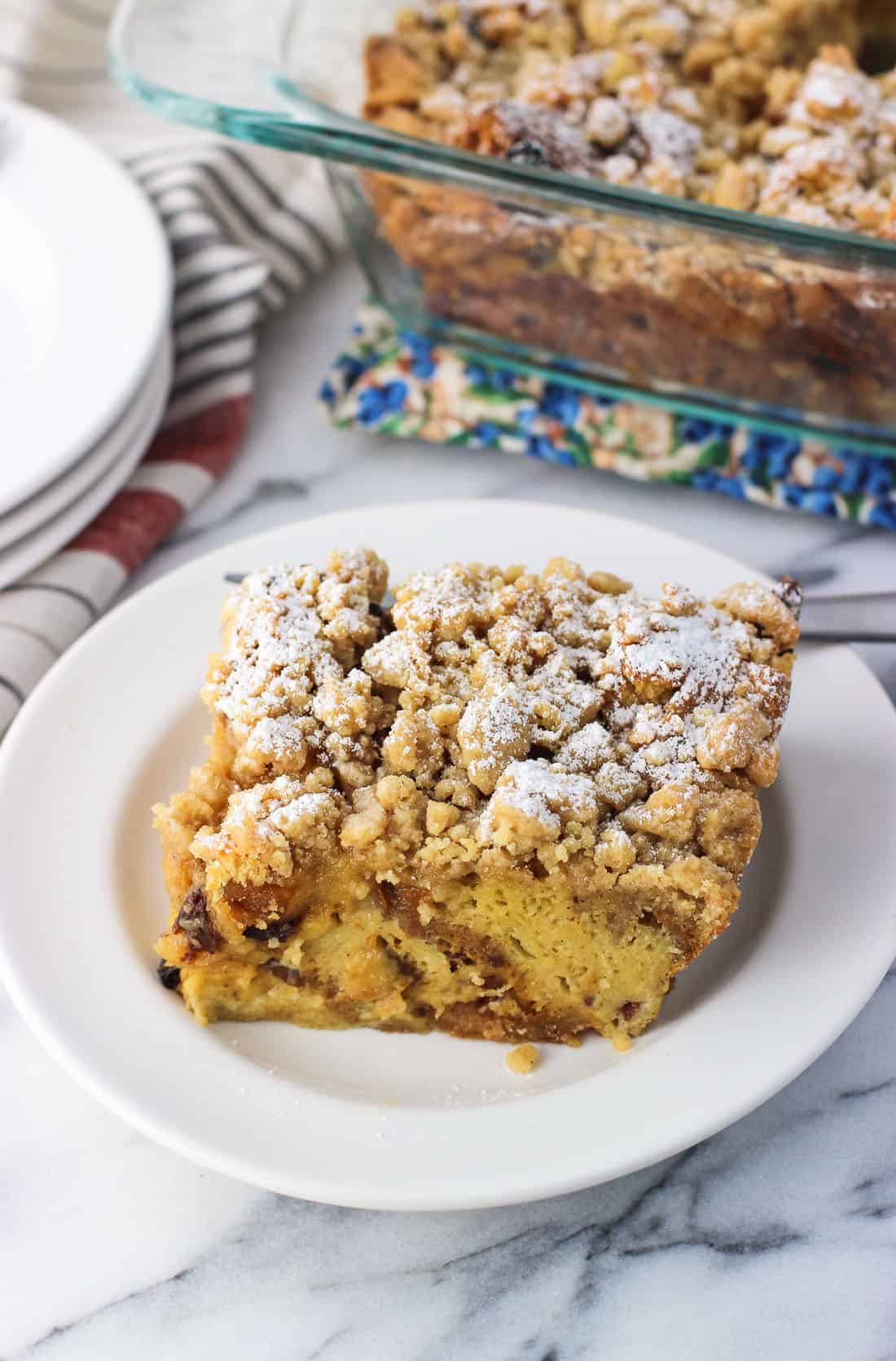 Hello, holidays.🎄🎅 We decorated the house this weekend and now all my brain wants to focus on are baking and eating Christmas cookies, finding time to fit in all the Christmas movies I want/need to watch before the big day, and collecting all of the holiday-scented candles I can get my hands on. Judging by how past years go, I'll ace the first one, squeak by on the second, and come up short on the last. Analysis paralysis normally sets in and I call it good with one solitary balsam fir candle.
It's looking like I'll have to make a little room for thinking about how delicious my Christmas morning breakfast of Panettone french toast will be, because how could you not savor the thought of perfectly-flavored Panettone bread combined with warm spices and maple syrup all baked up in one pan? There's no need for individual bread flipping that comes along with standard french toast and that means everyone in the family can eat at the same time.
Plus there's a layer of crumb cake crumbs over top. I repeat: crumb cake crumbs are happening.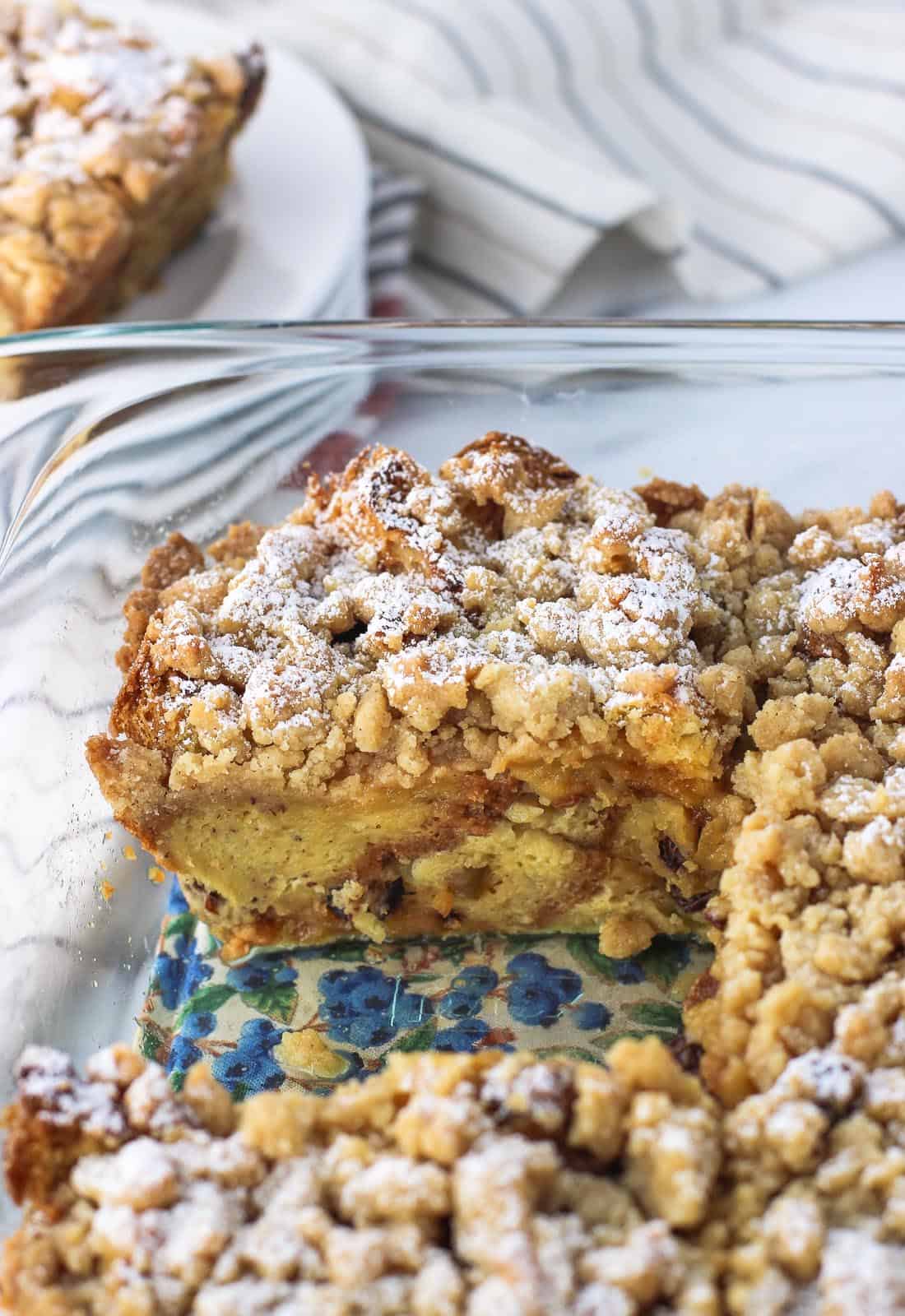 Every holiday season I buy a loaf of Panettone and do my best to resist the urge to tear into it with my hands and devour it piece by piece that way. While I've been intrigued by homemade Panettone recipes, they seem quite involved and require more work than I'm willing to spend on something I can easily find at my grocery store (or online, or discount department chains <– where I got mine this year).
Panettone bread is a sweet loaf filled with raisins and candied citrus fruit pieces. Because it has a bold flavor on its own, it's a great base to use for a french toast bake. Panettone comes in a variety of sizes, but the one I bought was just over 32 oz. I used approximately half of it in this Panettone French Toast Bake, which filled an 8″x8″ pan, so you'll either have extra Panettone for snacking on or enough for a double batch.
Recently I covered my savory breakfast bake grounds with sausage strata with asiago and asparagus, but since chicken broth was going to be a no-go in this Panettone french toast bake, I went back to my whole wheat blueberry chai french toast bake and adapted the recipe from there. Eggs, milk, maple syrup, and a little bit of cinnamon are whisked together while Panettone is cut into cubes. After the Panettone is arranged in the baking dish, you'll pour the egg mixture over top and that's all!
Now, you could stop there and have yourself a merry little breakfast. Or! You could whip up a four-ingredient crumb topping and scatter it on top for an extra special touch. This topping definitely takes it over the top, but what. a. treat. for a special holiday brunch or for Christmas morning itself. 👍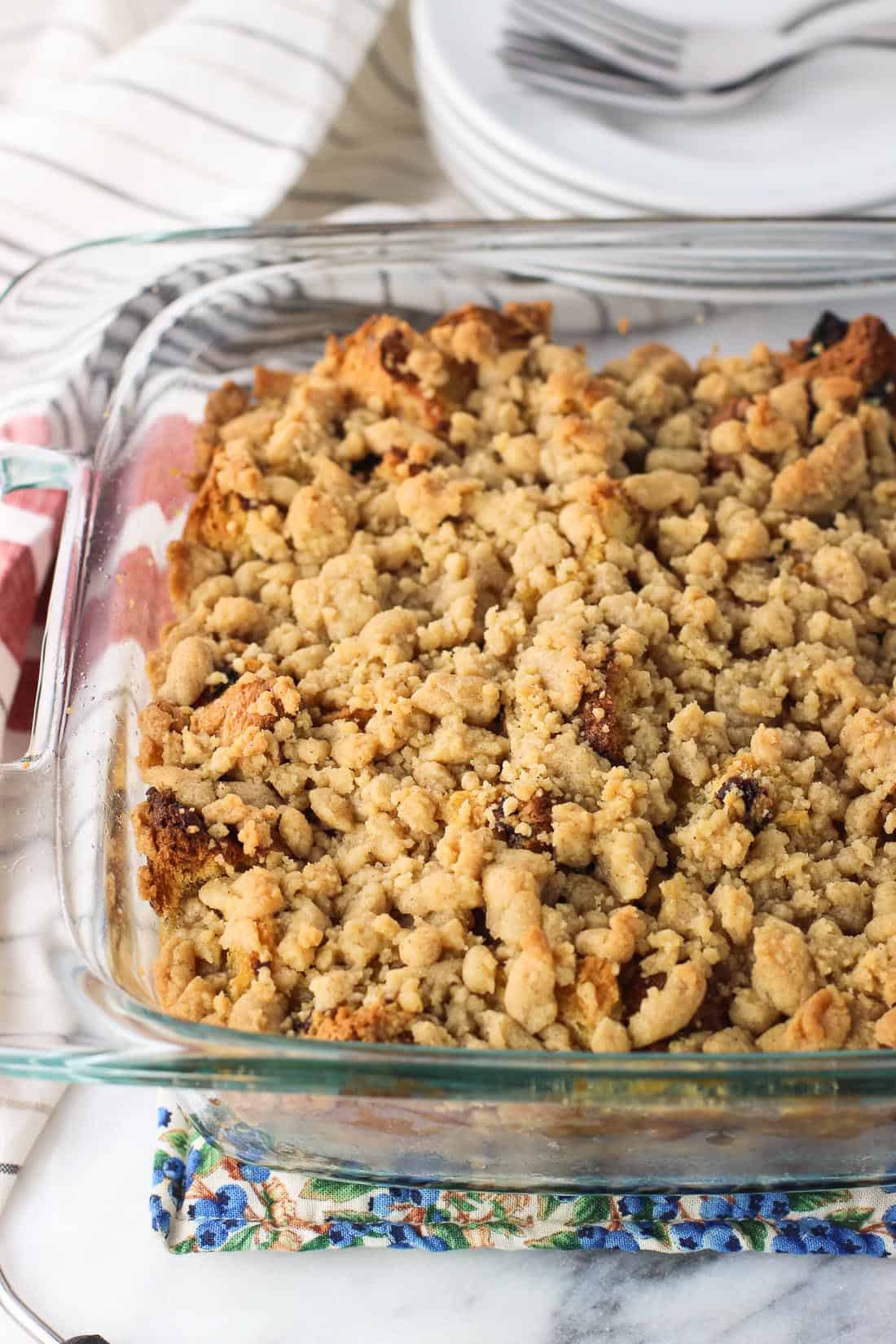 A lot of french toast bake recipes out there require assembling it and sticking it in the fridge overnight for the bread to absorb the liquid. While overnight recipes certainly have their place, this Panettone french toast bake requires no ahead prep! Right when you finish scattering the crumbs over top you'll start the oven. The pre-heat time is all this breakfast bake needs for absorbing the liquid!
Panettone French Toast Bake with Crumb Topping
Ingredients
For the french toast:
4 eggs
1 cup milk, your preferred
1/2 cup maple syrup
1/2 tsp ground cinnamon
16 oz Panettone, cut into approximate 1" cubes
For the crumb topping:
1/3 cup brown sugar
1/4 tsp ground cinnamon
1/4 cup (4 tbsp) butter, melted
2/3 cup plus 1 tbsp all-purpose flour
Confectioners' sugar, for serving
Instructions
In a mixing bowl, whisk together eggs, milk, maple syrup, and 1/2 tsp cinnamon.
Cut Panettone into approximately 1" cubes and place in a greased 8"x8" baking dish. Press down on the bread cubes a little bit so they're in an even layer.
Pour egg mixture over top of the Panettone. At this time, preheat oven to 350°F.
To make the crumb topping, whisk together brown sugar and 1/4 tsp ground cinnamon in a bowl. Pour in melted butter and stir. Add flour and combine until the mixture isn't too wet and can be pressed into crumbs.
Scatter crumbs evenly over top of the Panettone french toast bake.
Once oven is heated, bake for 40-45 minutes, or until the Panettone has absorbed the liquid and is set.
Let the french toast bake cool slightly and sprinkle confectioners' sugar over top before serving.