Learn how to make croutons in the oven with this simple tutorial. Leftover bread and a few kitchen staples are all you need for this light and crunchy homemade croutons recipe. They stay crisp for days!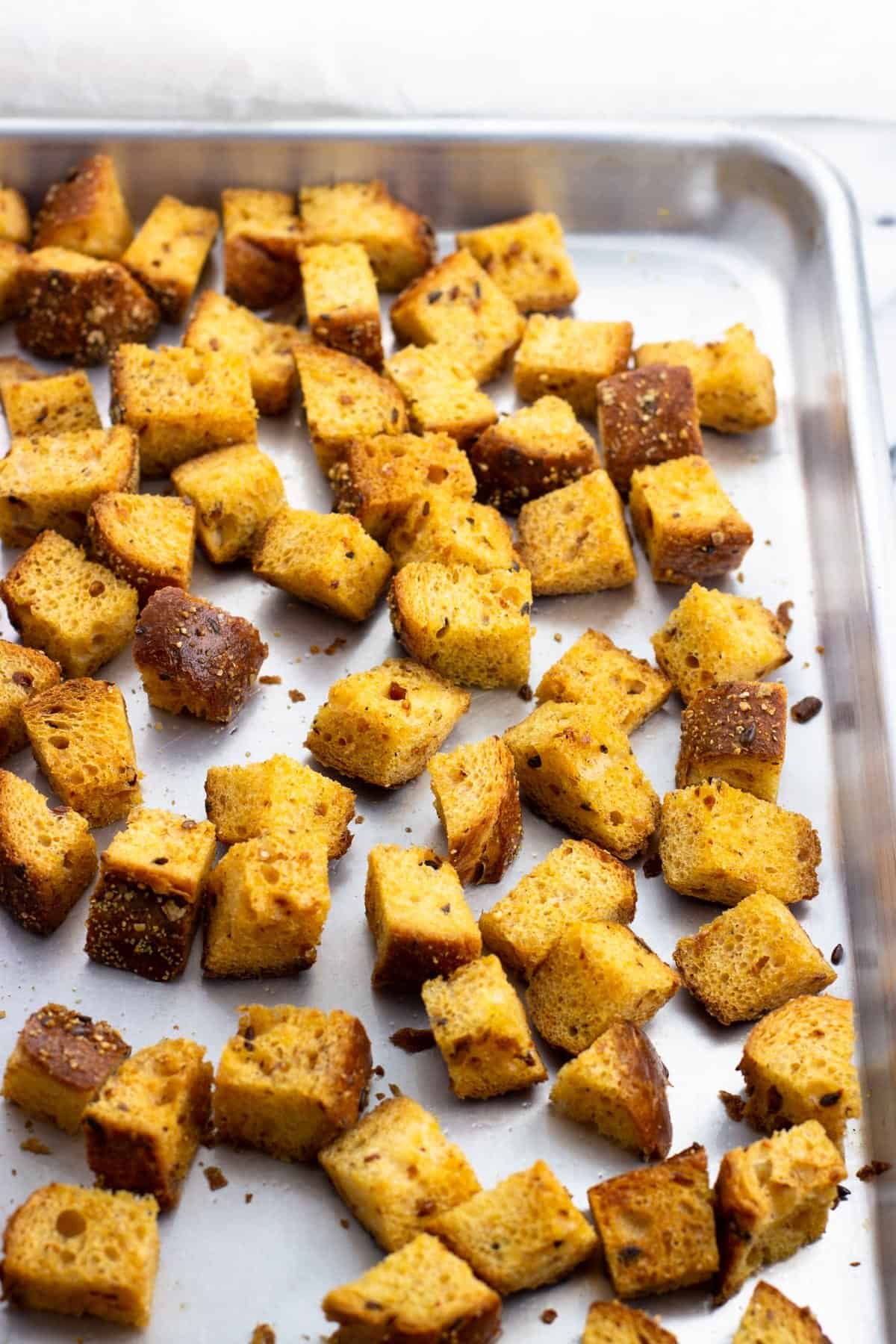 I often buy bread in the bakery section of the grocery store with the best of intentions of using it to slice and serve with compound butter, make sandwiches (including my favorite, a leftover steak sandwich - YUM), or freeze straight away to preserve its freshness.
Most of the time life gets in the way and at least half of the loaf is still sitting in my pantry days later.
If you're often left with stale bread like I am, knowing how to make croutons is a game-changer. In fact, stale-ish bread is even preferred over fresh as it's already on its way to becoming dried out.
See? You left that bread sitting there for good reason.
Reasons to Love This "Recipe"
I don't say "so-and-so is better than store-bought!" lightly (I really value convenience!), but in the case of homemade croutons I find it true. Between the variety of breads to use and the olive oil you get so much more flavor than many commercially-produced croutons.
You can easily scale it up or down to use however much bread you have leftover. Especially if the bread is stale, I love knowing ways to deliciously reduce food waste.
By keeping in mind two important points - oven temperature and quantity of oil - you'll reliably produce light, airy and fully crisp homemade croutons that stay that way for days.
While these steps detail how to bake croutons, the same ingredients are used in air fryer croutons for a quicker cook time.
Best Bread for Croutons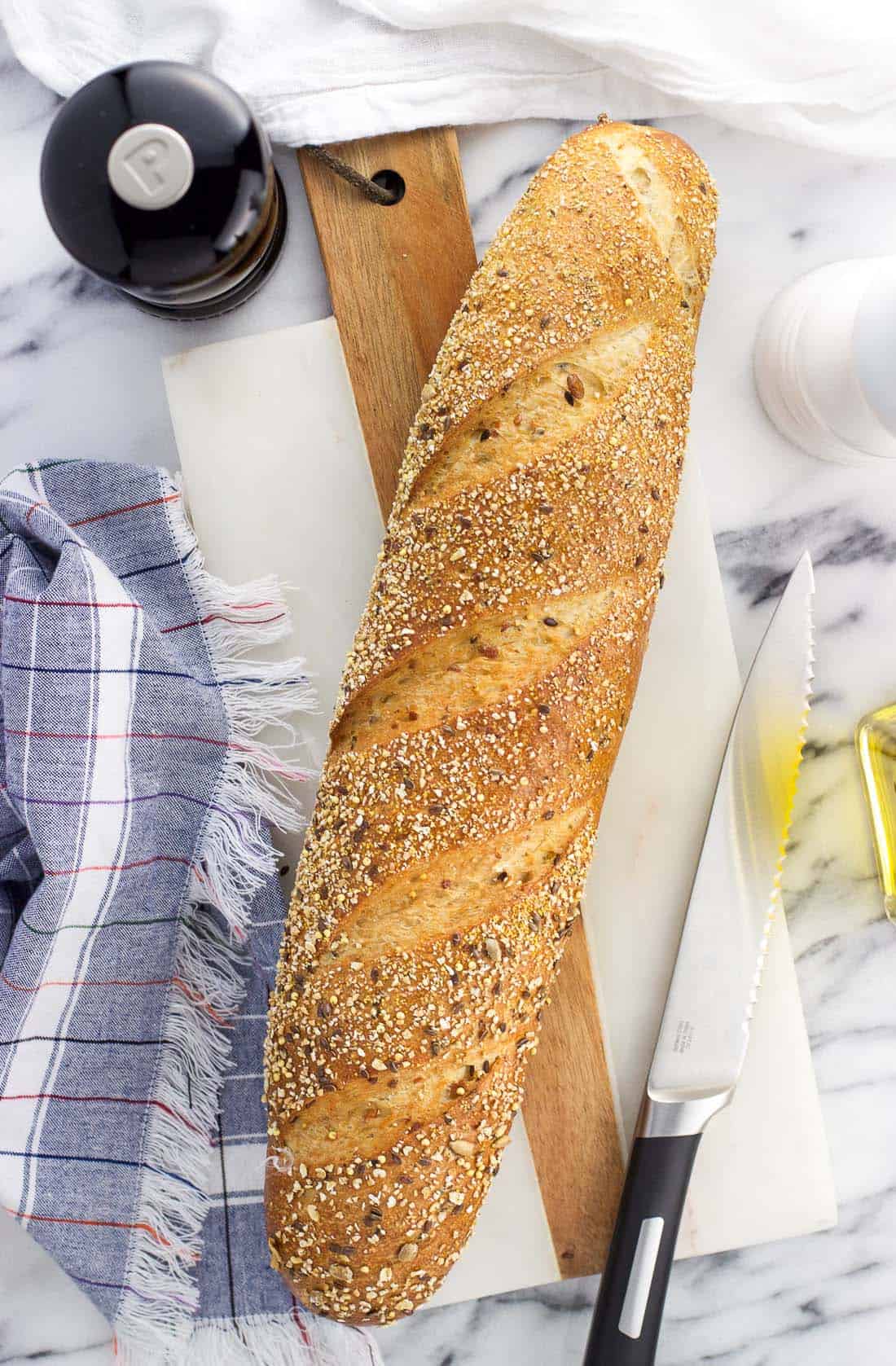 Lots of different types of bread work to make homemade croutons. My favorite type of bread to use for regular croutons is a baguette from the bakery section of the grocery store. The one you see in this post is an Italian Five Grain variety and it is exquisite.
All the surface area of a baguette means most croutons will have at least one crust edge on them, which is always my favorite part. An eight-ounce baguette like the one pictured is also about the right size to fit on one large rimmed sheet pan.
Other breads will work for homemade croutons besides a bakery baguette, including:
Sourdough
Challah
Rye
Pumpernickel
Sliced bread (staler is best)
Old hot dog or hamburger buns
and even cornbread, which I detailed out in its own post: how to make

cornbread croutons

. It's perfect for leftover cornbread.
Step-by-Step Instructions
Slice your bread into roughly equal pieces. After slicing a baguette into rounds, I'll usually cut each round into six or eight cubes, depending upon if the baguette is on the skinnier or plumper side. Add all of the bread cubes to a large mixing bowl.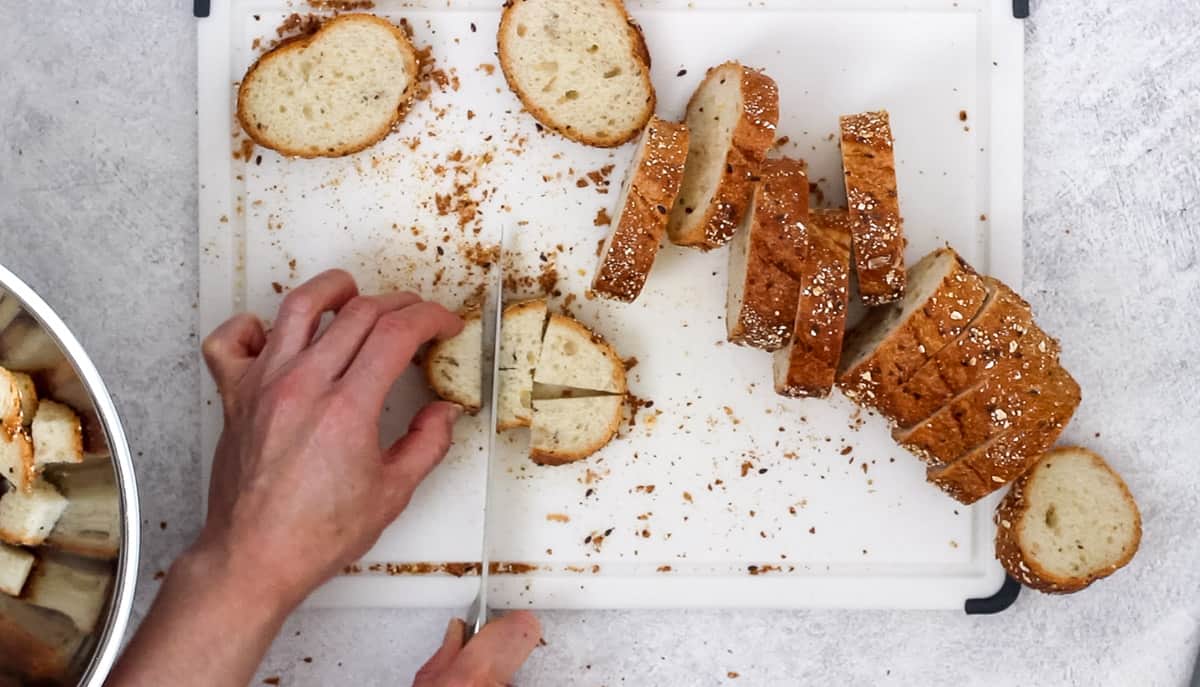 Next is the olive oil. Drizzle it over the bread cubes and please don't be stingy with it! Five tablespoons might look like a lot but you want every crouton to be coated as this also helps them crisp up nicely. Add salt and pepper and toss well to evenly coat the bread.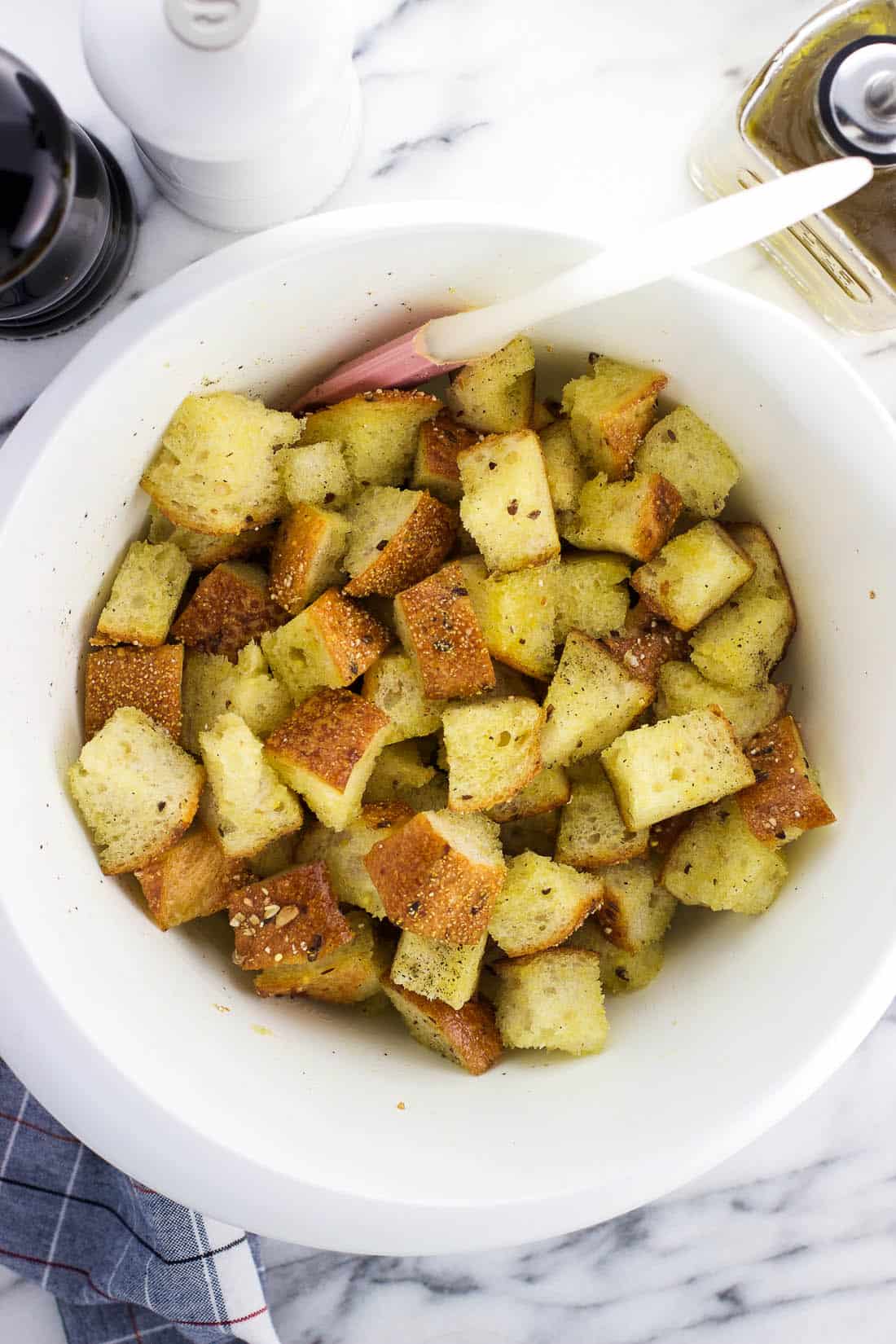 Pour out the croutons onto a large rimmed sheet pan (the one used here for an 8 ounce baguette is approximately 13-inches x 8-inches).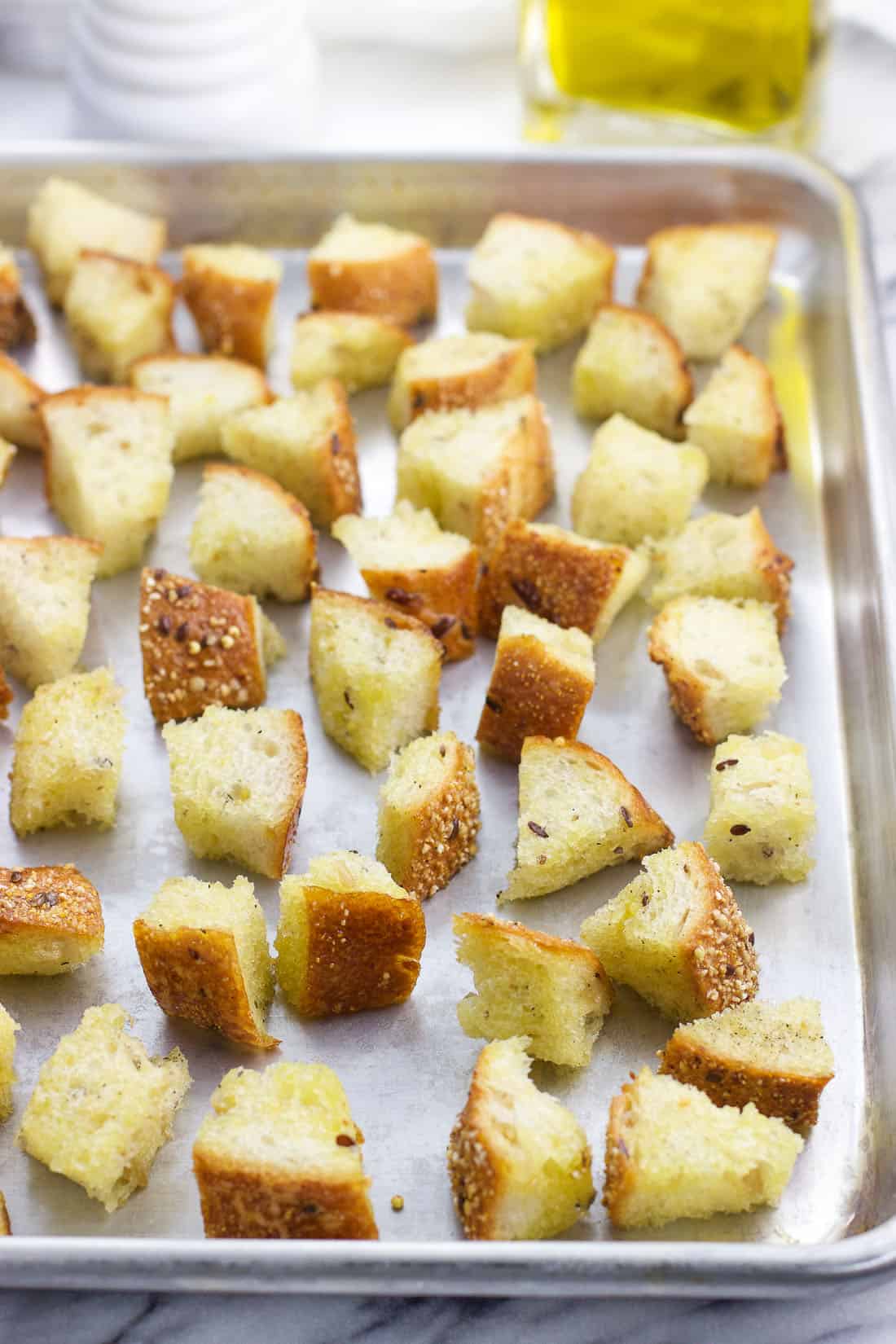 Bake at 325°F (163°C) until the croutons are golden brown and fully crisp to your liking, shaking them up on the pan once or twice during the cook time. Let them cool completely before storing.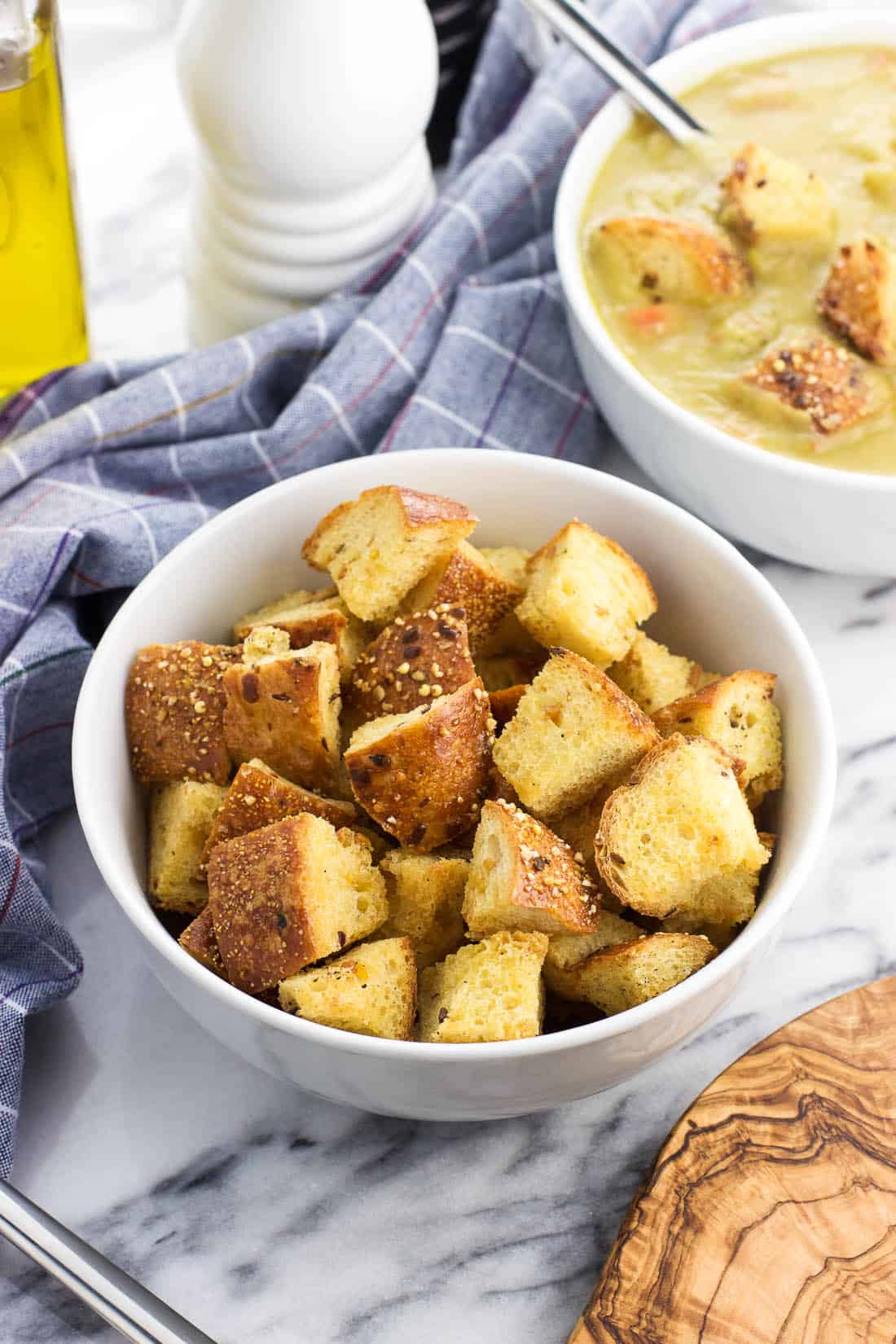 Recipe Tips and Tricks
Two- or three-day-old bread really shines when you're making homemade croutons. Fresher bread will also work if you're in a hurry. It'll just be squishier and less precise when slicing.
Leave a little space between the croutons on the baking sheet to allow for each to crisp up as they bake, rather than "steam".
And on that note, be sure to use a rimmed baking sheet. You don't want to lose any of them to the bottom of the oven when taking the sheet in and out.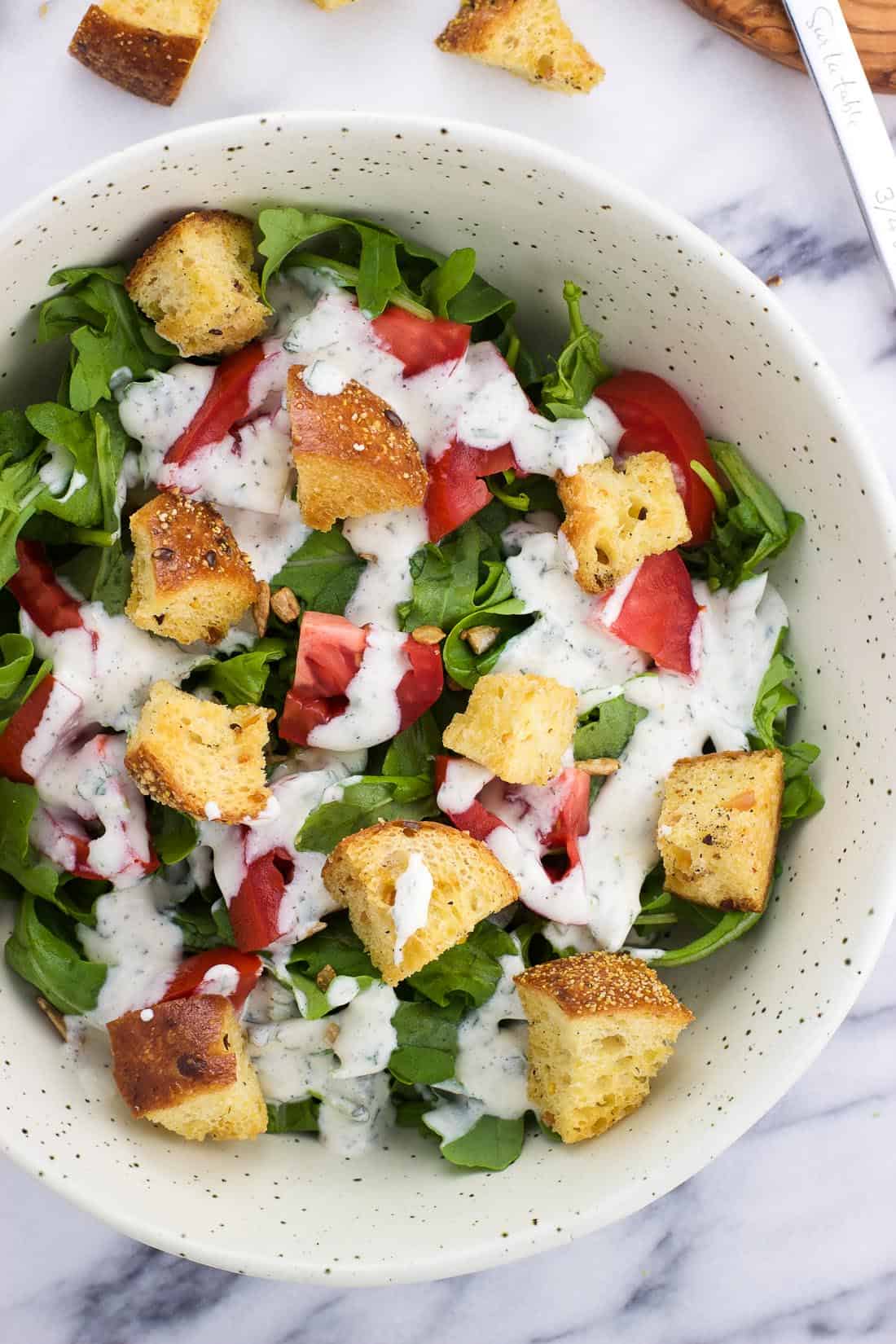 Recipe FAQs
How do you store homemade croutons?
Once cooled, store homemade croutons in an air-tight, sealable plastic bag or container. If using a bag, I recommend pressing as much air out of the bag as you can before you seal it up. They will stay crisp for several days to a week or so -- if they last that long.
How can I modify this recipe?
Besides switching up the type of bread, you can add extra seasonings beyond just salt and pepper for even more flavor. Garlic powder, onion powder, pre-made Italian seasoning, grated Parmesan or Pecorino Romano cheese, dried herbs such as basil, oregano, parsley, etc. are all good options to mix and match.
How can I eat croutons besides in a salad?
They make the best toppers for soup, stew, and chili. They're also wonderful when crumbled as a mac and cheese or pasta bake topping, and are an integral part of why Chef John's chicken parm bake has been a favorite in my family for years. (If making that bake, be sure to cook the chicken until 165°F in the center of the thickest part. I find it usually takes more time to cook than stated.)
Related Recipes
If you've enjoyed this recipe, I'd love for you to leave a star rating in the recipe card and/or a comment review below!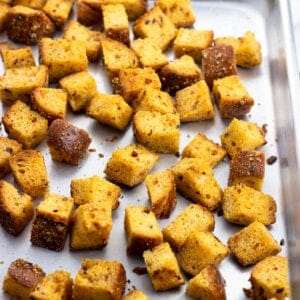 How to Make Croutons
Learn how to make croutons with this simple tutorial! Leftover bread and a few kitchen staples are all you need for this light and crunchy homemade croutons recipe. They stay crisp for days!
Print
Pin
Rate
Ingredients
8

ounce

baguette

or bread of your choice (around 7 cups)

5

Tablespoons

olive oil

⅛

teaspoon

salt

more to taste

⅛

teaspoon

ground black pepper

more to taste
Instructions
Preheat oven to 325°F (163°C). Slice an 8-ounce baguette into approximately 1-inch cubes, then add the cubes to a large bowl.

Pour olive oil into the bowl and then add the salt and pepper. Toss to coat the bread evenly with the oil and spices.

Pour out the cubes onto a large, rimmed, and ungreased baking sheet, taking care to arrange them in a single layer with a little bit of space between them.

Bake for 13-15 minutes, then take the sheet out of the oven. Flip each crouton over, then bake for another 13-15 minutes. See how they are at this point. If they're crisp throughout, remove them to cool to room temperature. If they're not fully crisp yet, keep baking them until they are.


Once cooled completely, store croutons in an air-tight container or sealed plastic bag. They should remain crisp for several days.
Notes
Bread: A baguette is a good choice for croutons as many pieces end up with a side with crust, but many other bread varieties work. You can also consider using sourdough, pumpernickel, rye, challah, or even stale-ish sliced bread, and hot dog/hamburger buns.
Recipe Tips and Tricks
While two- or three-day-old bread works best for homemade croutons as it's on its way to drying out already, fresher bread can also work. It just will not slice as cleanly as staler bread and may require a bit of extra time to bake to crisp up fully.
Beyond salt and pepper, you can add a variety of seasonings to your taste: Italian seasoning, garlic and onion powders, dried thyme and sage. Even grated Parmesan or Pecorino Romano.
In addition to salads, croutons make a great topper to soups, stews, and chilis. They also make a crunchy layer to add to the top of baked mac and cheese and pasta bakes when lightly crumbled up.
Nutrition
Serving:
14
g
|
Calories:
90
kcal
|
Carbohydrates:
9.1
g
|
Protein:
1.9
g
|
Fat:
5.3
g
|
Saturated Fat:
0.8
g
|
Sodium:
125
mg
|
Potassium:
21
mg
|
Fiber:
0.4
g
|
Sugar:
0.4
g
|
Calcium:
7
mg
|
Iron:
1
mg
Nutritional information is provided as an estimate. As it can vary due to many factors (brands used, quantities, etc.), we cannot guarantee its accuracy.
Food Safety and Nutrition Disclaimer