Learn how to make croutons with this simple tutorial! Bread and a few kitchen staples are all you need for this light and crunchy homemade croutons recipe. They stay crisp for days!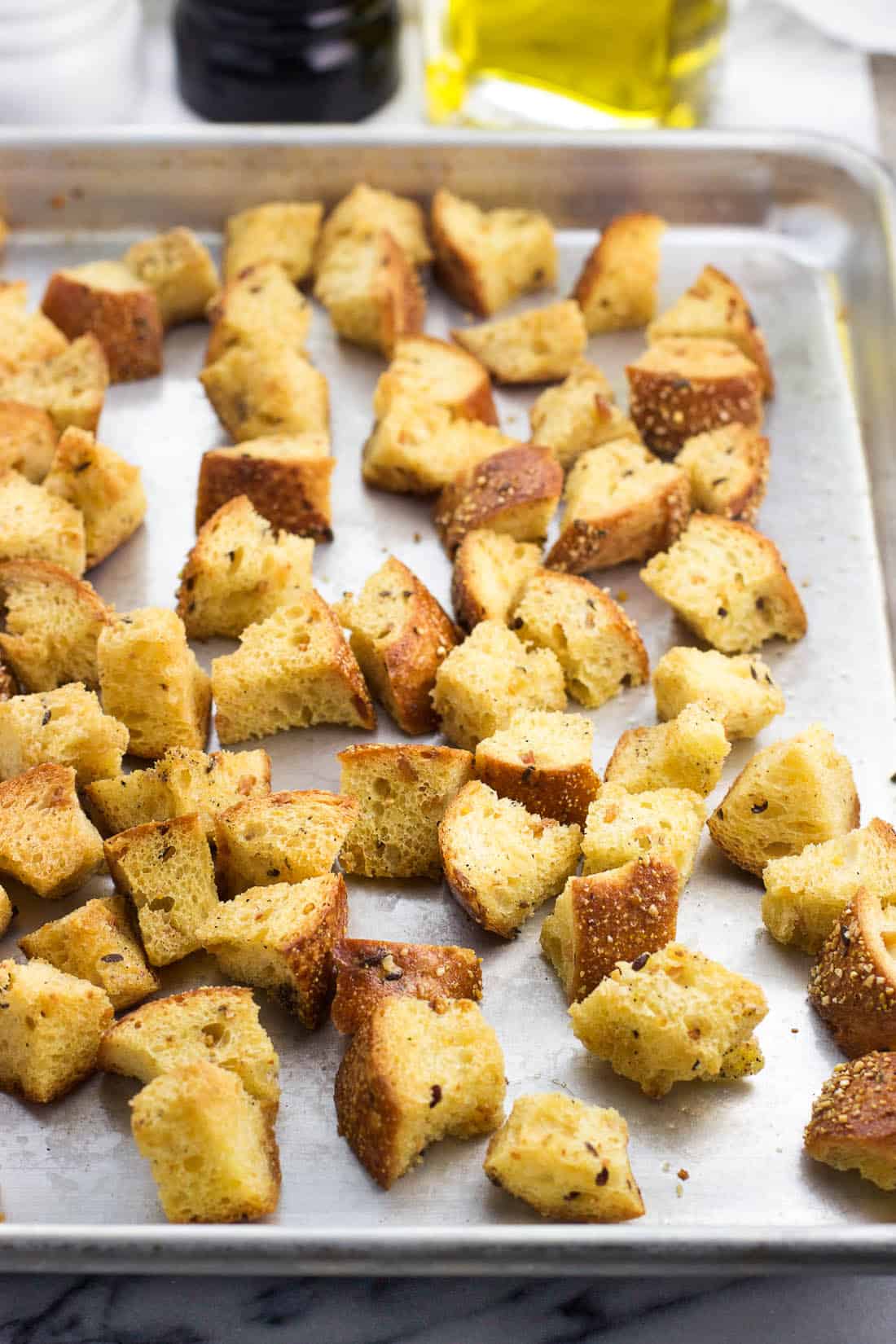 Summer's the time of year when we go looking for reasons to forgo using the oven. Thankfully those reasons aren't too hard to find with the number of no-bake breakfast and dessert recipes out there, let alone allllll the things we like to throw on the grill once the weather heats up.
One recipe I have NO problem cranking the oven for over and over is this one. Homemade croutons! I make a big batch nearly every week and without fail, by the time the weekend rolls around all we're left with is crumbs.
Thankfully they're no big deal to make and are seriously better than store-bought — and I don't say that lightly. Convenience is so valuable in the kitchen, and there are plenty of good ready-made croutons out there. But there's something special about turning your favorite crusty baguette into airy and crisp croutons. For one thing, it makes you want to eat more salad. 😉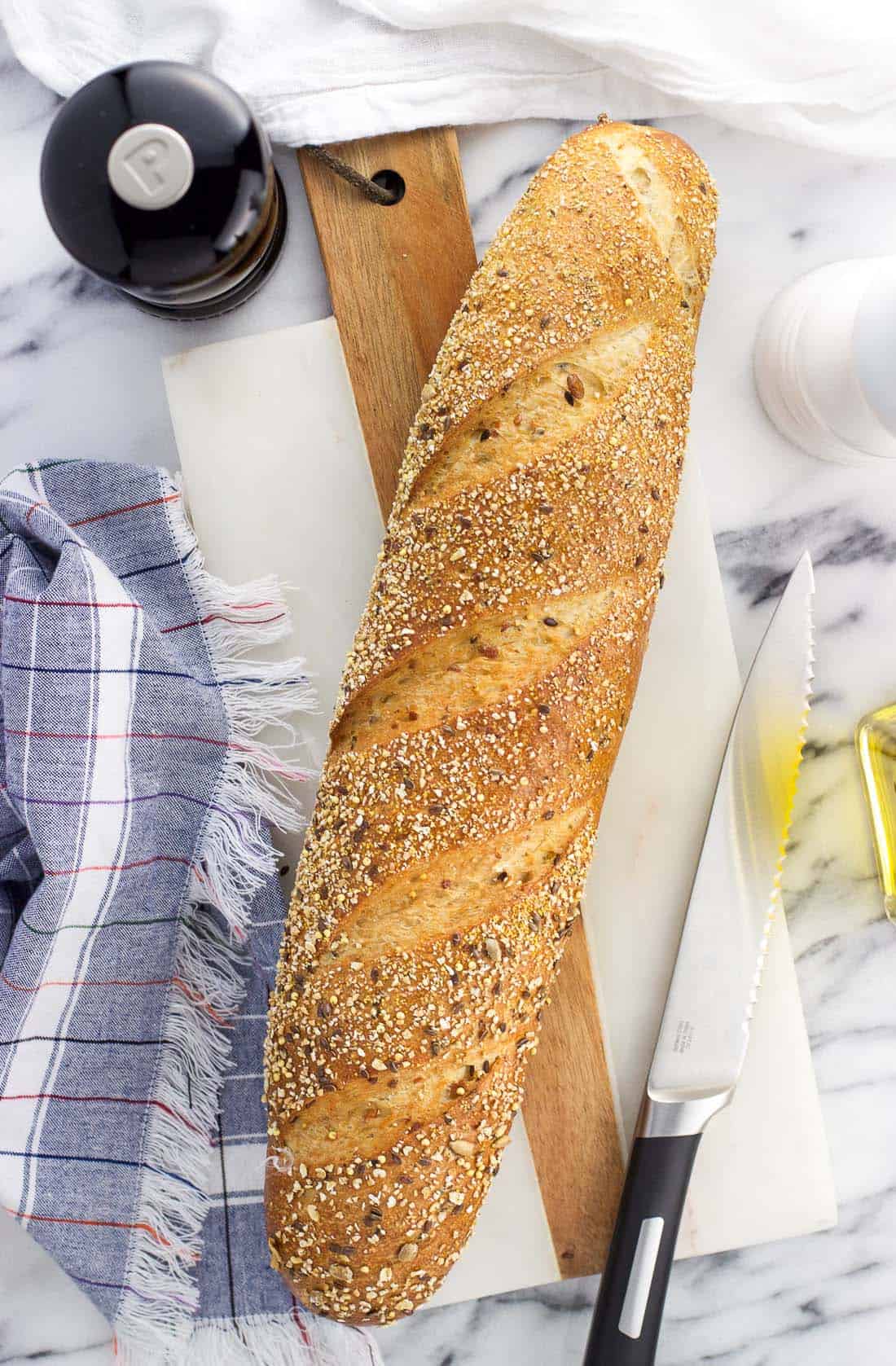 What bread to use for croutons
Lots of different types of bread work to make homemade croutons! My favorite type of bread to use for regular croutons is a baguette from the bakery section of the grocery store. If you shop at Publix, their Italian Five Grain Bread is exquisite and what you see in these photos. (This post isn't sponsored…I just love love that bread).
All the surface area of a baguette means most croutons will have at least one crust edge on them, which is always my favorite part. Yum. Also, an eight-ounce baguette like the one pictured is also about the right size to fit on one large rimmed sheet pan.
Other breads will work for homemade croutons besides a bakery baguette, including:
Sourdough
Challah
Rye
Pumpernickel
Sliced bread (stale is best)
and even cornbread, which I detailed out in its own post:

how to make cornbread croutons

. It's perfect for leftover cornbread.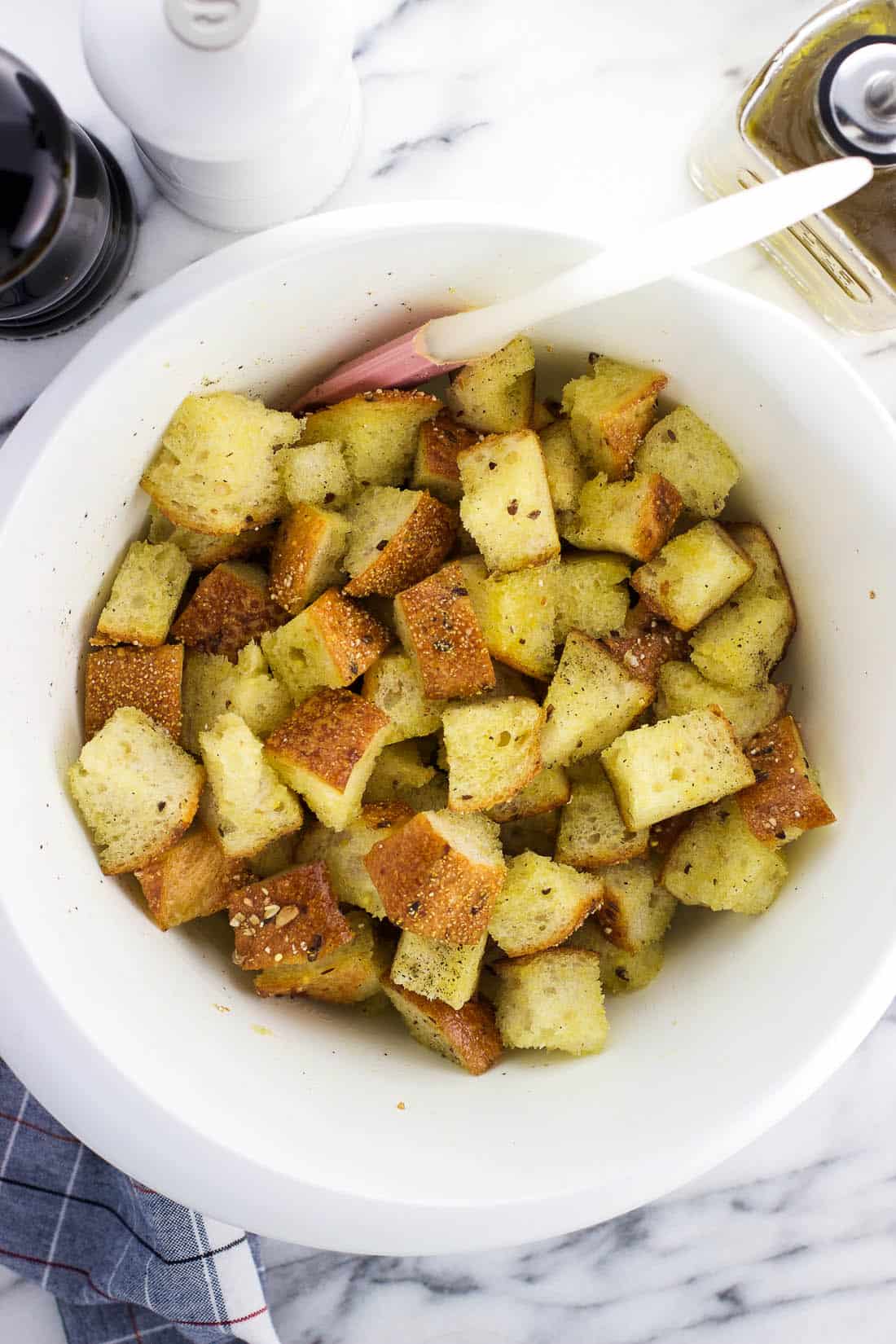 Easy steps
Making homemade croutons is simple, but there are two guidelines you want to be aware of:
Oven temperature
Amount of oil used
Much like BBQ, I find cooking them low and slow is the way to go. That way the croutons have enough time to fully dry and become light and crisp before the outside browns too much. I bake my croutons at 325°F for 25-ish minutes or so.
Next is the olive oil. Please don't be stingy with it! Six tablespoons might look like a lot but you want every crouton to be coated as this also helps them crisp up nicely.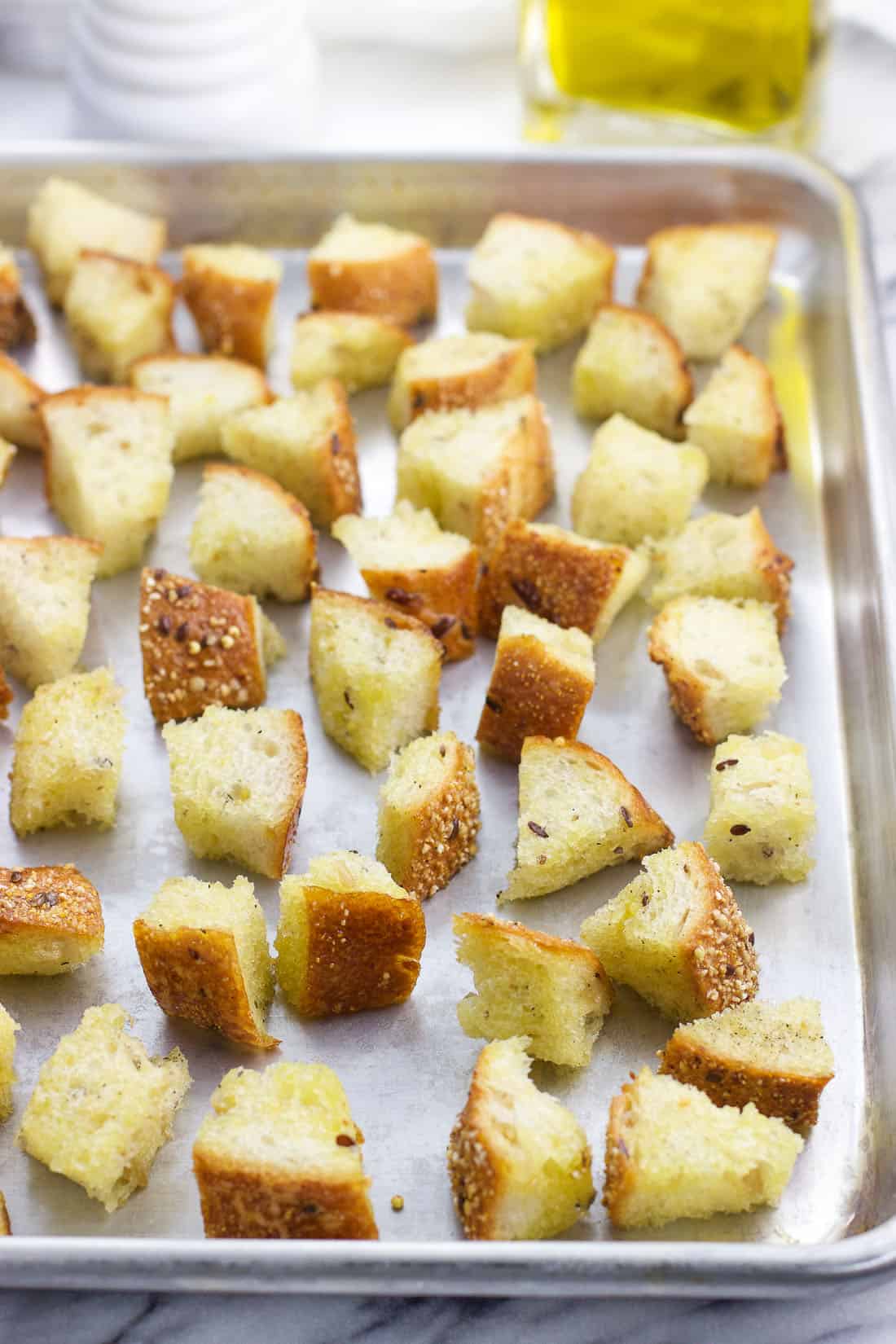 Slice your bread into roughly equal pieces, then toss with olive oil and salt and pepper. Really you can season your croutons with whatever spices you like, like garlic, dried herbs, etc., but I usually keep it simple with just salt and pepper.
Pour out the croutons on a large rimmed sheet pan (the one used here for an 8 oz baguette is approx. 13″ x 8″) and bake until golden brown and fully crisp, shaking them up once or twice during the cook time. Let them cool and you're all set.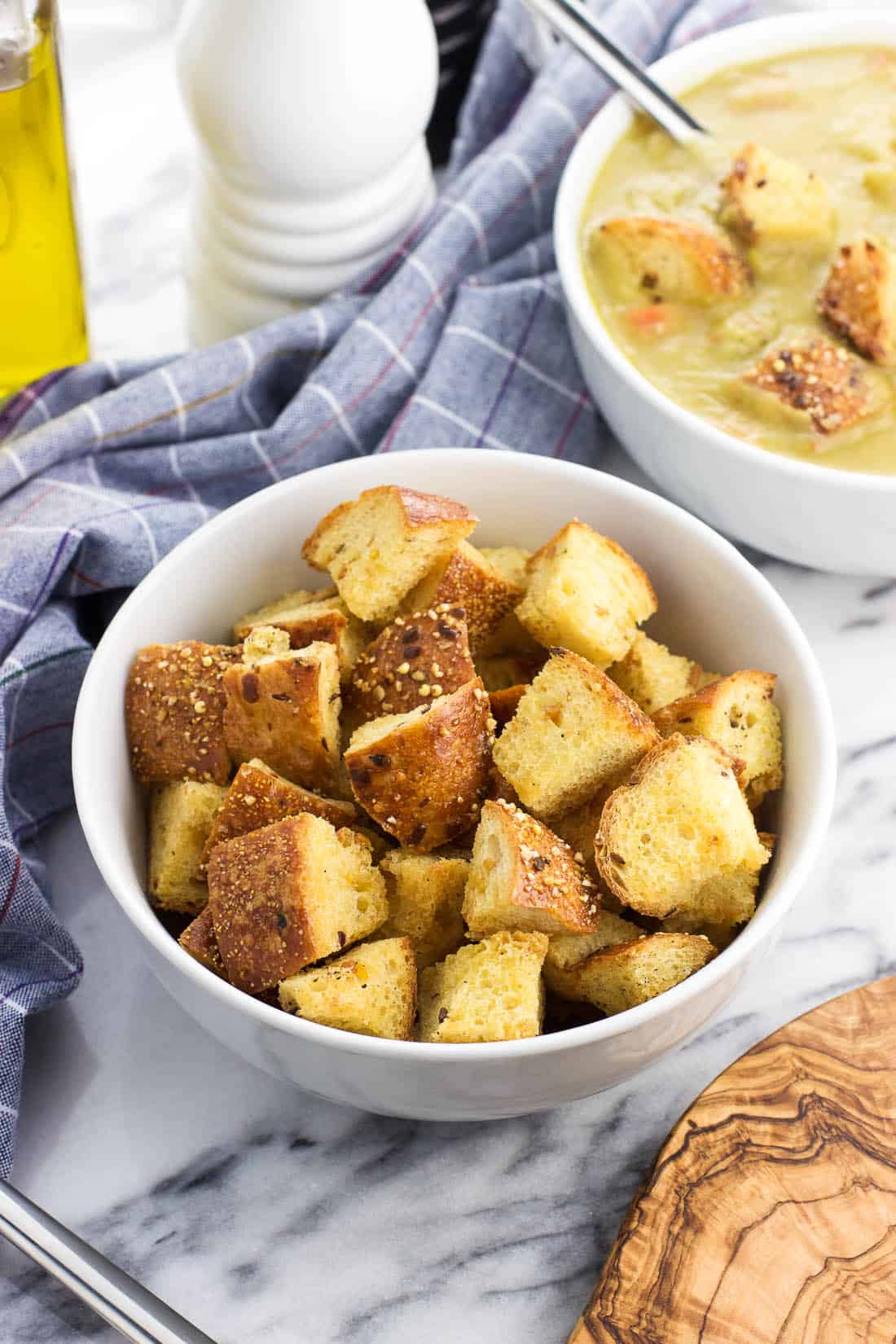 Storage tips
Once cooled, store homemade croutons in an air-tight, sealable plastic bag or container. If using a bag, I recommend pressing as much air out of the bag as you can before you seal it up. They will stay crisp for several days to a week or so — if they last that long.
Serving suggestions
Clearly salads are a fabulous vehicle for enjoying croutons, but that's not the only way you can use them.
They make delicious toppers to soups, stews, and chilis. The bowl of soup you see peeking in the corner of the above photo is Instant Pot split pea soup and these were a great complement. And those cornbread ones I linked to above? They're perrrfect for chili.
They're wonderful when crumbled as a mac and cheese or pasta bake topping. These would be amazing on this vodka sauce pasta bake.
Chef John's chicken parm bake! My mom has been making this recipe for years and it's pure comfort food. Zhush the ingredients as you like, and be sure to cook the chicken until 165°F in the middle of the thickest part. I find it usually takes a little more time to cook than stated.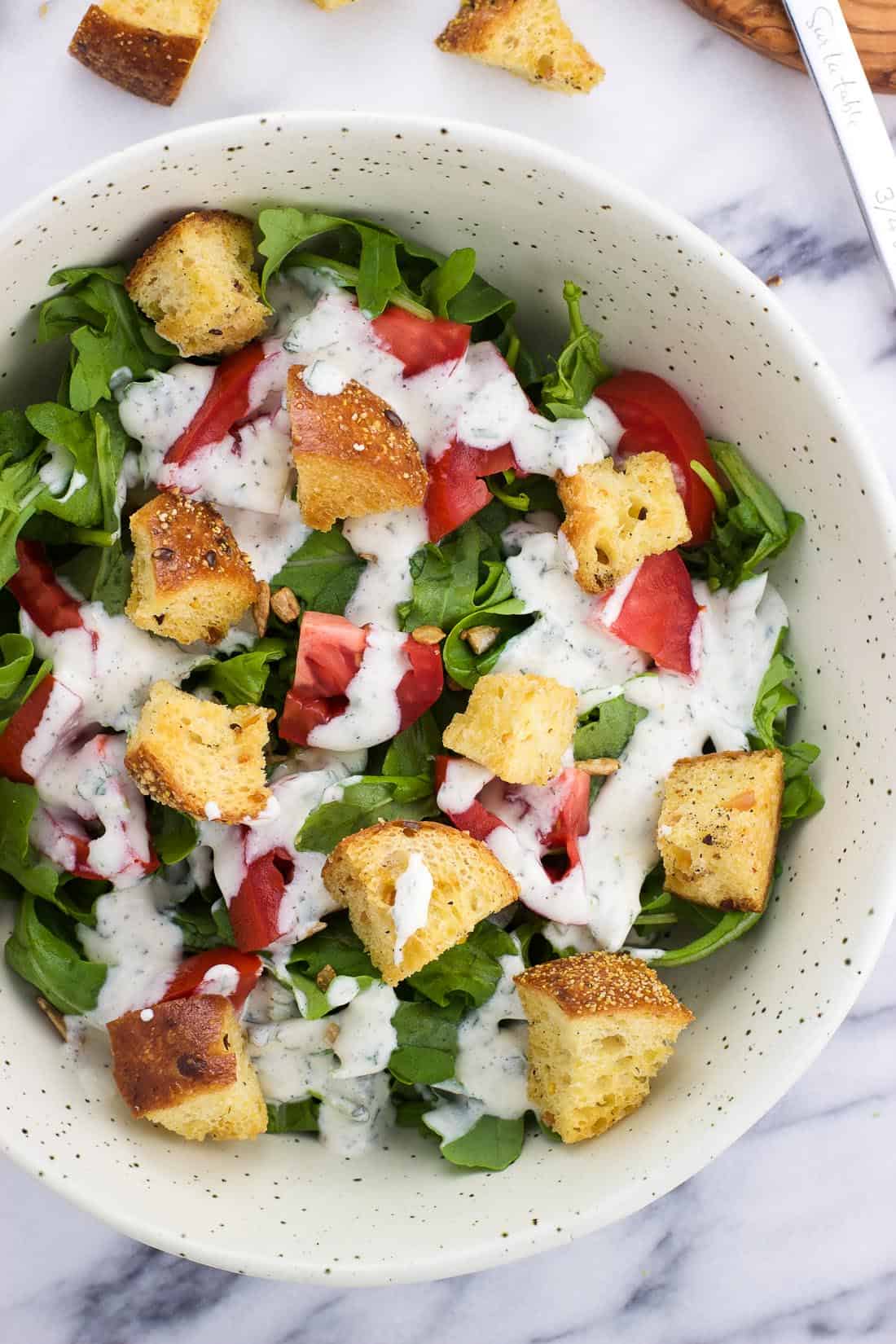 Recipe notes
Second/third day bread really shines in this homemade croutons recipe. Of course, fresh bread will work, too.
Add spices and seasonings as you like.
Leave a little space between croutons on the baking sheet to allow for each to crisp up rather than 'steam'.
And on that note, be sure to use a rimmed baking sheet. You don't want to lose any of them to the bottom of the oven when taking the sheet in and out.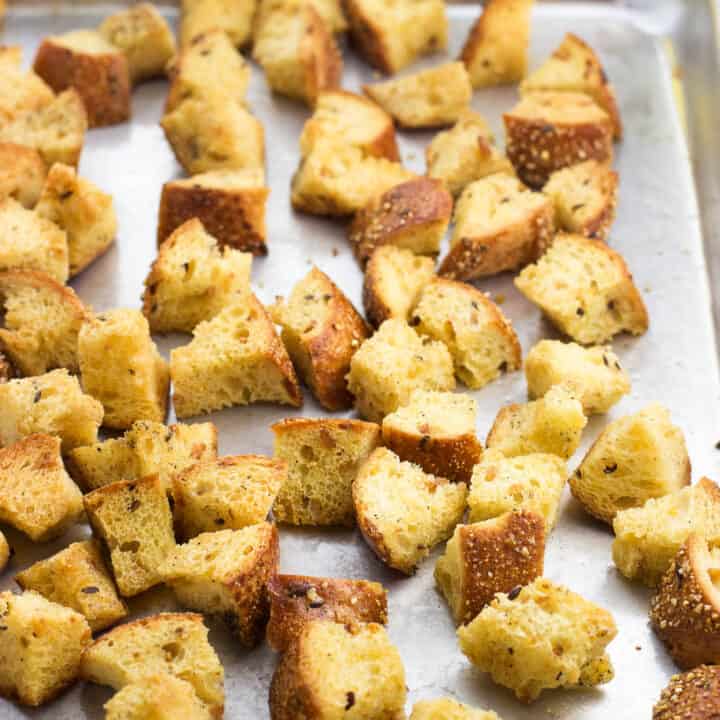 How to Make Croutons
Learn how to make croutons with this simple tutorial! Bread and a few kitchen staples are all you need for this light and crunchy homemade croutons recipe. They stay crisp for days!
Print
Pin
Rate
Ingredients
8

oz

baguette

(half pound)

6

tbsp

olive oil

1/4

tsp

salt

1/4

tsp

ground black pepper
Instructions
Preheat oven to 325°F. Slice an 8-oz baguette into approximately 1" cubes, then add the cubes to a large bowl.

Pour olive oil into the bowl and then add the salt and pepper. Toss to coat the bread evenly with the oil.

Pour out the cubes onto a large, rimmed, and ungreased baking sheet, taking care to arrange them in a single layer with a little bit of space between them.

Bake for 13-15 minutes, then take the sheet out of the oven. Flip each crouton over, then bake for another 13-15 minutes. See how they are at this point. If they're crisp throughout, remove them to cool to room temperature. If they're not fully crisp yet, keep baking them until they are.


Store croutons in an air-tight container or sealed plastic bag. They should remain crisp for several days.
Notes
I would not use more than one-quarter teaspoon of salt as it's easy to overdo it.
Nutrition
Serving:
14
g
|
Calories:
98
kcal
|
Carbohydrates:
9.1
g
|
Protein:
1.9
g
|
Fat:
6.3
g
|
Saturated Fat:
0.9
g
|
Sodium:
148
mg
|
Potassium:
21
mg
|
Fiber:
0.4
g
|
Sugar:
0.4
g
|
Calcium:
10
mg
|
Iron:
0.5
mg
Nutritional information is provided as an estimate. As it can vary due to many factors (brands used, quantities, etc.), we cannot guarantee its accuracy.