Oven roasted frozen broccoli couldn't be easier! Roasted right from frozen, this simply seasoned and healthy broccoli recipe doesn't even need to flip halfway through roasting.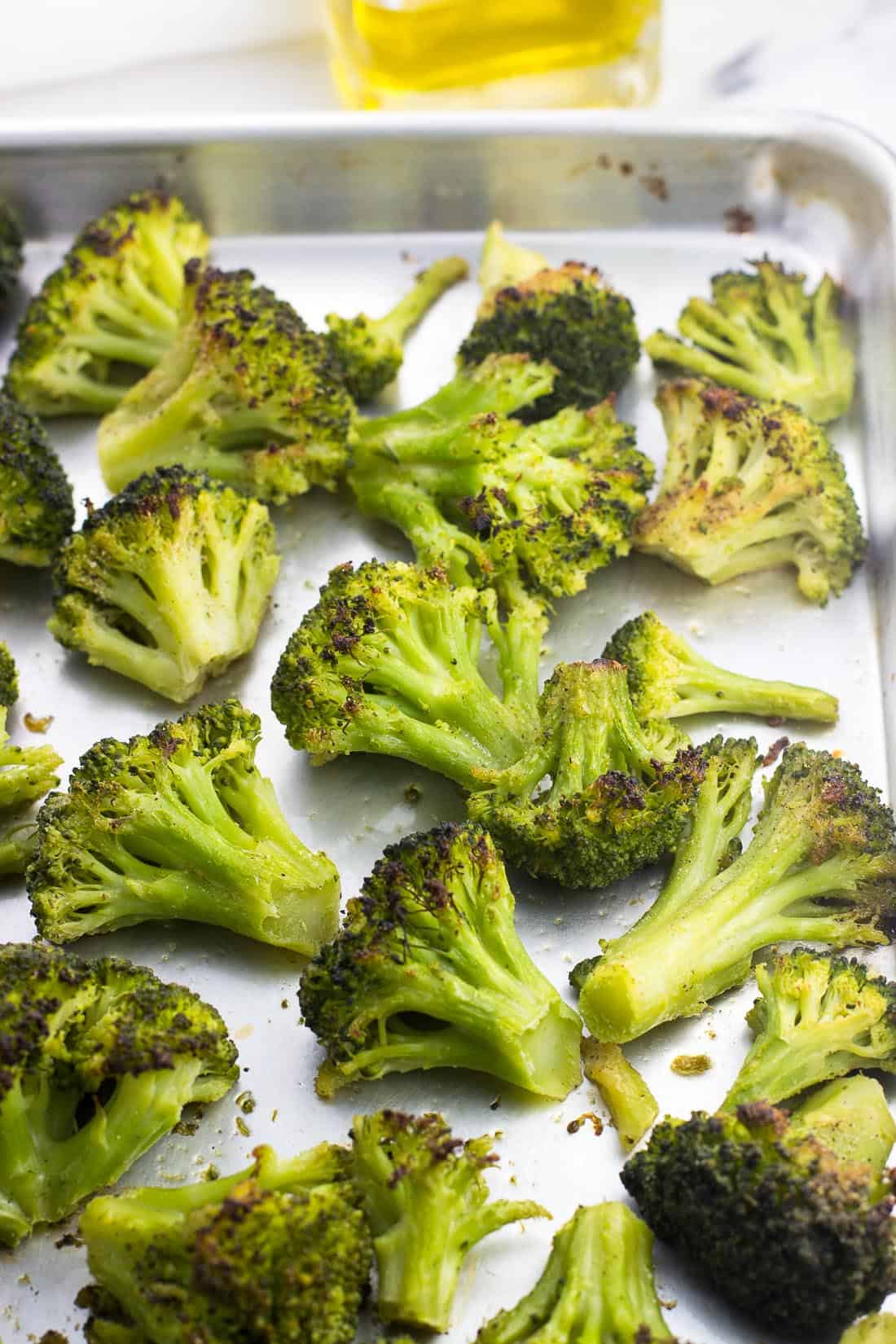 Clearly roasted broccoli isn't anything groundbreaking, but lately I cannot get enough of preparing it this way as a healthy side dish.
I acknowledge that sounds hyperbolic (like my mom telling me that roasted carrots taste like candy when I was growing up), but the easy prep, simple ingredients, and roasty goodness means that this side dish has landed on our menu a lot lately.
I break out the big sheet pan for this one. Two pounds of frozen broccoli florets fit comfortably in a single layer on a 13″ x 18″ rimmed sheet pan. This means we have plenty of leftover roasted broccoli for meals later in the week.
Besides being healthy and easy (more on just how easy in a bit), it's also affordable. A two pound bag of frozen broccoli florets is less than $2 at my regular grocery store. That's cheaper than buying an equivalent amount of fresh broccoli crowns, and without the work of having to break them down to boot.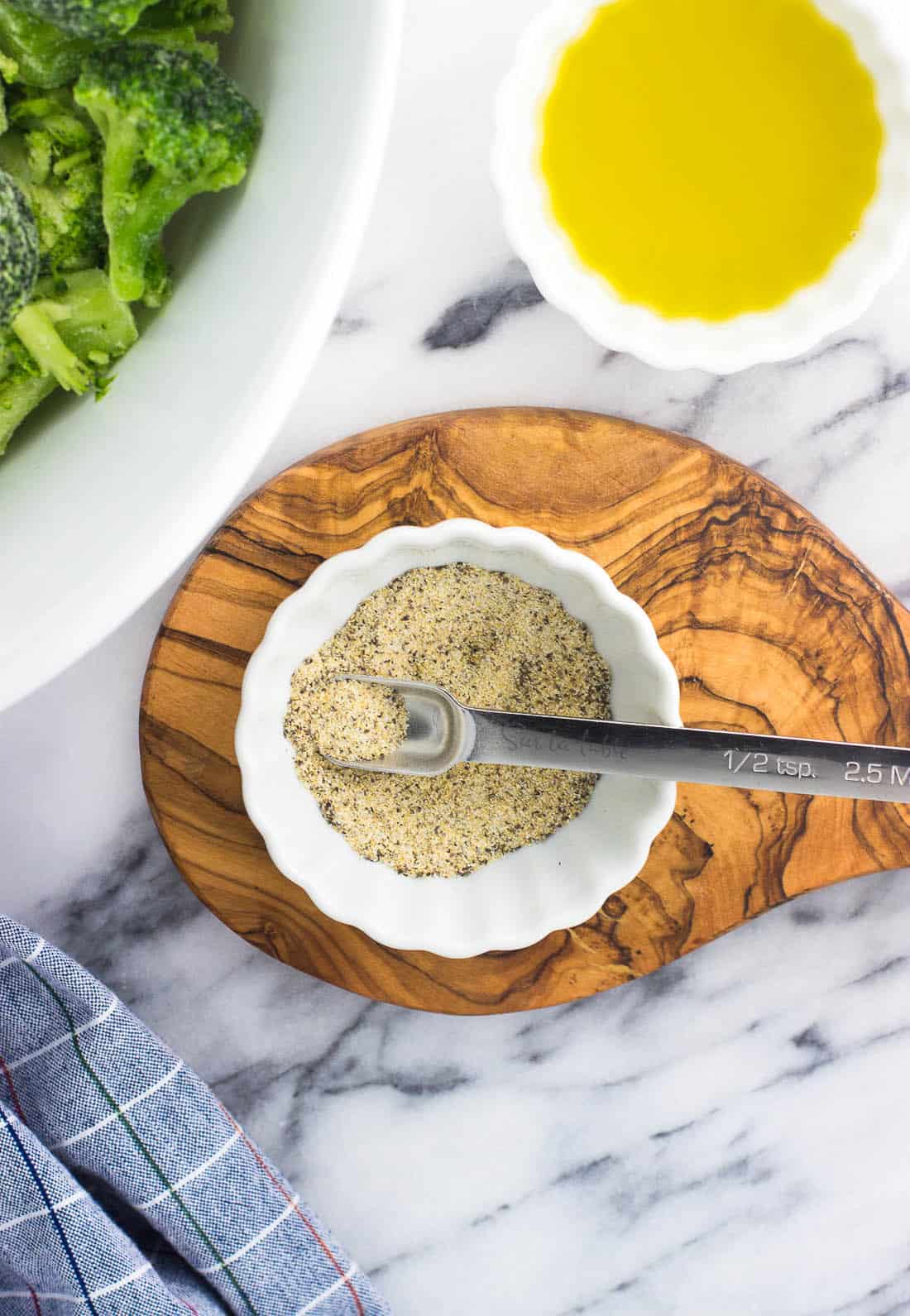 How to roast frozen broccoli
There are three steps involved in roasting broccoli.
Choosing a seasoning
Setting the oven temperature
Setting the timer
For starters, you can use whatever seasoning blend you like. Definitely wiggle room here.
I like to keep the flavors relatively neutral for my roasted frozen broccoli because leftover portions will be used in several different meals, usually with varying cuisines.
My go-to is salt, pepper, garlic powder, and onion powder. It's a rare day when some form of garlic and/or onion isn't used in a savory recipe in my kitchen so I know those are a safe bet. Any type of homemade or store-bought seasoning blend would work though if you want to go in a different direction.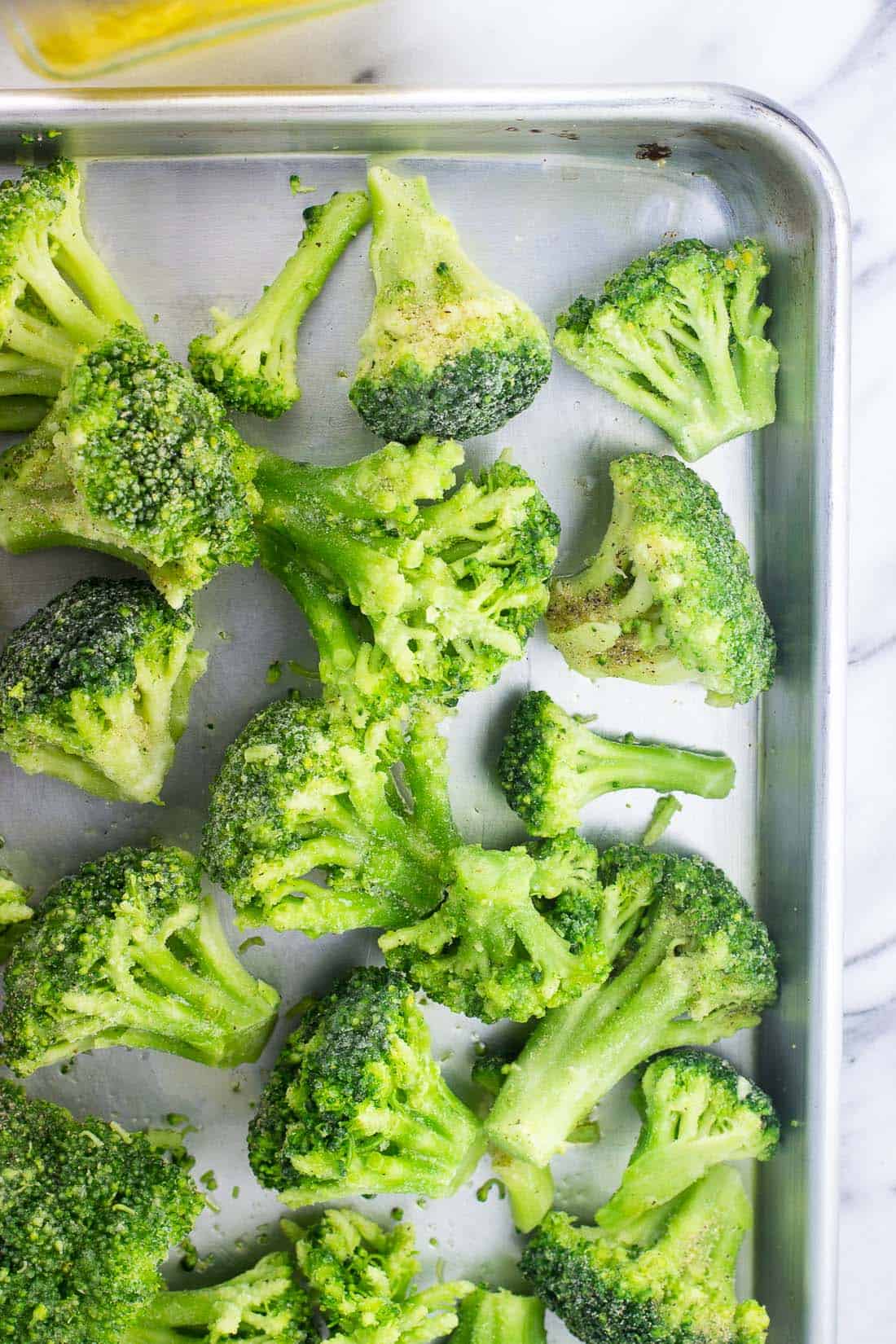 One of the things I love about this oven roasted frozen broccoli recipe is that there's no need for thawing. The frozen broccoli florets get tossed in oil and spices, poured out onto the sheet pan, and roasted right from frozen.
It's a winner for those of us (myself included) that struggle with timing how long things will take to thaw when going from the freezer to the fridge.
Another thing to love is that there's no flipping involved. Once the broccoli goes into the oven, it's in there until it's done. Brushing oil onto the surface of the sheet pan before adding the broccoli ensures that the bottom surface gets a chance to brown and get all roasty, too.
What temperature to roast broccoli?
I roast broccoli at 425°F. A high temperature is key in roasting vegetables, as that allows their interiors to soften beautifully and become tender, all the while allowing the outsides to become a little bit charred (a.k.a. delicious).
At this temperature, I roast frozen broccoli for about 35-40 minutes. All ovens cook a little differently so your mileage may vary. Just keep an eye on them towards the end of the cook time, and keep them going until they're roasted to your liking.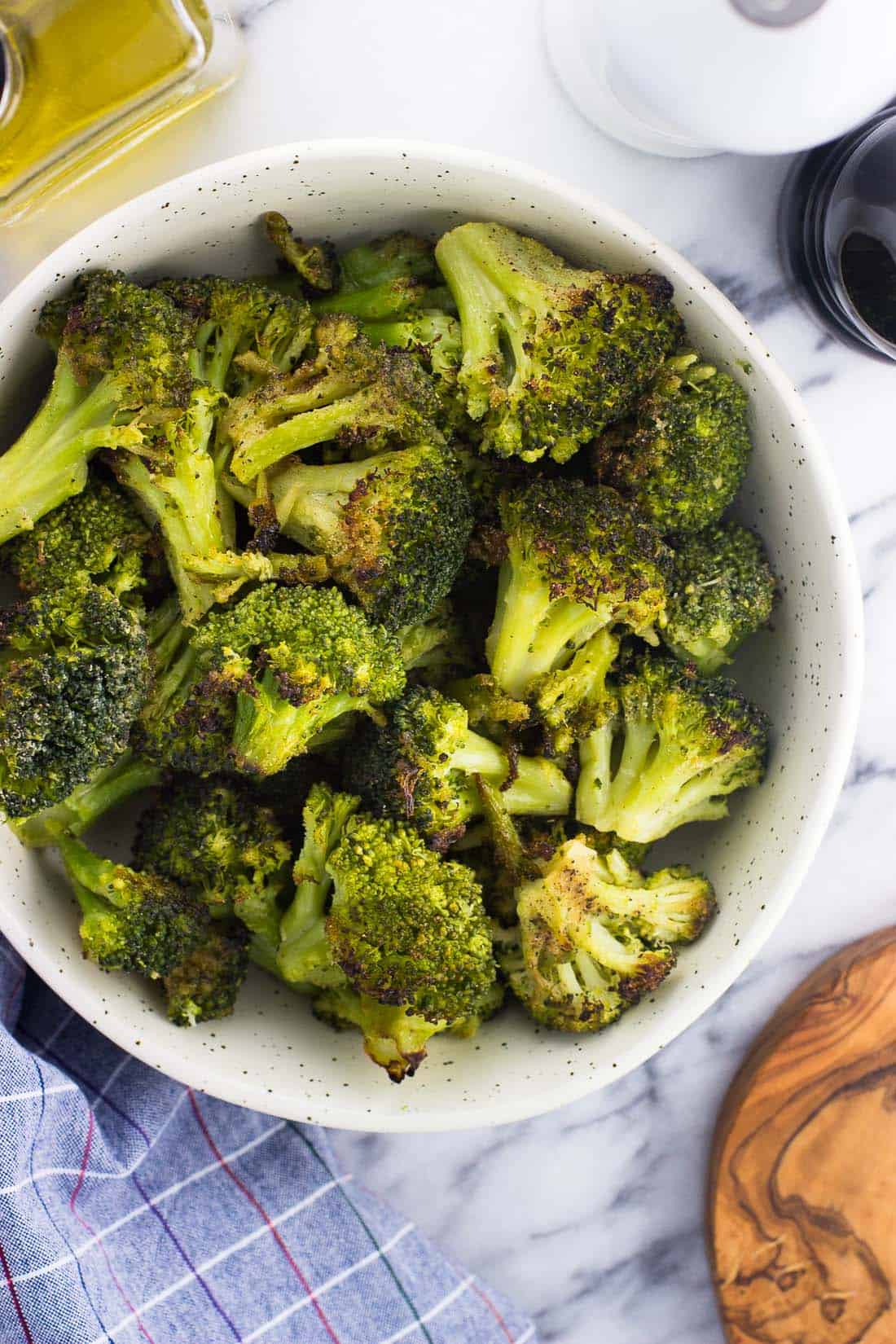 This oven roasted frozen broccoli is so fork-tender and brings a wonderfully roasted flavor to whatever it is you're eating as a main dish.
I've even snuck a cold floret or two from the container of leftovers in the fridge when I'm in a snacky mood, which is an honor usually reserved for something comfort food-esque like Instant Pot mac and cheese or chicken parmesan gnocchi skillet and not ultra healthy like broccoli!
Recipe to use roasted broccoli
Broccoli is my side dish vegetable of choice when it comes to oven fried tofu and spicy ginger sauce. This healthy "fried" tofu method eliminates its squishy texture, if you or someone you know tends to steer clear of it because of that.
Prepping and roasting broccoli ahead of time can save you some steps when making balsamic peanut beef stir fry. Just skip the vegetable steps and instead throw the roasted broccoli in at the end when you add the sauce to the skillet to heat through.
Roasted broccoli + Italian baked turkey meatballs + brown rice + marinara sauce has been a random but seriously good 'throw together' healthy lunch recipe.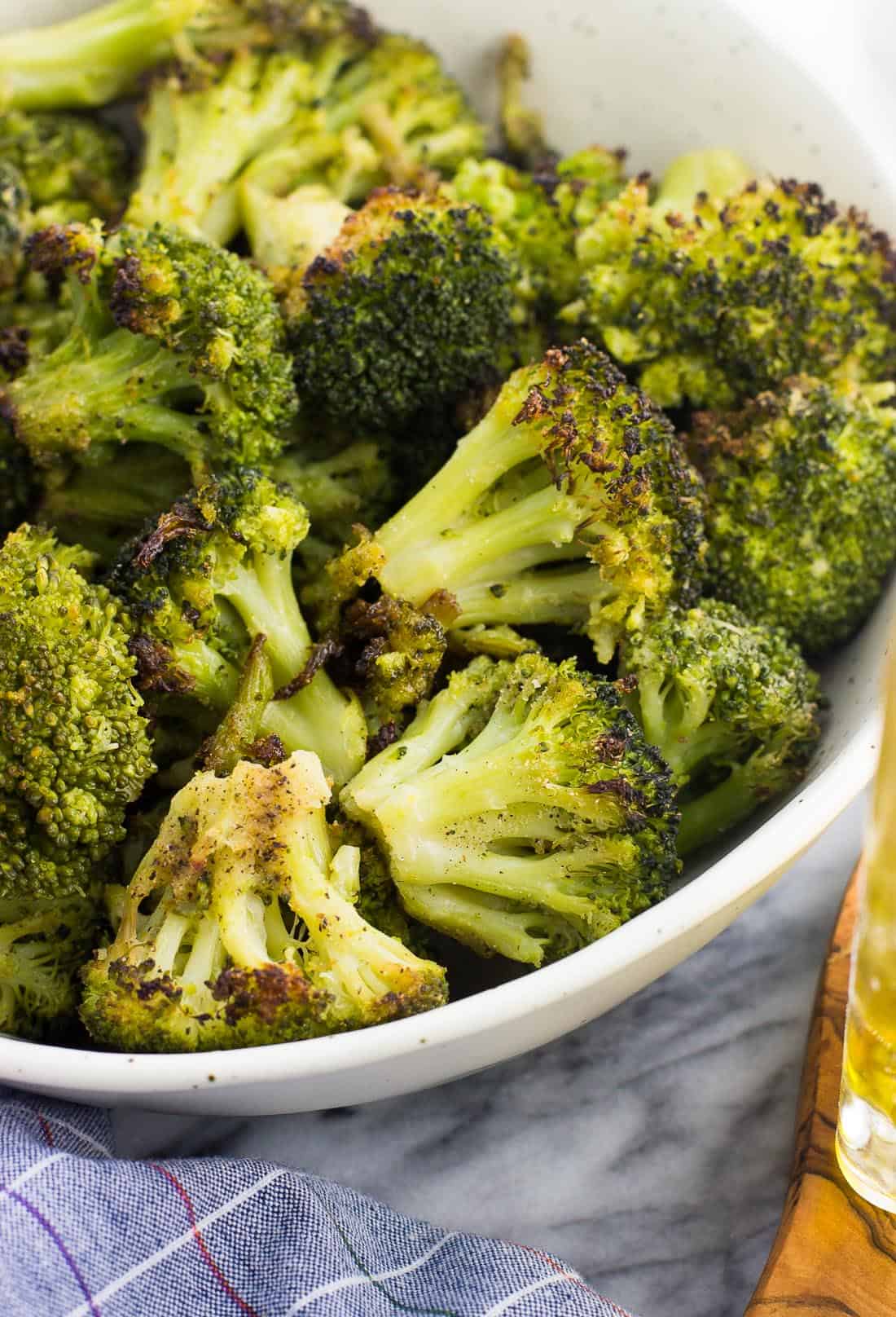 Recipe notes:
This oven roasted frozen broccoli can go whichever way you like re: the seasonings. Your favorite all-purpose seasoning will work, or you can keep it simple and just do salt and pepper.
No thawing required. This recipe timing is for frozen broccoli florets.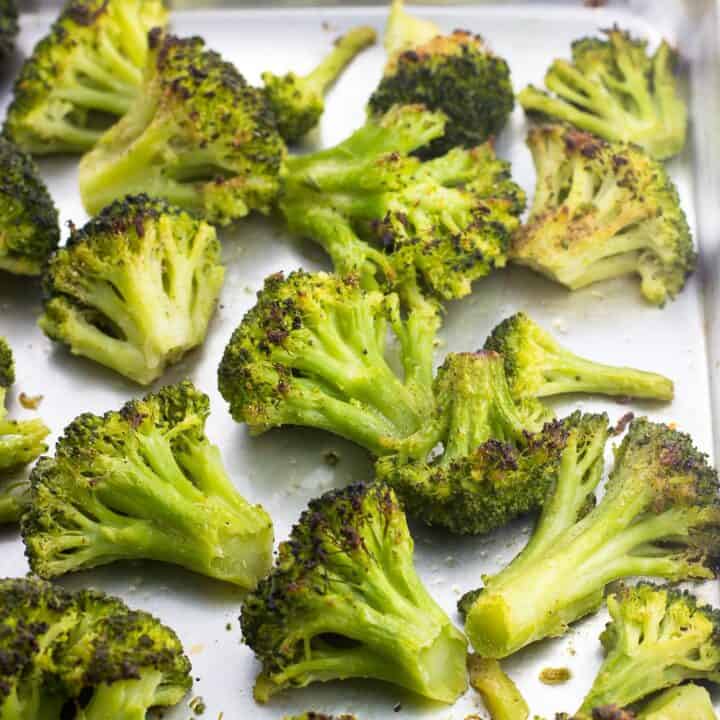 Oven Roasted Frozen Broccoli
Oven roasted frozen broccoli couldn't be easier! Roasted right from frozen, this simply seasoned and healthy broccoli recipe doesn't even need to flip halfway through roasting.
Print
Pin
Rate
Ingredients
4

tbsp

olive oil,

divided

1

tsp

garlic powder

1/2

tsp

salt

1/2

tsp

ground black pepper

1/2

tsp

onion powder

2

lbs

frozen broccoli florets

(32 oz)
Instructions
Preheat oven to 425°F. Brush 1 tbsp of the olive oil on a large rimmed sheet pan. The pan size I use is 13" x 18" and it fits all 2 lbs of broccoli comfortably in a single layer.

Add garlic powder, salt, pepper, and onion powder to a small bowl and stir to combine evenly.

Add frozen broccoli florets to a large mixing bowl and drizzle with 2 tbsp of olive oil. Scatter spices over top and stir/toss to coat evenly.

Pour out broccoli onto the prepped sheet pan and arrange in a single layer. Drizzle remaining 1 tbsp of olive oil over top of the florets.

Roast for 35-40 minutes, or until the broccoli has softened to be very fork tender and the tops are slightly charred (or charred to your liking).
Nutrition
Nutritional information is provided as an estimate. As it can vary due to many factors (brands used, quantities, etc.), we cannot guarantee its accuracy.