Oven roasted frozen broccoli couldn't be easier! This simply seasoned and healthy frozen broccoli recipe doesn't even need to thaw or to be flipped halfway through roasting for a seriously hands-off side dish.
Clearly roasted broccoli isn't anything groundbreaking, but lately I cannot get enough of preparing it this way as a healthy side dish (cavatelli and broccoli wins in my book for a main dish).
I acknowledge "not being able to get enough" of broccoli sounds hyperbolic, similar to my mom telling me that roasted carrots taste like candy when I was growing up, but the easy prep, simple ingredients, and roasted goodness means that this side dish (like skillet roasted corn) has landed on our menu a lot lately.
Reasons to Love This Recipe
Broccoli is a very nutritious addition to our diets and is a good source of fiber. And while the variety used in this recipe is frozen, studies have suggested that frozen broccoli florets retain much of their health benefits even after freezing and thawing (NIH source).
It can't really get more simple than this method. You don't need to remember to thaw the broccoli before using, and there's no need to even flip each floret over mid-way through roasting.
Besides being healthy and easy, it's also affordable. A two pound bag of frozen broccoli florets is less than $2 at my regular grocery store. That's cheaper than buying an equivalent amount of fresh broccoli crowns, and without the work of having to break them down.
Recipe Ingredients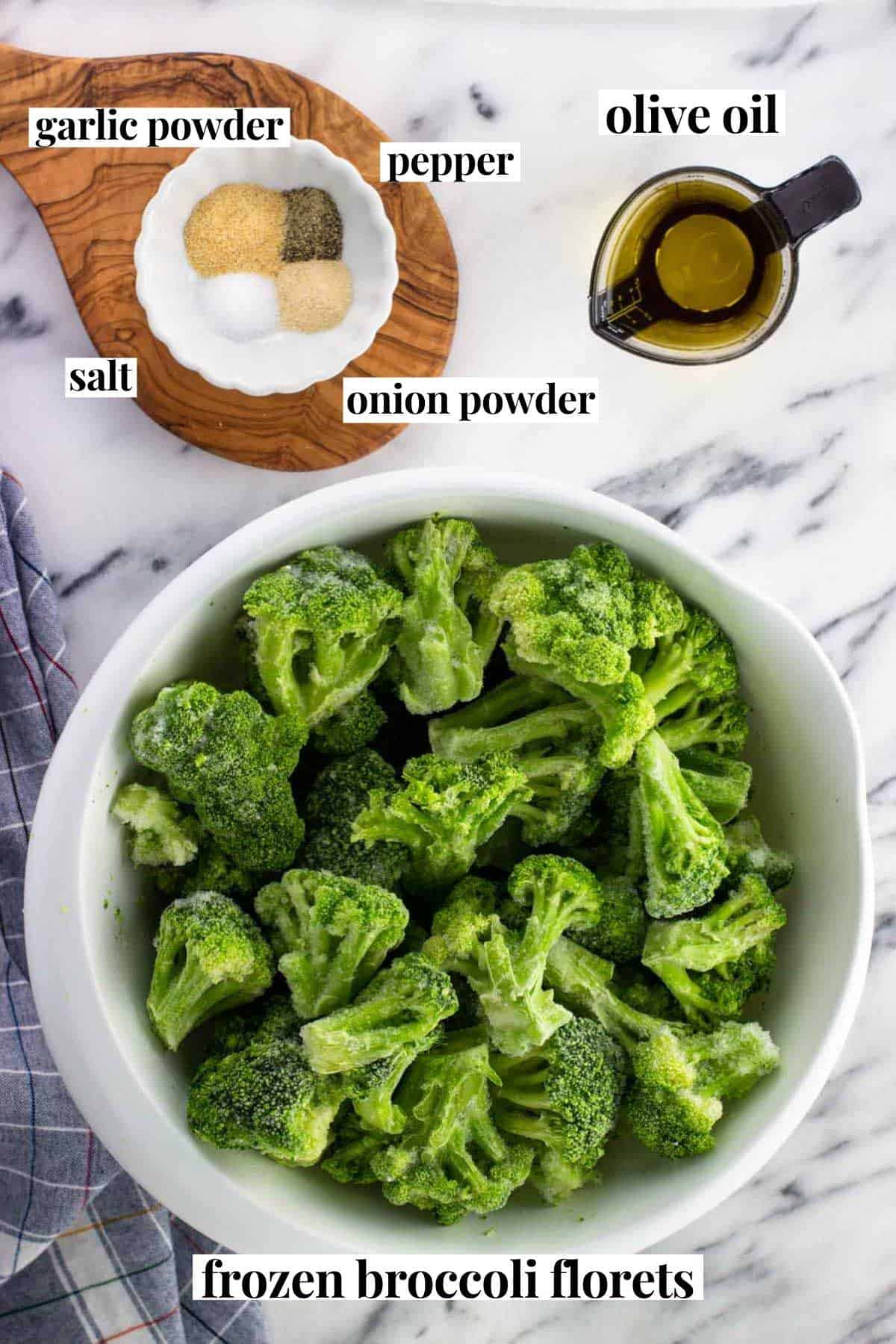 Frozen broccoli: Frozen broccoli florets (not chopped) are used in this recipe. You can certainly use a smaller amount of broccoli and scale the other ingredients down, but I often make the full two pound bag to cook for several meals at once. Two pounds of frozen broccoli florets fit comfortably in a single layer on a 13" x 18" rimmed sheet pan.
Oil: Olive oil is what I usually use here, but any higher-heat, relatively neutral-flavored cooking oil will work, such as canola or vegetable.
Spices: I like to keep the seasonings relatively neutral in flavor because leftover portions are used in meals with varying cuisines. Any type of homemade or store-bought seasoning blend would work though if you want to go in a different direction.
How to Cook Frozen Broccoli
Stir together the garlic powder, salt, pepper, and onion powder in a small bowl until mixed evenly.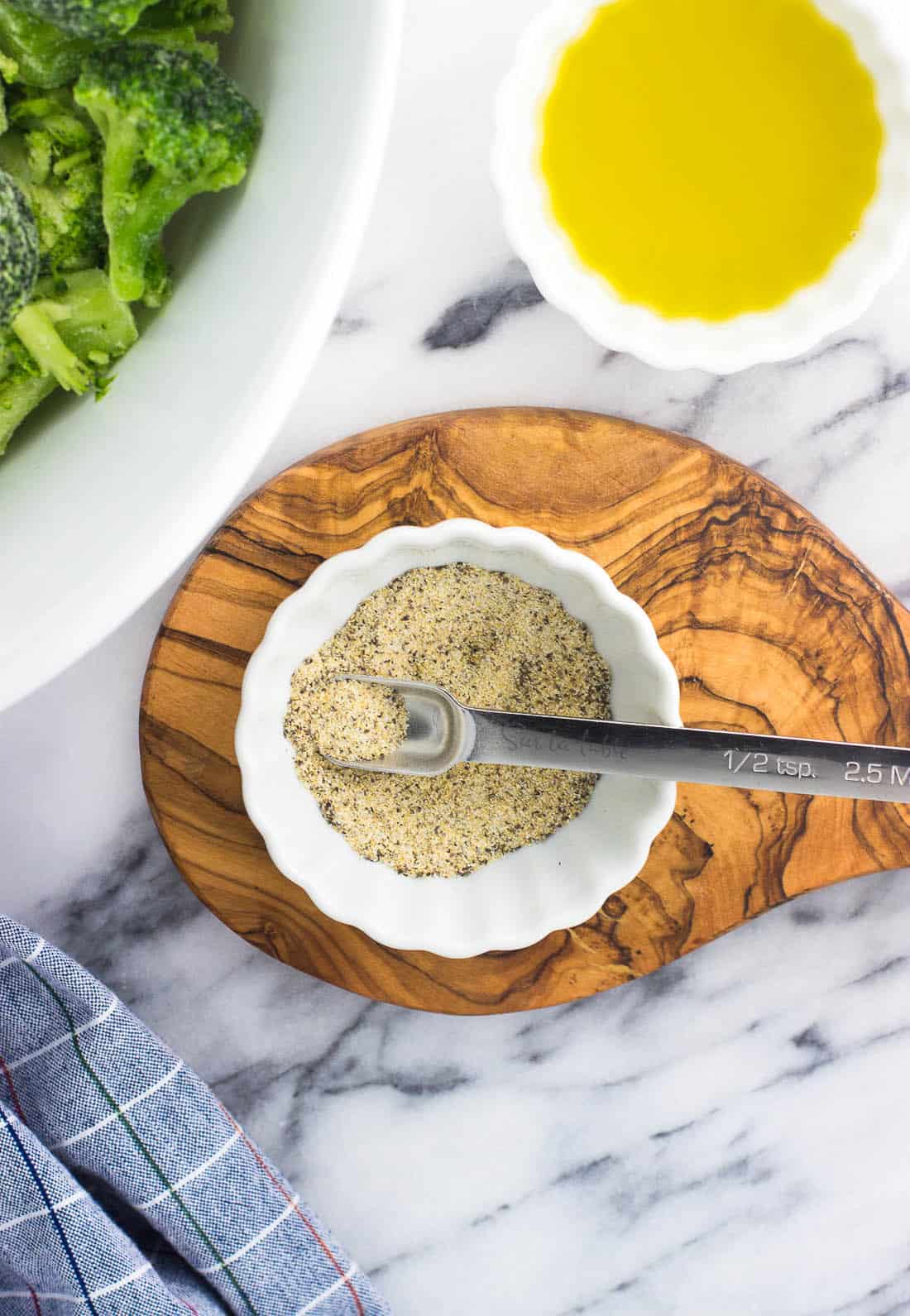 Add the frozen broccoli florets to a large mixing bowl. Pour two of the tablespoons of oil over top and toss/stir to evenly coat the florets. Sprinkle the combined spices over top and toss/stir the broccoli again to coat evenly.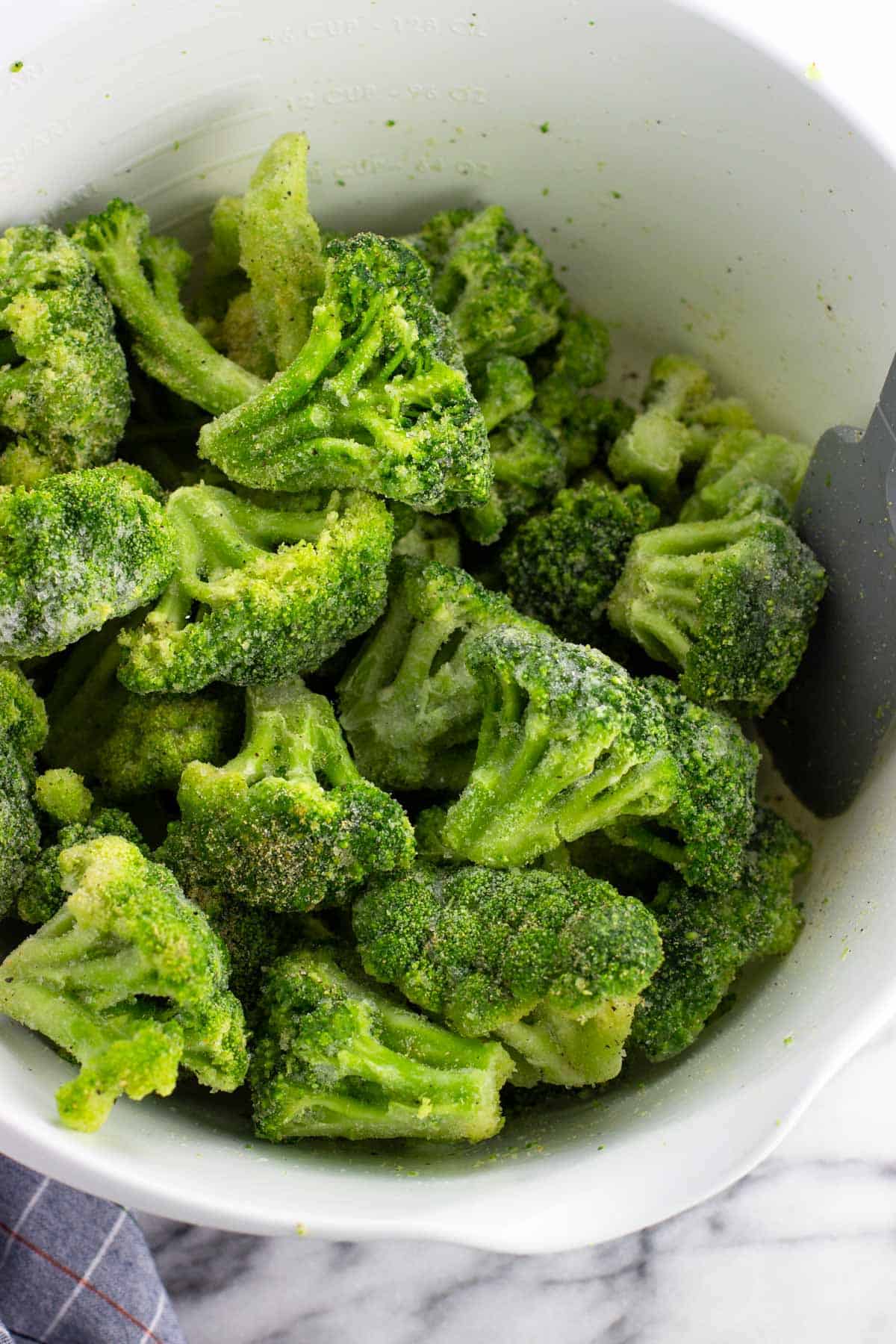 At this point you still have two tablespoons of oil remaining. Brush one tablespoon of oil on the bottom of the large sheet pan (this layer helps the bottom side of the broccoli get nice and roasty), then pour out the broccoli onto the pan. Arrange the florets in a single layer with a little bit of space between. If your pan is too small, it's best to split the batch onto two pans to prevent crowding. Drizzle the remaining tablespoon over top of the florets.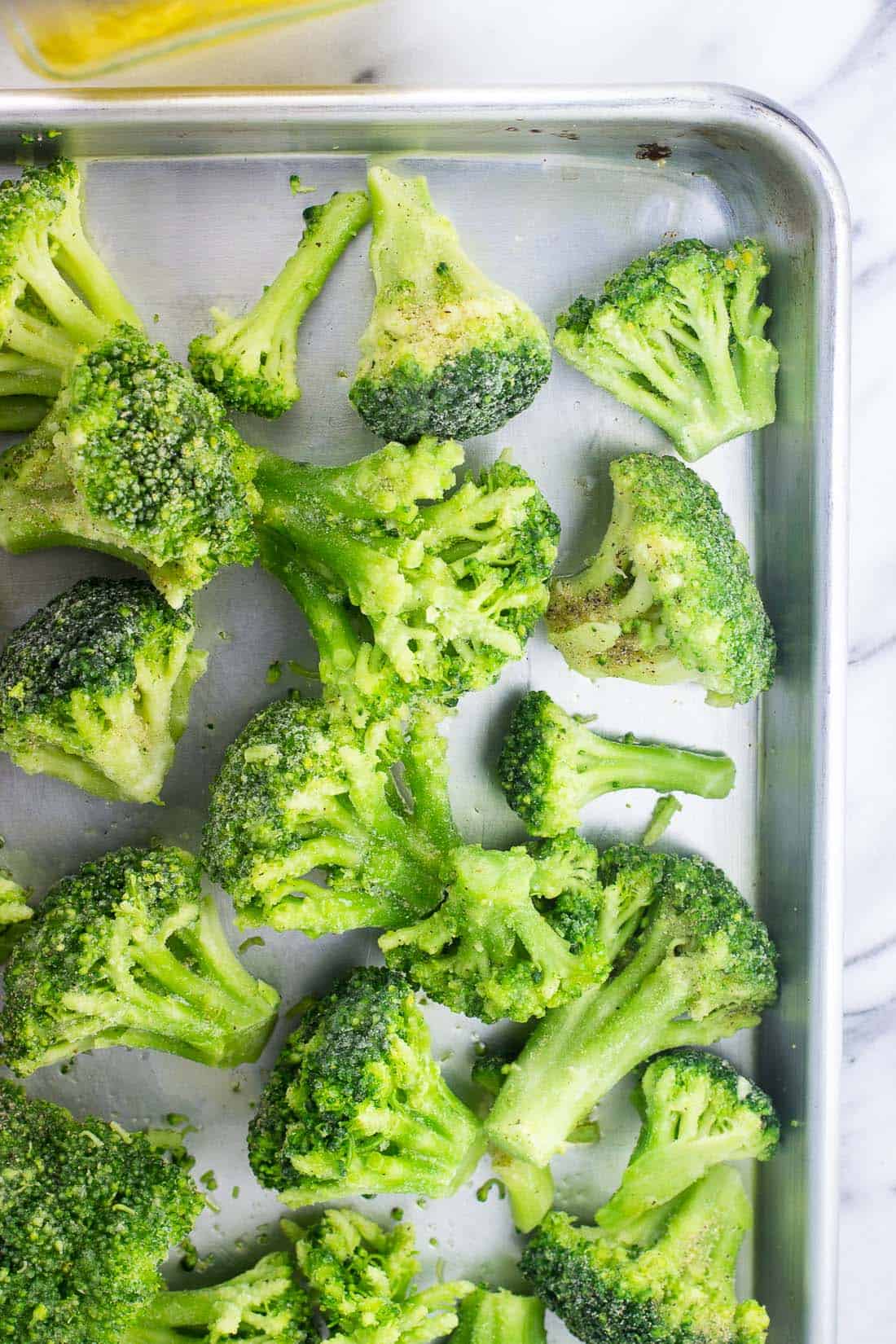 Roast for about 35-40 minutes, or until they're roasted to your liking. All ovens cook a little differently so your mileage may vary. Just keep an eye on them towards the end of the cook time, and keep them going until you like.
This roasted frozen broccoli is so fork-tender and brings a wonderfully roasted flavor to whatever it is you're eating as a main dish.
I've even snuck a cold floret or two from the container of leftovers in the fridge when I'm in a snacky mood, which is an honor usually reserved for something comfort food-esque like Instant Pot mac and cheese or chicken parmesan gnocchi skillet and not ultra healthy like broccoli!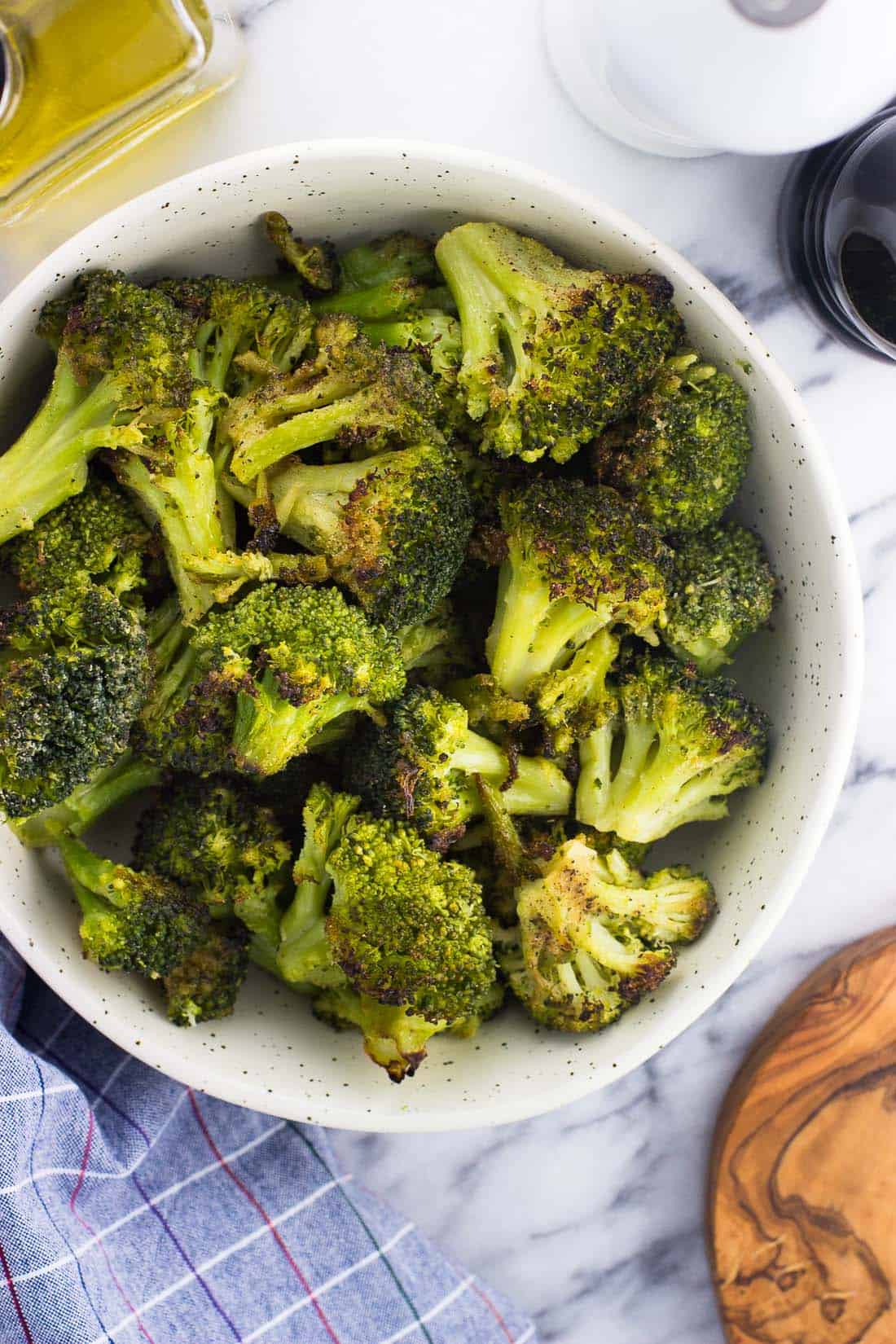 Recipe FAQs
What temperature to roast broccoli?
I roast broccoli at 425°F/218°C. A higher temperature is key in roasting vegetables, as that allows their interiors to soften beautifully and become tender, all the while allowing the outsides to become a little bit charred (a.k.a. delicious).
What to serve with roasted broccoli?
Prepping and roasting broccoli ahead of time can save you some steps when making balsamic peanut beef stir fry. Just reduce or skip the vegetable steps and instead throw the roasted broccoli in at the end when you add the sauce to the skillet to heat through. Roasted broccoli plus Italian baked turkey meatballs plus brown rice plus marinara sauce has also been a random but seriously good 'throw together' healthy lunch recipe.
What substitutions can I make?
Your preferred higher-heat oil for roasting vegetables can be used, as can the seasonings of your choice. For that matter, frozen cauliflower florets can be easily subbed in for the broccoli to truly take the wheel and make this your own.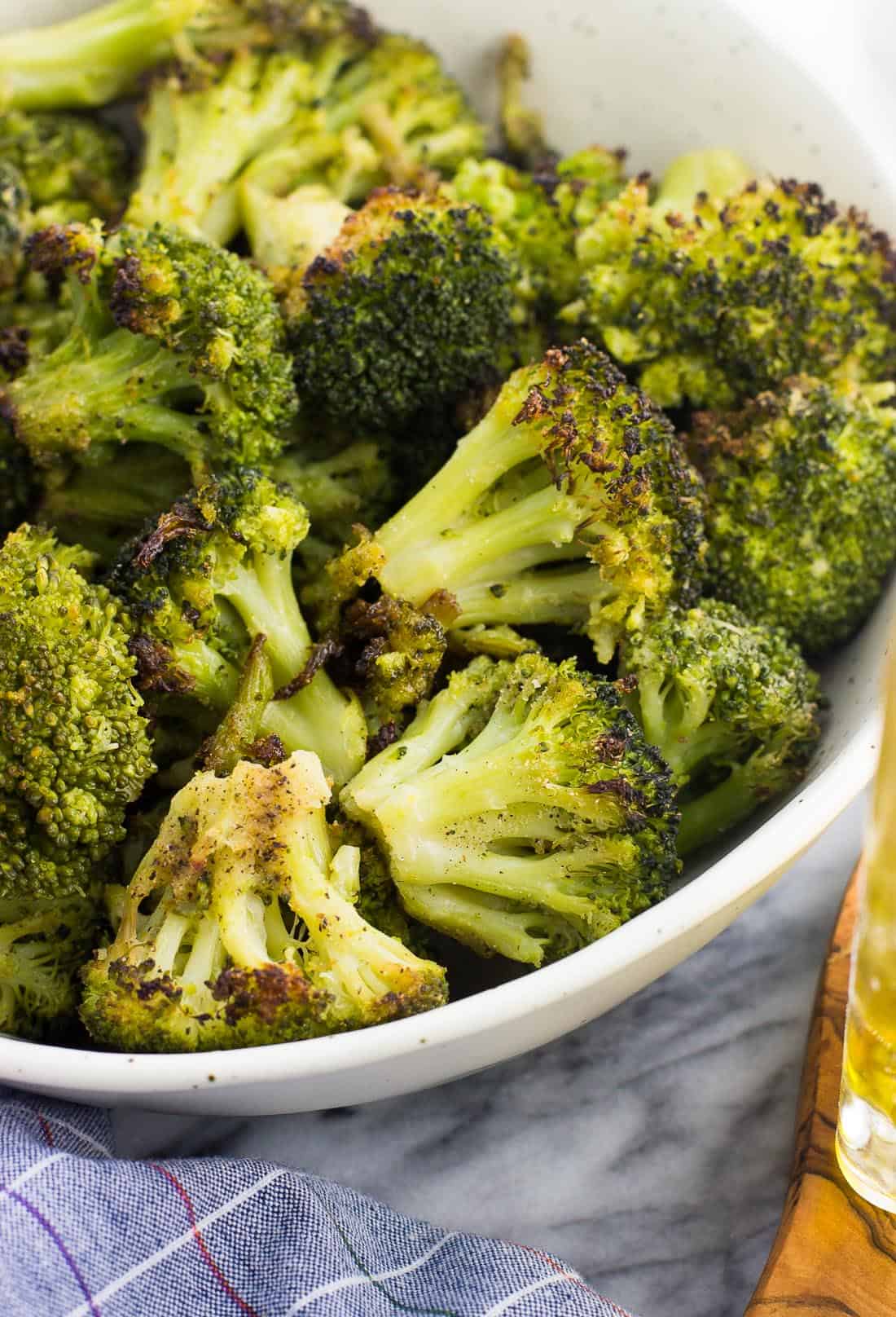 Related Recipes
If you've enjoyed this recipe, I'd love for you to leave a star rating in the recipe card and/or a comment review below!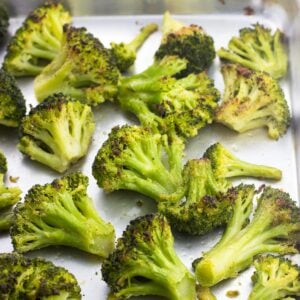 Oven Roasted Frozen Broccoli
Oven roasted frozen broccoli couldn't be easier! This simply seasoned and healthy frozen broccoli recipe doesn't even need to thaw or to be flipped halfway through roasting for a seriously hands-off side dish.
Print
Pin
Rate
Ingredients
4

Tablespoons

olive oil,

divided (or canola or vegetable)

1

teaspoon

garlic powder

½

teaspoon

salt

½

teaspoon

ground black pepper

½

teaspoon

onion powder

2

lbs (907g)

frozen broccoli florets

(32 oz)
Instructions
Preheat oven to 425°F. Brush 1 Tablespoon of the olive oil on a large rimmed sheet pan. The pan size I use is 13" x 18" and it fits all 2 lbs of broccoli comfortably in a single layer.

Add garlic powder, salt, pepper, and onion powder to a small bowl and stir to combine evenly.

Add frozen broccoli florets to a large mixing bowl and drizzle with 2 Tablespoons of olive oil. Scatter spices over top and stir/toss to coat evenly.

Pour out broccoli onto the prepped sheet pan and arrange in a single layer. Drizzle remaining 1 Tablespoon of olive oil over top of the florets.

Roast for 35-40 minutes, or until the broccoli has softened to be very fork tender and the tops are slightly charred (or charred to your liking).
Notes
Oil: The neutral-flavored, higher-heat cooking oil of your choice can be used here. Spices: In place of the individual spices, you can use your favorite pre-made blend.
Nutrition
Calories:
95
kcal
|
Carbohydrates:
7
g
|
Protein:
4
g
|
Fat:
7
g
|
Saturated Fat:
1
g
|
Sodium:
180
mg
|
Potassium:
7
mg
|
Fiber:
2.7
g
|
Sugar:
0.1
g
|
Calcium:
54
mg
|
Iron:
1
mg
Nutritional information is provided as an estimate. As it can vary due to many factors (brands used, quantities, etc.), we cannot guarantee its accuracy.
Food Safety and Nutrition Disclaimer