Easy prep and a warm, robust seasoning blend make these honey roasted carrots and parsnips a holiday side dish winner. There's no parboiling necessary!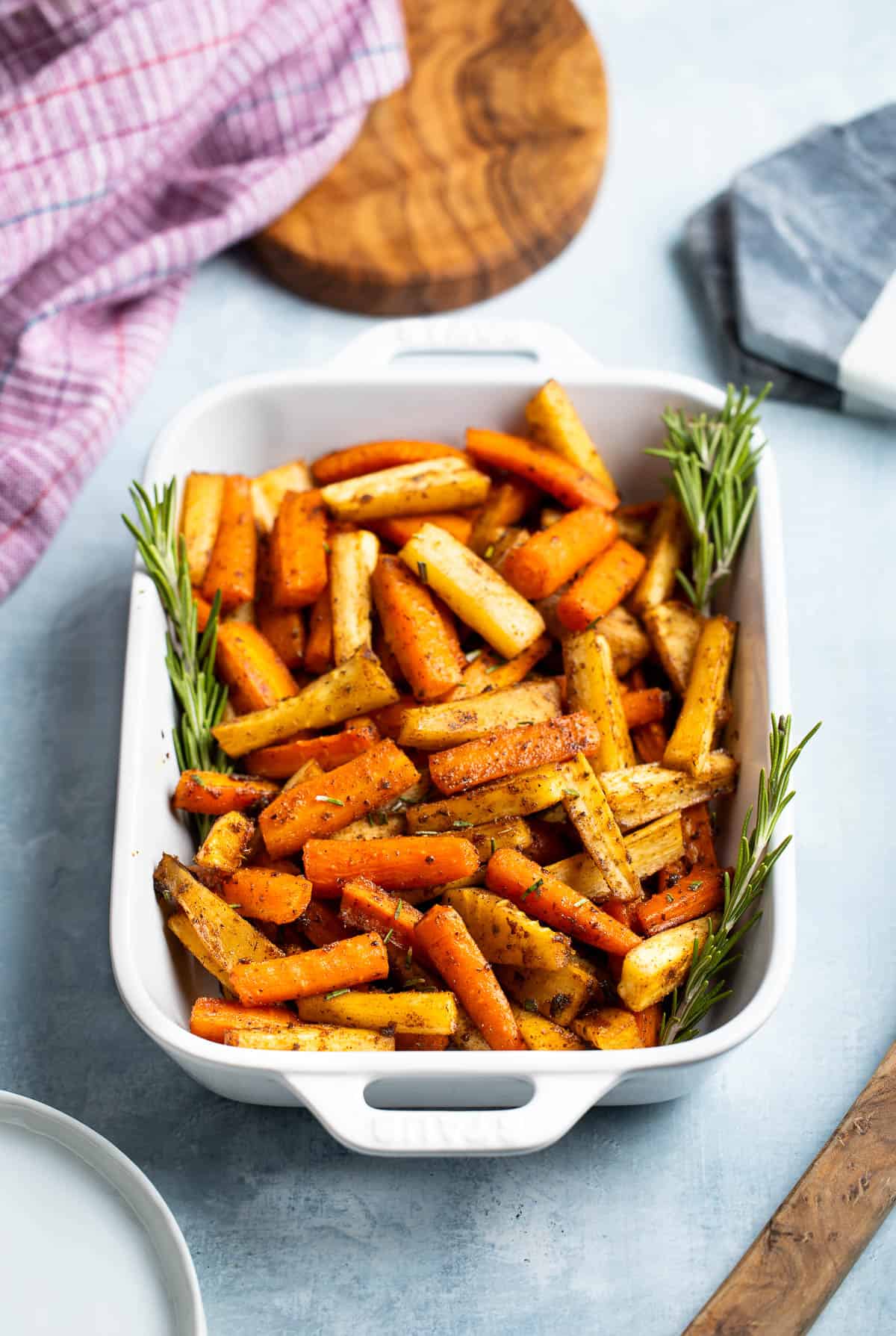 Who doesn't love a roasted vegetable? This easy cooking method boosts the flavor of roasted butternut squash soup, utterly transforms a raw garlic head into rich roasted garlic, and even makes cooking roasted broccoli a breeze with florets straight from the freezer.
A spin in a higher-heat oven benefits pretty much any vegetable, and this recipe for honey roasted carrots and parsnips is no different.
The method here isn't anything unique - cut vegetables, toss in oil and spices, and roast - but a few extra ingredients take this recipe from basic to something special.
Jump to:
Why You'll Love This Recipe
Easy Prep - There's no need to parboil the parsnips or stagger roast times. Slicing the carrots and parsnips into equal segments ensures they roast in the same time frame.
Flavor - These honey roasted carrots and parsnips aren't boring! Honey and extra spices bring a bolder, more complex flavor than simple salt and pepper provide. They easily turn simple roasted vegetables into an upgraded holiday side dish.
Nutrition - Carrots are a good source of beta-carotene and other nutrients, while fiber-rich parsnips are a good source of vitamin C.
Recipe Ingredients
Carrots: Look for a bag with wider carrots rather than super thin ones as it's easier to slice them down to the right size. Very narrow pieces can burn quicker.
Parsnips: These look like wider white carrots (they're in the same family), but they have a stronger, sharper flavor that leans earthy and more peppery. As you'll need to slice them down considerably, look to buy the thinnest parsnips you can find.
Oil: Olive oil is my favorite for roasting vegetables, but other fairly neutral-flavored oils work, like canola, sunflower, or grapeseed.
Honey: This provide a hint of flavor and accentuates the natural sweetness of the vegetables.
Spices: I consulted my trusty copy of The New Food Lover's Companion to find spices that complement both carrots and parsnips and here's where I landed. The warm baking spices - cinnamon, nutmeg, and allspice - may seem out of place, but they round out the other seasonings, the honey, and the natural flavor of the root vegetables beautifully.
Step-by-Step Instructions
Slice. Peel and slice the carrots and parsnips into segments of equal length and thickness.
Toss. Toss in a bowl with oil and honey, then stir in the blend of spices until everything is thoroughly coated.
Arrange. Turn out the coated vegetables onto a large sheet pan and arrange in a single layer. Use two pans if necessary so as to leave a little space around each vegetable.
Roast. Roast at 425°F for 25-30 minutes, flipping once halfway through. Aim for both the carrots and parsnips to reach a fork-tender texture and for golden-brown edges to form.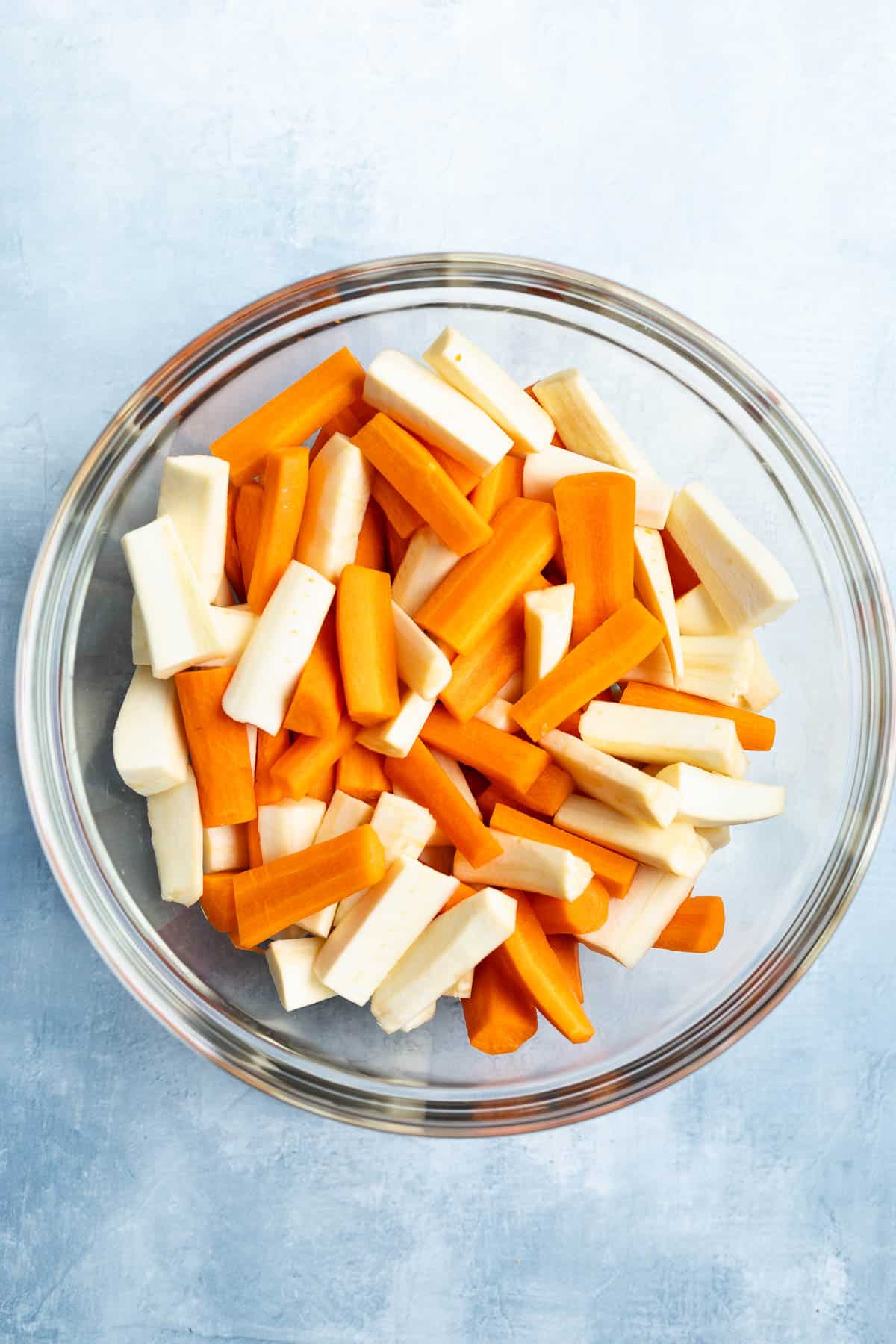 Expert Tips and Tricks
Buying parsnips. Try and purchase the thinnest parsnips you can find as very large ones can lean woodier and tougher in texture. If all you can find are thicker ones, just take care to slice away and discard the tough core segment to ensure they roast nice and tender.
Toss everything in a bowl. While it creates an extra dish to wash versus tossing the vegetables right on the pan, mixing in a bowl and then transferring the vegetables to a pan minimizes the amount of excess liquid that pools on the pan. Too much standing liquid can start to burn during the higher temperature roast time.
Use a rimmed pan... This is important so the oil and honey mixture doesn't drip in your oven.
...and consider two pans. If vegetables are packed in too tightly for roasting they'll start to steam rather than roast. Two pans may be a better fit for a batch of these roasted carrots and parsnips. If doing so, arrange the oven racks so one is slightly above the middle position and one slightly below, switching them during the mid-roast flip.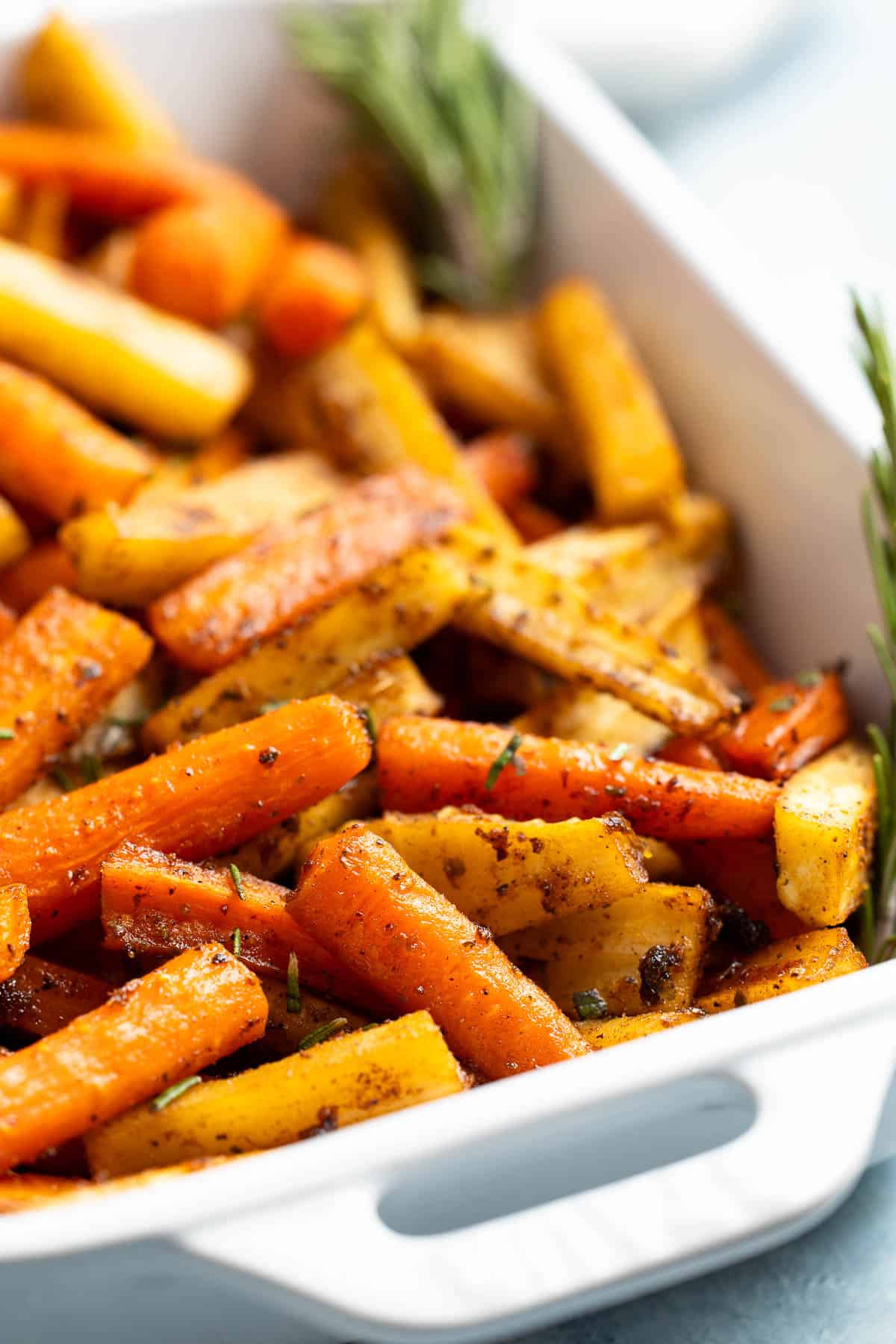 Frequently Asked Questions
Can I use just carrots or parsnips?
Yes! This recipe would be delicious with just carrots or parsnips, or with using more of one than the other.
Do I need all of the seasonings?
At its most basic, roasting root vegetables can get by with just salt and pepper just fine. That said, extra pantry staples (garlic, marjoram, paprika) and a trio of warm spices (cinnamon, nutmeg, allspice) all work together here to amplify the natural sweetness and earthiness of the parsnips and carrots.
How far ahead of time can I make this recipe?
Parsnips will brown after being peeled so they're best roasted soon after being prepped. They're best served soon after roasting. Refrigerate leftovers and while they reheat fine, they tend to get a bit soggy as they're stored in the refrigerator.
Do you need to parboil the parsnips before roasting?
You do not need to parboil the parsnips before roasting for this recipe. The thinner segments become sufficiently tender during the time in the oven.
Can you freeze roasted vegetables?
While carrots and parsnips are good candidates for freezing when raw, I don't recommend freezing them once they've been roasted as their textures will be negatively impacted.
More Vegetable Side Dishes
If you've enjoyed this recipe, I'd love for you to leave a star rating in the recipe card and/or a comment review below!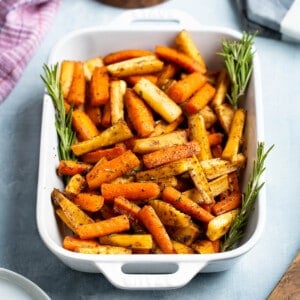 Honey Roasted Carrots and Parsnips
Easy prep and a warm, robust seasoning blend make these honey roasted carrots and parsnips a holiday side dish winner. There's no parboiling required.
Print
Pin
Rate
Ingredients
1

pound

carrots

1

pound

parsnips

3

Tablespoons

olive oil

2

Tablespoons

honey

1

teaspoon

kosher salt

1

teaspoon

garlic powder

1

teaspoon

dried marjoram

½

teaspoon

ground black pepper

½

teaspoon

paprika

¼

teaspoon

ground cinnamon

¼

teaspoon

ground nutmeg

¼

teaspoon

ground allspice
Instructions
Peel carrots and parsnips and slice each into segments roughly 1 ½-inches long and ½-inch thick. For carrots this means you'll likely need to halve the widest sections (quartered if very large), while the thicker parsnips will require quartering or more. Slice away and discard the thick, fibrous inner core of the parsnips. Place sliced carrots and parsnips in a large mixing bowl.

Pour oil and honey over the vegetables and toss well to combine. Add all seasonings to a small bowl and stir to evenly mix, then scatter them over the carrots and parsnips, stirring to evenly coat.

Turn out vegetables onto a large rimmed sheet pan (use two if necessary to not crowd the pan). Arrange them in a single layer with a little bit of room between each vegetable.

Roast on the middle rack of the oven for 25-30 minutes or until fork-tender and turning golden-brown around the edges, flipping them over halfway through the cook time.
Notes
Make-Ahead Notes - Parsnips will brown after being peeled so they're best prepped soon before cooking for optimal presentation. Roasted vegetables will become a bit softer and soggy as they're stored in the fridge so they're best roasted fresh to serve, but can reheat fine. Storage Instructions - Store in an air-tight container in the refrigerator for 3-4 days.
Nutrition
Calories:
173
kcal
|
Carbohydrates:
27.6
g
|
Protein:
1.7
g
|
Fat:
7.3
g
|
Saturated Fat:
1.1
g
|
Sodium:
380
mg
|
Potassium:
544
mg
|
Fiber:
5.9
g
|
Sugar:
13.3
g
|
Calcium:
58
mg
|
Iron:
1
mg
Nutritional information is provided as an estimate. As it can vary due to many factors (brands used, quantities, etc.), we cannot guarantee its accuracy.
Food Safety and Nutrition Disclaimer