Roasted broccolini is a simple side dish that fits in well with just about any cuisine. Smashed garlic cloves and grated lemon add the perfect hint of flavor!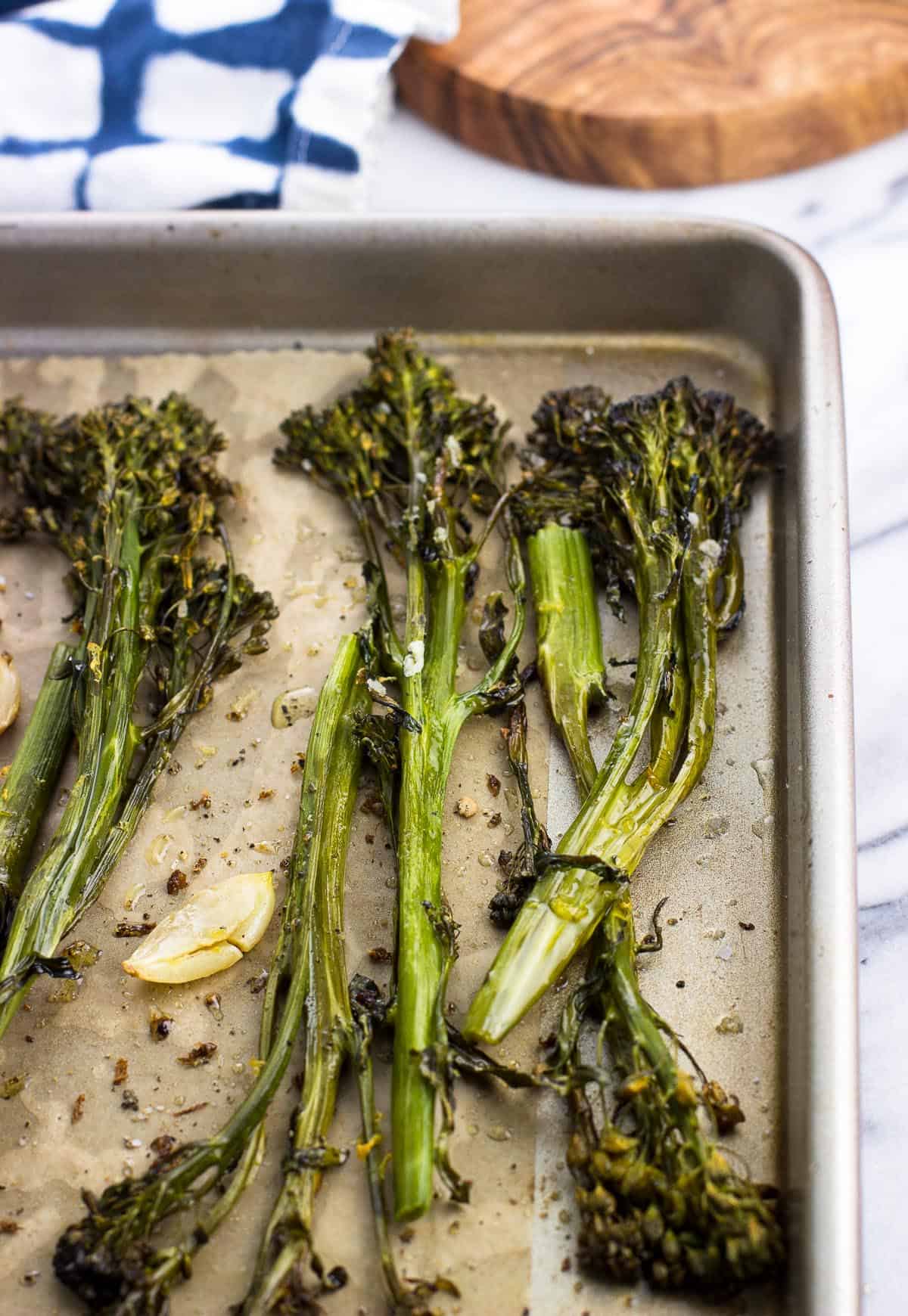 Over the past year I've been having fun picking fruits and vegetables outside of our typical repertoire in my twice-a-month produce delivery service. From bok choy to fennel to lots of eggplant (so many baked eggplant stacks - not complaining!), keeping things fresh on the grocery front seems extra prudent. Especially with the volume of home-cooked meals we've been making!
Perhaps the vegetable I've been most into has been broccolini. With a mild flavor and plenty of versatility in preparation method, it's become one of our go-to side dishes. Over time I've come to prefer roasted broccolini (those charred bits!) and have landed on this recipe as my standard.
What is broccolini?
As it stands, there's a ton of confusion on the Internet regarding broccolini. Broccolini is a hybrid vegetable created in the 1990s by crossing broccoli and Chinese kale (source). It's in the same family (brassica) and species as broccoli, and tastes like a sweeter, more mild version of it. I love that the whole thing, from the entire stem to the leaves to the florets, is edible, making it really quick to prep.
Broccolini looks very similar to broccoli rabe (which is also called rapini), though they're not exactly interchangeable here. Broccoli rabe is leafier with a bitter taste, and while it's in the same family as broccolini, it's in a different species. It's more closely related in that way to bok choy, Napa cabbage, and turnips.
I've also seen broccolini referred to as baby broccoli (though it's not quiiiite the same as broccolini is a hybrid vegetable and baby broccoli is broccoli picked earlier in the maturation process), asparation, and broccolette, broccoletti, and broccoletto, making me feel like I'm in the midst of my Italian Duolingo.
In making this recipe I've purchased bunches labeled broccolini, baby broccoli, and broccolette/o/i and they all work great. I have not tried this with broccoli rabe.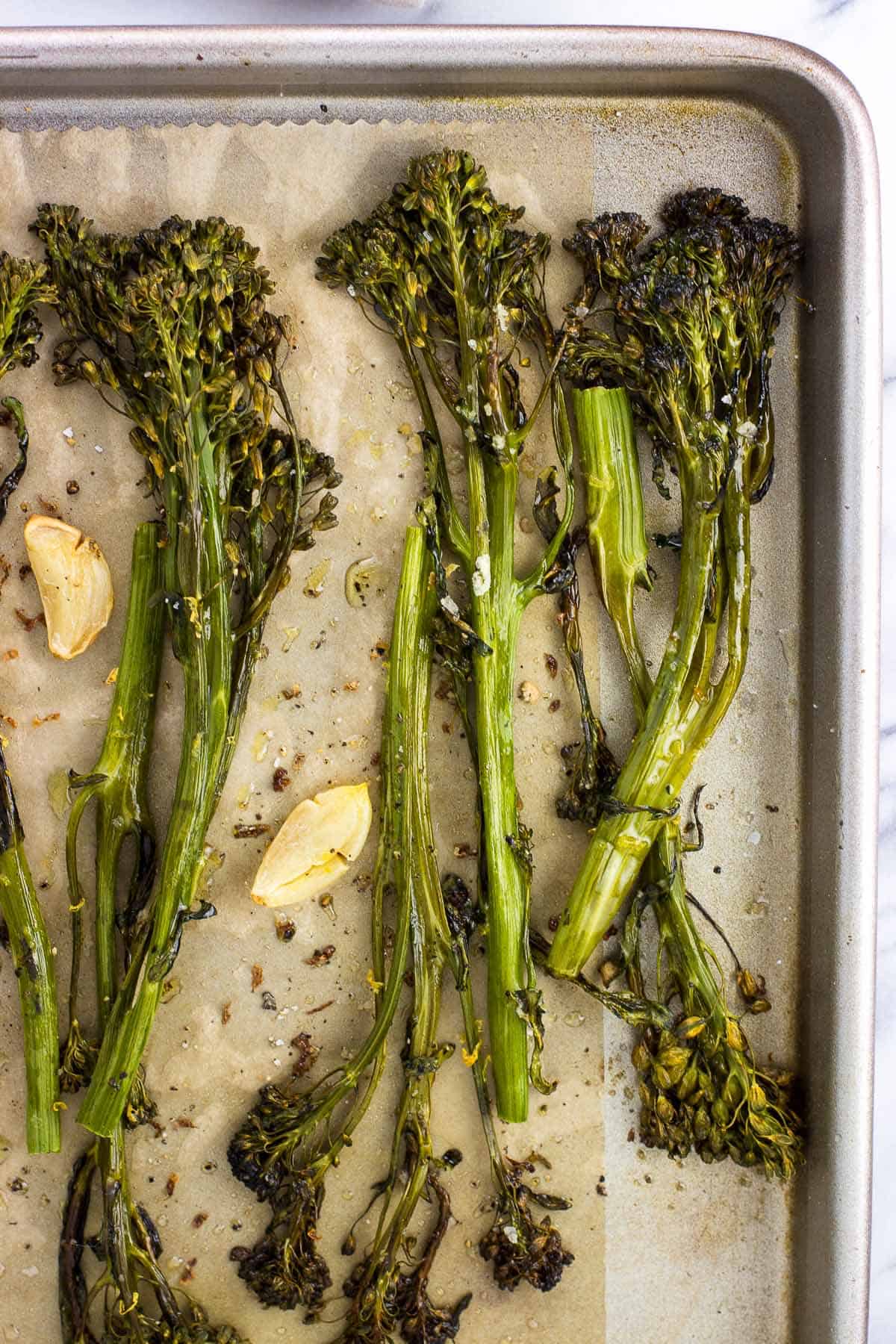 Recipe ingredients
Once you get past the intricacies of broccolini, the rest of the ingredients are pantry staples!
Olive oil, salt and pepper are at the core of this roasted broccolini, though you can certainly take this base recipe a million different ways flavor-wise. While the two other elements are optional they come highly recommended: smashed whole garlic cloves and grated lemon zest.
Garlic is always a plus in roasted vegetable dishes, and the tiny burst of citrus plays well with the rest of these simple flavors.
Easy recipe steps
Broccolini is an efficient vegetable to prep. Once its rinsed and patted dry, trim the bottom quarter-inch of each stem and then slice any very thick stems (over half-inch or so) in two so they're thinner. While each one doesn't have to be exactly the same thickness, we don't want any huge disparities so they can roast in the same amount of time.
Next arrange the stalks in a single layer on a sheet pan. I alternate putting the florets on either side of the pan to maximize the number that can fit on each pan.
Now it's time for smashing garlic. Using the flat side of a chef's knife (with the blade facing away from you), carefully press down on a whole garlic clove until it cracks and becomes squashed. Then nestle those around the broccolini on the pan. Smashing the garlic allows it to roast nicely and develop a mellowed flavor over the twenty minutes or so in the oven, without the risk of burning that minced/pressed garlic would face.
Drizzle the olive oil over top of the broccolini and garlic, then using tongs flip each stem over and then back to make sure the olive oil coats all parts of it. Season with salt and pepper, then grate a lemon over top.
Place the pans in the oven for fifteen to twenty minutes, and get ready to tuck into teeny bit charred, perfectly roasted broccolini. Roughly chop up the roasted garlic cloves and sprinkle them over the broccolini for serving.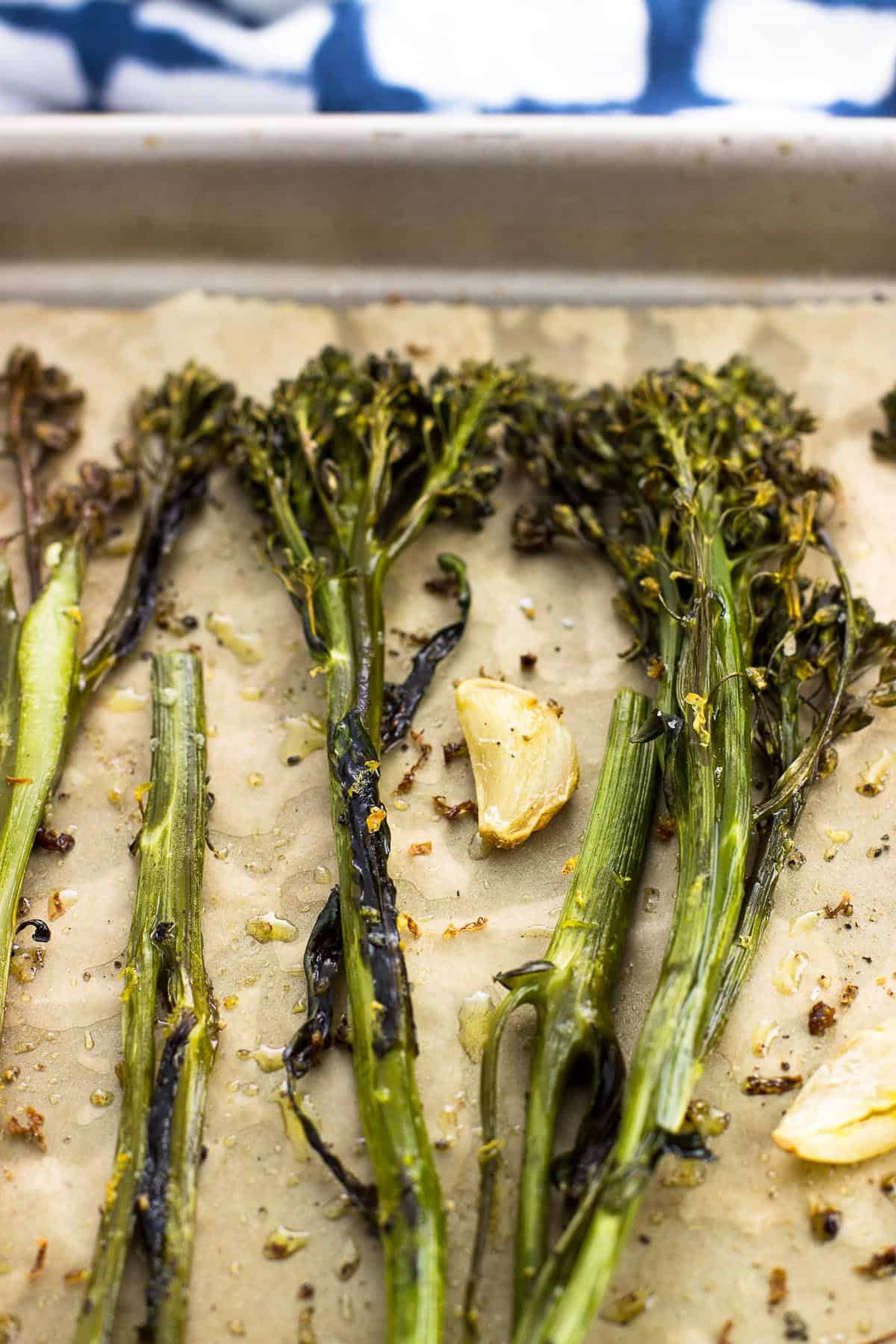 Related recipes
When it comes to broccoli, my preference is frozen. It just doesn't get easier! My go-to is this oven roasted frozen broccoli with no thawing required. If you like this broccolini, you will loooove this broccoli, too.
But if you're looking for fresh broccoli in a main dish, look no further than cavatelli and broccoli. This has more flavor that you might think!
These garlic sauteed green beans are a family favorite. Larger pieces of garlic make all the difference in this easy skillet (read: no blanching necessary) side dish.
Roasting plain canned corn transforms it from a ho-hum pantry fixture to a semi-gourmet side dish that tastes a lot fancier than it is. Chili lime seasoning (and a sprinkle of cotija cheese, if you have it) is especially good on skillet roasted corn.
For heat lovers, a drizzle of sriracha totally makes this spicy sauteed asparagus. Love having low-ingredient recipes like this in my back pocket.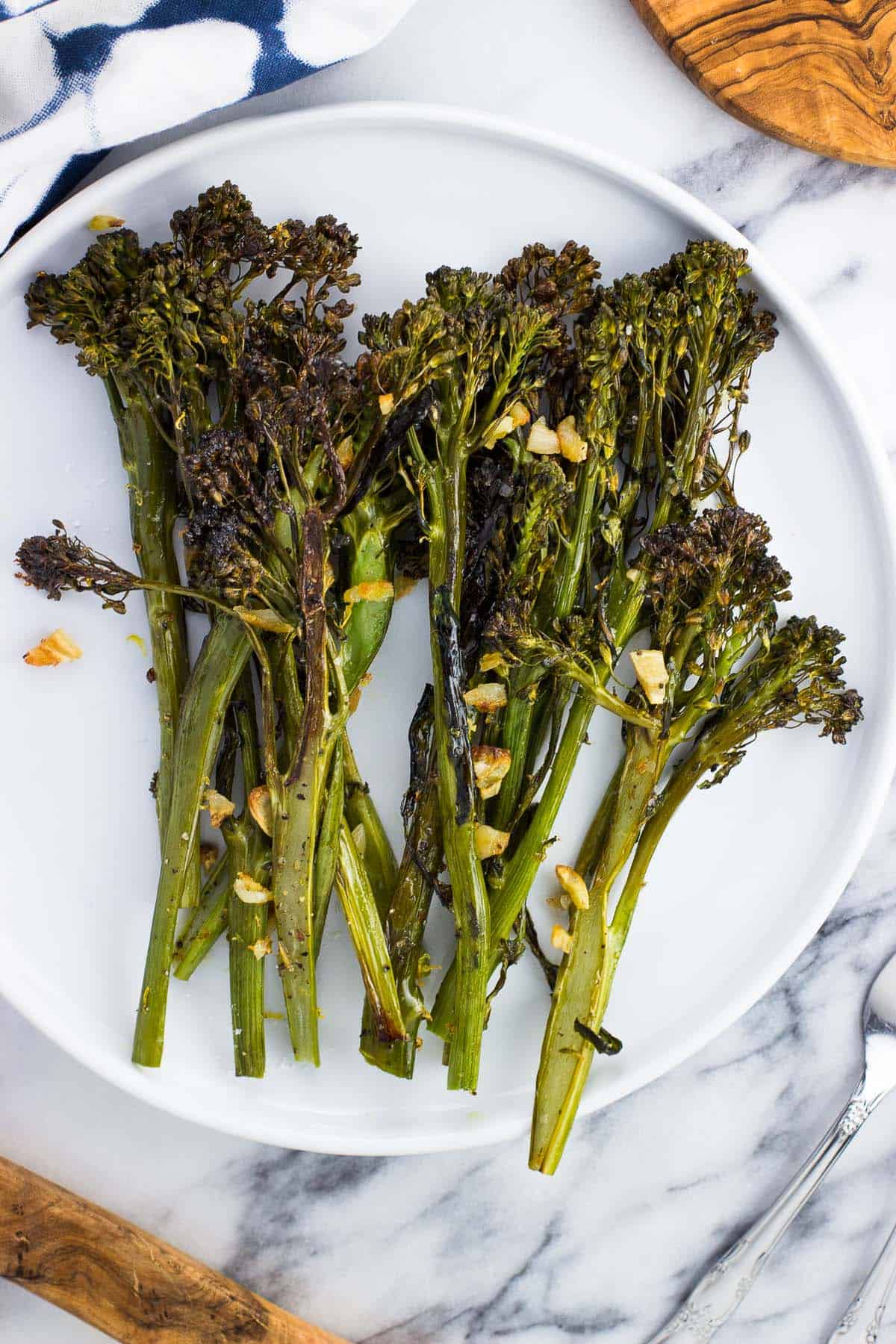 Recipe notes
You'll sometimes find broccolini listed as baby broccoli or broccoletto/i/e. They all will work for this recipe. I would not use broccoli rabe (rapini) as it has a more bitter flavor and I have not tested it with this method of preparation.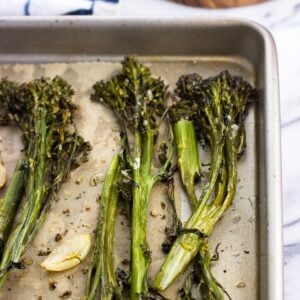 Garlic Roasted Broccolini
Roasted broccolini is a simple side dish that fits in well with just about any cuisine. Smashed garlic cloves and grated lemon add the perfect hint of flavor!
Print
Pin
Rate
Ingredients
2

bunches

broccolini

4

cloves

garlic

smashed

2

tablespoon

olive oil

½

teaspoon

kosher salt

Freshly cracked black pepper

to taste

1

lemon

zested (optional)
Instructions
Preheat oven to 400°F. Line two large sheet pans with parchment paper, or give them a spritz of cooking spray or a light brushing with olive oil.

Rinse broccolini and blot dry. Trim and discard the bottom ¼-inch of each broccolini stalk (you can leave the leaves on). Slice any stalk that is wider than approximately ½-inch in half length-wise. Arrange each stalk on the prepared sheet pans in a single layer.

Peel each garlic clove and put it on a cutting board. Carefully press it under a chef's knife (with the sharp edge facing away from you) and apply pressure so that the clove is crushed. Arrange the smashed garlic cloves around the broccolini on the pans.

Evenly drizzle olive oil over top of the broccolini and garlic cloves, then season with salt and pepper. Give each broccolini stalk a flip over and back to get the oil on all sides. Grate lemon over top, if desired

Place baking sheets in the oven and roast for 15-20 minutes, or until the florets are browned and a bit charred and the stalks are tender but still crisp.

Cut up any large pieces of smashed garlic and sprinkle over top of the broccolini for serving.
Nutrition
Calories:
99
kcal
|
Carbohydrates:
7
g
|
Protein:
3.2
g
|
Fat:
7
g
|
Saturated Fat:
1
g
|
Sodium:
266
mg
|
Potassium:
12
mg
|
Fiber:
1.1
g
|
Sugar:
2.1
g
|
Calcium:
65
mg
|
Iron:
1
mg
Nutritional information is provided as an estimate. As it can vary due to many factors (brands used, quantities, etc.), we cannot guarantee its accuracy.
Food Safety and Nutrition Disclaimer