This healthy baked apple oatmeal is hearty and nutritious with the BEST texture. Sweetened with maple syrup and made with applesauce instead of oil or butter, this make-ahead oatmeal freezes well for an all-around breakfast MVP.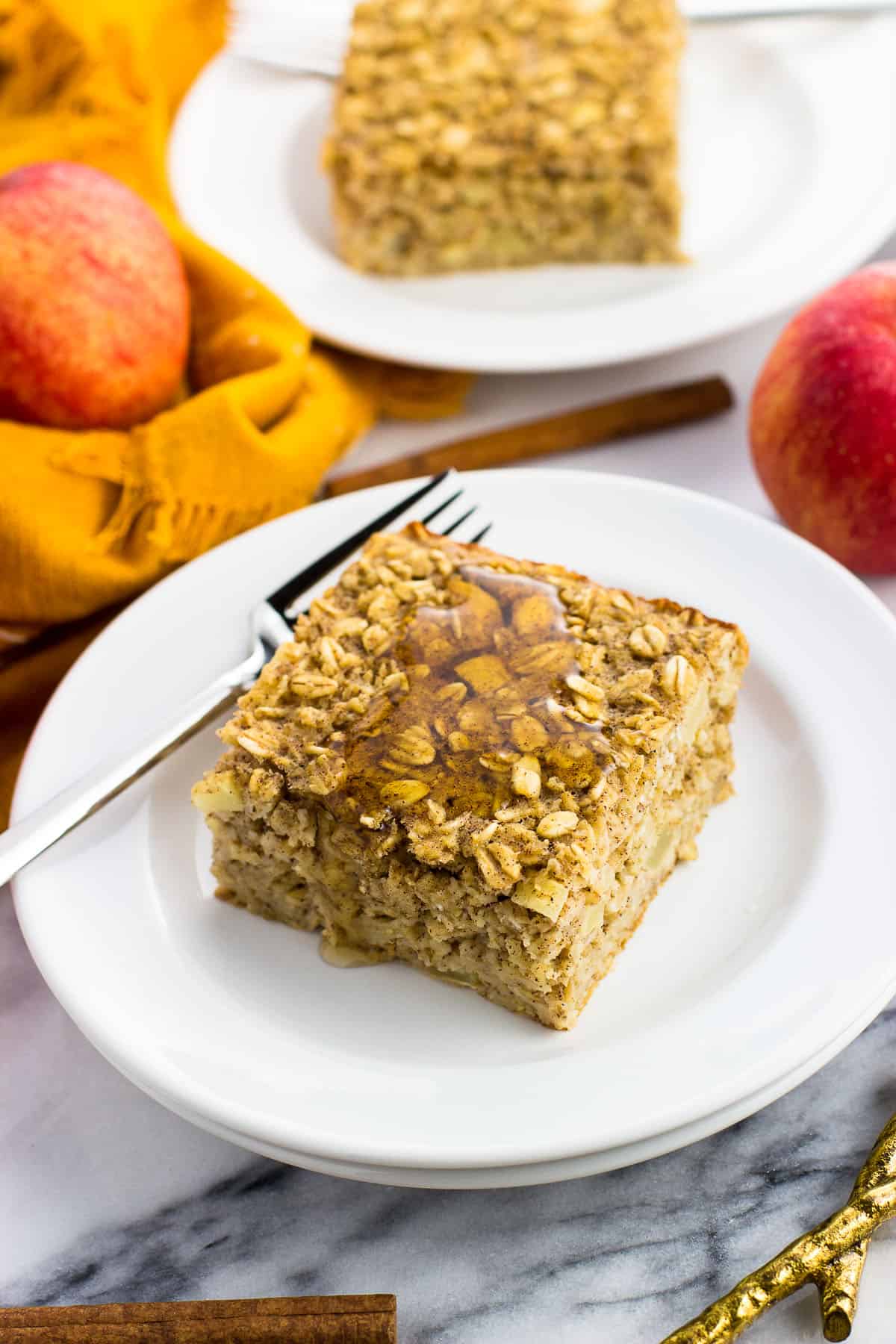 Back at it again with the baked oatmeal. Most of the time I will opt for a savory breakfast dish over sweet, but during the past few years I've really taken to baked oatmeal. It's hard not to love!
For starters, each batch has incredibly easy prep. Just mix the wet and dry ingredients separately, then combine. It's also a forgiving recipe for ingredient swaps, and works well with a variety of mashed/pureed fruits, spices, dried or fresh fruits, nuts, etc.
Each pan yields about nine breakfasts, with portions holding up perfectly in the fridge or freezer for future reheating.
And then there's the fact that it's made better-for-you than many classic recipes out there. Each of these flavor variations (this apple cinnamon baked oatmeal makes #4 on the blog so far) is modeled after my original healthy baked oatmeal bars, which uses a modest amount of maple syrup for sweetening and mashed fruit in place of oil or melted butter.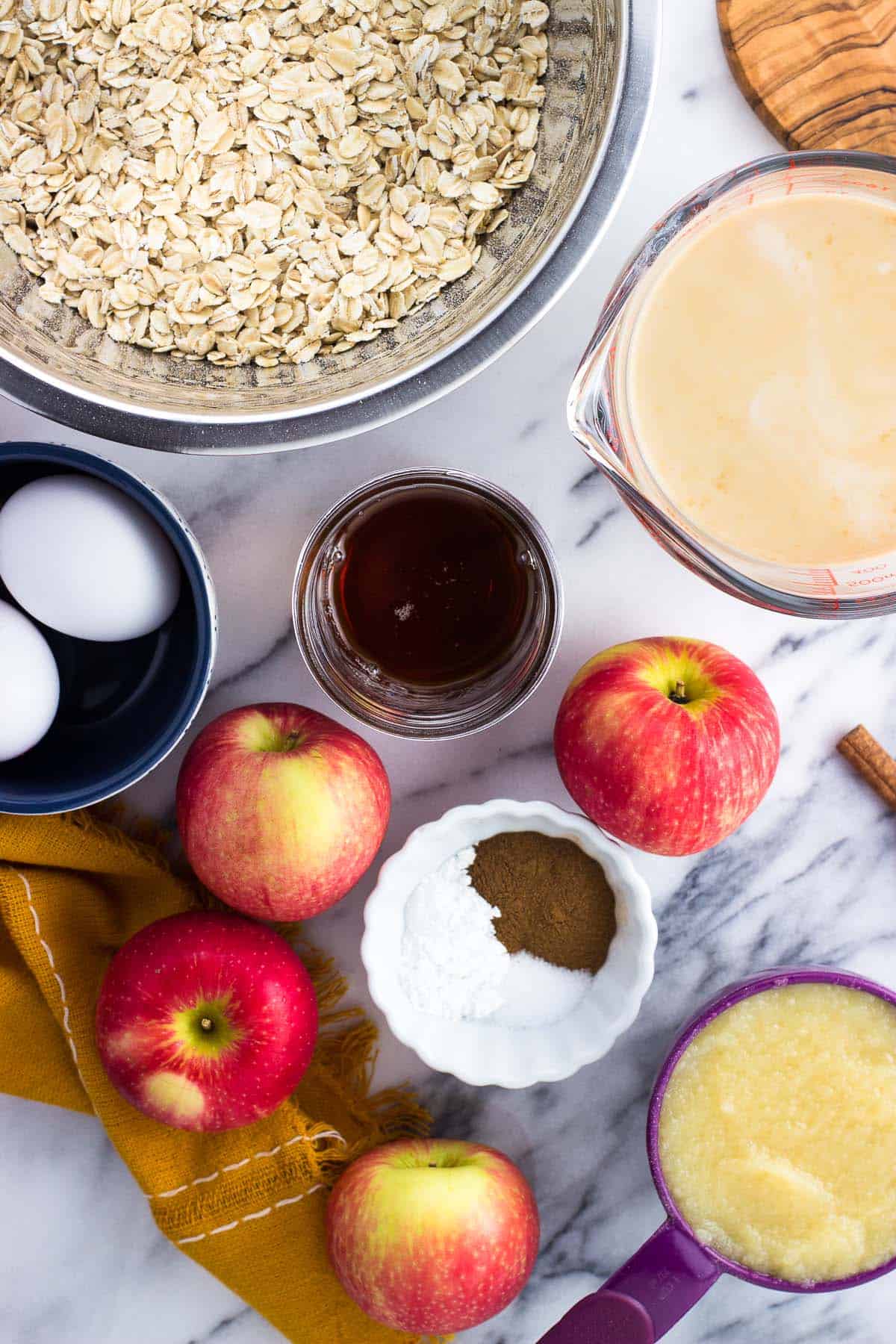 Recipe ingredients
Oats are the star of the show here, and old-fashioned oats (also known as rolled oats) are the way to go. These fat, flaky oats soften an optimal amount with this quantity of liquid and bake time, and provide a soft chewiness without being mushy in the slightest.
I don't recommend using quick oats as they are more processed and when combined and baked would lack a hearty texture and may lean mushy. Even more so for instant.
As with all of my baked oatmeal recipes, we'll also need baking powder for a bit of rise, milk (your preferred kind – I use 2%) for moisture, two large eggs for binding, a smidge of salt, maple syrup for natural sweetness, and a touch of vanilla extract to round out the core ingredients.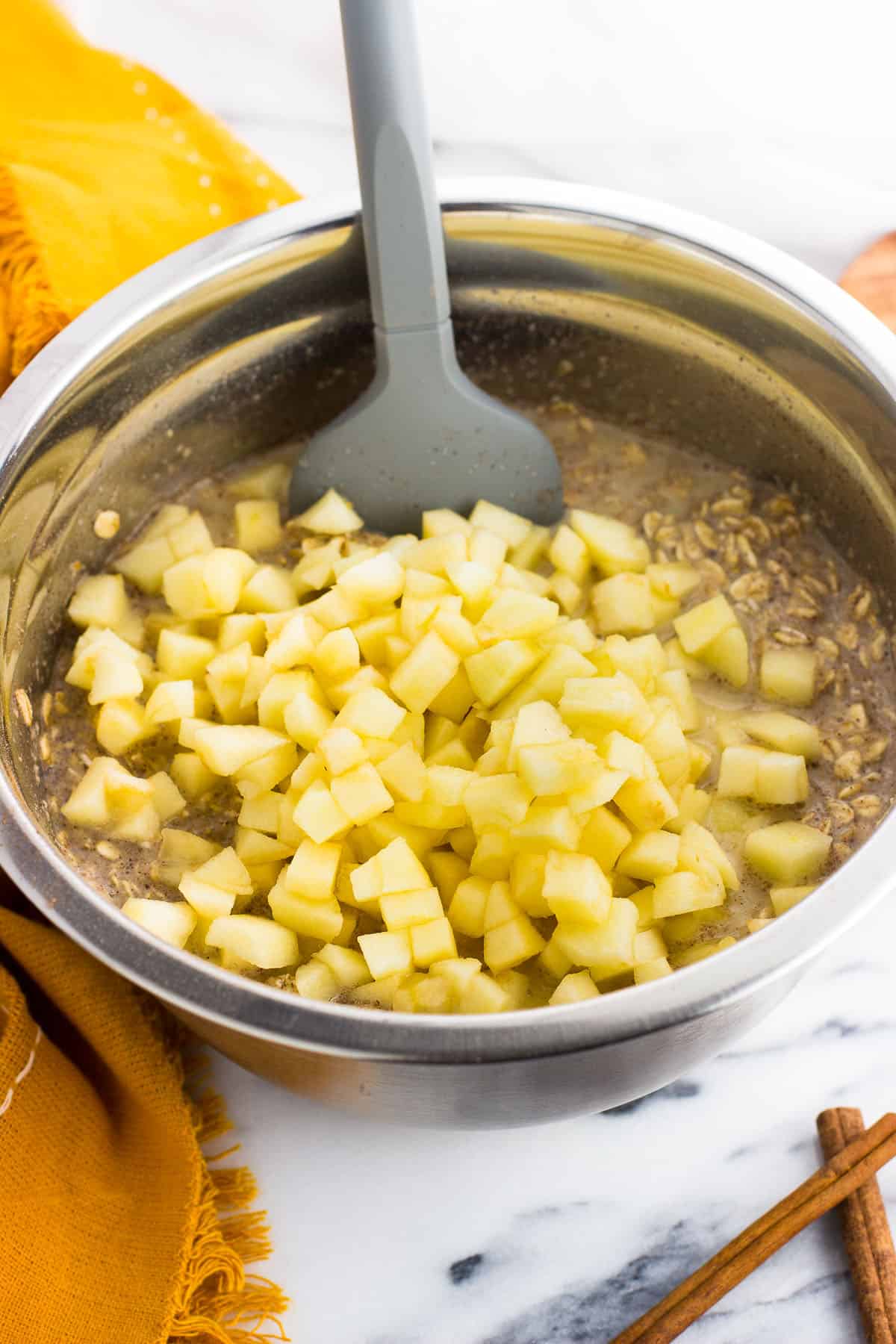 Now let's get into what makes this flavor iteration so special. In place of mashed ripened bananas, we're using applesauce to achieve the same tenderness while leaning into the apple cinnamon vibe. I've tested this recipe with both standard and unsweetened applesauce and found they both were delicious. It didn't make a difference either way (IMO) so either will work here.
As for the mix ins, small dice fresh apples take that apple flavor over the top. I like to use Honeycrisp apples as they're sweet and retain some crispness even after being baked into oatmeal (and despite not apple picking this year found myself with quite a surplus in my fall produce boxes). Gala apples are another variety on the sweeter end that work well here, along with Fuji, Ambrosia, and Pink Lady.
We couldn't have apple cinnamon baked oatmeal without adding ground cinnamon. Two teaspoons, in fact. It's the only spice used and it's not overwhelming, so if you're really into cinnamon you could even bump that amount up.
And while I usually pass on nuts for this one, chopped walnuts or pecans would make a wonderful accompaniment to the apple cinnamon flavor.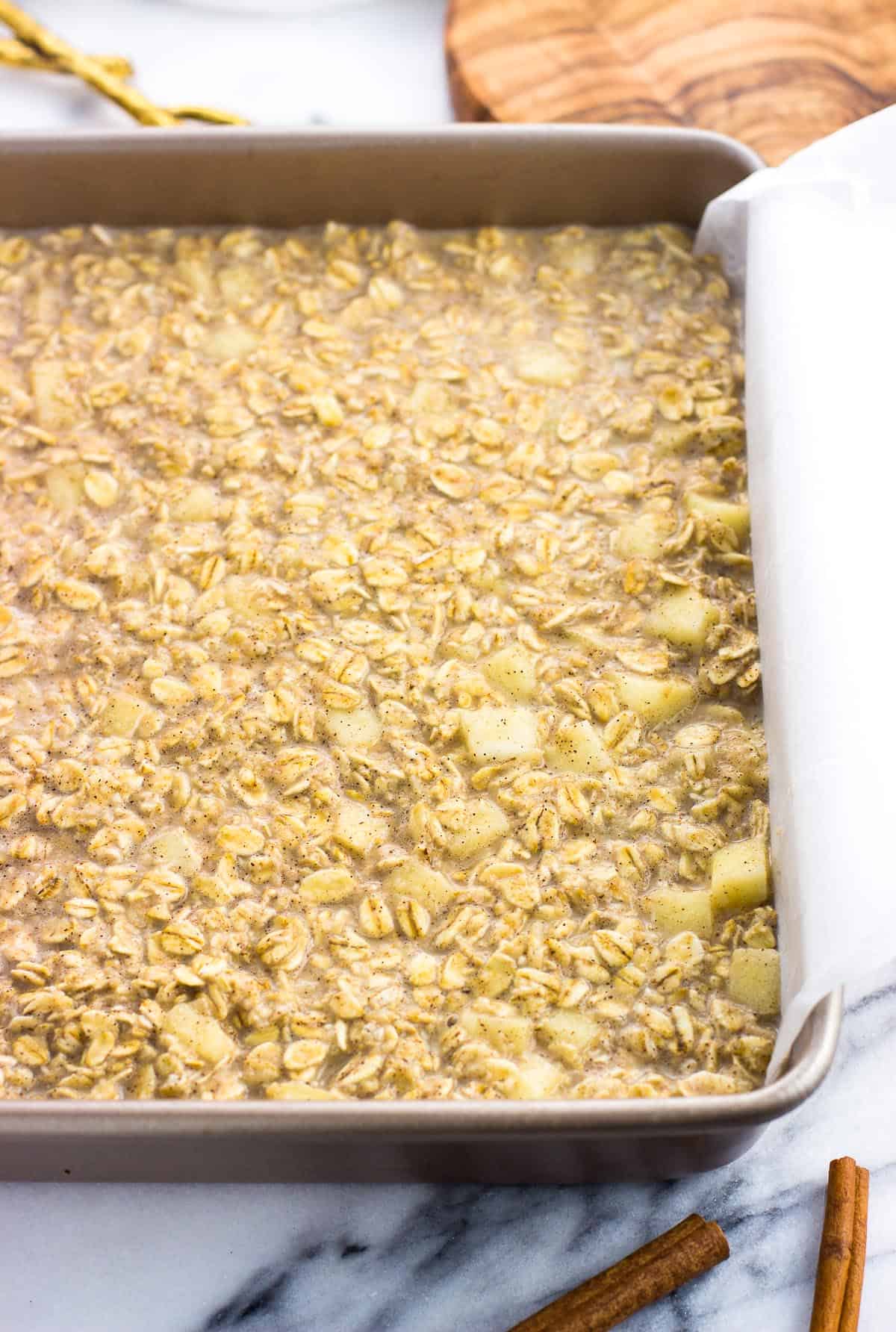 Step-by-step instructions
Start by heating your oven to 350°F and preparing your pan. This apple cinnamon baked oatmeal uses an 8″ x 8″ square baking dish, of which I line with parchment paper to make lifting the oatmeal out for slicing so much easier. Leave enough parchment overhang on two opposite sides so you can get a good grip for lifting. Give the lined pan a little spritz of cooking spray, focusing on the two unlined edges.
Next peel, core, and dice your apples. There's flexibility in the recipe for mix ins, but I aim for around one-and-a-half cups of small diced apples. The number of apples you need will vary depending on size but I'd say about three medium apples will be more than enough (mine were pretty small and I used four, maybe five).
After that whisk together your dry ingredients in a larger mixing bowl: old-fashioned oats, ground cinnamon, baking powder, and salt. Grab another mixing bowl and whisk the milk, applesauce, eggs, maple syrup, and vanilla extract. An electric mixer isn't necessary, just vigorously whisk until smooth and well-combined.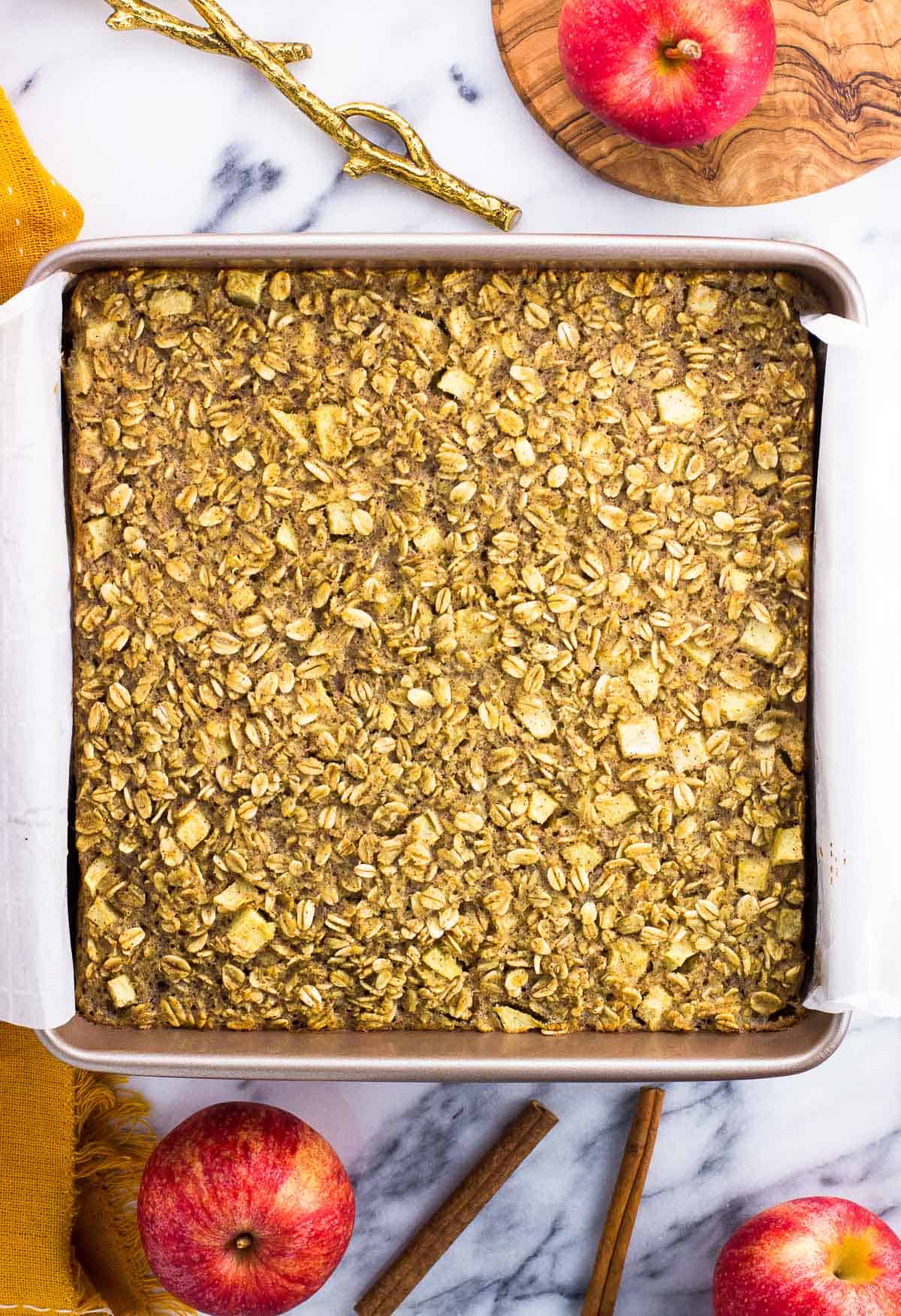 Add the wet ingredients to the bowl with the dry ingredients, then stir until the oats are evenly moistened and combined. Stir in the diced apples, then pour into the parchment-lined baking dish. Smooth out the top surface with a spatula or wooden spoon, then bake for 45 minutes, or until the top has set and the edges have turned golden-brown.
Let the baked oatmeal cool completely before slicing as that helps the slices hold their shape. If you slice baked goods when they're still warm, you run the risk of having crumbly or mushed pieces.
Storage instructions
Similarly, let the oatmeal cool completely before storing it. That prevents condensation from forming and becoming trapped inside the container, which can lead to some adverse mushiness going on in leftover portions.
Wrap the oatmeal bars in foil, then place in an air-tight container or bag for storage. They will stay in the refrigerator for several days, but also do well when frozen. Reheating them in the microwave on half-power until warmed is my go-to, along with serving with a drizzle of maple syrup.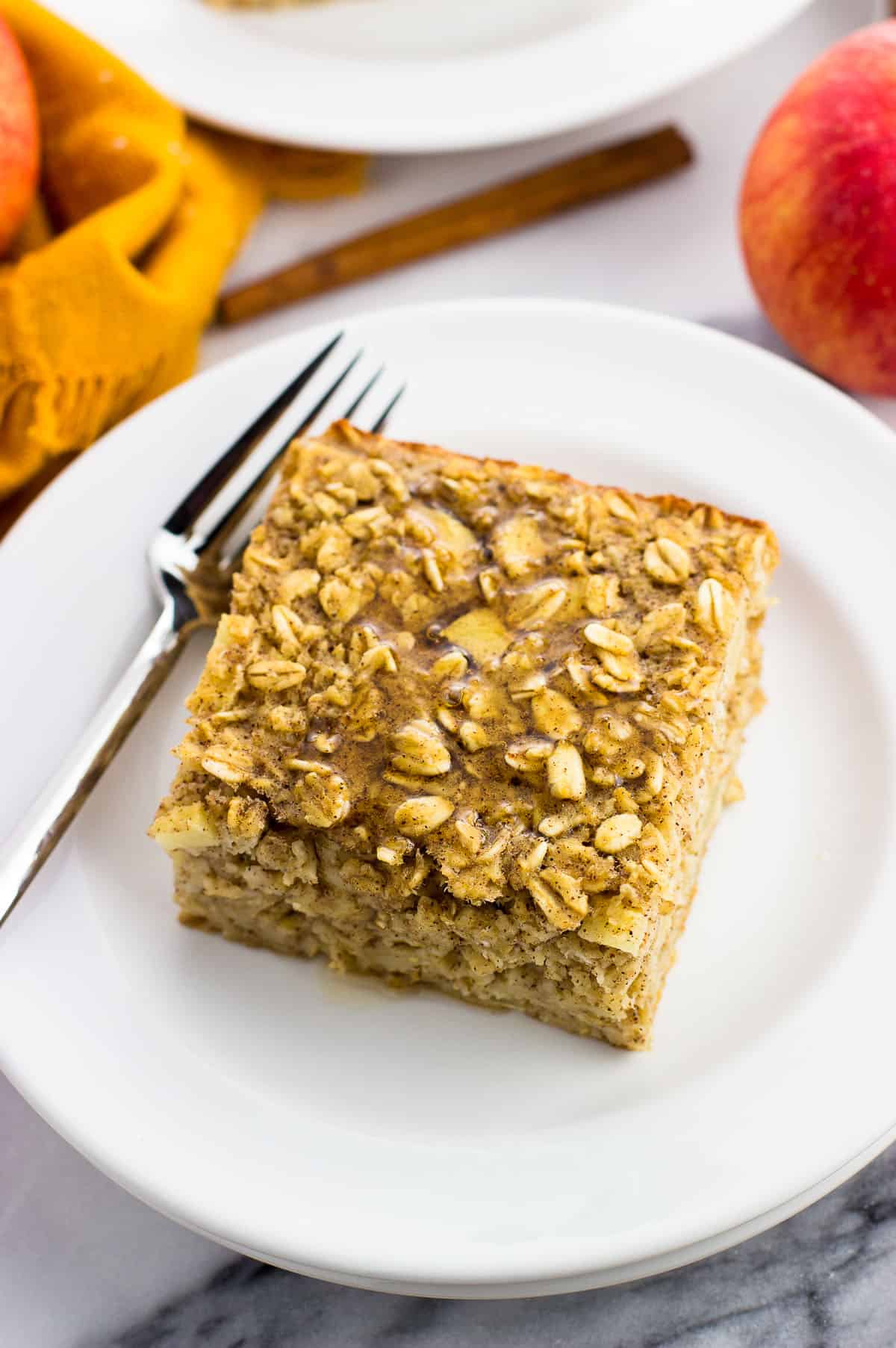 Related recipes
For a boost of protein, check out this recipe for peanut butter baked oatmeal. I LOVE the flavor peanut butter gives these bars (without being overwhelming). Almond butter or nut butter of your choice will also work.
If you're feeling extra festive in the fall, pumpkin baked oatmeal is a big treat. It features warm pumpkin pie spices and, you guessed it, pumpkin puree for an orange-hued breakfast bar that's just sweet enough.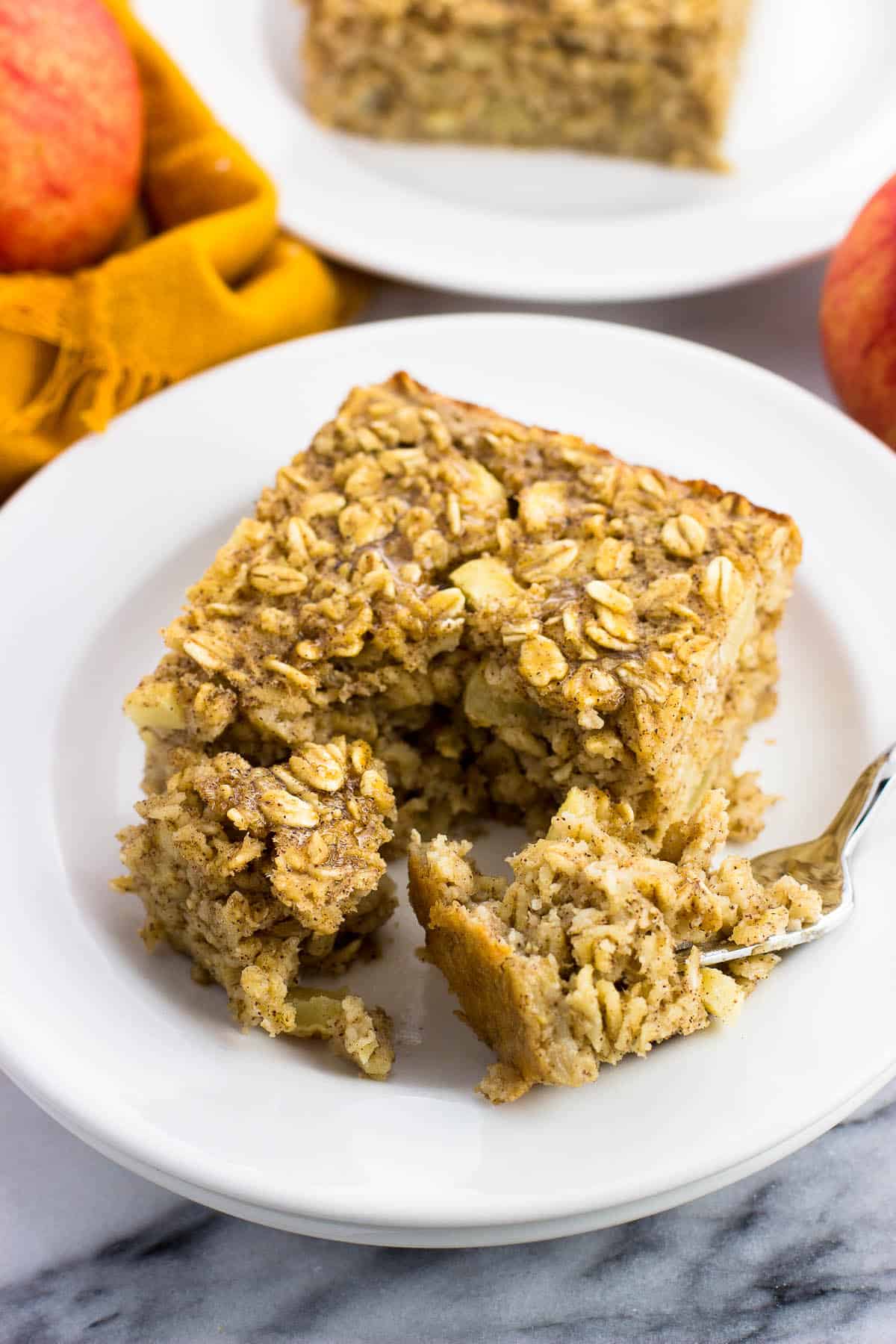 Recipe notes
Using almond or oat milk (or your preferred alternative) will make this apple cinnamon baked oatmeal recipe dairy-free. I've tested it with oat milk and found it was just as good.
On occasion I've subbed in one flax egg in place of one of the eggs. It worked well! I have not tried replacing both of the eggs that way, so I couldn't say how that would result.
Apple Cinnamon Baked Oatmeal
This healthy baked apple oatmeal is hearty and nutritious with the BEST texture. Sweetened with maple syrup and made with applesauce instead of oil or butter, this make-ahead oatmeal freezes well for an all-around breakfast MVP.
Ingredients
3

cups

old-fashioned oats

2

tsp

ground cinnamon

2

tsp

baking powder

1/2

tsp

salt

1 1/2

cups

milk

your preferred variety (12 oz)

1

cup

applesauce

(8 oz)

2

large

eggs

1/3

cup

maple syrup

1 1/2

tsp

vanilla extract

1 1/2

cups

small dice peeled and cored apples
Instructions
Preheat oven to 350°F. Line an 8"x8" baking dish with parchment paper, leaving enough hanging out along two opposite sides to be able to lift the baked oatmeal out of the pan later on for slicing. Give the parchment-lined pan a quick spritz of cooking spray and set aside.

In a large mixing bowl stir together the oats, cinnamon, baking powder, and salt until evenly combined.

In a separate, medium mixing bowl, whisk together milk, applesauce, eggs, maple syrup, and vanilla extract well until smooth.

Pour wet ingredients into the bowl with the dry ingredients and stir until everything is evenly moistened and combined. Stir in diced apples.

Pour out oatmeal mixture into the prepared pan and bake for 45 minutes, or until the center has set fully and the edges are turning golden-brown. Let cool in the pan, then run a spatula along the edges to loosen before carefully lifting out the baked oatmeal. Let cool completely before slicing into nine squares.
Notes
Applesauce: I've tested this recipe with both regular and unsweetened applesauce varieties and enjoyed both. Use your preference. Apples: Three medium-sized apples (or between four and five small apples) should be plenty for this recipe.
Nutrition
Serving:
1
square
|
Calories:
199
kcal
|
Carbohydrates:
36.6
g
|
Protein:
6.2
g
|
Fat:
3.6
g
|
Saturated Fat:
1.1
g
|
Cholesterol:
40
mg
|
Sodium:
165
mg
|
Potassium:
330
mg
|
Fiber:
3.9
g
|
Sugar:
15.8
g
|
Calcium:
124
mg
|
Iron:
2
mg
Nutritional information is provided as an estimate. As it can vary due to many factors (brands used, quantities, etc.), we cannot guarantee its accuracy.