Easy puff pastry apple turnovers are bursting with apple pie flavor, with a filling that can be prepared a variety of different ways. A simple drizzle of glaze flavored with apple pie spice is all you need as a finishing touch on these flaky, fruit-filled pastries.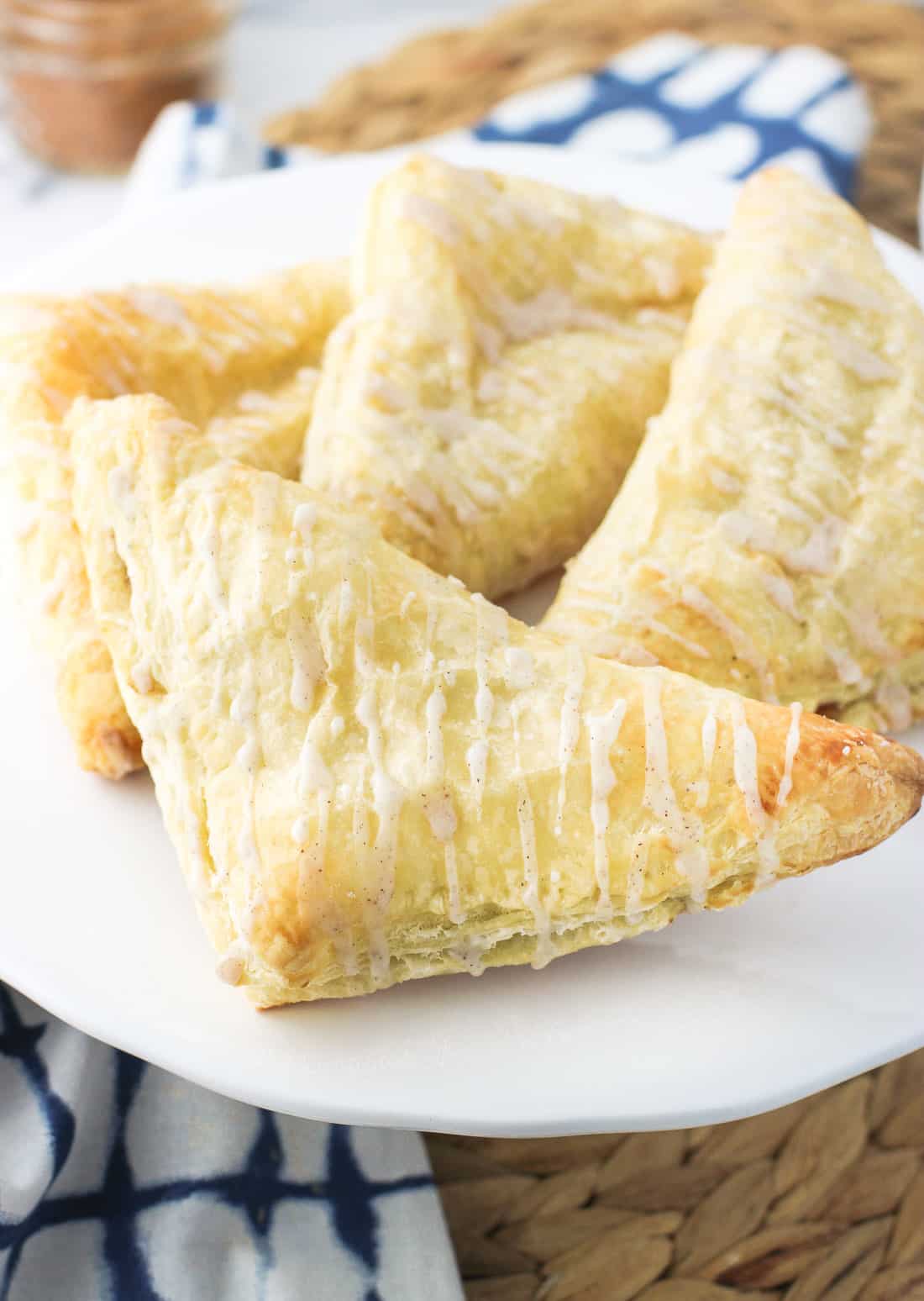 After kicking off apple season with (mostly) slow cooker apple pie, I'm keeping it going with these puff pastry apple turnovers. The whole fruit and pastry combo has a knack for being breakfast-permissible, so basically once that criterion is met, I'm declaring these as an any-time-of-the-day type of food. At least that's what I'm telling myself on the occasions when I take a bite or two some time between breakfast and lunch.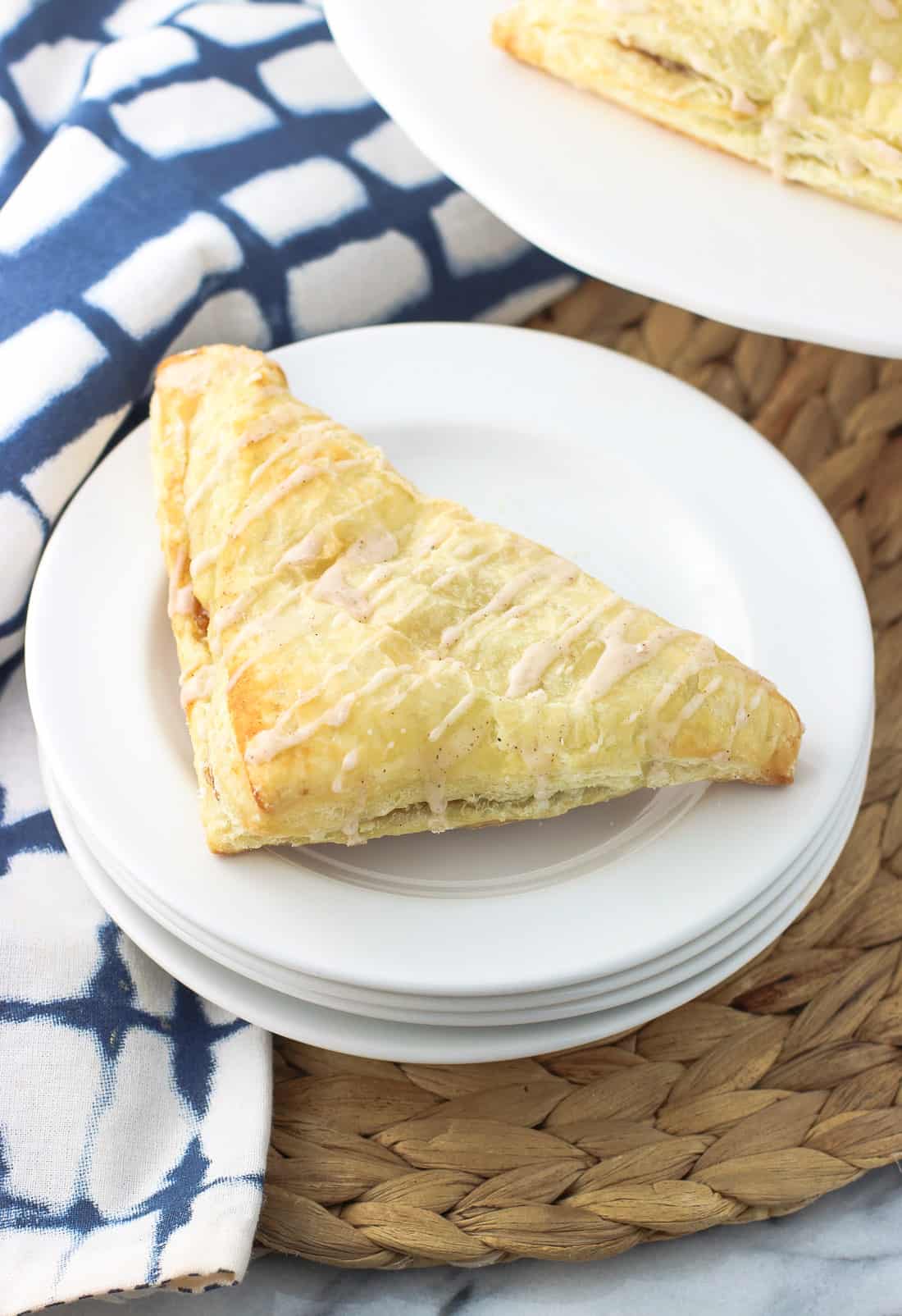 Before we get to the filling options, let's discuss the pastry piece. Despite baking with it numerous times, I'm still in a state of wonderment when I use puff pastry. Now I'm not sure why, as it's never not puffed on me or been a fail in any way, but something with the way it's SO easy to use juxtaposed with how not easy the end result appears freaks my brain out a little. A good, mini freak out.
There are two separately rolled sheets of puff pastry in a standard container, but this recipe for puff pastry apple turnovers only uses one. You can certainly repeat the process for both sheets if you'd like a larger yield, but four nicely-sized turnovers (from one sheet) sounded like more than enough for the two of us to handle on a weekend. Plus this just means you'll have another sheet on hand for any time the turnover craving hits. 🙂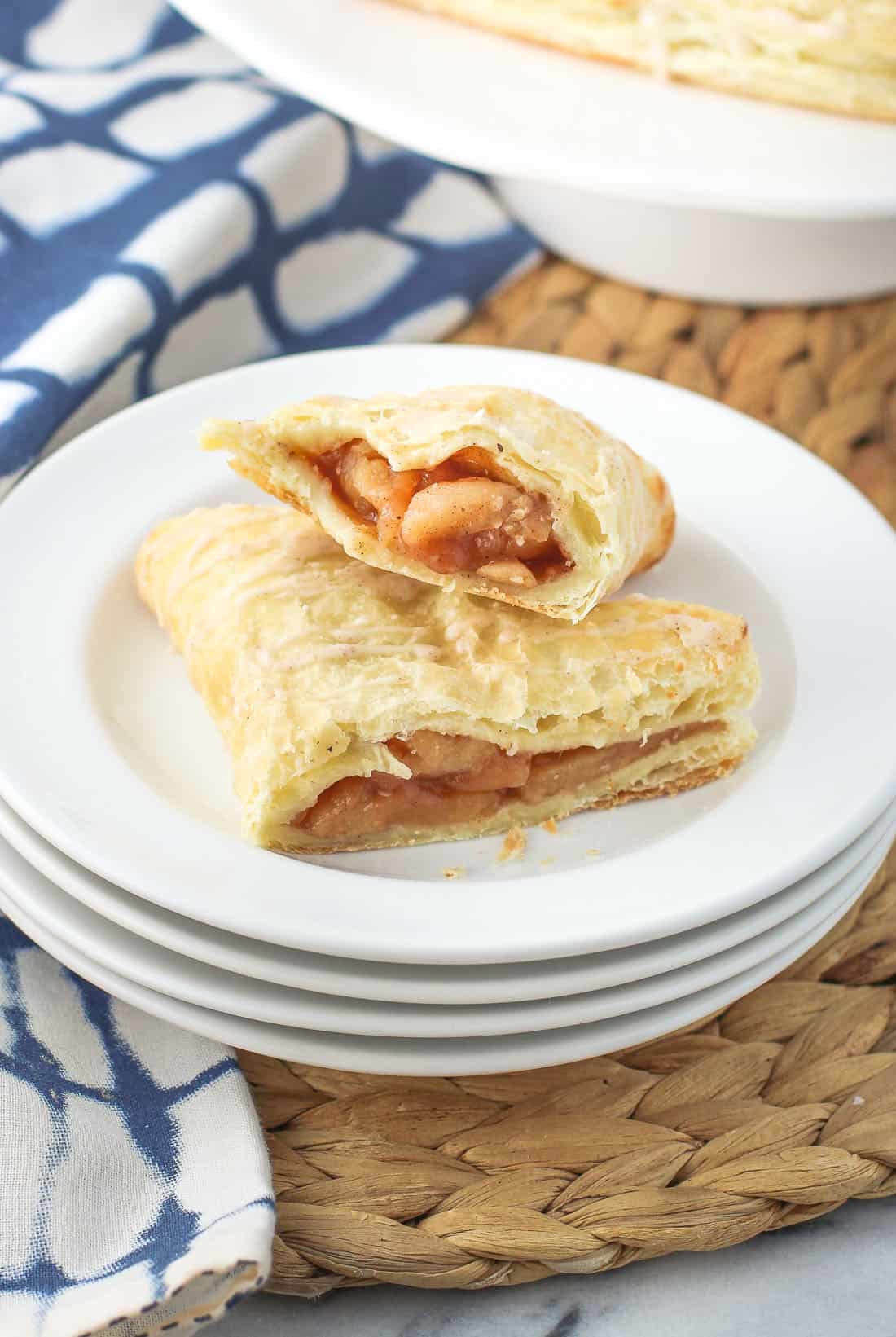 Now that we've got the pastry figured out, we're onto the filling. I've made turnovers multiple times, but I specifically made these apple turnovers a few different ways recently. The first time was when I had leftover, absolutely delicious, apple pie filling made in the slow cooker. It worked just great!
But I know everyone doesn't have three-ish hours to prepare apple pie filling in the slow cooker. So I made a stovetop version that cooks for only about twenty minutes or so. Both batches of apple filling are awesome for using in these turnovers. They're not too 'goopy' and bring all the flavor as far as apple pie spice is concerned.
So in summary, you have two (actually, three!) options:
You can follow the instructions in the recipe below to make your own stovetop apple pie filling in about 20 minutes.
If you're not in a rush and/or you'd like your apple pie filling to have as little hands-on time as possible, you can use 1 cup of the apple mixture from my (mostly)

s

low cooker apple pi

e

recipe. Note that you'll have a lot more filling than needed for one batch of these turnovers. I've done this before with those leftover apples and it was AH-MAZING. The filling in this way would take about 3 hours, with a little time for it to cool.
We all know life gets busy, so store-bought apple pie filling is always an option.
Whichever way you pick, you'll have yourself a flaky and deliciously-glazed pastry filled with warmly-spiced and tender (**but not mushy**) apples. What's not to like?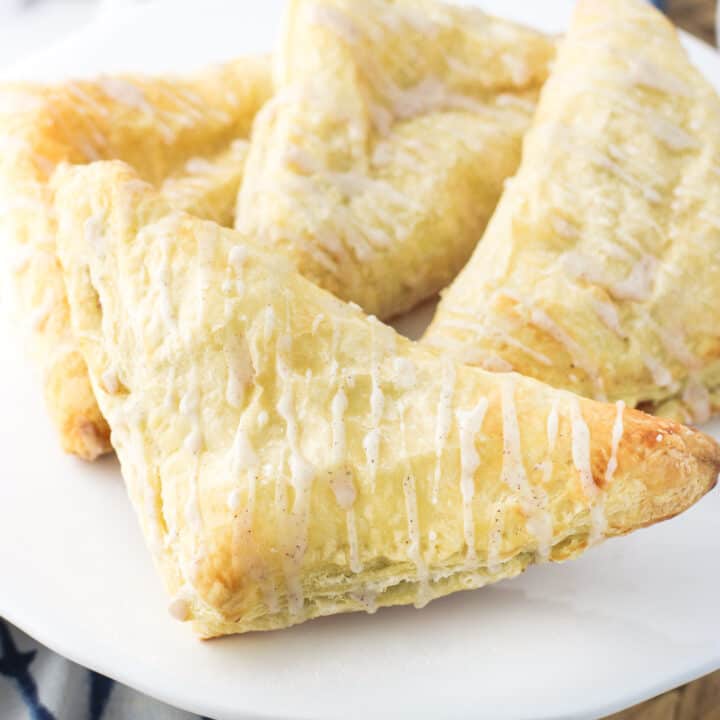 Easy Puff Pastry Apple Turnovers
Easy puff pastry apple turnovers are bursting with apple pie flavor, with a filling that can be prepared a variety of different ways. A simple drizzle of glaze flavored with apple pie spice is all you need as a finishing touch on these flaky, fruit-filled pastries.
Print
Pin
Rate
Ingredients
For the Turnovers:
1

sheet of puff pastry,

thawed

2

large apples,

peeled and cored (see note)

3/4

tsp

lemon juice

3

tbsp

brown sugar

1

tbsp

cornstarch

3/4

tsp

ground cinnamon

1/8

tsp

ground nutmeg

Pinch

of ground allspice

optional

Pinch

of ground cardamom

optional

1/4

cup

water
For the Glaze:
1/4

cup

plus 2 tbsp confectioners' sugar

Pinch

of apple pie spice

1/2

tbsp

water
Instructions
For the Apple Filling:
Peel and slice apples about 1/4" thin and add them to a medium saucepan. Add lemon juice, brown sugar, cornstarch, cinnamon, nutmeg, allspice, cardamom, and water and stir to evenly coat apple slices.

Set saucepan over low-medium heat and cover. Let heat for 15-20 minutes, stirring occasionally, as the apples soften the mixture thickens and becomes gooey.

Remove from heat and let cool before proceeding.
For the Turnovers:
Preheat oven to 400°F. Line a baking sheet with parchment paper and set aside.

Place the sheet of puff pastry onto a lightly floured surface. Flour a rolling pin and roll out the puff pastry into a square shape until it's approximately 12-13 inches long on all sides.

Using a pastry or a pizza wheel, cut the sheet into four equal squares.

Scoop about 1/4 cup of apple pie filling onto each square and situate it onto one diagonal half of the square, leaving about 1/2" of space around the edges.

Using your finger or a pastry brush, very lightly wet the edges that you'll be sealing with water to help them stick.

Fold each square in half over the filling, and press the edges to seal. I went back over the edges and pressed with the tines of a fork to crimp them.

Bake turnovers for 15 or so minutes, or until they have puffed up and become golden. Let cool on the baking sheet for a few minutes, and then carefully transfer to a wire rack to cool completely.
For the Glaze:
Whisk together confectioners' sugar and apple pie spice in a bowl. Slowly add water until the glaze is pourable but is still thick enough to maintain a drizzle shape. If you've added too much water, add a little bit extra confectioners' sugar until the consistency is to your liking.

Drizzle glaze onto completely cooled turnovers and let set.
Notes
**You will have about 3/4 cup of leftover apple filling. You can make more than four turnovers, or use it to top pancakes/waffles, yogurt, ice cream, etc.
I like to use Gala, Ambrosia, or Honeycrisp apples when making apple pie filling, but you can use one or more of your preferred varieties.
The  nutritional info is listed for one whole turnover. Since they're rather large I debated listed them as 8 servings instead of 4, but stuck with listing nutrition for a whole one. Obviously reduce the stats in half if you're sharing one! 🙂
Nutrition
Serving:
1
turnover
|
Calories:
356
kcal
|
Carbohydrates:
54
g
|
Protein:
4.7
g
|
Fat:
15.1
g
|
Saturated Fat:
7.5
g
|
Sodium:
213
mg
|
Potassium:
84
mg
|
Fiber:
3.2
g
|
Sugar:
27.1
g
|
Iron:
2
mg
Nutritional information is provided as an estimate. As it can vary due to many factors (brands used, quantities, etc.), we cannot guarantee its accuracy.
Food Safety and Nutrition Disclaimer