Olive oil soft pretzels are hearty and tender (and dairy-free). They feature that classic pretzel taste with a hint of olive oil flavor for a twist on a favorite bread recipe.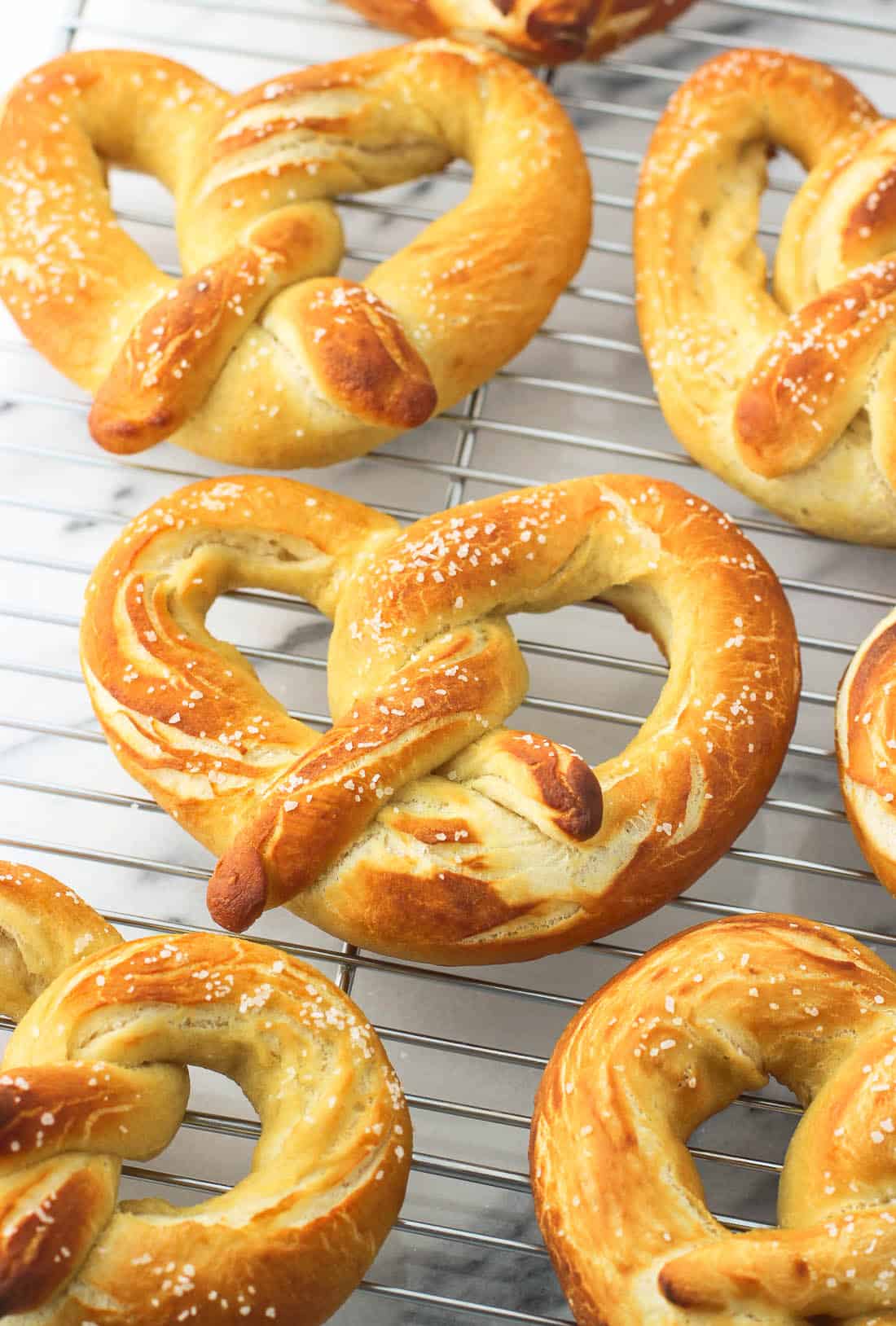 This one is for all of you olive oil lovers out there. I'm guessing there are a lot of you, no? Growing up my mom's pizza dough recipe included a heavy glug-glug of olive oil, and since then I've been conditioned to love the discernible taste of olive oil in breads and doughs.
Now here's a bit of a food confession, but I'm not a huge fan of sweet soft pretzels. The aroma of buttery sugary cinnamon pretzel sweetness that never fails to radiate from soft pretzel booths at the mall? Not a siren song for me. Nine times out of ten my pretzel cravings lean savory, with that ubiquitous pretzel crust, sprinkling of coarse salt, and plenty of coarse ground mustard or creamy smoked gouda dip for dunking. I could make a meal out of them!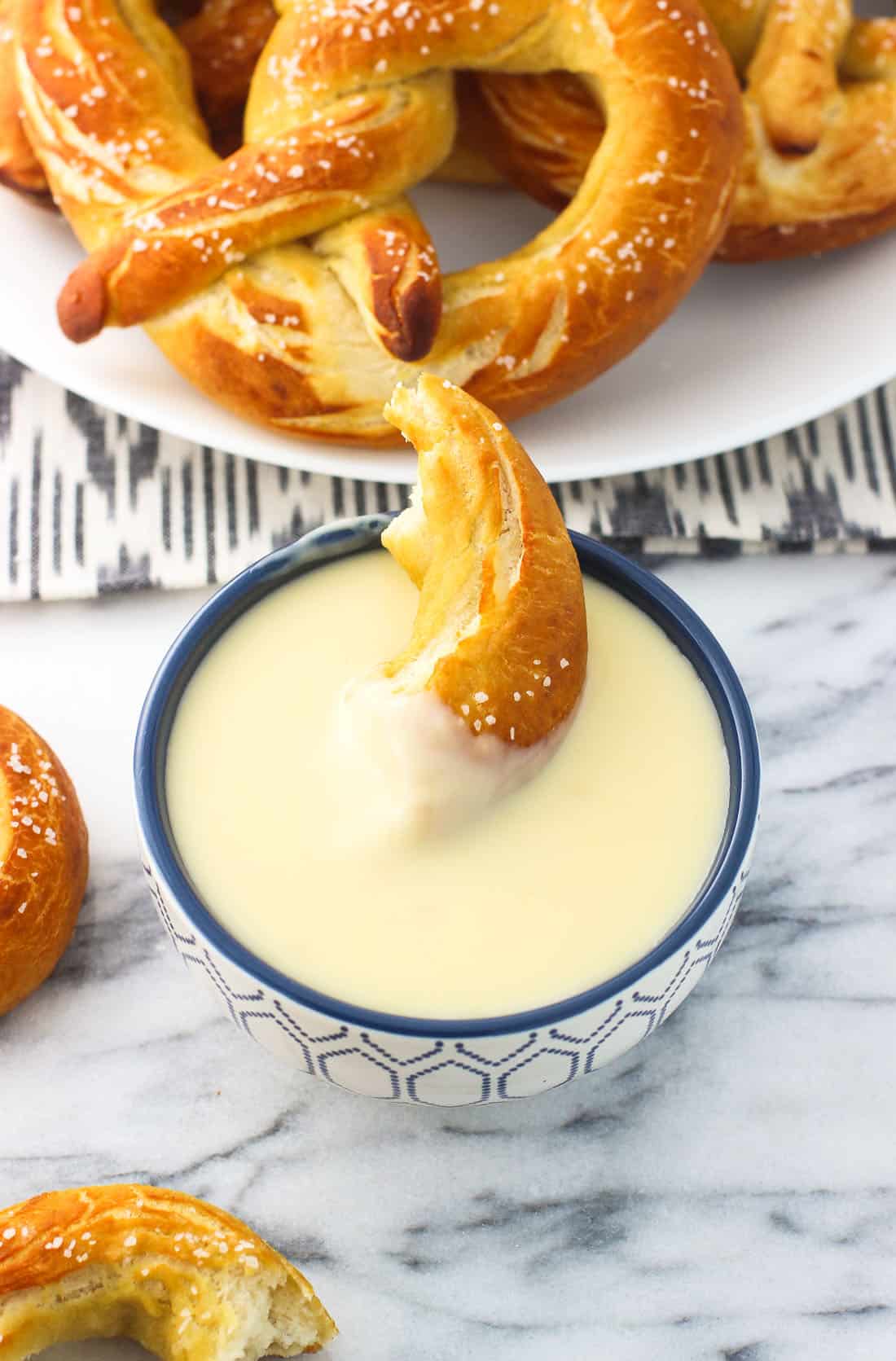 Homemade soft pretzels seem like more work than homemade bread. And while that's sort of true, the ingredients and steps are essentially the same until we get right to the end.
We start by activating the yeast in warm water, and then adding kitchen staples like flour, salt, and olive oil. That's it — five ingredients for the base dough! The quarter-cup of olive oil included here makes the dough tender and imparts a delicious flavor in the final product. These are called 'olive oil soft pretzels', after all. 😉
After that, the dough is left to rise until it has doubled in size, or about one hour. When I make bread in bowls that don't have inner marking for quantities, I like to take a quick picture with my phone of the dough at the beginning, and then use that to compare when the dough looks to be about 2x the size. That's probably overkill, but I like that extra bit of assurance that everything is on track.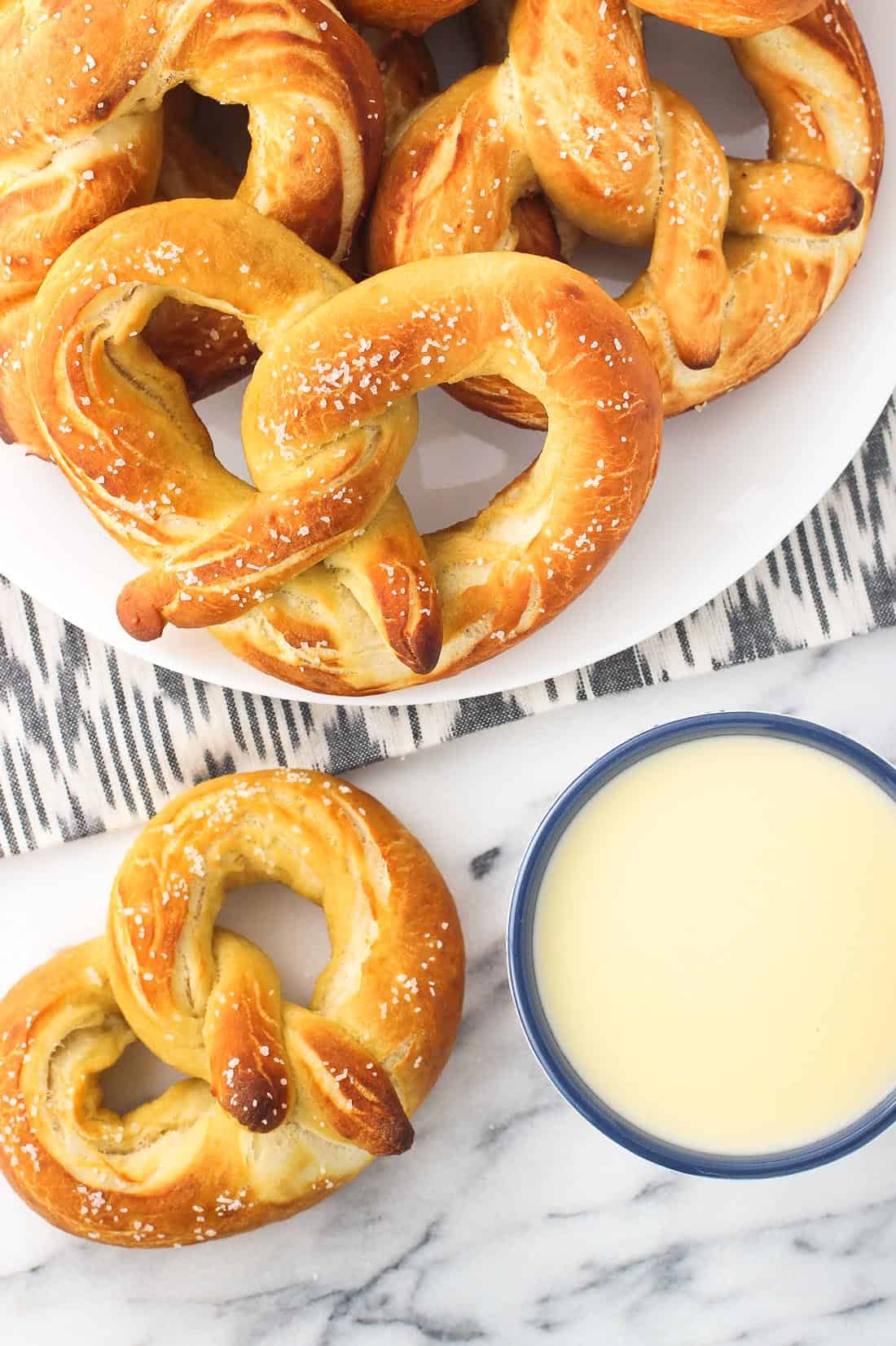 So far this olive oil soft pretzel recipe has been on par with regular bread recipes, but here's where the fun starts. Pretzels get their classic darker crust and flavor because they're dunked in a lye solution before baking. That sounds more scientific than things typically get around these parts, but really it's a big pot of boiling water with a lot of baking soda added to it.
Once the dough is done rising, you'll portion it off into eight equally-sized pieces, roll each into long, narrow ropes, and twist them up into pretzel form (more on this twisting business in the recipe card below). Keep in mind these pretzels will puff up considerably and expand as they bake, so the narrower the better for these ropes. Each newly-formed pretzel will take a dip into the lye solution for thirty or so seconds – not long at all. Afterwards they'll return to their baking sheets, be sprinkled with coarse salt, and bake until the crust turns a deep, dark, delicious, golden brown.
These pretzels are best enjoyed warm. If you and your crowd aren't up for devouring eight pretzels ASAP, any leftover ones can be reheated in the oven. Simply wrap the pretzel(s) in foil and place in a 350°F oven until warmed. I don't recommend reheating in the microwave because they can get gummy.
Olive Oil Soft Pretzels
Olive oil soft pretzels are hearty and tender (and dairy-free). They feature that classic pretzel taste with a hint of olive oil flavor for a twist on a favorite bread recipe.
Ingredients
1 1/2

cups

warm water

2 1/4

tsp

active dry yeast

(one packet)

4 1/2

cups

all-purpose flour

1 1/2

tsp

salt

1/4

cup

olive oil

10

cups

water

2/3

cup

baking soda

Olive oil

for brushing

Coarse kosher salt

or pretzel salt, for sprinkling
Instructions
Add 1 1/2 cups warm water and yeast to a bowl (I used the bowl of my stand mixer) and let sit for 4-5 minutes. Stir to dissolve the yeast into the water.

Add flour, salt, and olive oil to the bowl with the water/yeast. Begin to mix on low speed (so the flour doesn't fly everywhere), and then increase speed to medium as the ingredients begin to be worked in. Knead the dough this way for 2-3 minutes, or until a cohesive, only-slightly-sticky ball of dough forms.

Place the dough in a greased bowl, cover bowl with plastic wrap, and set in a warm place for the dough to rise until about doubled in size. This took about an hour for me.

Once risen, separate dough into 8 equally-sized pieces. Preheat oven to 450°F. At this time fill a large pot with 10 cups of water and place it on the stovetop over high heat.

Roll each dough section into a narrow rope about 20"-24" long.

Form each rope into a U-shape and cross the very tops of the "U" over each other once, and then once again. This forms the pretzel twist.

Fold the rope in half, horizontally. It should resemble a pretzel! Press the bottom of the twist to the bottom of the pretzel to adhere. Repeat with the remainder of the dough, and place pretzels on a parchment-lined baking sheet.

Once the pot of water is boiling, add 2/3 cup of baking soda and stir to dissolve. The water will bubble up, so please do this carefully.

Using kitchen tongs, transfer each pretzel to the pot of boiling water and submerge it for half a minute. I did this two at a time, so four batches. Return pretzels back to their baking sheets (they shouldn't look much different at all from pre-dunk).

Brush pretzels with olive oil and sprinkle with coarse salt.

Bake pretzels for 12 or so minutes, or until the pretzels are a deep golden brown. Cool on a wire rack.
Nutrition
Serving:
1
whole pretzel
|
Calories:
313
kcal
|
Carbohydrates:
54.1
g
|
Protein:
7.7
g
|
Fat:
7
g
|
Saturated Fat:
1
g
|
Sodium:
735
mg
|
Potassium:
98
mg
|
Fiber:
2.1
g
|
Sugar:
0.2
g
|
Calcium:
10
mg
|
Iron:
3.4
mg
Nutritional information is provided as an estimate. As it can vary due to many factors (brands used, quantities, etc.), we cannot guarantee its accuracy.
Adapted from Food Network