Thick and creamy smoked gouda dip is a flavorful, four-ingredient dip that's great for dipping homemade pretzels, veggies, and more.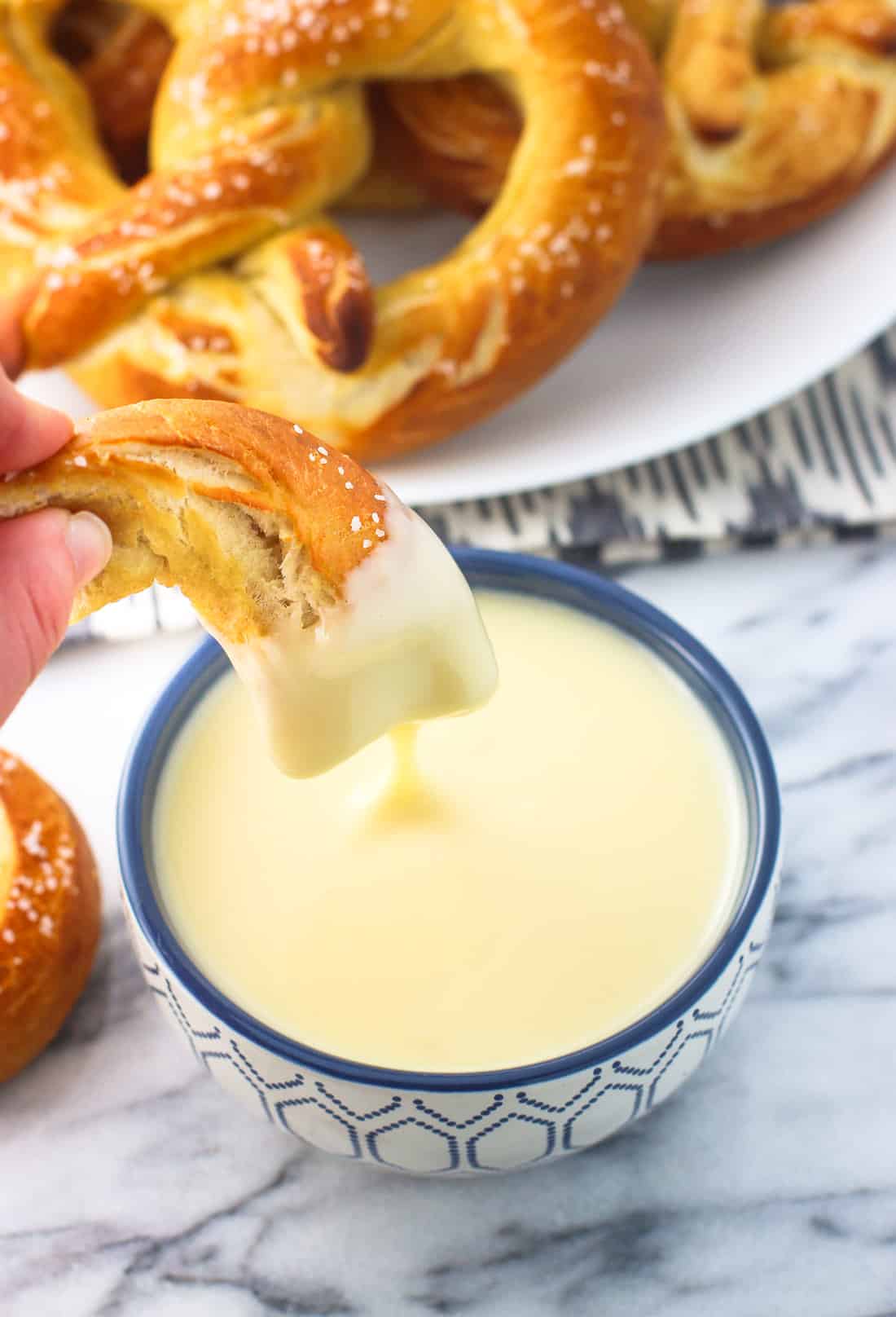 I think it's safe to say that smoked gouda is having a moment. And why shouldn't it be, because it's freaking delicious. During my last few trips to the grocery store I noticed smoked gouda chips and smoked gouda crackers, and let's not even get into the smoked gouda mac and cheese gracing the menu at a local restaurant.
It's a change-your-life kind of mac and cheese.
Here though we're leaving the mac out of it and simplifying our smoked gouda consumption to an easy stovetop dip. The same restaurant that serves the smoked gouda mac and cheese ALSO serves a smoked gouda dip to go with their homemade pretzels, making it possible to enjoy smoked gouda two times in the same dinner out. Comfort food at its finest.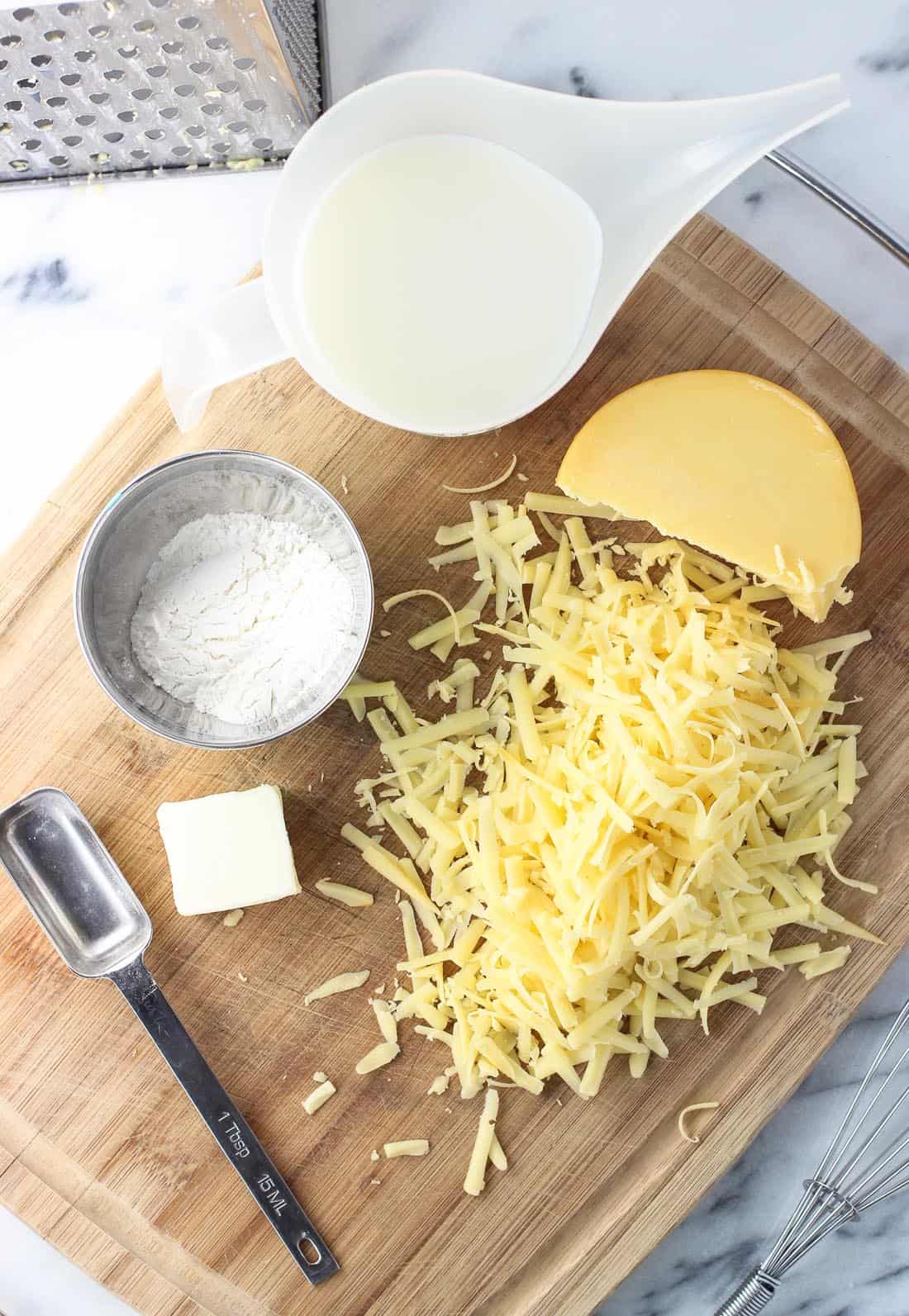 After making soft pretzels at home recently (recipe coming soon!), I couldn't help but think about that dip and set out to make my own. I was hoping the taste would be in the same ball park as the restaurant version, but wasn't expecting an exact dupe like this recipe turned out to be! Yessssssss.
As it turns out, making a warm, cheesy dip is incredibly easy. A mixture of melted butter and flour (also called a roux) is started in a saucepan, to which you add milk and then shredded cheese. The dip will thicken and become smooth and creamy with some whisking, and is ready in no time for dipping, well, anything. Homemade pretzels were delicious, as were vegetables, chips, crackers, a random piece of bread…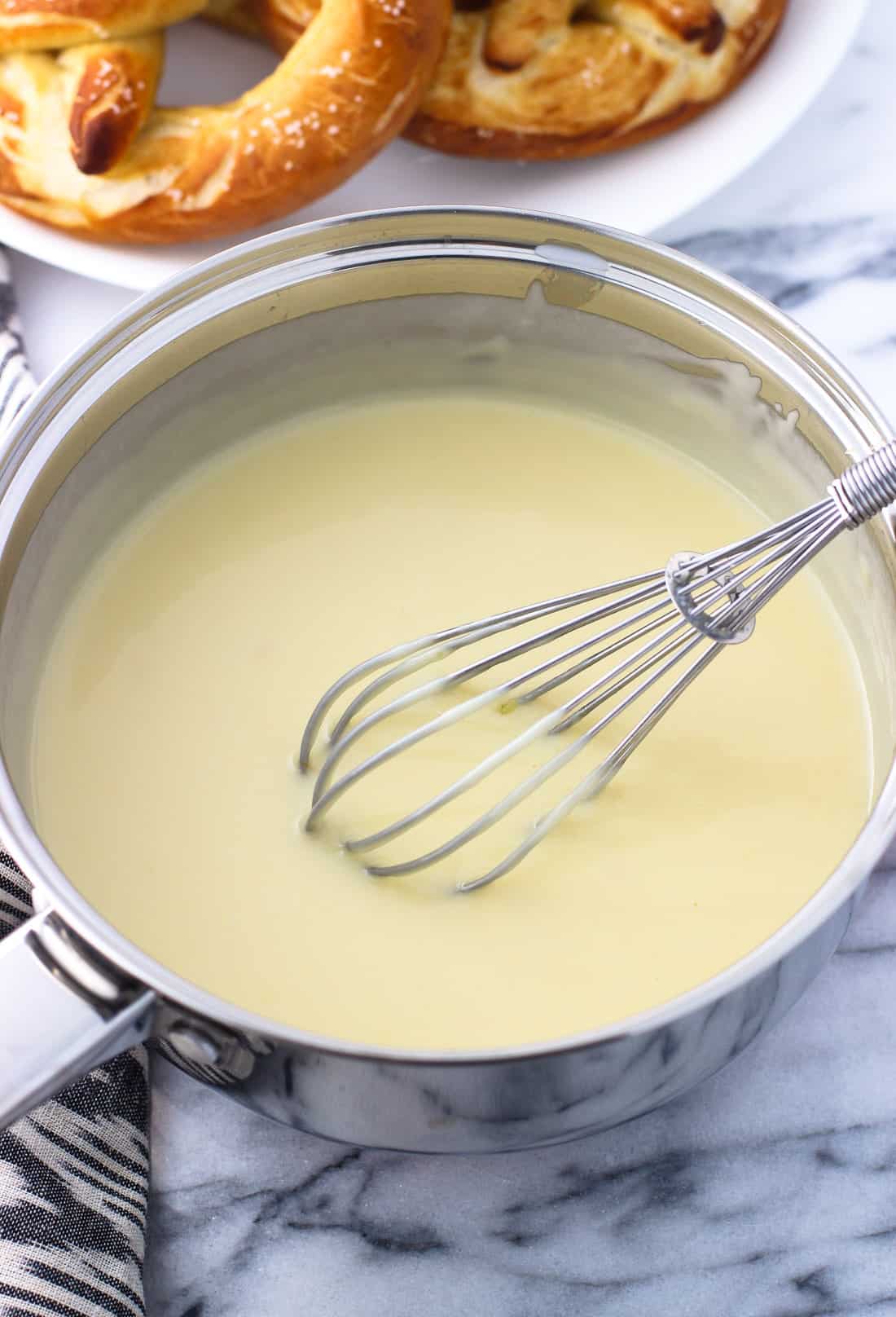 This dip is best served immediately as the cheese will make it harden as it cools. We had leftovers, so we refrigerated the dip and then reheated it on the stovetop over low heat, stirring/whisking until it became smooth again. Perfect!

Creamy Smoked Gouda Dip
Ingredients
2 tbsp unsalted butter
2 tbsp all-purpose flour
1 cup milk*
1 1/3 cup shredded smoked gouda cheese
Instructions
Place butter in a saucepan set over low-medium heat. Once melted, whisk in the flour until combined.
Add milk and whisk to evenly mix. Keep whisking as the mixture begins to thicken, about 10 or so minutes, or until it's to a point where it can thickly coat the whisk (or a spoon).
Once the mixture has begun to thicken, add the cheese. Stir or whisk frequently as the cheese melts and the dip becomes smooth and creamy. Serve immediately.
Notes
*I used 1% milk, but use your preferred variety.

This smoked gouda dip sets up as it cools, so it is best served immediately. Reheat leftover portions on the stovetop over low heat, stirring until it becomes creamy and warm again.
Here are some more dip recipes you may enjoy!