This isn't just any meatloaf! This recipe for balsamic meatloaf is juicy and moist, and features sauteed onion, zucchini, and carrot in the mix. It's topped with a balsamic vinegar and ketchup glaze that caramelizes as it cooks for a ton of flavor.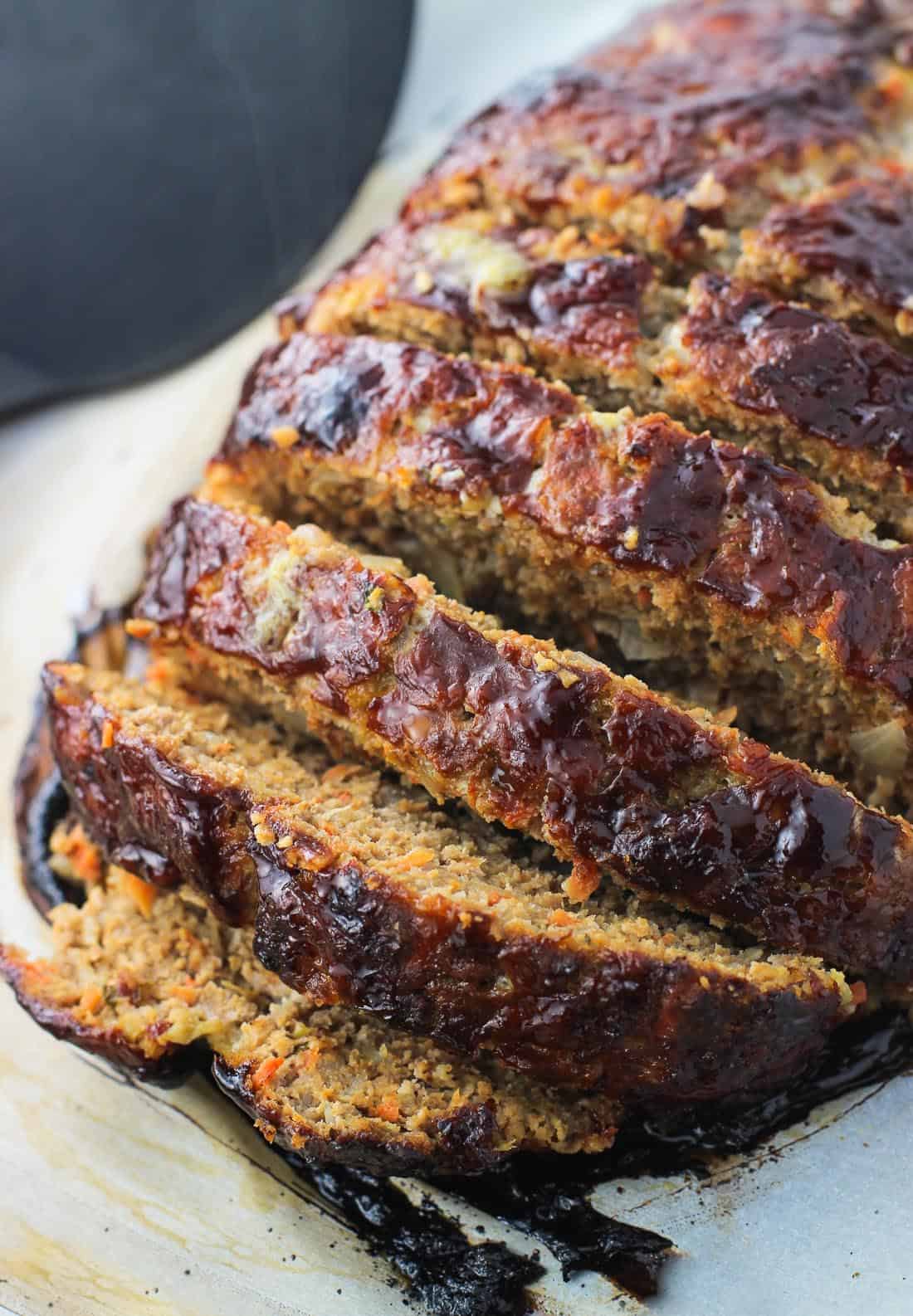 "MAAA, THE MEATLOAF!!" <— There's no way that I can cook or eat meatloaf without that Wedding Crashers quote being yelled around the house throughout the day. No possible way.
But I'll gladly endure obsessive movie quoting if it means that balsamic meatloaf with sauteed vegetables is for dinner. I have to say: this is a meatloaf worth craving…if meatloaf qualifies as a crave-able dish. For starters it's incredibly juicy, which is only helped by the fact that there's a whole onion, zucchini, and carrot grated into the mix.
Don't be alarmed by the skillet full of grated vegetables. While you'll see little bits of the carrot and onion in the meatloaf once it's cooked, the zucchini all but disappears from sight and taste, instead just lending a ton of moisture. The carrot and zucchini are definitely sneaky vegetables in that you don't taste them in the final product. The meatloaf mixture holds together well and doesn't feature any awkwardly large vegetable chunks. Grating the carrot and zucchini are key!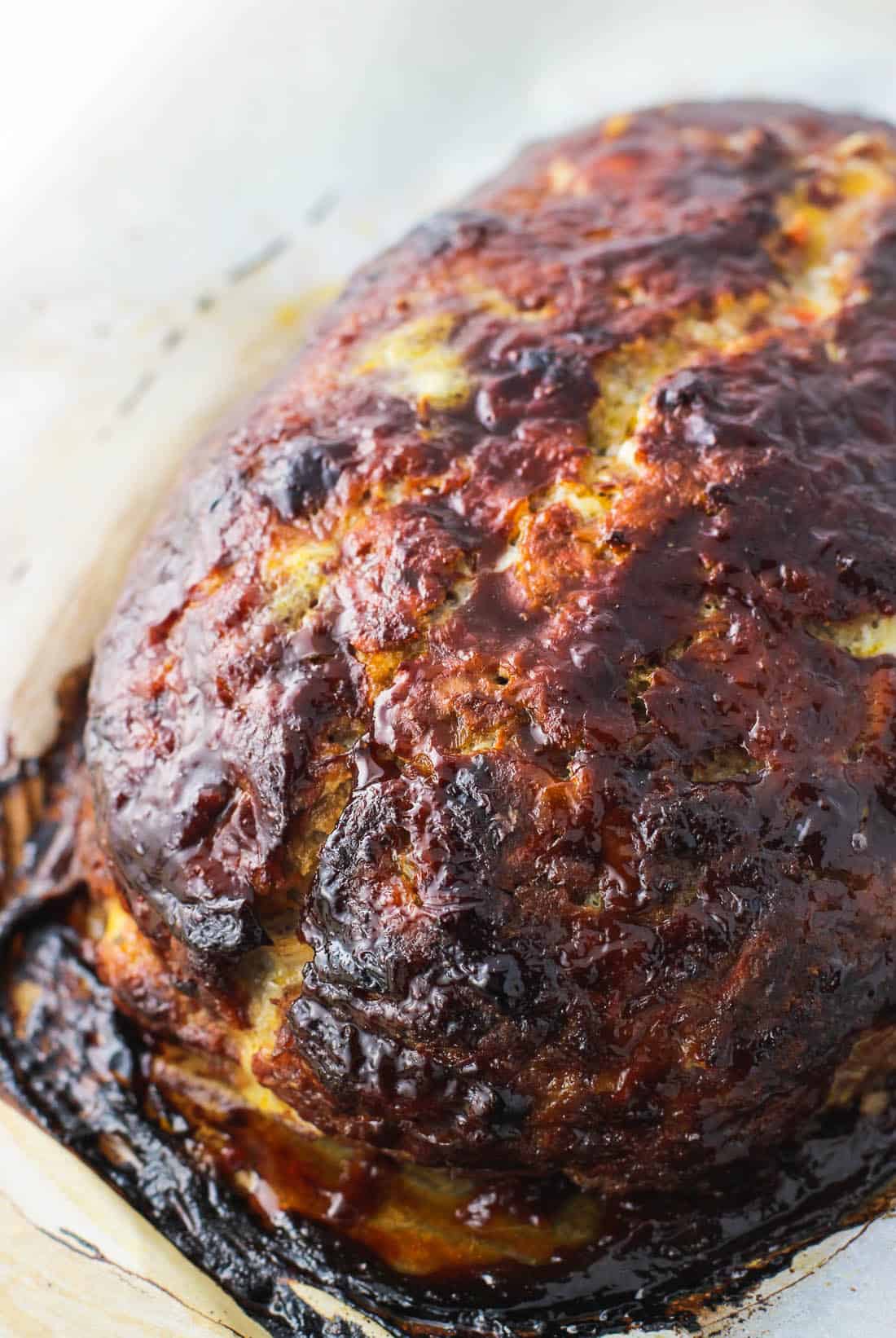 You'll need two pounds of meat for this balsamic meatloaf. I used an equal mix of ground round (85% lean/15% fat) and ground pork, but you can also use a packaged meatloaf blend if your store carries that. I'll usually pick that up for convenience, but it's hit or miss at my store if they have that in stock. If not I'll buy a one pound package of ground round, and one of the pork.
Balsamic vinegar is a big component of the meatloaf, as it's featured in both the meatloaf mixture itself and the glaze. The glaze is arguably one of the things I crave the most. Equal parts balsamic vinegar and ketchup are whisk together and brushed on the meatloaf before it cooks. As it bakes, the glaze deepens and the sugar in the ketchup begins to caramelize. Some of the run-off glaze will cook into little crispy bits on the baking sheet and Brian and I will fight each other to grab those bits for our own plates.
If you're not feeling how deep, dark the glaze gets, you can always remove the meatloaf from the oven halfway through the cook time and brush the glaze on then. I've done that before when I actually forgot to put the glaze on in the beginning (the horror), and of course it was still delicious. I'm just partial to it the first way. 🙂

Balsamic Meatloaf with Sauteed Vegetables
Ingredients
3 tbsp olive oil
1 zucchini, peeled and grated
1 large carrot, peeled and grated
1 medium onion, diced
3 cloves garlic, minced
Salt and pepper
2 eggs
1 lb ground round (85% lean)
1 lb ground pork
1 1/4 cup panko breadcrumbs
2 tbsp Worcestershire sauce
2 tbsp chopped fresh parsley
2 tbsp grated Parmesan cheese
1/4 cup + 2 tbsp (6 tbsp total) ketchup, divided
1/4 cup + 2 tbsp (6 tbsp total) balsamic vinegar, divided
Instructions
Add olive oil to a skillet set over medium-high heat. Add zucchini, carrot, onion, garlic, and a good shake of salt and pepper, and cook for 4-5 minutes, or until vegetables are slightly tender. Remove from heat and let cool while you prep the rest of the recipe.
Preheat oven to 400°F. Line a rimmed baking sheet with parchment paper and set aside.
In a large bowl, add eggs and lightly beat. Add ground round, ground pork, panko, Worcestershire sauce, parsley, Parmesan, 3 tbsp ketchup, and 3 tbsp balsamic vinegar. Add sauteed vegetables and mix everything together.
Form the mixture into a loaf on parchment-lined sheet.
In a bowl, whisk together remaining 3 tbsp ketchup and 3 tbsp balsamic vinegar. Brush onto the meatloaf.
Bake for 1 hour 15 minutes, or until the center of the meatloaf reaches 160°F and is no longer pink inside. Let meatloaf rest for 10 minutes before slicing and serving.
Notes
The consistency of the meatloaf should be similar to that of meatballs. It should hold together in a shape but not be crumbly or easily fall apart. If your mixture is too wet, add additional panko breadcrumbs until it reaches the right consistency. If it's too dry, add a little extra ketchup.
Adapted from
Food Network