Sour cream mashed potatoes are fluffy and creamy, with tangy sour cream giving a classic side dish a delicious 'pop'. You won't want to make them any other way!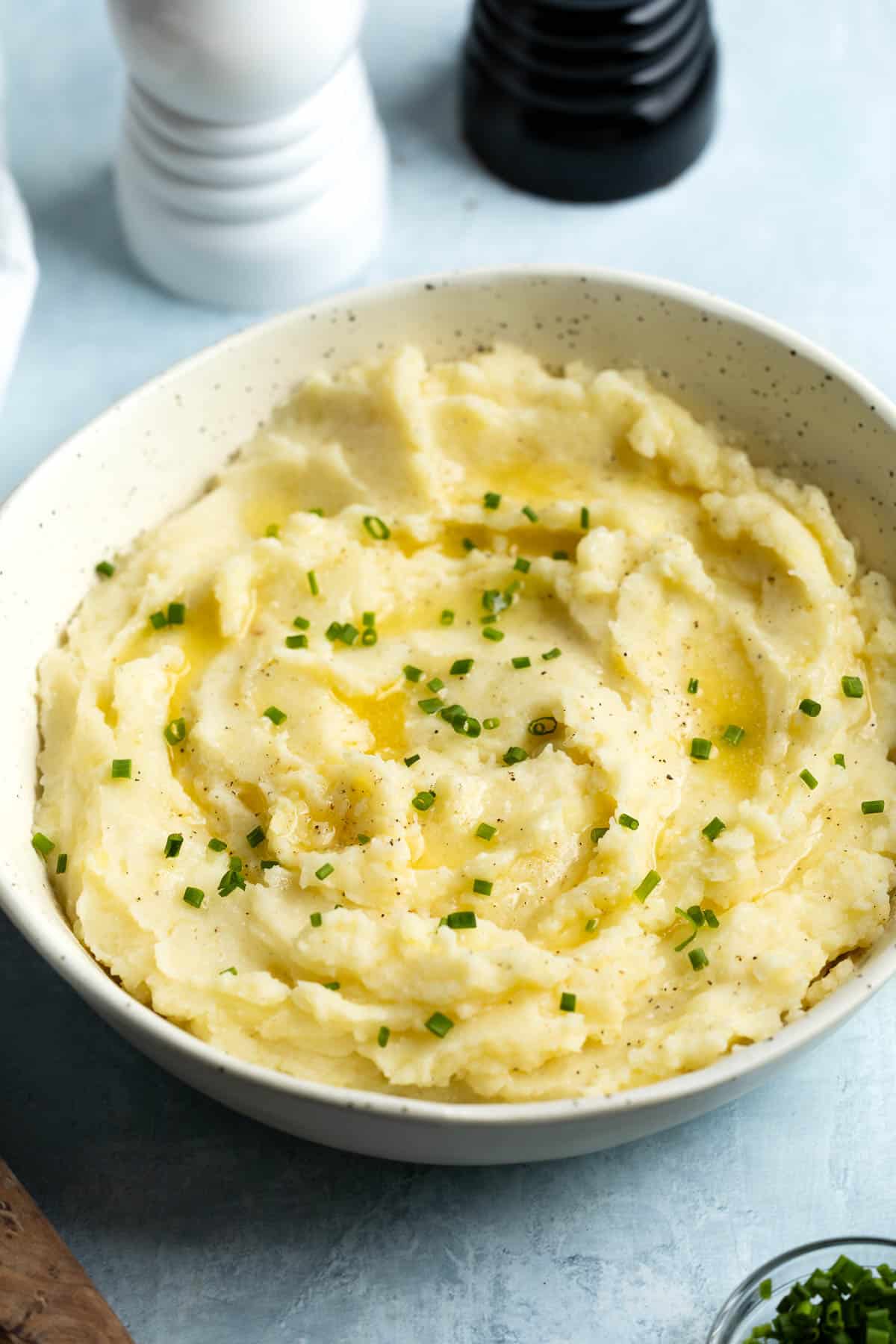 While you don't technically need anything besides potatoes, milk, butter, and salt for tasty mashed potatoes, I'm a big fan of adding sour cream.
Sour cream is in the base of these roasted garlic mashed potatoes, but this is a more traditional version that doesn't require any prep-ahead steps. Mashed potatoes (sour cream or otherwise) aren't hard to make, but there are a handful of tips and tricks that help them turn out perfectly every time. Read on to learn all about them!
Jump to:
Why Put Sour Cream in Mashed Potatoes?
Besides providing a tangy flavor, sour cream's thick texture adds richness to mashed potatoes. This means you don't need to use a higher fat liquid like half-and-half or cream - milk is more than fine. Its flavor is also a natural pairing with fresh chives for garnish.
To be honest I most often have reduced-fat sour cream on hand and find it to be wonderful in these mashed potatoes, even when using 1-2% milk. There's butter involved, after all.
Recipe Ingredients
Potatoes: Russet or Yukon Gold potatoes (or a mix of the two) work nicely to produce fluffy mashed potatoes due to their higher starch contents.
Garlic: Fresh garlic adds to the background flavor of these mashed potatoes. Add more if you'd like a more pronounced garlicky note.
Sour Cream: Regular or reduced-fat are both good options to use. As a general rule I don't recommend fat-free sour cream which tends to really lack in flavor and texture.
Milk: Use whichever kind you have on hand. I've made these sour cream mashed potatoes with 1% and 2% milk to great result. A higher fat percentage will obviously taste even more luxurious!
Butter: I most often use unsalted butter as I always have it on hand, but salted butter of course works, too. If using salted butter, taste the mashed potatoes before adding any extra salt.
Salt: Integral for mashed potatoes, the total amount used varies by personal preference.
Chives: While not required, fresh chives complement the flavor beautifully.
Step-by-Step Instructions
Boil. Cut potatoes into 1 to 1 ½-inch chunks and add them to a large pot with the whole garlic cloves. Add just enough water to fully submerge the potatoes. Salt the water, cover the pot, then boil for 10-15 minutes, or until fork-tender.
Add the dairy. Drain the potatoes and garlic thoroughly, then add sour cream, milk, and butter.
Mash. Mash using a handheld masher until they're as smooth as you like.
Adjust seasonings. Add more salt (I do around ½ teaspoon extra) and black pepper to taste before serving.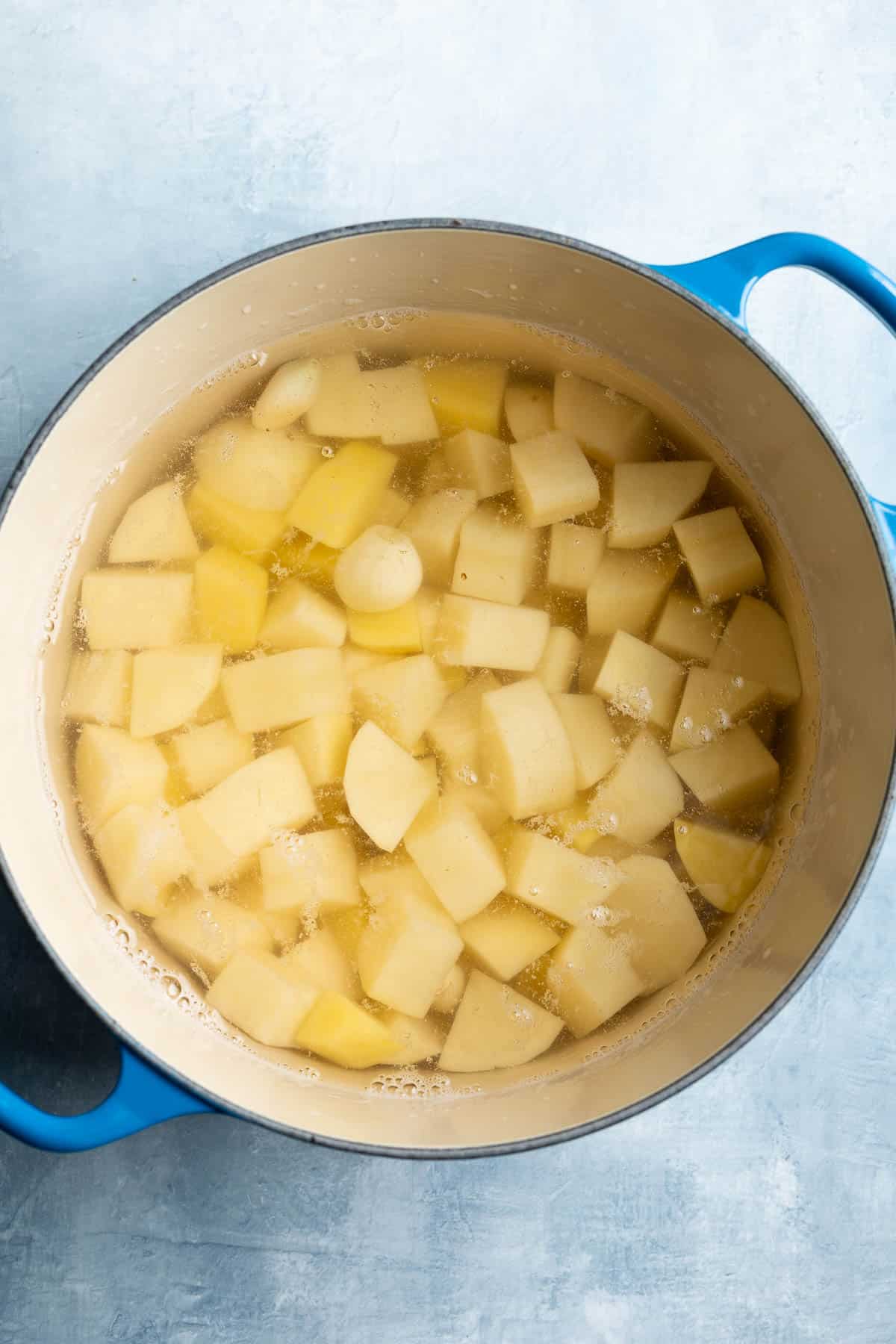 Tips for the Best Mashed Potatoes
Use cool water. Placing the potatoes in cool water then bringing to it to boil promotes even cooking.
Salt multiple places. Salt the water to allow the potatoes to absorb the salt as they boil. Then add extra salt to taste once they're mashed for well-rounded seasoning.
Boil the garlic! Treat the whole garlic cloves like potato chunks and boil them, too. Besides being easier to prep, this method adds a background flavor of garlic that isn't harsh or overwhelming.
Cook off excess water. Setting the drained potatoes back on the stovetop briefly over low heat ensures all water has been evaporated, leading to a fluffier mash.
Bring ingredients to room temperature. Using warmed milk and room temperature butter and sour cream allows them to more easily work into the mashed potatoes. Overworking can lead to "gummy" or "gluey" mashed potatoes.
Mash by hand. If able, mashing by hand prevents overworking, which is easy to do if using an electric hand mixer.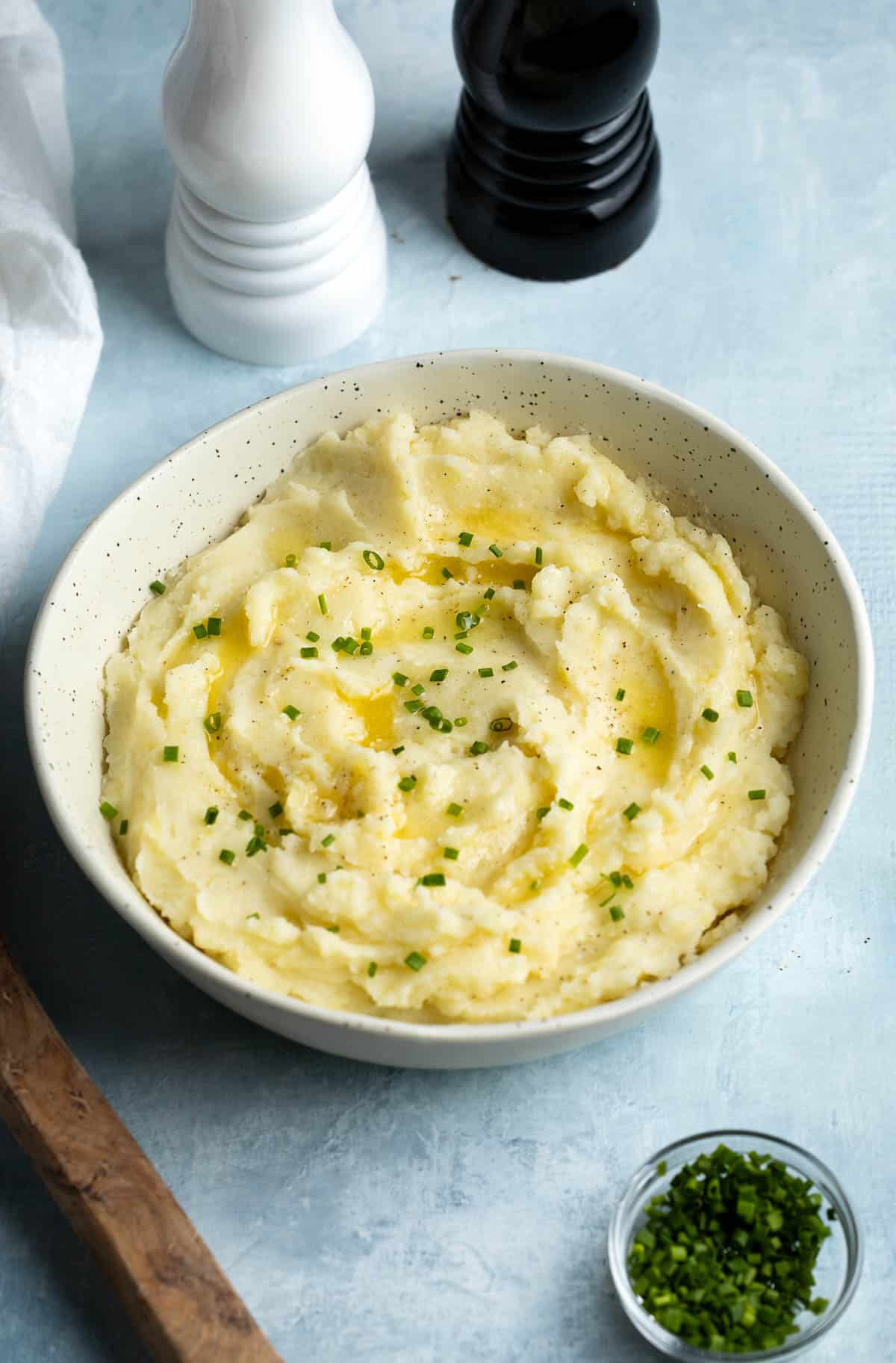 Frequently Asked Questions
Can you freeze mashed potatoes?
Yes, though they're not quite as good as freshly prepared. Freeze portions pressed flat in zip-top freezer bags for 1-2 months, then thaw in the refrigerator. Reheat in the microwave or over low heat on the stovetop with a little extra milk stirred in to regain a creamy texture.
What potatoes work well for mashed potatoes?
Russet potatoes and Yukon Gold potatoes are two great options because they are rich in starch, producing fluffy mashed potatoes. Varieties that boast "waxiness", such as fingerling, new, and red potatoes, aren't good options. They're better in recipes in which you'd like the potatoes to maintain their shape.
How can I switch up the flavors?
My favorite variation is to add freshly-grated cheese, such as cheddar or Parmesan. And look for a specialty variety for a treat - I've used a wedge of cheddar that contained real bacon crumbles that made these sour cream mashed potatoes taste like potato skins. Yum. Also consider adding roasted garlic, more fresh herbs such as sage or rosemary, or even a grating of fresh nutmeg.
Serving Suggestions
If you've enjoyed this recipe, I'd love for you to leave a star rating in the recipe card and/or a comment review below!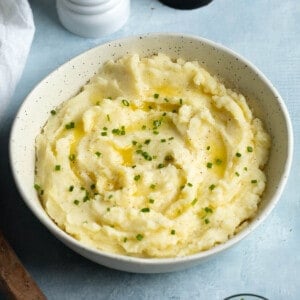 Sour Cream Mashed Potatoes
Sour cream mashed potatoes are fluffy and creamy, with tangy sour cream giving a classic side dish a delicious 'pop'. You won't want to make them any other way!
Print
Pin
Rate
Ingredients
3

pounds

potatoes

peeled and cut into roughly 1 to 1 ½-inch cubes

4

whole cloves of

garlic

2

teaspoons

fine salt

for salting the water

⅔

cup

sour cream

4

Tablespoons

unsalted butter

cut into small cubes

½

cup

milk

warmed

½

teaspoon

fine salt

for seasoning the mashed potatoes, or to taste

Cracked black pepper

to taste
Instructions
Peel potatoes and cut cubes. Set out the sour cream and cubed butter so they can come to room temperature.

Add the cubed potatoes to a large pot along with the whole garlic cloves. Add enough cool water to fully cover the potatoes, then add 2 teaspoons of salt to the water. Cover the pot and bring it to a boil, then reduce the heat slightly to maintain a heavy simmer (and so that the pot doesn't boil over). Cook for 10-15 minutes, or until a fork can easily be inserted into the potatoes.

Drain the water, then add the potatoes and garlic back to the pot. Place the pot back on the stove over the lowest heat setting for just a minute or two, or until all of the water is evaporated. Keep a constant eye on the pot so it doesn't start to burn. Remove the pot from the heat once all water has evaporated.

Warm the milk for 15 seconds in the microwave. Mash the butter, sour cream, and warmed milk into the potatoes until it reaches your desired consistency: completely smooth, a little chunky, etc. Add an additional ½ teaspoon of salt (more to taste) and black pepper before serving.
Notes
Recipe Ingredients
Potatoes: For the fluffiest results, choose a higher-starch variety such as russet or Yukon Gold (or a blend of the two).
Sour Cream: Reduced-fat is fine to use, but fat-free is not recommended for its lackluster flavor and texture.
Milk: Use whichever you have on hand - 1-2% is just fine.
Butter: Salted can be used. If doing so, still salt the water, but hold back on adding extra salt until you taste as you may need less.
Tips and Tricks
Overworking mashed potatoes leads to a gummy, gluey texture. Ways to prevent this are mashing by hand (versus an electric hand mixer) and using room temperature sour cream, butter, and warmed milk. They'll more efficiently blend into the potatoes.
Store mashed potatoes in an air-tight container in the refrigerator for up to 3-4 days.
Freeze leftover portions in zip-top freezer bags pressed flat for 1-2 months. Thaw in the refrigerator and reheat in the microwave for on the stovetop over low heat with an extra drizzle of milk for creaminess.
Good garnishes include fresh herbs (chives, sage, rosemary), freshly-shredded cheddar or Parmesan cheese, cooked bacon crumbles, or a grating of fresh nutmeg.
Nutrition
Calories:
267
kcal
|
Carbohydrates:
39.1
g
|
Protein:
6.4
g
|
Fat:
9.8
g
|
Saturated Fat:
5.9
g
|
Cholesterol:
30
mg
|
Sodium:
239
mg
|
Potassium:
943
mg
|
Fiber:
5.5
g
|
Sugar:
5.3
g
|
Calcium:
101
mg
|
Iron:
1
mg
Nutritional information is provided as an estimate. As it can vary due to many factors (brands used, quantities, etc.), we cannot guarantee its accuracy.
Food Safety and Nutrition Disclaimer