This balsamic red wine flat iron steak is a simple meal that tastes anything but! A mix of kitchen staples like balsamic vinegar, BBQ sauce, and red wine results in a flavorful marinade and pan sauce that amps up the flavor of tender flat iron steak.
One of my New Years resolutions was to be better at meal planning. Most of the time I just can't think straight if it's 6:30 pm and I'm even the tiniest bit hungry. Seven months into 2015 and I'm happy to report that I've made serious progress! Of course, I still get hung up on the occasional Thursday night "hmmm I ran out of my three dinner ideas for the week already", but that's a whole lot better than scratching my head on a Tuesday, wondering how many iterations of leftovers we can take before someone goes looking for a take-out menu.
The one hinderance to my meal planning? Our supermarket! It's kind of funny, but randomly they won't have basics in stock. Four out of five times they won't have basil, we stock up on frozen shrimp (for these!) BIG time when we find them, and there's no rhyme or reason behind the cuts of meat they have at any given time. At all.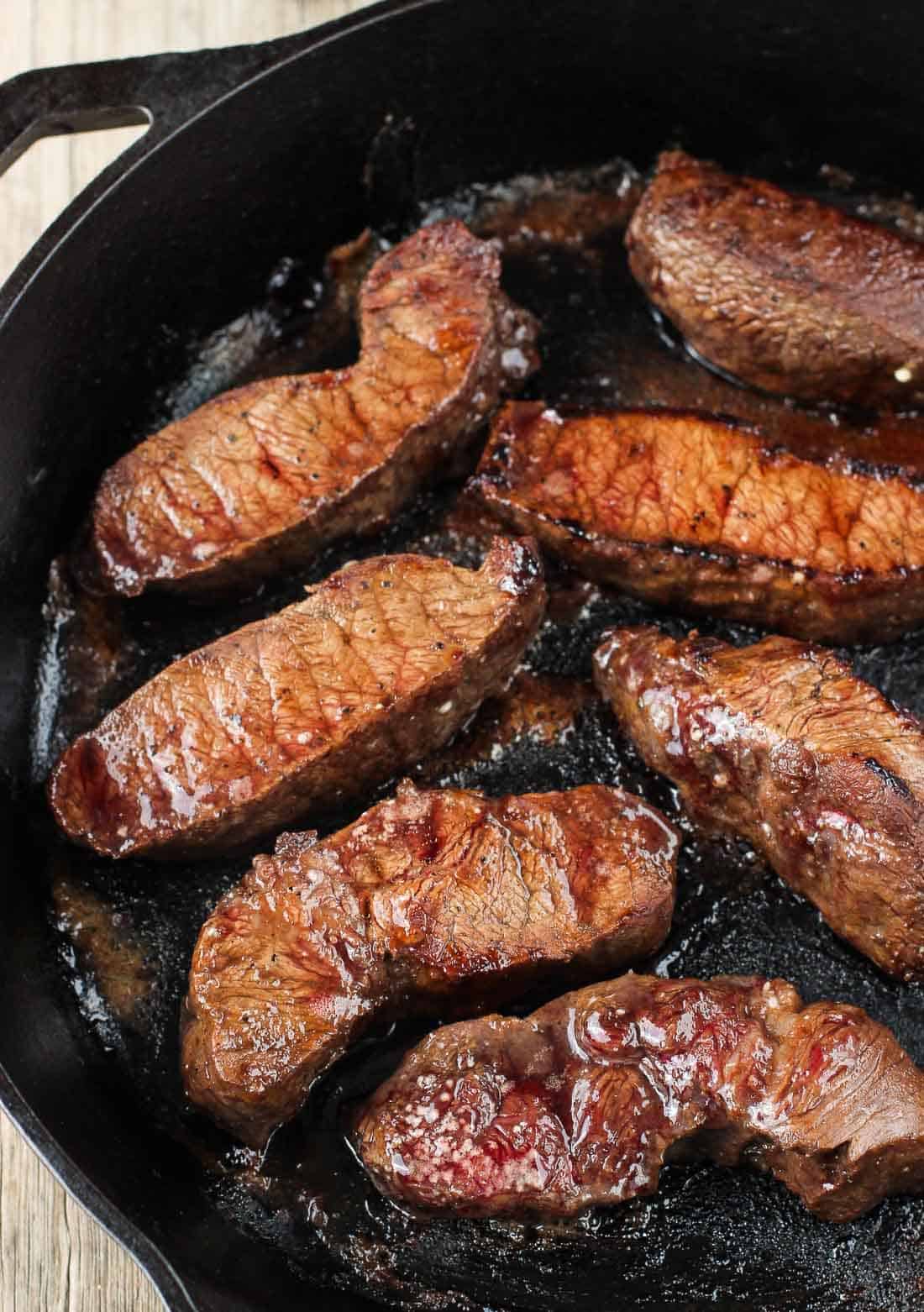 On one trip I struck out on finding flank steak (or skirt steak…), so I took a gamble on new-to-me flat iron steak. Ummm, hello? Where have I been? Flat iron fan for life right here! As I've now learned, flat iron steak is a tender cut of meat with a bit of marbling for flavor just perfect for marinading. And one of the best things about it is that it's less expensive than some of the other steaks. That's a win-win in my book!
Currently, there are two flat iron steaks in our freezer (found a sale, baby!). Can you tell we're head over heels?
To date, this balsamic red wine marinade is my FAV-OR-ITE. It's tangy from the balsamic vinegar, rich from the addition of red wine, and a bit zippy from the BBQ sauce. Combined with olive oil and a little bit of salt and pepper, you've got a balanced mix of flavors that works wonders with the flat iron steak.
One of the best parts of this recipe is the pan sauce. Ooooh man, that pan sauce. Once the steak has finished cooking, you shut off the stove top and pour about a half-cup of red wine into the still-hot skillet. Swirl it around and watch as it reduces and thickens. Scrape the pan sauce on top of your steak and Y-U-M. Flank/skirt steak, who?

Balsamic Red Wine Flat Iron Steak
Ingredients
1/3 cup balsamic vinegar
1/3 cup red wine, plus 1/2 cup for deglazing
1/3 cup BBQ sauce, your favorite
1 tbsp olive oil
1 tsp black pepper
1/2 tsp salt
1 1/2 - 2 lb. flat iron steak
Instructions
Cut flat iron steak into 1" - 1 1/2" pieces and place in a container that you'll use to marinade it in.
Combine the balsamic vinegar, red wine, BBQ sauce, olive oil, black pepper, and salt in a bowl and pour it over the steak pieces. Cover and place dish in the refrigerator to marinade for 45 minutes to 1 hour (or at least a half hour), flipping the pieces over halfway through.
Remove the dish from the refrigerator and let sit at room temperature for about 20 minutes. While the steak is sitting, preheat oven to 400 degrees F and place a large cast iron skillet in oven to preheat.
After 20 or so minutes, place skillet on stove top over medium to medium-low heat and lightly grease the bottom with olive oil. Immediately add steak pieces to skillet in a single layer and cook for approximately 7 minutes per side so that a crust forms, or to your preferred doneness. Remove steak to a separate plate.
While the skillet is still hot, turn the stove top off and pour about 1/2 cup of red wine into the skillet and swirl it around. The wine will reduce very quickly and thicken. Using a wooden spoon or spatula, remove the pan sauce and pour over steak. Serve over mashed potatoes or alongside your favorite steak side dish.