Savoring the taste of a Drumstick ice cream cone couldn't be easier with this deconstructed Drumstick ice cream sundae! Your favorite ice cream is topped with an easy homemade dark chocolate Magic Shell, covered in chopped roasted peanuts, and garnished with waffle cone pieces.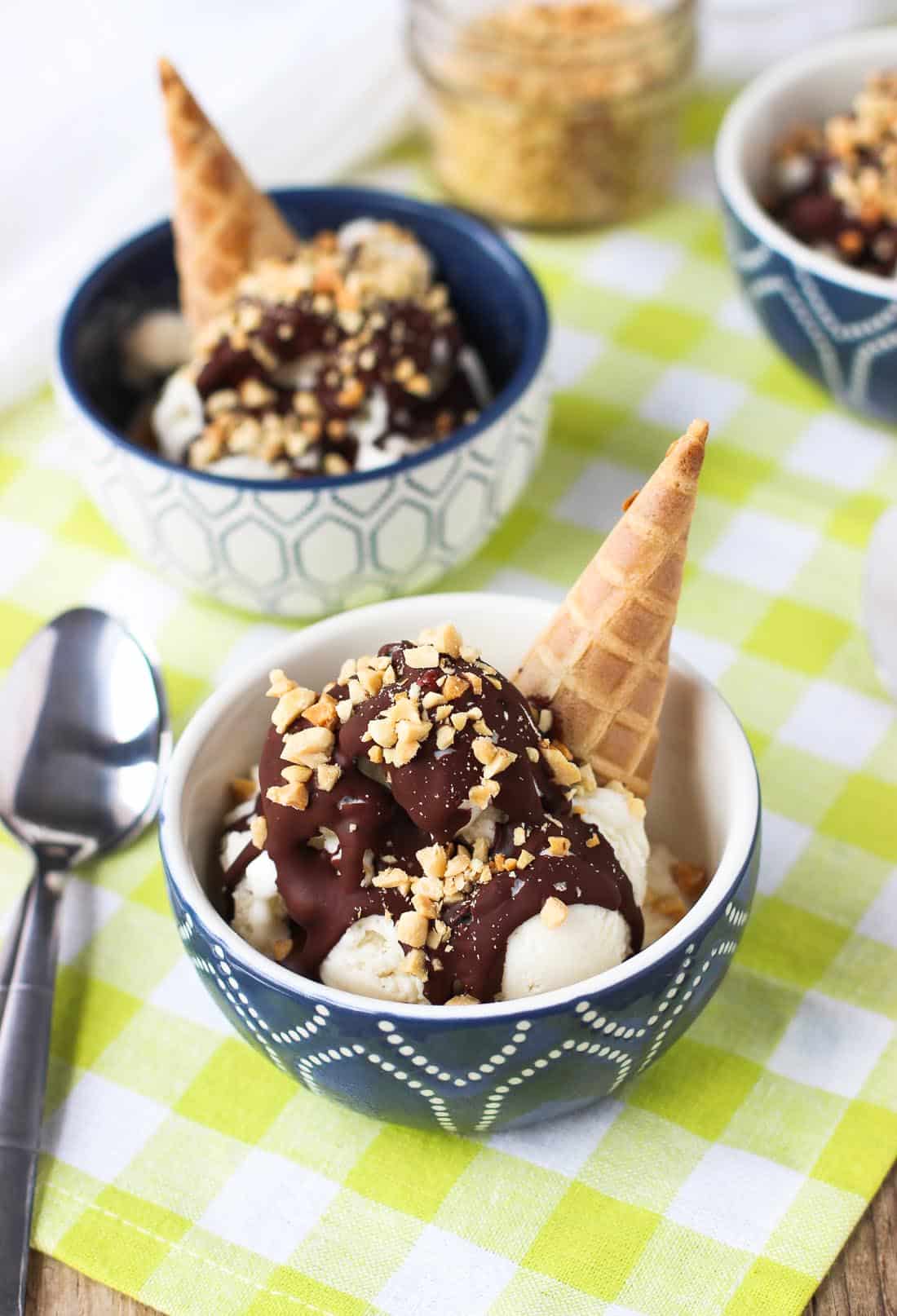 Originally I had plans to post one of my favorite steak recipes today. It has a simple marinade consisting of kitchen staples and it's in our weeknight and weekend dinner starting line ups. We love it.
This is not that post. This deconstructed Drumstick ice cream sundae came along this weekend and bossily cut to the front of the line. I had to comply though – a dessert as tasty and simple (so simple!) as this one deserves to be shared ASAP. Plus if it's hot, hot, HOT by you (still no sign of temps lower than 90ºF here), ice cream may be more of a welcome sight than steak. And I love steak. ♥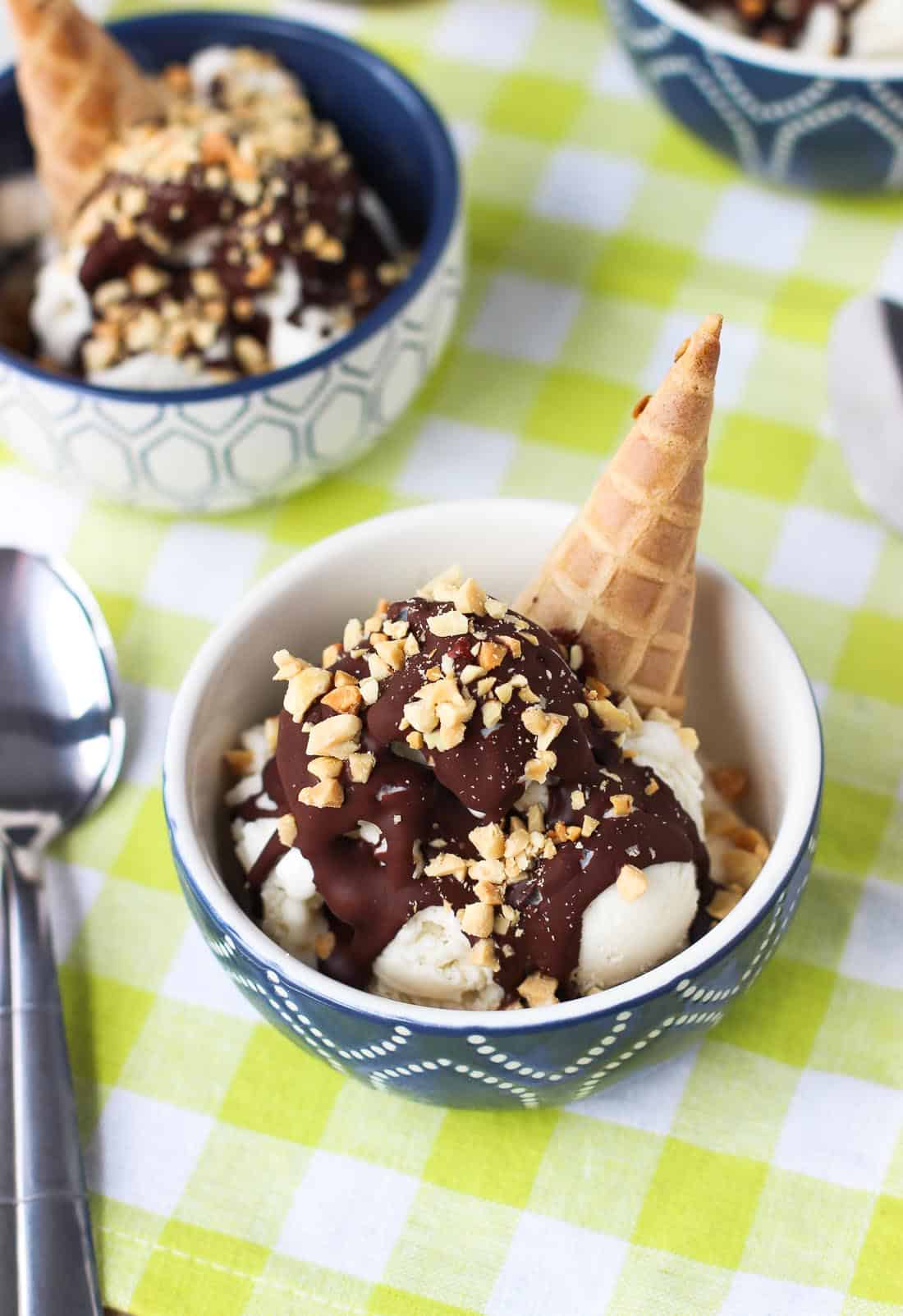 This ice cream sundae features all of the great flavors of Drumstick ice cream cones, but is super customizable! An impossibly easy homemade Magic Shell chocolate topping is poured over your ice cream of choice, and topped with chopped roasted peanut pieces. A portion of a waffle cone is added for a mighty delicious garnish, and there you go! All that's left to do is grab a spoon.
Please forgive me as I think I all but missed this train, but homemade Magic Shell? How easy can it get! Chocolate and a bit of coconut oil are melted together and then let to cool at room temperature. Aaaand done. It hardens within a few seconds of being poured over ice cream to deliver the classic Drumstick chocolate coating.
I chopped up a dark chocolate bar because I'm a sucker for dark chocolate in all forms, but you can certainly use the type of chocolate you prefer. Can you really go wrong? I don't think so.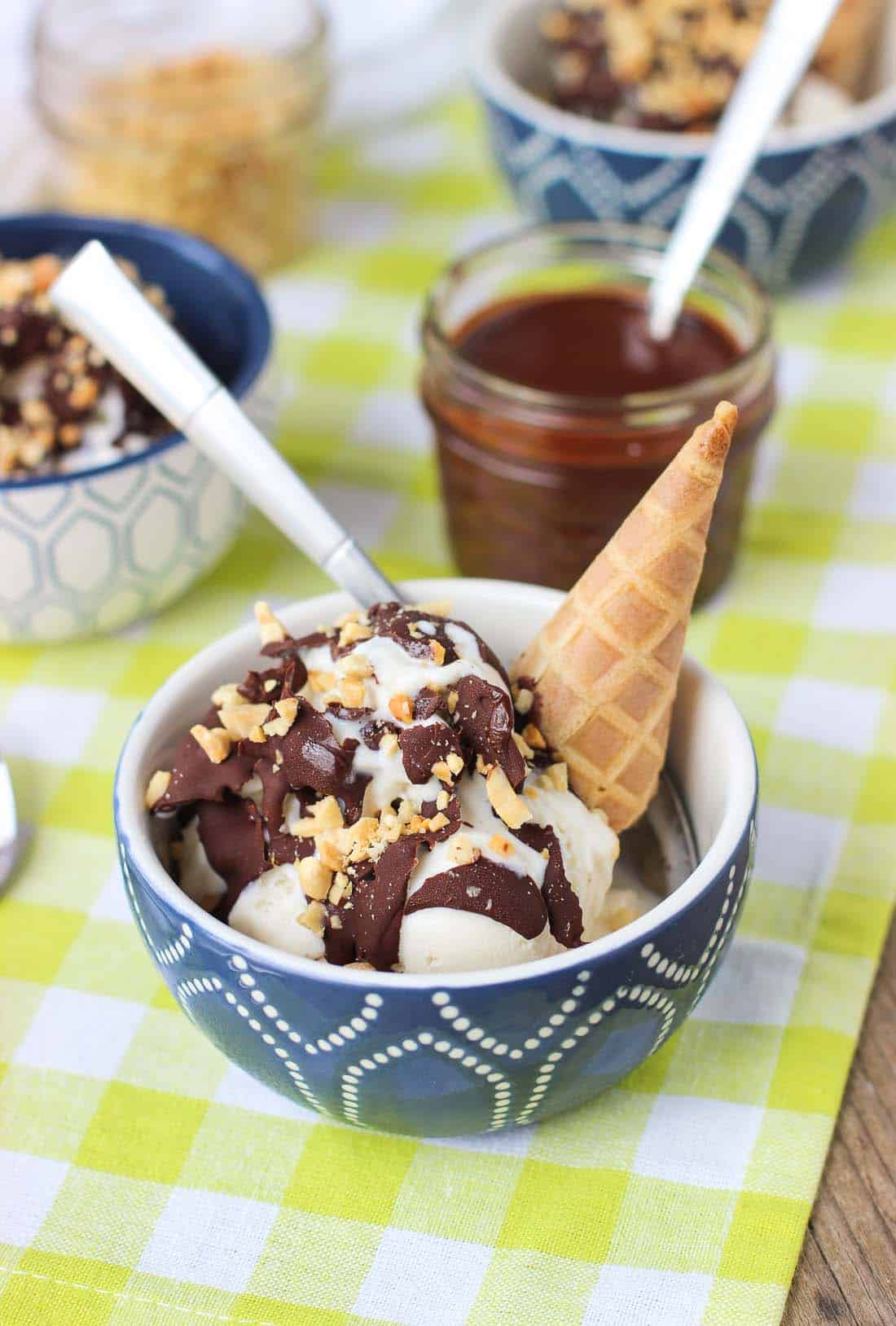 See how simple this Drumstick ice cream sundae is to make in this video below:
Deconstructed Drumstick Ice Cream Sundae
Ingredients
1 cup chopped chocolate (I used about 5 oz. of 72% dark chocolate)
2 tbsp coconut oil
Ice cream of choice
1/4 cup roasted peanuts, chopped (I used unsalted)
Waffle cones
Instructions
In a microwave-safe bowl, add chocolate and coconut oil. Microwave on half-power in 20-second intervals, stirring after each interval. Once the mixture is smooth, remove and let cool to room temperature (about 5-10 minutes).
To assemble, scoop ice cream into bowls. Stick the bottom portion of a waffle cone into ice cream. Pour desired amount of chocolate coating over ice cream and scatter about 1/2 - 1 tbsp of peanut pieces over top before the chocolate hardens, which should occur in about 10 seconds. Enjoy!
Notes
The yield here is very customizable. You will probably have leftover homemade Magic Shell and leftover chopped peanuts.

Store homemade Magic Shell at room temperature (it will harden in the fridge!). If it does solidify at room temperature, pop it in the microwave for ten or so seconds and it will liquify in no time.