This no-bake ice cream pie with a cookie crust is an incredibly easy pie recipe made without needing to turn on the oven. Oreo cookies form the crust and are topped with one or more of your favorite ice cream flavors. Top with sprinkles, whipped cream, etc. and you have dessert for a crowd!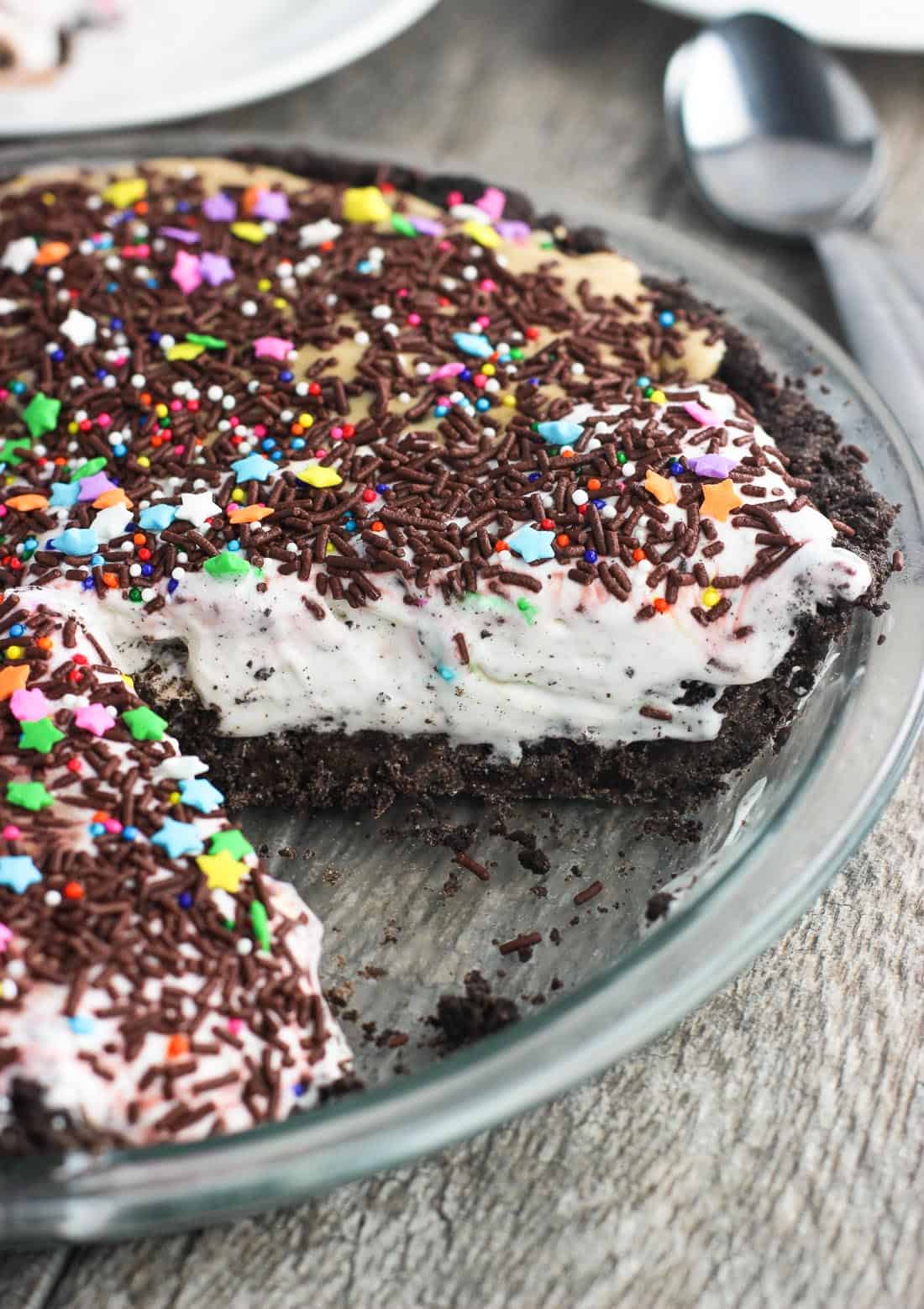 This is one of those posts that I like to call a "recipe but not really". It's super easy, features minimal ingredients, and doesn't have a complicated method of preparation. That's a welcome thing this time of year, no? Well really, welcome any time as far as I'm concerned.
It appears that ice cream and I are having a thing this summer, which is just fine by me. What are summers for? Last week I shared this delish dairy-free ice cream, and next up is this no-bake ice cream pie made with a cookie crust. Both were heavily enjoyed in our house, though this pie is decidedly easier (no need for a machine) and closer to being instantly gratifying. You'll be ready to dig in for a slice in just about a half hour!
This no-bake ice cream pie makes use of a few shortcuts to result in a relatively quick dessert. For one, Oreo cookies and a little bit of melted butter comprise the crust. You can pick whatever variety of chocolate sandwich cookies you like in this crust — even golden ones if you'd prefer! The cream from the sandwich cookies helps the butter hold the crust all together once they're pulsed in the food processor.
Once the mixture reaches a consistency in which it holds together when you press on it, it's time to be spread into the pie plate and popped in the freezer for a few minutes to solidify even more. Crust is done! I chose Oreo cookies with chocolate cream, because YES PLEASE when it comes to extra chocolate. 😉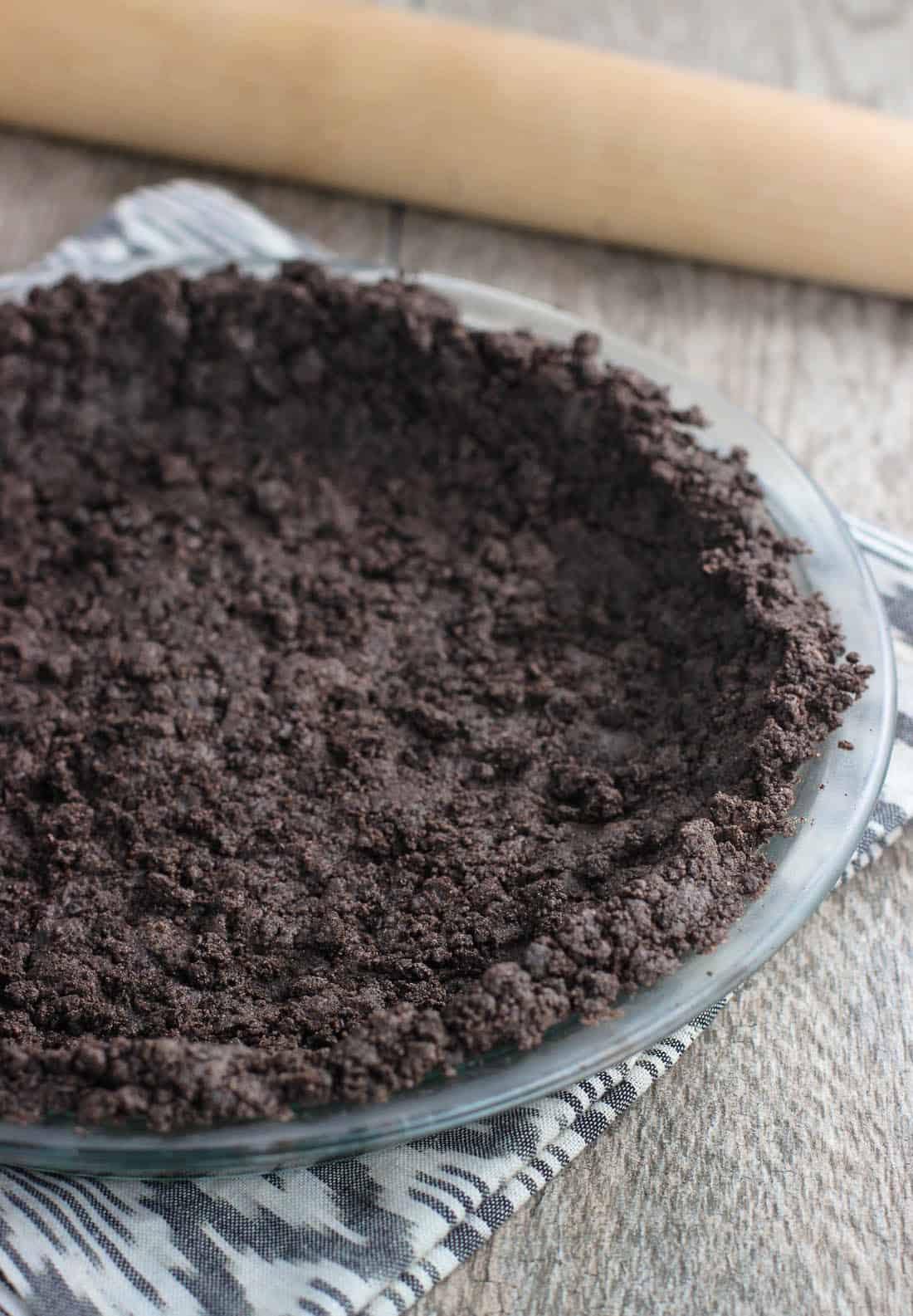 All that's left is to spread your ice cream, top with your fav decorations, and freeze a little bit longer to harden it all up. As you can see I went a little wild on the ice cream front…three flavors going on here! Of course you can always just use one flavor, but enjoying three flavors over the course of this no-bake ice cream pie, instead of one, is even better. Everyone gets to enjoy their favorite. 🙂 Top with sprinkles, maybe whipped cream if you're feeling it, and you have an on-season, simple, and semi-homemade treat!
This pie closes out my monthly contribution gig to Oh Sweet Basil – click here to view the full instructions.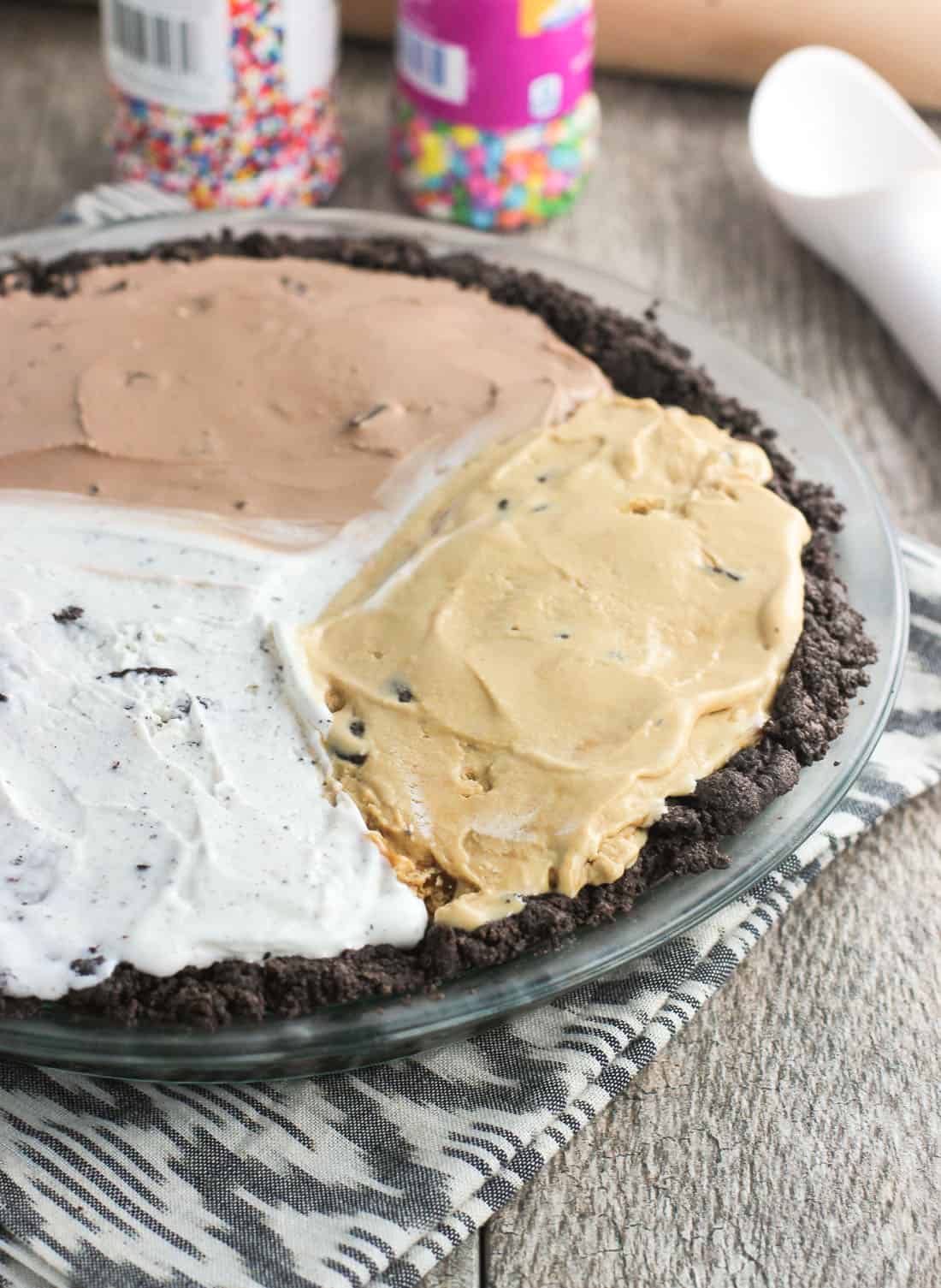 No-Bake Ice Cream Pie with a Cookie Crust
Ingredients
30 Oreo cookies, your preferred variety (1 package)
2 1/2 tbsp unsalted butter, melted
Approximately one quart of ice cream in total, your preferred flavor(s)
Sprinkles, whipped cream, etc. for garnish
Instructions
Click here to view the full instructions for this no-bake ice cream pie on Oh Sweet Basil!