This slow cooker buffalo chicken is juicy, spicy, and simple! Onion and boneless, skinless chicken breasts are covered in a buffalo sauce mixture for a healthy and ultra versatile protein. Great in sandwiches, on salads, and more!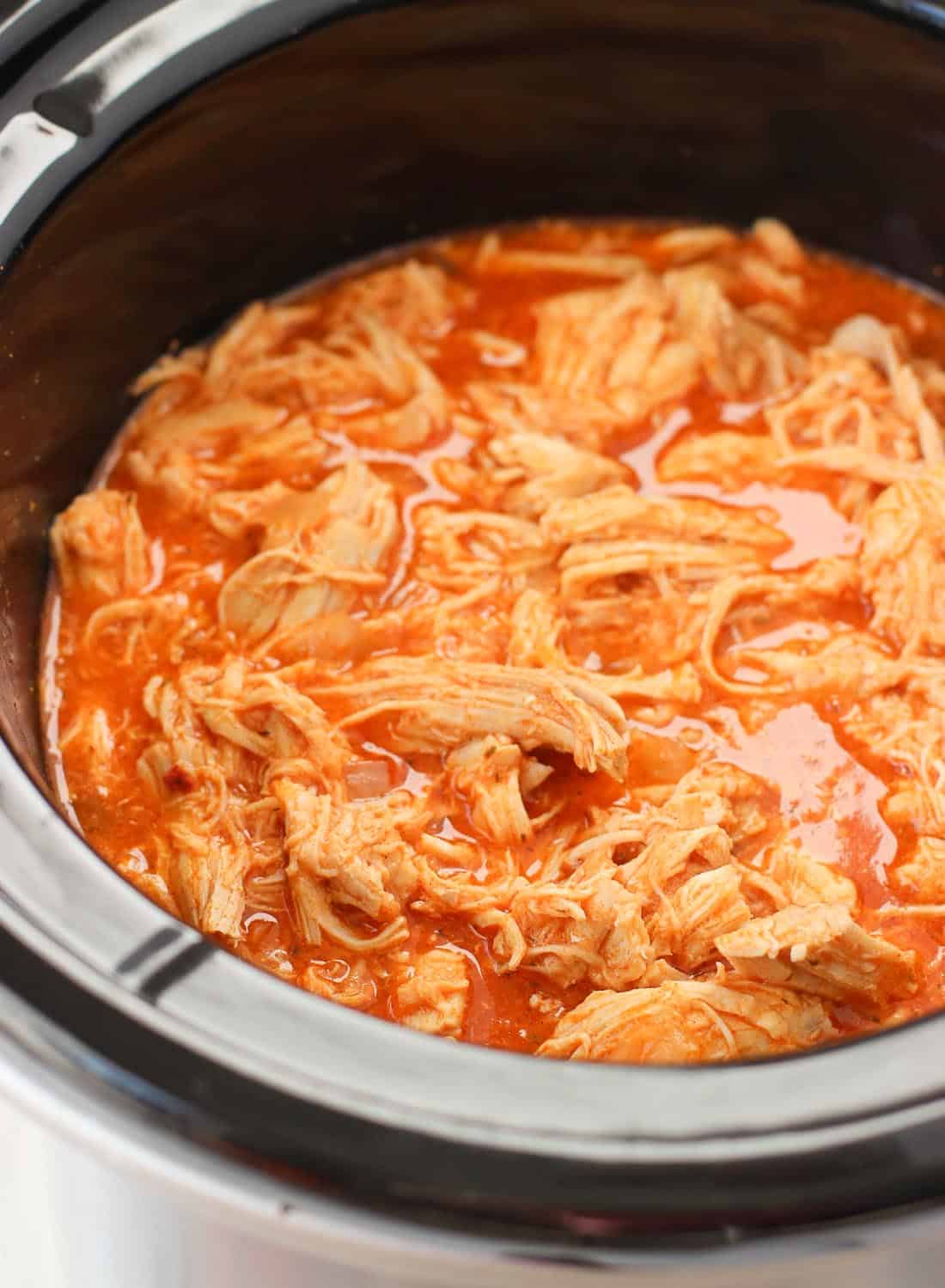 I've had a slow cooker for ten months now but I've never posted a true slow cooker recipe. What is up with that!? I use it alllllll the time for pulled chicken, pulled pork, soups – you name it. The slow cooker is one of my favorite methods to cook up a bunch of protein on a Sunday and use throughout the week. Best of all, it's hands-off to the max! Put things in, go about your day, and take things out. Someone tell me why it took me so long to buy one?
Now that I've gotten my slow cooker sea legs, it was about time I branched out and whipped up my own recipe. Thankfully slow cooker experimentation is fairly low risk. Add protein of choice, veggies, liquid(s) and spices, cover, and set the heat. All you have to do is make sure it's plugged in, and you're golden!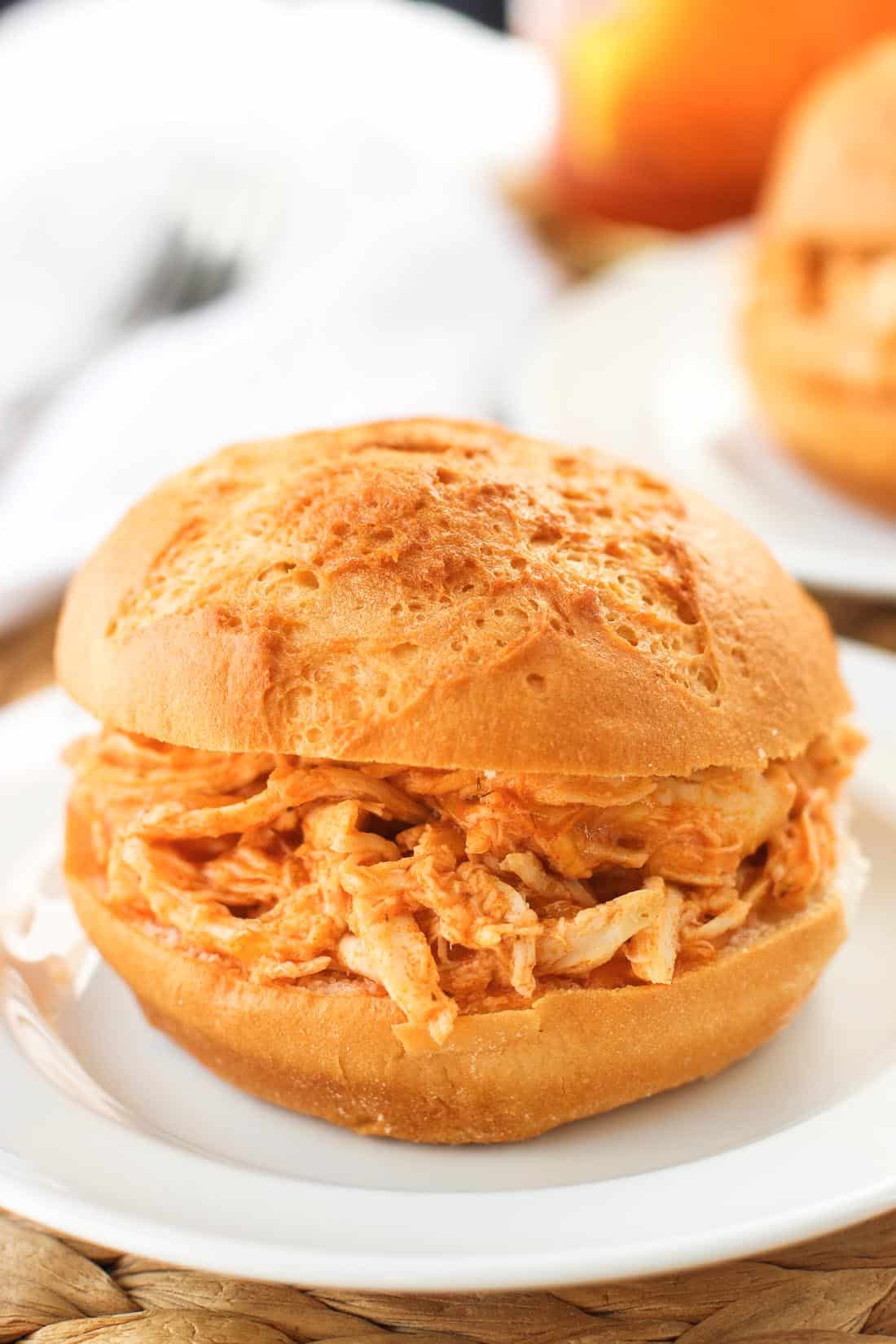 This slow cooker buffalo chicken is one of my new favorites. A diced onion and boneless, skinless chicken breasts are added to the slow cooker, with a spicy buffalo sauce mixture poured over top. The spice factor all comes from the sauce you use, so pick one that fits in with your tastes. I have a serious thing for Frank's Red Hot Wings sauce so that's what I used, and the spice was juuuuust right.
Can I tell you how many ways we ate this chicken? In sandwiches like that picture up there (I totally dug in after that photo was taken), over salads, in a quesadilla…sometimes even by itself! I'm already reserving some of my next batch for a simpler than simple buffalo chicken grilled cheese. Give me all the buffalo please!!

Slow Cooker Buffalo Chicken
Yield:
6 - 8 servings, or more
Ingredients
1 onion, diced
3 large boneless skinless chicken breasts
1 3/4 cup Frank's Red Hot Wings sauce
1/4 cup apple cider vinegar
1 tsp seasoned salt
1 tsp dried parsley
3/4 tsp ground black pepper
1/2 tsp garlic powder
1/4 tsp onion powder
1/8 tsp dried thyme
1/4 tsp dried dill
1/2 tsp dried oregano
Instructions
Add diced onion to the bottom of the slow cooker and then chicken breasts. In a bowl, combine all other ingredients. Pour over chicken breasts, ensuring that the slow cooker is at least half full, and no more than three-quarters of the way full.
Cook on high for 3-4 hours, or until chicken is cooked through. Remove chicken to cutting board and shred using two forks (it should shred easily once done). Place shredded chicken back in the crock pot and stir so that chicken is combined evenly with the onions and sauce. Serve on sandwiches, over salads, in quesadillas, and more!