Quick! Tell me what song you're guilty pleasure jamming out to right now! I've been all about If I Loved You by Delta Rae. I think I'm responsible for 300 of those views but I've gotten it out of my system now. What. an. earworm.
Anyway, suffice it to say if I get hooked on a song I have to listen to it a million times in a row on repeat. HAVE to. B hates this as he's on the opposite side of the spectrum where he listens to a song once, twice if it's the best ever, and then shuffles that ish. Not everyone can be blessed with that kind of willpower.
Just like with music, when I get on board with a flavor, it's all I want to eat for the foreseeable future. It's been BBQ overload over here, guys. Partly because it was one of the few things we had in bulk in our fridge during our abstention from grocery shopping, and mainly because it's just so good!
Unlike a bunch of guilty pleasure tunes, I can say with near certainty that I will probably never get tired of BBQ pulled chicken, sprinkled with bacon and covered in cheese, all tucked inside an avocado.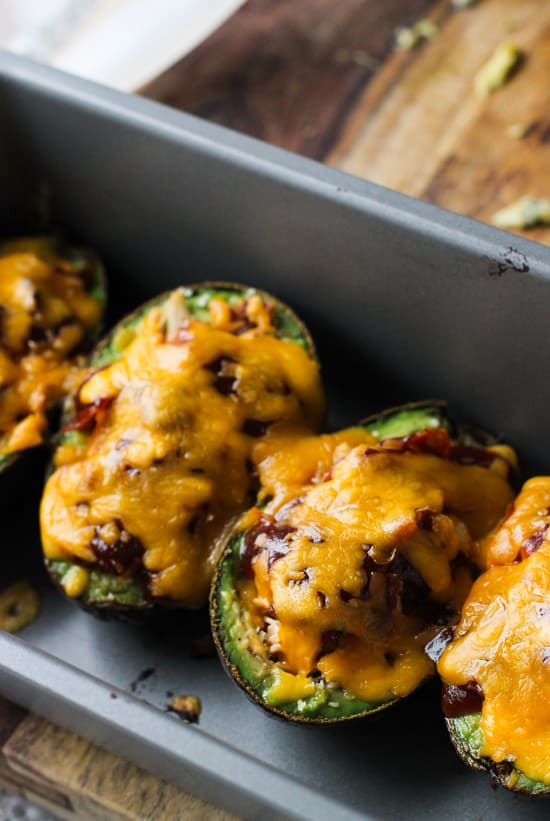 Nooooope. Put this one on repeat, baby!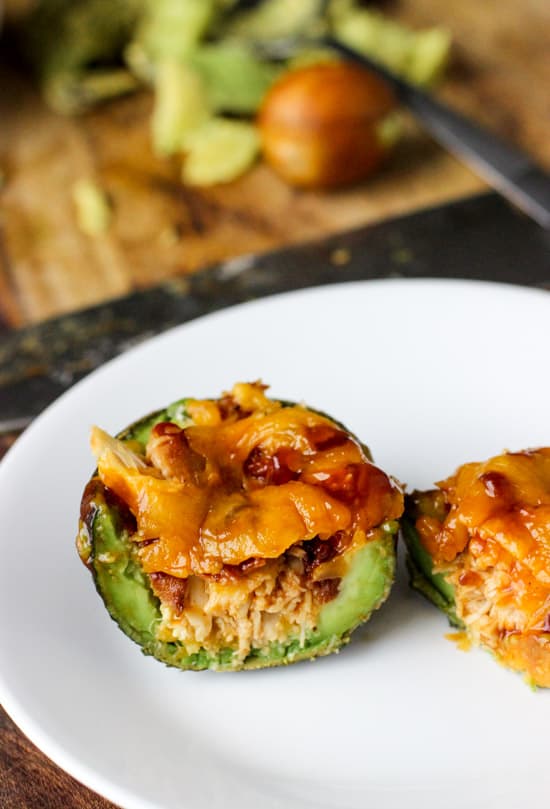 So I'm a little late to the avocado boat party (at least I didn't miss the...boat) 😉 but better late than never! What a fab way to combine so many guilty pleasures (BBQ, bacon, cheese) and sneak in some nutrients, too.
A few weeks ago I shared that I got my first ever crock pot. Let me tell you we've been mass producing pulled chicken like nobody's business. Seriously, I'm tempted to call the city and tell them they need to rezone our apartment lot from residential to commercial, because we've got a serious pulled chicken factory operating in full force over here.
As you can imagine, multiple batches of pulled chicken + two mouths = a lot of leftover chicken. Not that that's a bad problem to have, just that I didn't want to run into pulled chicken burnout, especially only a few weeks into owning a crock pot. These avocado boats were a welcome change from the standard pulled chicken sandwich and c'mon...any opportunity to eat bacon? Can't pass that up.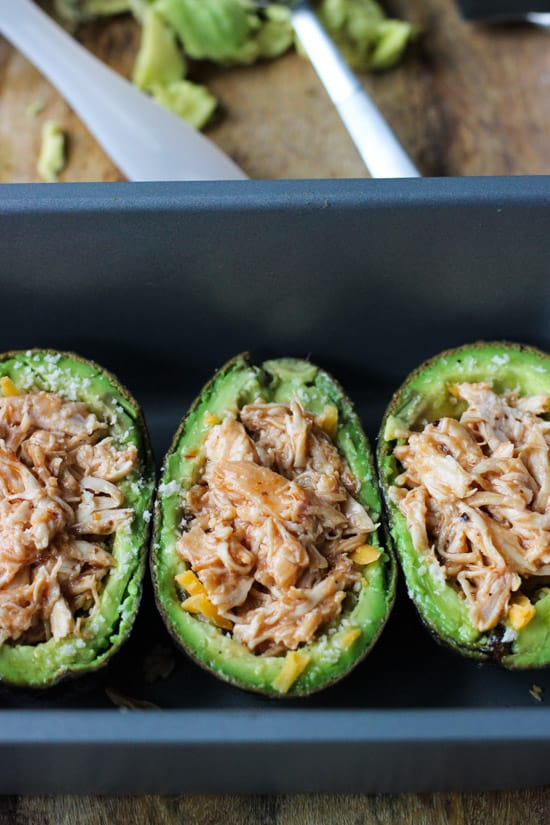 Underneath that delish chicken is a brush of olive oil, a sprinkle of panko breadcrumbs for crunch, and a pinch of shredded cheddar. So far we've always made it in the slow cooker which FOR REAL couldn't be simpler, and we *love* it. If you don't have a slow cooker - no judgment, that was me a few weeks ago. You can prepare chicken in your preferred method and then shred, or take an itty bitty short cut and use a rotisserie chicken.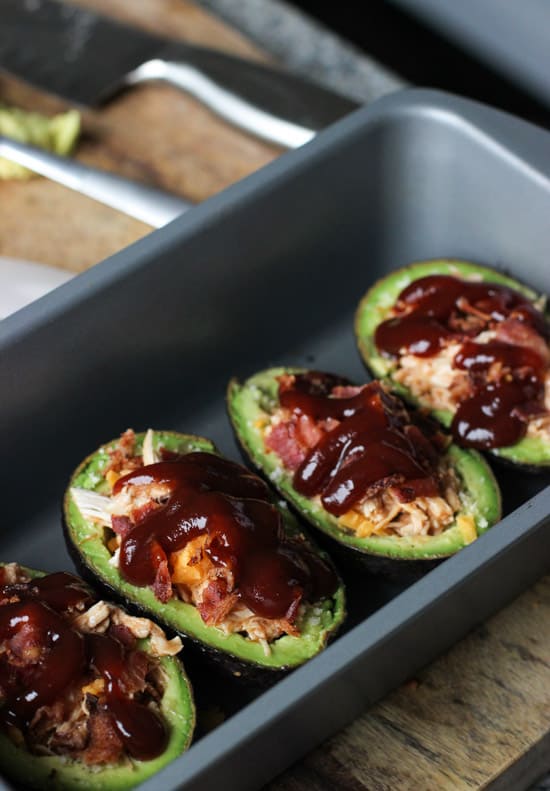 Next I added bacon crumbles which are totally optional (as optional as bacon is in your house. In mine it's mandatory) and slathered on some BBQ sauce. Spicy, mild, brown sugar, honey, Carolina, Kansas City, Texas, homemade, store bought, any and all. BBQ sauce. ♥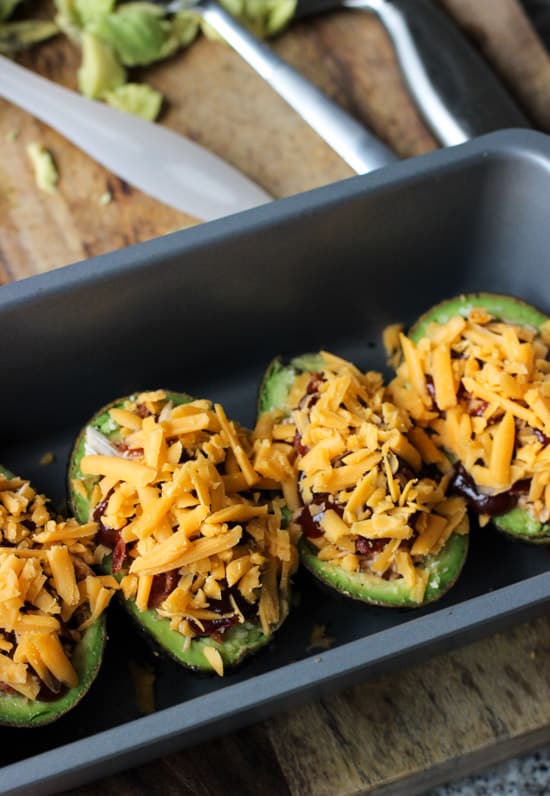 Then - more cheese! Duh. Throw 'em in the oven for a bit until the cheese melts and they're heated and you're all set to chow down. If you're wondering what kind of pan I have them in, it's a 9" x 5" loaf pan. The recipe below calls for two avocados, so four halves, which fit perfectly side-by-side in a loaf pan of that size! No chance these babies are rolling around and spilling any of that delicious filling. Not on our watch.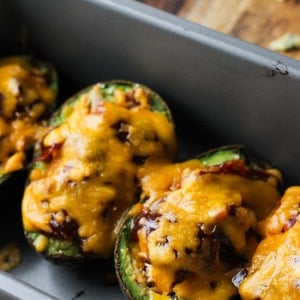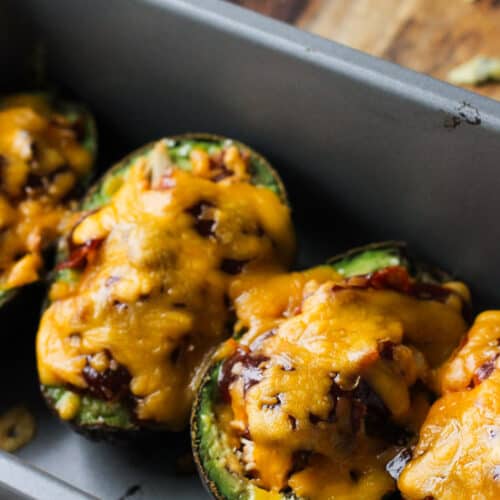 BBQ Pulled Chicken Avocado Boats
These BBQ Pulled Chicken Avocado Boats are a simple and flavorful way to combine all your favorite flavors! Great way to use those chicken leftovers.
Print
Pin
Rate
Ingredients
2

avocados

2

teaspoon

olive oil

2

teaspoon

panko bread crumbs

1

cup

cooked, shredded chicken

½

cup

shredded cheese

(I used cheddar)

3

tablespoon

BBQ sauce,

your favorite

2

slices

bacon,

cooked and crumbled
Instructions
Preheat oven to 400°F. Slice avocados in half lengthwise and remove pit. Scoop out a little bit of avocado to create a well for the rest of the ingredients. (Psst - excess avocado would be great for a mini batch of

guacamole

!)

Arrange the four avocado halves peel-side down in a 9" x 5" loaf pan, or in a small dish where they won't have much room to roll around. Brush inside of avocado halves with approx. ½ teaspoon olive oil and sprinkle approx. ½ teaspoon panko inside each. Sprinkle about 1 tablespoon of shredded cheese over each avocado on top of panko.

Add about ¼ cup of pulled chicken to avocados, pressing slightly to fill avocado. Sprinkle bacon crumbles evenly over four avocado halves and add BBQ sauce to top. Lastly, sprinkle remaining cheese evenly over top of avocados.

Place pan in the oven for approx. 10-15 minutes, or until avocado halves are heated and the cheese is melted and slightly bubbly. Serve while warm.
Notes
As avocado oxidizes quickly once sliced, these avocado boats would be best prepared and cooked just prior to eating.
Nutrition
Serving:
1
avocado boat
|
Calories:
408
kcal
|
Carbohydrates:
14
g
|
Protein:
19.2
g
|
Fat:
31.7
g
|
Saturated Fat:
9.1
g
|
Cholesterol:
52
mg
|
Sodium:
475
mg
|
Potassium:
647
mg
|
Fiber:
6.9
g
|
Sugar:
3.7
g
|
Calcium:
90
mg
|
Iron:
1.3
mg
Nutritional information is provided as an estimate. As it can vary due to many factors (brands used, quantities, etc.), we cannot guarantee its accuracy.
Food Safety and Nutrition Disclaimer