Creamy guacamole. Tangy, salty feta. Salty, crunchy pistachios. Crunchy, bursting pomegranate seeds.
I'm in love and I don't care who knows.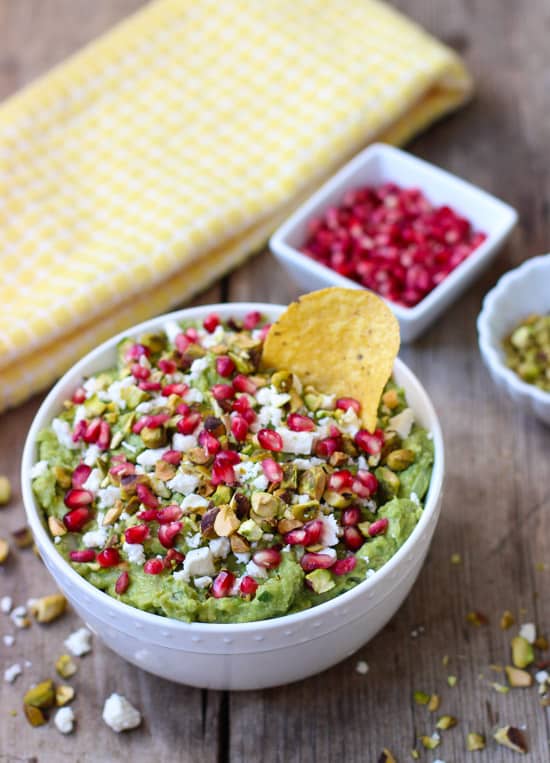 Guacamole is one of those foods that I can eat for any meal, for any snack, and certainly any time of day/night. Guac with chips, guac on sandwiches or burgers, guac with a spoon, etc. Yes, yes, and yes. All the guac.
This guacamole with feta, pistachios, and pomegranate seeds starts traditionally, but gets dudded up quick. Fancy (but super simple) guac at the ready! Feta adds an extra creaminess to the guac that combined with its saltiness!? Mmmm. Pistachios add to the slightly salty flavor and bring some serious crunch. Then the pomegranate seeds. Crunchy, refreshing, and tasty bursts sprinkled throughout. Plus they add a fab pop of color!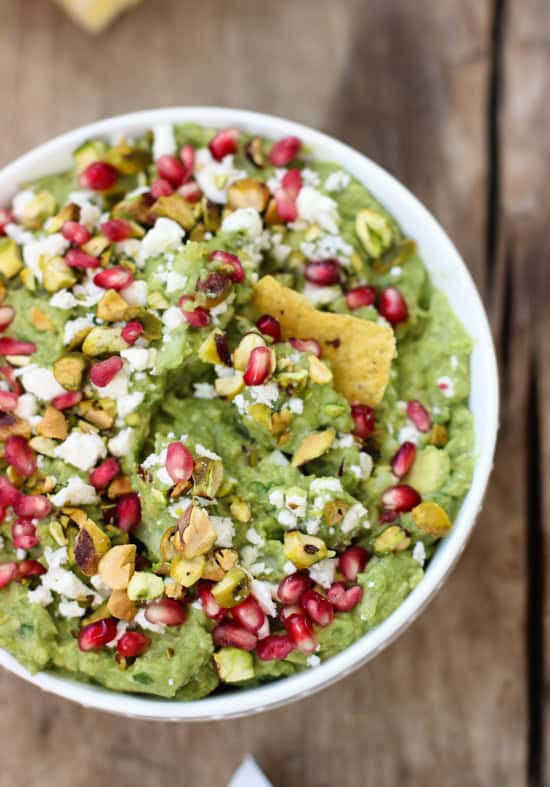 About those pomegranate seeds…add them to the list of foods I love but hardly ever eat. Do you have a list like that? I chalk it up to some residual bad memories from the first time I attempted to dissect a pomegranate. I was in college and figured it couldn't be that hard. Armed with a heavy duty plastic fork, I hacked into that thing with such fervor that deep red juice splattered all over my desk and white dorm room walls. Errrgghh. At least I got to snack on crunchy, refreshing pomegranate seeds while I scrubbed my room from top to bottom. Silver lining, found.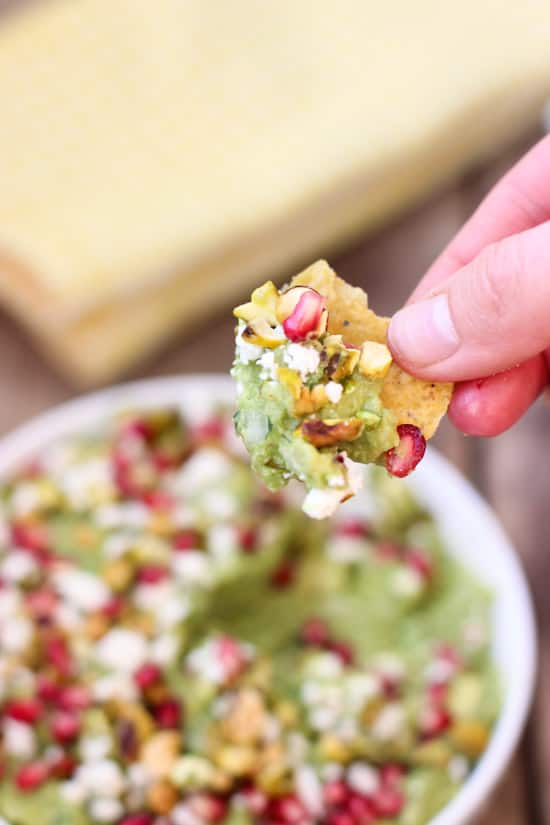 Paired with some chips or veggies, this guac is the perfect, festive party food. Who doesn't love an easy appetizer that jazzes up your table big time? I certainly don't…even if I've only been making this guac for a party of two. 🙂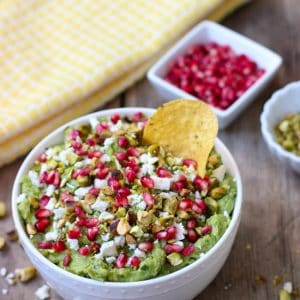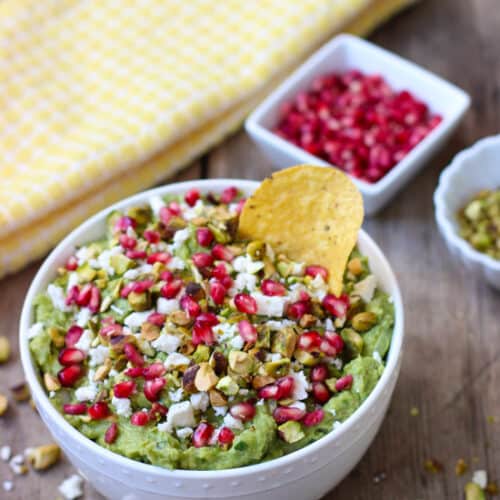 Ingredients
3

avocados

2

tbsp

lime juice

about 1 lime

1

tbsp

chopped cilantro

1/2

tsp

minced garlic

about 1 clove

1/2

tsp

salt

1/2

tsp

cayenne pepper

1/2

tsp

ground cumin

1/2

onion

diced

1/4

cup

crumbled feta

or to your liking

1/4

cup

pistachio pieces

or to your liking

seeds from one-quarter or one-half of a pomegranate

or to your liking
Instructions
Cut avocados in half and remove peels and pits. Place avocado in a bowl and add lime juice, cilantro, garlic, salt, cayenne pepper, and cumin. Using a potato masher (or whatever kitchen gadget will do the trick - I used a meat tenderizer), mash up the avocado until it's mostly smooth with a few chunks remaining and lime juice and spices are well mixed. Stir in onion until equally distributed.

Before serving, sprinkle feta crumbles, pistachios, and pomegranate seeds over top of guacamole (or stir in if you'd like!)
Notes
As written, this guacamole is very mildly spicy from the cayenne pepper. Feel free to increase or decrease the quantity depending on your tastes.
Guacamole recipe adapted from the Food Network
Nutritional information is provided as an estimate. As it can vary due to many factors (brands used, quantities, etc.), we cannot guarantee its accuracy.
Food Safety and Nutrition Disclaimer