These potatoes. Ugh. If I told you that each time I make these,  I inevitably end up eating them cold from the fridge for breakfast the next day, do I need to tell you anything else?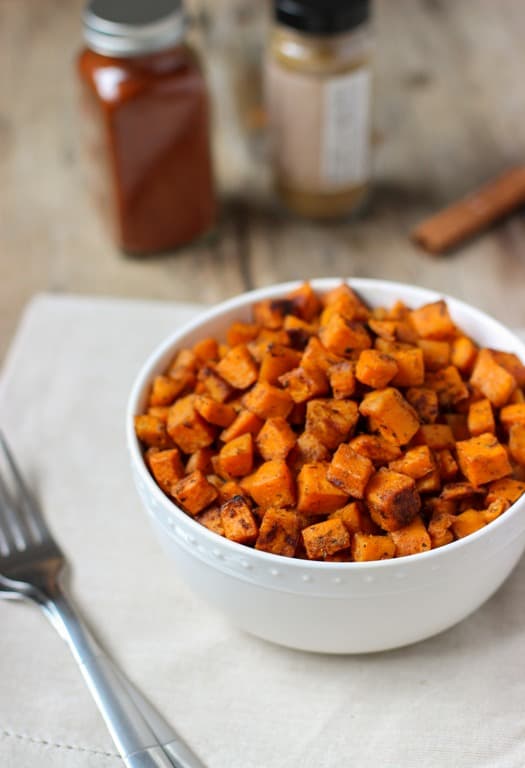 Rewind to our first grocery trip after moving to Nashville. Our cabinets consisted of the remnants of our road trip snack bag (err..bags) – trail mix, Nutella, and peanut butter, so our shopping list was loooong. Sweet potatoes were on that list. And sweet potatoes made it into our cart and back to our apartment. Nothing out of the ordinary, right? Except for the fact that we hadn't decided how to organize our kitchen cabinets yet. Those sweet potatoes ended up in a far up cabinet by themselves and were forgotten about.
For a week. Two weeks? Eeesh.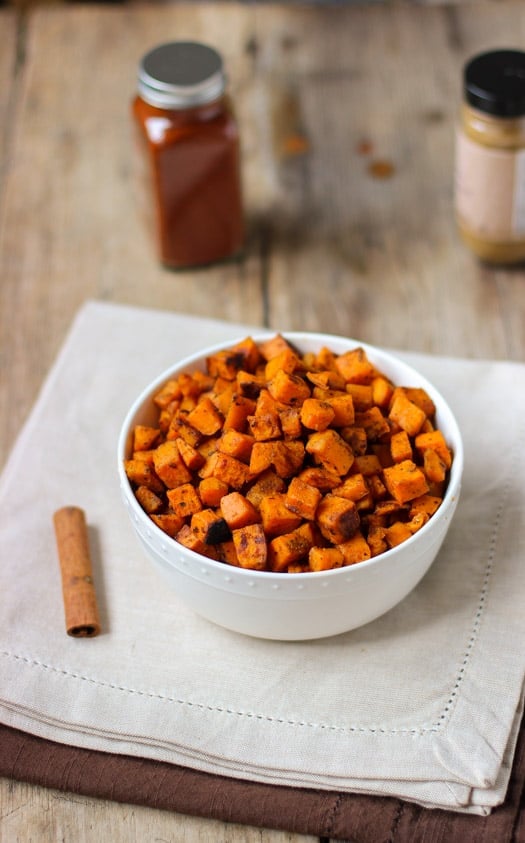 I found them one afternoon quite a while later when they were two seconds away from sprouting, so I knew I needed to use them pronto. This lucky discovery coincided with a spice delivery from my mom, who was super thoughtful and mailed me my spice cabinet so I didn't need to repurchase every little thing (thanks, ma!!). Potato happenstance. Spiced oven roasted sweet potatoes it was!
These sweet potatoes are richly flavored and are easily adjustable to be super spicy or not spicy at all, depending on your preferences. Once you preheat the oven and cut up the sweet potatoes, it's just a matter of mixing up the potato cubes with flavorings and spices and baking for twenty minutes. Potatoes for days!
I've been having a love affair with ground coriander lately. As in coriander has found its way into nearly everything I've made over the past weeks. Paired with earthy cumin and a bit of warm cinnamon, these potatoes are addictive! Liquid smoke adds a great touch to them (a big  bottle is just a few dollars near the ketchup and hot sauce in my grocery store), as does the Worcestershire.
If you've been reading this blog for any length of time I bet you can guess what I'm about to say – you can mess with the flavors and spices here, no problem. I bet ancho chili powder would add something special and extra smoky to them, though I didn't have any on hand. I added 1 tsp of sriracha to these potatoes for a very minimal zing. You can omit if you're not into spice, or amp it up if you'd like to break a sweat while eating. Throw in some cayenne for that matter! These are your potatoes, after all.
Obviously these potatoes are great straight from the oven, but I'm 100% serious that I loved them just as much cold (in my PJs) from the fridge. My love for these tubers knows no bounds. <3
Spiced Oven Roasted Sweet Potatoes
Yield:
6-8 side dish servings
Ingredients
3 sweet potatoes, scrubbed, peeled, and cut into chunks
2 tbsp olive oil
2 tsp Worcestershire sauce
1 1/2 tsp liquid smoke
1 tsp sriracha, or to taste
2 tsp garlic powder
1 3/4 tsp ground coriander
3/4 tsp cumin
1/4 tsp + 1/8 tsp ground cinnamon
1/4 tsp dried basil
1/4 tsp salt
1/8 tsp pepper
Instructions
Preheat oven to 450°F.
Scrub sweet potatoes, peel them, and cut into 1/2"-ish cubes.
Add potato cubes to a bowl with all ingredients. Stir so that the wet ingredients evenly coat the potatoes. Pour all onto a large baking sheet (or two), taking care to arrange potatoes in a single layer.
Bake for 20 minutes or until browned and slightly crisp, flipping potatoes halfway through.