These steps for making an air fryer baked potato couldn't be easier! The air fryer helps produce fluffy side dish potatoes with perfectly crisp skin, all in less time than the oven.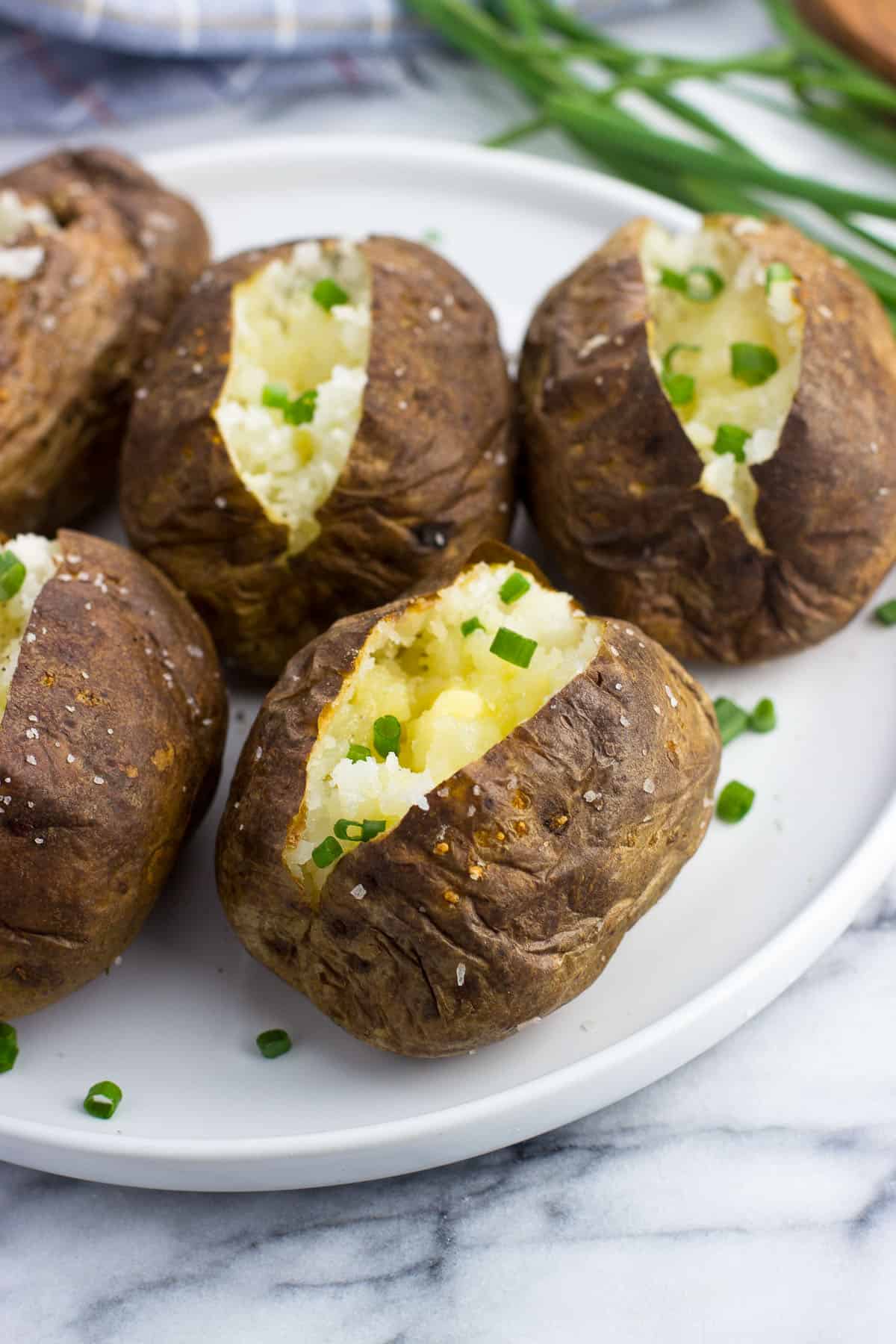 I'm not an early adopter by any means when it comes to kitchen trends. Having mulled over potentially buying an air fryer for months (over a year?), it took our slightly-busted, hand-me-down toaster physically falling apart for me to finally upgrade.
And upgrade I did.
I went with an air fryer/toaster oven combo that has become a kitchen workhorse. While it has a bigger countertop footprint than my old toaster, the air fry capability (which it has in addition to toasting, baking, broiling) has been my most-used. I like that this style has a window where I can watch things cooking, and the basket has a nicely-sized surface area.
After four months of air frying practice I feel confident sharing my first recipe on here, so let's start off with something straight-forward: an air fryer baked potato.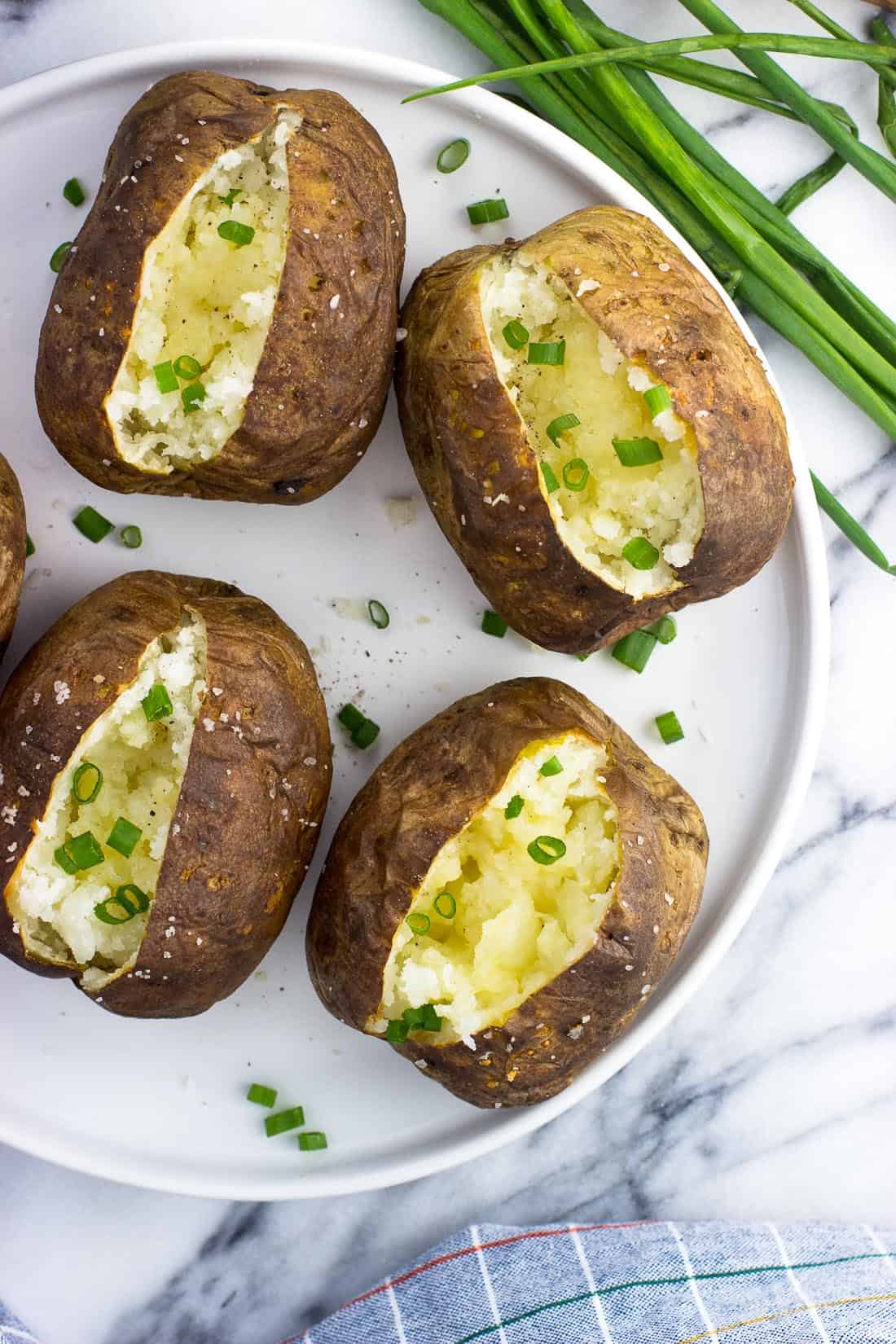 Why Use the Air Fryer for Baked Potatoes?
When it comes to baked potatoes, the air fryer is a nice middle ground between using the oven and the microwave.
While microwave baked potatoes are fast, their skin lacks a satisfying crispness. And while you get that crisp skin on a traditional baked potato made in the oven, they take quite a long time to cook.
Enter the air fryer. With air fryer baked potatoes, you get crisp, dry skin in around half the amount of cook time. All this in addition to freeing up oven space to make other parts of dinner if you need it.
Recipe Ingredients
This one's simple! In addition to your air fryer, you'll need:
Russet potatoes
Olive oil
Salt
Butter/sour cream/chives/green onions/etc. (a.k.a. your favorite baked potato toppings)
In my experience, I've found russet potatoes in a wide variety of sizes, from tiny to massive. In order for all of your potatoes to cook in the same amount of time, I recommend picking potatoes that are as similarly-sized as you can.
The potatoes you see here are between six-ish and seven ounces each. You may need to increase the air fry cook time slightly depending on if your potatoes are bigger.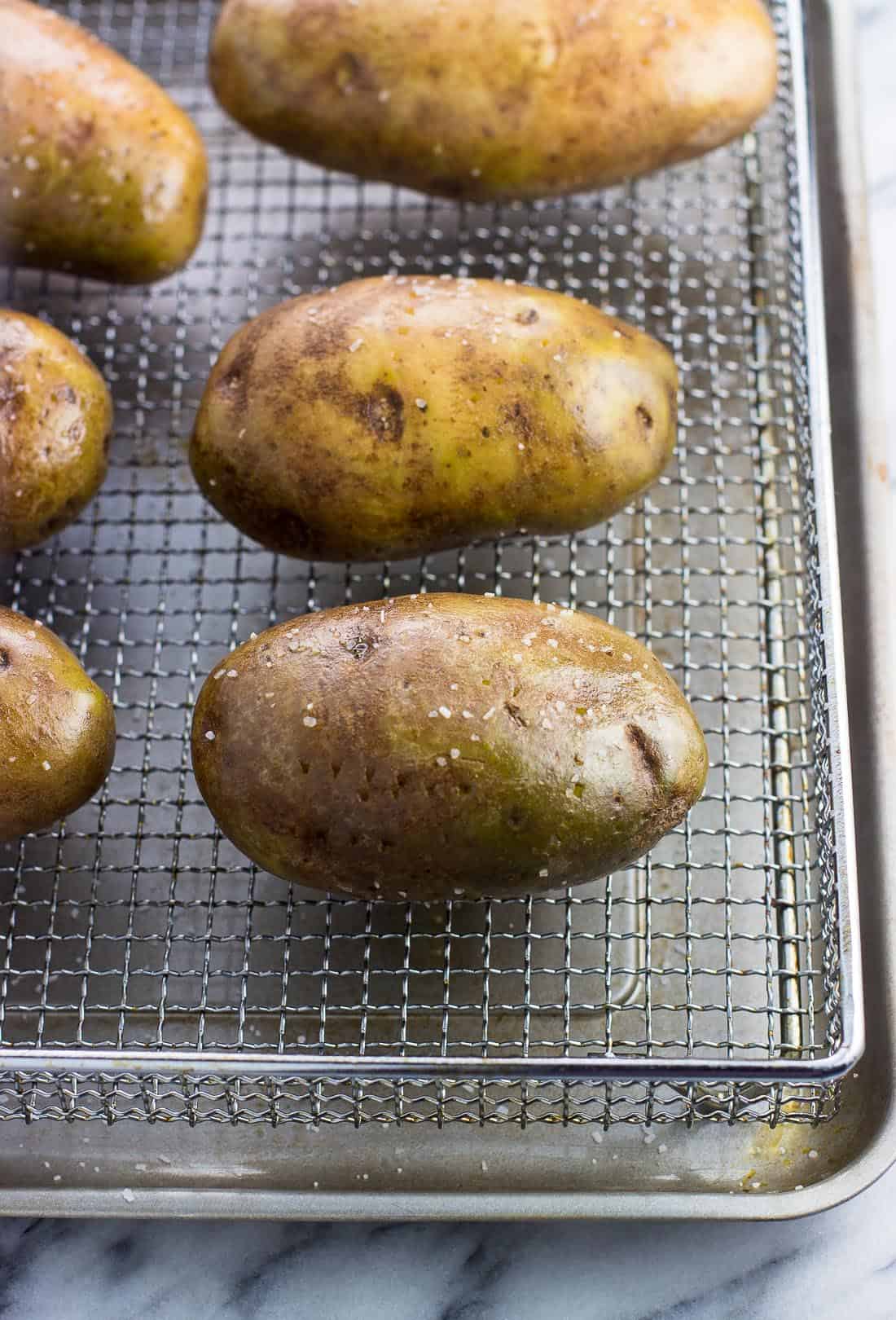 Step-by-Step Instructions
Prick with a fork. Do this all over each potato once they've been scrubbed and dried. This prevents them from bursting in the air fryer and creating a mess.
Brush with olive oil. Or a neutral-flavored cooking oil of your choice.
Season. I just add kosher salt at this stage and herbs later on to serve.
Air fry. Set air fryer to 375°F and air fry for 20 minutes. Then flip the potatoes and air fry for another 15 minutes, or until a fork or knife can easily be inserted into the potato and the skin has crisped to your liking.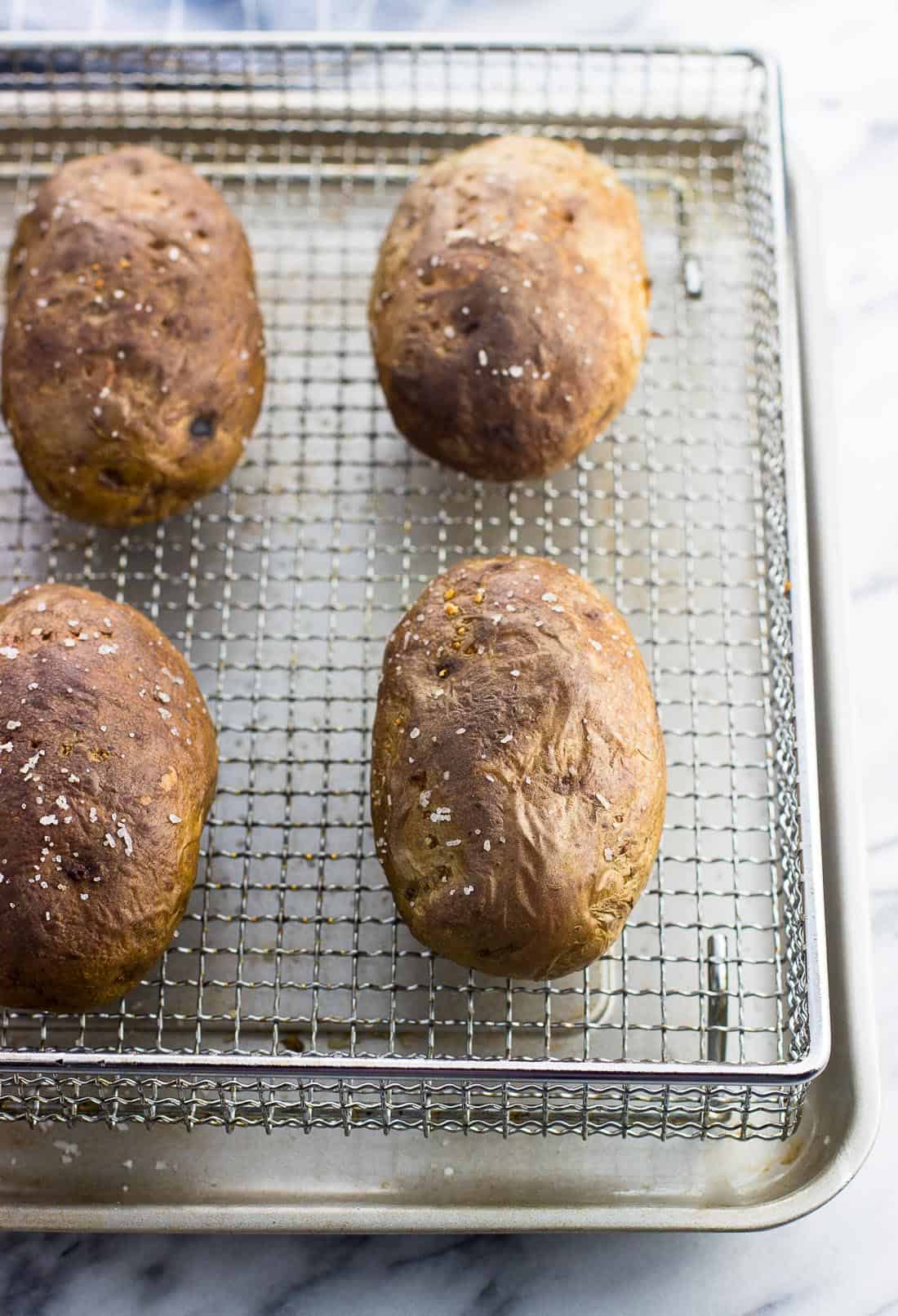 Quick Method
Even though making a baked potato in the air fryer saves some time when compared to the oven, it still takes around 35 minutes (for 6-7 ounce potatoes).
When pressed for time I like to do a mash-up technique, starting the potatoes off in the microwave and then finishing them in the air fryer. This way you get the speediness from the microwave, all while the potatoes develop that perfectly fluffy interior with a crisp and dry skin. To make a baked potato in the air fryer after the microwave:
Prick holes. Start by scrubbing and drying, then pricking holes all over the potatoes.
Microwave. Place potatoes in the microwave and cook them for two-and-a-half minutes. I picked this time since it's half the time of my microwave's automatic potato setting.
Brush and season. Brush the potatoes with oil and sprinkle kosher salt. Be careful when doing this as the potatoes will be very hot.
Air fry. They'll need about 10 minutes, give or take. With this microwave/air fryer combo method I find they don't even need to be flipped.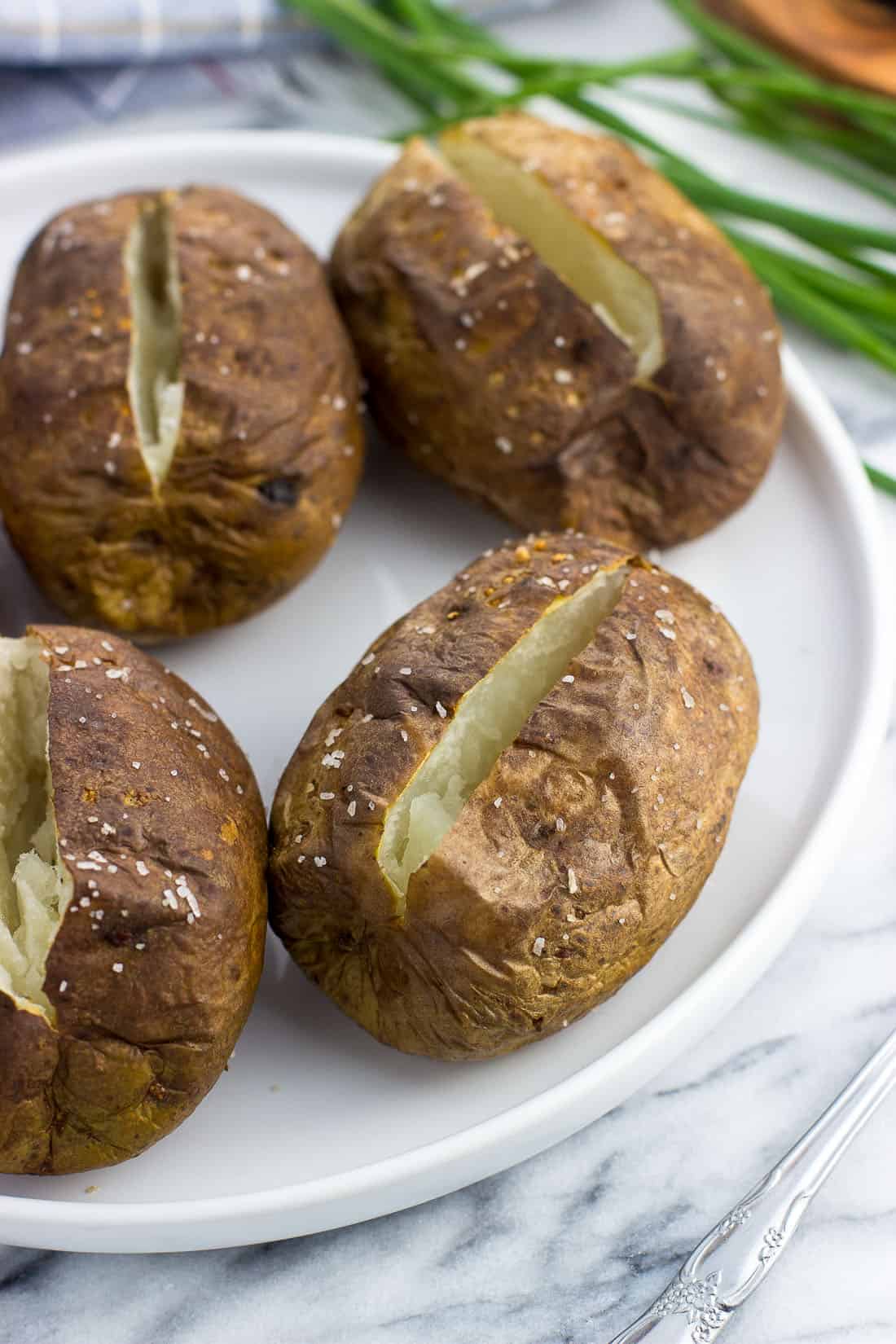 Recipe Tips and Tricks
This recipe was made and tested in a Cuisinart air fryer/toaster oven combo. Different air fryer models may require more or less time to cook fully.
Be careful if cooking very large potatoes as you don't want them to get too close to the upper heating element. Opt for more medium-sized potatoes.
As always, follow all safety guidelines for your particular air fryer model.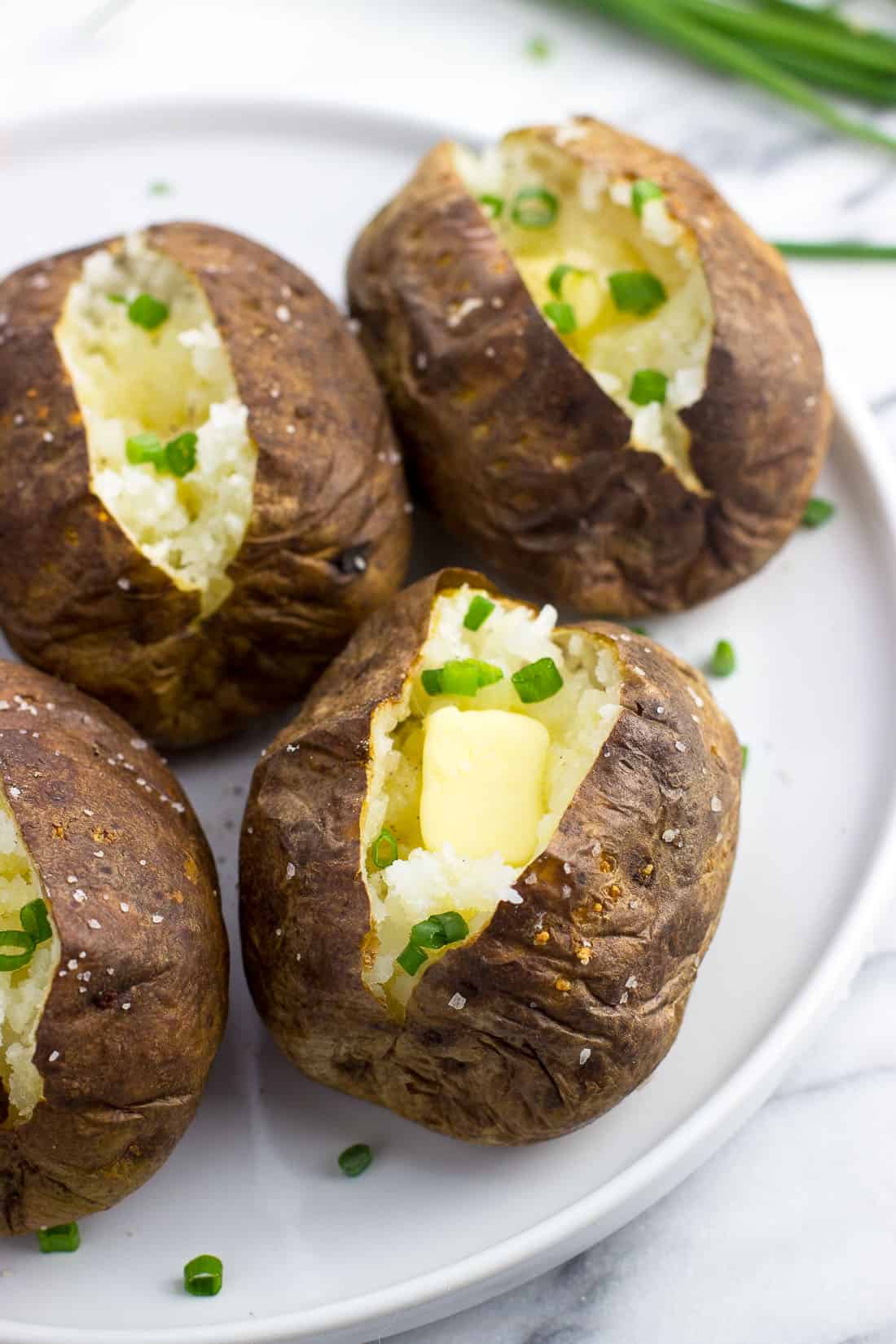 Recipe FAQs
When is a baked potato done?
Per Idaho Potato, potatoes are perfectly baked when the interior reaches 210°F (99°C). That sounds a little finicky because it's not a food safety guideline or anything, but it's helpful to know if you're impatient and tend to pull them a little too early (like me), or if you have potatoes of varying sizes.
How do you reheat a baked potato?
Set the air fryer to a low temperature (325°F or so) and air fry for several minutes, or until hot throughout. You can also bake them, though they'll take much longer to reheat. Don't cover the dish or wrap them in foil so the skin gets a chance to dry/crisp up again. And of course microwaving will work in a pinch, but you'll lose the crispness of the skin.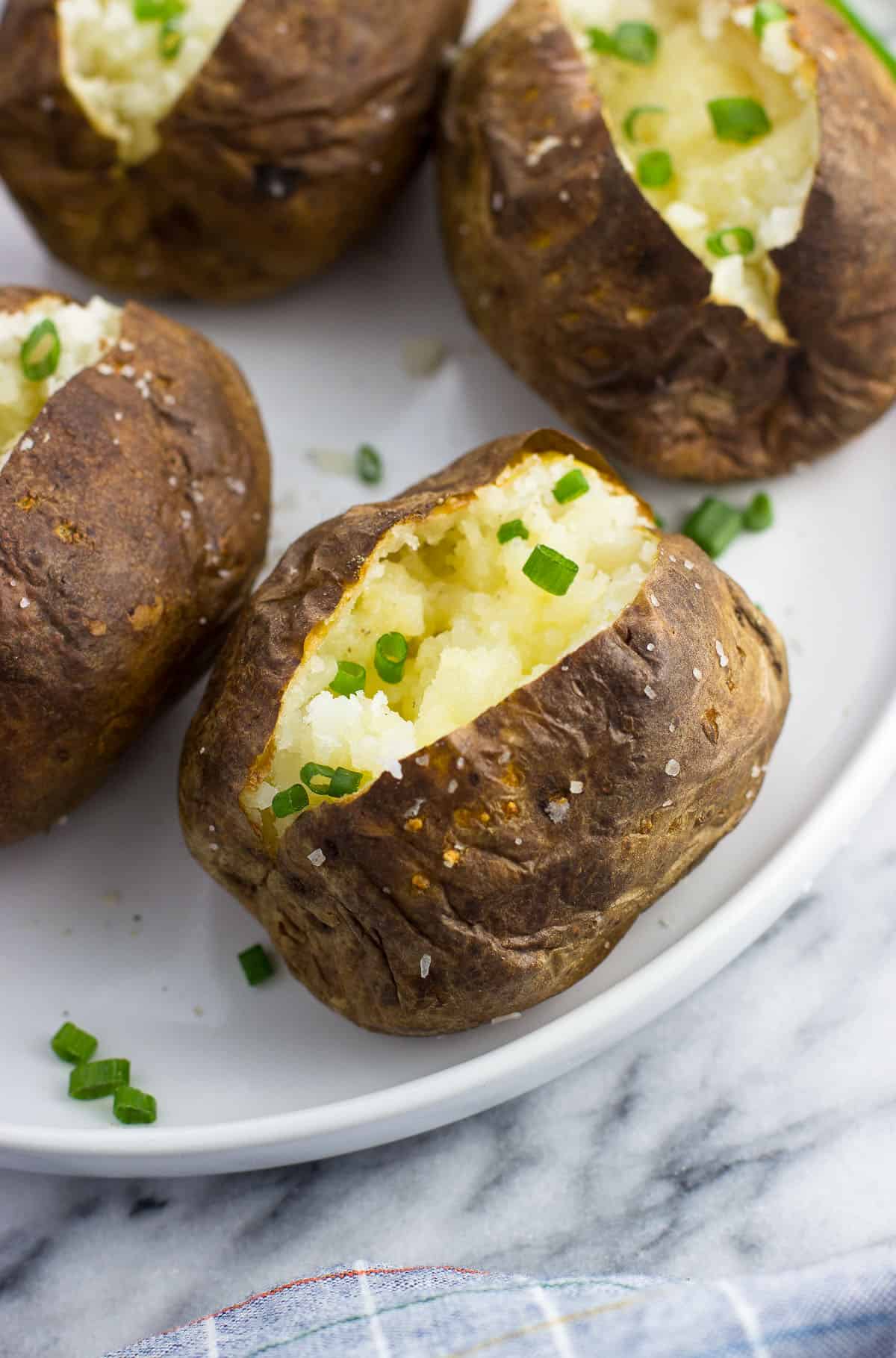 What to Eat with Baked Potatoes
More Air Fryer Recipes
If you've enjoyed this recipe, I'd love for you to leave a star rating in the recipe card and/or a comment review below!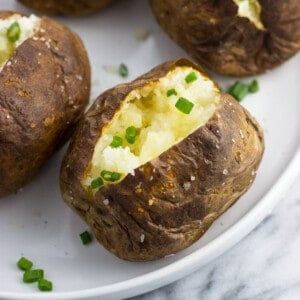 Air Fryer Baked Potato
These steps for making an air fryer baked potato couldn't be easier! The air fryer helps produce tender side dish potatoes with perfectly crisp skin, in less time than the oven.
Print
Pin
Rate
Ingredients
4

medium

russet potatoes

(see note on sizes/times)

Olive oil

for brushing

Kosher salt

to taste

Your favorite toppings

(butter, chives, sour cream, etc.)
Instructions
Scrub potatoes and pat dry. Prick potatoes 8-10 times all over with a fork.

Brush all sides of the potatoes with olive oil, then sprinkle with kosher salt.

Spray basket of air fryer with your preferred cooking spray, then evenly space potatoes on it.

Set air fryer to 375°F (191°C) and air fry for 20 minutes.

After 20 minutes, carefully flip each potato over and air fry for another 15 minutes.

Potatoes are done when the potato skin is dry and has crisped up, and the potato underneath is tender to your liking. They may require more cook time depending upon your air fryer model/preferences. I test the center of the potato with an instant-read thermometer: 210°F (99°C) is the ideal baked potato temperature for fluffiness.

Immediately serve with your desired toppings, such as butter, chives, sour cream, bacon crumbles, etc.
Notes
Potato Size: The timing for this recipe is based on using potatoes between 5.5 - 7 ounces. Timing may need to be adjusted if your potatoes are smaller/larger. I've found potatoes between 10-11 ounces requiring an extra 5-10 minutes or so, but your experience may vary. Be sure if using larger potatoes they do not come too close to the air fryer heating element. Time-Saving Instructions: You can make a baked potato in the air fryer after microwaving. Prick holes all over potatoes and microwave on full-power for 2 ½ minutes. Remove and carefully brush with olive oil (they'll be hot) and sprinkle with kosher salt. Then air fry on 375°F for 10 minutes, or until your preferred doneness. Larger potatoes may need a little extra time in the air fryer. Nutrition: Nutrition is an estimate that does not include toppings like butter, sour cream, etc.
Nutrition
Serving:
1
potato
|
Calories:
170
kcal
|
Carbohydrates:
38.5
g
|
Protein:
4.6
g
|
Fat:
0.3
g
|
Saturated Fat:
0.1
g
|
Sodium:
30
mg
|
Potassium:
888
mg
|
Fiber:
2.8
g
|
Sugar:
1.3
g
|
Calcium:
28
mg
|
Iron:
2
mg
Nutritional information is provided as an estimate. As it can vary due to many factors (brands used, quantities, etc.), we cannot guarantee its accuracy.
Food Safety and Nutrition Disclaimer