These steps for making an air fryer baked potato couldn't be easier! The air fryer helps produce fluffy side dish potatoes with perfectly crisp skin, all in less time than the oven.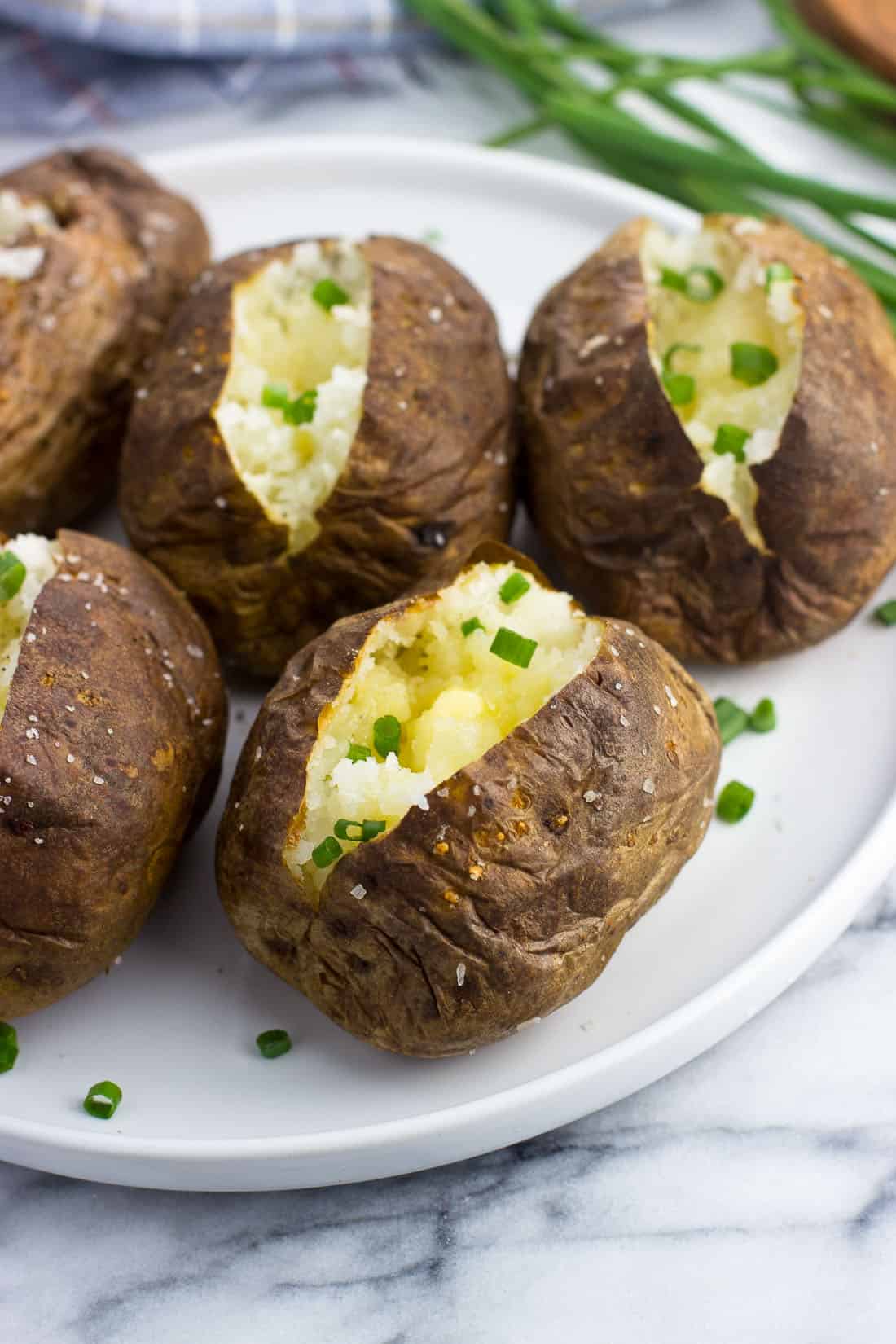 I bought an air fryer!
Not that this is anything special. I'm certainly not an early adopter by any means, and I'm sure plenty of you reading this have already taken the plunge.
But I try to *really* make sure I'll use something before bringing another small kitchen appliance into my house. We had been using the same slightly-busted, hand-me-down toaster for years, and its lever breaking off was the impetus for me to finally upgrade.
And upgrade I did.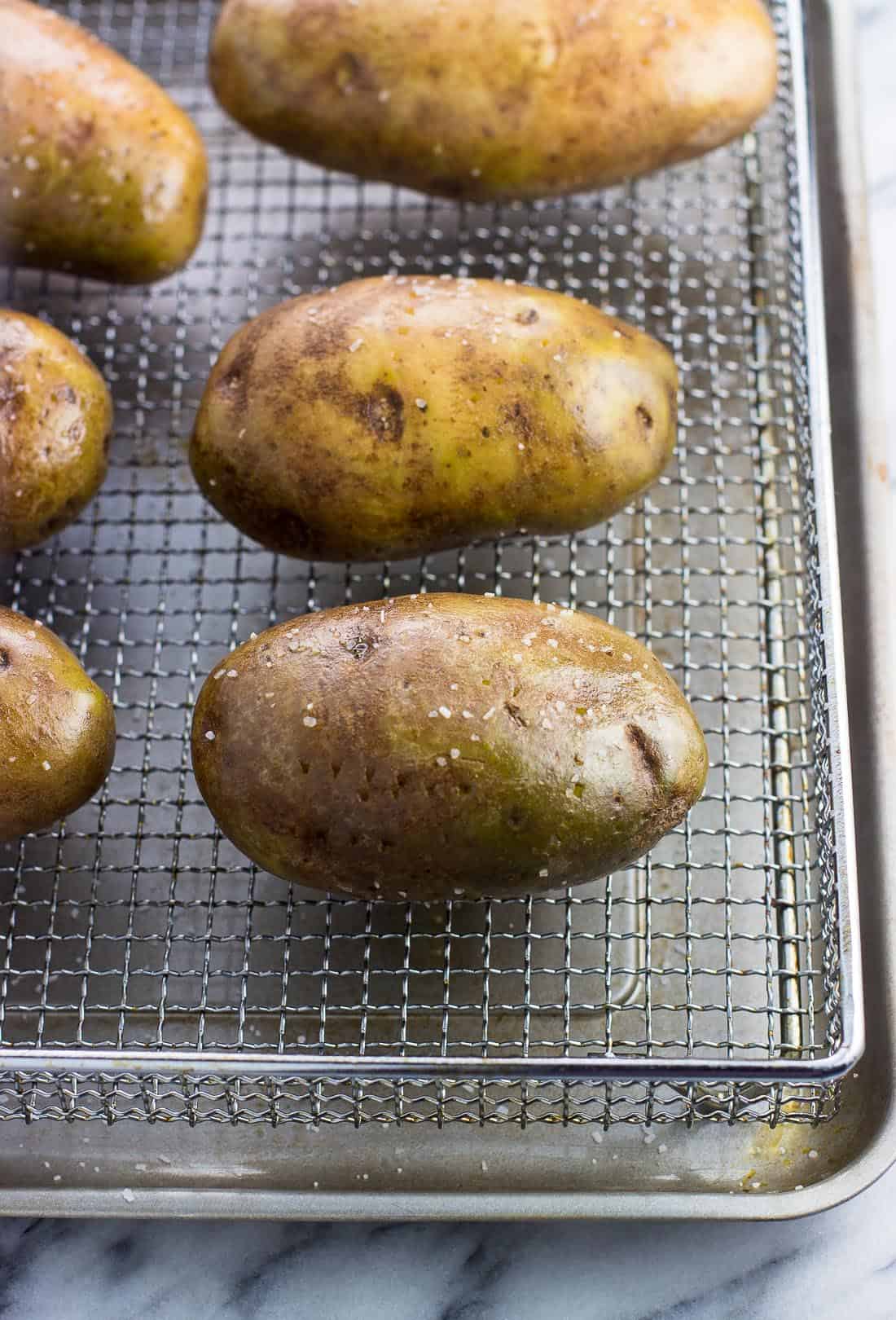 Besides moving on up to a toaster oven from a two-slice toaster, I bought an air fryer/toaster oven combo (affiliate link) that has totally become a kitchen workhorse. (I've had it for four months — wanted to really use it before posting air fryer stuff.)
While it for sure has a bigger counter footprint than my old toaster, the air fry capability (which it has in addition to toasting, baking, broiling) has been my most-used. I like that this one has a window where I can watch things cooking. And quicker and easier, more health-conscious recipes will always be a win in my book.
So let's start off with something straight-forward – an air fryer baked potato.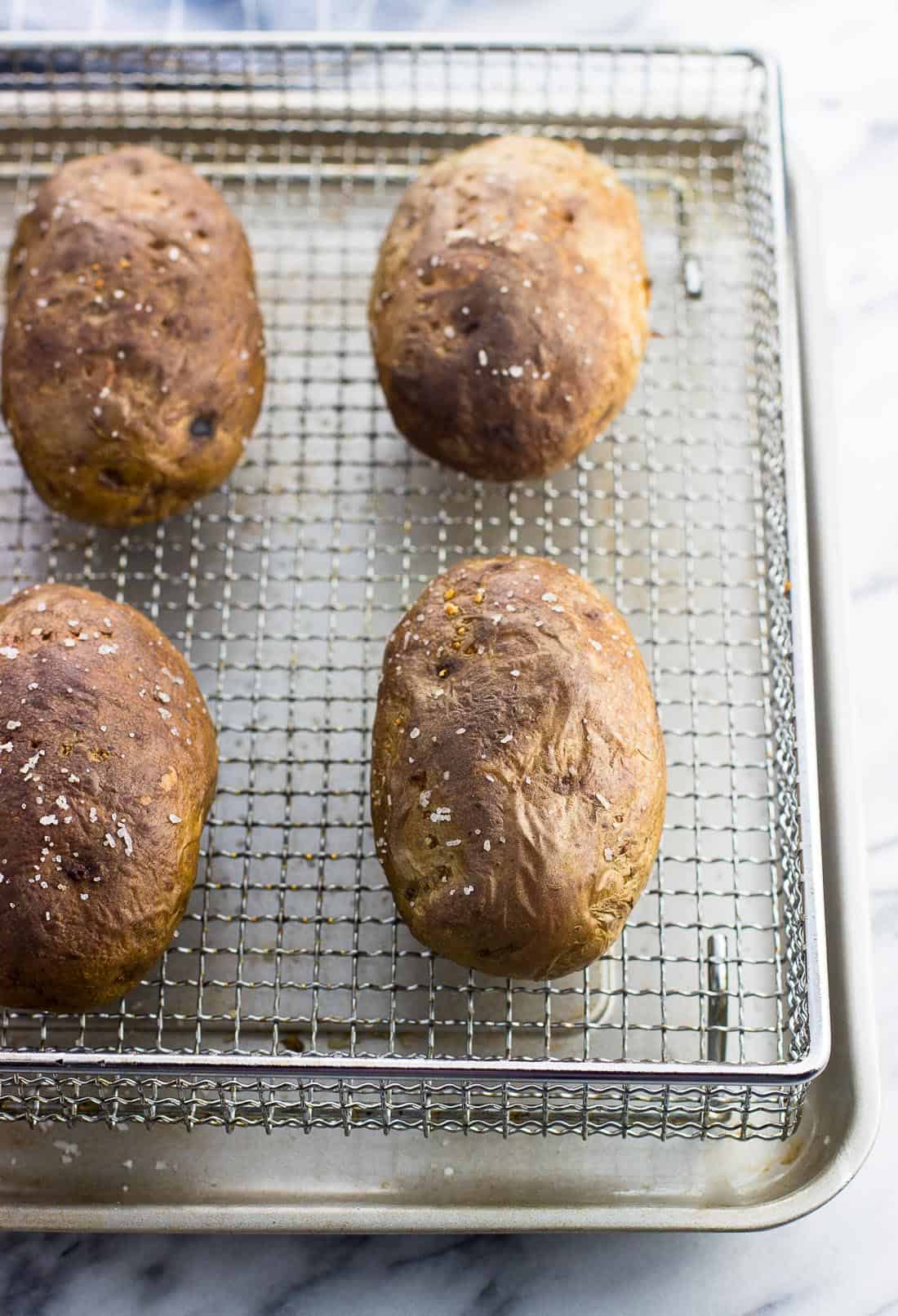 Why use the air fryer?
When it comes to baked potatoes, the air fryer is a nice middle ground between using the oven and the microwave.
While microwave baked potatoes are fast, their skin lacks a satisfying crispness. And while you get that crisp skin on a traditional baked potato made in the oven, they take quite a long time to cook.
Enter the air fryer. With air fryer baked potatoes, you get crisp, dry skin in around half the amount of cook time. All this in addition to freeing up oven space to make other parts of dinner if you need it.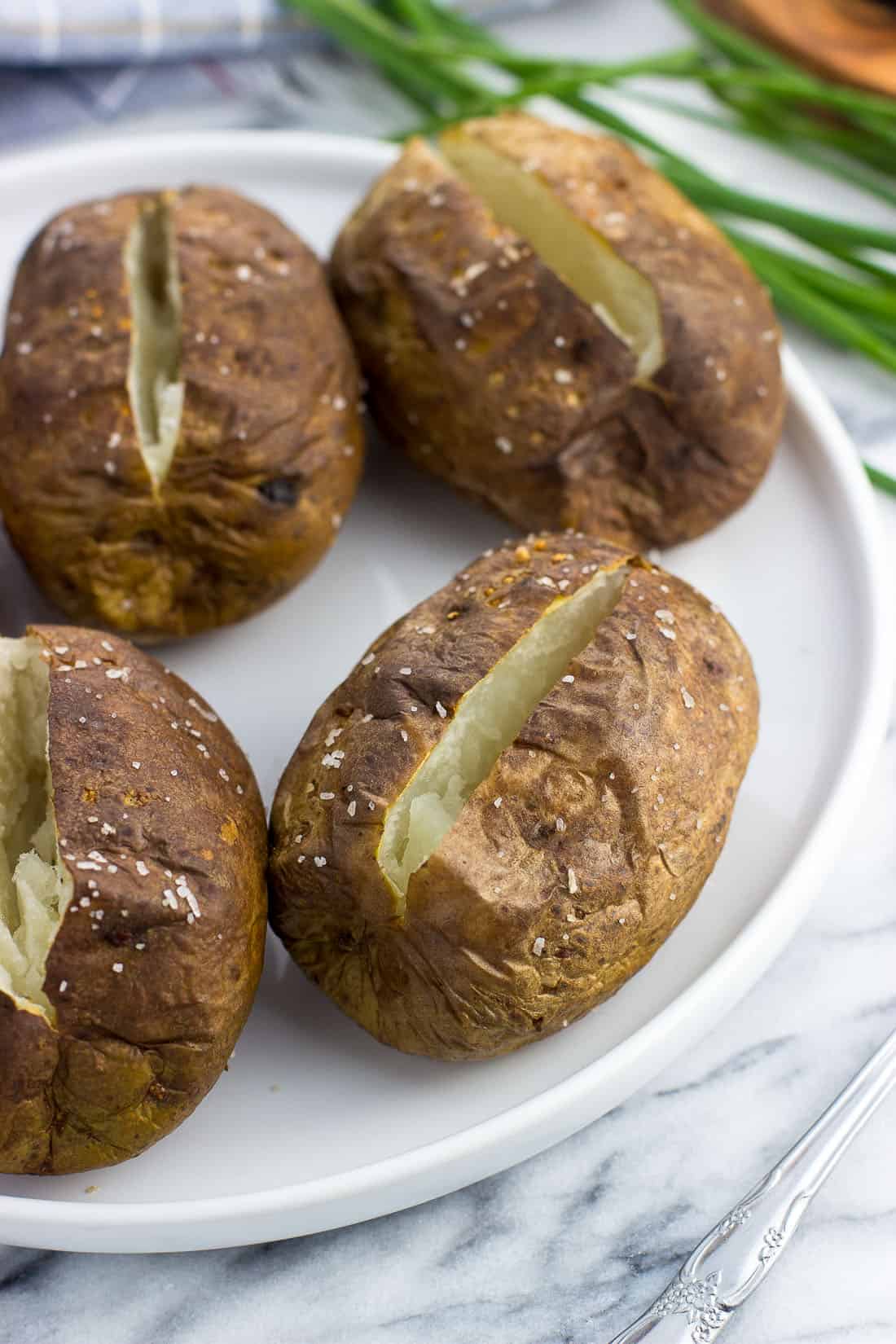 Ingredients
This one's simple! In addition to your air fryer, you'll need:
Russet potatoes
Olive oil
Salt
Butter/sour cream/chives/green onions/etc. (a.k.a. your favorite baked potato toppings)
In my experience, I've found russet potatoes in a wide variety of sizes, from tiny to massive. In order for all of your potatoes to cook in the same amount of time, I recommend picking potatoes that are as similarly-sized as you can.
The potatoes you see here are between six-ish and seven ounces each. You may need to increase the air fry cook time slightly depending on if your potatoes are bigger.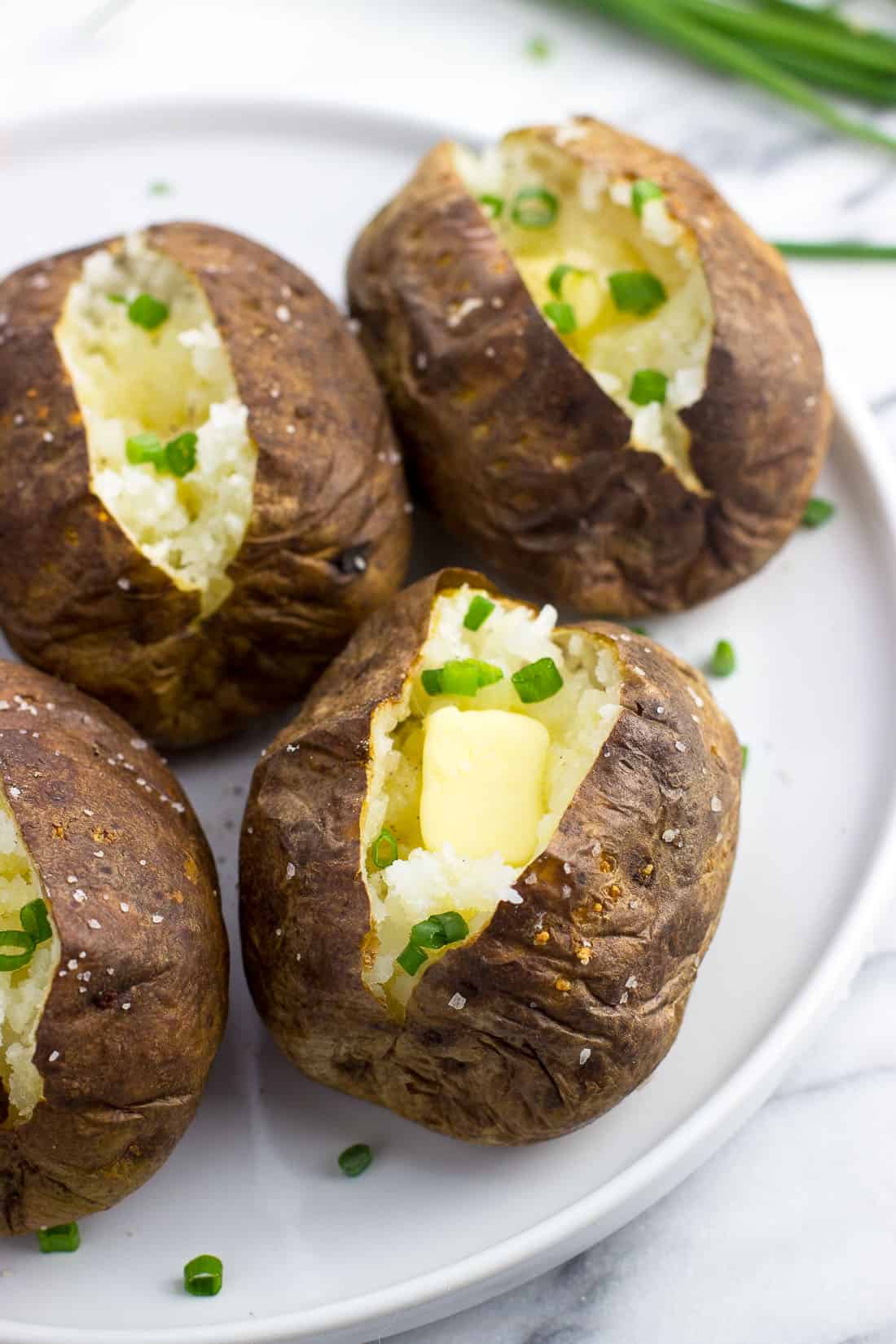 Instructions
Once your potatoes are scrubbed and dried, prick them all over with a fork. This prevents any potato 'explosions' from happening inside your air fryer.
Next brush them with olive oil (or the oil of your choice) and then sprinkle them with salt. I like to use kosher salt for this.
Now it's time for them to go into the air fryer. Depending on how your air fryer is, the brushing of olive oil on the potatoes may be enough to prevent sticking to the basket. I like to spritz the basket where the potatoes will be sitting with a little non-stick cooking spray just in case.
Then it's time to cook! I set my air fryer to 375°F and air fry for 20 minutes. Then I flip the potatoes and air fry for another 15 minutes, or until a fork or knife can easily be inserted into the potato and the skin has crisped to your liking.
Did you know, per Idaho Potato, potatoes are perfectly baked when the interior reaches 210°F? That sounds pretty finicky because it's not like we're cooking to adhere to food safety guidelines or anything. But it's super helpful if you're not a great judge of potato doneness, like me (I get impatient and sometimes take them out juuuust a little too soon).
An instant-read thermometer makes this process a breeze. No cutting into a potato and then realizing it needs a little more time. It's also especially helpful if you've got bigger potatoes and need to adjust the timing.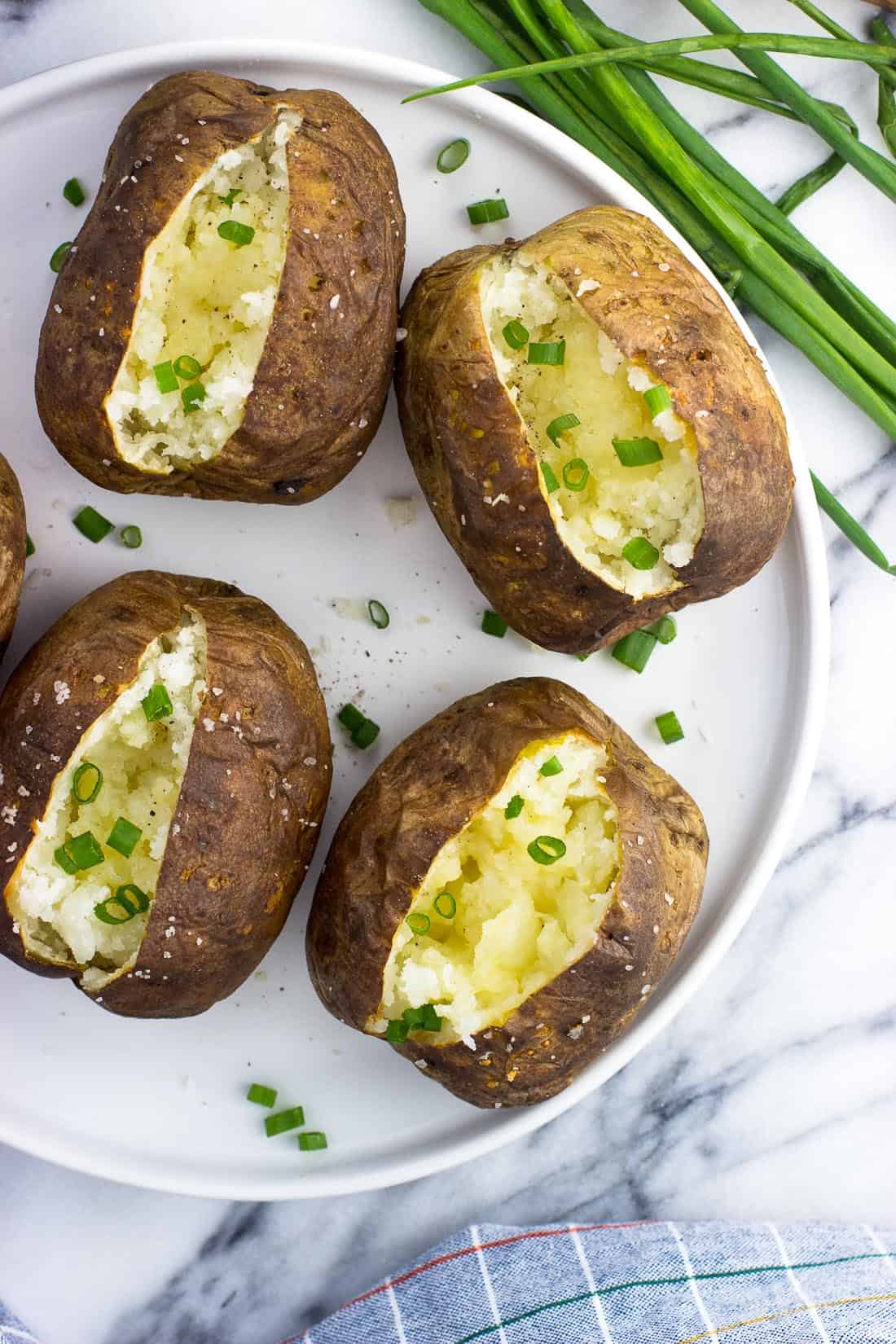 Time-saving tip
Even though making a baked potato in the air fryer saves some time when compared to the oven, it still takes around thirty-five minutes (for 6-7 ounce potatoes).
When pressed for time I like to do a mash-up technique, starting the potatoes off in the microwave and then finishing them in the air fryer. It saves a lot of time!
Start by scrubbing and drying, then pricking holes all over the potatoes. Then microwave them for two-and-a-half minutes. I picked this time since it's half the time of my microwave's automatic potato setting.
Then (carefully – they'll be hot) brush the potatoes with oil, sprinkle with salt, and air fry for around ten minutes, or until done. I don't even flip them. This way you get the speediness from the microwave, all while the potatoes develop that perfectly fluffy interior with a crisp and dry skin.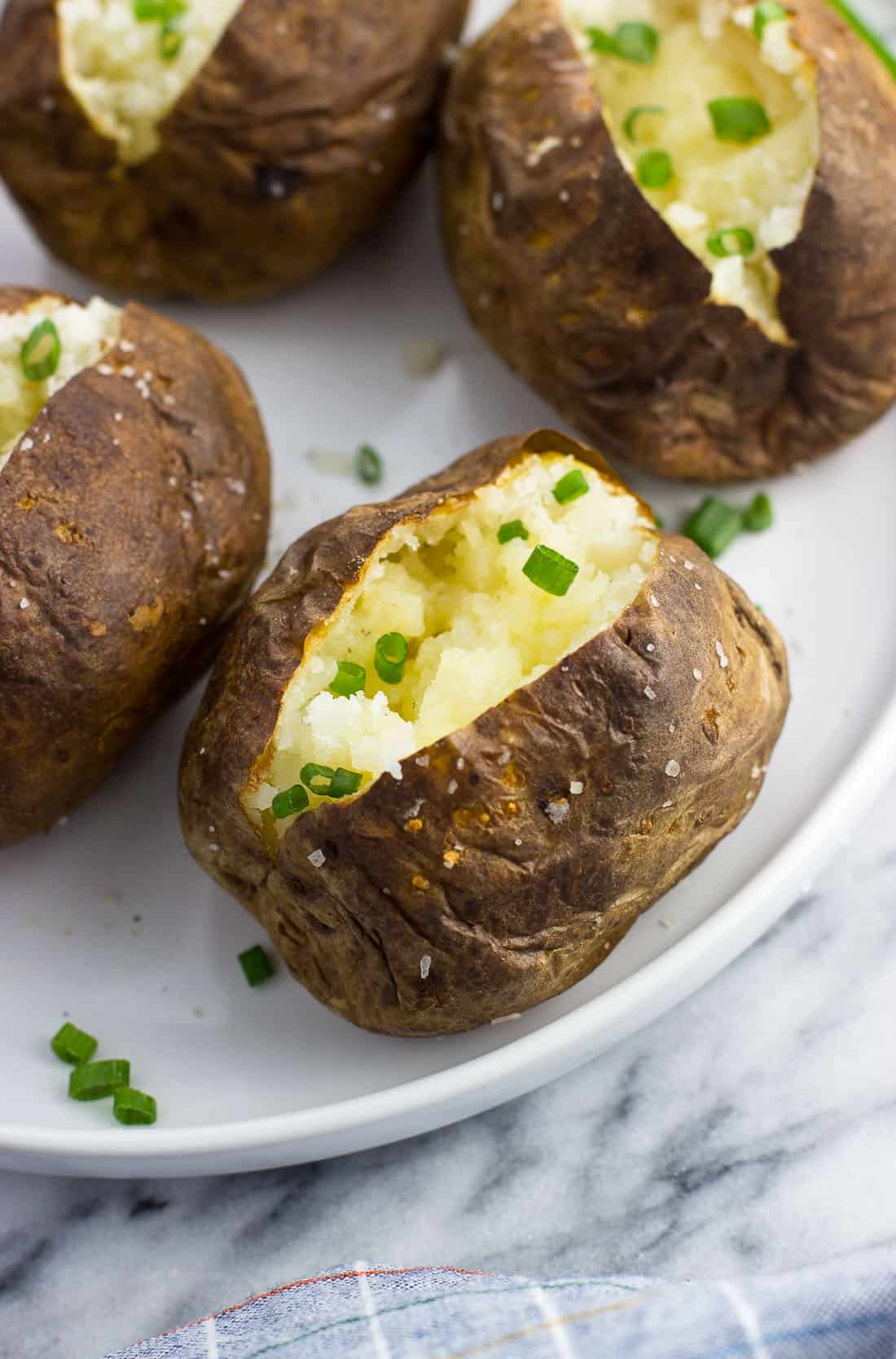 Baked potato recipe pairings
A date night at home favorite, these skillet rosemary balsamic pork chops are seriously something special. You'll want to drink that sauce (…or at least I do).
If you'd prefer to use your oven for pork chops, then these Parmesan almond crusted pork chops might be a better option. You can use any sauce you like, but I like the parsley pesto! <– Great for using up the rest of a bunch of parsley after using some of it in a recipe.
Oven baked buffalo chicken thighs are simple and straight-forward to make. Oven baking chicken thighs until crispy is great here because you won't have to worry about the baked potatoes getting in the way in the oven.
Recipe notes:
This recipe was made and tested in a air fryer/toaster oven combo. Different air fryer models may require an adjustment to the time.
As always, follow all safety guidelines for your particular air fryer model.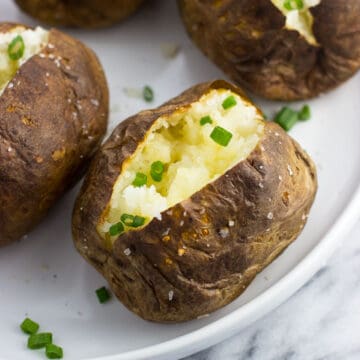 Air Fryer Baked Potato
These steps for making an air fryer baked potato couldn't be easier! The air fryer helps produce tender side dish potatoes with perfectly crisp skin, in less time than the oven.
Print
Pin
Rate
Ingredients
4

medium

russet potatoes

(see note on sizes/times)

Olive oil,

for brushing

Kosher salt,

to taste

Your favorite toppings

(butter, chives, sour cream, etc.)
Instructions
Scrub potatoes and pat dry. Prick potatoes 8-10 times all over with a fork.

Brush all sides of the potatoes with olive oil, then sprinkle with kosher salt.

Spray basket of air fryer with your preferred cooking spray, then evenly space potatoes on it.

Set air fryer to 375°F and air fry for 20 minutes.

After 20 minutes, carefully flip each potato over and air fry for another 15 minutes.

Potatoes are done when the potato skin is dry and has crisped up, and the potato underneath is tender to your liking. I test the center of the potato with an instant-read thermometer -- per Idaho Potato, 210°F is the ideal baked potato temperature!

Immediately serve with your desired toppings, such as butter, chives, sour cream, bacon crumbles, etc.
Notes
Potato size: The timing for this recipe is based on using potatoes between 5.5 oz -7 ounces. Timing may need to be adjusted if your potatoes are smaller/larger.
I've found potatoes between 10-11 oz requiring an extra 5-10 minutes or so, but your experience may vary.
Time-saving instructions: Prick holes all over potatoes and microwave on full-power for 2 1/2 minutes. Remove and carefully brush with olive oil (they'll be hot) and sprinkle with kosher salt. Then air fry on 375°F for 10 minutes, or until your preferred doneness. Larger potatoes may need a little extra time in the air fryer.
Nutrition: Nutrition is an estimate that does not include toppings like butter, sour cream, etc.
Nutrition
Serving:
1
potato
|
Calories:
178
kcal
Nutritional information is provided as an estimate. As it can vary due to many factors (brands used, quantities, etc.), we cannot guarantee its accuracy.
Food Safety and Nutrition Disclaimer