Cook up juicy and tender pork ribs in no time with this recipe for Instant Pot ribs! With a made-from-scratch classic BBQ rub and a flavorful steaming liquid made from pantry staples, this straight-forward recipe is fall-off-the-bone good.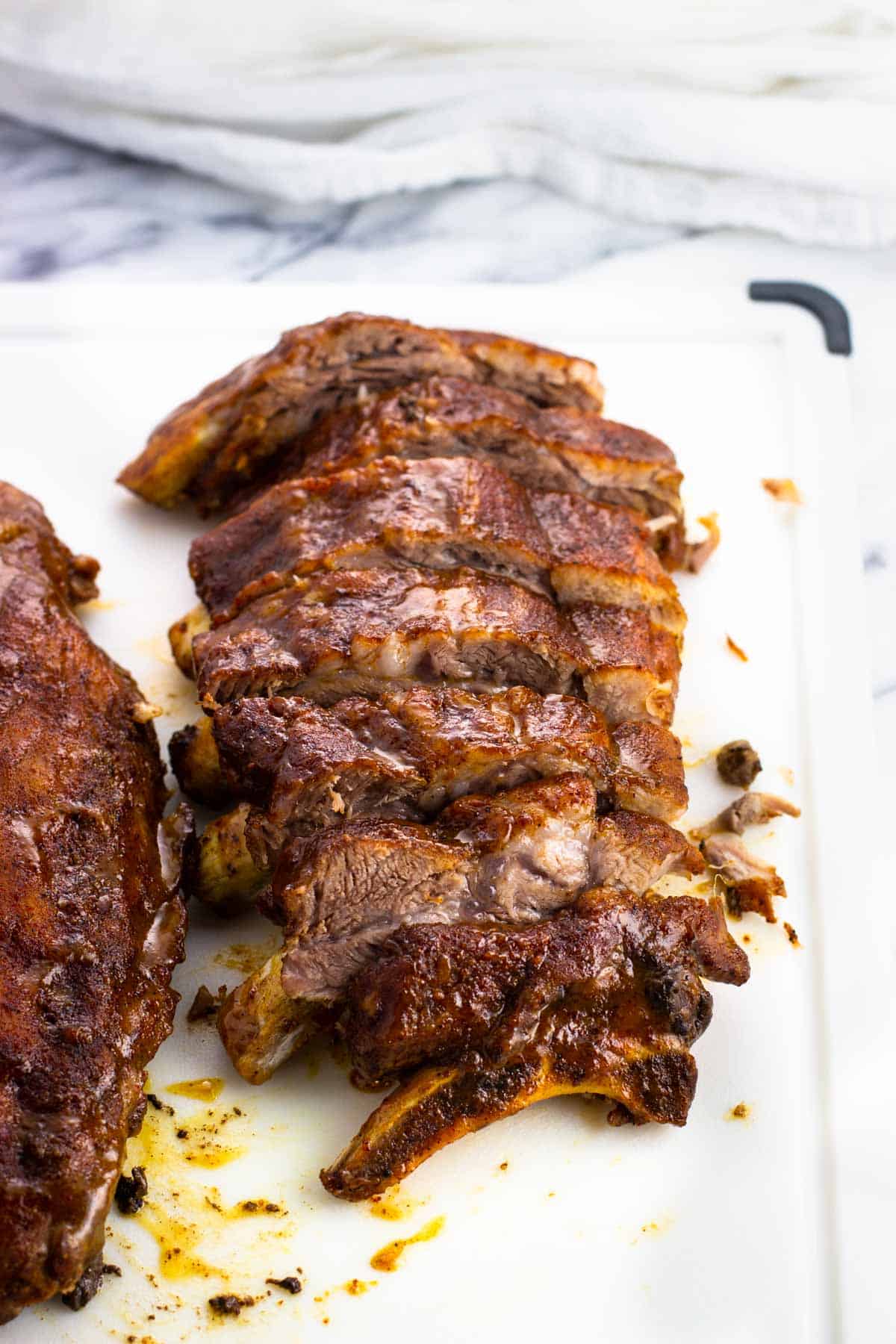 Knowing how to make QUICK, fall-off-the-bone tender ribs from scratch feels like trying to keep in a secret. Everyone should know how to do this. I don't have a smoker, and while the oven certainly does the trick, there's no getting around the fact that it takes several hours of cook time.
Enter the Instant Pot.
With just a rack of ribs, your favorite dry rub (see below for a homemade one), a few pantry staples as the steaming liquid, and the IP trivet accessory, you can have a seriously delicious BBQ dinner on the table in just about an hour.
Reasons to Love This Recipe
It bears repeating: Instant Pot ribs are weeknight appropriate. All in, including prep time, cook time, pressure release, and broil will take just over one hour.
A variation of the dry spice blend I use on slow cooker pulled pork, this straight-forward blend packs in smoky, savory, and warmly spiced flavor.
This bold steaming liquid imparts extra flavor to the ribs as they cook, with a trivet lifting them just over it so they don't sog up.
It features timing for both smaller baby back ribs and larger St. Louis/spare ribs.
Brushing the cooked ribs with your favorite BBQ sauce and popping them in the oven to briefly broil leads to delicious caramelized BBQ flavor.
Recipe Ingredients
Ribs: You'll need raw pork ribs, either labeled baby back, St. Louis, or spare ribs. One rack should easily fit circled around a six-quart Instant Pot.
Spice rub: You can use your favorite store-bought or homemade blend, but the one listed in the recipe card is what I recommend for excellent, all-purpose BBQ flavor.
Chicken broth: Liquid is necessary for the Instant Pot to function correctly (it needs steam to form for it to be able to come up to pressure and cook). Using broth in place of water adds flavor.
Apple cider vinegar: More steaming liquid flavor!
Liquid smoke: While this also boosts the flavor of the steaming liquid, it's not entirely necessary. I've made Instant Pot ribs multiple times without liquid smoke and thought they were just as good, especially if you're adding BBQ sauce at the end. If you don't have it or want to buy it, you can skip it.
Step-by-Step Ingredients
Combine all of the spice rub ingredients evenly. You'll end up with just about three tablespoons of the rub, which is a generous amount to fully cover one rack of ribs.
Next remove the membrane from the back of the ribs (detailed instructions on how to do this are listed in the recipe card). Then rub the spice blend over the full surface of the ribs.
Pour the steaming liquid ingredients into the Instant Pot and place the trivet into the bottom of it. Circle the seasoned ribs on their sides on the trivet around the edges of the pot.
Cook on high pressure for 25-30 minutes (depending on the style of ribs), then let the pressure release. While the ribs are fully cooked and ready to eat at this point, brushing them with BBQ sauce and quickly broiling them in the oven is highly recommended for the most tender, juicy, and saucy ribs.
Recipe Tips
A full rack of either baby back or the larger St. Louis/spare ribs will fit circled around a six-quart (or larger) capacity Instant Pot. They will be too big for the mini size, which is three quarts.
Feel free to cut the rack of ribs into smaller sections if needed to more easily fit them into your Instant Pot. The kind I buy are pre-cut into two half racks which works just fine.
If you don't have the accompanying Instant Pot trivet you can still make Instant Pot ribs. Just stand the ribs up as best you can, then let any excess moisture drip back into the pot before transferring the rack to a sheet pan to broil.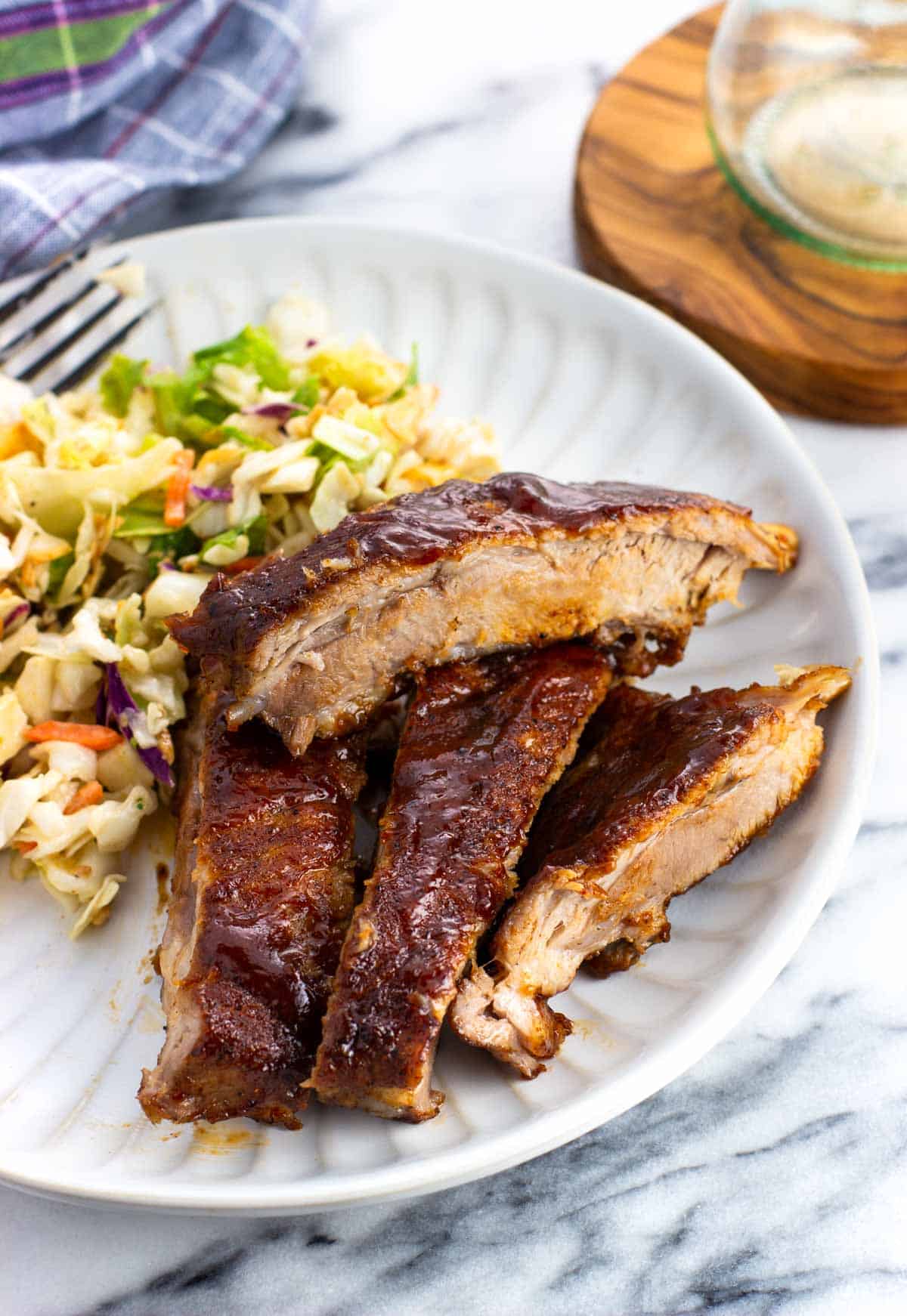 Recipe FAQs
What are St. Louis ribs?
St. Louis-style ribs are spare ribs that have had additional connective tissues trimmed away. They're still meaty with a good deal of fat, and even though they're not as a thick as untrimmed spare ribs they'll cook in the same amount of time.
What is liquid smoke?
Liquid smoke is a highly concentrated flavoring that delivers smokiness to foods that aren't or can't be smoked. While some brands include additives, liquid smoke at its most basic is comprised of two things: natural smoke flavor (made from real smoke!) and water. A little goes a long way in recipes like the steaming liquid here, but it can also benefit chilis and soups, baked beans, marinades, etc. Commonly offered in flavors like hickory, mesquite, or applewood, you can usually find liquid smoke near the BBQ sauce in the supermarket.
How many people does a rack of ribs serve?
A full rack of pork ribs will serve somewhere between 2-4 people and will contain approximately 13 ribs. For a main dish, a rack of smaller baby back ribs will feed about two people while a rack of larger St. Louis ribs will feed about three people.
How do you reheat leftover ribs?
You can place leftover, cooked ribs in a baking dish, cover with foil, and reheat in a low oven (around 300°F or so) until warmed throughout, or microwave on half-power with a damp paper towel draped over top of the ribs to help retain moisture.
Related Recipes
If you've enjoyed this recipe, I'd love for you to leave a star rating in the recipe card and/or a comment review below!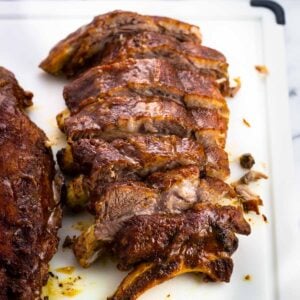 Instant Pot Ribs
Cook up juicy and tender pork ribs in no time with this recipe for Instant Pot ribs! With a made-from-scratch classic BBQ rub and a flavorful steaming liquid made from pantry staples, this straight-forward recipe is fall-off-the-bone good.
Print
Pin
Rate
Ingredients
To season:
1

Tablespoon

packed brown sugar

1 ½

teaspoons

kosher salt

1 ½

teaspoons

chili powder

1

teaspoon

garlic powder

¾

teaspoon

ground black pepper

½

teaspoon

paprika

½

teaspoon

smoked paprika

(regular fine to substitute)

¼

teaspoon

cumin

¼

teaspoon

ground cayenne pepper

⅛

teaspoon

ground cinnamon

1

rack

raw baby back or St. Louis/spare ribs

between 2.5-3 lbs in total
To cook:
1

cup

chicken broth

or water

¼

cup

apple cider vinegar

¾

teaspoon

liquid smoke

optional
Instructions
Stir together all of the seasoning rub ingredients (except the ribs) in a small bowl until evenly combined.

Remove the membrane from the ribs. Do this by laying the rack of ribs with the back, bone-y side up. Working from the corner, grab ahold of the very thin, stretchy, whiteish membrane and pull it back and away to remove it from the ribs (it'll often make a ripping noise as it separates). Discard the membrane.

Rub the seasoning over all sides of the ribs.

Add the trivet to the Instant Pot, then pour in the broth, apple cider vinegar, and liquid smoke.

Circle the seasoned ribs standing up on their sides around the Instant Pot on the trivet. It's okay if some of the ribs overlap.

Close and lock the Instant Pot lid and ensure the pressure release valve is set to "sealing". Press the "Manual" button (or "Pressure Cook" on newer models) and using the "+" or "-" buttons adjust time to 25 minutes (for baby back ribs) or 30 minutes (for St. Louis/spare ribs) of high pressure cook time.

Once the Instant Pot has finished cooking, let the pressure release naturally for 15 minutes, then carefully turn the release valve to "venting" and release the rest of the pressure (if any remains).

Remove the lid once all of the pressure has been released, then transfer the cooked ribs to foil-lined sheet pan. Baste one side of the ribs with half of the BBQ sauce, then place the pan in the oven to broil at 500°F (260°C) for 3 minutes or so. Remove the pan, carefully flip the ribs over, and brush with the remaining BBQ sauce. Broil again for 3 minutes, then slice and serve.
Notes
Ingredient Notes
Ribs: If the racks of ribs you have are smaller (1-2 pounds) you can cook multiple racks at the same time. I've cooked a little over three pounds of ribs at once and found there to be sufficient room. Just continue circling them around the Instant Pot.
Spice rub: Your favorite homemade or store-bought rub can be used. For 2.5 - 3 pounds of ribs you'll need about three tablespoons.
Liquid smoke: This adds a slight smokiness to the steaming liquid, but it's totally optional if you don't have it or want to buy it. I've made Instant Pot ribs without it multiple times and have really enjoyed them, too.
Recipe Tips
Removing the membrane: A butter knife

can help get the initial membrane corner lifted up from the rack of ribs. If you find the membrane slippery and tough to deal with, try grabbing it with a dry paper towel to help you get a better grip.

Trivet: While the trivet accessory is very helpful to lift the ribs above the cooking liquid, you can still make Instant Pot ribs by without it if you don't have one. Just circle the ribs around the IP on their sides to cook, lifting them out at the end and letting excess liquid drip off before broiling.
Reheating cooked ribs: Place ribs in a baking dish or on a sheet pan and cover with foil. Heat in a 300°F oven until warmed throughout. You can also microwave them on half-power, draping them with a moistened paper towel to prevent them from drying out.
Serving Size: If serving Instant Pot ribs as a main dish, one rack of baby back ribs will serve 2-3 people, while a rack of St. Louis/spare ribs will serve 3-4.
Inactive Time: This is an estimate of 10 minutes for the Instant Pot to come up to pressure and 15 minutes of naturally letting the pressure release.
Nutrition
Calories:
562
kcal
|
Carbohydrates:
13.8
g
|
Protein:
50.4
g
|
Fat:
32.8
g
|
Saturated Fat:
12.5
g
|
Cholesterol:
113
mg
|
Potassium:
46
mg
|
Fiber:
0.6
g
|
Sugar:
11.4
g
|
Calcium:
12
mg
|
Iron:
2
mg
Nutritional information is provided as an estimate. As it can vary due to many factors (brands used, quantities, etc.), we cannot guarantee its accuracy.
Food Safety and Nutrition Disclaimer