Sautéed peppers and fluffy eggs are cooked in plenty of olive oil, combined with Italian cheeses, and piled onto crusty bread in this quick, no-frills sandwich. This vegetarian meal is packed with flavor and fits the bill for breakfast, lunch, or dinner!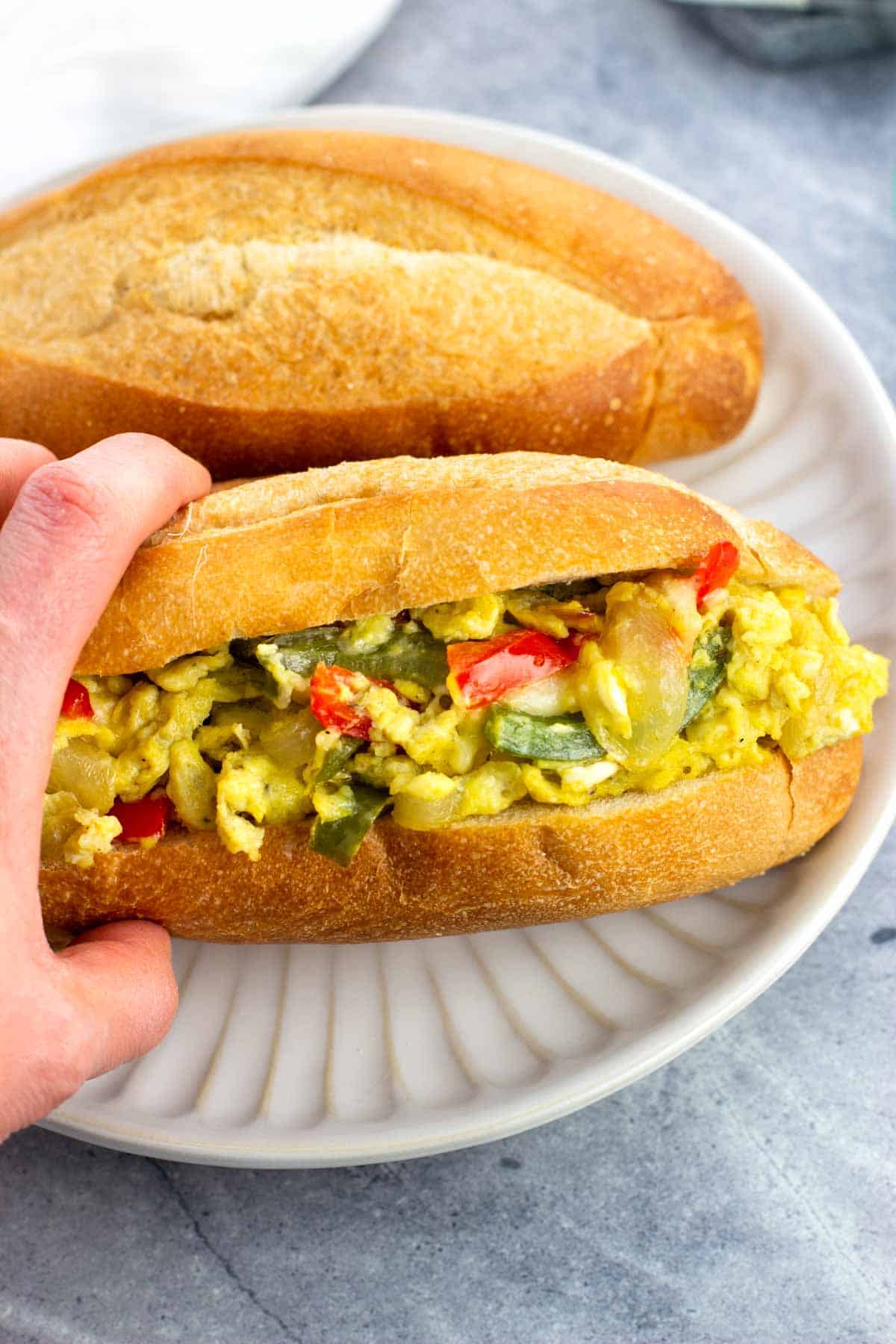 The pepper and egg sandwich holds a special place in my collective family's memories. When my mom was a kid, if she woke up and smelled peppers and eggs cooking, she knew they were going to the beach. Wrap these sandwiches in foil and my grandma considered it the perfect lunch to pack for a busy day outdoors.
I like to make them as a filling vegetarian dinner -- beach trip not required.
Reasons to Love This Recipe
This dish is quick! It can be on the table in under 30 minutes.
A pepper and egg sandwich is a vegetarian meal with heft, making it a great option for Meatless Monday or Fridays during Lent.
The eggs cook in the same olive oil that sautéed the peppers, onion, and garlic for maximum flavor from simple ingredients.
Not making four sandwiches at once? The leftover scrambled egg and pepper mixture heats up so nicely the next day for more sandwiches later - or to eat just on its own.
Recipe Ingredients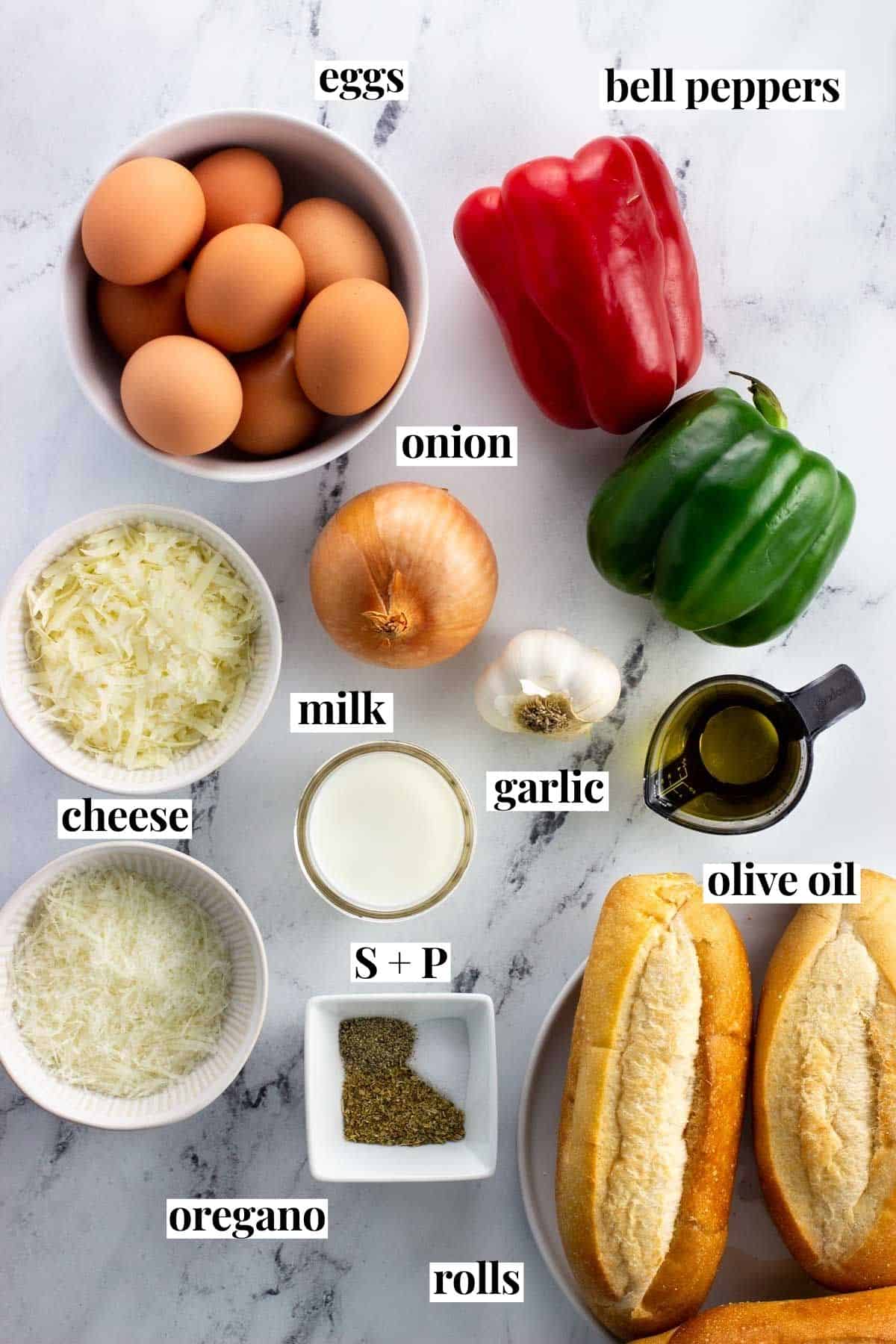 Peppers: Two bell peppers are all you need. Ideally one red and one green are used, but that's just for presentation. Two of either are fine. Sometimes more specialty peppers like Cubanelle (Italian frying peppers, not spicy) are used in recipes like this, and will also work if you can find them. On occasions I can get fresh ones I love to make stuffed cubanelle peppers!
Eggs: Like pizza rustica, this recipe will clear out your egg carton. Though with four servings, each sandwich shakes out to about two eggs per serving.
Milk: Just a little bit to help the eggs scramble up fluffy.
Olive oil: Olive oil does it all here, from softening the vegetables perfectly to cooking the eggs to soaking into the bread just right to where you don't even need a spread like mayo. We want olive oil's delicious flavor, so don't substitute in a neutral-flavored oil.
Cheese: There's wiggle room here but I love a mix of two: Pecorino Romano and provolone. Parmesan and/or mozzarella are also great options.
Bread: Use your favorite crusty roll from the bakery, such as a longer hoagie roll like these or round Kaiser rolls.
Step-by-Step Instructions
If your rolls are just bakery fresh you can skip this step, but if not, wrap roll in foil and bake for 10-15 minutes, or until warmed. This brings back that "just-baked" softness and freshness.
Prep your ingredients as this recipe moves pretty quickly. Slice the peppers and onion into 1 ½-inch strips and mince the garlic.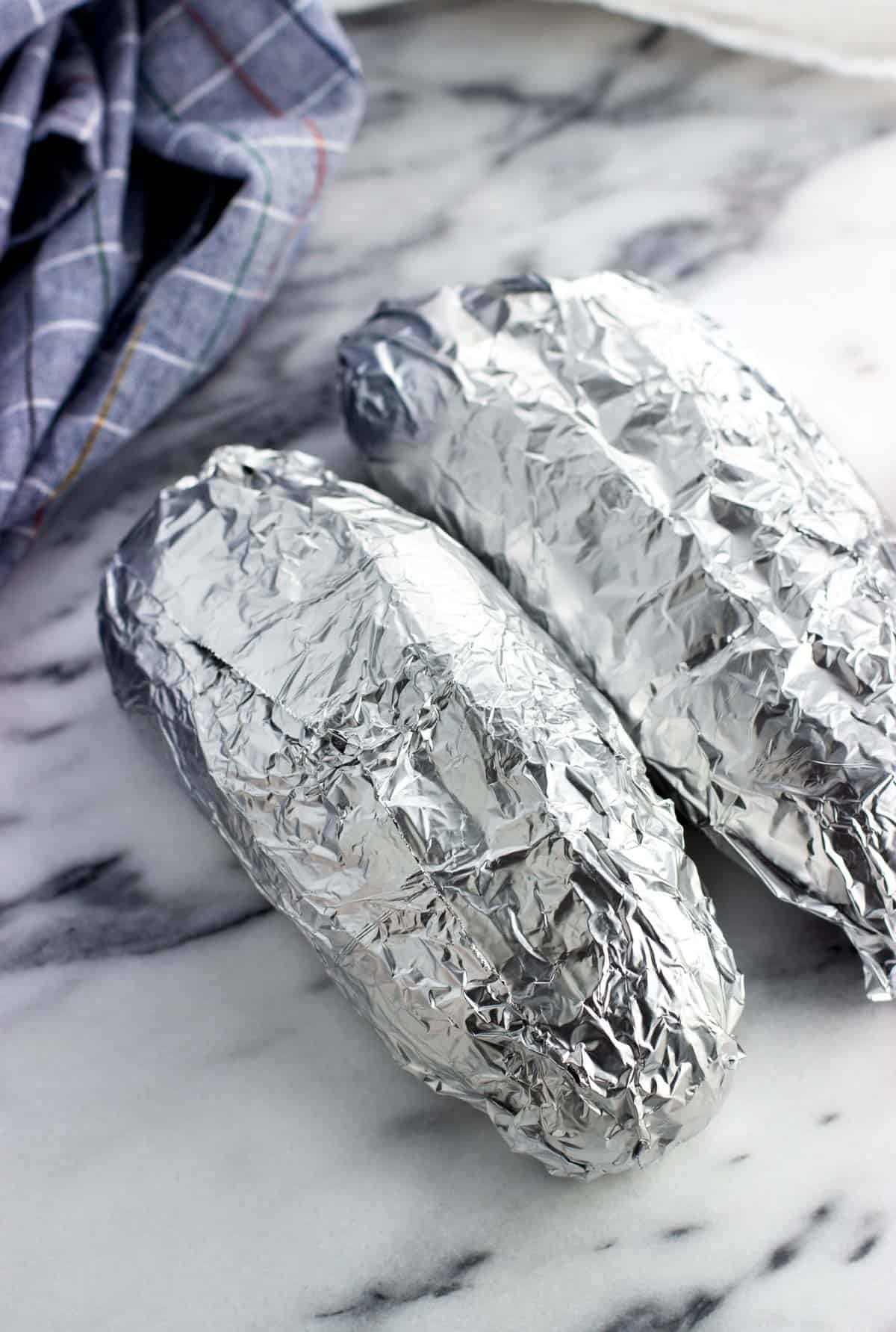 Whisk together the eggs, milk, oregano, and a portion of the salt and pepper.
Heat the olive oil in a large pan, then saute the peppers and onion until softened. Add the garlic during the last minute of cook time and season with the remaining salt and pepper.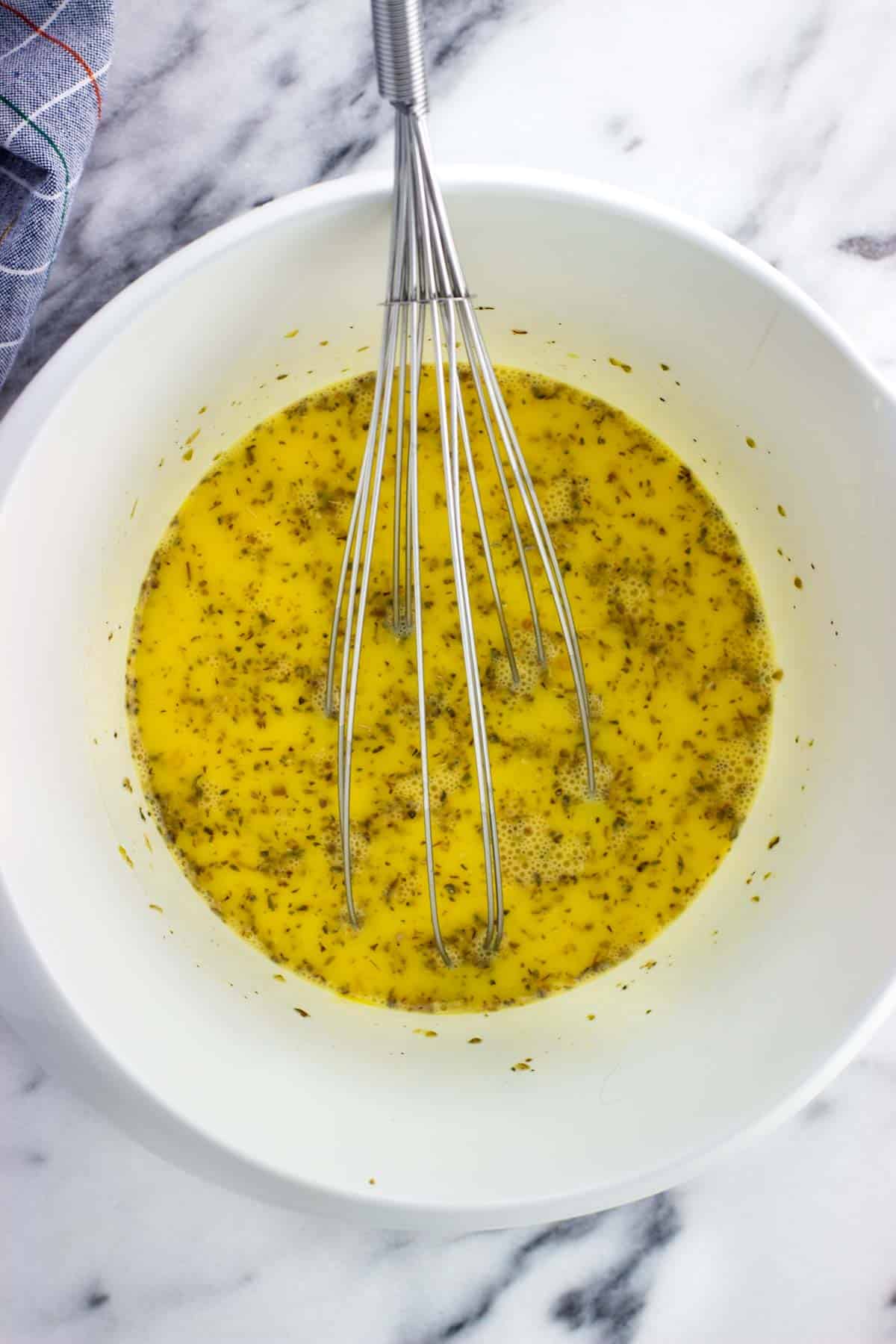 Pour the egg mixture into the pan. Scramble the peppers and eggs together, then fold in the cheeses once the eggs are mostly set. Divide the pepper and egg sandwich filling between the rolls once the eggs are set and scrambled, then serve.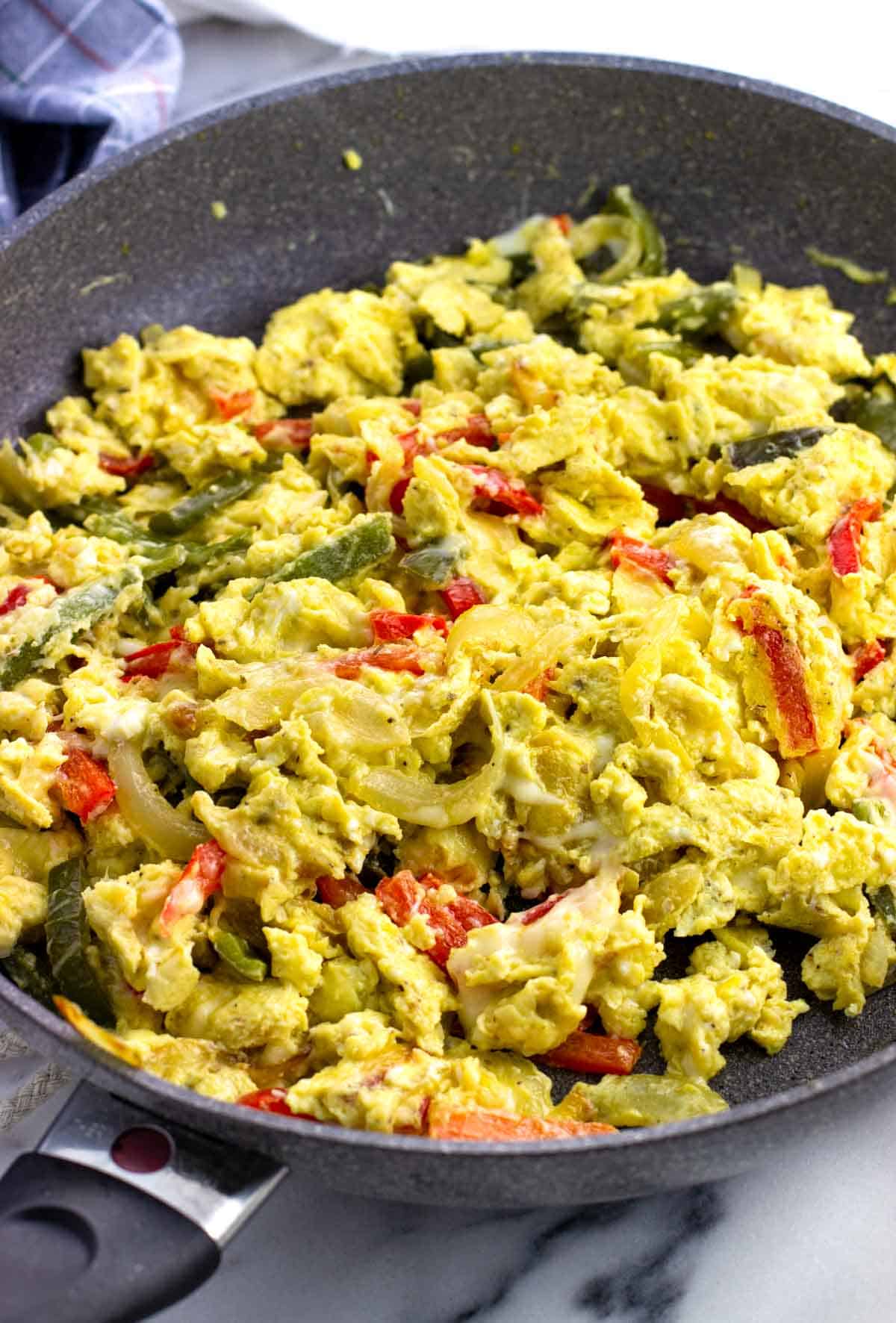 Recipe Tips and Tricks
Because the filling of a pepper and egg sandwich is soft, it's easier and less messy to serve it on softened rolls (such as with the bakery-refresh oven method detailed in the recipe card) versus grilled or toasted bread.
While you can add sliced cheese to the sandwich rolls for serving, I prefer shredding/grating the cheeses and folding them into the scrambled egg mixture. This also yields a less messy sandwich by helping to hold the peppers, onions, and scrambled egg filling together.
It's recommended to use a well-seasoned or high-quality non-stick pan here, as the vegetables saute for about 10 minutes before scrambling the eggs. I bought this 10" and 12" Ballarini nonstick fry pan set (Amazon affiliate link) months ago and have been really impressed with them. No sticking, even with fairly heavy use.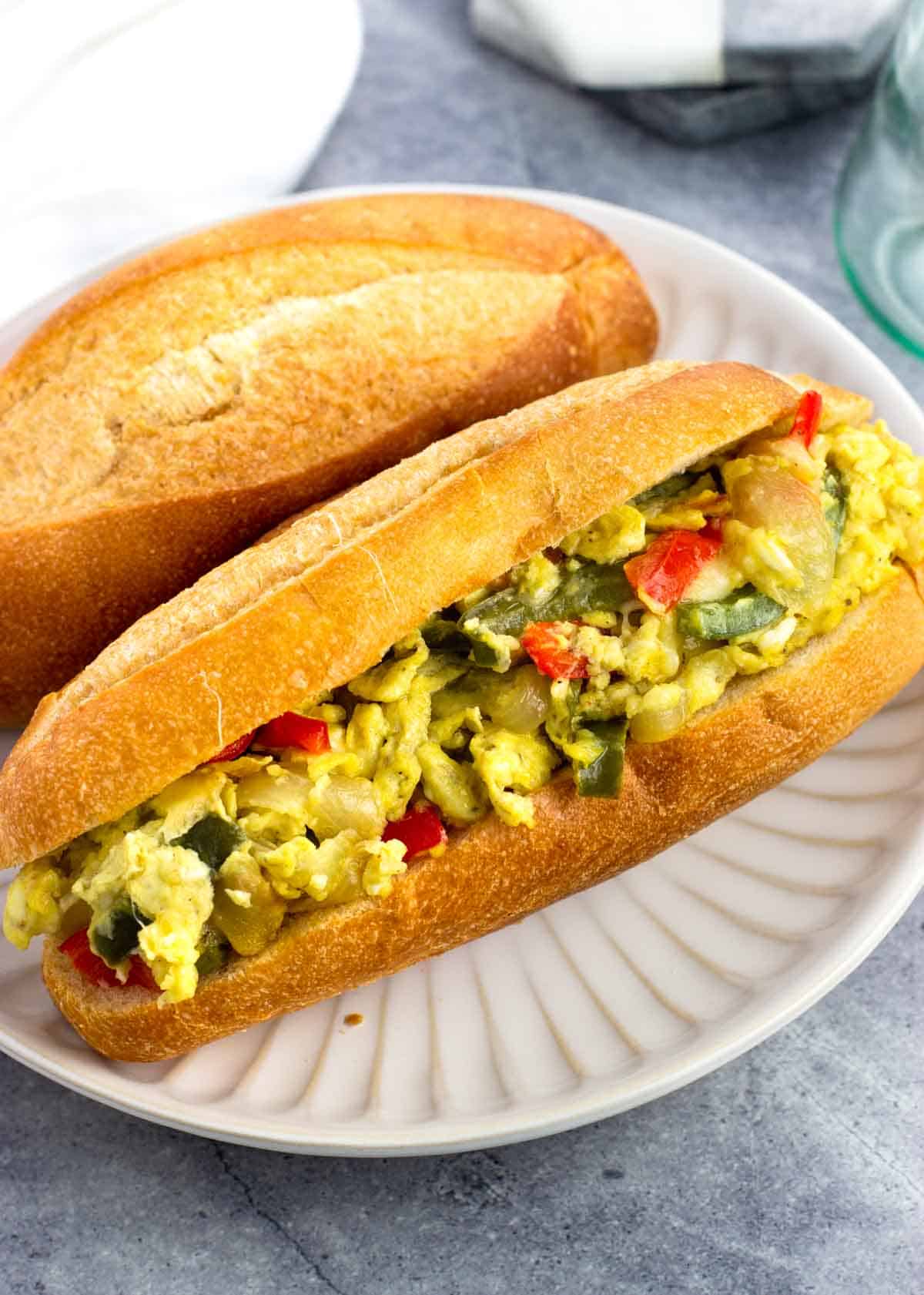 Recipe FAQs
Where did the pepper and egg sandwich originate?
The pepper and egg sandwich in this form is thought to originate in Chicago, though my knowledge of it is from Italian Americans in New York (a.k.a. my family). As Italian Americans have often identified as Catholic, this sandwich became a popular choice through the years as a delicious meat-free meal to eat on Fridays during Lent.
How can I switch this recipe up?
For a spicier take, you can add a hotter pepper to the bell peppers when sautéing (Cubanelle, jalapeno, etc.), add crushed red pepper while the peppers are cooking, or serve the sandwiches with your favorite hot sauce. And while this may be divisive, ketchup *can* be squeezed over the sandwich for serving if you like ketchup and eggs together.
How do you best prepare leftovers?
If not eating four sandwiches right away, store the pepper and egg filling separately from the bread and refrigerate. Then heat the leftover eggs separately (I use short bursts in the microwave) and warm up the rolls in the oven. Form sandwiches once heated.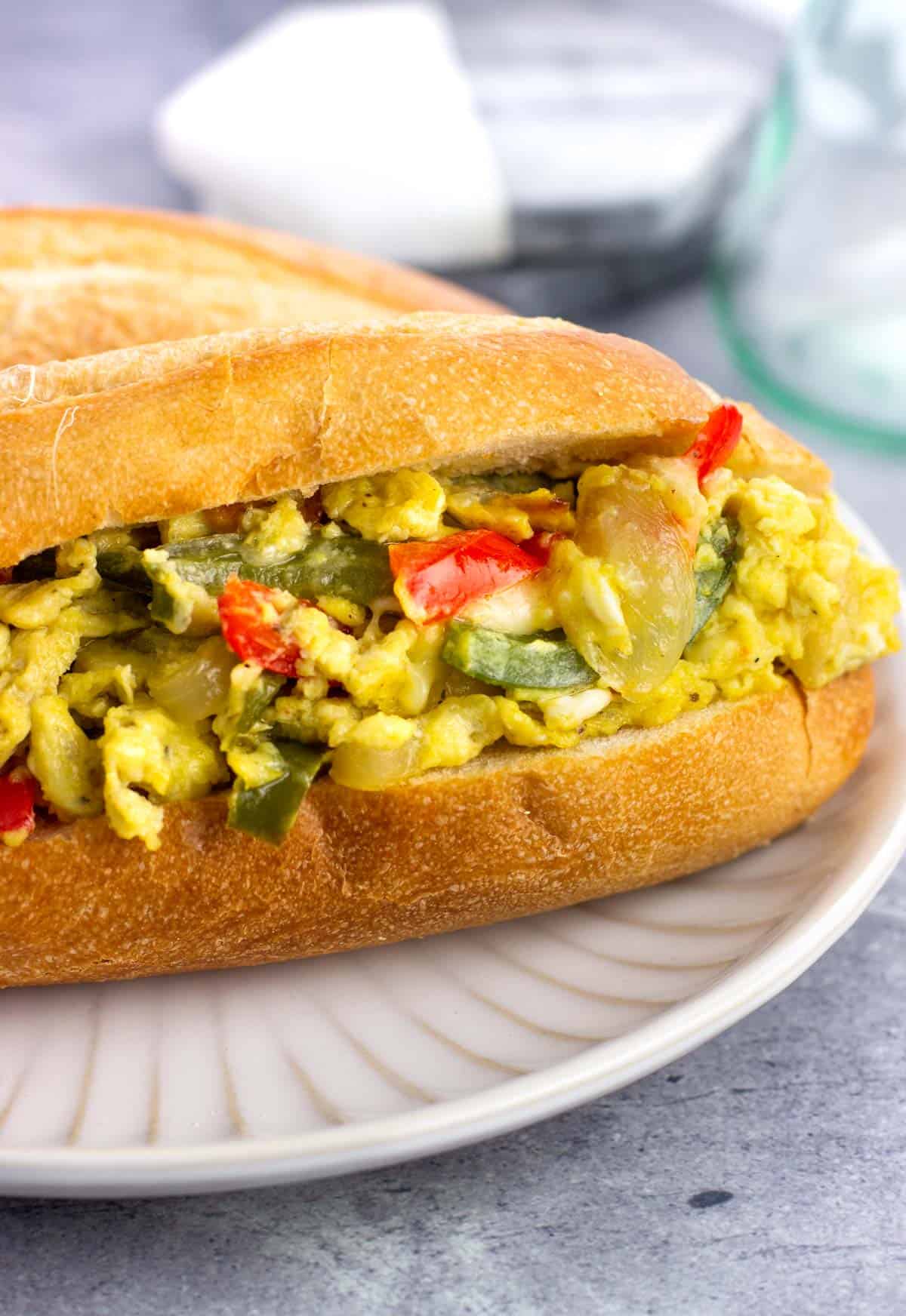 Related Recipes
If you've enjoyed this recipe, I'd love for you to leave a star rating in the recipe card and/or a comment review below!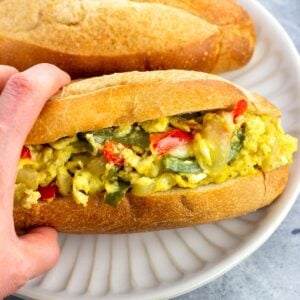 Pepper and Egg Sandwich
Sautéed peppers and fluffy eggs are cooked in plenty of olive oil, combined with Italian cheeses, and piled onto crusty bread in this quick, no-frills sandwich. This vegetarian meal is packed with flavor and fits the bill for breakfast, lunch, or dinner!
Print
Pin
Rate
Ingredients
4

crusty rolls

hoagie/hero or Kaiser

8

large

eggs

5

Tablespoons (75 ml)

milk

(I use 2%)

¾

teaspoon

dried oregano

½

teaspoon

salt

divided

½

teaspoon

ground black pepper

divided

6

Tablespoons (90 ml)

olive oil

1

medium

red bell pepper

1

medium

green bell pepper

1

medium

onion

sliced

6

cloves

garlic

finely minced/pressed

½

cup (57g)

shredded mozzarella

or chopped up provolone

⅓

cup (19g)

grated Pecorino Romano

or Parmesan
Instructions
Preheat oven to 350°F (177°C). Wrap each of the rolls in aluminum foil and place on a rack in the center of the oven. Heat for 10-15 minutes, or until the rolls are warmed throughout and have that freshly-baked smell. Take them out and set them aside once done if still preparing the filling.

Slice off the very top of each pepper and remove the seeds and pith. Slice the peppers into thin strips about 1 ½-inches tall. Slice the onion into strips around the same size.

Crack the eggs into a mixing bowl, then whisk in the milk. Whisk in the oregano and ¼-teaspoon each of salt and pepper. Set this bowl aside for now.

Add the olive oil to a large non-stick pan set over medium heat. Once heated, add the red and green peppers and onions. Saute until the pepper strips have softened but are not mushy, around 10-11 minutes. You may need to adjust the heat lower, if needed, so that the peppers and onions can adequately soften without browning too quickly. Add the garlic and cook for an additional minute, then season with the remaining ¼ teaspoon each of salt and pepper.

Bring the heat to medium and pour the beaten egg mixture into the hot pan over the peppers and onions. Let it sit undisturbed for 45 seconds, then run a spatula under the mixture from the outside of the pan in toward the center, repeating all the way around. Continue to scramble, breaking up the mixture into smaller pieces and turning them over, until cooked fully.

Just when the eggs are scrambled, fold in the shredded cheeses for 30 seconds to 1 minute, or until melted and combined. Season to taste with additional salt and pepper, if desired.

Cut each roll nearly in half lengthwise (careful if they're hot), leaving a small bit attached to make it less messy to eat. Fill the rolls with the pepper and egg mixture and serve.
Notes
Recipe Notes
Milk: You can use your preferred milk variety to give the scrambled eggs a fluffy boost.
Olive oil: This brings such a great flavor for sautéing the vegetables, cooking the eggs, and sinking slightly into the bakery rolls. I wouldn't substitute in a different oil.
Cheese: I've made this pepper and egg sandwich recipe with all combinations of the mentioned cheeses. It's all good - just go with your personal preference. Smoked mozzarella would also be a nice cheese to use if you like those flavors.
Recipe Tips
Heating foil-wrapped bread in the oven softens it vs. toughening up the crust. We want a fairly soft, warm roll for these sandwiches to make them easier to eat.
To prevent the eggs from sticking to the pan (especially after sautéing vegetables), I recommend using a high-quality non-stick pan or an otherwise very well-seasoned one.
Variation: For a spicier twist, you can add a hotter pepper in with the bell peppers while cooking, add crushed red pepper to taste if desired, or serve with a dash or two of hot sauce.
Storage Instructions: Refrigerate leftover scrambled peppers and eggs separately (don't assemble sandwiches). Then heat the eggs and rolls separately and combine just prior to eating. The pepper and eggs mixture is also delicious eaten on its own.
Nutrition
Serving:
1
sandwich
|
Calories:
610
kcal
Nutritional information is provided as an estimate. As it can vary due to many factors (brands used, quantities, etc.), we cannot guarantee its accuracy.
Food Safety and Nutrition Disclaimer