These stuffed Cubanelle peppers are filled to the brim with sausage, farro, and lots of Italian flavors for an incredibly satisfying dinner. This recipe has several shortcuts built in for convenience.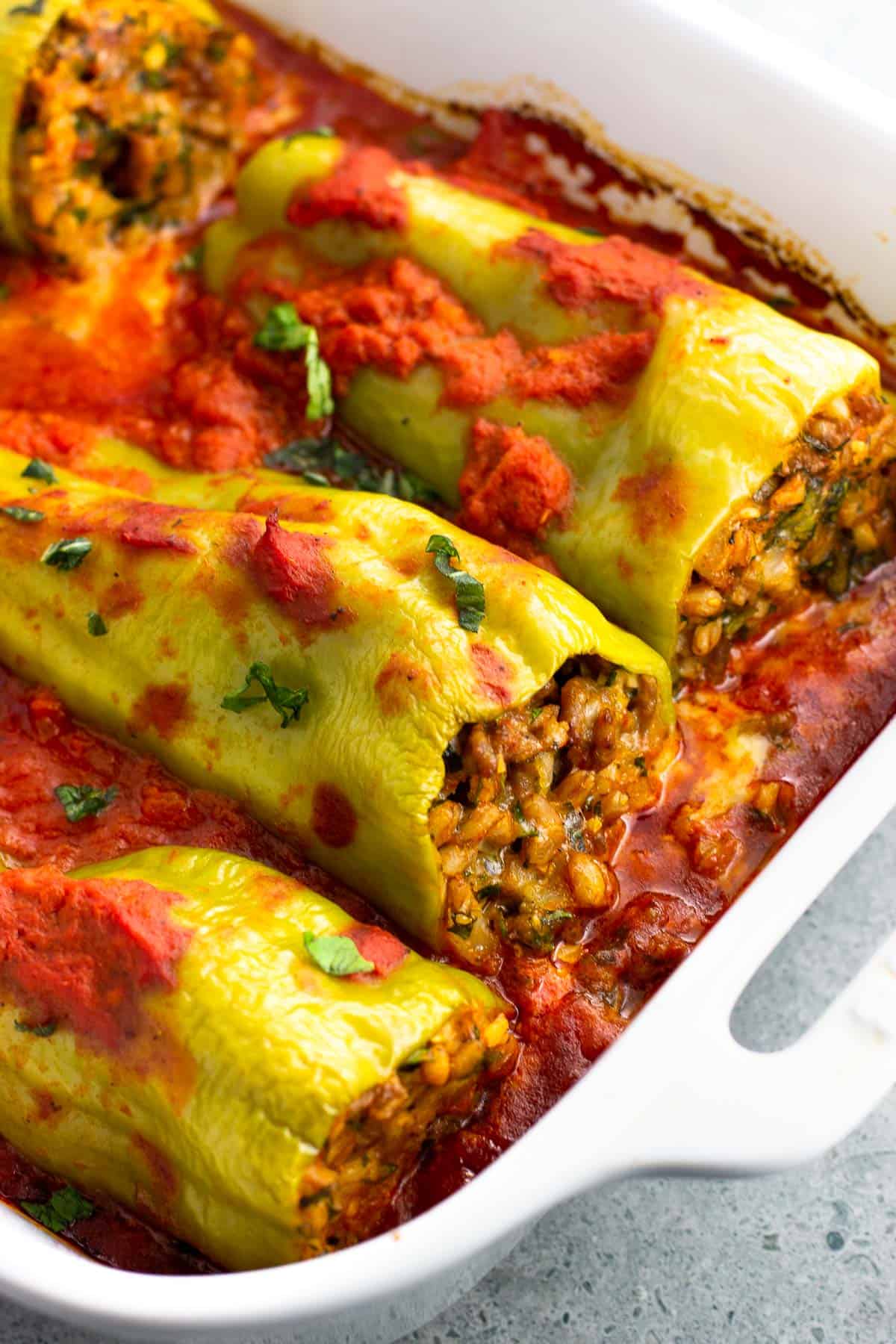 Farro has been having an extended moment in my house. A good replacement for rice (most of the time), its nutty flavor and chewy texture adds a little something special to a lot of recipes - especially farrotto.
Needless to say it was an obvious choice when I wanted to put a spin on a classic and make Italian stuffed peppers.
In honor of a local store starting to stock Cubanelle peppers (I've been using bell peppers for all of our pepper and egg sandwiches), I stuffed them with cooked farro, Italian sausage, two cheeses, herbs, and more for a seriously tasty main dish.
Reasons to Love This Recipe
Farro is larger than rice, and its shape blends in really well with the size of the sausage crumbles for a very cohesive filling.
Leftover stuffed Cubanelle peppers hold their shape and heat up well to make the BEST next-day lunch.
Mixing one egg into the farro, sausage, and other filling ingredients helps everything stay perfectly moist while baking.
Grating sharp Provolone in place of the perhaps more obvious mozzarella adds a delicious burst of flavor.
Recipe Ingredients
Cubanelle Peppers: Also known as "Italian frying peppers", Cubanelles are very mild and can feature a curve in its shape. They have a thinner skin and are frequently lightish yellow/green in color. If left to ripen longer Cubanelles will turn red, but I've only ever seen the lesser ripe light green ones in stores.
Farro: This ancient grain blends in so well with the sausage crumbles. It's chewy, a bit nutty, and a good source of fiber and other nutrients. For easy (read: no) prep, choose a pearled or semi-pearled variety.
Sausage: Choose your favorite variety of Italian sausage: sweet, mild, or hot. The sausage is cooked before stuffing the peppers.
Parmesan: or Pecorino Romano. For the best flavor I always recommend grating your own, but the pre-grated varieties found in the refrigerated deli section are a good option, too.
Provolone: I first tested these stuffed Cubanelle peppers with mozzarella, and while that's totally fine, we loved the extra flavor sharp Provolone brings. That said, you can use mozzarella if you like.
Marinara: Use homemade or your favorite store-bought variety.
Egg: This helps prevent the filling from drying out during the longer bake time.
Basil: Fresh basil really steps up the filling. Chiffonading basil and then chopping it further is the most efficient way to yield small bits.
Step-by-Step Instructions
Cook the Farro - Follow the package directions (I omit salt). Rinse with cool water, then boil for 30-35 minutes or until tender. Drain and set aside.
Cook the Sausage - Cook and crumble ground Italian sausage until fully cooked.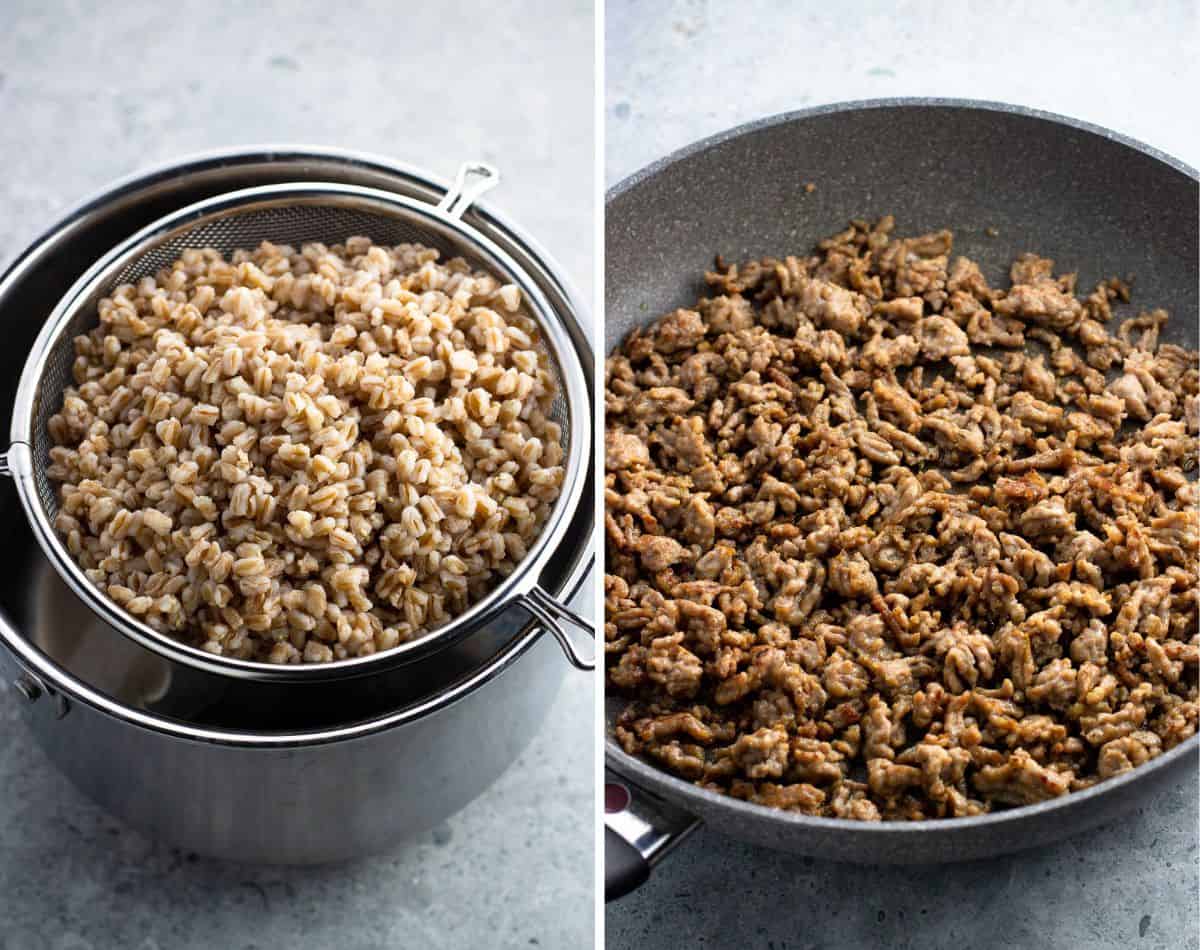 Prep the Peppers - Slice off the very top portion of the pepper, then remove and discard the seeds and pith. Take a look in the pepper and remove any wayward seeds.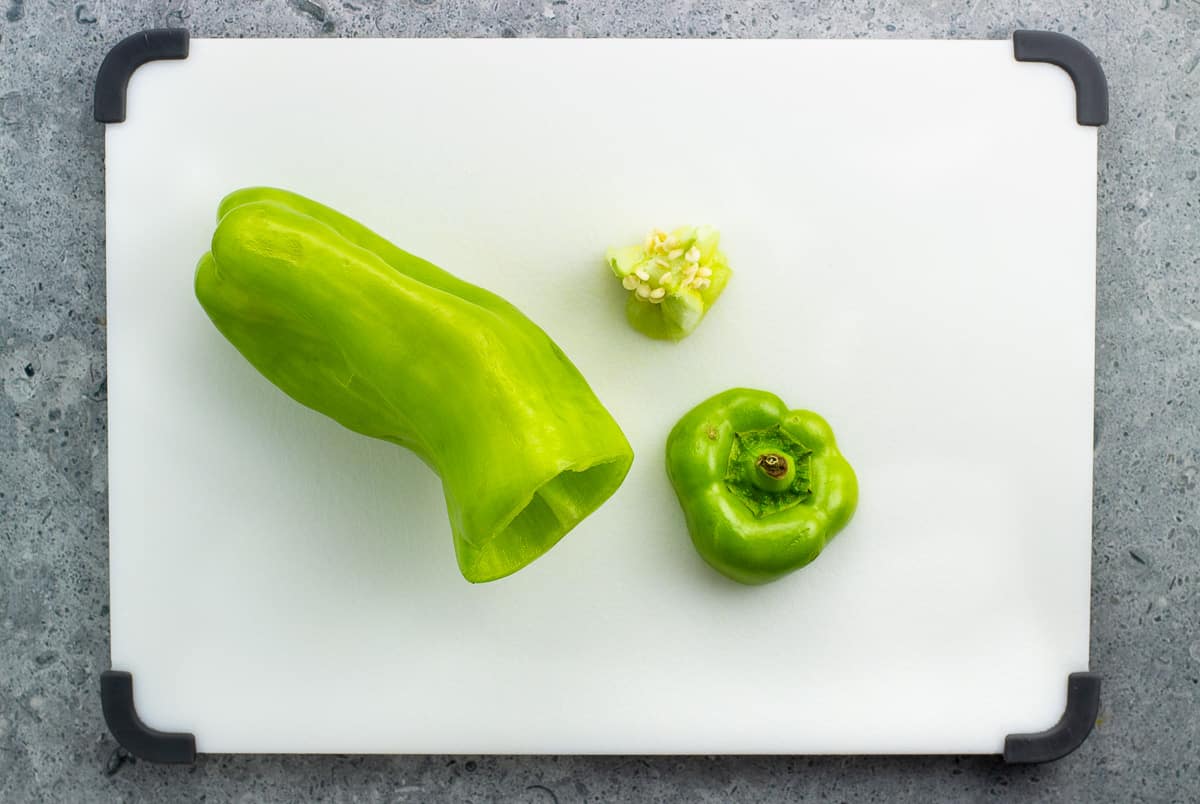 Mix the Filling - Whisk the egg then add all filling ingredients, including just one-half cup of the marinara. Stir to combine.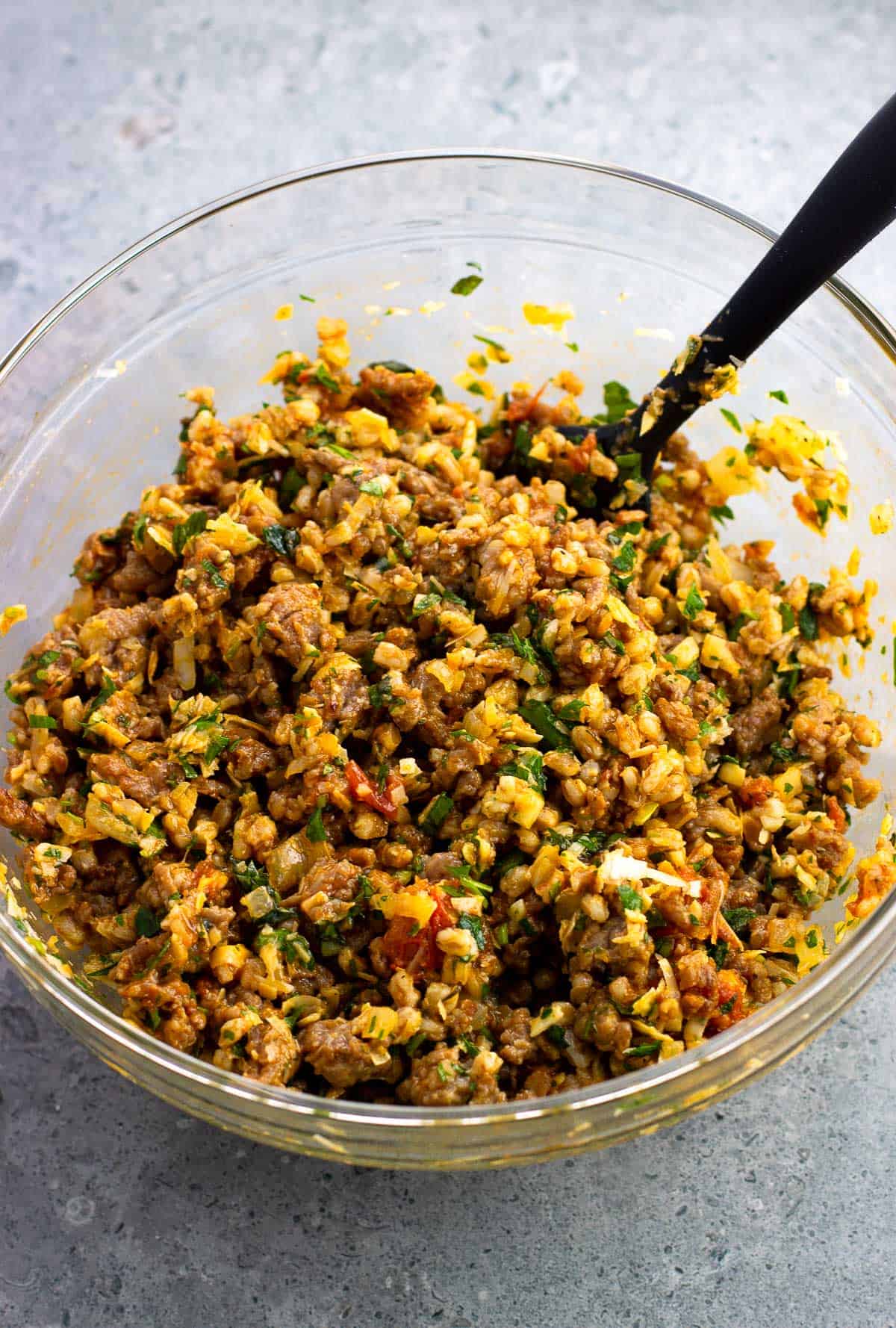 Stuff the Peppers - Hold the pepper over the bowl and use a spoon to fill the peppers. Press the filling into the pepper with the back of the spoon (or your hands) so it's as condensed as it can be. Repeat for all peppers.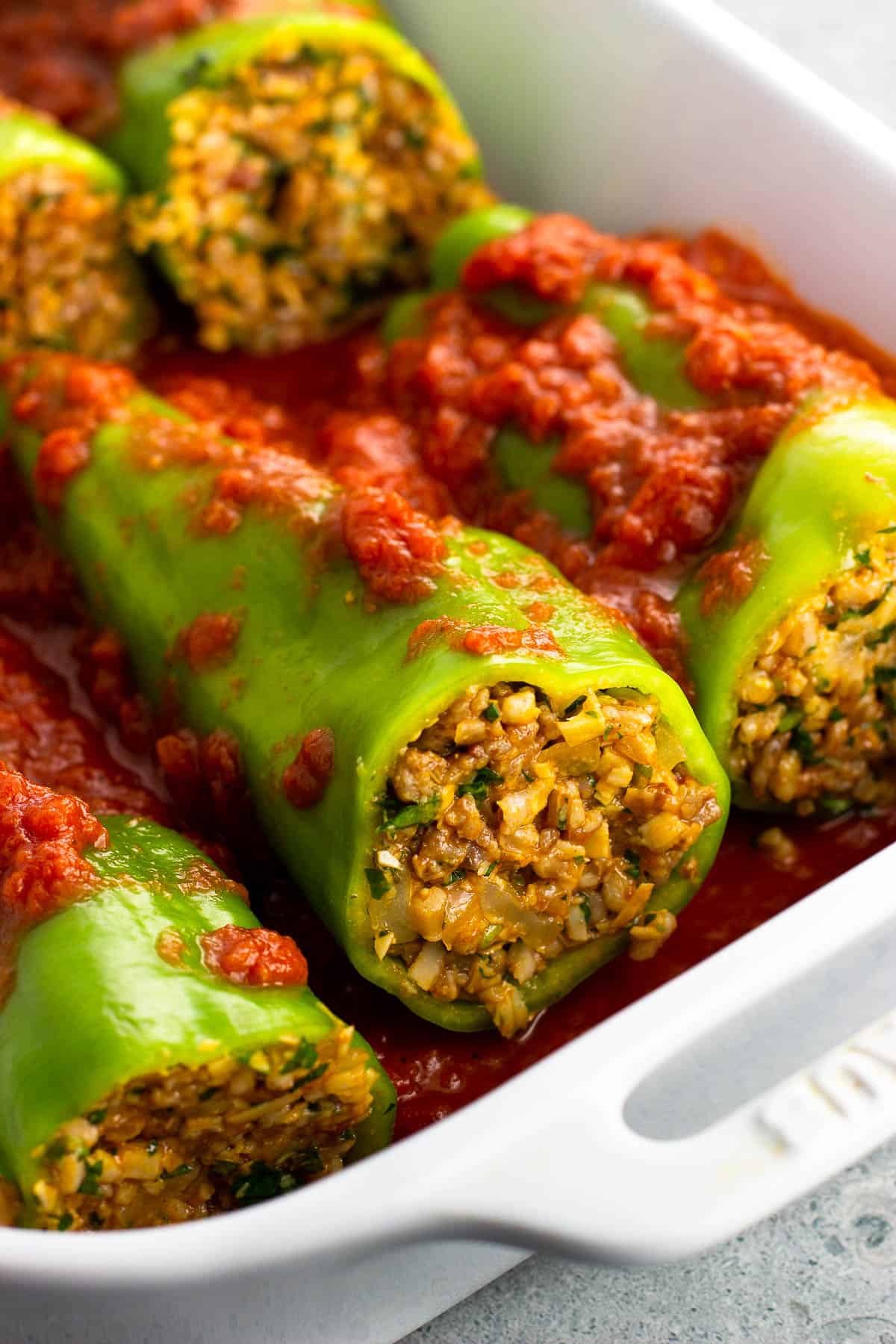 Bake - Spread 1 cup of marinara on the bottom of a large baking dish then add the peppers. Pour remaining marinara over top. Cover with foil and bake at 350°F for one hour, removing the foil halfway through.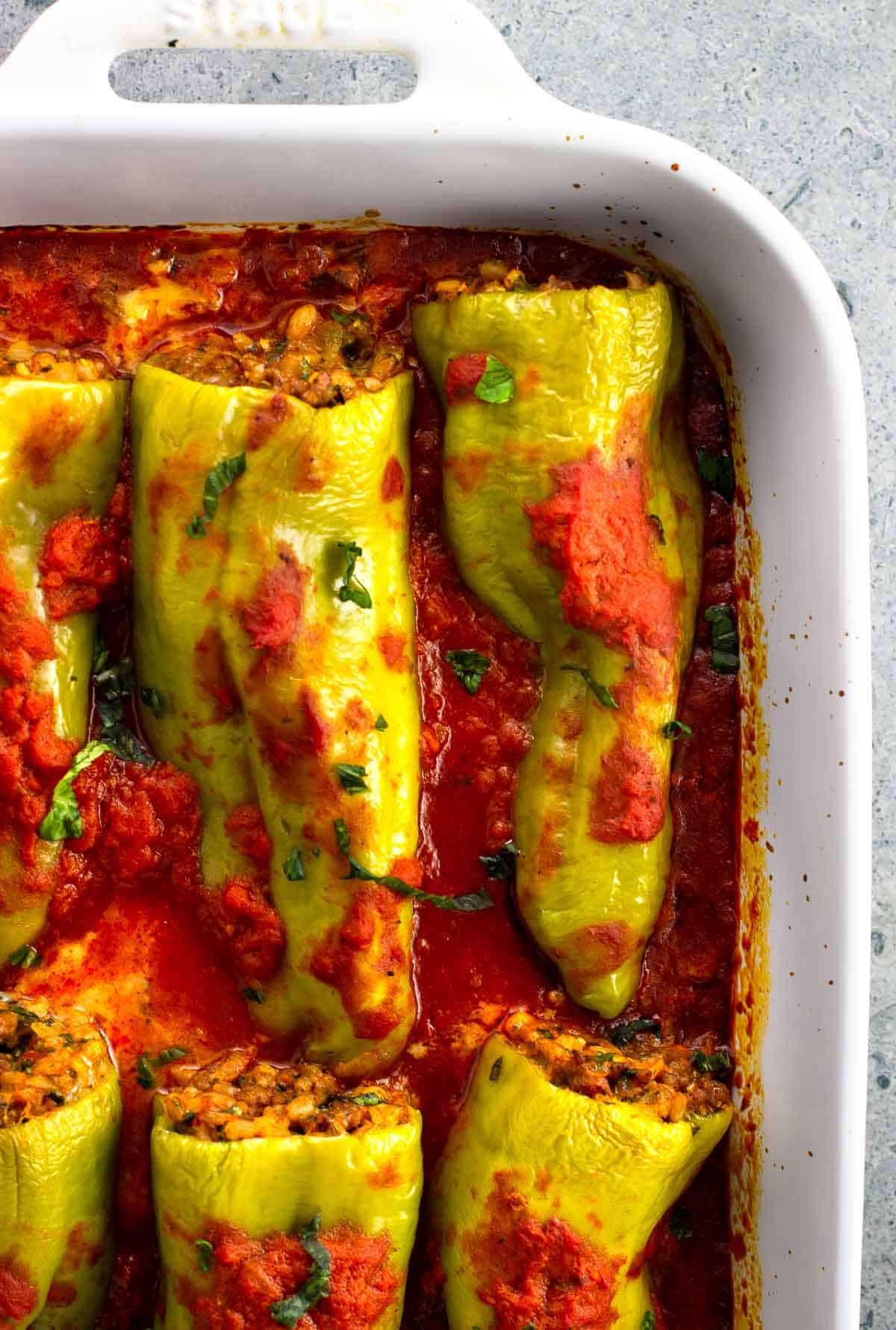 Recipe Tips and Tricks
Buying Cubanelle peppers - Look for peppers that are firm and have unwrinkled skin. Some Cubanelle peppers are quite bent and curved in the center which makes stuffing them more difficult, so try and pick ones that are straighter.
Cubanelle pepper substitutions - Having trouble finding Cubanelle peppers? Sometimes I do, too. One grocery chain near me doesn't stock them, while the other must have low turnover with frequently wrinkled/past their prime stock which makes finding six good ones unreliable. Bell peppers are a workable substitution.
Baking dish size - The stuffed Cubanelle peppers can be close to one another in a single layer in the dish, but try not to have them too packed in. The rectangular dish pictured here is 9- by 13-inches and fits everything just so.
Beat the egg well - Add the egg to your filling bowl first so you can whisk it well. A smooth egg disperses easily throughout the rest of the filling and doesn't result in pieces of discernible cooked egg.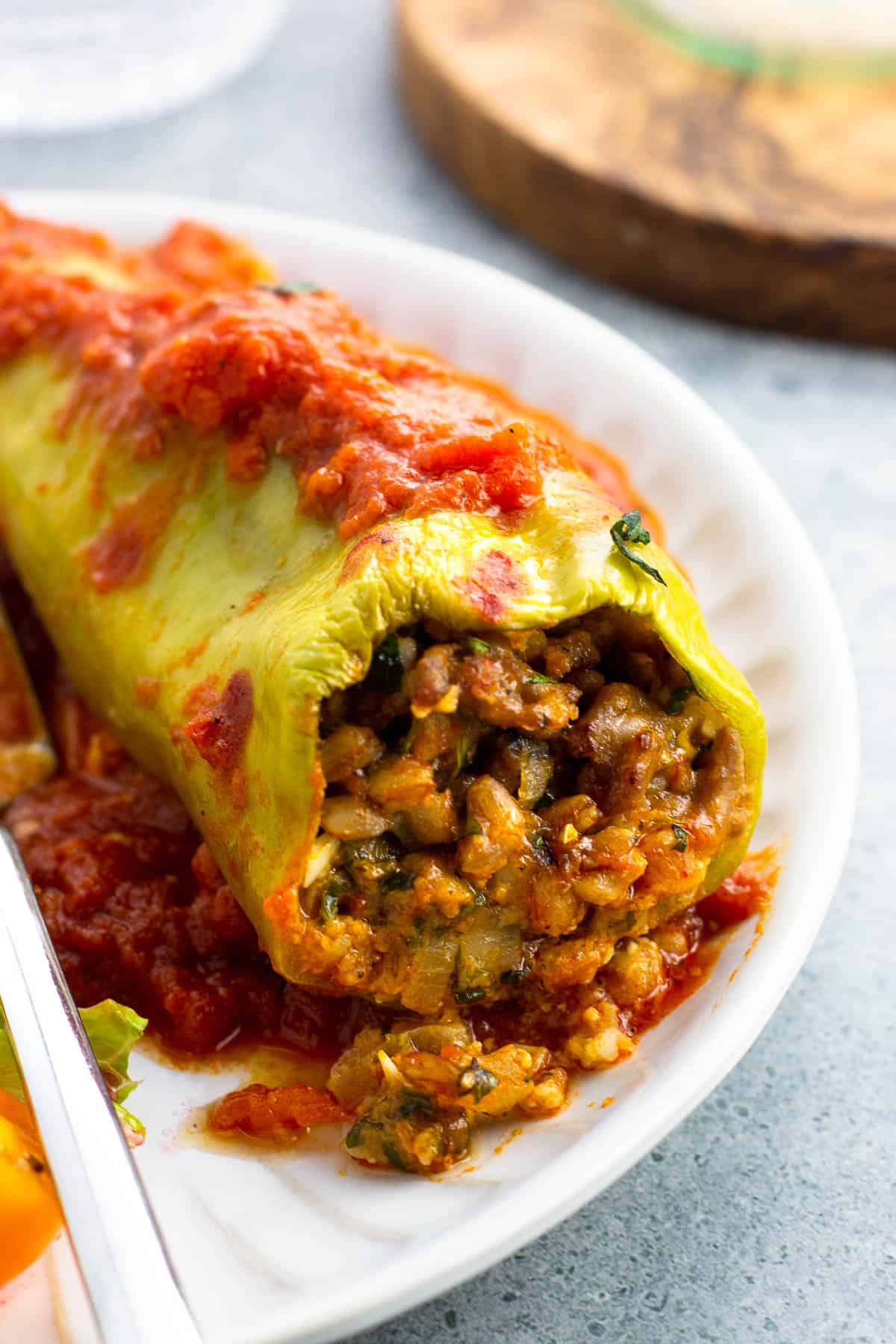 Recipe Shortcuts
From the very start to finish these stuffed Cubanelle peppers will run you between 2 - 2 ½ hours if you're cooking everything from scratch. Not exactly ideal for a weeknight. However! This recipe has multiple make-ahead options to streamline day-of dinner prep.
Sausage - Crumble and cook the Italian sausage 1-2 days ahead of time and keep refrigerated.
Farro - Cook farro 1-2 days ahead of time and keep refrigerated. Regular pearled or semi-pearled farro takes roughly 30 minutes to cook, but I've used Trader Joe's par-cooked 10-Minute Farro for convenience before and found it to be just fine here.
Filling - Cook the sausage and farro, sauté the onion and garlic, and mix together all of the filling ingredients. Cover and refrigerate for up to one day.
Assembly - Follow the recipe through stuffing the peppers, then refrigerate for up to one day before baking.
More Pepper Recipes
If you've enjoyed this recipe, I'd love for you to leave a star rating in the recipe card and/or a comment review below!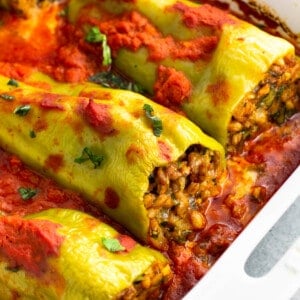 Stuffed Cubanelle Peppers
These stuffed Cubanelle peppers are filled to the brim with sausage, farro, and lots of Italian flavors for an incredibly satisfying dinner. This recipe has several shortcuts built in for convenience.
Print
Pin
Rate
Ingredients
1 ½

cups

cooked farro

(roughly ¾ cups dry)

1

pound

ground Italian sausage

mild, sweet, or hot

1 ½

Tablespoons

olive oil

Half of a

large

onion

diced

4

large cloves of

garlic

minced

6

Cubanelle peppers

1

large

egg

½

cup

shredded sharp Provolone

or mozzarella

½

cup

shredded Parmesan

or Pecorino

28

ounces

marinara sauce

divided

¼

cup

chopped fresh parsley

2

Tablespoons

finely-chopped fresh basil leaves

more for serving

½

teaspoon

dried oregano

¼

teaspoon

dried thyme leaves

Pinch of

kosher salt

Pinch of

ground black pepper
Instructions
Bring a large pot of water to a boil. Rinse pearled or semi-pearled farro in a large sieve under cool water, then add to the boiling water. Boil uncovered for 30-35 minutes, or until the farro is tender. Drain once done. Use this cooking time to continue on with the rest of the recipe prep.

Add ground Italian sausage to a large skillet set over medium heat. Cook for 8-10 minutes, breaking the sausage up into crumbles along the way, or until fully cooked and no pink remains.

Transfer cooked sausage to a paper towel-lined plate and wipe out the skillet very well to use again. Add the olive oil and set the skillet over medium heat. Add the garlic and cook for 5-6 minutes, then add the garlic. Cook for 1 minute more. Remove the pan from the heat.

Rinse each pepper and pat dry. Slice the very top off of each pepper and remove the seeds and pit. At this time preheat the oven to 350°F.

Add egg to a large mixing bowl and whisk very well until smooth. Measure out and add the cooked farro, cooked sausage, sautéed onion and garlic, Provolone, Parmesan, ½ cup of the marinara sauce, parsley, basil, dried oregano, dried thyme, and a pinch each of the kosher salt and pepper. Stir well to combine and evenly distribute everything.

Spread 1 cup of the marinara sauce on the bottom of a large rectangular baking dish (minimum dimensions 13- by 9-inches). Stuff the filling into each of the six Cubanelle peppers, using the back of a spoon to really pack it in all the way through. Lay the stuffed peppers next to one another in the dish. Pour the remaining marinara sauce over top of the peppers.

Cover the baking dish with aluminum foil and bake on the middle rack for 30 minutes, then remove the foil and bake for another 25-30 minutes, or until the peppers have softened to your liking. Let cool for a few minutes before serving.
Notes
Farro: If using whole farro (not pearled or semi-pearled), you will need to soak it before cooking. Follow the package directions.
Cubanelle Peppers: Choose peppers that are straight without a big curve in the middle as the bend makes stuffing more difficult.
Storage Instructions: Once cooked store for up to 3-4 days in the refrigerator.
Make-Ahead Steps: Several parts of this recipe can be prepped ahead of time.

Farro: 1-2 days ahead of time, cook farro and keep it refrigerated.
Sausage: 1-2 days ahead of time, cook sausage and keep it refrigerated.
Filling: Mix together all of the filling ingredients, cover, and keep refrigerated up to 1 day.
Assembly: Stuff peppers and refrigerate up to 1 day before cooking.
Nutrition
Serving:
1
pepper/sauce
|
Calories:
498
kcal
|
Carbohydrates:
39.5
g
|
Protein:
21.6
g
|
Fat:
28.4
g
|
Saturated Fat:
9
g
|
Cholesterol:
77
mg
|
Sodium:
1500
mg
|
Potassium:
276
mg
|
Fiber:
8.1
g
|
Sugar:
11
g
|
Calcium:
268
mg
|
Iron:
3
mg
Nutritional information is provided as an estimate. As it can vary due to many factors (brands used, quantities, etc.), we cannot guarantee its accuracy.
Food Safety and Nutrition Disclaimer