Enjoy hearty, nutritious farro prepared risotto-style in this creamy and flavorful side dish perfect for date night at home, holidays, or whenever. This farrotto recipe has straight-forward steps without pre-soaking or constant stirring.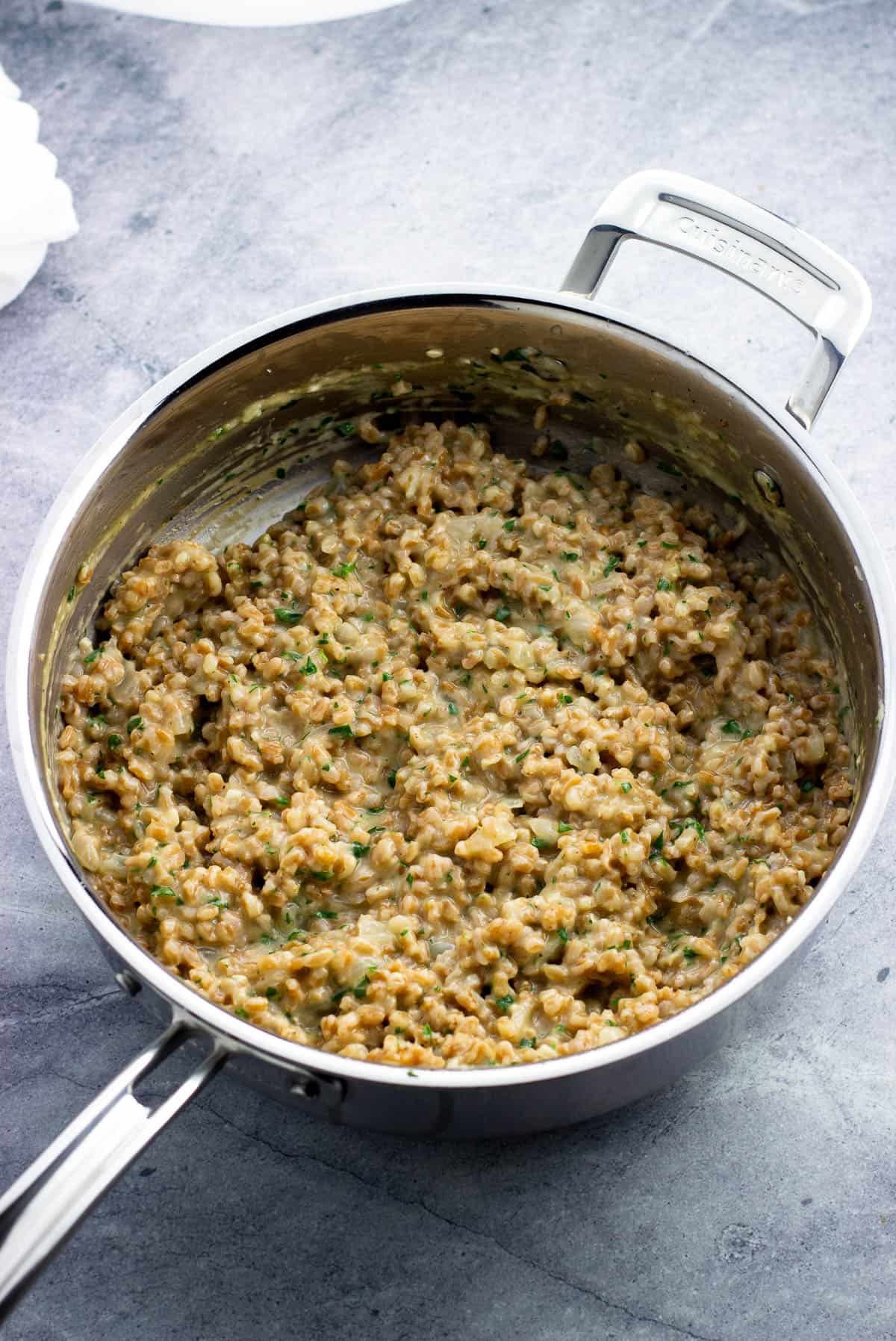 Risotto fans take notice: farrotto is on the scene. It's farro prepared risotto-style, with all of the creamy texture, just-right chewiness, and rich flavor you would expect from a recipe that also goes by "farro risotto".
Farro is an ancient grain with a hearty and nutty texture. If you're unfamiliar, it's fairly similar to barley. It's my favorite thing to use in stuffed pepper filling (see it in action in these stuffed cubanelle peppers) and makes a wonderful grain salad on its own.
Now to the matter at hand, farrotto. Risotto is commonly made with Arborio rice, an Italian short-grain variety with a high-starch content that produces that classic risotto creaminess. But because farro isn't quite as starchy, it's not as simple as substituting it in 1:1 for rice. A few tweaks work their magic to transform this nutritious grain into a show-stopper of a side or main dish.
Reasons to Love This Recipe
Farro is a good source of nutrients such as iron, fiber, and protein, and makes a healthier substitute for rice in a variety of recipes.
Risotto-style recipes have a bad reputation for being time- and labor-intensive to make at home. Not here! You don't have to stir stir stir until your arm falls off.
Using the right kind of farro slashes prep time and steps: no soaking or blending required. Just get right to cooking.
The flavor truly can't be beat. A small amount of butter and balsamic vinegar tie everything together.
Recipe Ingredients
Farro: Farro comes in different forms: pearled/semi-pearled or whole. This farrotto recipe calls for a pearled variety, which is the only kind I can find in American supermarkets.
Broth: This will be combined with water to serve as the cooking liquid. Reduced-sodium chicken broth is my go-to, though vegetable broth is fine.
Wine: A classic risotto ingredient, choose a drier white wine such as Sauvignon Blanc, Pinto Grigio, or Chardonnay.
Parmesan: Freshly-shredded Parmesan or Pecorino Romano (my favorite) brings welcome umami richness and melts quickly into the farro risotto. A good secondary option is a pre-grated hard Italian cheese from the refrigerated deli section.
Butter: Adding two tablespoons of butter right at the end provides a creamy note.
Parsley: For a pop of color and fresh flavor. Use Italian parsley, not curly parsley.
Balsamic Vinegar: A small drizzle brightens up the flavor and adds a special complementary flavor that doesn't overwhelm. Choose a good-quality, condiment-grade balsamic vinegar if possible for the smoothest flavor.
Step-by-Step Instructions
Rinse the farro. Rinse the dry farro under cool water in a mesh strainer, then drain.
Warm the liquid. Add the broth and water to a saucepan and set it on the stovetop over low heat to stay warm. Keep the lid on so the broth doesn't reduce.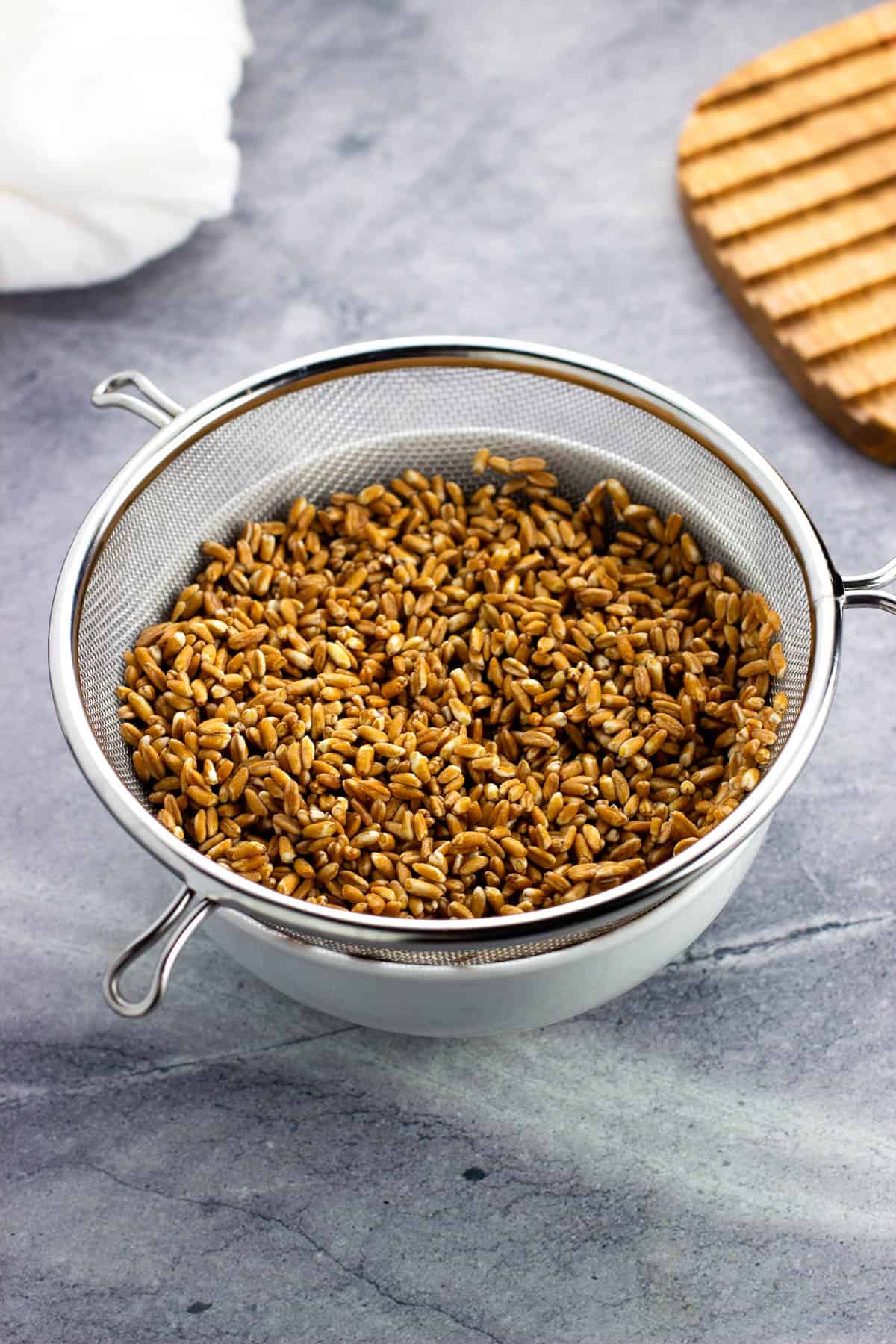 Sauté. In a large pan, cook the onion in olive oil for 5-6 minutes, then season with salt. Add the minced garlic during the last minute of cook time so it doesn't burn.
Toast the farro. Add the farro to the pan and toast over medium heat for several minutes.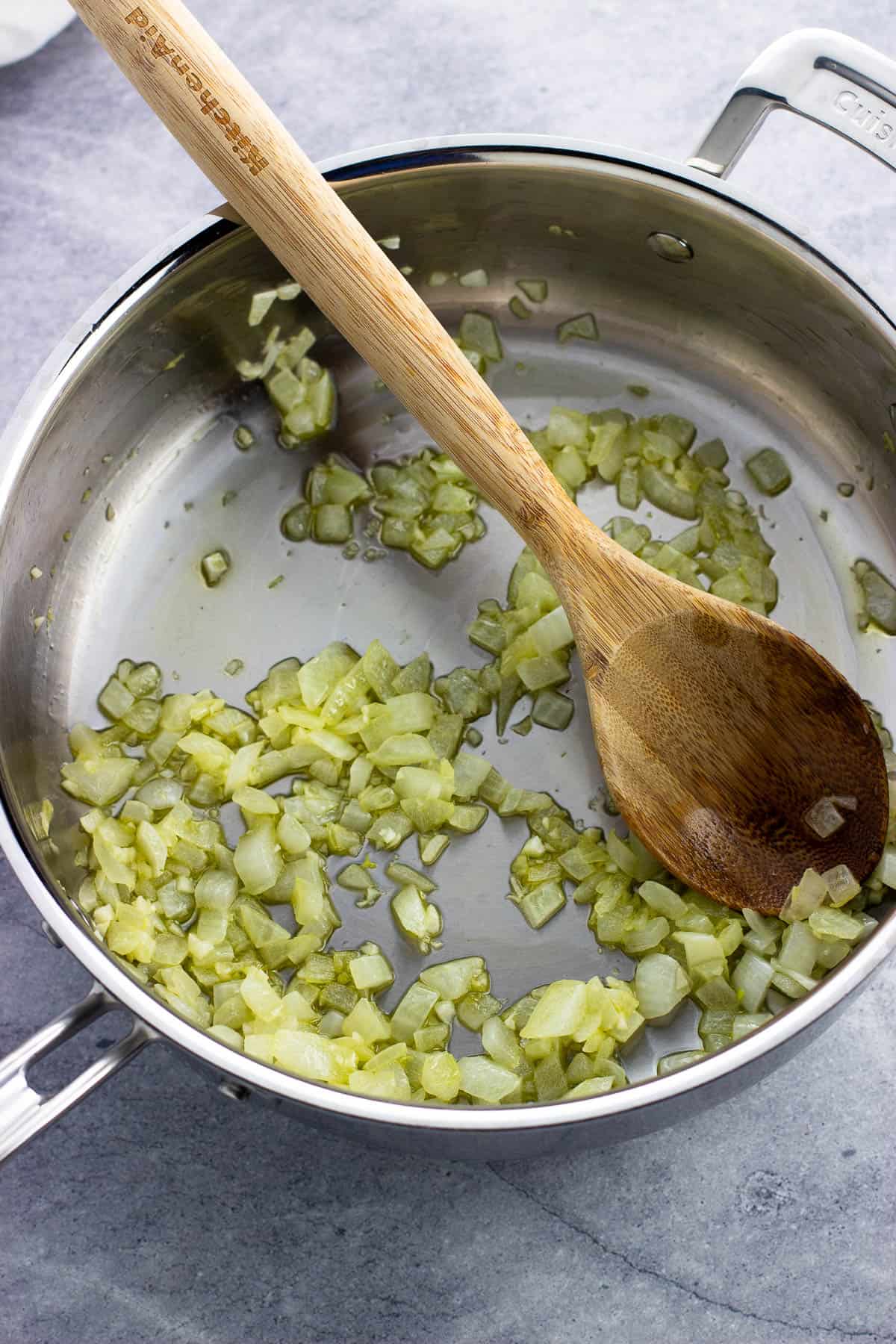 Deglaze with wine. Pour in the wine and scrape up any browned bits stuck to the bottom of the pan. Cook until the farro absorbs the wine.
Slowly cook in broth. Add a ladle of broth to the pan at a time, waiting to add the next ladle until the broth has been nearly all absorbed. Stir frequently, but you don't need to stir constantly. The farro should take on a tender texture once all of the broth has been added.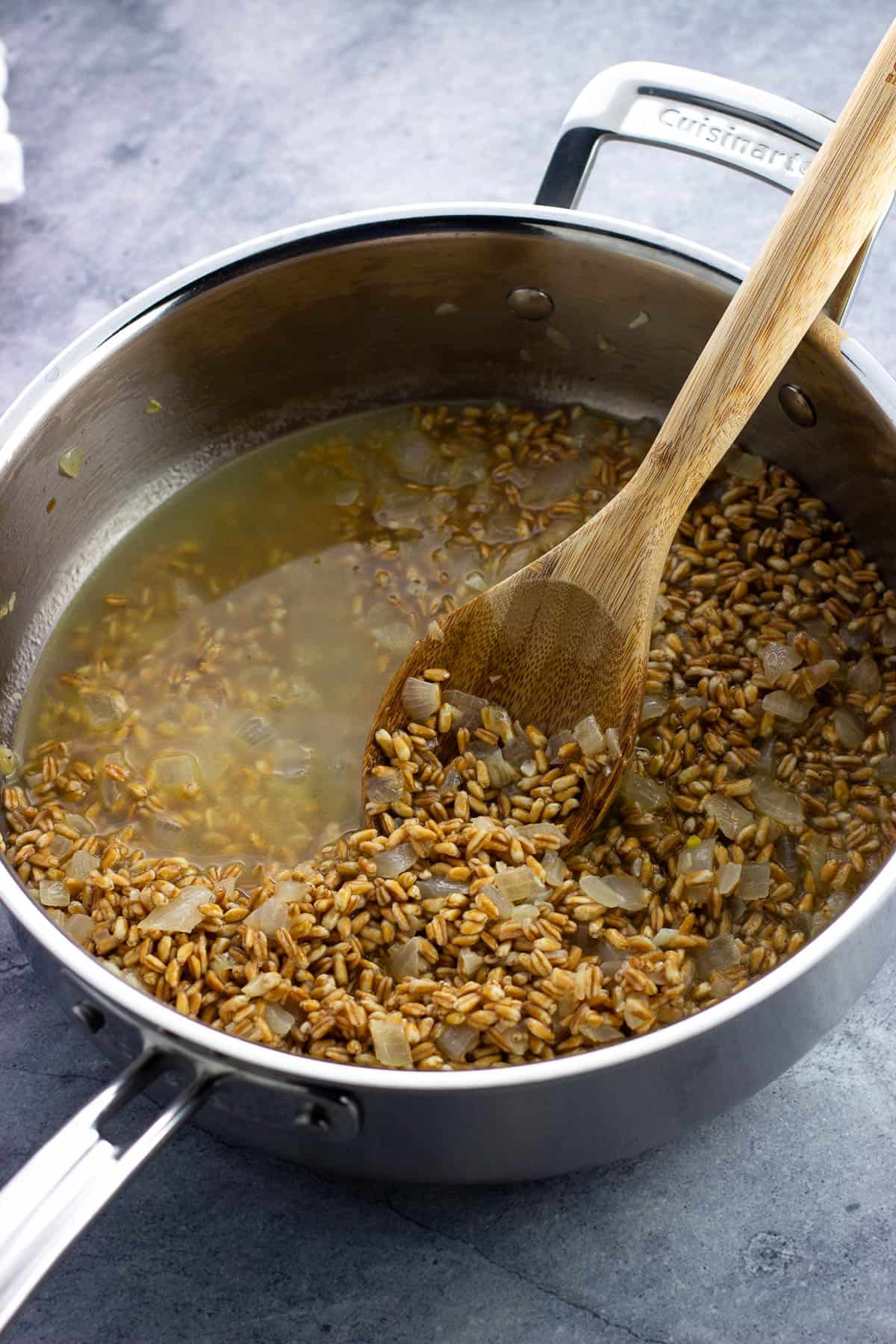 Finish the farrotto. Add ground black pepper, butter, Parmesan, and parsley, then stir until the butter and cheese fully melts.
Serve. Drizzle in a small amount of good-quality balsamic vinegar before plating and serving.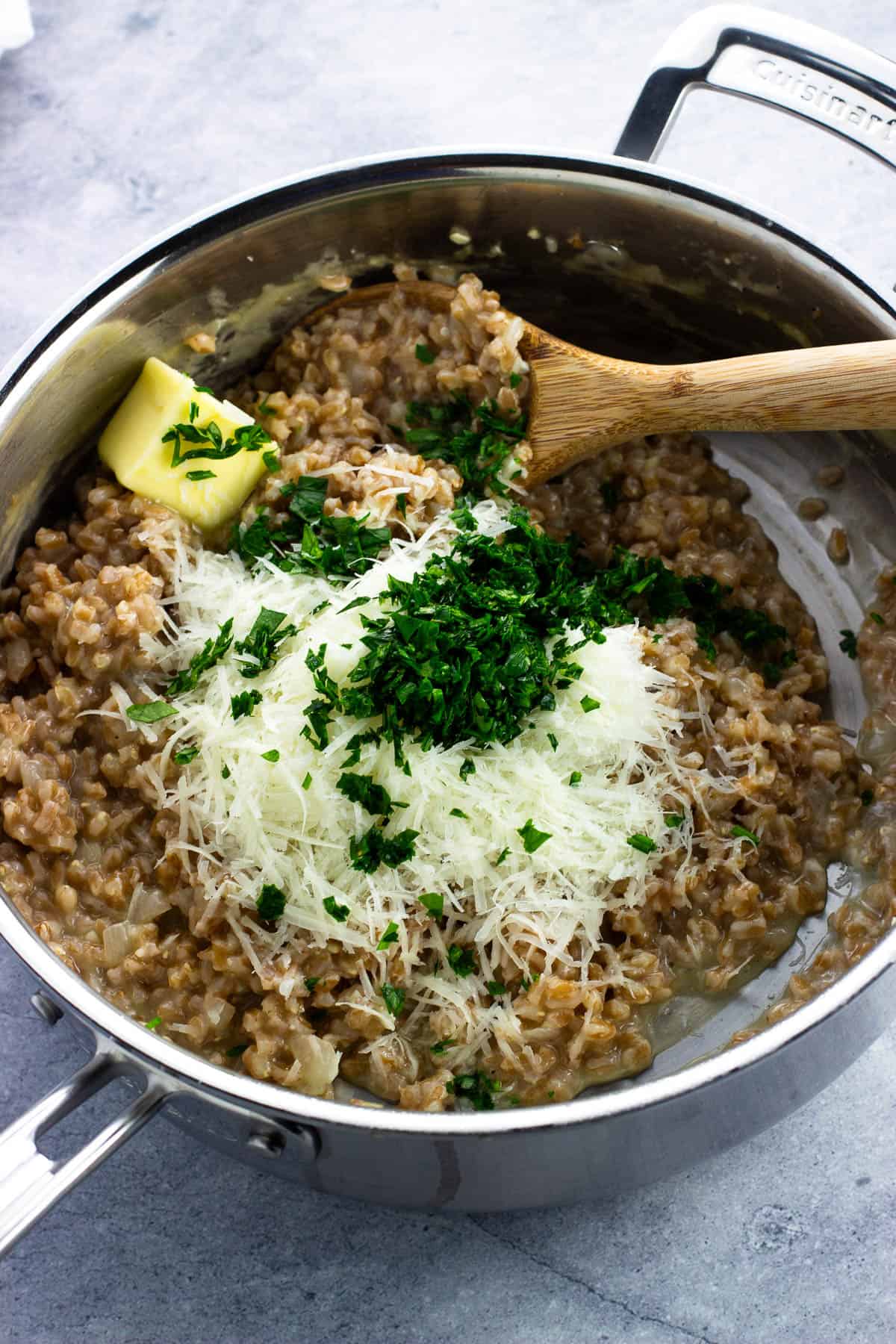 Farrotto Tips and Tricks
Know your farro - Pearled or semi-pearled farro has had all or some of its bran removed, while whole farro retains it all. Whole farro will require additional steps before cooking, such as soaking overnight or blitzing the dry grains in a blender. Check your package carefully to make sure you're using a pearled farro in this farrotto recipe.
Mind the liquid - Maintain the broth/water at a low simmer throughout the cooking process as its warmth allows it to be absorbed efficiently by the farro. Keep the lid on the pot to prevent evaporation.
Liquid to farro ratio - This ratio of 5 cups of liquid to 1 cup of dry farro consistently works for me to provide an ideal chewiness in the finished dish. Take a taste once all of the liquid has absorbed and make sure it's right for you, too. If it has too much bite, cook in extra broth or water as needed.
Variations - Add mushrooms (sauté first, then add back at the end), peas, other fresh herbs, or cannellini beans to the finished farrotto.
Serving Suggestions - Serve farrotto alongside sautéed broccoli rabe or asparagus for it to act as a standalone dinner, or plate it as a base for roasted chicken, fish, shrimp, marinated flat iron steak, or other proteins.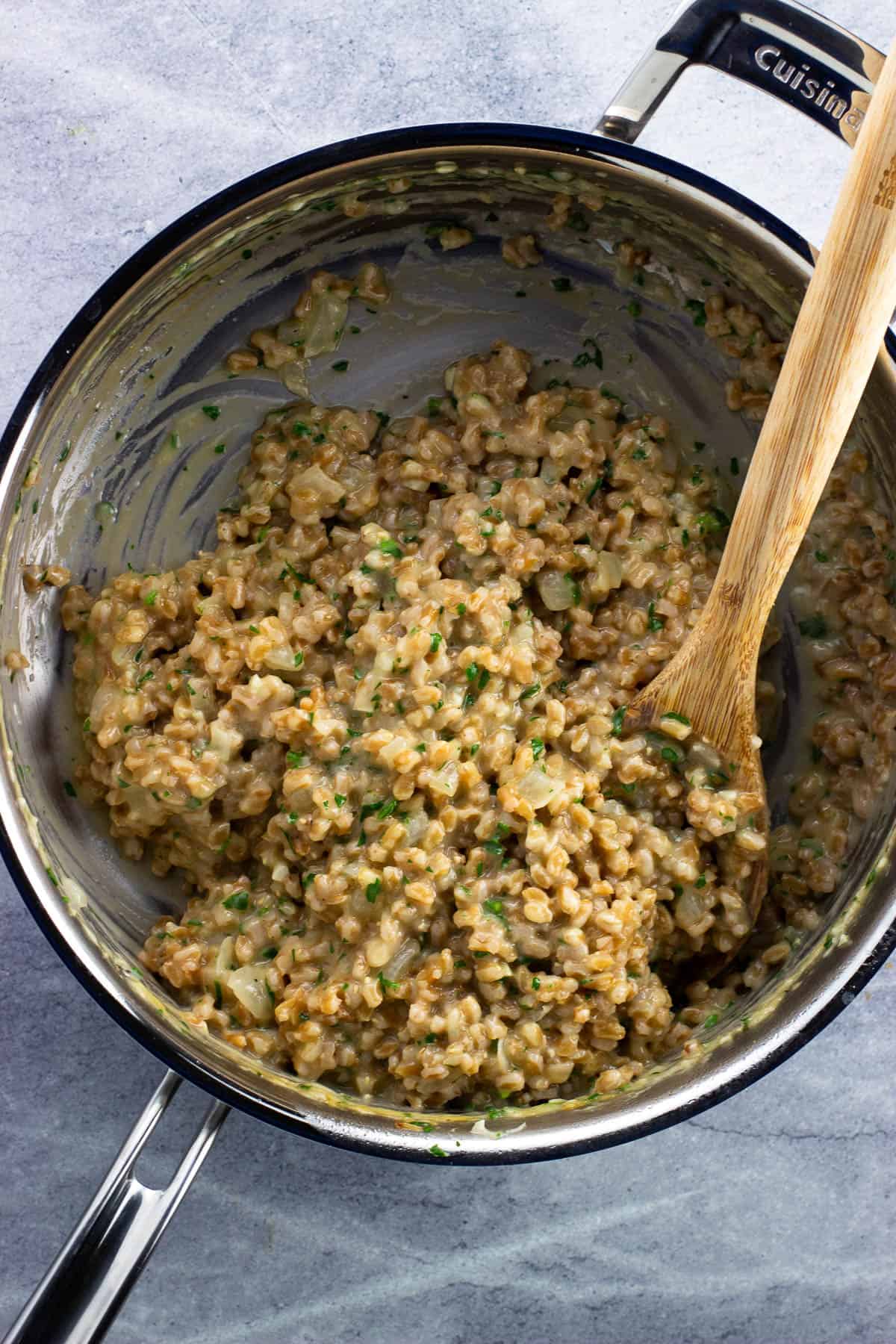 Recipe FAQs
How do you reheat farrotto?
Farrotto is best eaten right away for maximum creaminess, but leftover farrotto can be reheated in a small saucepan along with a drizzle of water or broth. Its sticky nature means farrotto is also a good candidate for making leftover risotto cakes.
Do you need to soak farro before cooking?
The type of farro you're using dictates what type of preparation is required, if any at all, so check the packaging carefully. Pearled or semi-pearled farro do not need to be soaked prior to cooking while whole farro does. There is no soaking required for this recipe.
Where is farro in the grocery store?
Farro should be stocked in the rice and dry beans aisle of the grocery store alongside other grains: quinoa, barley, etc.
Is farrotto gluten-free?
No, farro is a variety of wheat so it contains gluten.
Can you make vegetarian farro risotto?
Yes, a few adjustments will make farro risotto vegetarian. First, replace the chicken broth with vegetable broth. Then choose a brand of Parmesan that does not contain animal-derived rennet.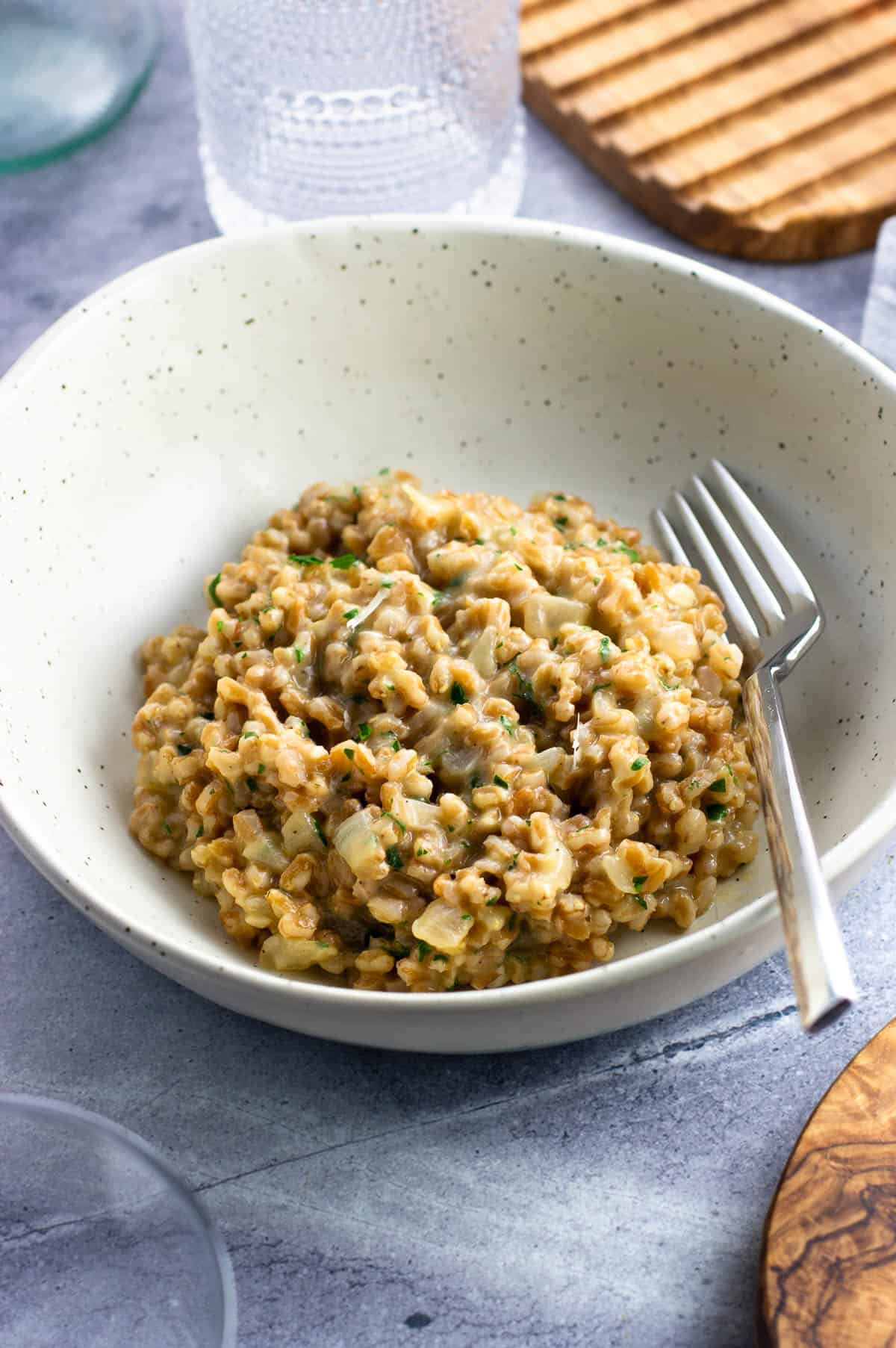 Related Recipes
If you've enjoyed this recipe, I'd love for you to leave a star rating in the recipe card and/or a comment review below!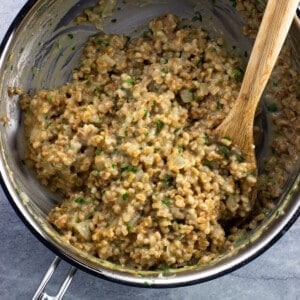 Farrotto (Farro Risotto)
Enjoy hearty, nutritious farro prepared risotto-style in this creamy and flavorful side dish perfect for date night at home, holidays, or whenever. This farrotto recipe has straight-forward steps without pre-soaking or constant stirring.
Print
Pin
Rate
Ingredients
1

cup

pearled or semi-pearled farro

rinsed

3

cups

reduced-sodium chicken broth

1 ½

cups

water

2

Tablespoons

olive oil

Half of a

medium

onion

diced

Pinch of

kosher salt

3

cloves

garlic

minced

½

cup

dry white wine

2

Tablespoons

finely-diced fresh parsley

½

cup

shredded Parmesan

or Pecorino Romano

2

Tablespoons

salted butter

(unsalted is fine)

Freshly cracked black pepper

to taste

2

teaspoons

balsamic vinegar

good-quality recommended
Instructions
Rinse farro under cool water and set aside in a sieve to drain.

Add chicken broth and water to a medium saucepan. Cover and set the pan over low heat to keep warmed.

Heat olive oil in a large saucepan set over medium heat. Add diced onion and cook 4-5 minutes. Season with kosher salt and add the garlic. Cook 1 minute more.

Add the rinsed farro to the pan and toast for 3 minutes. Stir frequently.

Pour the wine into the pan to deglaze by scraping up any stuck-on bits from the bottom of the pan. Cook until the farro absorbs nearly all of the wine, about 3-4 minutes.

Ladle roughly two-thirds of a cup of the broth/water mixture into the pan and stir into the farro. Cook, stirring often, until nearly all absorbed. Repeat this process until all of the liquid has been used and the farro is al dente tender, somewhere around 40-45 minutes in total.

Add the Parmesan or Pecorino Romano, butter, parsley and ground black pepper to the pan and stir to melt the cheese and butter. Add additional salt if needed, especially if using unsalted butter. Stir 1 teaspoon of the balsamic vinegar, taste, and add more if you'd like. Serve right away.
Notes
Recipe Ingredients
Farro: Be sure to use semi-pearled or pearled farro. While farrotto can be made with whole farro, its intact outer bran coating requires a lengthy soak before cooking to become tender.
Wine: Choose a dry variety like Sauvignon Blanc, Pinot Grigio, or Chardonnay. It doesn't have to be fancy, just something you wouldn't mind using the rest of the bottle for cooking with or drinking.
Balsamic Vinegar: While optional, a condiment-grade balsamic is ideal for its full-bodied, smooth flavor.
Tips and Tricks
If the farrotto is still too chewy for your tastes once all of the liquid has absorbed, add extra broth or water and cook until your desired texture before finishing with the butter, parsley, etc.
Go easy on seasoning the onions and garlic with salt as several saltier ingredients will be added throughout the process: chicken broth, salted butter, and Parmesan. Add any additional, if needed, prior to serving.
Farrotto is best served immediately, but you can reheat leftover portions in a small pan with a drizzle of broth or water.
Serve alongside sautéed broccoli rabe or asparagus to make this a main dish.
As a variation, stir in sautéed mushrooms, peas, other herbs, or cannellini beans before serving.
Nutrition
Calories:
306
kcal
|
Carbohydrates:
31.9
g
|
Protein:
11.5
g
|
Fat:
13.8
g
|
Saturated Fat:
5.5
g
|
Cholesterol:
19
mg
|
Sodium:
589
mg
|
Potassium:
68
mg
|
Fiber:
4.3
g
|
Sugar:
1.3
g
|
Calcium:
153
mg
|
Iron:
2
mg
Nutritional information is provided as an estimate. As it can vary due to many factors (brands used, quantities, etc.), we cannot guarantee its accuracy.
Food Safety and Nutrition Disclaimer