Learn how to make leftover risotto cakes using this easy recipe. This leftover risotto recipe produces cakes that are stuffed with cheese and pan-fried for a quick appetizer or side dish using repurposed leftovers.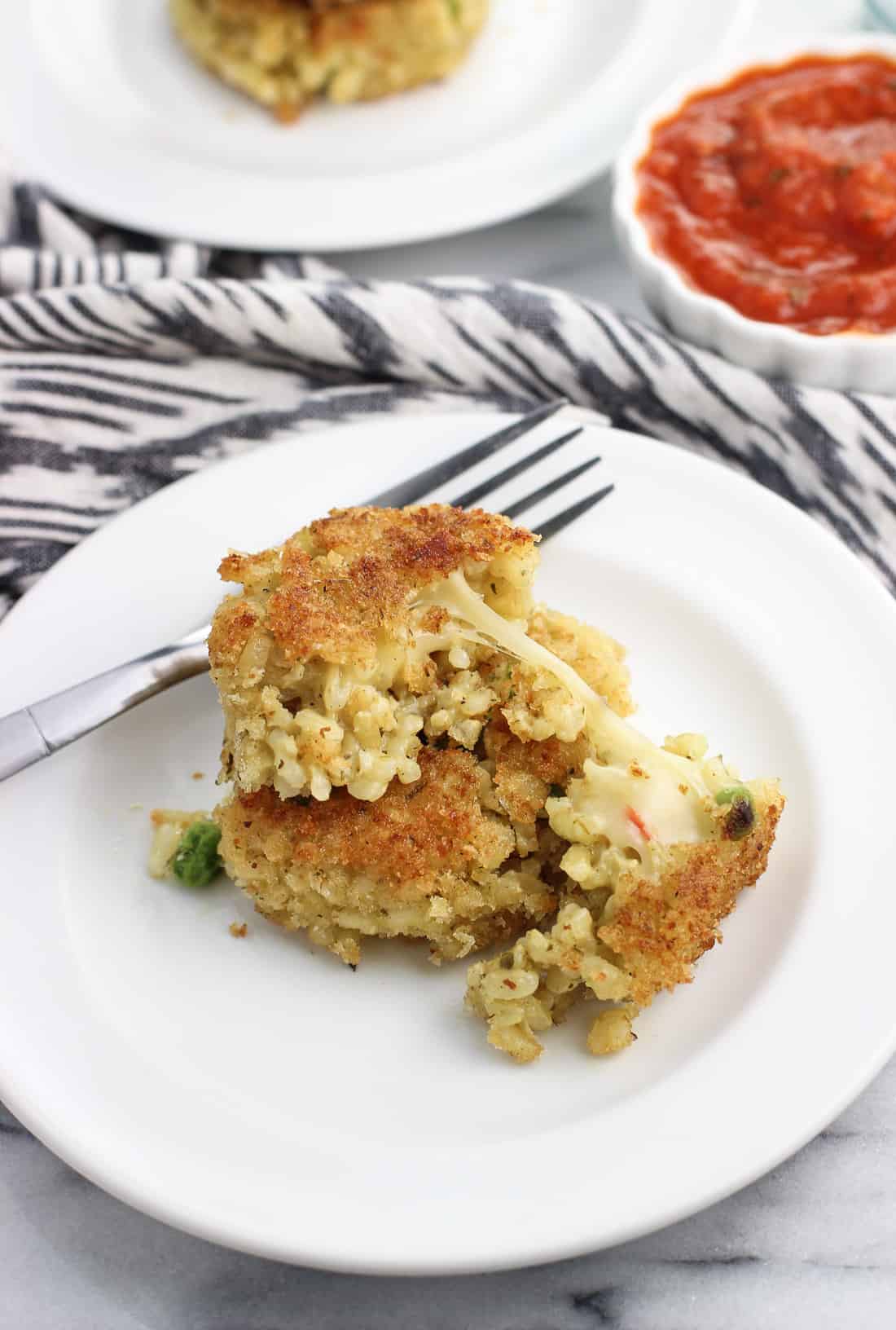 Risotto. Is there a more decadent-tasting, creamy rice side dish? I'm not sure there is. It took awhile for me to consider it something that can be made at home for times other than special occasions because, I mean, don't you have to stir your arm off or else it fails miserably?
As it turns out the answer to that question is no. Every time I make smoked salmon risotto (sometimes I leave out the smoked salmon) I'm reminded by how it doesn't require a crazy amount of effort. As long as you keep it moving so that the risotto on the bottom of the pot doesn't stay there for too long and stick, you're golden.
However once you've (thoroughly) enjoyed freshly-made risotto, what's the deal with leftovers? I'm a humongous fan of leftovers, which we have often as we're a household of two here, but risotto is one of those dishes that tends to lose a little something in the reheating process. I've found the texture isn't as soft and creamy, which is a major selling point of risotto in the first place.
So! Making leftover risotto cakes is a super quick and easy way to repurpose these leftovers without running into any of the texture concerns reheating risotto brings about. Plus you get to enjoy risotto in a totally different, yet totally satisfying, way.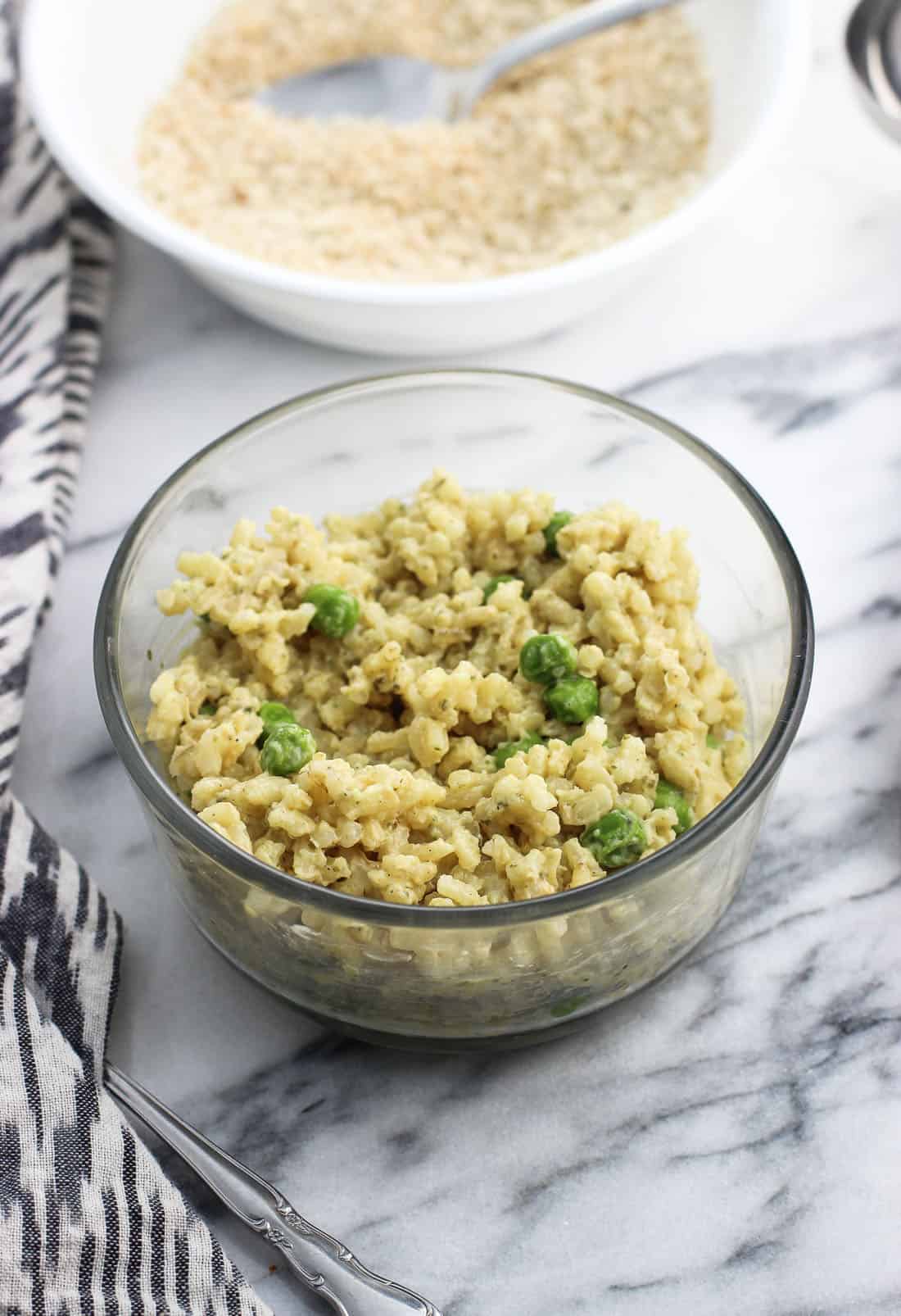 Simple ingredients
The risotto cakes you see in these pictures were made using an ultra super shortcut – boxed risotto. It piqued my interest at the supermarket and was on sale to boot, so I gave it a whirl. It definitely got creamy and nipped my risotto craving in the bud.
I added a quarter-cup of frozen peas towards the end of the recipe when I made it the first time around. In a head-to-head battle I'd choose homemade risotto, but the boxed version was a surprisingly delicious option for those times you're feeling like a shortcut.
Anyway, I was left with one cup of leftover risotto, which I made into four cakes. Scale this recipe up or down depending on how much you have left over.
Other than leftover risotto, you'll need an egg to dip the cakes in, a duo of breadcrumbs (panko and Italian seasoned), cheese to stuff inside if you like, and oil to pan fry.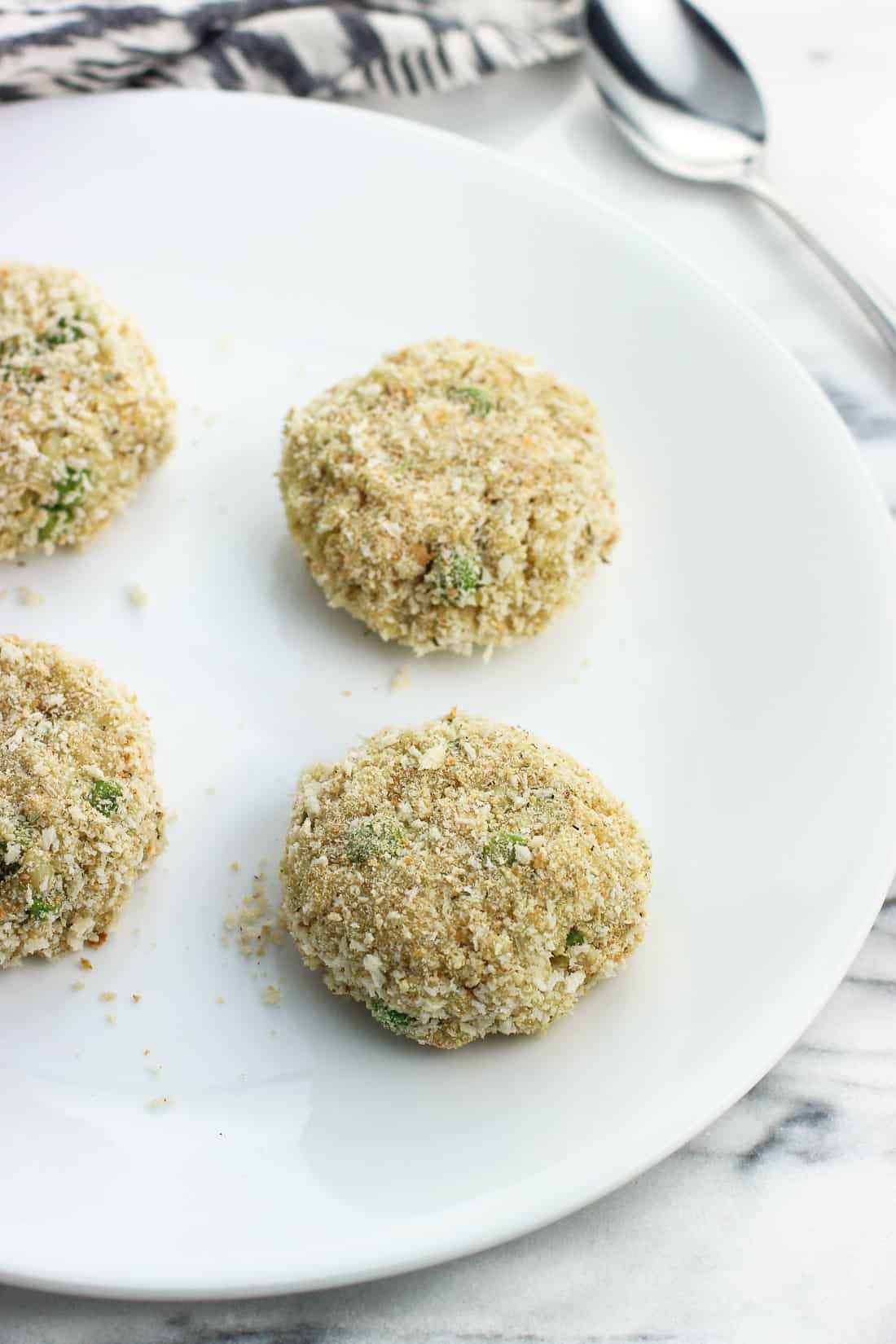 Step-by-step method
First of all there's no reheating necessary – just form the patties with cold, straight-from-the-fridge risotto.
Then there's the optional step of stuffing them with cheese. Use your preferred variety! You'll want to press a small cube into the center of each risotto cake and then work the risotto over to cover it well so it doesn't melt out when you pan fry them. The risotto will be sticky, so the cakes should hold together well.
After they're dipped in egg and coated in an equal mixture of Italian-seasoned and panko breadcrumbs you're all set to pan fry. They only take a few minutes per side, and are ready to eat right when they're done. The coating becomes crisp and golden brown, with a melted cheese center that most certainly qualifies these risotto cakes as comfort food. Judging by my experience, you'll want to make risotto much more often knowing you'll have these leftover risotto cakes to look forward to.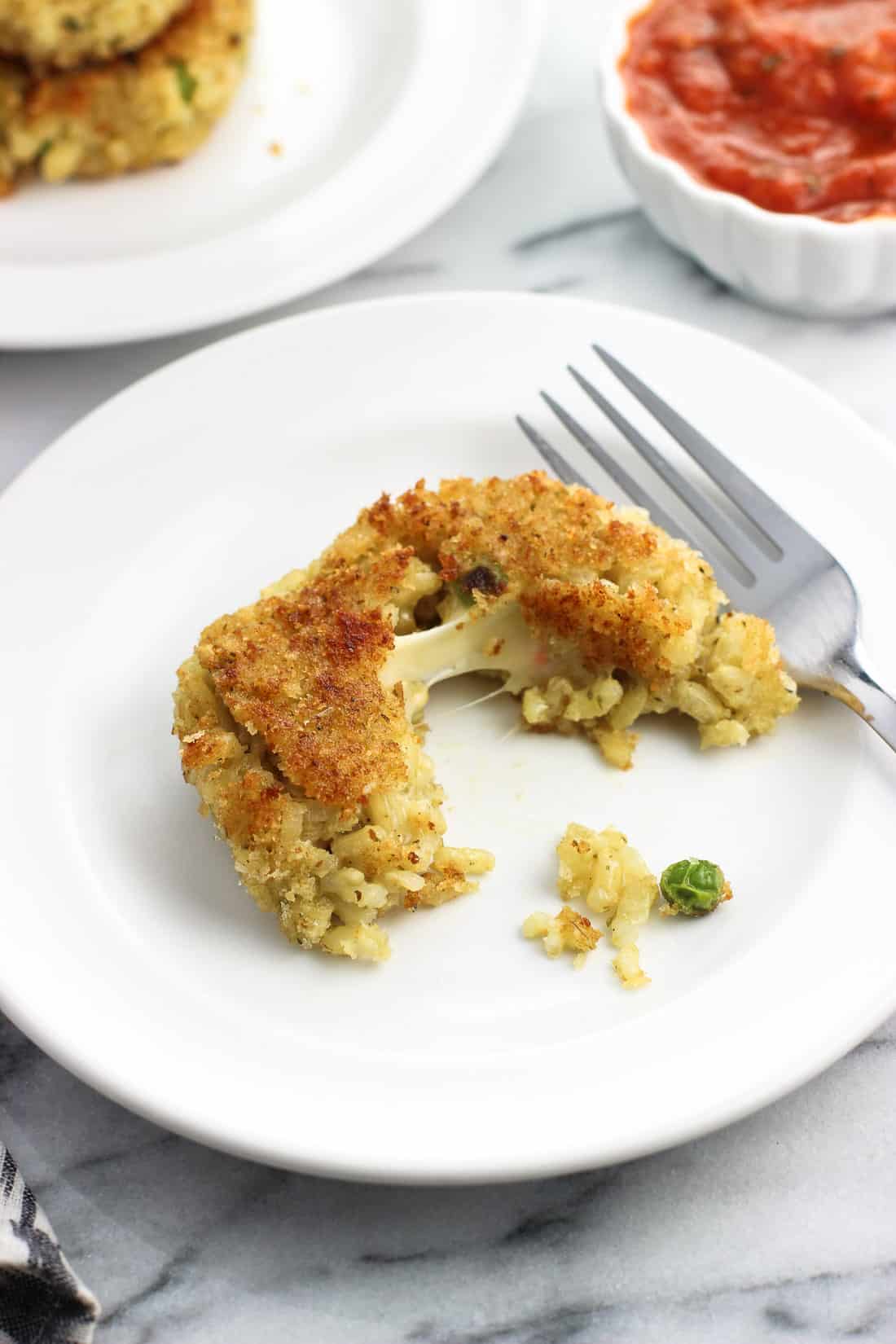 For more pan-fried and Italian-flavored goodness, check out this recipe for parmesan crusted polenta, served with a hearty dollop of basil pesto. It also has easy prep (slice, dredge, and fry!) and makes a wonderful appetizer or small bites dish.
Recipe notes
This recipe works well with both leftover homemade risotto or boxed risotto. And it doesn't need to be reheated – the cakes can be formed cold right from the fridge.
These cakes make a wonderful appetizer, side dish, or part of a quasi-tapas meal. Marinara sauce is a great dipping accompaniment.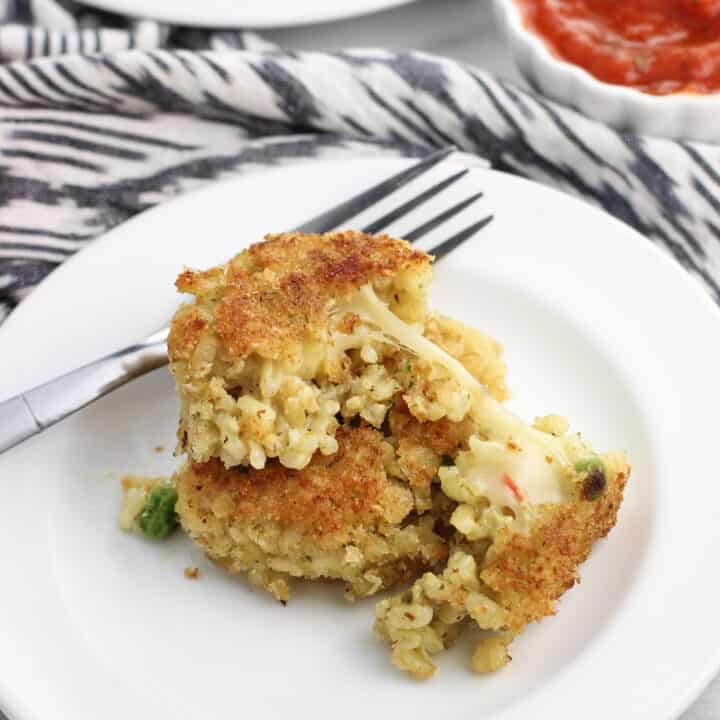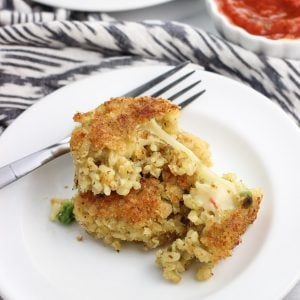 How to Make Leftover Risotto Cakes
Learn how to make leftover risotto cakes using this easy recipe. These risotto cakes are stuffed with cheese and pan-fried for a quick appetizer or side dish using repurposed leftovers.

Print
Pin
Rate
Servings:
4
risotto cakes
Ingredients
2

tbsp

Italian-seasoned breadcrumbs

2

tbsp

panko breadcrumbs

1

egg

1

cup

leftover risotto

1"

cube mozzarella cheese,

cut into 4 cubes (optional)

2

tbsp

olive oil
Instructions
Add Italian and panko breadcrumbs to a shallow bowl and stir together.

Beat the egg in a separate shallow bowl.

Form the risotto into four equal 1/4-cup patties. Place a 1/2" cube of cheese into the center of each one, and then work the risotto over it to enclose it in the middle.

Heat olive oil in a skillet set over medium heat. Place risotto cakes in the skillet and let cook for 2-3 minutes, or until the bottoms reach a golden-brown color. Flip and repeat for the other side. Serve while warm.
Notes
I suggest serving these leftover risotto cakes alongside warmed marinara sauce if you would like, but it's not necessary. They're delicious on their own, too.
Nutrition
Serving:
1
risotto cake
|
Calories:
166
kcal
|
Carbohydrates:
10.8
g
|
Protein:
4.5
g
|
Fat:
11.7
g
|
Saturated Fat:
3.1
g
|
Cholesterol:
49
mg
|
Sodium:
351
mg
|
Potassium:
30
mg
|
Fiber:
0.8
g
|
Sugar:
0.8
g
|
Calcium:
40
mg
|
Iron:
0.7
mg
Nutritional information is provided as an estimate. As it can vary due to many factors (brands used, quantities, etc.), we cannot guarantee its accuracy.