This spinach pesto recipe is an easy twist on traditional pesto that's perfect for pasta, spreading on sandwiches, and more. Done in just ten minutes or less, there are lots of nutrients in these leafy greens!
Homemade basil pesto, in all its varieties, just might be #1 on my lifetime favorite sauce ranking. Of course Sunday sauce is also #1, but I think one being red and one being green is enough distinction to allow them both the top spot.
Fresh basil is a given when it comes to pesto, but I've taken to using all sorts of leafy greens depending on what I have on hand. Kale and mint might be less-expected, with arugula pesto being a personal family favorite. Now here's spinach.
Baby spinach meshes wonderfully with the other traditional pesto sauce ingredients to provide that delicious flavor and shock of bright green color, all the while with a notable bump in nutrition.
If you're looking to add extra leafy greens into your diet (or don't have a large quantity of fresh basil on hand), this recipe is for you.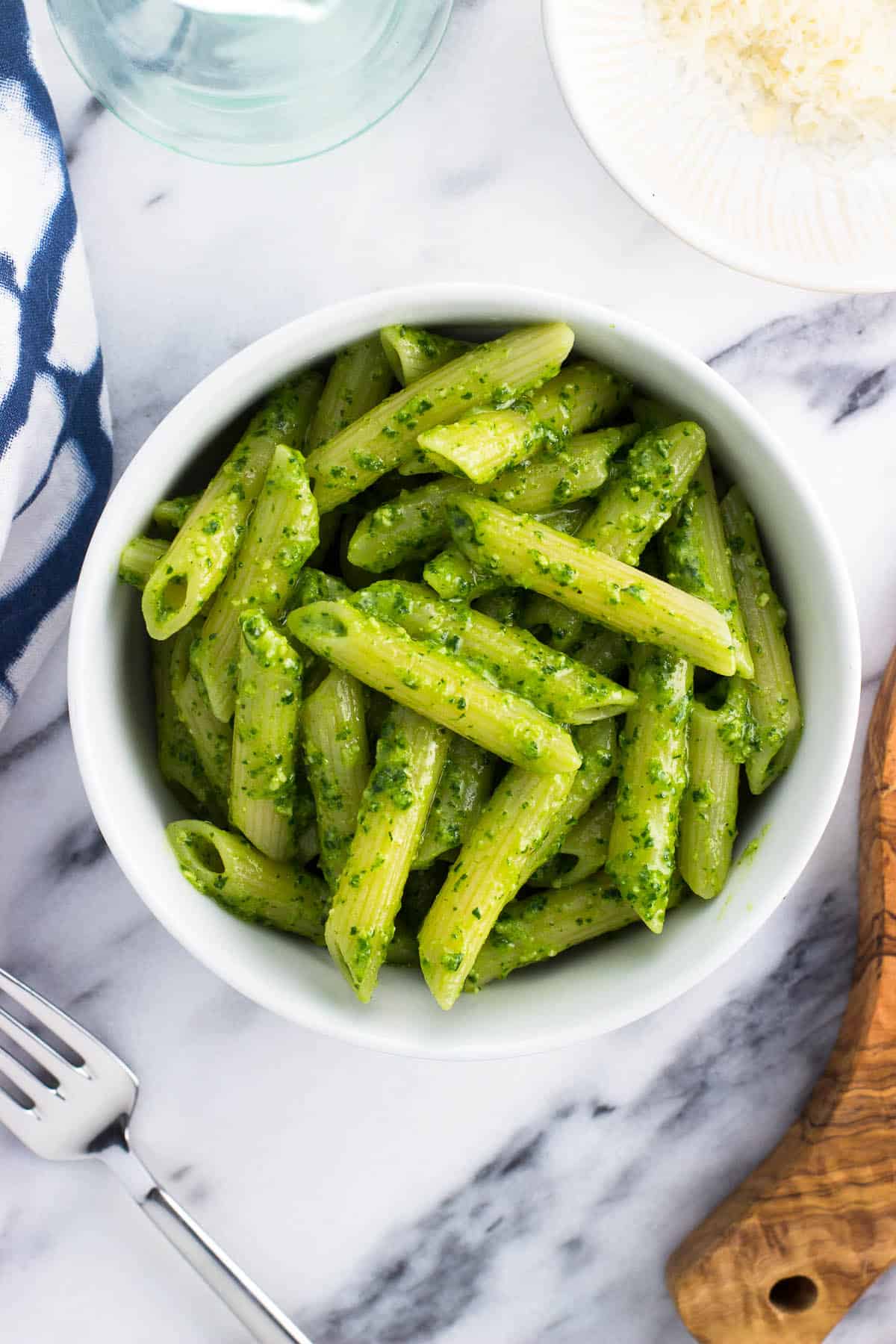 Reasons To Love This Recipe
No basil? No problem! Unless you have a thriving home garden, it can be hard to find good-quality fresh basil in the quantities you need for pesto sauce at the supermarket. Just one container of baby spinach takes care of the greens here to yield multiple batches of this cost-effective spinach pesto.
While not as fast as cracking open a jar of store-bought pesto, homemade is still quick and easy and has a big (BIG) step up in flavor over many pre-made varieties.
Using spinach in place of basil provides a big bump of nutrition. Baby spinach is a good source of Vitamin K and other vitamins and minerals that can be beneficial to cardiovascular and bone health. (Source)
Pesto sauce has a lot of versatility. Prepared as-is it will coat pasta thickly or act as a flavorful spread for a sandwich, quesadilla, or panini. A splash of pasta water will thin it out even further for whatever your need.
Ingredient Notes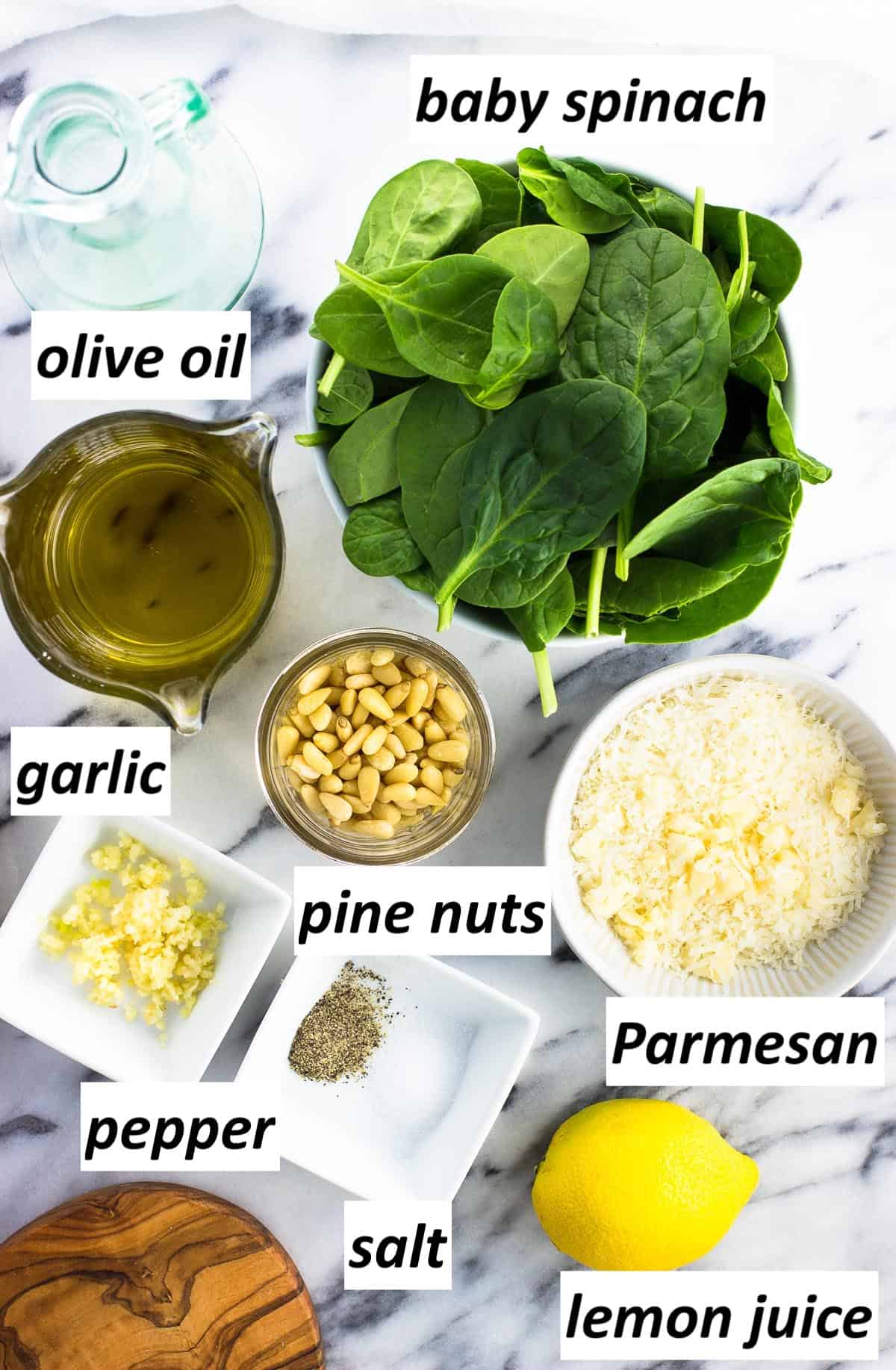 Baby spinach: For spinach pesto I prefer to use baby spinach instead of regular, mature spinach. Baby spinach has a milder flavor that works especially well in raw recipes like pesto sauce.
Pine nuts: While pine nuts are classic in pesto, they can be quite expensive! I've found Costco (and likely other warehouse clubs) to be the least costly place to stock up per ounce, which certainly comes in handy when making pestos and batches of

pignoli cookies

. If you don't have/don't want to buy pine nuts, the same quantity of walnuts work great in their place.
Parmesan:

Individual ingredients shine in this basic spinach pesto sauce. Freshly grated Parmesan (or Pecorino Romano) cheese is recommended when possible. If purchasing pre-grated, look for varieties sold in the deli section of the supermarket over those shelf-stable canisters you'd find elsewhere in the store.
Easy Step-by-Step Instructions
Add baby spinach leaves, nuts, garlic, salt, pepper, and lemon juice to the bowl of a food processor. The food processor pictured has a seven-cup capacity and these ingredients fill it most of the way.
Process until the spinach leaves are broken into tiny pieces. It won't look like a creamy sauce just yet, but rather a fairly uniform, chopped up mixture.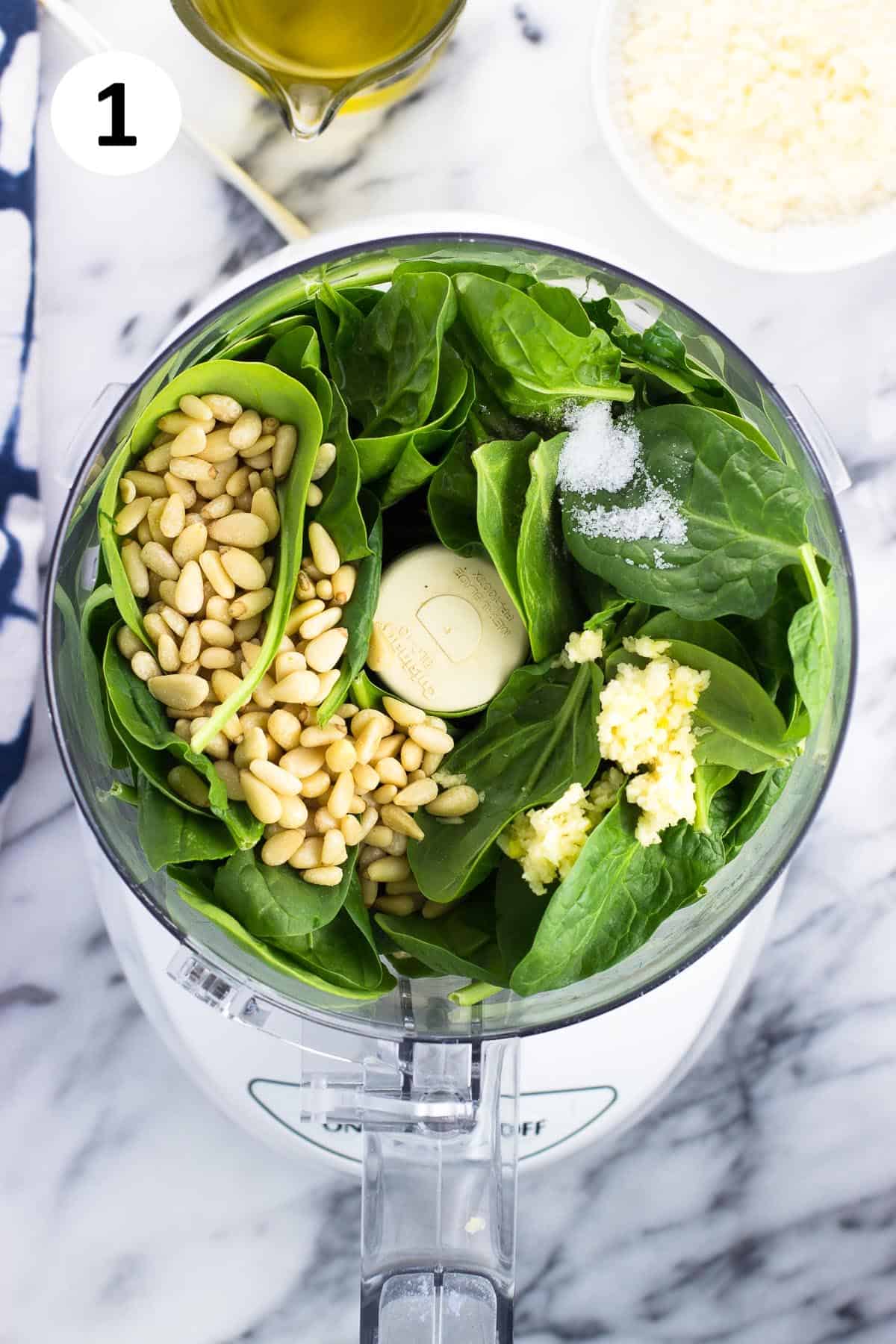 Next slowly pour in the olive oil through the feed tube while the food processor is running. Adding the oil while the blade is in motion allows the tiny bits of fat in the oil to more easily emulsify and become creamy.
The pesto sauce will be a little thin looking, but only for a moment before adding the Parmesan cheese. Give it several good pulses until it's evenly worked into the sauce.
Serving Suggestions
As written, one batch of this spinach pesto recipe yields ten ounces of sauce, which will generously coat one pound of pasta.
But think beyond coating pasta when it comes to using pesto because it's really versatile! It has a bold flavor and a consistency that can work into many different dishes.
Some of my favorite off-the-beaten path uses for pesto include:
Sandwich/panini/quesadilla spread. Adding a spoonful of pesto sauce between slices of cheese in a grilled cheese is especially tasty.
Hummus. Blending pesto into homemade hummus recipes brings a whole lot of flavor, albeit in a not-so-traditional way.
Salad dressing. Starting with a prepared pesto is a big shortcut when making pesto salad dressing. So much flavor!
Garnish. A dollop of pesto adds a great touch when stirred into soup, and a drizzle served over vegetables? I'm all about that.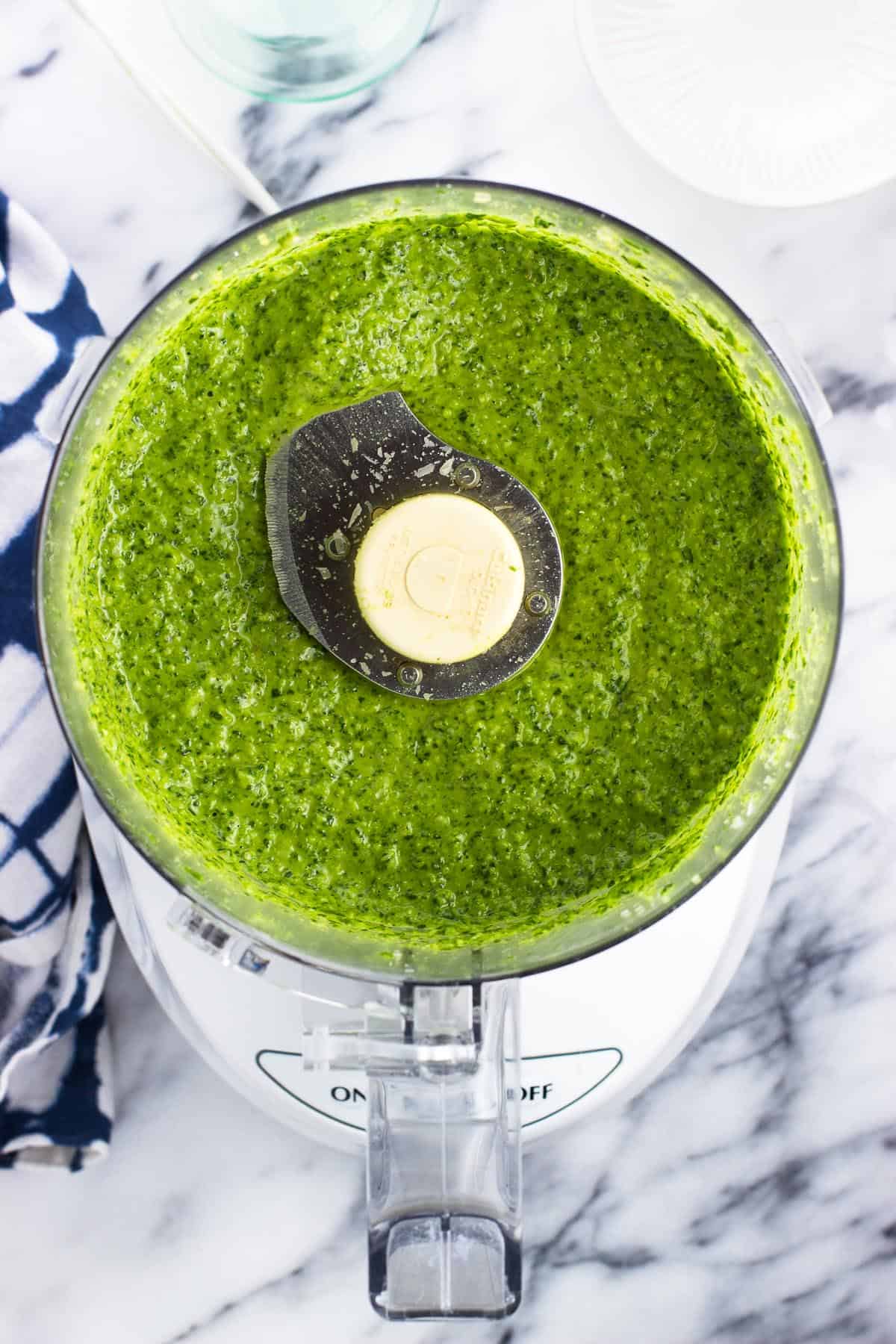 Expert Tips
If your food processor does not have a feed tube, briefly stop processing to add in the oil over several increments. Working in the oil slowly (versus all at once) helps the pesto sauce better emulsify and become luscious and creamy.
Spinach pesto freezes very well. While sauces that include dairy aren't typically good to freeze, the tiny bits of Parmesan mixed in will be just fine here to freeze/thaw without any texture weirdness.
Use hot water from the pasta pot to thin out this spinach pesto, if desired. The starchy water created from boiling the pasta adds a nudge more of flavor and almost silky texture. If you're not sure if you'd like the sauce thinner, reserve one-quarter cup or so of it before straining the pasta and dumping it out.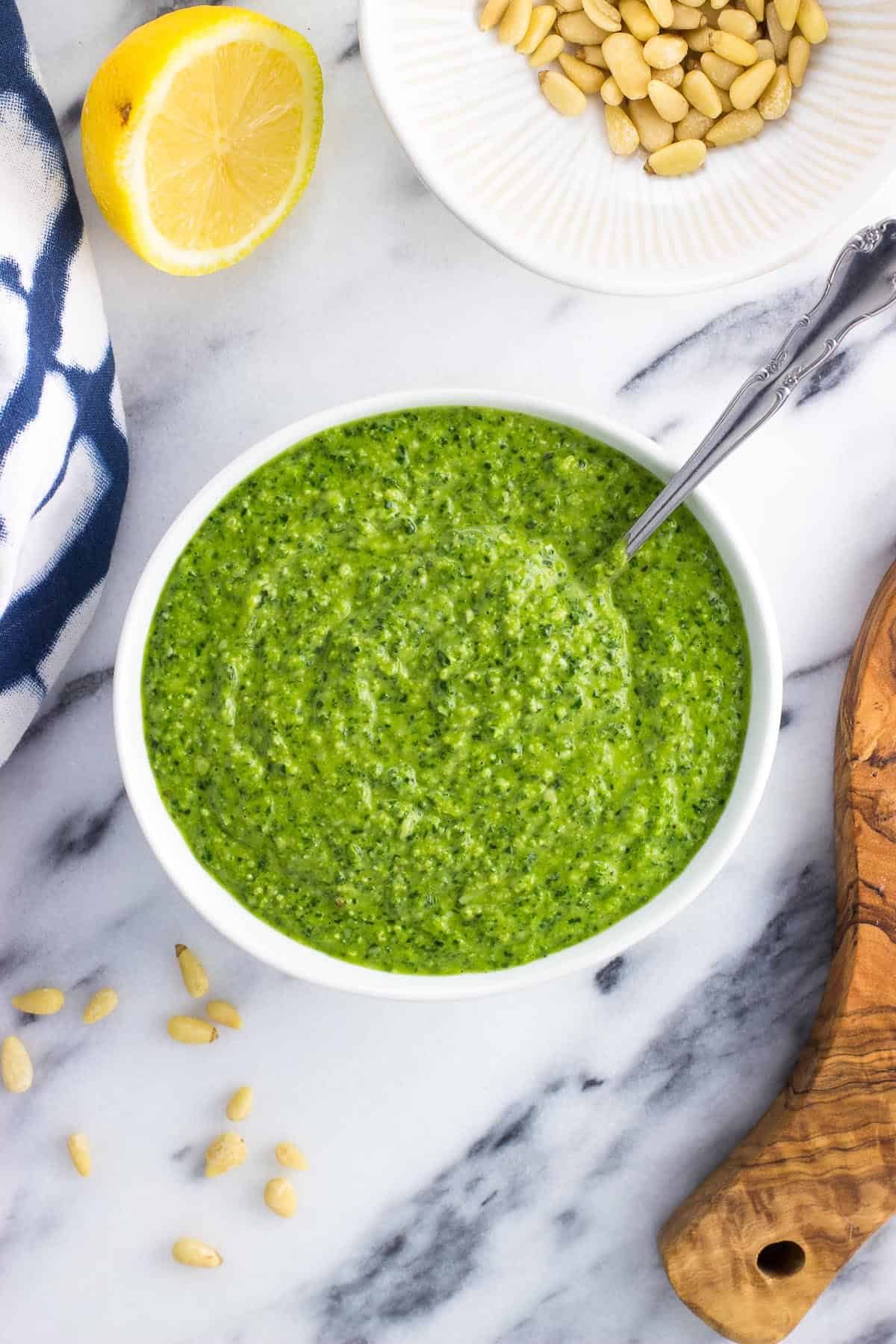 Recipe FAQs
What can you use instead of pine nuts in pesto?
Besides pine nuts, walnuts are a great option to use in homemade pesto recipes. Almonds can also work (they're traditional in pesto rosso), as would hazelnuts if you like their flavor and they would mesh with whatever else you were making.
What do you eat pesto with?
Besides pasta, spread it on a sandwich (grilled chicken, sauteed onions, tomatoes, mozzarella, pesto is a WINNER) or quesadilla, mix it into mayo for a cheater's pesto aioli, or use a dollop or drizzle for topping dishes like soup, vegetables, eggs, or bread.
How long will pesto last in the fridge?
After being refrigerated, homemade pesto is best eaten within 4-5 days. Excess portions freeze very well. One batch will fit in sealable quart-sized bag and can be frozen flat for convenience.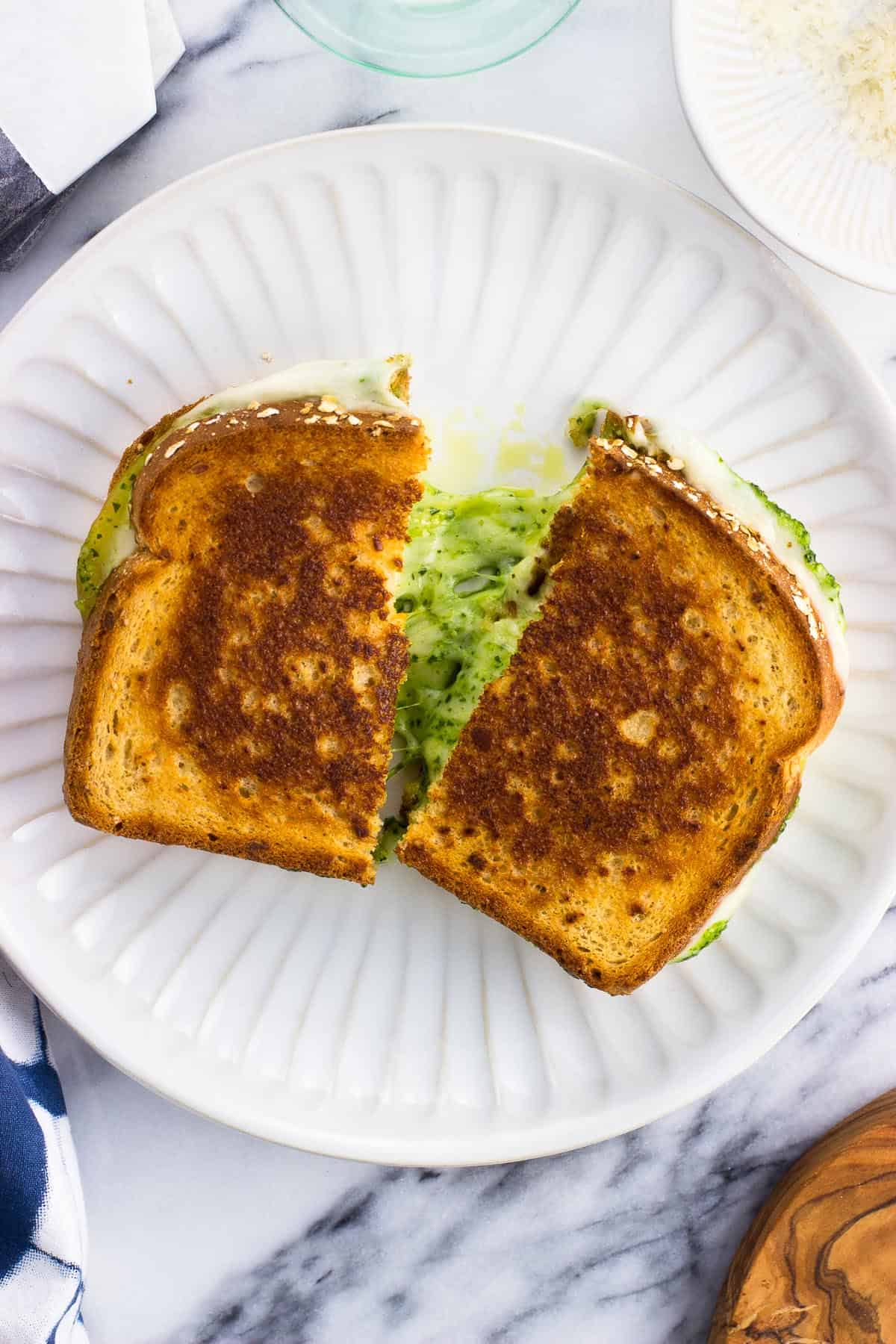 Pazzo for More Pesto Recipes
If you're 'crazy' for pesto like I am, then you may want to check out these pesto-forward recipes.
If you've enjoyed this recipe, I'd love for you to leave a star rating in the recipe card and/or a comment review below!
Spinach Pesto Recipe
Spinach pesto sauce is an easy twist on traditional pesto that's perfect for pasta, spreading on sandwiches, and more. There are lots of nutrients in these leafy greens!
Print
Pin
Rate
Ingredients
2

cups (100g)

baby spinach leaves

packed

¼

cup (40g)

pine nuts

or walnuts

2

teaspoons

lemon juice

from about half a lemon

2-3

cloves

garlic

minced (use less if you like)

½

teaspoon

salt

¼

teaspoon

ground black pepper

½

cup

extra-virgin olive oil

½

cup (40g)

grated Parmesan
Instructions
Add spinach, pine nuts, minced garlic, lemon juice, salt, and pepper to the bowl of a food processor. Pulse until the spinach leaves are chopped up in small pieces, stopping to scrape down the sides of the bowl as needed to work all of the spinach in.

With the food processor running, slowly drizzle in the olive oil through the feed tube and process until creamy and smooth.

Add the Parmesan and process until combined evenly. One batch generously coats one pound of pasta. Refrigerate any excess portions.
Notes
Ingredients Notes
Baby spinach: With a milder flavor than regular spinach, baby spinach works especially well in recipes kept raw, like pesto. Be sure to pack the leaves into the measuring cup very well when measuring.
Pine nuts: Walnuts are a great substitute in place of pine nuts.
Parmesan: Freshly-grated Parmesan will help this pesto shine, but pre-grated/shredded Parmesan from the deli department area of the grocery store will also work. I do not recommend using shelf-stable varieties of Parmesan found in the grocery aisles.
Recipe Tips
If your food processor does not have a feed tube, add the olive oil in several rounds, processing until evenly mixed in after each addition.
If you'd like a thinner consistency, mix in a small amount of hot water leftover from boiling pasta (start with one-quarter cup or less). This starchy water adds a touch of flavor, heats the pesto, and adds a slight silkiness that is appreciated.
Storage instructions: Refrigerate leftover pesto and use within 5 days, stirring it up well before using.
Freezing instructions: Portion pesto out into air-tight containers, sealable bags, or even ice cube trays to freeze. Use within six months. One batch of this spinach pesto will comfortably fit into one quart-sized plastic bag.
Yield: This recipe yields approximately ten ounces of pesto.
Nutrition
Calories:
179
kcal
|
Carbohydrates:
2.1
g
|
Protein:
3.5
g
|
Fat:
18.5
g
|
Saturated Fat:
3.2
g
|
Cholesterol:
5
mg
|
Sodium:
231
mg
|
Potassium:
32
mg
|
Fiber:
0.8
g
|
Sugar:
0.2
g
|
Calcium:
88
mg
|
Iron:
1
mg
Nutritional information is provided as an estimate. As it can vary due to many factors (brands used, quantities, etc.), we cannot guarantee its accuracy.
Food Safety and Nutrition Disclaimer