Pignoli cookies are an Italian classic! Easy and made in the food processor, these almond-flavored cookies are covered in pine nuts that become toasty as they bake. With a crinkly exterior and soft and chewy center, these cookies are a favorite.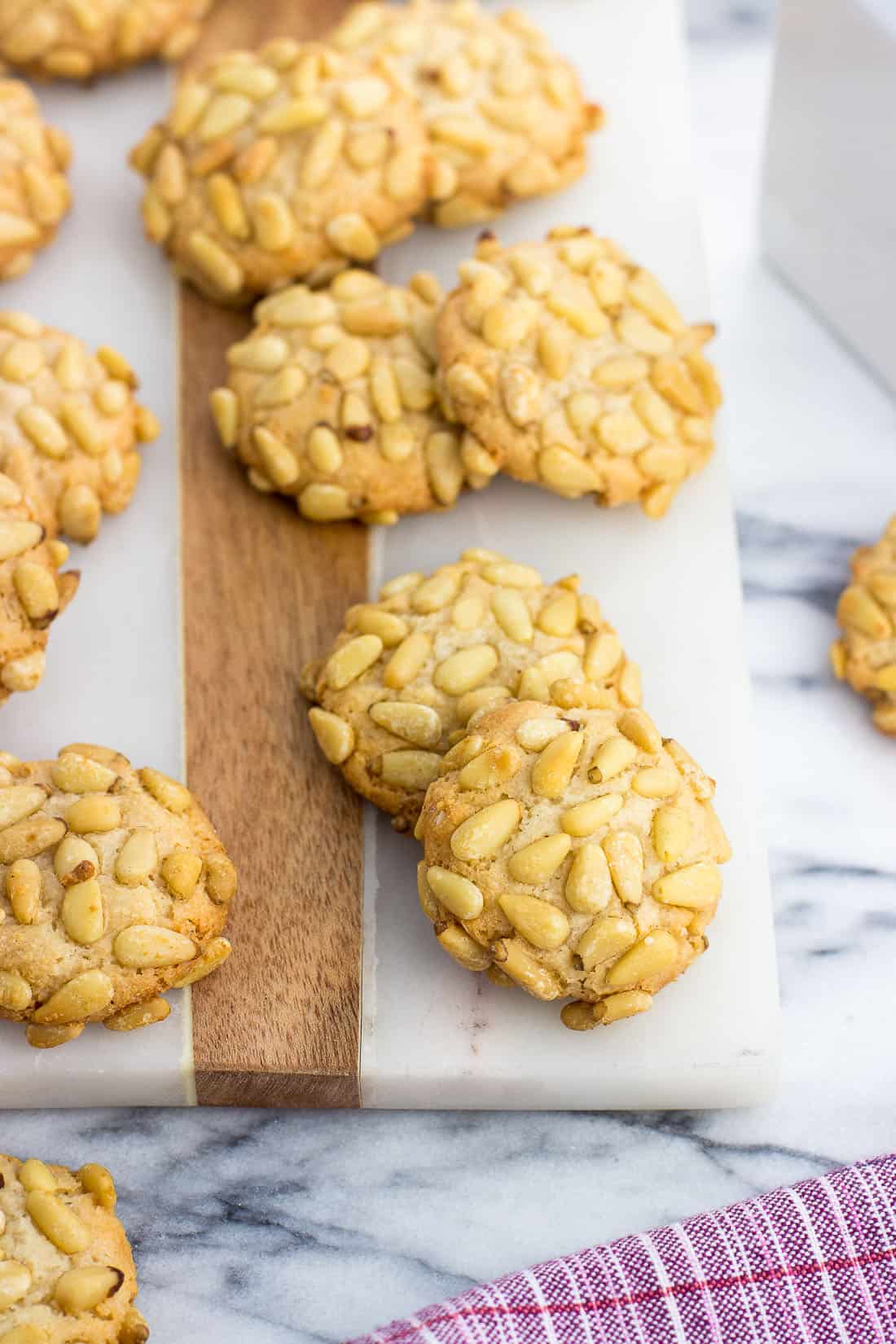 One of the most ever-present foods of my childhood was a great big assortment of cookies from the Italian bakery. Measured in pounds, these mixes included jam sandwich cookies dipped in chocolate, sprinkle cookies, butter cookies with candied cherries in the middle, florentines, my favorite rainbow cookies, and many more. They graced just about every event and get-together when I was growing up.
Looking back now I took them for granted because I certainly can't say that I've seen these beauties around here in middle Tennessee. One cookie featured in the assortment I took doubly for granted was the pignoli cookie.
I guess I didn't think I liked pignoli nuts (a.k.a. pine nuts)? I didn't really go for those. However a trip back home to New Jersey for my friend's wedding had me diving into the pignoli cookie tray during Viennese hour (after I finished my cannoli…) and OH MAN. Big time regrets. Why hadn't I indulged in these sooner??

What are pignoli cookies
Besides delicious? 🙂
The exterior of these cookies is crinkly and slightly crisp while the interior is soft and bursting with almond flavor. The pignoli nuts that coat these cookies turn golden brown and perfectly toasty while they bake, so no pre-toasting is required.
Pignoli cookies are unique for their juxtaposition of flavors and textures. They're also not the cheapest cookie to make, with both almond paste and a fair amount of pine nuts included in each batch, but they're such a treat sprinkled throughout a cookie assortment.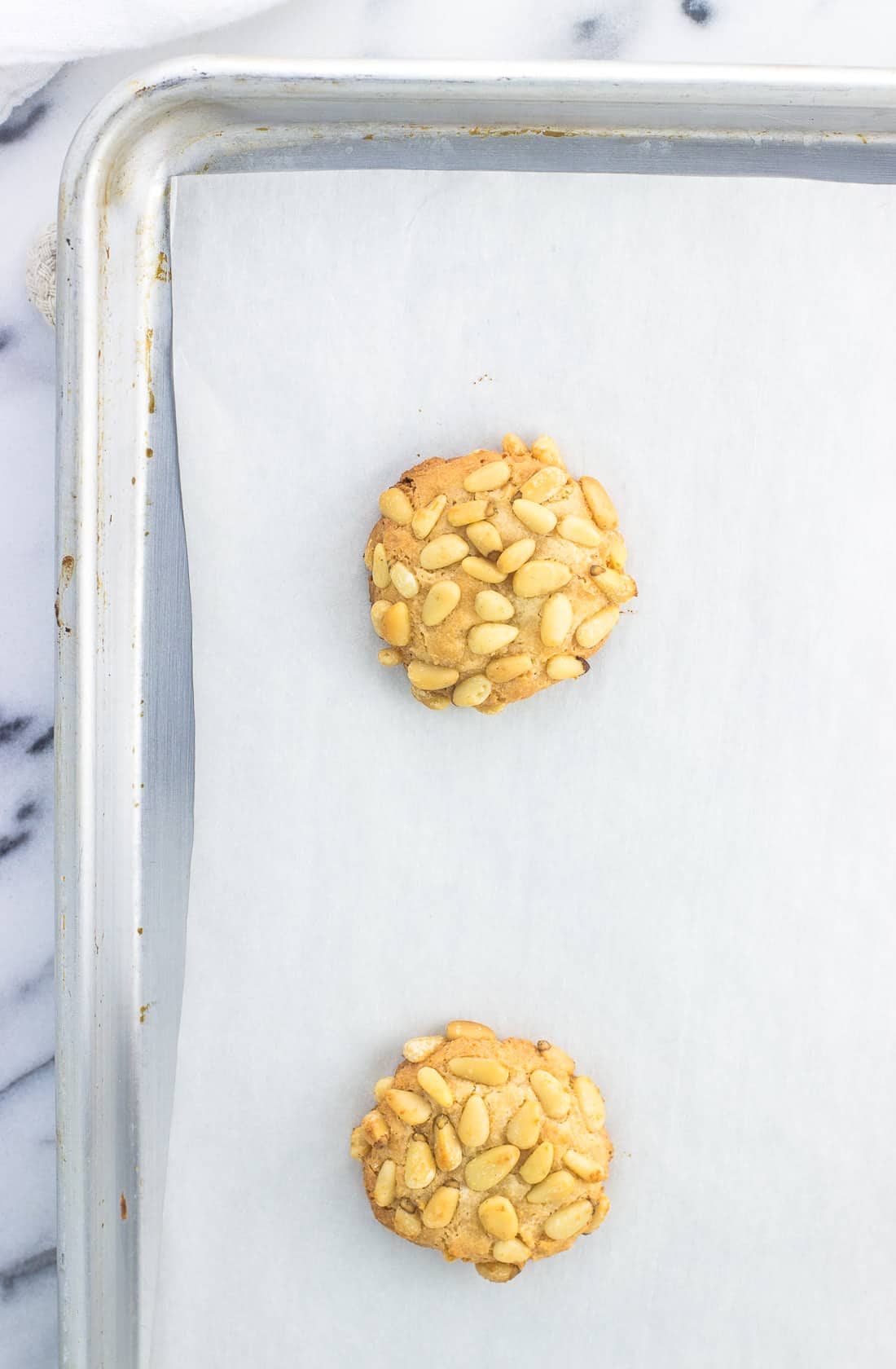 Something to note about these cookies is that they're flourless. Dairy-free, too! A big portion of the cookie is made up of almond paste, that dense block you see in the blue and white checked bowl below. It's a combination of ground almonds and sugar, which is bursting with almond flavor (and scent!).
It's not something you eat on its own, but makes a fantastic addition to pignoli cookies, rainbow cookies, almond horns, pastry fillings, and more.

Almond paste vs. marzipan
Almond paste differs from marizpan, another almond-based confection, in that marizpan is sweeter, smoother, and can sometimes be eaten as-is. They'll likely be next to each other at the store if where you shop stocks both.
I've seen a recipe or two for pignoli cookies that uses marzipan, but this recipe uses almond paste. I've never worked with marzipan, so I wouldn't recommend substituting it in here. It would likely be too sweet, and I couldn't say how its consistency would handle.
Almond paste comes in a variety of containers, from tubes to cans to packets. My local big chain grocery store carries almond paste in 8-ounce packets. You can see it in the ingredient photo above…that's the shape of the packet. It was wrapped in foil covering and packaged in a small cardboard carton. It's usually found in the baking aisle near the canned pie fillings, canned pumpkin, etc.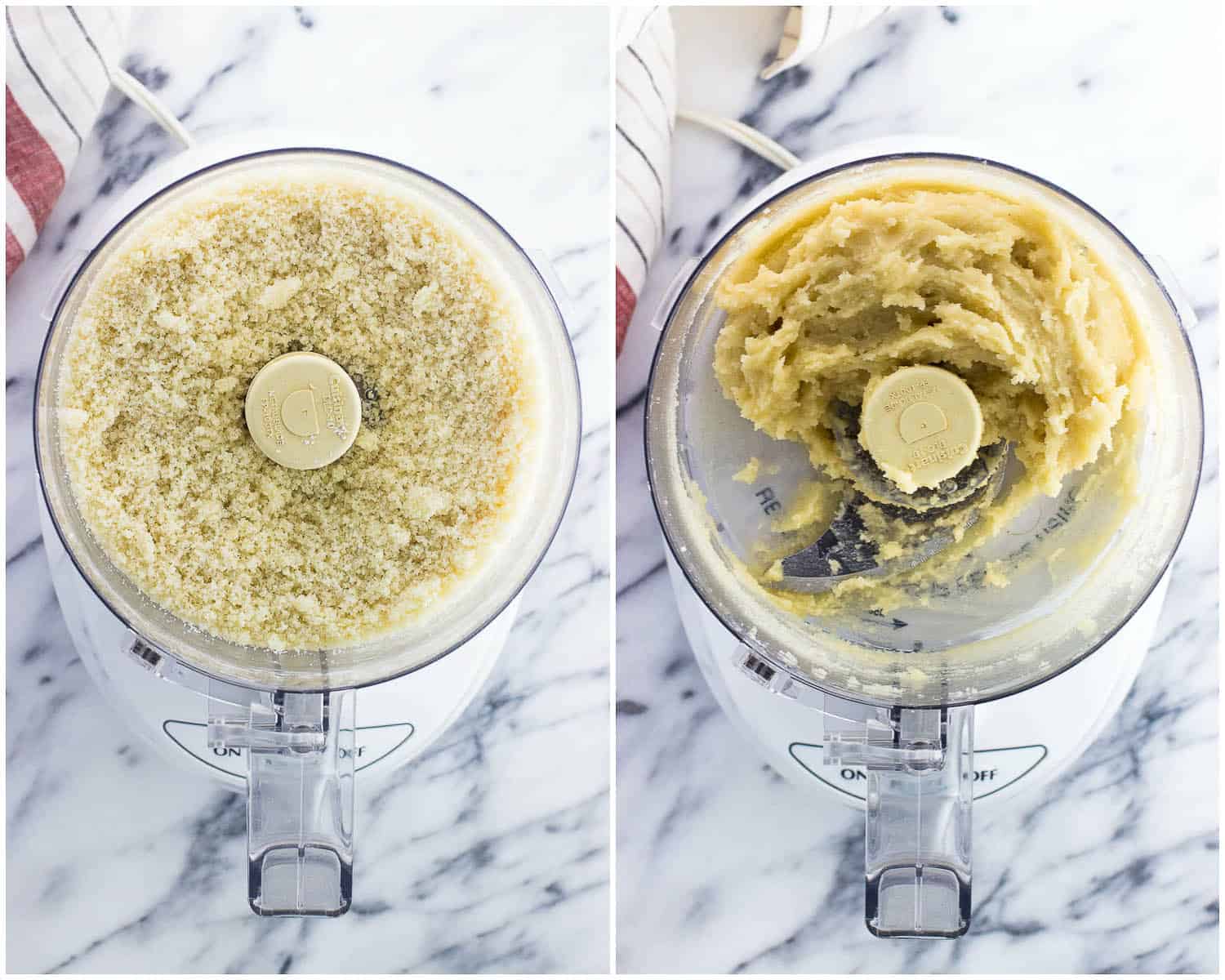 How to make pignoli cookies
Start by crumbling the almond paste into the bowl of a food processor. It won't crumble into small bits yet (that's what the food processor is for), but just rip off small chunks and add them to the bowl.
Then add even amounts of granulated sugar and confectioners' sugar, kosher salt, and tiny pinch of cinnamon. Some pignoli cookie recipes out there use all granulated sugar, some use all confectioners' sugar, and some use a mix in various ratios. My preferred way is to use an equal amount of both. I find adding in confectioners' sugar brings a welcome softness and cuts down on any extra spreading that we don't want here.
Pulse the mixture until the almond paste is broken up into small crumbs and the dry ingredients are well combined.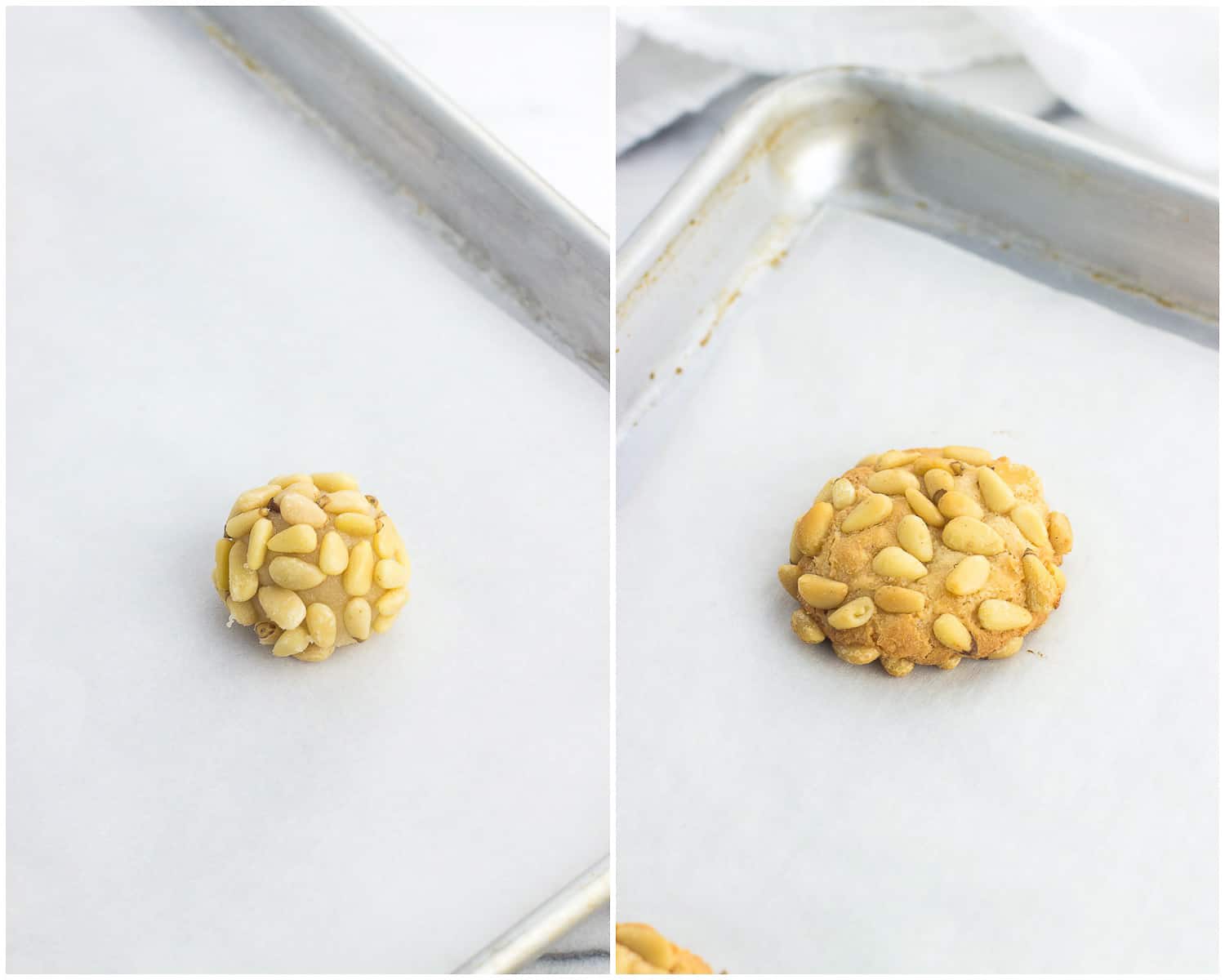 With the food processor running, add the honey, vanilla extract, and egg white. Pulse as the mixture develops into a cohesive dough, shown in the picture above. Just a fair warning it'll be pretty sticky, but will be rollable between your palms without being a total headache.
Roll each ball in pine nuts (the sticky dough comes in handy), then place on a parchment-lined baking sheet. These pignoli cookies will flatten as they bake, so no need to press down on them. Look for these cookies to become golden brown before removing them from the oven. Let them cool for a little bit on the baking sheets, then transfer to wire racks to cool completely before storing.
Stored in an air-tight container, these cookies should stay for quite awhile at room temperature. They also can be frozen.
Other Italian cookie recipes you might enjoy
You can say that Italian cookies are a favorite around here. These Italian pignoli cookies are a little different in that they don't use rainbow nonpareils. I swear I sprinkle those on everything!
A reader favorite, Italian anise cookies have just the right balance of anise flavor to be present but not overpowering.
They might look similar, but Italian ricotta cookies are tender and moist, flavored with lemon and almond. Still topped with rainbow nonpareils, though. 😉 Chilling the dough is the trick to have these cookies bake without flattening!
Cucidati (Italian fig cookies) are new to the blog this year. Have you ever had them before? They're sort of like a Sicilian Fig Newton…covered in rainbow nonpareils. The citrusy/spiced filling is perfect for Christmastime.
Dark chocolate pizzelle are fab if you have a pizzelle iron! Using dark cocoa powder is an easy way to bump up the deep dark chocolate-y flavor in these slightly untraditional Italian wafer cookies.
Recipe notes:
Use almond paste for this recipe, not marzipan. I like working with almond paste that comes in a block in a foil bag inside a cardboard carton (vs. almond paste in a tube or can).
Pine nuts are certainly not the cheapest nut out there, and there's no getting around the fact that pignoli cookies are covered in them. The cheapest price per ounce I've found has been Costco (less than half the price than the supermarket), though YMMV.
Despite the pinch of cinnamon, these cookies are not cinnamon-flavored in the slightest. I just find it zhushes the flavor a bit!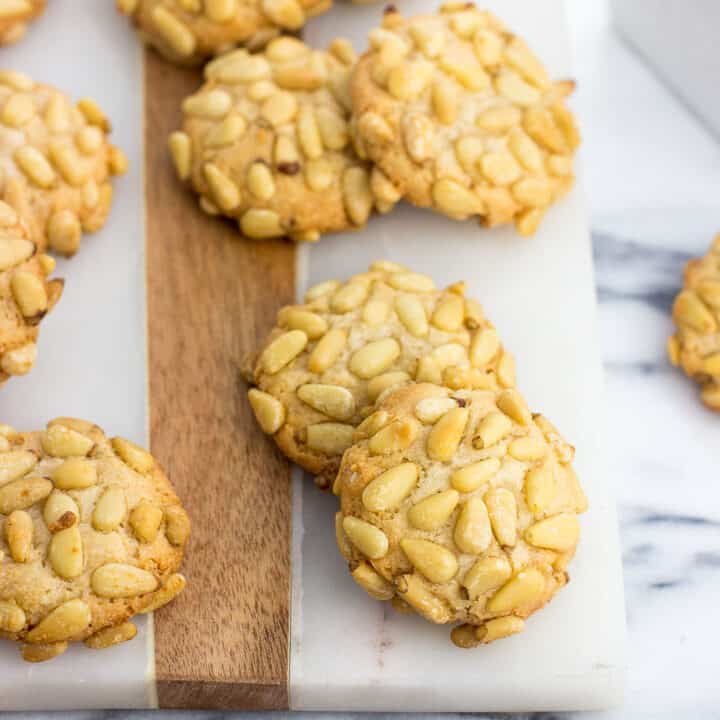 Pignoli Cookies
Pignoli cookies are an Italian classic! Easy and made in the food processor, these almond-flavored cookies are covered in pine nuts that become toasty as they bake.
Print
Pin
Rate
Ingredients
8

oz

almond paste

1/3

cup

granulated sugar

1/3

cup

confectioners' sugar

1/4

tsp

kosher salt

A pinch of

ground cinnamon

1

large

egg white

2

tsp

honey

1/4

tsp

vanilla extract

1 1/4

cups

pine nuts
Instructions
Preheat oven to 350°F. Line large baking sheet(s) with parchment paper and set aside.

Crumble almond paste into small pieces (around the size of a chickpea is fine) into the bowl of a food processor. Pulse a few times to break the almond paste up into rough crumbs.

Add both of the sugars, kosher salt, and cinnamon to the food processor and pulse until evenly combined.

While the food processor is running, add the egg white, honey, and vanilla extract. Pulse as the mixture becomes thickened and smooth.

Add the pine nuts to a shallow bowl. Scoop about one tablespoon of batter and roll it into a ball with your hands. The batter will be sticky but will form a ball. Roll the ball of batter in the pine nuts to coat it completely, then place cookies around 2"-apart on parchment lined baking sheets.

Bake for 16-20 minutes, or until golden brown. Let pignoli cookies cool for 5-10 minutes on the baking sheet, then transfer to a wire rack to cool completely.
Nutrition
Serving:
1
cookie
|
Calories:
126
kcal
|
Carbohydrates:
11.8
g
|
Protein:
2.3
g
|
Fat:
8.5
g
|
Saturated Fat:
0.7
g
|
Sodium:
31
mg
|
Potassium:
85
mg
|
Fiber:
0.8
g
|
Sugar:
9.8
g
|
Calcium:
20
mg
|
Iron:
1
mg
Nutritional information is provided as an estimate. As it can vary due to many factors (brands used, quantities, etc.), we cannot guarantee its accuracy.
Recipe adapted from Bon Appetit