Pignoli cookies are an Italian classic! Easy and made in the food processor, these almond-flavored cookies are covered in pine nuts that become toasty as they bake. With a crinkly exterior and soft and chewy center, these cookies are a holiday favorite.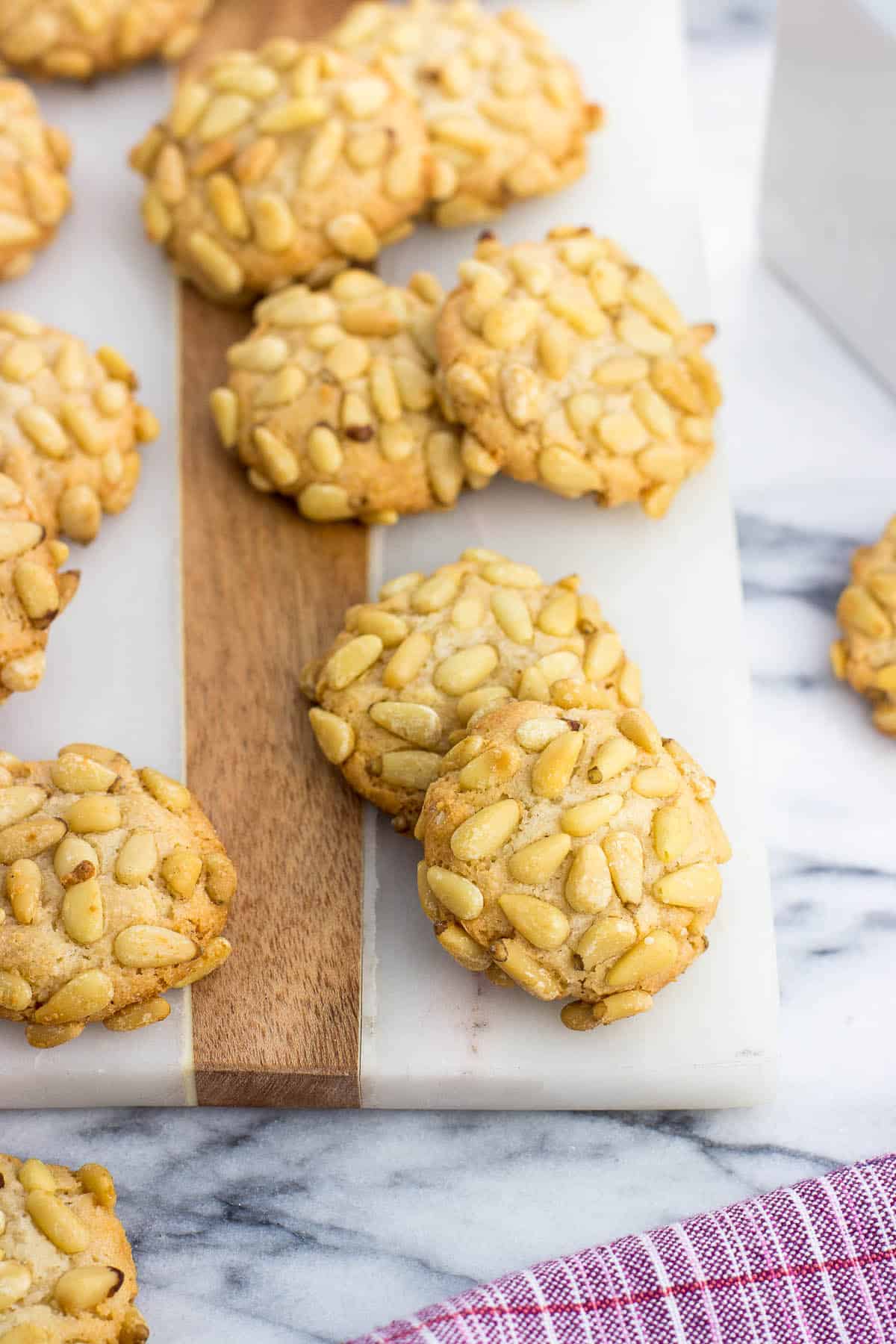 One of the most ever-present foods of my childhood was a great big assortment of cookies from the Italian bakery. Measured in pounds, these mixes included jam sandwich cookies dipped in chocolate, sprinkle cookies, butter cookies with candied cherries in the middle, my favorite rainbow cookies, florentines, and many more.
Looking back now I took them for granted because I certainly can't say that I've seen this beloved mix around here much in Tennessee. One cookie featured in the assortment I took doubly for granted was the pignoli cookie.
I guess as a kid I didn't think I liked pignoli nuts? However a trip back home to New Jersey for my friend's wedding had me diving into the pignoli cookie tray during the Venetian hour (after I finished my cannoli...) and OH MAN. Big time regrets. Why hadn't I indulged in these sooner??
Soon after I set to work on my own recipe to make at home, and have landed on these beauties right here.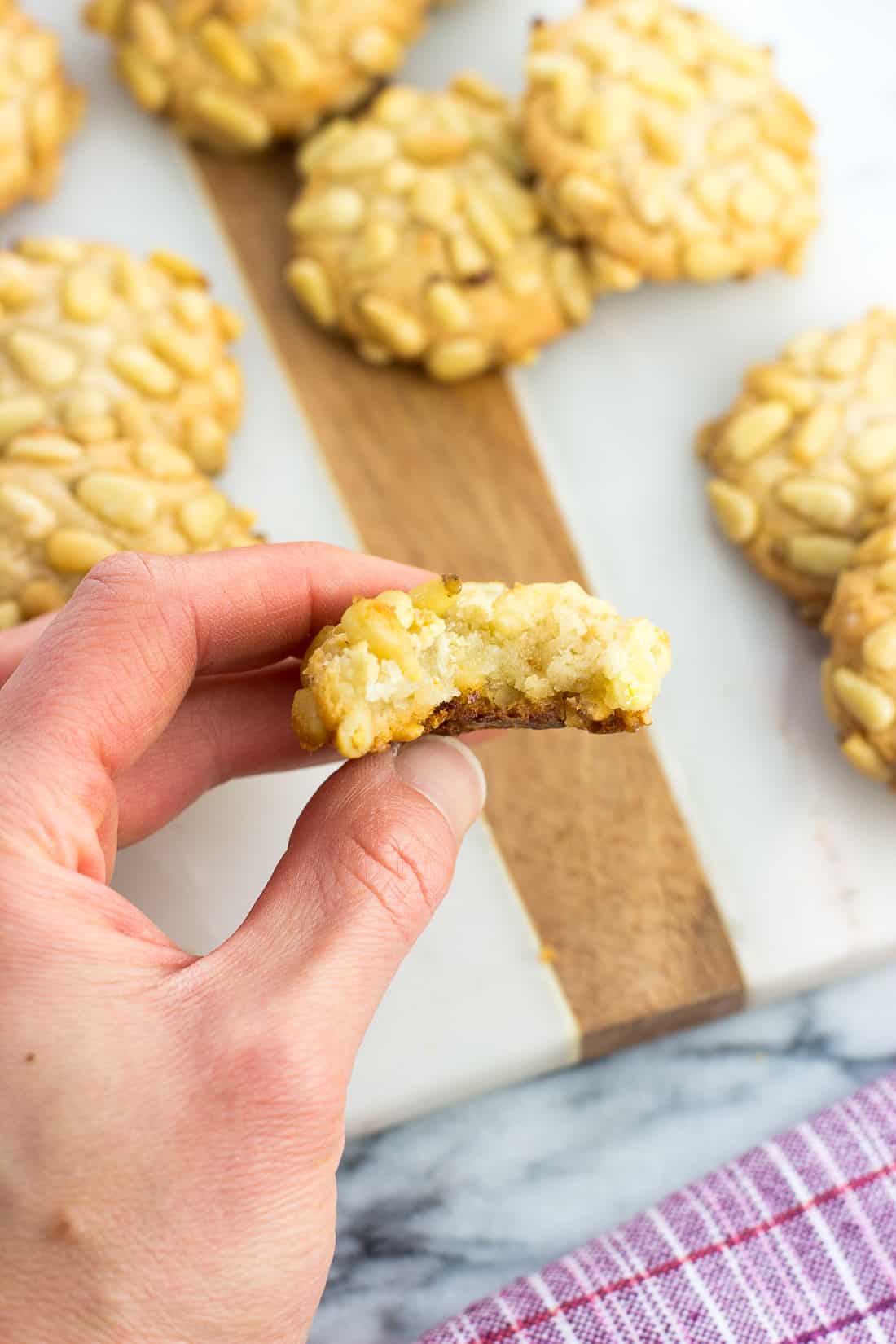 Reasons to Love This Recipe
Their unique flavor and consistency just can't be beat. The bold flavor of almond paste combines with toasty pine nuts for a perfect pairing. These cookies are crisper on the outside with a chewy soft interior bursting with almond.
This is a one bowl recipe - the food processor! It also requires no chill time.
They're naturally flourless, gluten-free and dairy-free, making them a wonderful option for those with dietary restrictions around the holidays.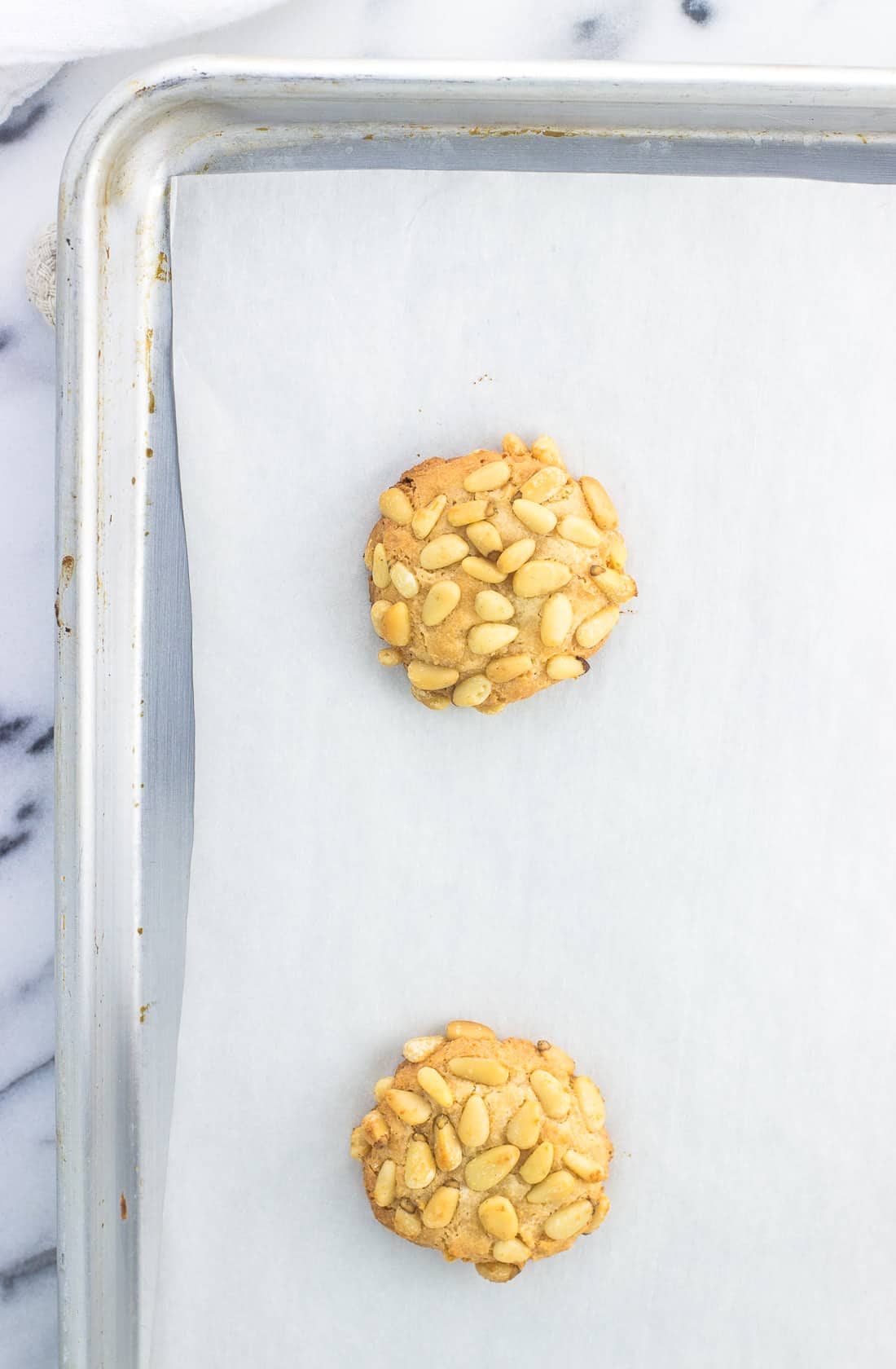 What are Pignoli Cookies?
Pignoli cookies are unique for their juxtaposition of flavors and textures. The exterior of these cookies is crinkly and slightly crisp while the interior is soft and bursting with almond flavor. The pignoli nuts that coat these cookies turn golden brown and perfectly toasty while they bake, so no pre-toasting is required.
If there can be a drawback of these cookies (the horror), it's that they're not the cheapest cookie to make. Each batch requires one package of almond paste and six ounces of pine nuts, both pricey ingredients. They also don't make a ton (around 21 cookies per batch), but they make such a treat when sprinkled throughout a cookie assortment.
Recipe Ingredients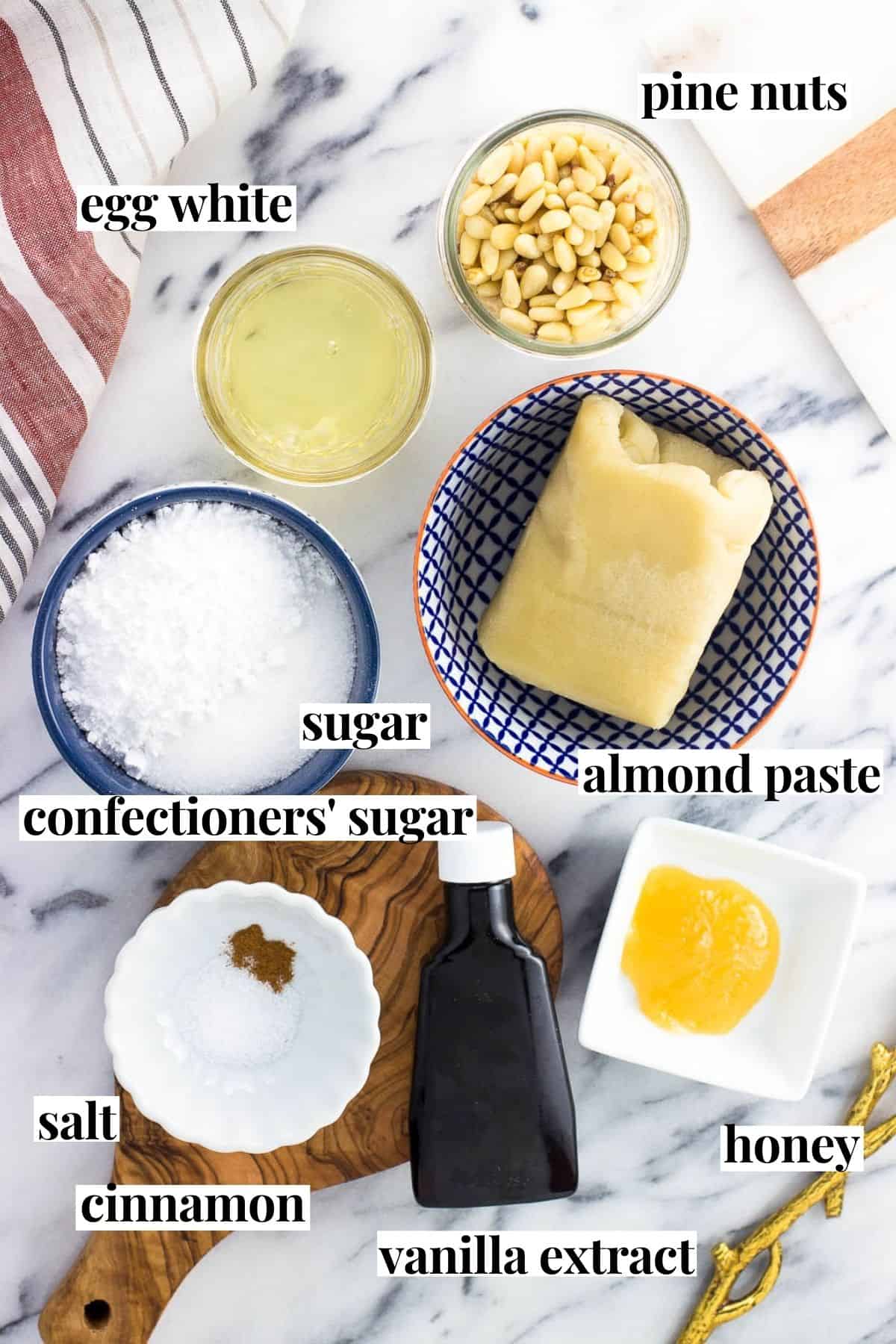 Almond paste: Almond paste is made up of a combination of ground almonds and sugar, which is bursting with almond flavor (and scent!). Almond paste comes in a variety of containers, from tubes to cans to packets. My local big chain grocery store carries almond paste in 8-ounce foil packets (within a small cardboard carton). It's usually found in the baking aisle near the canned pie fillings, canned pumpkin, etc.
Sugars: Some pignoli cookie recipes out there use all granulated sugar, some use all confectioners' sugar, and some use a mix in various ratios. My preferred way is to use an equal amount of both. I find adding in confectioners' sugar brings a welcome softness and cuts down on any extra spreading that we don't want here.
Cinnamon: A pinch (about one-sixteenth of a teaspoon) of ground cinnamon rounds out the background flavor in the slightest way. Don't worry about it being a perceptible flavor here if you're not a fan.
Pine nuts: Buy raw nuts for this recipe as they become just the right amount of toasted in the cookie bake time. A six ounce bag will all (or nearly all) be used.
The Difference Between Almond Paste and Marzipan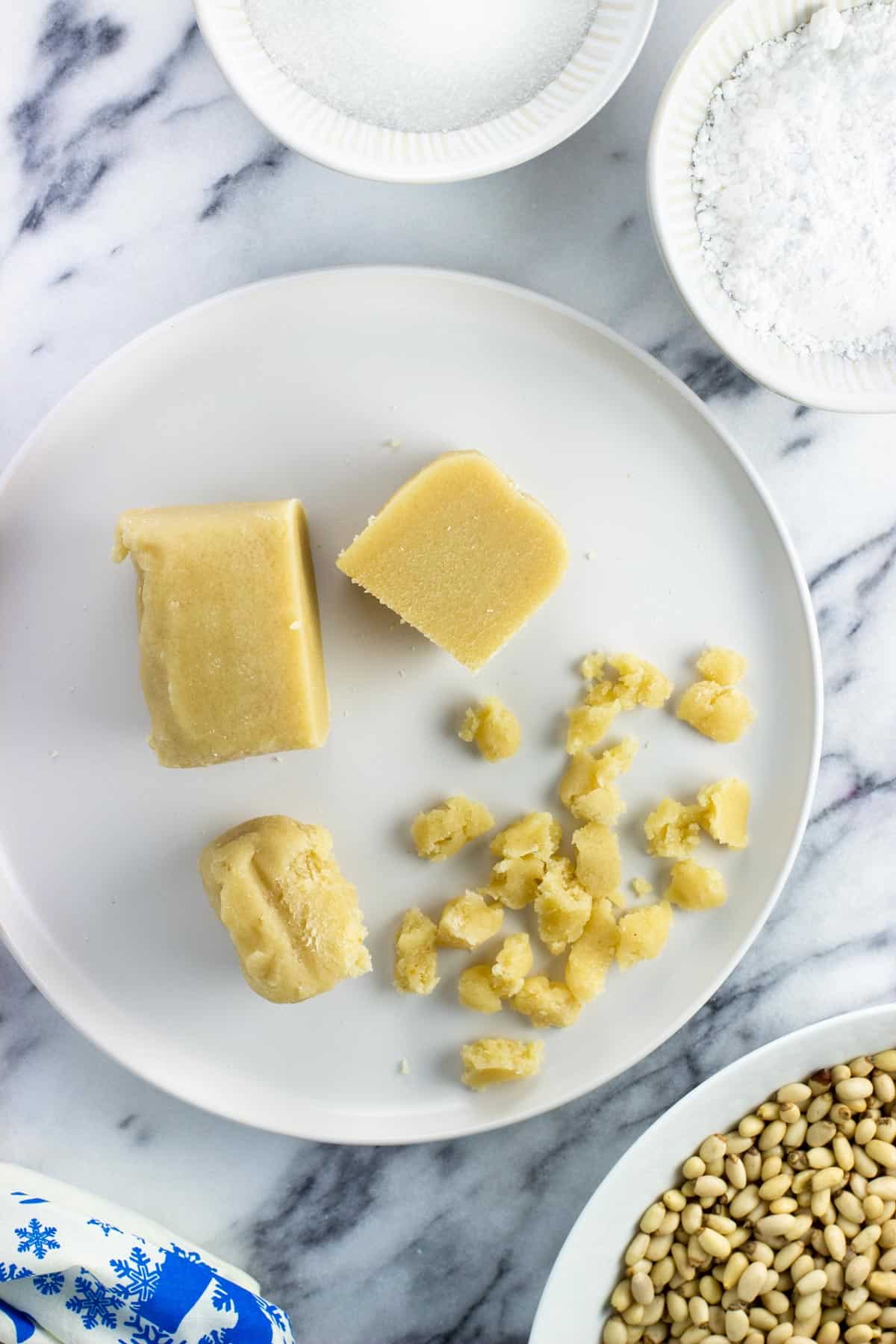 Almond paste differs from marzipan, another almond-based confection, in that marzipan is sweeter, smoother, and can sometimes be eaten as-is. They'll likely be next to each other at the store if where you shop stocks both.
Almond paste is not eaten by itself and is used as an ingredient in recipes such as rainbow cookies, almond horns, or in pastry fillings.
I've seen a recipe or two for pignoli cookies that uses marzipan, but this recipe uses almond paste. I've never worked with marzipan, so I wouldn't recommend substituting it in here. It would likely be too sweet, and I couldn't say how its consistency would handle.
Step-by-Step Instructions
Break the block of almond paste up into small chunks about half an inch wide into the food processor. Pulse several times until they're in rough crumbs, then add both sugars, the salt, and the cinnamon. Pulse again until everything is evenly combined and the mixture now resembles small crumbs (lower left picture).
While the food processor running, add the egg white, honey, and vanilla extract. A thick sticky dough will develop (lower right picture).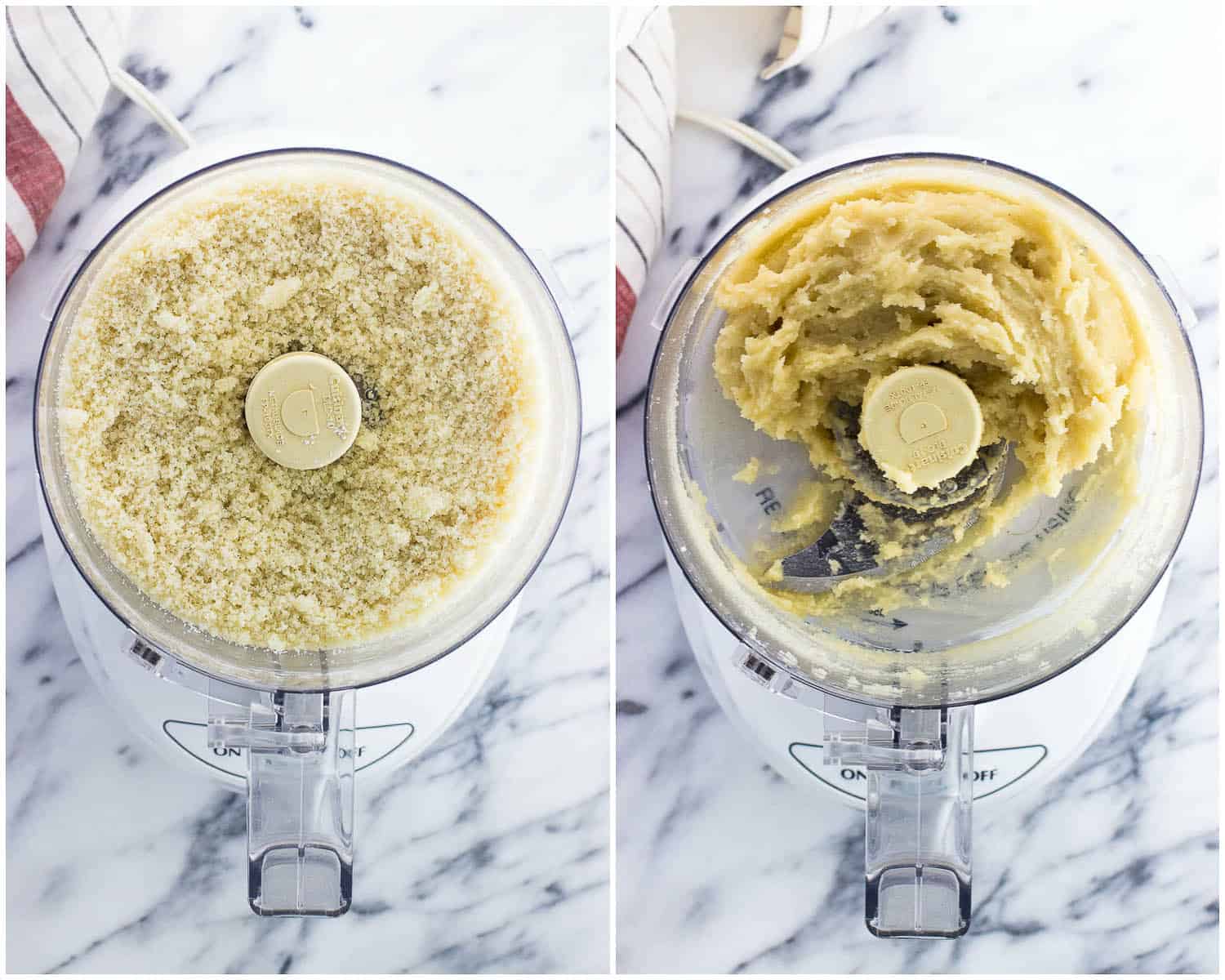 Scoop one tablespoon of dough and roll it into a ball with your hands. Roll the ball in pine nuts to cover it completely, then place on a parchment-lined baking sheet. Continue for the rest of the dough, placing cookies around two inches apart on the sheet. These pignoli cookies will flatten as they bake, so no need to press down on them.
Bake at 350°F/177°C for 16-20 minutes, or until the edges are turning a light golden-brown. Let the pignoli cookies cool on the sheet for 5-10 minutes, then transfer to a rack to cool completely.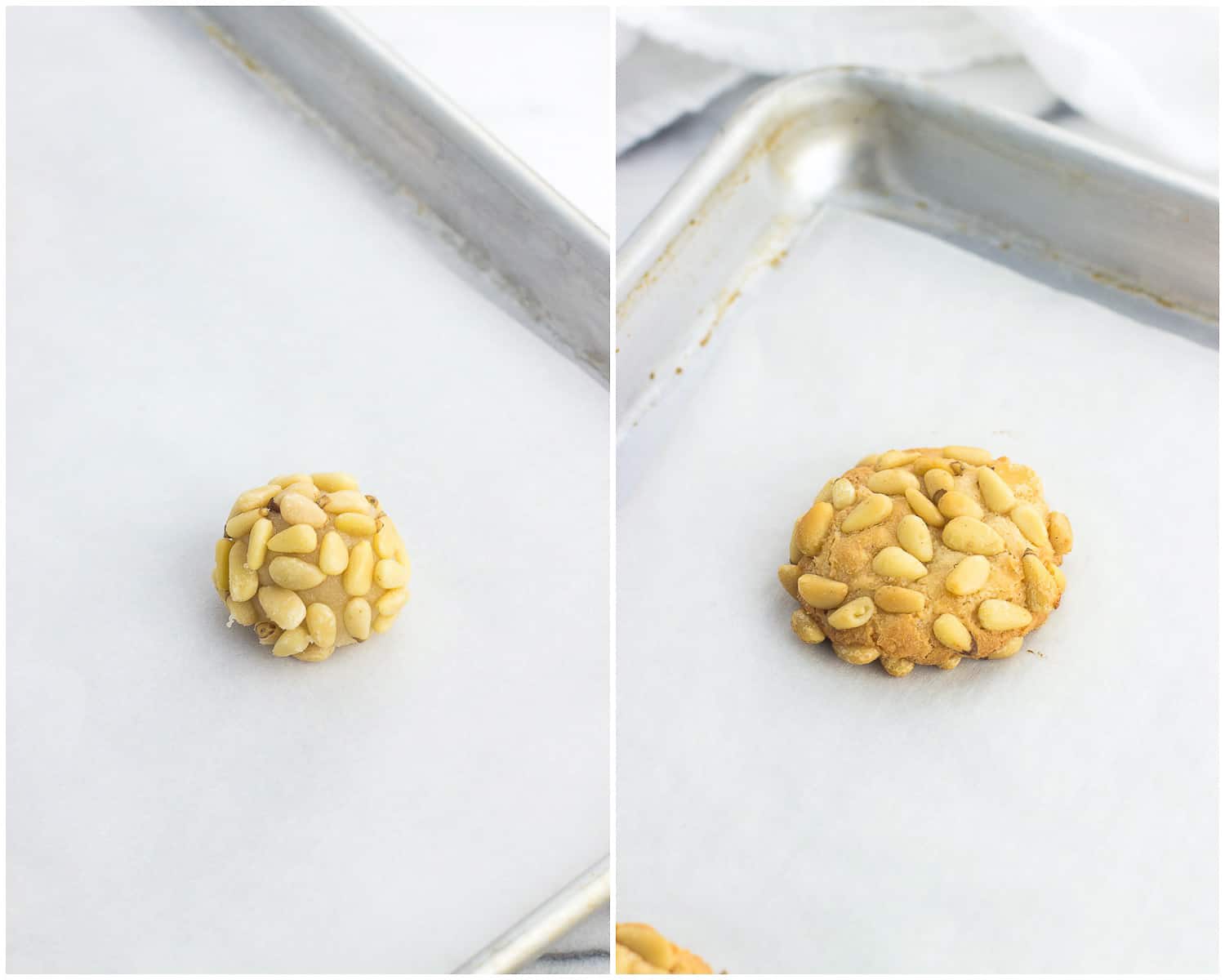 Expert Tips
The dough will be sticky (which we want as it helps the pine nuts adhere), but not too sticky where it becomes a total headache. It should stick on your fingers but be able to roll between your palms fairly easily. If it's a bit too sticky for your liking, lightly rub a small amount of cool water on your fingers and palms to help prevent excess sticking.
To end up with the full yield, be mindful of using just one tablespoon of dough per cookie, leveling off the top of the measuring spoon so it's even. I have found most cookie scoops to be larger than one tablespoon, so I stick with the measuring spoon method.
Only add one cup of the pine nuts to your bowl to start, but keep the other quarter-cup ready nearby. This way if you don't end up needing every last nut, you don't waste any as you'll need to discard the excess as it came in contact with the raw egg dough.
Recipe FAQs
Where can I buy pine nuts?
I would not recommend buying pine nuts at the regular grocery store as I have found their small jars/bags to be very expensive. If in stock, wholesale warehouses like Costco tend to have the best prices per ounce, followed by stores such as Trader Joe's and Target that sell pine nuts in larger quantities.
How do you store pignoli cookies?
Let the pignoli cookies cool completely before placing them in air-tight containers or bags as storing at room temperature. They will stay well for a week or even longer.
Can you freeze pignoli cookies?
Yes, these cookies freeze very well. Seal them in an air-tight container or bag, then freeze for several months. If you would like to garnish them with powdered sugar, do so only after they're completely thawed just prior to serving.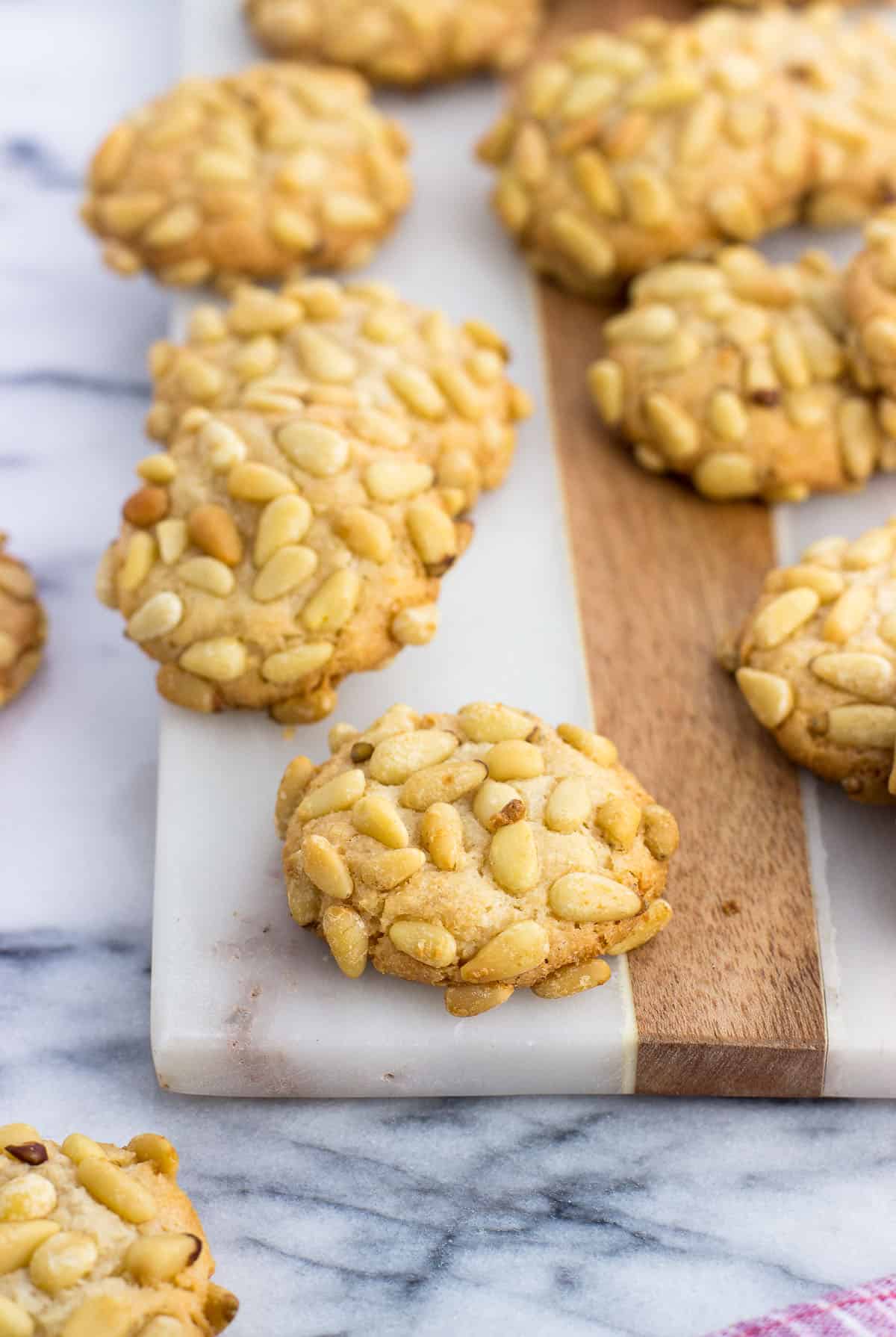 More Italian Cookie Recipes
If you've enjoyed this recipe, I'd love for you to leave a star rating in the recipe card and/or a comment review below!
Pignoli Cookies
Pignoli cookies are an Italian classic! Easy and made in the food processor, these almond-flavored cookies are covered in pine nuts that become toasty as they bake.
Print
Pin
Rate
Ingredients
8

oz (227g)

almond paste

⅓

cup (67g)

granulated sugar

⅓

cup (37g)

confectioners' sugar

¼

teaspoon

kosher salt

Pinch

of

ground cinnamon

1

large

egg white

2

teaspoons (14g)

honey

¼

teaspoon

vanilla extract

6

oz (175g)

raw pine nuts

about 1 ¼ cups
Instructions
Preheat oven to 350°F. Line two large baking sheets with parchment paper and set aside.

Crumble almond paste into small pieces (around the size of a chickpea is fine) into the bowl of a food processor. Pulse a few times to break the chunks up into rough crumbs.

Add the granulated sugar, confectioners' sugar, kosher salt, and cinnamon to the food processor and pulse until evenly combined and everything is in small crumbs.

While the food processor is running, add the egg white, honey, and vanilla extract. Pulse as the mixture becomes thickened and smooth and forms a sticky ball of dough.

Add one cup of the pine nuts to a shallow bowl, keeping the other quarter-cup nearby. Scoop one even tablespoon of batter and roll it into a ball with your hands. It will be sticky but it will form a ball. Roll the ball in the pine nuts to coat it completely, then place cookies around two-inches apart on the lined baking sheets. Add the reserved quarter-cup of pine nuts to the main bowl if needed.

Bake for 16-20 minutes, or until the edges are turning golden brown and the tops are just becoming golden. Let the pignoli cookies cool for 5-10 minutes on the baking sheet, then transfer to a wire rack to cool completely. Dust with confectioners' sugar for serving if you like.
Notes
Ingredient Notes
Almond paste: It's not recommended to substitute in marzipan here, as marzipan is a fair amount sweeter with a harder texture.
Confectioners' sugar: If not weighing, measure the confectioners' sugar like you would flour, using the spoon-and-level method. Stir it up in its bag so it's not packed down, then spoon it into your measuring cup until it's heaped over the top. Use a straight-edge to level off the top of the cup, letting the excess fall back into the bag.
Pine nuts: Use raw nuts as they toast during the cookie bake time.
Recipe Tips
The dough will be sticky. It should stick to your fingers but roll fairly cleanly between your palms to form balls. If it's sticking a bit more than you'd like, coat your hands with a small bit of cool water to cut down on the sticking.
Measure a flat (not heaping) one tablespoon of dough to get the whole yield here. Many cookie scoops are larger than one straight tablespoon, so I recommend using a measuring spoon itself to portion out the dough.
The reasoning behind starting with one cup of nuts is that you'll have to discard any excess nuts as they were in contact with the raw egg dough. Add in just as much as you need from the remaining quarter-cup as to not waste any.
Storage Instructions: Once totally cooled, place pignoli cookies in an air-tight container or bag and store at room temperature for one week (or really, even longer).
Freezing Instructions: Freeze pignoli cookies once cooled in air-tight freezer containers or bags for up to several months. Let them thaw fully before dusting with powdered sugar, if doing so, so it doesn't "melt" into the surface and disappear.
Nutrition
Serving:
1
cookie
|
Calories:
126
kcal
|
Carbohydrates:
11.8
g
|
Protein:
2.3
g
|
Fat:
8.5
g
|
Saturated Fat:
0.7
g
|
Sodium:
31
mg
|
Potassium:
85
mg
|
Fiber:
0.8
g
|
Sugar:
9.8
g
|
Calcium:
20
mg
|
Iron:
1
mg
Nutritional information is provided as an estimate. As it can vary due to many factors (brands used, quantities, etc.), we cannot guarantee its accuracy.
Food Safety and Nutrition Disclaimer
Recipe adapted from Bon Appetit