This is a classic recipe for buttery crisp Italian pizzelle. Simple ingredients and a press are all you need for these anise-flavored cookies.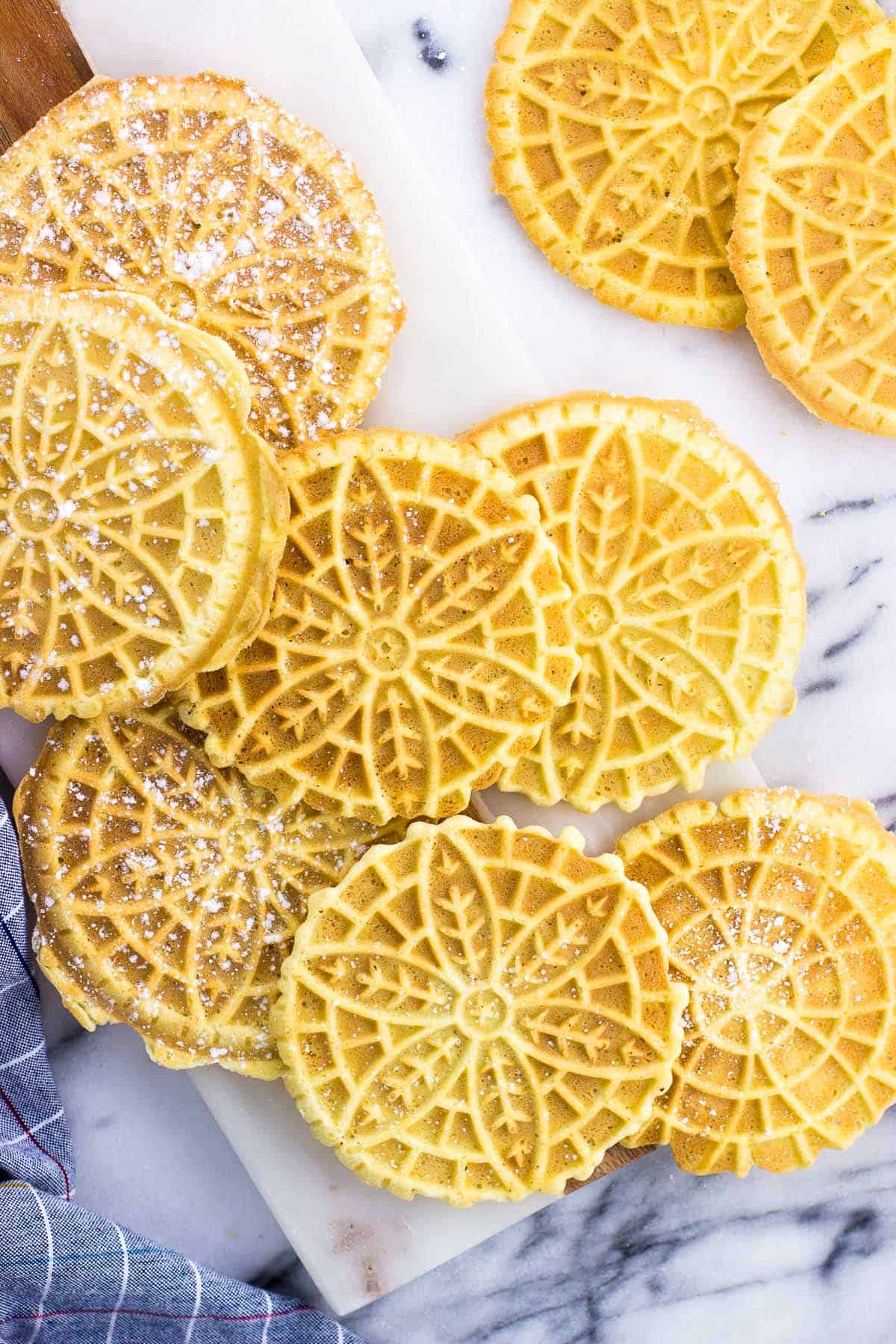 This classic pizzelle recipe has been a long time coming. I posted dark chocolate pizzelle five years ago as a fun take on these traditional Italian wafer cookies, and then realized somewhere along the way that I never got around to sharing the classic recipe after all.
Today that changes, and just in time for the holidays.
What are pizzelle?
Besides delicious? 🙂
Traditional Italian pizzelle are thin and crisp, pressed usually two at a time into a round design by a pizzelle iron. There are a variety of ways you can flavor them, from anise to vanilla to even citrus. Anise is the most common flavoring, which I add in the form of anise extract. I'm partial to pairing it with vanilla extract for a balanced classic flavor without too much licorice taste.
Pizzelle have a several second window of being moldable right when they come off of the pizzelle press, during which time you can roll them up over a wooden dowel to form homemade cannoli shells or small cones.
And while you'd obviously need to have a pizzelle iron, these are a great option for cookies you can make without turning on the oven.
Recipe ingredients
One thing to love (among many) about pizzelle is that they use very basic ingredients that you probably already have on hand.
While thin and crisp, you can certainly taste their buttery base, with one stick of unsalted butter (a.k.a. eight tablespoons, a half-cup, or four ounces…lots of different ways to measure) in each batch.
The melted butter combines with eggs, granulated sugar, and extracts to round out the wet ingredients.
As for the extracts, I've landed on two teaspoons of anise extract and one teaspoon of vanilla extract to be just the right blend of flavor. You get that classic pizzelle taste without too much "licorice". I happen to love the anise flavor (as do many readers, as evidenced by the popularity of my Italian anise cookies!) but the amount used here shouldn't scare anyone away if it isn't your favorite.
And as for the dry ingredients, we have definite pantry staples there: just flour, baking powder, and salt.
Step-by-step instructions
The first thing I do when I make pizzelle is to melt the butter. This way it gets the chance to cool ever so slightly while I prep the rest of the ingredients. Otherwise you can run into trouble with cooking little egg bits in your batter if you combine something very hot, such as melted butter or chocolate, with cold eggs.
Next mix together the eggs and granulated sugar on medium speed for about one minute, or until the two ingredients have combined well and have thickened up. Then, with the mixer running on low speed, pour in the melted butter and both the anise and vanilla extracts.
Separately whisk together the spooned-and-leveled flour, the baking powder, and the salt, then add it to the bowl with the wet ingredients and mix in until just combined, scraping down the sides of the bowl as needed to incorporate everything.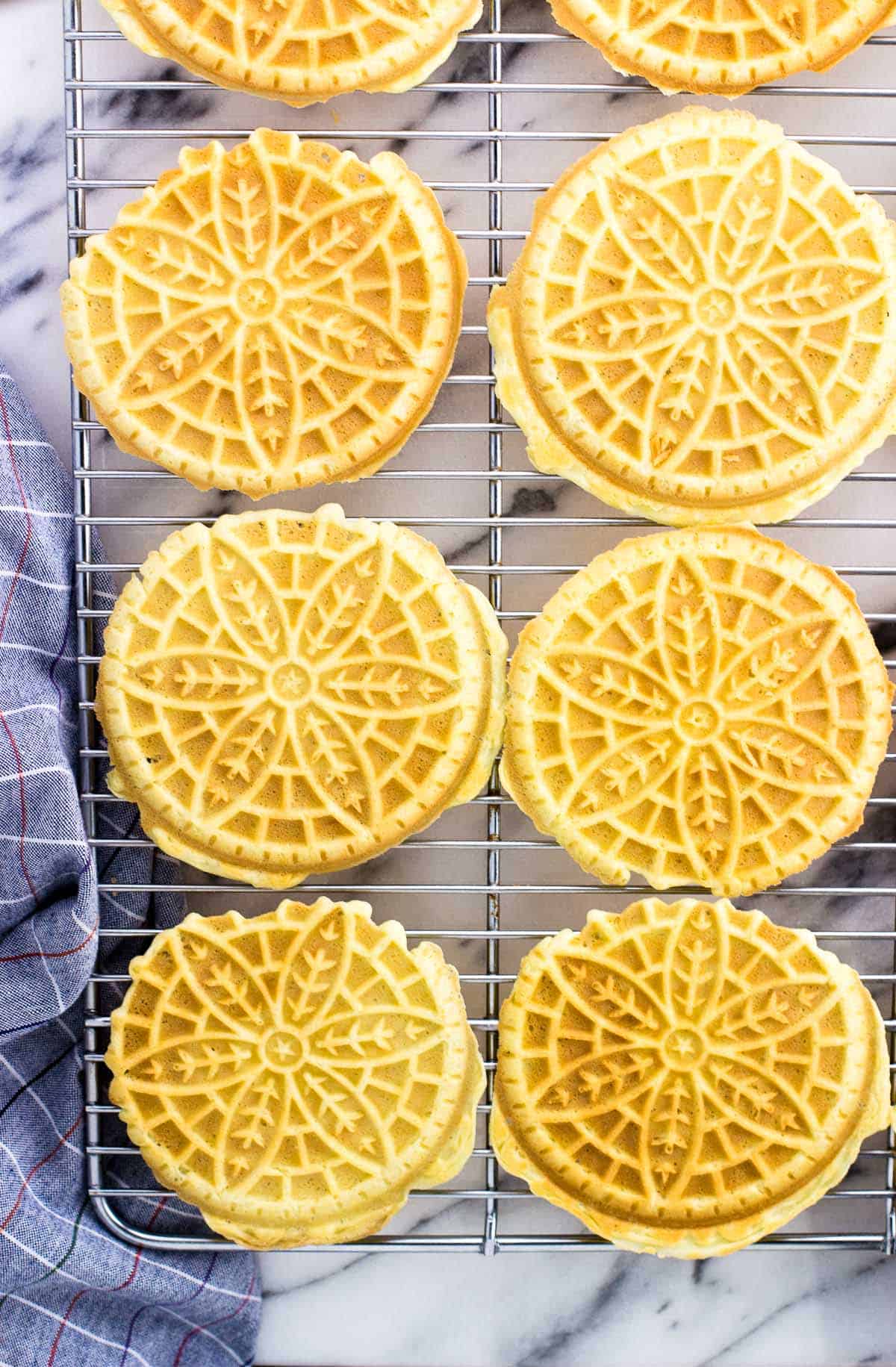 Now when it comes time to cook the pizzelle, I recommend having an equipment mise en place before you start cooking. Reason being that there's an element of time sensitivity once the first scoops of batter hit the iron.
Before beginning, it's helpful to make sure of the following:
You've prepped your pizzelle press, if needed. Mine is electric and has non-stick grids but I still brush the grids with a neutral, high-heat oil before the first batch to prevent sticking.
You set up several wire cooling racks. Immediately place the pizzelle on them when they're done cooking. This ensures they harden up flat, and the airflow on all sides prevents them from becoming soggy from steam trapped below.
You have a timer at the ready. One minute and thirty seconds is *just* the right amount of cooking time on my pizzelle press. Its timing chimes aren't quite accurate anymore (it's around 15 years old), so precisely keeping track using my phone timer helps keep things low-stress.
You're ready with a wooden dowel if you're rolling them into cannoli-like shells or cones. You'll only have the first few seconds they come off of the press to shape them before they harden up.
After that, all that's left is to scoop, cook, transfer to a rack, and repeat.
And repeat, and repeat, and repeat…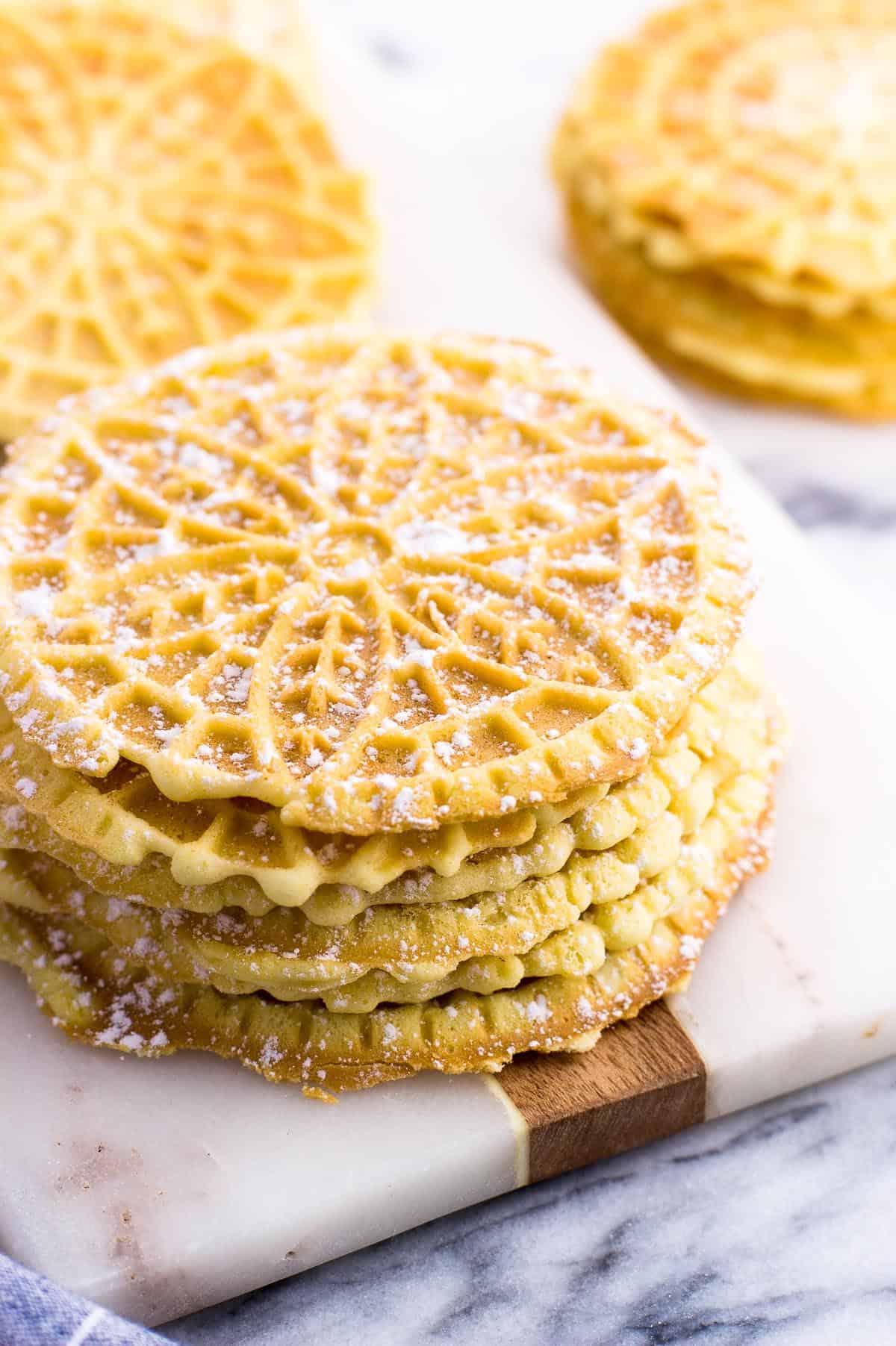 Other Italian cookies you may enjoy
Italian cookies are a favorite in my house, and as of now several recipes have made their way to the blog. Just like these, they are very popular for holidays like Christmas and Easter, but I have no problems at all making and eating them all year round.
Pignoli cookies are a real treat! They have a semi-crisp exterior with a soft and chewy middle bursting with almond flavor (thanks to all that almond paste). Coated in pine nuts that toast up beautifully while they bake, these cookies are naturally flourless and gluten-free.
While they're anise cookie doppelgängers, ricotta cookies are actually pretty different in both flavor and texture. These soft and cake-like cookies feature lemon and almond flavors with a classic white glaze and rainbow nonpareil topping.
Cucidati are Italian fig cookies that feature a warmly citrusy and spiced up filling surrounded by simple dough. While there are a variety of ways to shape them, they're usually always covered in glaze and, as always, rainbow nonpareils.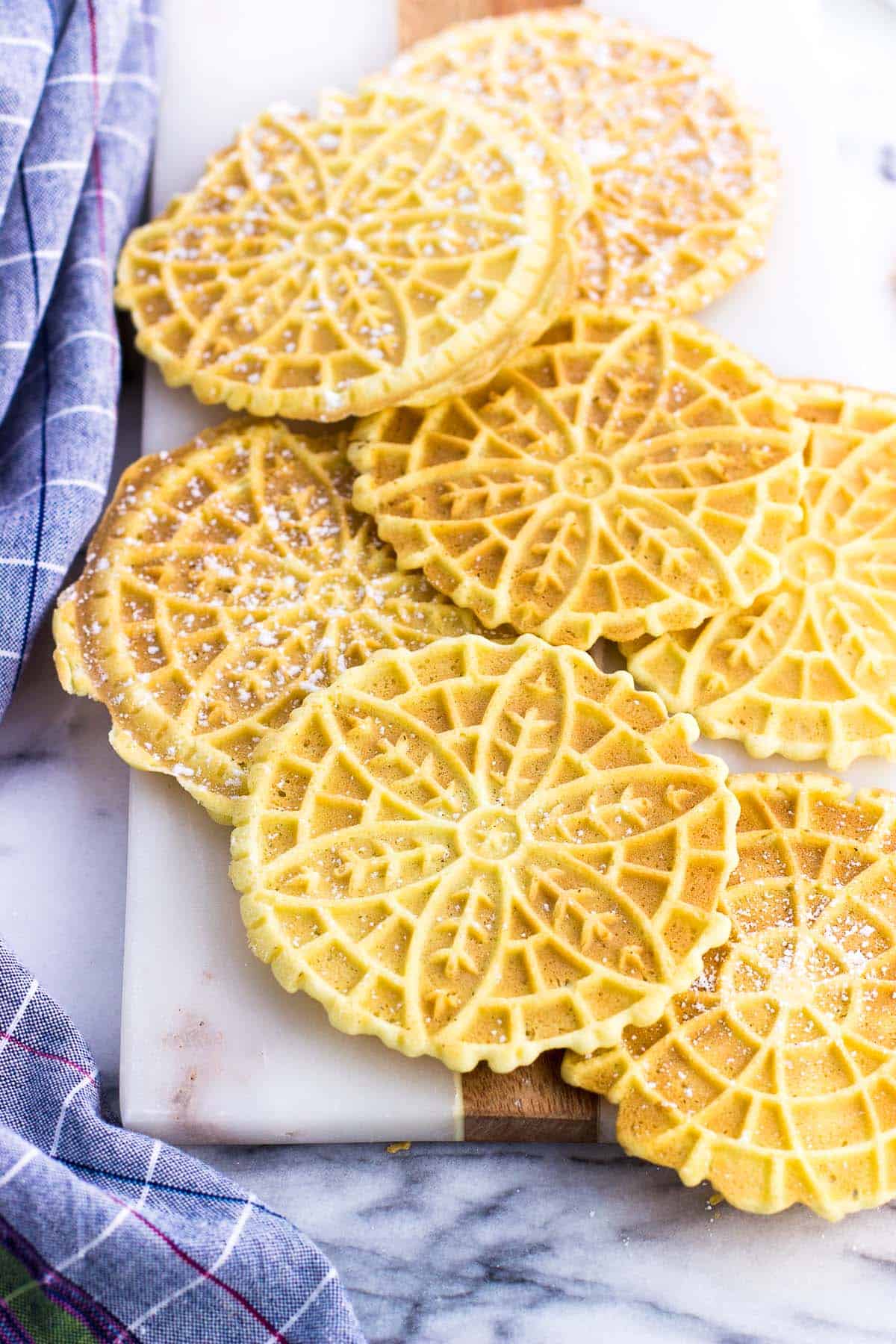 Recipe notes
This recipe is on the higher end of the baking powder vs. flour ratio. If you have a sensitive palate that has picked up before on a bitter taste from recipes that feature a larger amount of baking powder, you may wish to use aluminum-free baking powder here for best results.
Please follow your pizzelle iron's instructions for cooking the pizzelle. The kind I use and am familiar with is an electric version with non-stick grids. I don't have firsthand knowledge of the intricacies of a cast iron one, for instance.
Anise extract is used here to bring the right amount of flavor. I have not experimented with other anise products, such as anise seed, anise oil, or liqueur (Anisette, Sambuca), so I cannot say for sure as for substitutions. You can likely use a lesser amount of anise oil in place of the extract, as well as ground anise seed, however I'd be careful about subbing in anise liqueur. It's less concentrated in flavor in comparison to extract/oil and the amount you'd need for sufficient flavor would likely result in a batter that's too wet.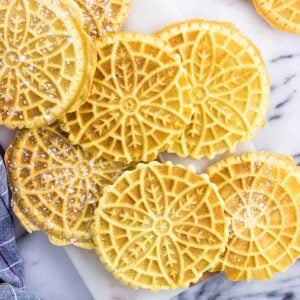 Classic Italian Pizzelle
This is a classic recipe for buttery crisp Italian pizzelle. Simple ingredients and a press are all you need for these anise-flavored cookies.
Print
Pin
Rate
Ingredients
1/2

cup (4 oz)

unsalted butter

melted

3

eggs

3/4

cup

granulated sugar

2

tsp

anise extract

1

tsp

vanilla extract

1 3/4

cups

all-purpose flour

2

tsp

baking powder

Pinch of

salt
Instructions
Melt butter in the microwave, then let sit for a minute or so to cool off some while you prep the rest of the ingredients.

Add eggs and sugar to a mixing bowl and mix on medium speed until smooth and thickened, about 1 minute.

Adjust mixer speed to low and pour in the melted butter, anise extract, and vanilla extract. Continue to mix on low speed until the ingredients are evenly combined.

Whisk together the flour, baking powder, and salt, then add to the bowl with the wet ingredients. Mix until just combined. The batter will be fairly thick.

Heat/prep your pizzelle press according to the manufacturers instructions. On a 1-5 scale of doneness, I aim for around 3 1/2 - 4. For my non-stick electric press, I still brush the top and bottom grids with canola oil (or other neutral-tasting, higher-heat cooking oil) once before beginning to eliminate any sticking issues. Before cooking also set out several wire racks on which to place the pizzelle after they come out of the press.

Once heated, place around 1 tablespoon of batter onto the center of each pizzelle grid, then close and cook for 1 minute and 30 seconds, or until they reach your preferred doneness. Your press may require a lesser amount of batter per cookie. Immediately remove pizzelle and place flat on a wire rack to cool completely.

Dust with confectioners' sugar once completely cooled to serve. Store in an air-tight container at room temperature where they should stay crisp for a week or longer.
Notes
Anise substitutions: This recipe calls for anise extract, though you can likely substitute in a lesser amount of anise oil in its place, or some amount of ground anise seed. An anise-flavored liqueur is less concentrated in flavor and the amount you'd need would likely make this batter too wet, so I do not recommend going that route. Measuring flour: Stir up the flour in its container to loosen it up, then spoon it into a dry measuring cup. Take care not to pack it in (just let it fall in). Once the cup is overflowing, use a straight edge to level off the top, letting the excess fall back into the container.
Nutrition
Serving:
1
cookie
|
Calories:
70
kcal
|
Carbohydrates:
9.5
g
|
Protein:
1.2
g
|
Fat:
3
g
|
Saturated Fat:
1.8
g
|
Cholesterol:
21
mg
|
Sodium:
17
mg
|
Potassium:
42
mg
|
Fiber:
0.2
g
|
Sugar:
4.5
g
|
Calcium:
16
mg
Nutritional information is provided as an estimate. As it can vary due to many factors (brands used, quantities, etc.), we cannot guarantee its accuracy.