This is a classic recipe for buttery crisp Italian pizzelle. Simple ingredients and a press are all you need for these anise-flavored cookies that are favorites on an Italian Christmas cookie tray!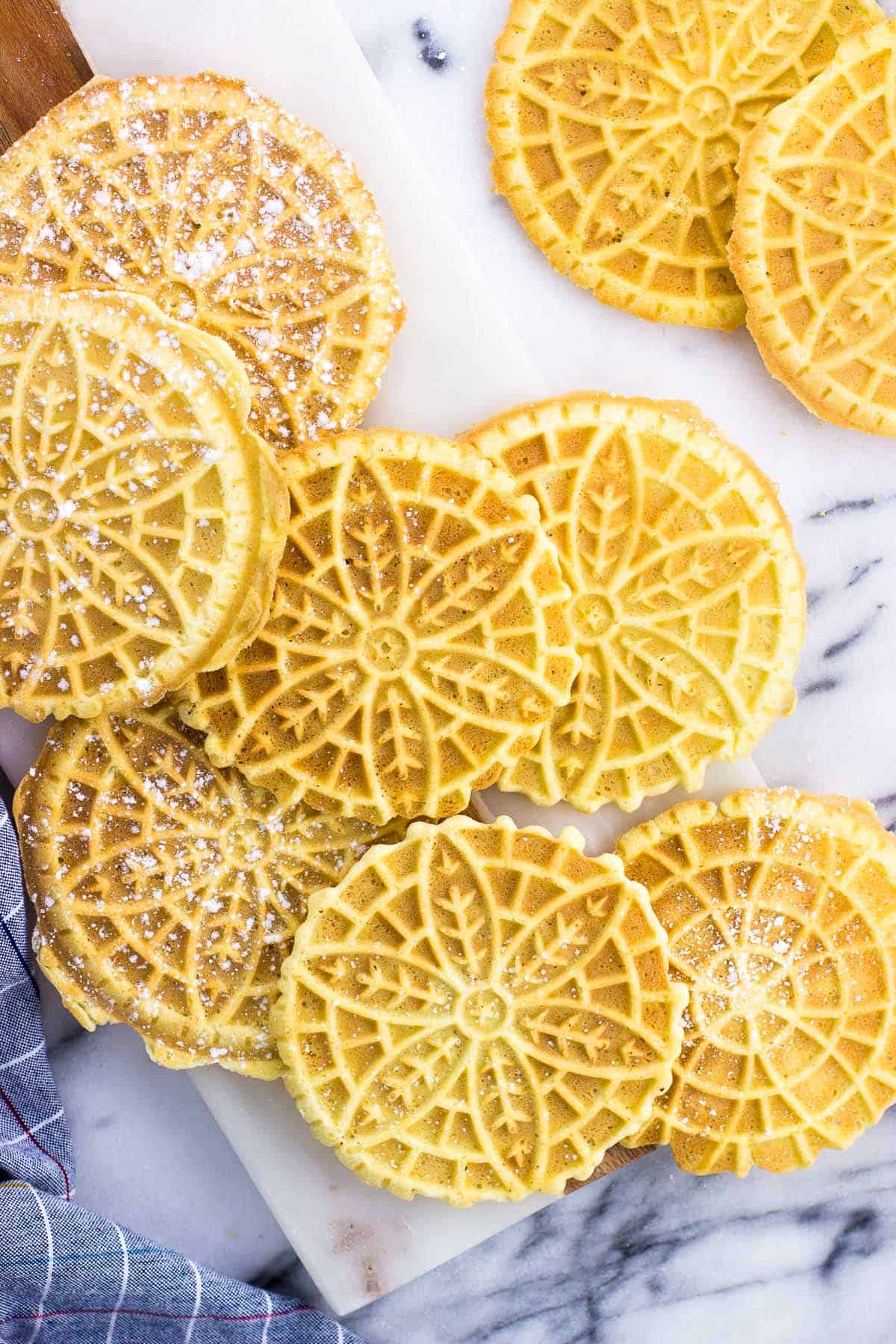 This classic pizzelle recipe has been a long time coming. I posted dark chocolate pizzelle five years ago as a fun take on these traditional Italian wafer cookies, and then realized somewhere along the way that I never got around to sharing the classic recipe after all.
Today that changes, and just in time for the holidays.
Reasons To Love This Recipe
This recipe produces reliably thin-yet-substantial pizzelle that stay crisp for weeks, making them a great make-ahead holiday cookie.
While there's no getting around the time it takes to press pizzelle, the recipe steps are as quick as can be with no chill time required.
These pizzelle have a present but balanced anise flavor that isn't overwhelming in the slightest. Even licorice nay-sayers won't be able to stay away!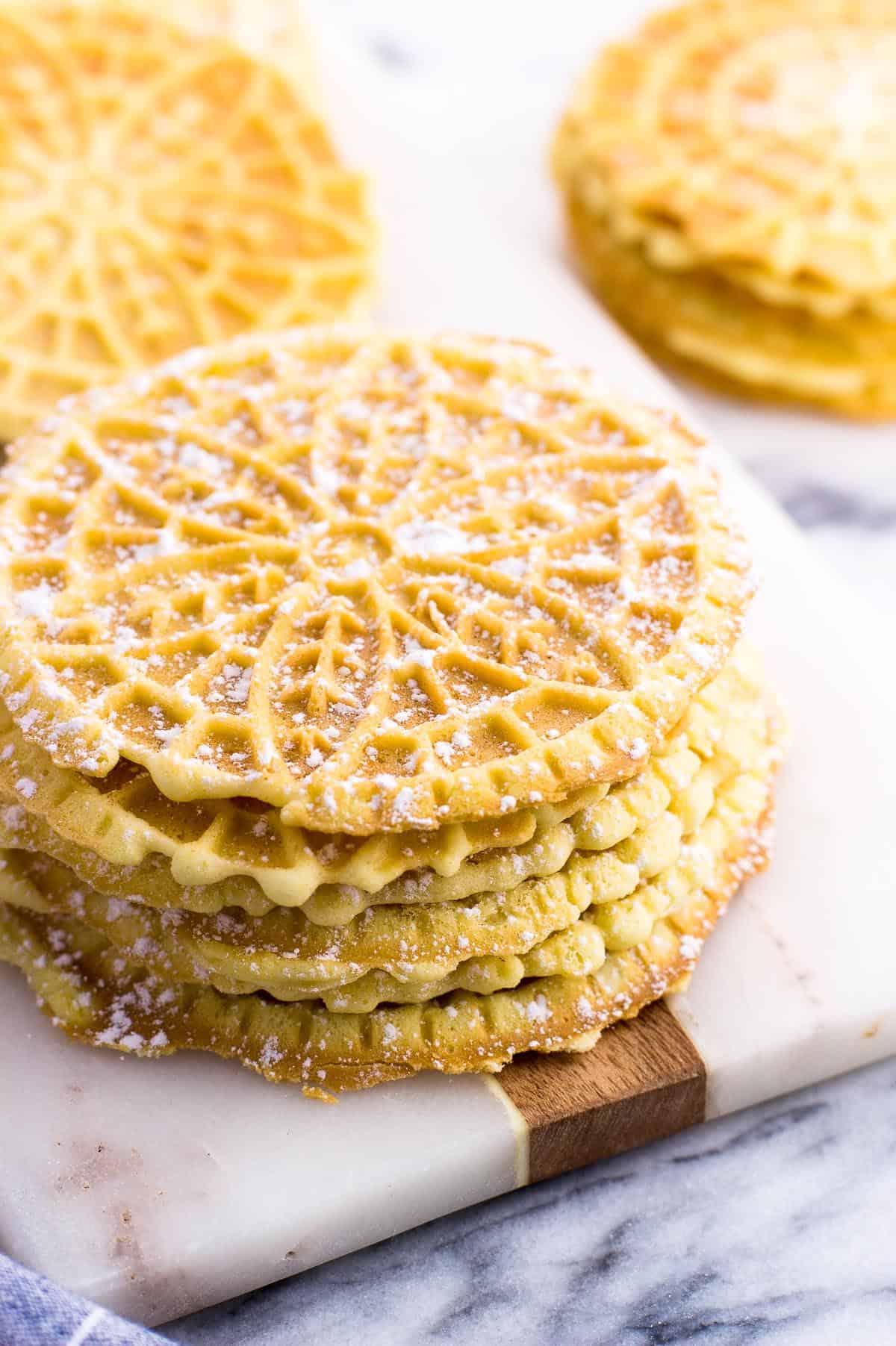 What is a Pizzelle?
Besides delicious? 🙂
Traditional Italian pizzelle are thin and crisp, pressed usually two at a time into a round design by a pizzelle iron. There are a variety of ways you can flavor them, from anise to vanilla to even citrus. Anise is the most common flavoring, which I add in the form of anise extract. I'm partial to pairing it with vanilla extract for a balanced classic flavor without too much licorice taste.
Pizzelle have a several second window of being moldable right when they come off of the pizzelle press, during which time you can roll them up over a wooden dowel to form homemade cannoli shells or small cones, or you can shape them into an edible bowl.
And while you'd obviously need to have a pizzelle iron, these are a great option for cookies you can make without turning on the oven.
Recipe Ingredients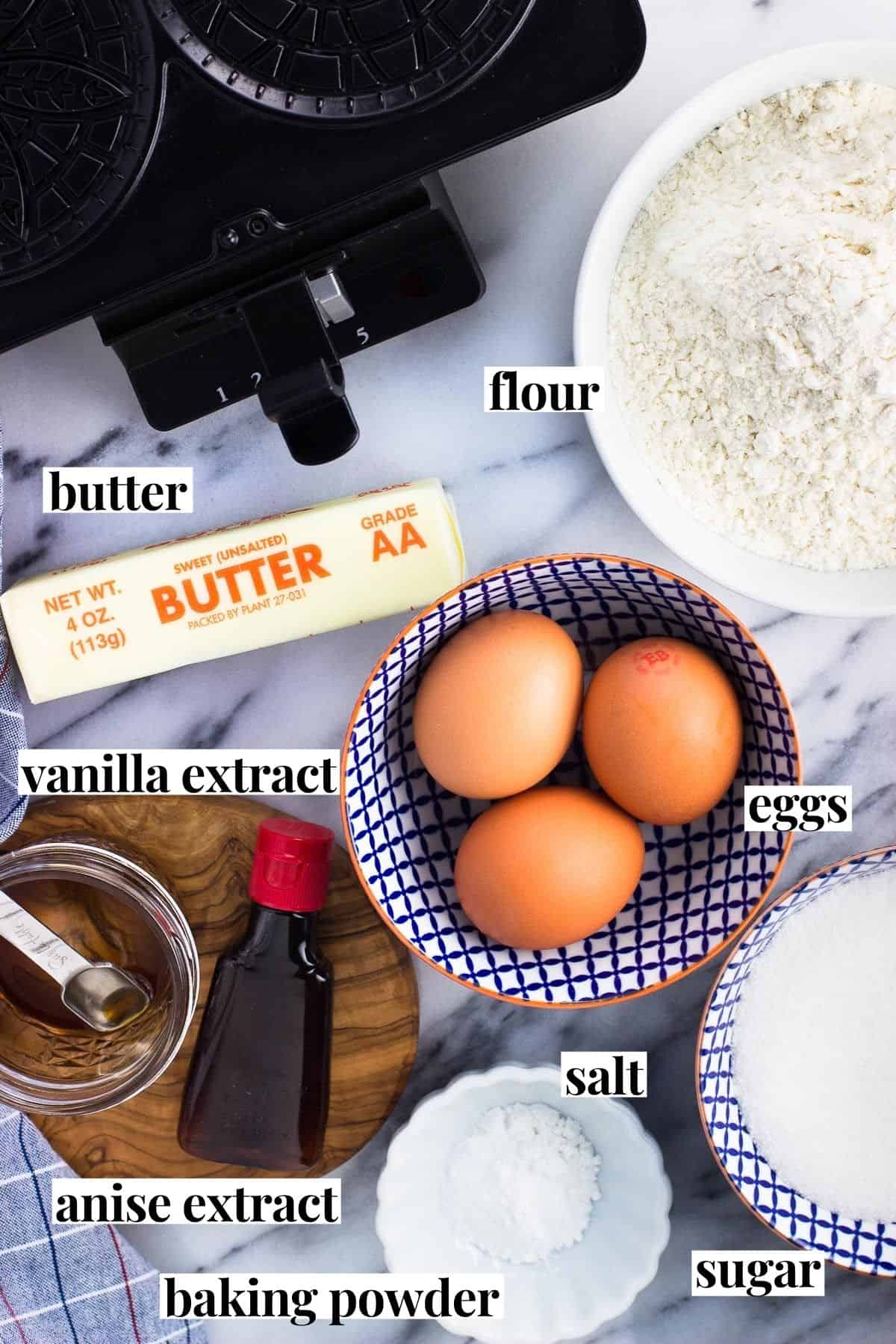 One thing to love, among many, about pizzelle is that they use very basic ingredients that you probably already have on hand.
Unsalted butter: One stick (eight tablespoons, half a cup, four ounces) of melted butter is used in this recipe. Don't substitute oil here as we want the buttery flavor to shine through.
Baking powder: While pizzelle are very thin, we need baking powder to deliver some rise so they grow and crisp in their short cook time.
Anise extract: Two teaspoons of anise extract bring that classic pizzelle taste without too much licorice. I happen to love the anise flavor (as do many readers, as evidenced by the popularity of my Italian

anise cookies

!) but the amount used here shouldn't scare anyone away if it isn't your favorite.
Vanilla extract: One teaspoon of vanilla extract tempers the anise and adds to this well-rounded wafer cookie.
Step-by-Step Instructions
Before you begin, start by melting the butter, as you'll want it to sit for a few minutes and cool off some before adding it to the bowl with the cold egg mixture.
Add the eggs and the sugar to a mixing bowl and beat on medium speed until the mixture is smooth and has thickened up some, about one minute.
With the mixer speed on low, slowly pour in the melted-and-slightly-cooled butter, anise extract, and vanilla extract and mix until everything is evenly combined.
Whisk together the flour, baking powder, and salt in a separate bowl.
Add the dry ingredients to the bowl with the wet ingredients and mix in on low speed until just combined.
Next prep your pizzelle press - if you need to! I have a nonstick Cuisinart pizzelle press but still brush a thin layer of vegetable/canola oil on the top and bottom grates before heating it up to make pizzelle. That's enough to get through a whole batch without any sticking issues whatsoever.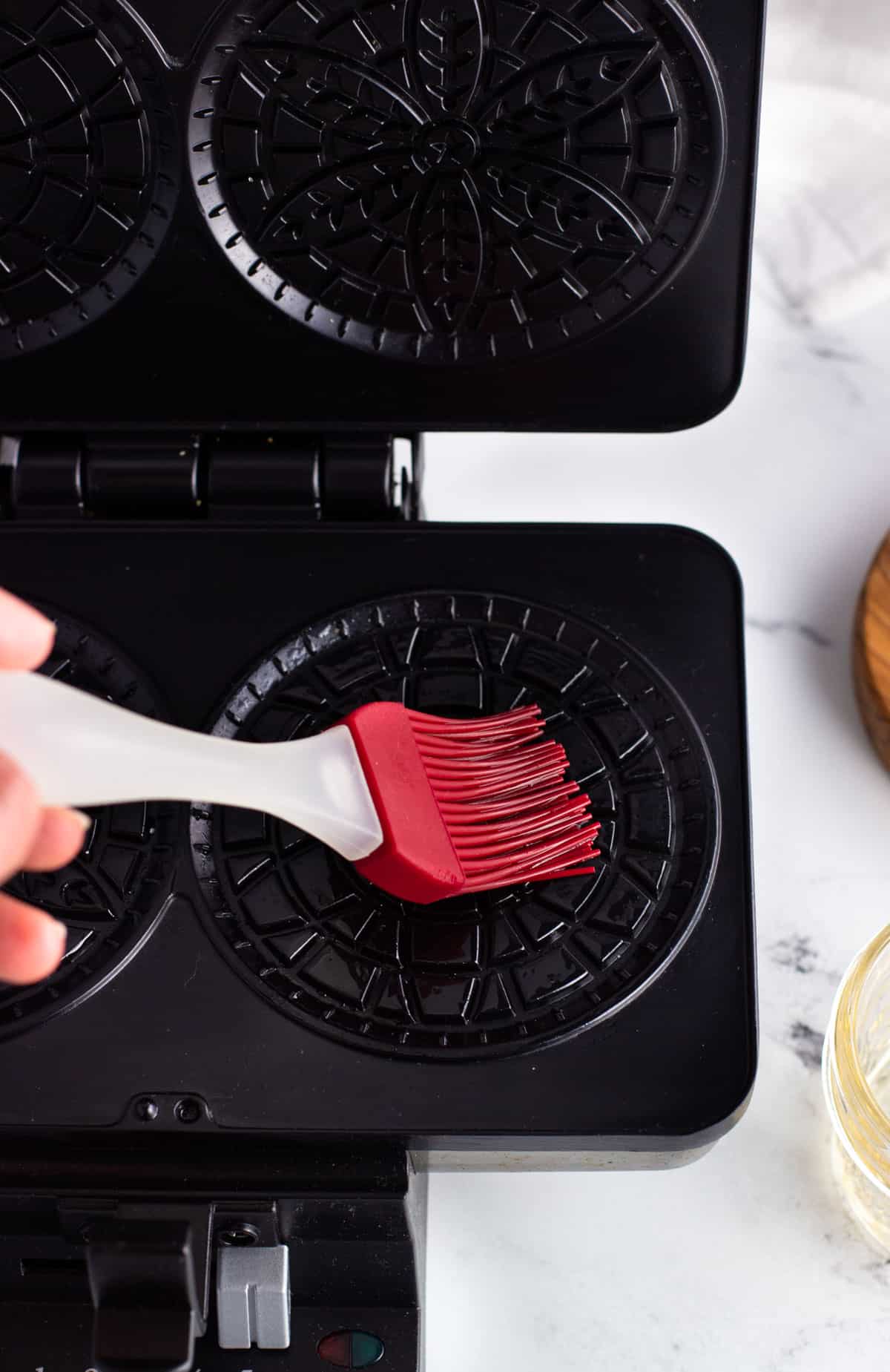 Next heat your pizzelle press. While mine has a doneness range slider, it is over 15 years old and the color light signals are a little off so I use a separate timer. Once heated, place one tablespoon of batter in the center of each of the grates and close and lock the lid.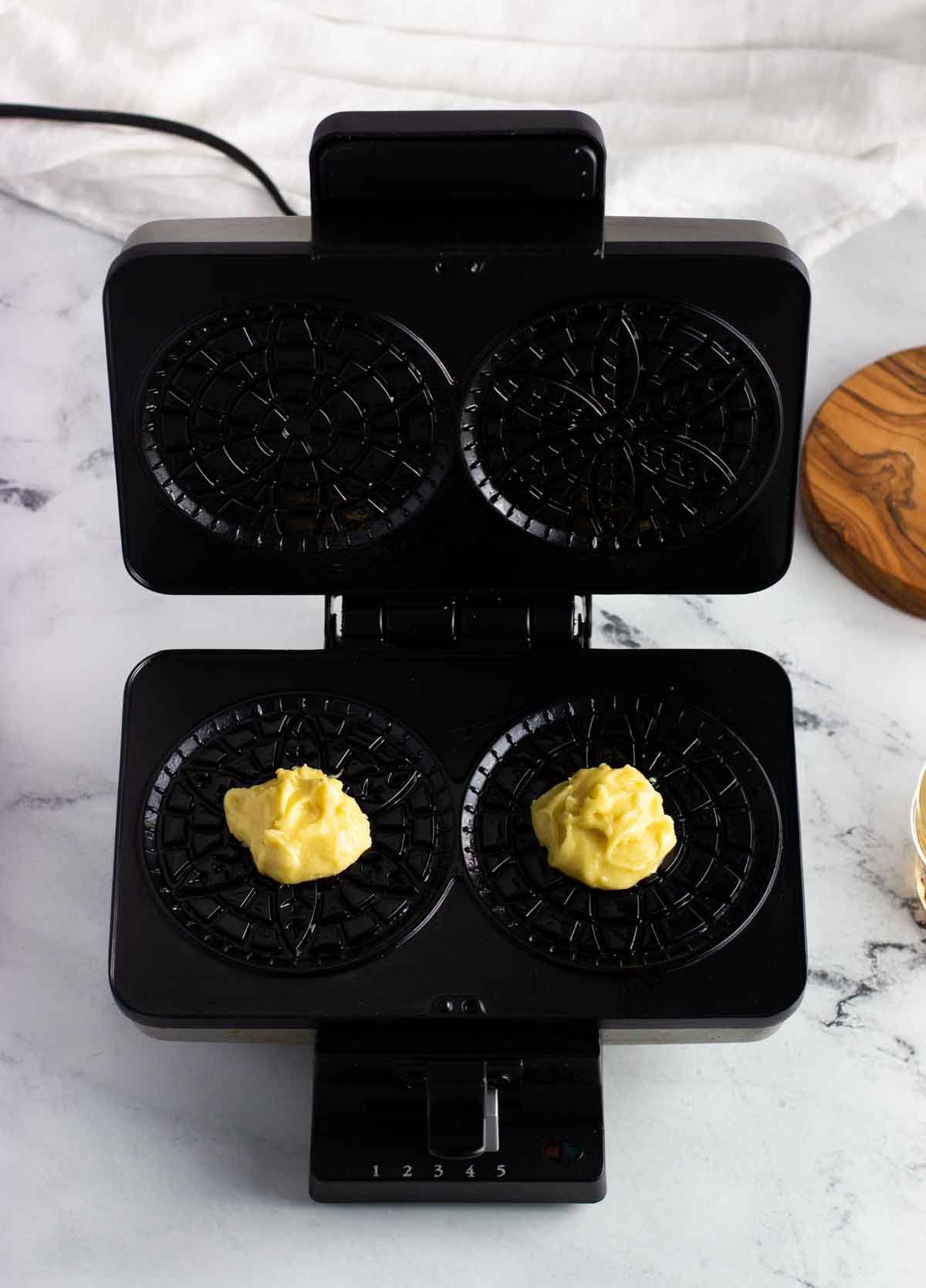 Cook for 1 minute and 30 seconds for perfect middle of the road crispness, five seconds less for rollable pizzelle and five seconds more if you like them a little extra golden-brown crisp. *The timing may differ depending on various presses so do a test batch to see*. Once cooked, carefully remove them from the pizzelle press with a spatula and lay the pizzelle flat on a wire rack to cool completely.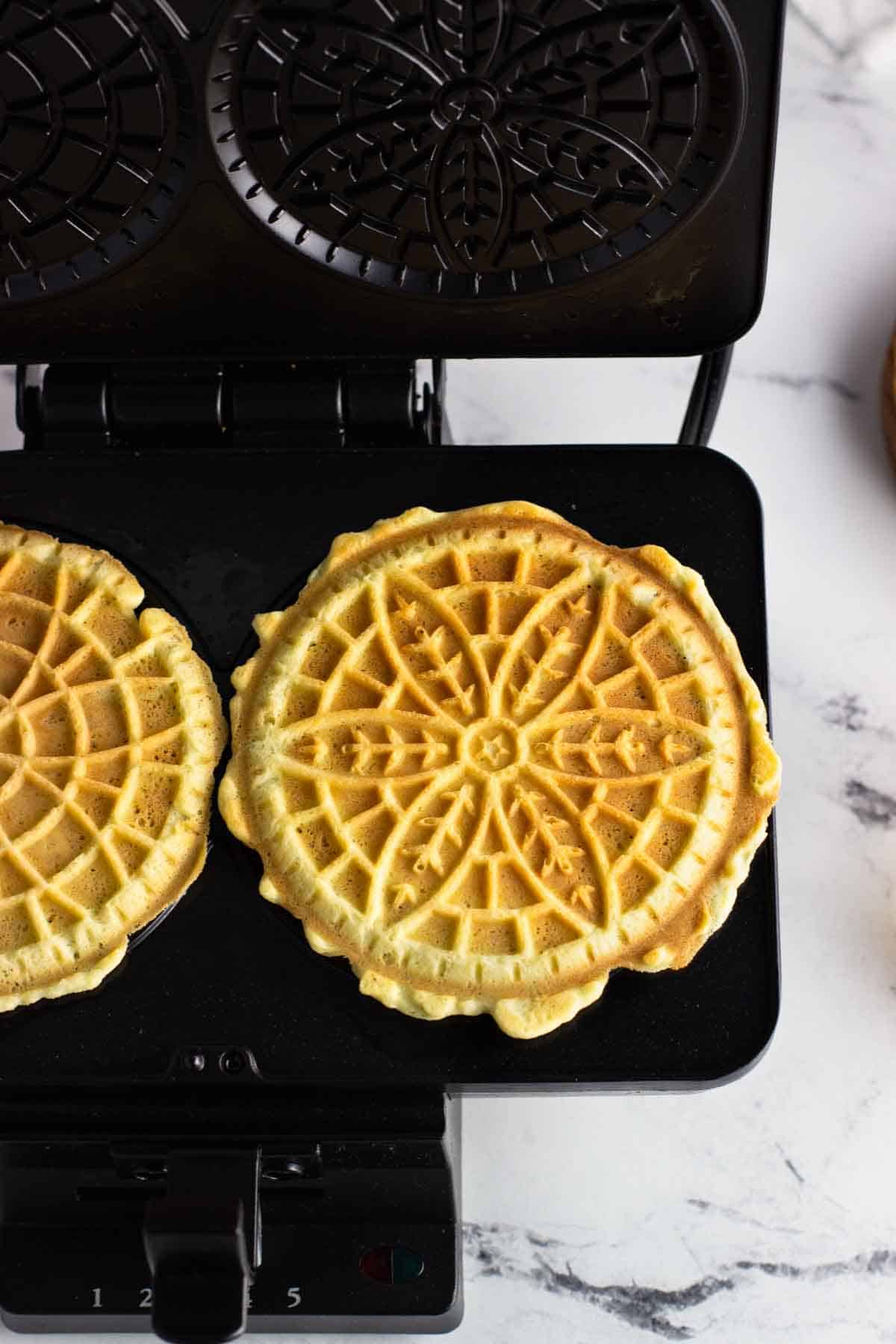 Secret to Perfect Pizzelle
Preparing the batter is half the battle. While you end up with delicious, crisp pizzelle (I think this is the best pizzelle recipe for a reason!), isn't a recipe so much better when it goes smoothly the entire way through?
I recommend having an equipment mise en place before you start cooking. Reason being that there's an element of time sensitivity once the first scoops of batter hit the iron. Before beginning, it's helpful to make sure of the following:
Prep your pizzelle press, if needed. Mine is electric and has non-stick grids but I still brush the grids with a neutral, high-heat oil before the first batch to prevent sticking. No one wants to have to clean burnt batter bits from these small crevices.
Set up many wire cooling racks - not just one. Immediately place the pizzelle on them when they're done cooking. This ensures they harden up flat, and the airflow on all sides prevents them from becoming soggy from steam trapped below. Since these anise pizzelle are about four-inches wide each, they take up a lot of space on a cooling rack.
Have a timer at the ready. One minute and thirty seconds is *just* the right amount of cooking time on my pizzelle press. Its timing lights/chimes aren't quite accurate anymore (it's over 15 years old), so precisely keeping track using my phone timer helps keep things low-stress.
Be ready with a wooden dowel if you're rolling them into cannoli-like shells or cones. You'll only have the first few seconds they come off of the press (no exaggeration) to shape them before they harden up.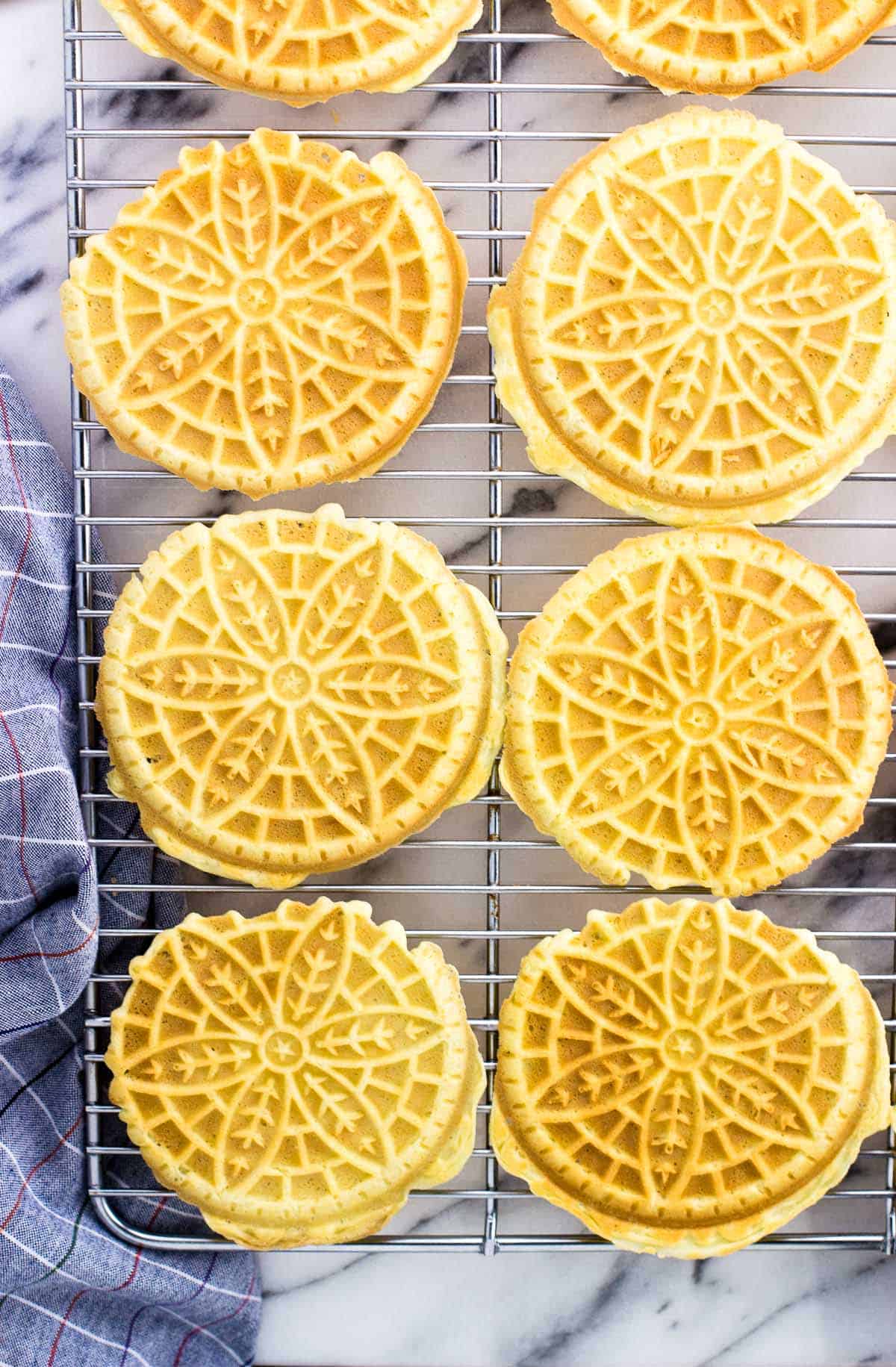 Recipe Notes and Tips
It can be tempting to load up each grid with more than one tablespoon of batter, but try and resist the urge as too much batter will cause it to overflow. If this happens (and it inevitably does), you can pretty easily trim off the excess edges.
This recipe is on the higher end of the baking powder vs. flour ratio. If you have a sensitive palate that has picked up before on a bitter taste from recipes that feature a larger amount of baking powder, you may wish to use aluminum-free baking powder here for best results.
Please follow your pizzelle iron's instructions for cooking the pizzelle. The kind I use and am familiar with is an electric version with non-stick grids. I don't have firsthand knowledge of the intricacies of a cast iron one, for instance.
Anise extract is used here to bring the right amount of flavor. I have not experimented with other anise products, such as anise seed, anise oil, or liqueur (Anisette, Sambuca), so I cannot say for sure as for substitutions. You can likely use a lesser amount of anise oil in place of the extract, as well as ground anise seed, however I'd be careful about subbing in anise liqueur. It's less concentrated in flavor in comparison to extract/oil and the amount you'd need for sufficient flavor would likely result in a batter that's too wet.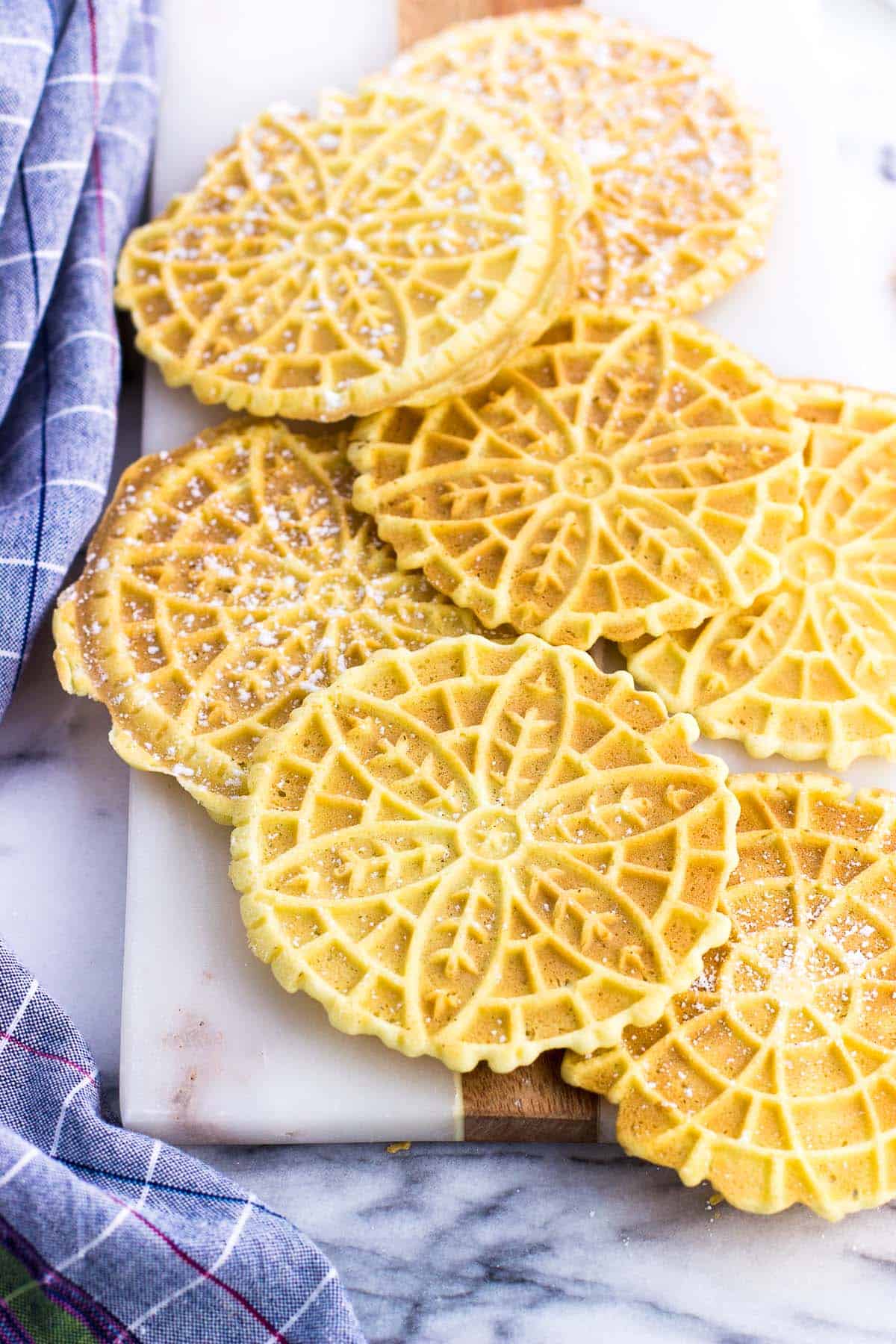 Recipe FAQs
What do pizzelle taste like?
Pizzelle cookies are flavored with anise, which brings a *controlled* licorice flavor that is not overpowering at all. Vanilla extract tempers the anise for a well-rounded flavor that allows the buttery goodness to come through as well. Even those in my family who do not like licorice candy love these anise pizzelle.
Can I use a waffle iron instead of a pizzelle press?
The waffle iron grooves will be way too deep to produce the thin crispness we know and love about pizzelle. While I haven't tried it myself, I don't recommend it.
How do you store pizzelle?
First let the pizzelle cool completely on the wire rack in a single layer. Don't stack them while still warm as the steam will cause them to soften. Keep them in an air-tight container or bag at room temperature for up to two weeks.
How do you freeze pizzelle?
Wrap them gently in plastic wrap and place in an air-tight container or bag and freeze for several months. I recommend freezing cooked pizzelle versus freezing the dough, as it is a delicate recipe and the freezing/thawing process may impact how it handles.
Can you mail pizzelle?
I wouldn't. Because they're thin and crisp, pizzelle are too dainty to hold up to the jostling they would get in the mail and would likely arrive broken.
More Italian Dessert Recipes
Italian cookies and sweet treats are a favorite in my house, and as of now several recipes have made their way to the blog. Just like these, they are very popular for holidays like Christmas and Easter, but I have no problems at all making and eating them all year round.
If you've enjoyed this recipe, I'd love for you to leave a star rating in the recipe card and/or a comment review below!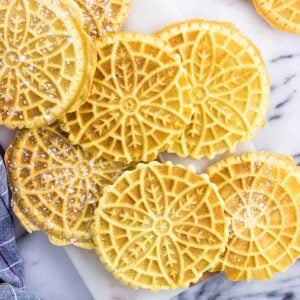 Classic Italian Pizzelle
This is a classic recipe for buttery crisp Italian pizzelle. Simple ingredients and a press are all you need for these anise pizzelle cookies that are favorites on an Italian Christmas cookie tray!
Ingredients
½

cup (113g)

unsalted butter

melted and slightly cooled

3

large

eggs

¾

cup (150g)

granulated sugar

2

teaspoons

anise extract

1

teaspoon

vanilla extract

1 ¾

cups (215g)

all-purpose flour

2

teaspoons

baking powder

Pinch of

salt
Instructions
Melt the butter in the microwave, then let sit for a minute or so to cool off some while you prep the rest of the ingredients.

Add eggs and sugar to a mixing bowl and mix on medium speed until smooth and thickened, about 1 minute.

Adjust mixer speed to low and pour in the melted butter, anise extract, and vanilla extract. Continue to mix on low speed until the ingredients are evenly combined.

In a separate bowl whisk together the flour, baking powder, and salt, then add it to the bowl with the wet ingredients. Mix until just combined. The batter will be fairly thick.

Heat/prep your pizzelle press according to the manufacturer's instructions. For my non-stick electric press, I still brush the top and bottom grids with vegetable/canola oil (or other neutral-tasting, higher-heat cooking oil) once before heating the press to eliminate any sticking issues. Before cooking also set out several wire racks on which to place the pizzelle after they come out of the press.

Once heated, place around 1 Tablespoon of batter onto the center of each pizzelle grid, then close and cook for 1 minute and 30 seconds, or until they reach your preferred doneness. Consider cooking them for 5 seconds less for rollable cannoli shells or 5 seconds more for a little extra golden brown coloring. The cook time (and amount of batter required) may vary depending upon your particular pizzelle press. Immediately remove cooked pizzelle and place flat on a wire rack to cool completely.

Do not stack or store pizzelle until they have completely cooled. Store in an air-tight container at room temperature where they should stay crisp for up to two weeks. Dust with confectioners' sugar once cooled for serving.
Notes
Ingredient Notes
Flour: If not weighing, measure the flour here by the spoon-and-level method. First stir up the flour in its container to loosen it up, then spoon it into a dry measuring cup. Take care not to pack it in (just let it fall in). Once the cup is overflowing, use a straight edge to level off the top, letting the excess fall back into the container.
Baking powder: If you have a palate that picks up on a bitter flavor in recipes that have a higher baking powder-to-flour ratio, you may like to use an aluminum-free baking powder.
Anise substitutions: This recipe calls for anise extract, though you can likely substitute in a lesser amount of anise oil in its place, or some amount of ground anise seed. An anise-flavored liqueur is less concentrated in flavor and the amount you'd need would likely make this batter too wet, so I do not recommend going that route.
Recipe Tips
This recipe was tested on an electric non-stick Cuisinart pizzelle press. As all types can differ, please follow the manufacturer's instructions and adjust the timing as needed for your particular press.
Pizzelle harden very, very quickly once they're finished cooking. If planning to shape them, have everything right there and ready to shape within the first second or two they're off the press.
Freezing Instructions: Wrap a cooked/cooled stack in plastic wrap and place in an air-tight container for several months.
Make-Ahead Flexibility: Cover the bowl of prepared batter with plastic wrap and you can refrigerate it for several hours (I've tested up to 8 hours) before cooking the pizzelle if you need. I have found no difference in the crispness and end result whether cooking the batter immediately or refrigerating. The batter can be a little too firm once chilled, so you may need to let it warm up for a few minutes before cooking.