Italian ricotta cookies are a classic cookie favorite! This soft and moist ricotta cookie recipe is flavored with almond extract and lemon juice and zest for a bright flavor, and topped with a simple almond-flavored glaze.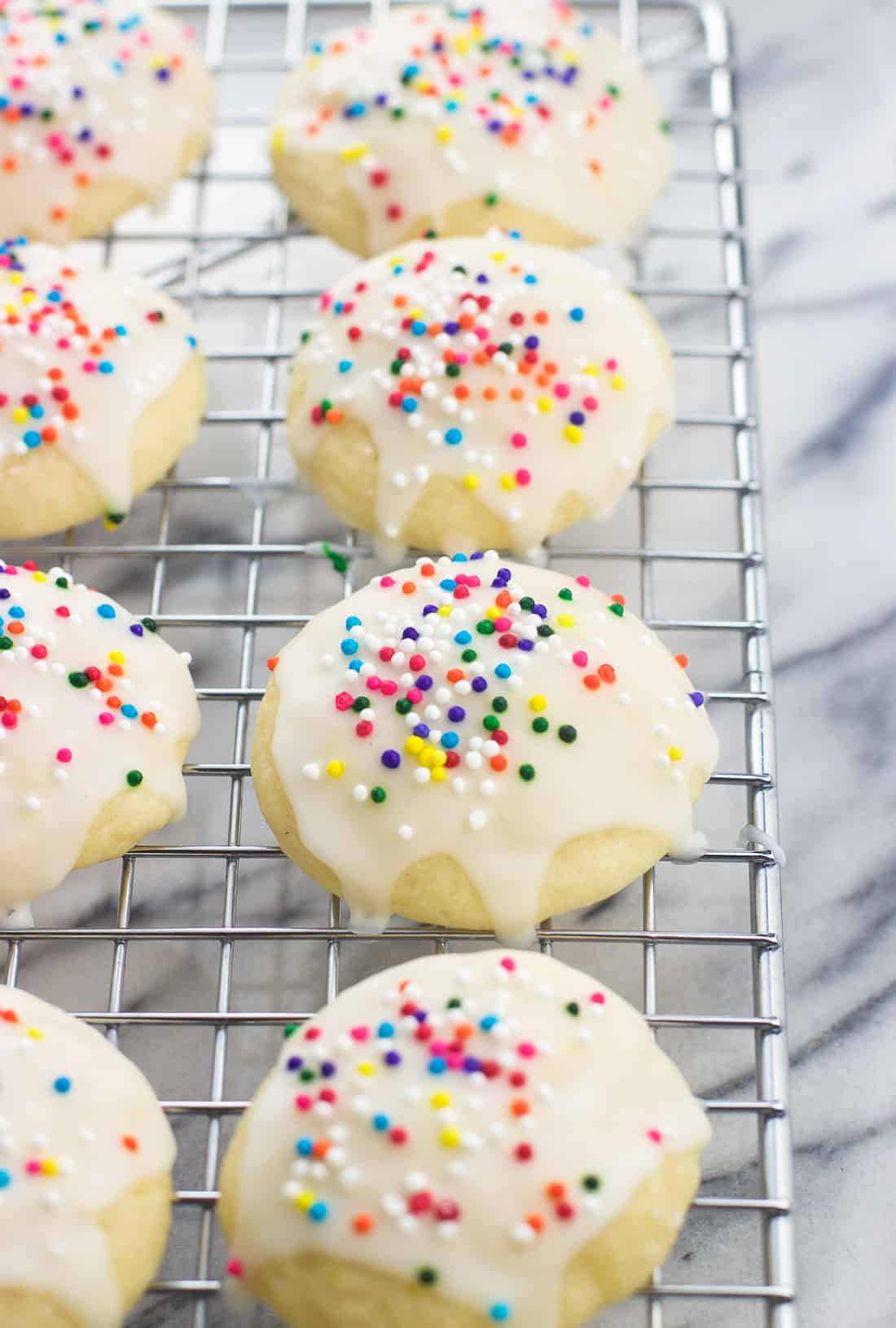 These Italian ricotta cookies have been a long time in the making!
Like so many Italian cookies, they're a delicacy I happily ate throughout my childhood. However each time I made them as an adult I felt that they weren't quite as I remembered them.
Too flat and moist, too lemon-y, not lemon-y enough…let's just say the number of ricotta cookie batches I've made this year falls between five and ten.
These, though? Ricotta cookie perfection. A few tricks ensure they're very soft and moist (but not too flat) and feature a wonderful balance between the lemon and almond flavors. A simple almond-flavored icing and my fav rainbow nonpareils top off these family favorite cookies.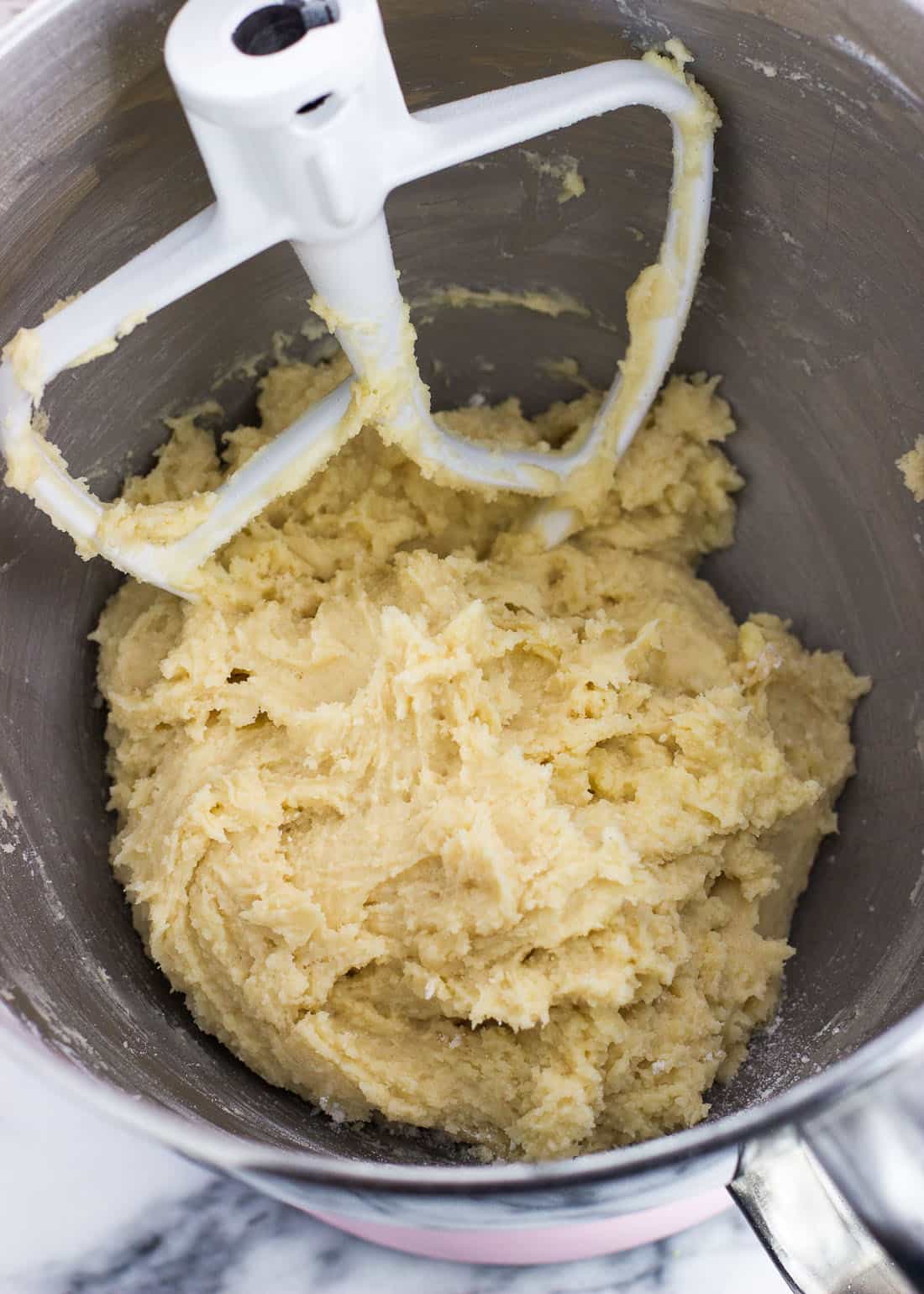 Before we get into the steps here: if you're not too familiar with baking with ricotta cheese, don't be hesitant! It's a staple in savory pasta dishes like lasagna and baked ziti with meatballs, but is just as versatile in sweet recipes.
It adds moisture and a slightly spongy and cake-like quality to baked goods that pair so well with citrus flavors, like in these lemon ricotta muffins. Yum.
How to make Italian ricotta cookies
It all starts with the dough. Softened butter and sugar are creamed together and then mixed with the egg, per usual. In fact, all of the ingredients and steps here are fairly garden-variety as far as cookies go, except for the ricotta.
The ricotta cheese gets added to the wet ingredients along with the flavorings: lemon juice, lemon zest, almond extract, and vanilla extract.
The smallest container of ricotta cheese I've seen at the supermarket is around fifteen ounces, of which this recipe uses half (7.5 ounces). Usually offered in part-skim and whole milk varieties, I prefer whole milk ricotta for these lemon ricotta cookies. While you could use part-skim and the recipe would work, the extra fat from the whole milk variety adds a more 'rich' feel to these cookies that I really enjoy.
These are, after all, dessert.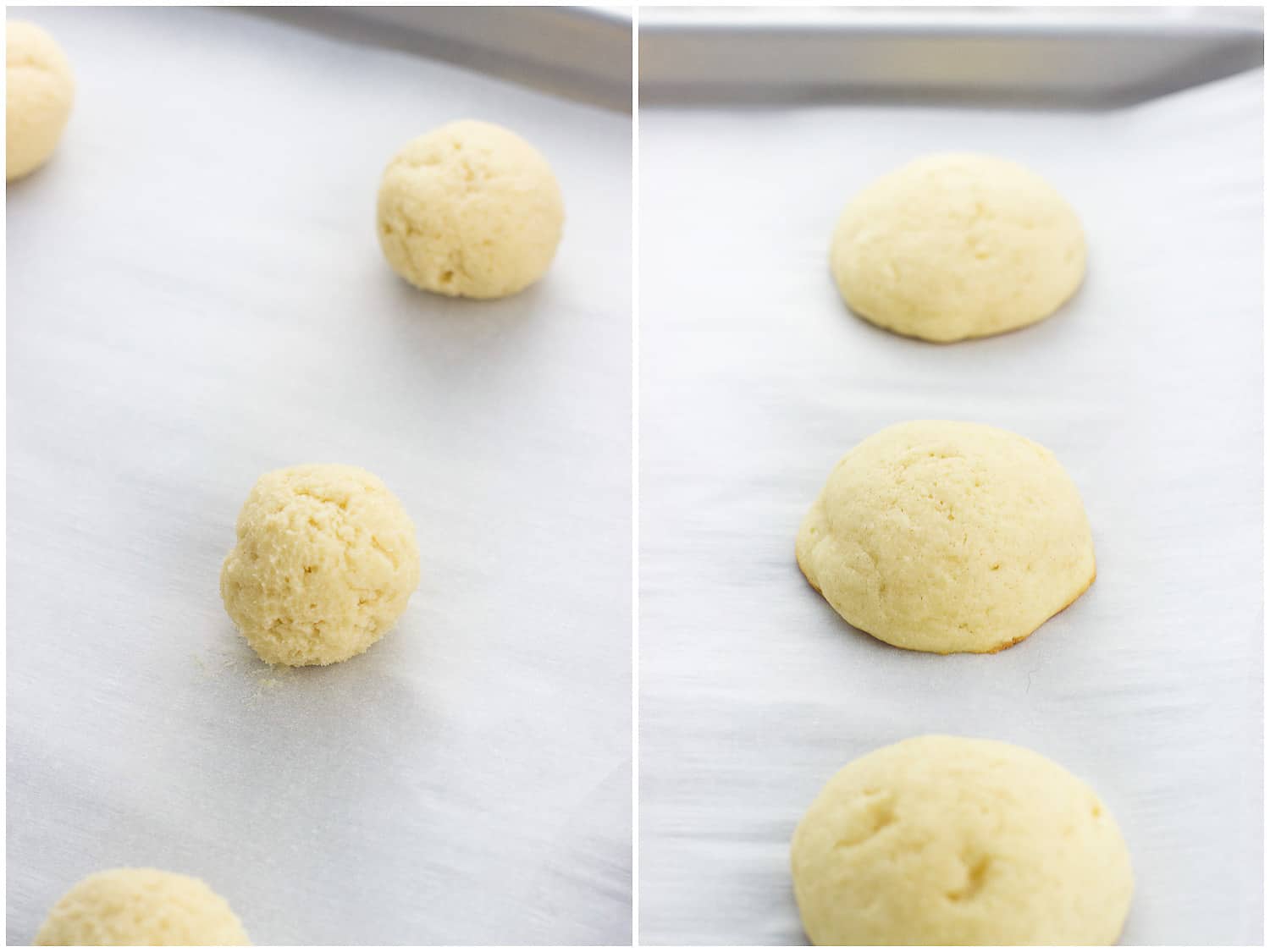 Once the dry ingredients (flour, baking powder, salt) are incorporated into the dough, you'll notice that the consistency is thick. Very thick! Look for it to be moist but not too wet or too sticky.
Do I have to chill ricotta cookie dough?
I try not to speak in absolutes as a lot of my recipes have wiggle room, but here I'll say YES. Please do.
One caveat of baking cookies with ricotta is having to chill the dough. All of that added moisture, which delivers a soft and tender cookie at the end, can lead to cookies that flatten out like pancakes during their short stint in the oven if the dough isn't chilled enough.
I've had plenty of opportunities to play around with chill time with all of my Italian ricotta cookie experimentation, and I recommend chilling the dough for at least eight hours — preferably overnight. The baked cookies you see here were chilled overnight and still have some height to them.
I know this means that ricotta cookies aren't an instant gratification type of sweet treat, but the chill time is well worth the extra prep time. Ricotta pancakes are delicious, of course, but not what we're going for here.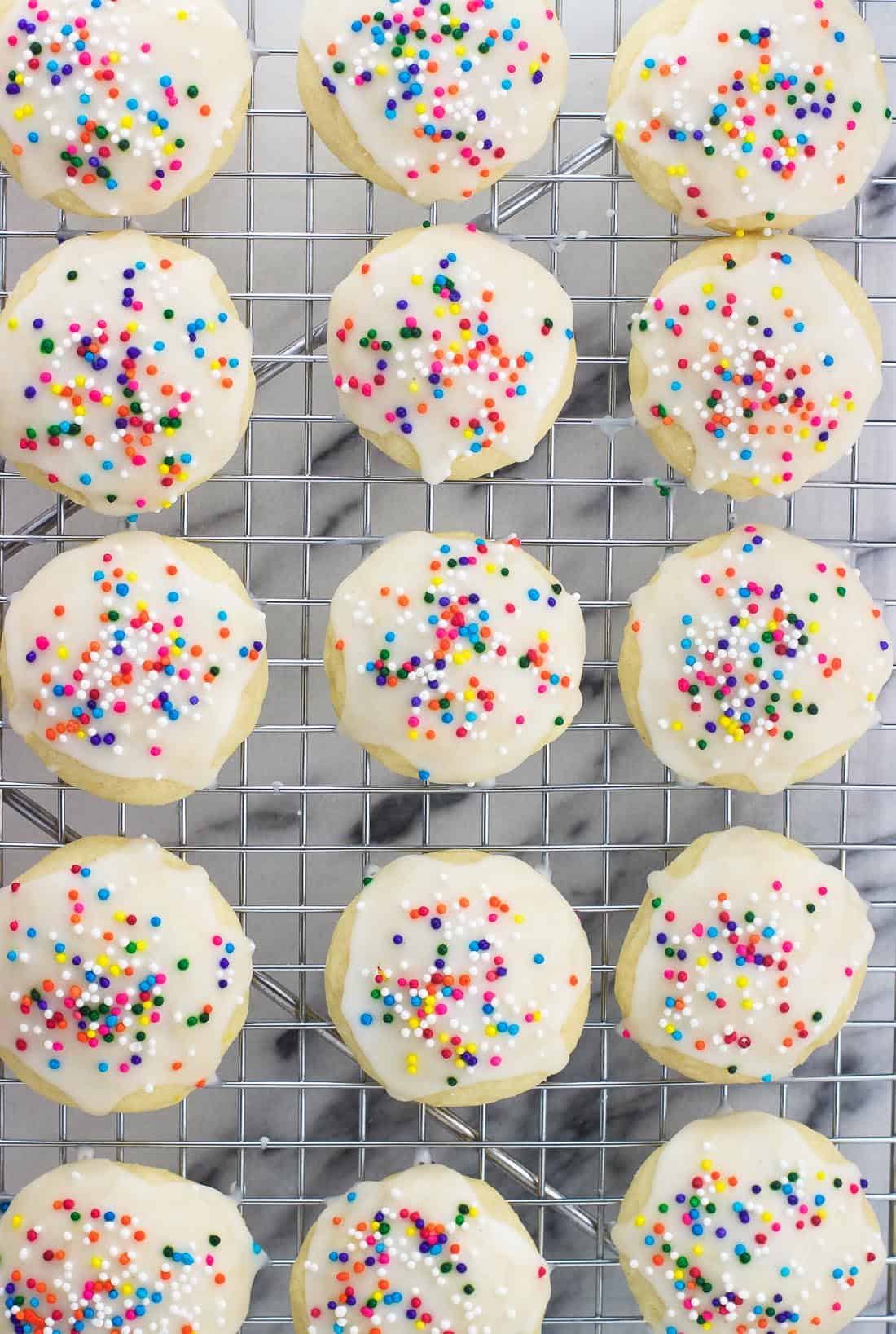 Let's talk glaze! While some ricotta cookie varieties carry on the citrus theme with a lemon-flavored glaze, I prefer adding a simple almond glaze to these lemon ricotta cookies. Reason being that lemon and almond flavors complement one another in a nice balance, and while I love lemon-flavored desserts, I've found there is such a thing as overdoing it with the lemon.
Though you can always add more or less milk to get a thicker or thinner glaze, as written three tablespoons of milk result in a glaze that can be spooned over top of the cookies and will drip down the sides with just a little nudge from the spoon. If the cookies were still warm, you'd risk losing much of the glaze as it would run off from the heat.
Can I make ricotta cookies ahead of time?
Yes, but with conditions. If you're looking to save time, you can bake the Italian ricotta cookies and freeze them without the icing. Then once thawed completely, you can ice and decorate them as you like.
The issue comes from using rainbow nonpareils. After a day or two, the color begins to bleed from the nonpareils and melts into the glaze. While these cookies wouldn't be the most photogenic if that happens, they'd still obviously taste delicious and be perfectly edible.
Even if you're not freezing them, my suggestion is to ice and add the sprinkles shortly before you intend to serve them. Or, of course, you can simply ice them and not add sprinkles, or use white nonpareils instead of rainbow. Many options to make these ricotta cookies work for you.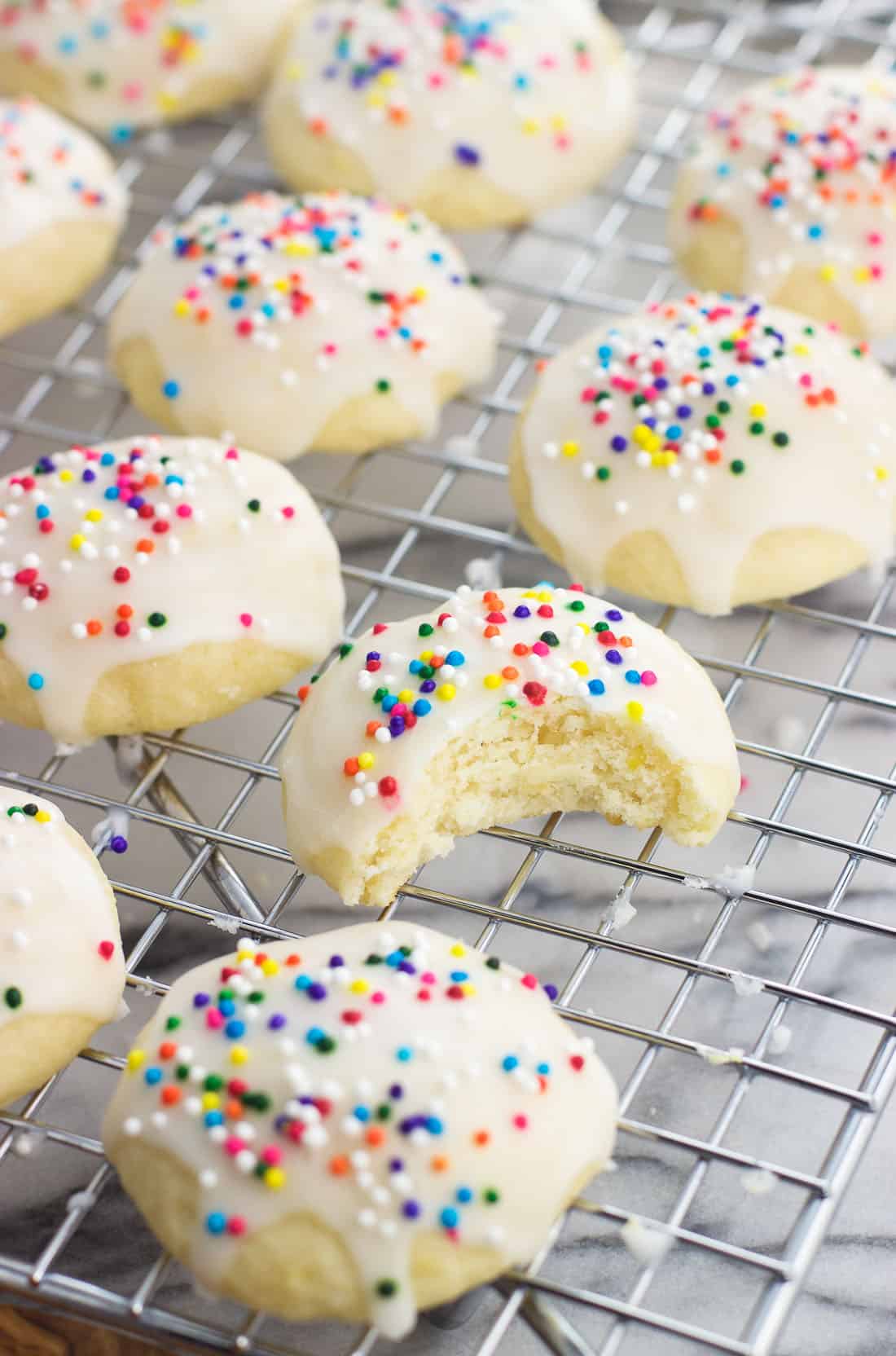 Oh! And if you're thinking that these cookies look familiar…well, you're not wrong. These look very, very similar to Italian anise cookies, a beloved family recipe of mine and a reader favorite, as well. With how often I make both of these cookies, I think I'll forever be finding tiny nonpareil sprinkles in all the little crevices in my kitchen.
Recipe notes:
Be sure to chill this Italian ricotta cookie dough well. I've found eight hours or overnight is the sweet spot.
Since chilled dough is best, keep the remaining dough in the refrigerator if you're baking these in multiple batches. Don't scoop out cookies and leave them out at room temperature while another batch or batches bake as you'll risk them warming up too much.
On that note, use a fresh cookie sheet to bake each batch. Used ones will be too warm and can risk spreading.
This Italian ricotta cookie recipe can be doubled to use a full 15-oz container of ricotta cheese. However as written with half of a container this recipe yields about thirty-four cookies, which I find to be more than enough for many occasions.
See notes in the recipe card below on how I measure flour to prevent excess flour from getting into the recipe, which can lead to drier cookies.
I like to repurpose the used parchment paper by placing it underneath the wire racks while glazing the cookies. Easier clean up that way!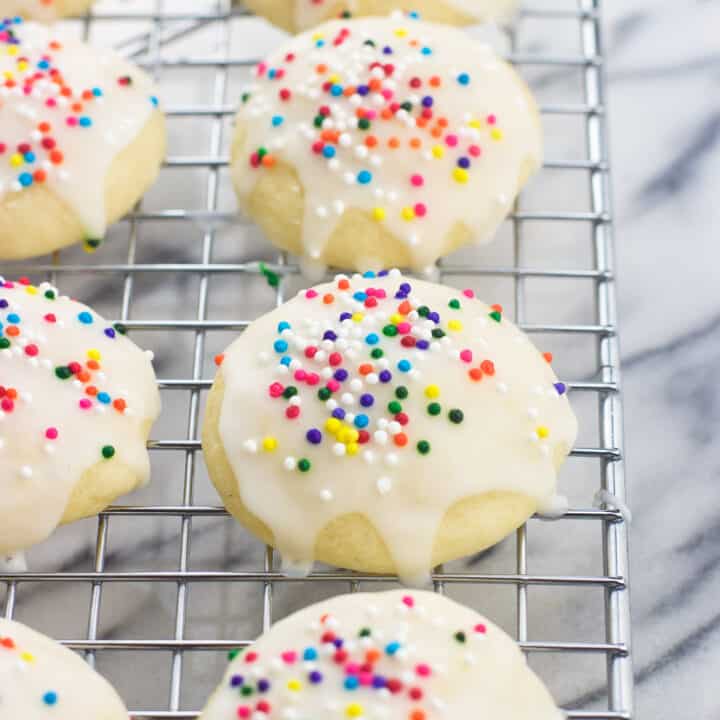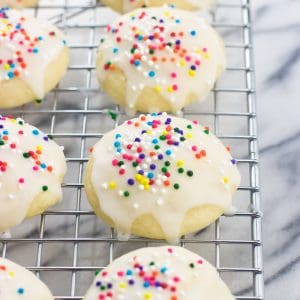 Italian Ricotta Cookies
Italian ricotta cookies are a classic cookie favorite! This soft and moist ricotta cookie recipe is flavored with almond extract and lemon juice and zest for a bright flavor, and topped with a simple almond-flavored glaze.
Print
Pin
Rate
Ingredients
For the cookies:
1/2

cup

unsalted butter,

softened to room temperature (8 tbsp)

1

cup

granulated sugar

1

egg

7.5

oz

whole milk ricotta cheese

2

tbsp

lemon juice

2

tsp

lemon zest

(from about one lemon)

3/4

tsp

almond extract

1/2

tsp

vanilla extract

2 1/2

cups

all-purpose flour

1 1/2

tsp

baking powder

1/2

tsp

salt
For the glaze:
2

cups

confectioners' sugar

3

tbsp

milk,

any variety (I used 2%)

1/2

tsp

almond extract
Instructions
Cream together softened butter and sugar in a large mixing bowl until smooth.

Add the egg and mix until combined. Add the ricotta cheese, lemon juice and zest, vanilla extract, and almond extract and again mix until smooth and combined.

Add flour, baking powder, and salt to a separate bowl and whisk thoroughly. Add the flour mixture to the bowl with the wet ingredients in 3 increments, beating until just mixed in each time. Take care not to overmix.

Cover the mixing bowl with plastic wrap and chill for at least 8 hours, ideally overnight.

Once the cookie dough has chilled, preheat oven to 350°F. Line large baking sheets with parchment paper.

Using a 1-1/2 tablespoon capacity cookie scoop, scoop cookies and very briefly roll them between your palms to form a sphere. Place cookies about 2" apart on the parchment-lined baking sheet. Keep the remaining cookie dough in the refrigerator if you're baking them in multiple batches.

Bake for 14-16 minutes, or until the bottoms are just browning and the tops are fairly firm and spring back when lightly pressed. Let cookies cool on the baking sheets for 15-20 minutes before removing to a wire rack to cool completely.

Once the cookies are completely cooled, add confectioners' sugar, milk, and almond extract to a bowl and whisk until smooth. Spoon glaze over each cookie, then top with nonpareils (optional).

Let the glaze harden completely before serving/storing in an air-tight container.
Notes
How to measure flour: Fluff up the flour in its canister with a spoon by stirring. Spoon fluffed up flour into the measuring cup, making sure you don't pack it in. Spoon it until the cup is overflowing, at which point level off the cup using the flat edge of the spoon (or a knife). I do this over the opening of my flour canister so the excess falls back in. Glaze inactive time: The glaze should harden within about an hour. Color bleeding: After a few days, the rainbow nonpareils will bleed into the icing. If you want these cookies to be photogenic until the last one is eaten, 1) ice and decorate the cookies within a day or so of serving, 2) ice the cookies but use white nonpareils, or 3) ice the cookies and don't add sprinkles. They're great any which way.
Nutrition
Serving:
1
cookie
|
Calories:
120
kcal
|
Carbohydrates:
20.2
g
|
Protein:
1.9
g
|
Fat:
3.7
g
|
Saturated Fat:
2.3
g
|
Cholesterol:
15
mg
|
Sodium:
43
mg
|
Potassium:
19
mg
|
Fiber:
0.3
g
|
Sugar:
12.9
g
|
Calcium:
17
mg
Nutritional information is provided as an estimate. As it can vary due to many factors (brands used, quantities, etc.), we cannot guarantee its accuracy.