For your snack attacking pleasure – homemade cinnamon sugar pita chips. Crunchy, sweet, and perfectly spiced, these chips will be a favorite!
Guys has it been a week or WHAT. And it's not even over yet! Being an accountant, the couple of days after month end are usually an adventure, and usually not the fun kind of adventure. I think no less than ten times this week I've wished I could clone myself so I could be working on three things at once. And after a long work day, was I really going to come home and jump right into washing the dishes and other house chores?? Forgetttaboutit!
What gets me through weeks like this are snacks. Lots of snacks! In fact I noticed today little granola pieces have found their way into far corners of my desk and a few stepped on Cheerios have ground themselves into the carpet. Whoooops! Knowing I had a week ahead of me, I whipped up one of my favorite snacks as a little incentive to keep chugging along – homemade cinnamon sugar pita chips.
Come to mama!
I must be on a four ingredient kick this week (see also this blueberry chia seed jam), because these pita chips are as simple to make as anything. Because snacks with a little staying power generally serve me better than empty carb calories, I used whole wheat pitas – use whatever type you prefer! Either butter OR coconut oil work great here, so that's up to you, too. I made half of this batch with butter and the other half with coconut oil and mixed up the chips for the pictures. Bet you can't tell the difference!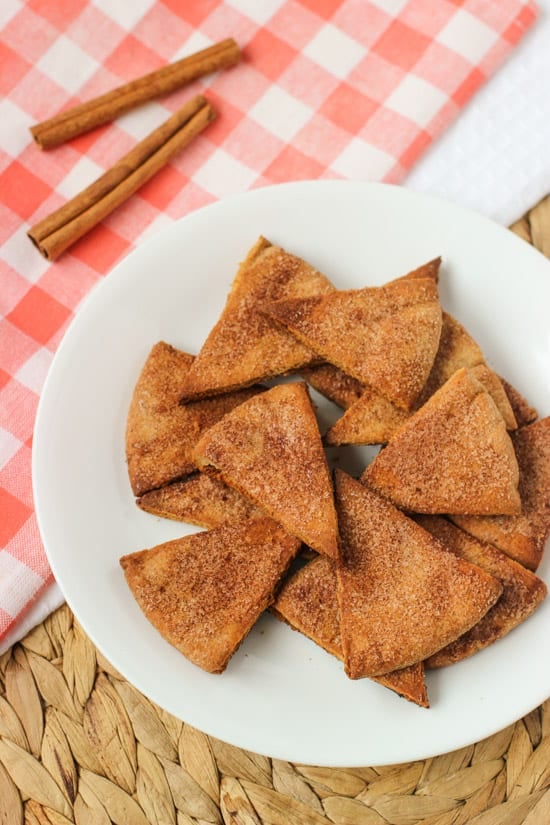 Not to overly complicate things here, but I do suggest mixing together the sugar and cinnamon and then sprinkling it over the pita chips vs. sprinkling the sugar and then sprinkling cinnamon. This helps evenly disperse both the sugar and cinnamon over the pita chips, and works to prevent those moments where you bang a little too hard on the cinnamon shaker and way too much cinnamon comes pouring out all at once and totally covers whatever it is you were seasoning. Don't tell me that only happens to me…
Check the video below to see how simple these cinnamon sugar pita chips are!
Homemade Cinnamon Sugar Pita Chips
For your snack attacking pleasure – homemade cinnamon sugar pita chips. Crunchy, sweet, and perfectly spiced, these chips will be a favorite.
Ingredients
4

pita rounds

(I used whole wheat)

4

tbsp

butter or coconut oil,

melted

4

tsp

granulated sugar

1

tsp

ground cinnamon
Instructions
Preheat oven to 400°F. Line a baking sheet with aluminum foil and lightly spray with cooking spray. Cut each pita into eight equally-sized wedges. In a small bowl, stir together the granulated sugar and cinnamon.

Brush both sides of each pita wedge with melted butter (or coconut oil, if using). Sprinkle cinnamon/sugar mixture evenly over both sides of the pita wedges, and place on baking sheet in a single layer.

Bake for 12-15 minutes, or until wedges have crisped up to your liking. Let cool and enjoy!
Notes
All ovens are different, so you may wish to start checking on the pitas after a few minutes to help prevent them from burning.
If your oven tends to run hot, you may wish to reduce the oven temperature to 375 or 350 degrees for baking, and then leave the pita chips in until crisp to your liking.
Nutritional info takes into account 6-1/2" diameter whole wheat pitas and 4 tablespoons of coconut oil.
Nutrition
Calories:
203
kcal
|
Carbohydrates:
26.5
g
|
Protein:
4
g
|
Fat:
10
g
|
Saturated Fat:
8
g
|
Sodium:
227
mg
|
Potassium:
74
mg
|
Fiber:
3.4
g
|
Sugar:
3
g
|
Calcium:
10
mg
|
Iron:
1.3
mg