For your snack attacking pleasure: cinnamon sugar pita chips. Crunchy, sweet, and perfectly these homemade pita chips couldn't be easier to make!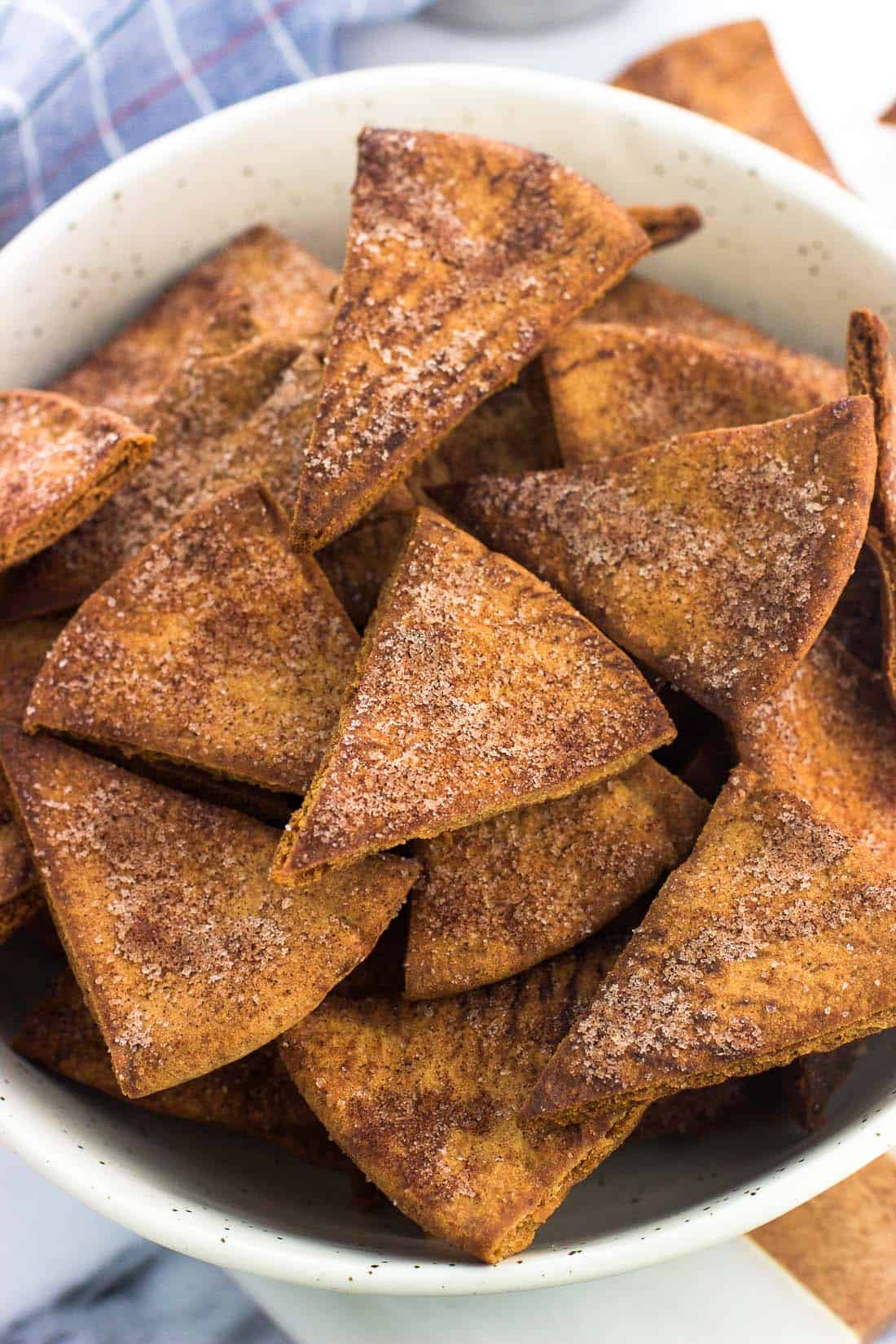 Getting back in the swing of things after a vacation is always a little rough, isn't it? We just got back from a week in Hawaii and I'm torn between wanting to dive into all things pumpkin/maple/fall and holding onto coconut/macadamia nut/summer.
I'm not sure which side is winning, so I figured I'd stay neutral and share these *new and improved* homemade cinnamon sugar pita chips. A delicious snack fit for all seasons!

How to make pita chips
Really, these couldn't be easier. You'll need:
pita rounds
coconut oil or butter
ground cinnamon
granulated sugar
I'm partial to buying whole wheat pitas, which bumps up the nutrition of these homemade pita chips. That's the kind you see in the photo above. They were also on a BOGO sale the last time I bought them and a pack of six whole wheat pitas ended up being 75 cents!
Much more cost-effective to make your own cinnamon sugar pita chips than to buy the not-gonna-name-it store-bought bag.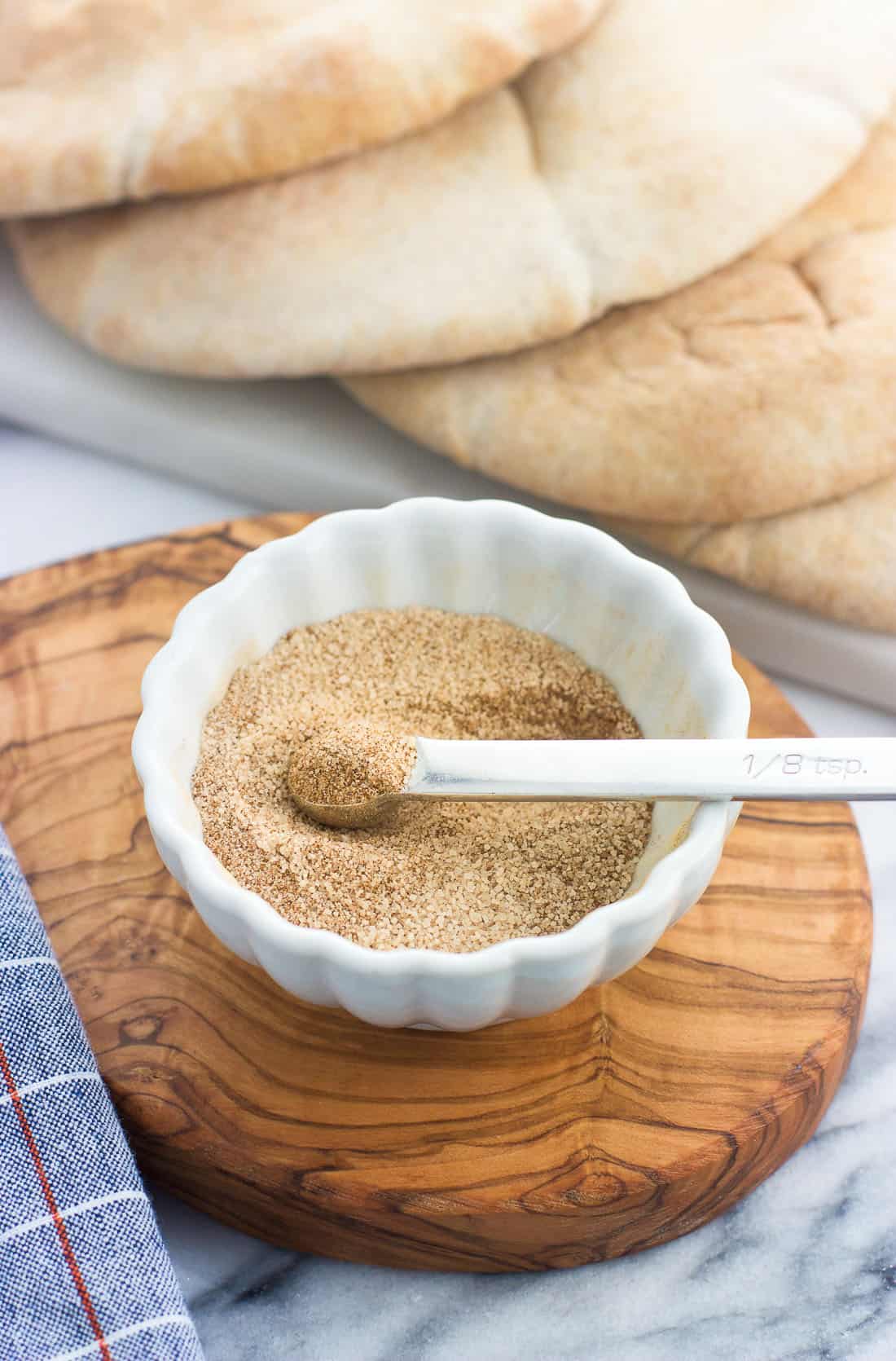 After you've gotten your pitas figured out, cut them into chip-sized wedges. I use a pizza wheel to make this process easy!
This homemade pita chip recipe calls for four pita rounds, which will result in 32 pita chips. You can scale the ingredients up or down if you'd like to use more or less pitas, but I landed on four pitas to be a just-right amount to fit on one large rimmed baking sheet.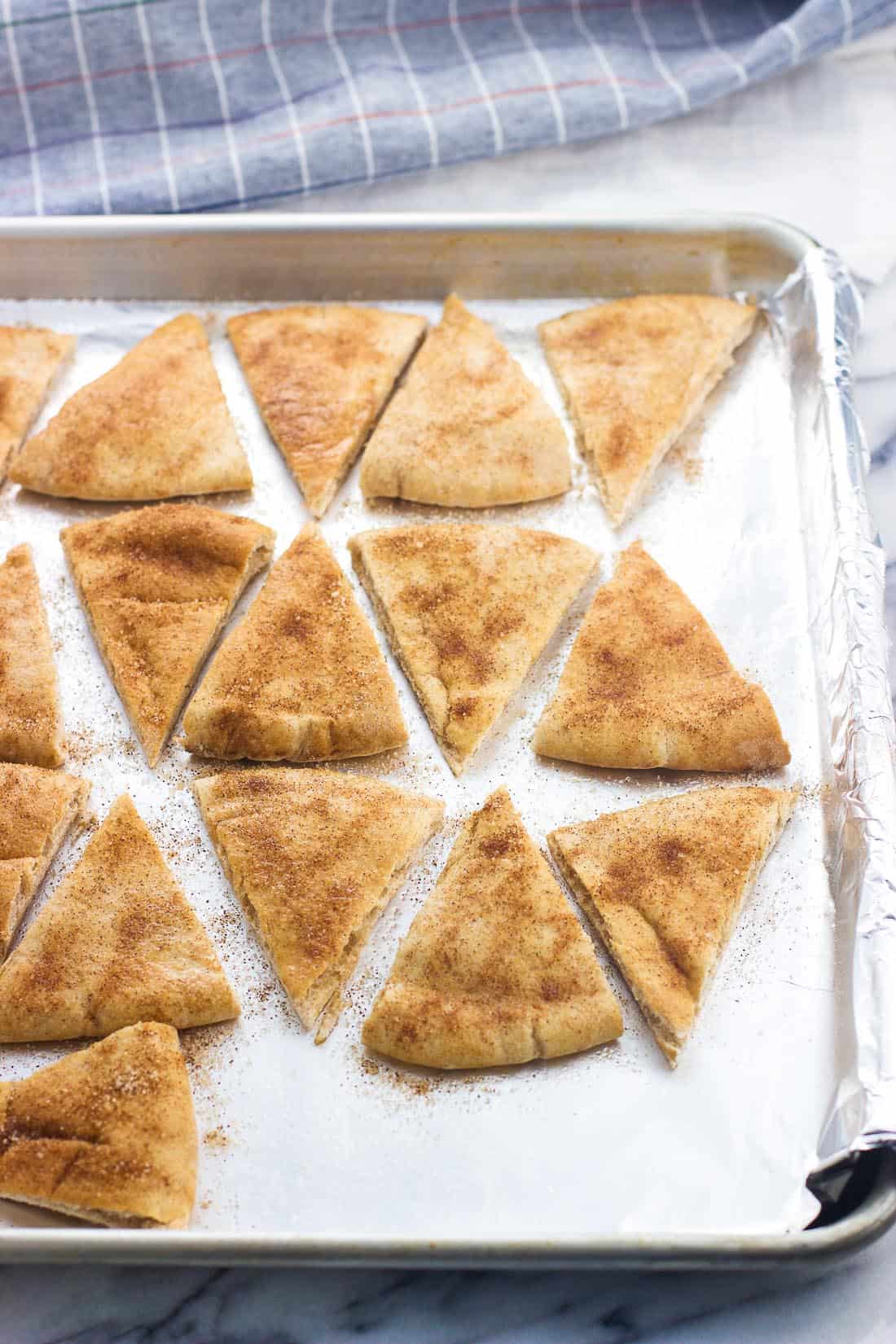 Next up: melted coconut oil or butter.
Either will work! Using coconut oil will most likely mean this healthy snack recipe is vegan (just double check your pita ingredients), but both add some necessary fat and act as a vehicle for the cinnamon sugar mixture to stick to the pita chips.
If using coconut oil, keep in mind the differences between refined and unrefined. I find that refined coconut oil doesn't transfer any coconut flavor, while unrefined coconut oil does have a coconut scent/flavor. I usually use refined coconut oil to let the cinnamon flavor shine.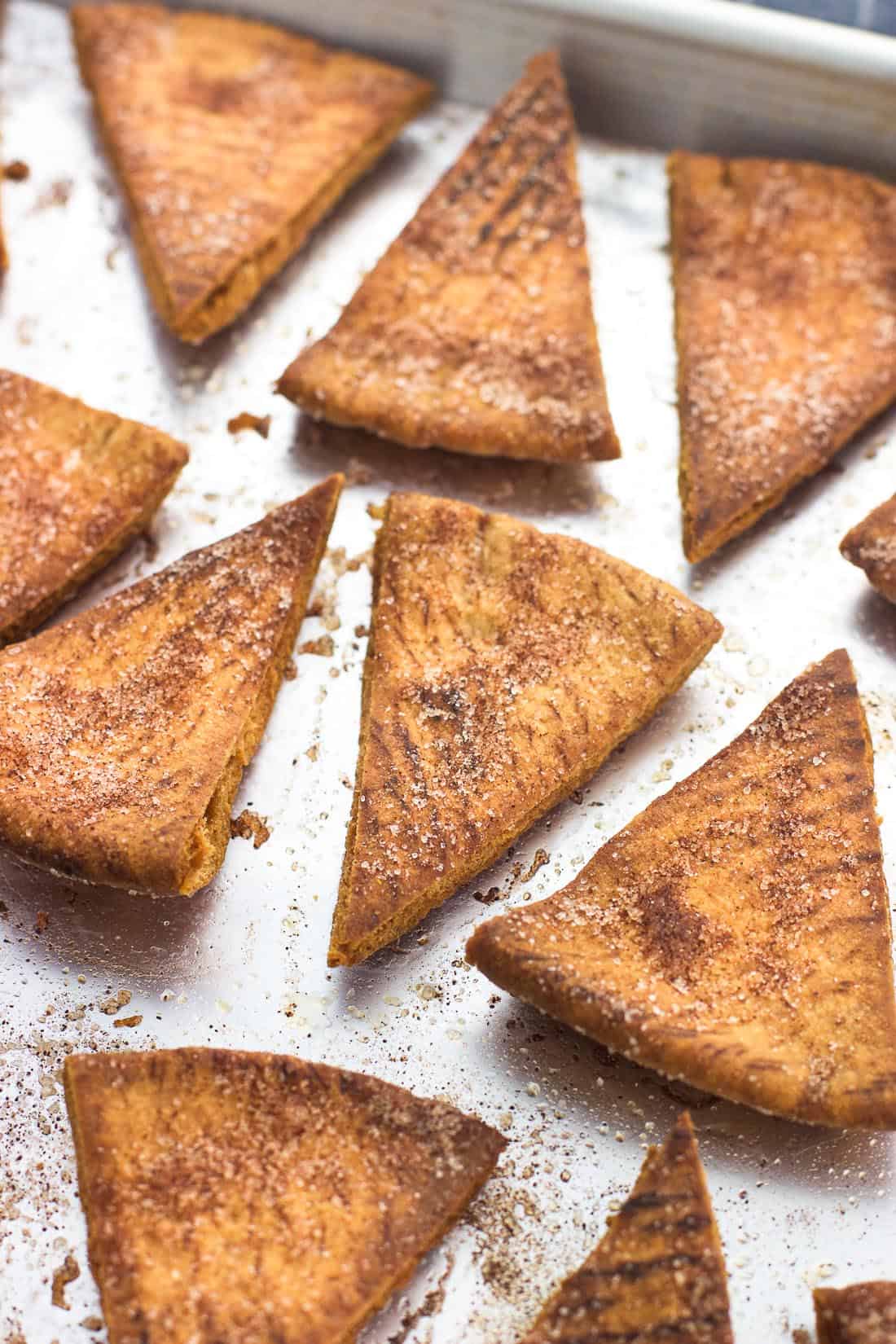 Not to overly complicate things here, but I do suggest mixing together the cinnamon and sugar and then sprinkling it over the pita chips vs. sprinkling the cinnamon and then sprinkling sugar.
This helps evenly disperse both the cinnamon and sugar over the pita chips, and works to prevent those moments where you bang a little too hard on the cinnamon shaker and way too much cinnamon comes pouring out all at once and totally covers whatever it is you were seasoning.
Mixing them together ahead of time leads to a perfectly balanced blend of sugar and spice that isn't too dry and gritty. I suggest using a 4:1 ratio of sugar:cinnamon. Keep this ratio in mind if you're scaling this baked pita chip recipe up/down.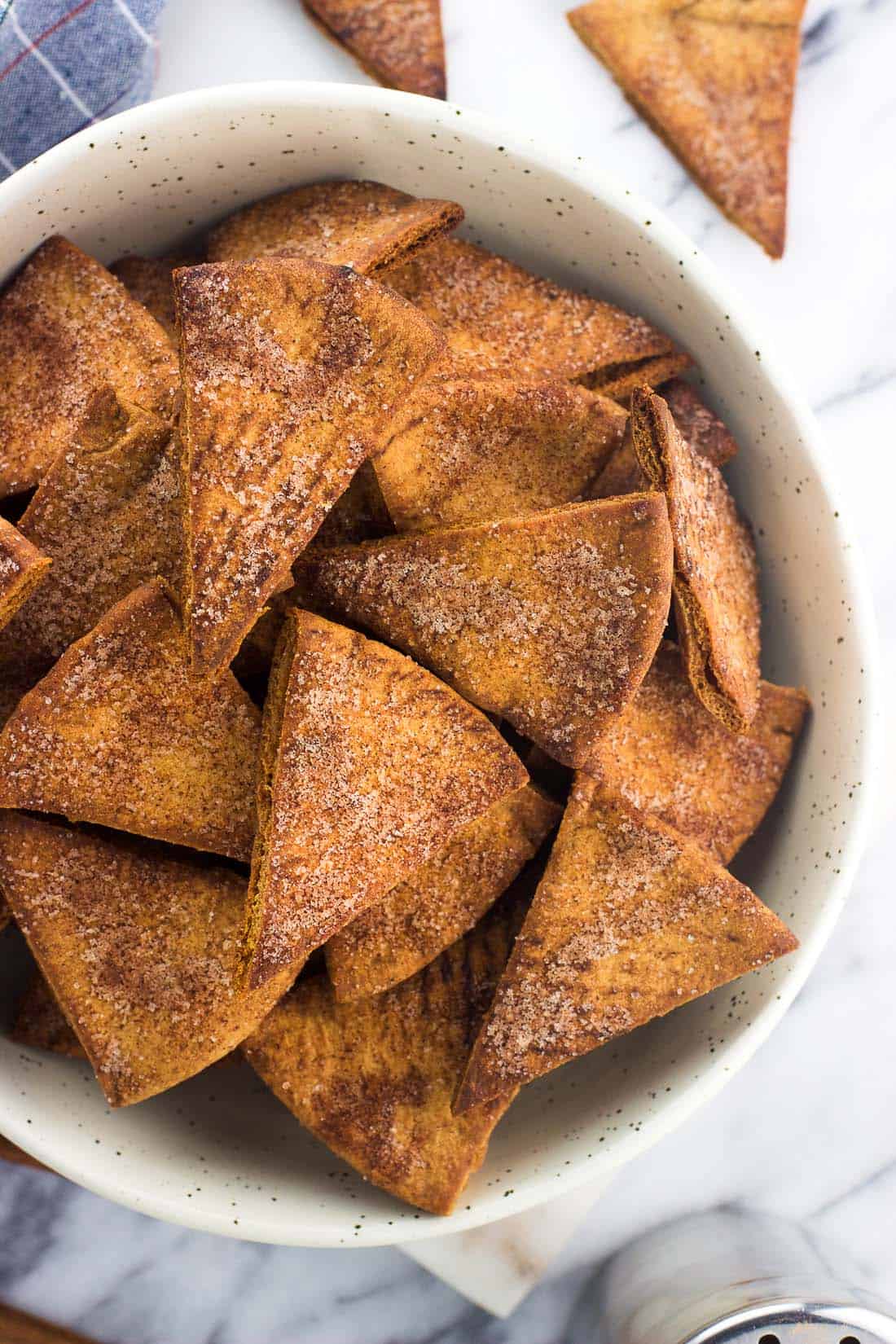 Once both sides of each pita chip are brushed with melted butter/coconut oil and sprinkled with cinnamon sugar, it's time to bake.
I usually keep these homemade cinnamon sugar pita chips in the oven for 12-15 minutes, though your time may vary. They'll crisp up only slightly as they cool, so you'll want for them to be just about all the way crisp when they come out of the oven.
How to store homemade pita chips
These cinnamon sugar pita chips will stay crisp for days. I store them in an air-tight container, but a sealable plastic bag will work as well.
I find these homemade pita chips are more hearty (and hardy!) than store-bought varieties...especially because you can make them whole wheat or gluten-free as you like. It's hard to beat a simple recipe like this.
Other healthy snacks you may like: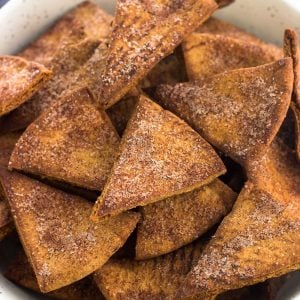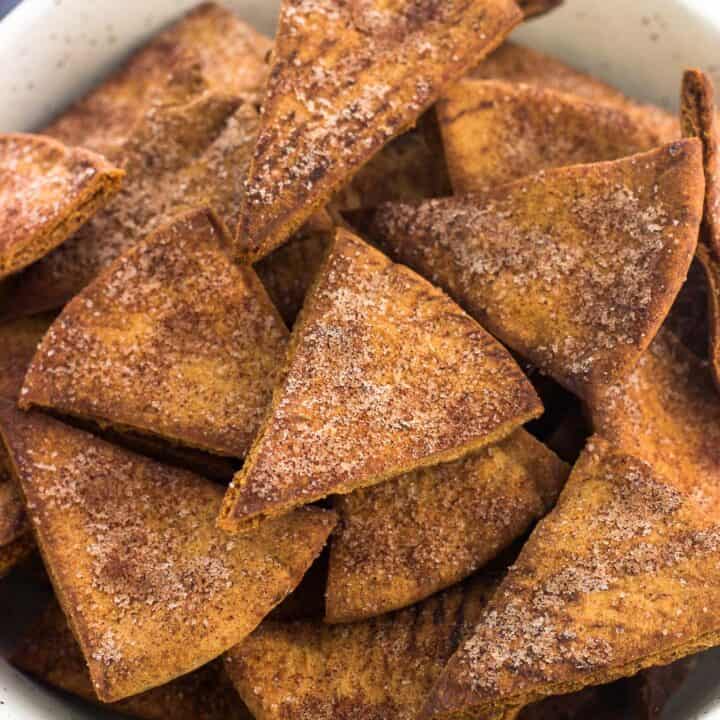 Homemade Cinnamon Sugar Pita Chips
For your snack attacking pleasure: cinnamon sugar pita chips. Crunchy, sweet, and perfectly these homemade pita chips couldn't be easier to make!
Print
Pin
Rate
Ingredients
4

pita rounds

(I like to use whole wheat)

3

tablespoon

butter or coconut oil

melted

4

teaspoon

granulated sugar

1

teaspoon

ground cinnamon
Instructions
Preheat oven to 400°F. Line a baking sheet with parchment paper or aluminum foil and lightly spray with cooking spray. Cut each pita into eight equally-sized wedges and place in a single layer on the lined sheet.

In a small bowl, stir together the granulated sugar and cinnamon until evenly combined.

Brush both sides of each pita wedge with melted butter or coconut oil. Sprinkle cinnamon/sugar mixture evenly over both sides of the pita wedges, and place back on baking sheet in a single layer.

Bake time will differ depending on the thickness of the pita, how your oven runs, and how crisp you'd like the pita chips to end up. Bake for anywhere from 8-13 minutes, or until wedges have crisped up to your liking. Check on the pita chips throughout and as needed carefully remove any thinner chips or ones that brown and crisp before the others. Let cool and enjoy!
Notes
All ovens are different, so you may wish to start checking on the pitas after a few minutes to help prevent them from burning.
If your oven tends to run hot, you may wish to reduce the oven temperature to 375°F or 350°F for baking, and then leave the pita chips in until crisp to your liking.
Nutritional info takes into account 6-½" diameter whole wheat pitas and 3 tablespoons of coconut oil.
Nutrition
Calories:
192
kcal
|
Carbohydrates:
26.7
g
|
Protein:
3.9
g
|
Fat:
8.1
g
|
Saturated Fat:
6.1
g
|
Sodium:
182
mg
|
Fiber:
3.3
g
|
Sugar:
5.3
g
|
Calcium:
26
mg
|
Iron:
1
mg
Nutritional information is provided as an estimate. As it can vary due to many factors (brands used, quantities, etc.), we cannot guarantee its accuracy.
Food Safety and Nutrition Disclaimer