Apple cinnamon chia bars are a hearty, chewy snack recipe that's made in the food processor. Just six ingredients and a few minutes are all it takes to whip up healthy snacks for the week! This recipe is dairy-free, vegan, and naturally sweetened.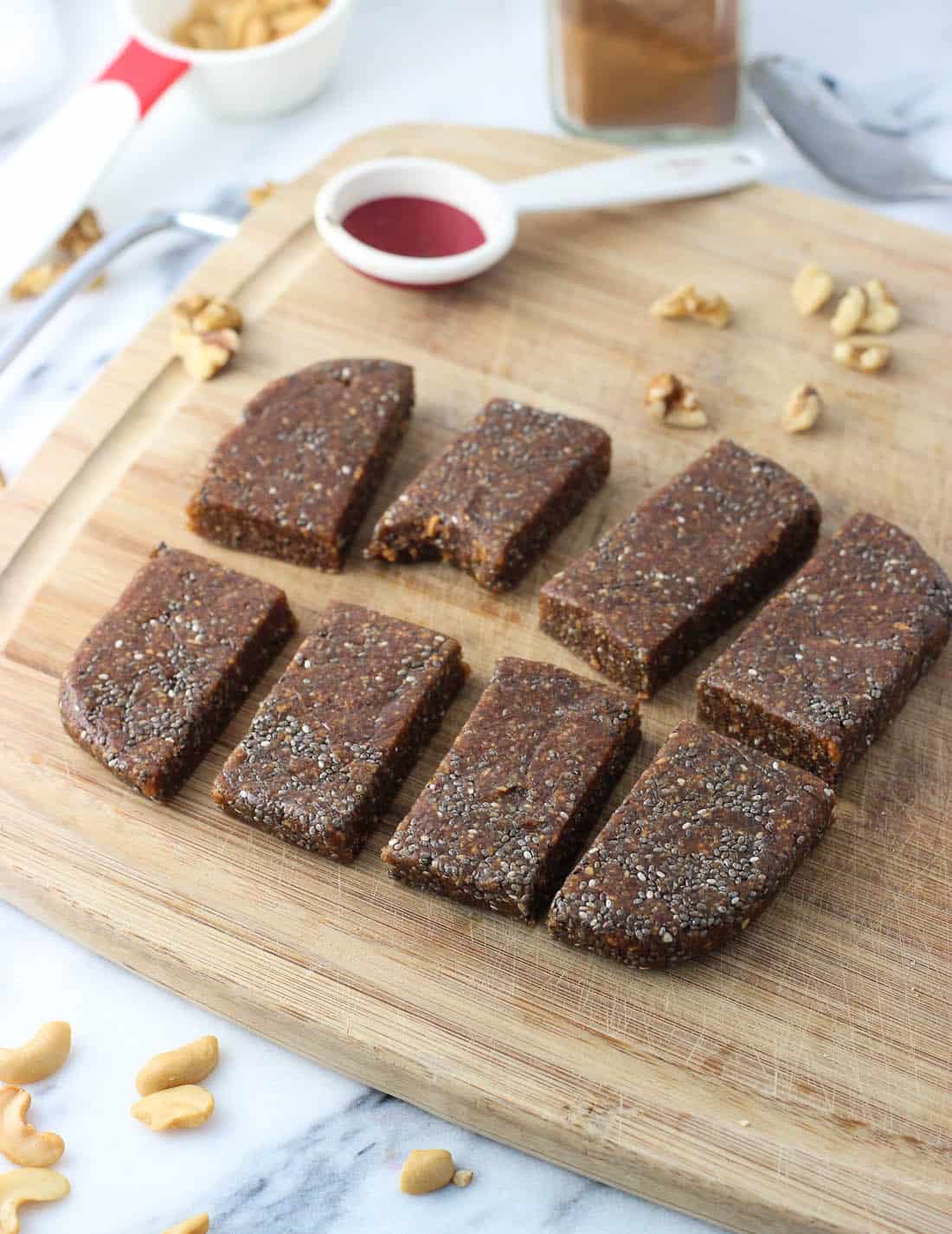 Apple cinnamon chia bars are my practical attempt at ushering in fall with food. It's now September and post-Labor Day…but the temps are still hovering around 90°F for the foreseeable future. Ouch. These bars are my happy medium! They feature the flavors of apple and cinnamon for a touch of fall, but they come together in the food processor with some chilling time so there's no need to heat your kitchen unnecessarily by turning on the oven. A win-win.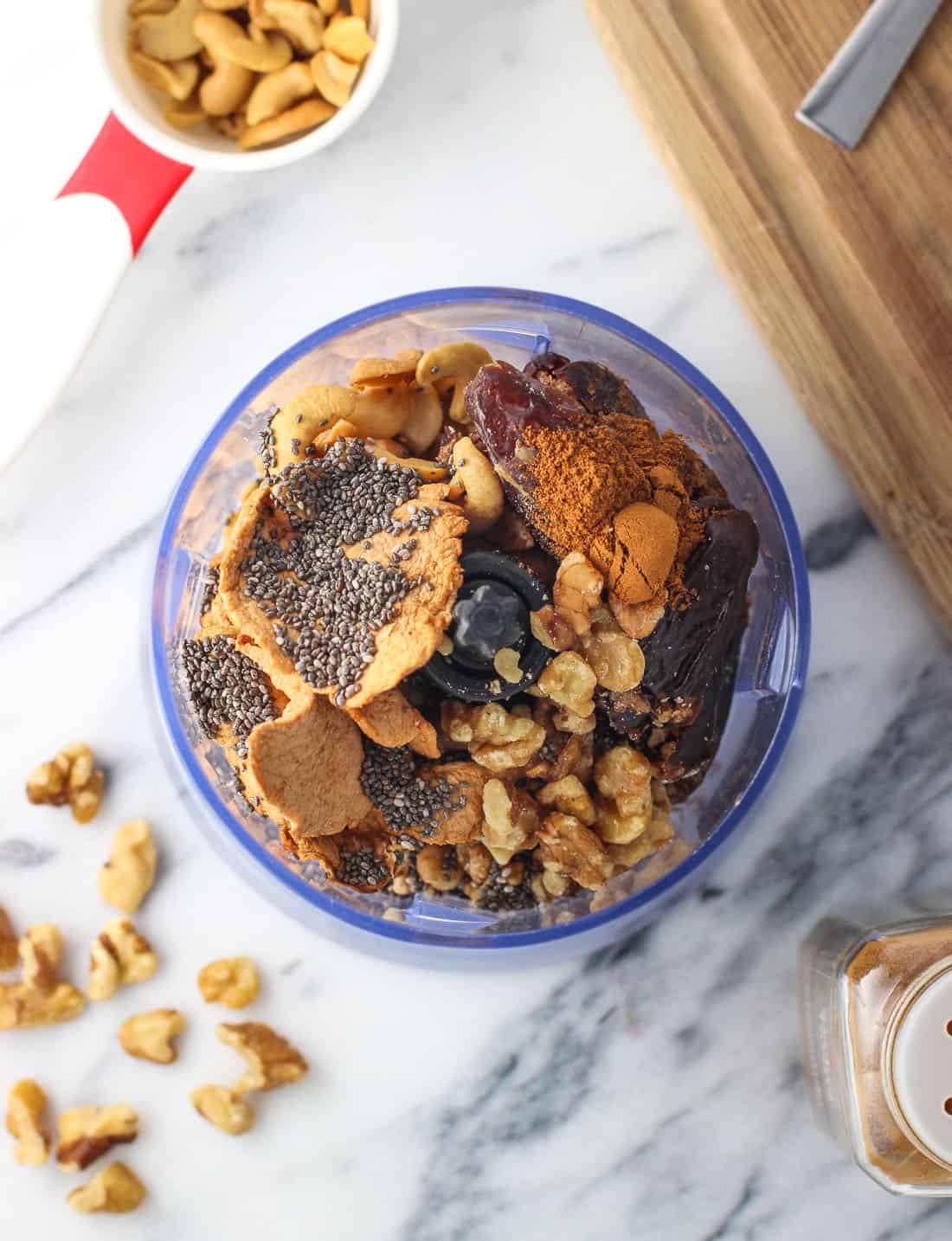 Like my perennial favorite chocolate peanut butter chia bars, this batch of healthy snacks is date-based for a chewy and naturally sweetened bar recipe. I use eight whole, pitted Medjool dates for this recipe, which equals one date per bar. Not too shabby as far as sugar per serving goes, as dates also contain good things like vitamins and fiber.
To help with the chewiness here, I also included dried apple slices for great apple flavor and texture. I found mine in my conventional grocery store and the package I bought only features one ingredient – apples. No sugar added! Add in a little bit of ground cinnamon and you've got all the flavor you need.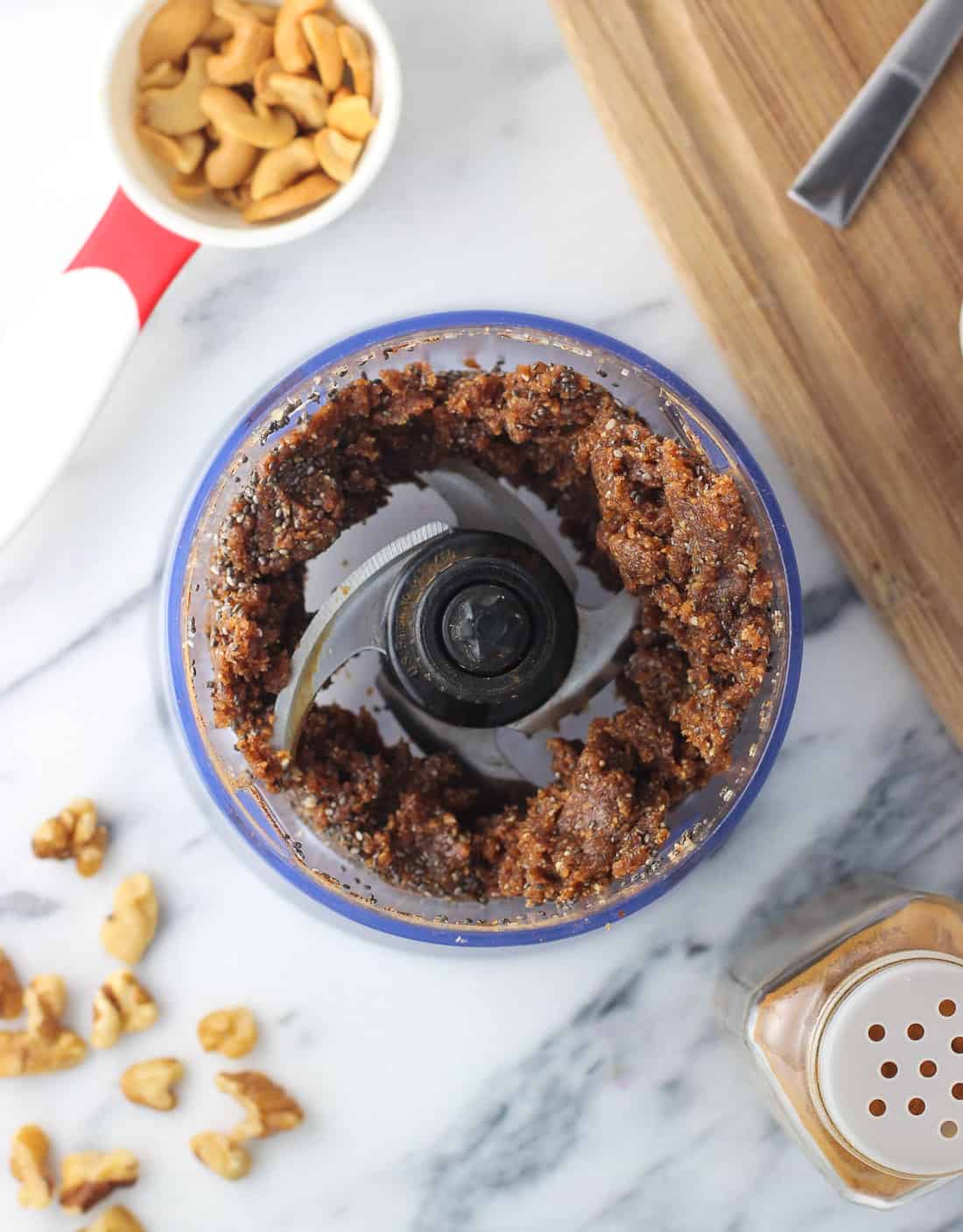 There are also one-half of a cup of nuts, of which I used half cashews and half walnuts. You can use whichever type of nuts you like (pecans sound delicious!), so take a look at what's in the cabinet and mix and match as you see fit. I also added two tablespoons of chia seeds for an extra bit of nutrients. You'll see them on the outsides of these bars, though these bars aren't 'crunchy' in the slightest. They just blend right in. You can definitely omit them though if you don't have them. Either way these apple cinnamon chia bars (or apple cinnamon date bars sans chia seeds) are wholly satisfying!
Here is the link to my favorite, super affordable food processor. It's never had a problem pulverizing dates, ice, or anything that tends to be tough to get smooth! I've had it for years and it's still going strong. <–affiliate link

Apple Cinnamon Chia Bars
Ingredients
8 whole, pitted Medjool dates
1/2 cup dried apple slices
1/4 cup cashews
1/4 cup walnuts
2 tbsp chia seeds
3/4 tsp ground cinnamon, or more to taste
Instructions
Add all ingredients to a food processor and process in 15-20 second bursts until the mixture resembles a slightly sticky, cohesive ball.
Place mixture on a sheet of plastic wrap and press down until it's in a square or rectangular shape, about 1/2" thick. Refrigerate for about 45 minutes (or longer) to help it harden.
Once hardened to your liking, cut into 8 slices (or however may you like). Bars are best stored in the refrigerator.
Notes
The dried apples I used have no sugar added. They have just one ingredient - apples!

I store these bars in the refrigerator, but I've kept one out for about 5-6 hours before eating and it was still great. Just a little softer.