Instant Pot applesauce is such an easy recipe! Made with a variety of sweeter and tarter apples, there's no sugar added to this healthy homemade applesauce - just lemon juice, cinnamon, and kosher salt. This pressure cooker applesauce makes a great snack and excess portions freeze beautifully.
Now if I were to start this post with a classic food blogger trope, I'd write you a long intro about how my love of applesauce began when I was a kid, how it was a tireless presence in my lunchbox, how I have countless wonderful memories of eating applesauce with my family...
But let's get real. For one, I probably roll my eyes at that over-the-top schmaltz just as much as you do. And two? It's just applesauce. Does it really need a story justifying why you make it? It's a tasty, versatile, and healthy snack recipe, made even easier in the Instant Pot.
That's good enough for me!
What apples to use for applesauce?
There's a lot of wiggle room here for you to mix and match varieties depending on what's available to you. Six apples are used in this Instant Pot applesauce recipe and I used three different varieties: Fuji, Golden Delicious, and McIntosh.
Fuji apples are very sweet, while Golden Delicious apples are a great all-purpose choice. They're not as sweet as Fuji, but still bring necessary sweetness. McIntosh apples are on the tarter side, providing a nice balance to the flavor. I prefer unsweetened applesauce, so I made sure that at least four of the six apples were on the sweeter end of the spectrum.
Since certain apple varieties can be pretty pricey depending on where you live and buy groceries, do 'shop around' within the sweet/tart buckets to find sales and pick apples that fit your sweetness preferences. A mix of two, not three, varieties will work just fine, too.
Sweeter apple varieties:
Fuji
Golden Delicious
Jonagold
Gala
Ambrosia
Honeycrisp
Tarter apple varieties:
McIntosh
Granny Smith
Jazz
Braeburn
Recipe steps
Now that we have our apples, it's time for the most tedious part of this recipe: peeling them. You can leave the skin on if you prefer (in fact that's where most of an apple's fiber is), but in this version I wanted a lighter colored applesauce so I peeled them.
If you do plan to leave the skin on, you may wish to use organic apples as conventional apples tend to have higher levels of pesticide residue.
So! Just throw these apples into the insert of the Instant Pot once they're peeled, cored, and quartered.
In with the apples goes some water, lemon juice, cinnamon, and kosher salt. The apple varieties I use do a good job of sweetening the applesauce on their own, so I don't add sugar.
If you do prefer sweetened apple sauce, you can add your favorite sweetener at this point. If you're deciding on a quantity of sugar to use, I'd err on the side of adding less than more at this point. Once the applesauce is cooked, you can always stir in honey or maple syrup to bump up the sweetness if it needs. Tougher to come back the other way.

A note about the water. One of the Instant Pot tenets when it comes to the six-quart Instant Pot is to not add less than one cup of liquid when you're pressure cooking. Otherwise there might not be enough steam produced to achieve pressure and actually get your food to cook properly.
Here though, you'll use ¾ cup water, though I'm not being a big rebel or anything! Apples release juices as they cook so you won't have a problem with a lack of liquid.
After a five minute pressure cook time, let the pressure release naturally to prevent spraying through the vent, and then stir or blend the applesauce to your desired consistency. I like thin applesauce so I used my immersion blender to blend until smooth, but you do you.

Can you freeze applesauce?
Yes! I portion out one cup of applesauce into quart-sized plastic bags, seal them after getting as much air out of the bag as I can, and then press them into a flat, even layer. That way they take up less space in the freezer.
While you can definitely use larger bags for freezing applesauce, I prefer smaller ones so they're easy to grab out to thaw for a snack or for using in recipes.
Recipe notes
See post above for different apple varieties that work well in applesauce. You don't have to use the exact three featured in the recipe card.
This recipe was tested in the

six-quart Instant Pot

(affiliate link).
Using ¾ cup of water is fine for the six-quart Instant Pot because the apples release liquid as they cook. There will be enough steam for everything to pressure cook properly.
The Instant Pot manual says to use extreme caution when pressure cooking foods that can be frothy, in which they specifically call out applesauce among other foods. Reason being is that hot splatter-y applesauce can spray up through the pressure release system. This is why I specify a natural pressure release. If you're impatient, after 15 minutes or so of natural pressure release, you may try carefully (using oven mitts, covering the vent with a dish towel, etc.) quick pressure releasing the remaining pressure.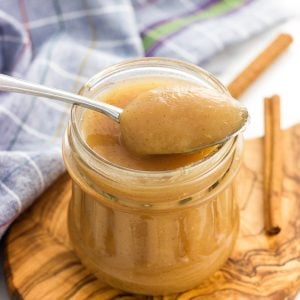 Instant Pot Applesauce
Instant Pot applesauce is such an easy recipe! Made with a variety of tarter and sweeter apples, there's no sugar added to this healthy homemade applesauce - just lemon juice, cinnamon, and kosher salt. This pressure cooker applesauce makes a great snack and excess portions freeze beautifully.
Print
Pin
Rate
Ingredients
2

Fuji apples

quartered, peeled, and cored

2

Golden Delicious apples,

quartered, peeled, and cored

2

McIntosh apples

quartered, peeled, and cored

¾

cup

water

(6 oz)

1

tablespoon

lemon juice

1

teaspoon

ground cinnamon

⅛

teaspoon

kosher salt
Instructions
Peel apples. Cut each apple into quarters, and then remove the cores.

Place quartered apples in the Instant Pot, then pour in the water. Add lemon juice, cinnamon, and kosher salt and give everything a little stir to combine.

Place the lid on the Instant Pot and make sure the pressure release valve is set to "Sealing". Press the "Manual" button, then using the "+" or "-" buttons, adjust the cook time to 5 minutes.

Let the pressure release naturally (see note above), then switch the pressure release valve to "venting" before opening the lid.

Using an immersion blender, blend the apples until your desired consistency. Alternatively, you can transfer the apples to a blender to blend that way, or even just give it all a stir if you like chunky applesauce. The applesauce will thicken as it cools. Store in the refrigerator for 1-2 weeks.
Notes
Yield: This recipe yields about 4 cups of applesauce in total. Time: Inactive time takes into account 15 minutes for the Instant Pot to come up to pressure and 20 minutes for a natural pressure release.
Nutrition
Serving:
4
oz (½ cup)
|
Calories:
72
kcal
|
Carbohydrates:
17.2
g
|
Protein:
0.4
g
|
Fat:
0.2
g
|
Sodium:
10
mg
|
Potassium:
127
mg
|
Fiber:
2.3
g
|
Sugar:
12
g
|
Calcium:
10
mg
|
Iron:
0.2
mg
Nutritional information is provided as an estimate. As it can vary due to many factors (brands used, quantities, etc.), we cannot guarantee its accuracy.
Food Safety and Nutrition Disclaimer
If you're an apple lover, check out these baked spiralized apple chips for another healthy snack recipe!