This incredibly easy slow cooker apple pie has all the flavors of classic apple pie with a ton more hands-off time. Apple slices cook in the crock pot until spiced and tender, and are topped with quick baked cinnamon sugar pie crust lattice squares for a simple version of apple pie that tastes like the real thing!
a.k.a. lazy apple pie, cheater's apple pie, not your mama's apple pie…super simple, delicious, and easy apple pie.
Now this may not be one for the apple pie purists among us, but being able to make slow cooker apple pie is game CHANGING. Apple slices and a few of the usual suspects like brown sugar, cinnamon, cornstarch, and more cook in the crock pot for a few hours, where the apples become perfectly tender, spiced, and slightly gooey like all good apple pie filling does. Once softened to your liking, all that's left is to scoop them onto a plate, top with a pie crust lattice square (more on those later), and optionally top with a scoop of vanilla ice cream. Well, as optional as matters concerning ice cream tend to be. Read: not very optional. 😉
The only thing easier here would be if apples could begin to peel, core, and slice themselves. Hardest part, hands down!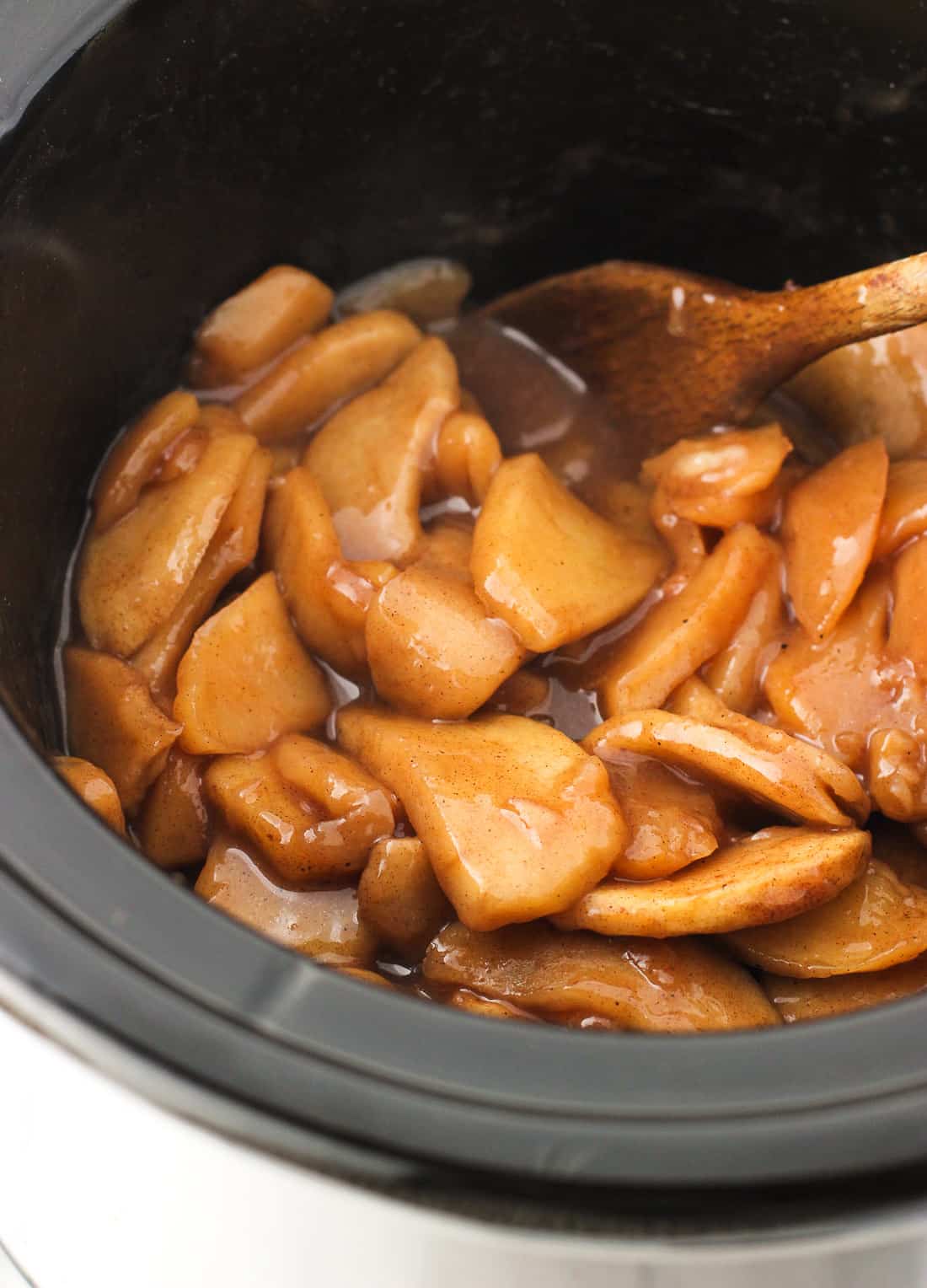 When I was making this recipe, I had high hopes for being able to drop the pie crust right on top of the apples in the slow cooker and have it bake up right in there. I even tried that at one point, however it was just so finicky in the details that I opted to go an easier route. For one, adding the crust to the slow cooker would take way longer than simply baking the lattice in the oven. I was also afraid that the condensation that collects on the inside of the slow cooker lid would mess with the crispness I love in pie crust.
So I abandoned that plan and instead opted for oven-baked pie crust, hence the (mostly) slow cooker apple pie title here. You can use store-bought pie crust for an even easier version, but the dough I made is very straight-forward. Flour, cold cold cold butter, a little bit of salt, and ice water are all you need to roll out a flaky, buttery, delicious pie crust. I added a sprinkle of cinnamon sugar over top before baking for an extra festive touch.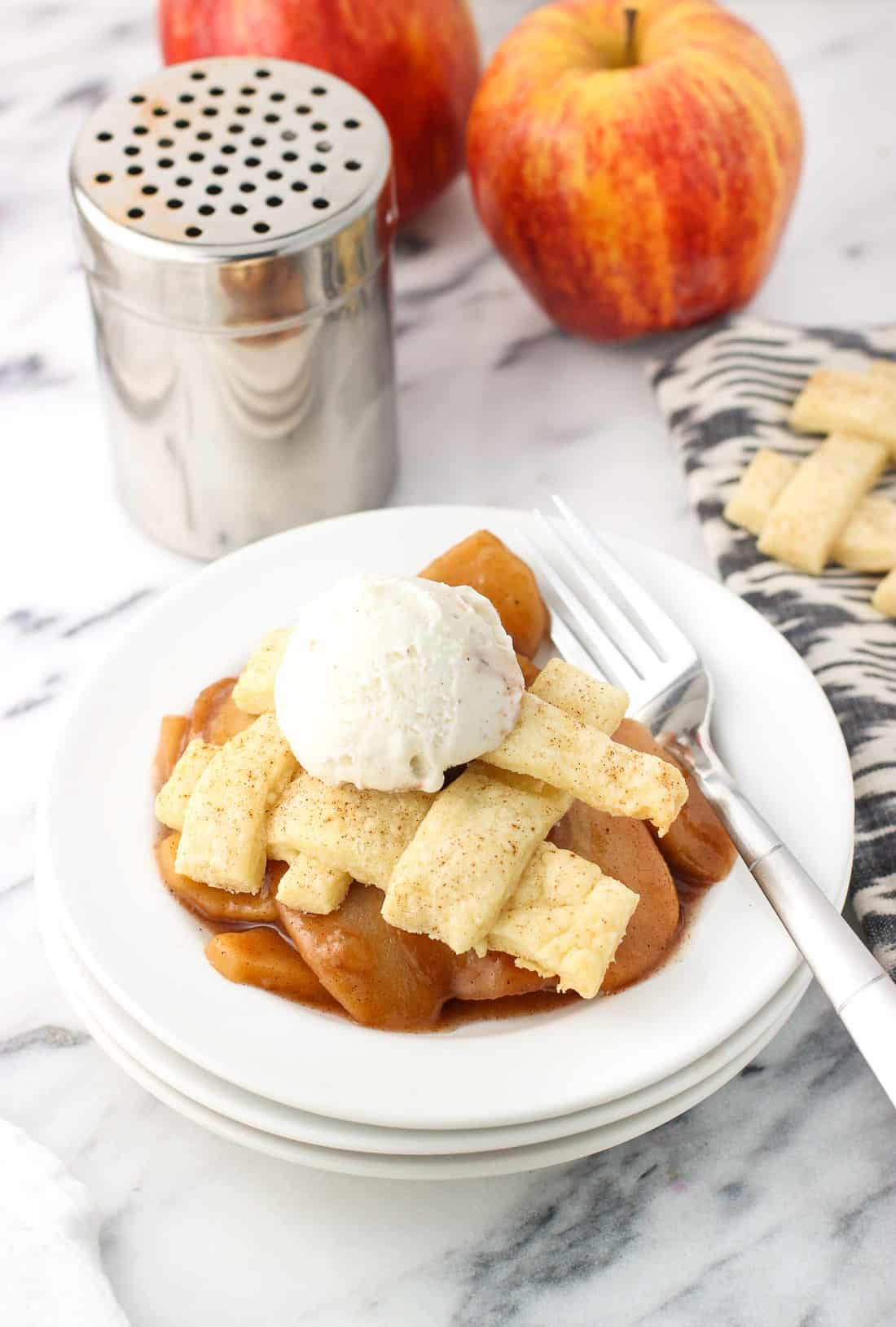 You might be wondering why you'd want to spend 3+ hours for the apples to slow cook if you can bake a traditional apple pie with less than an hour or so of bake time. I hear you. What I love about this slow cooker apple pie recipe is all of the hands off time involved. Once the chore of prepping the apples is done, you toss with the rest of the ingredients, throw in the slow cooker, and periodically check in over the next few hours to see how tender they're becoming. There's no need to keep a close eye on the oven or worry that your pie is going to spill over.*
With just our household of two, I tend to reserve pie baking for occasions when we're having guests over. I definitely appreciate all of the inactive time here where I can focus my efforts elsewhere, like cleaning the house or running to the store because we're out of something essential. Plus the slow cooker is very forgiving when it comes to time. I switched the heat setting from 'low' to 'warm' when I thought these apples looked ready, so that means everyone can serve themselves and gets a warm "piece" of pie when they're ready.
*I will confess, the very first thing I baked when we moved into our new house was an apple pie, and it proceeded to massively spill over and seriously gunk up my oven floor. I broke in the kitchen real fast!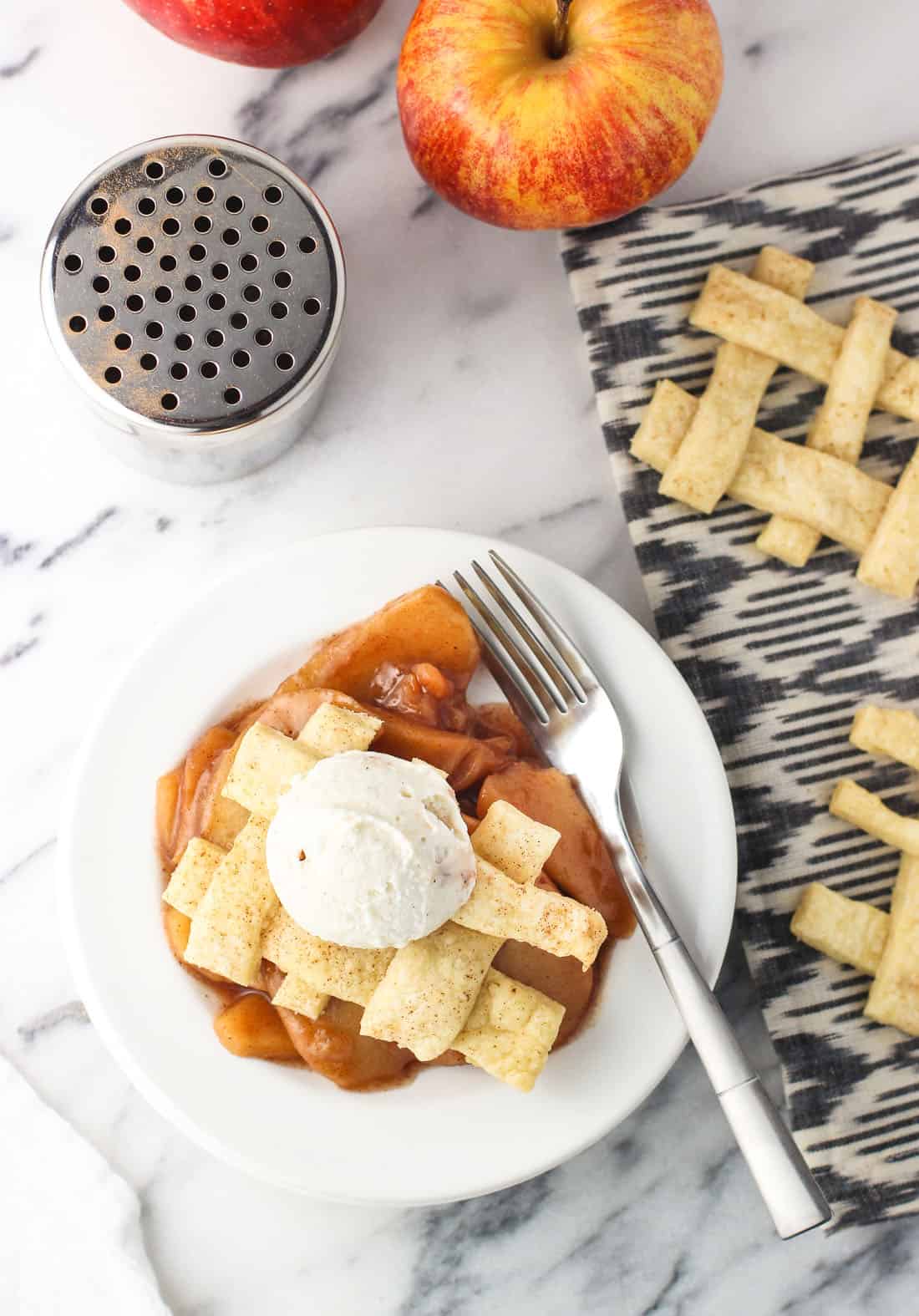 Ways to switch it up:
See the recipe notes below for the apple varieties I used in this (mostly) slow cooker apple pie. I know people have preferences in the apple pie arena, so mix and match your favorite apple varieties.
You can use approximately 2 teaspoons of apple pie spice in place of the quantities of cinnamon, nutmeg, allspice, and cardamom called for in the recipe.
I made my own simple pie crust, however this recipe would work just the same if you use a store-bought pie crust. Sprinkle a little bit of cinnamon sugar over top before baking for an extra special touch!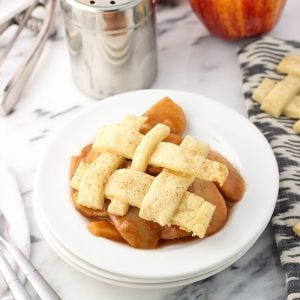 (Mostly) Slow Cooker Apple Pie
This incredibly easy slow cooker apple pie has all the flavors of classic apple pie with a ton more hands-off time. Apple slices cook in the crock pot until spiced and tender, and are topped with quick baked cinnamon sugar pie crust lattice squares for a simple version of apple pie that tastes like the real thing!
Print
Pin
Rate
Ingredients
For the Apples:
6

large apples,

peeled and cored (see note)

1/2

cup

brown sugar

2

tbsp

cornstarch

2

tsp

lemon juice

1 1/2

tsp

ground cinnamon

1/4

tsp

ground nutmeg

Pinch

of ground allspice

(optional)

Pinch

of ground cardamom

(optional)
For the Crust:
1 1/4

cup

all-purpose flour

1/4

tsp

salt

4

oz

unsalted butter

(1/2 cup), chilled and cut into small pieces

1

oz

cold water

(2 tbsp), approximate

Cinnamon sugar

for dusting
Instructions
For the Apples:
Peel and core apples. Slice into approximately 1/4"-thin slices. Add apple slices in a large bowl, preferably one with tall sides.

To the bowl with the apple slices, add brown sugar, cornstarch, lemon juice, cinnamon, nutmeg, allspice, and cardamom. Toss everything until the apple slices are coated evenly.

Lightly spray bottom and sides of slow cooker insert with cooking spray. Add apple slices to slow cooker and set temperature to "low". Cook apples for at least 3 hours, or until the apple slices have become tender and gooey.
For the Crust:
Cut cold butter into small chunks. Add butter pieces to a bowl along with flour and salt.

Using a pastry cutter or your hands, work butter into the flour until the dough begins to come together and become cohesive. There will still be pieces of butter remaining (it won't be smooth).

Add two tablespoons of ice water to the bowl and work into the dough until everything is combined. Stick dough in the refrigerator for at least 15-20 minutes. At this point, preheat oven to 350°F and line a baking sheet with parchment paper.

Once the dough is chilled again, roll out on a lightly floured work surface until it's about 1/4" thick. Using a pastry wheel (or a pizza wheel!), cut the dough into strips.

Place about half of the strips horizontally a short distance apart from one another on the baking sheet.

Gently fold every other strip back over onto itself. You don't need to press them down as you'll be unfolding them in a moment. Place one strip vertically onto the horizontal strips that remained on the sheet, and unfold the folded strips back onto the sheet so they're now over the vertical strip.

Now fold back the horizontal strips that you didn't do last time. Place another vertical strip as you did before, and replace horizontal strips again. You'll notice the lattice pattern forming.

Continue the process for the remainder of that side, and then repeat for the other half.

Using the pastry wheel, slice lattice into squares. You don't need to move the squares on the baking sheet apart from one another as they will separate once baked.

Sprinkle cinnamon sugar over top of the lattice.

Bake for 13-15 minutes, or until the crust is golden and crisp.
To serve:
Scoop apples into a bowl or plate, top with a pie crust square, and top with ice cream if you like!
Notes
The Kitchn has a great visual on how to lattice pie crust!
I used 3 Gala apples and 3 Ambrosia apples here, and I found the mix of the two varieties to be delicious. Both kinds withstood hours of slow cooking and became perfectly soft but not mushy in the slightest. I'm also partial to Pink Lady and Honeycrisp apples. Of course, if you have preferred apples for apple pie go right ahead and use those!
Nutrition
Calories:
300
kcal
|
Carbohydrates:
48.7
g
|
Protein:
2.5
g
|
Fat:
11.5
g
|
Saturated Fat:
7
g
|
Cholesterol:
30
mg
|
Sodium:
78
mg
|
Potassium:
212
mg
|
Fiber:
4.6
g
|
Sugar:
26.2
g
|
Calcium:
10
mg
|
Iron:
1.8
mg
Nutritional information is provided as an estimate. As it can vary due to many factors (brands used, quantities, etc.), we cannot guarantee its accuracy.