A handful of basic ingredients transforms plain apples into the best gooey and spiced air fryer apples. They're great for a snack or for dessert, with no flipping needed.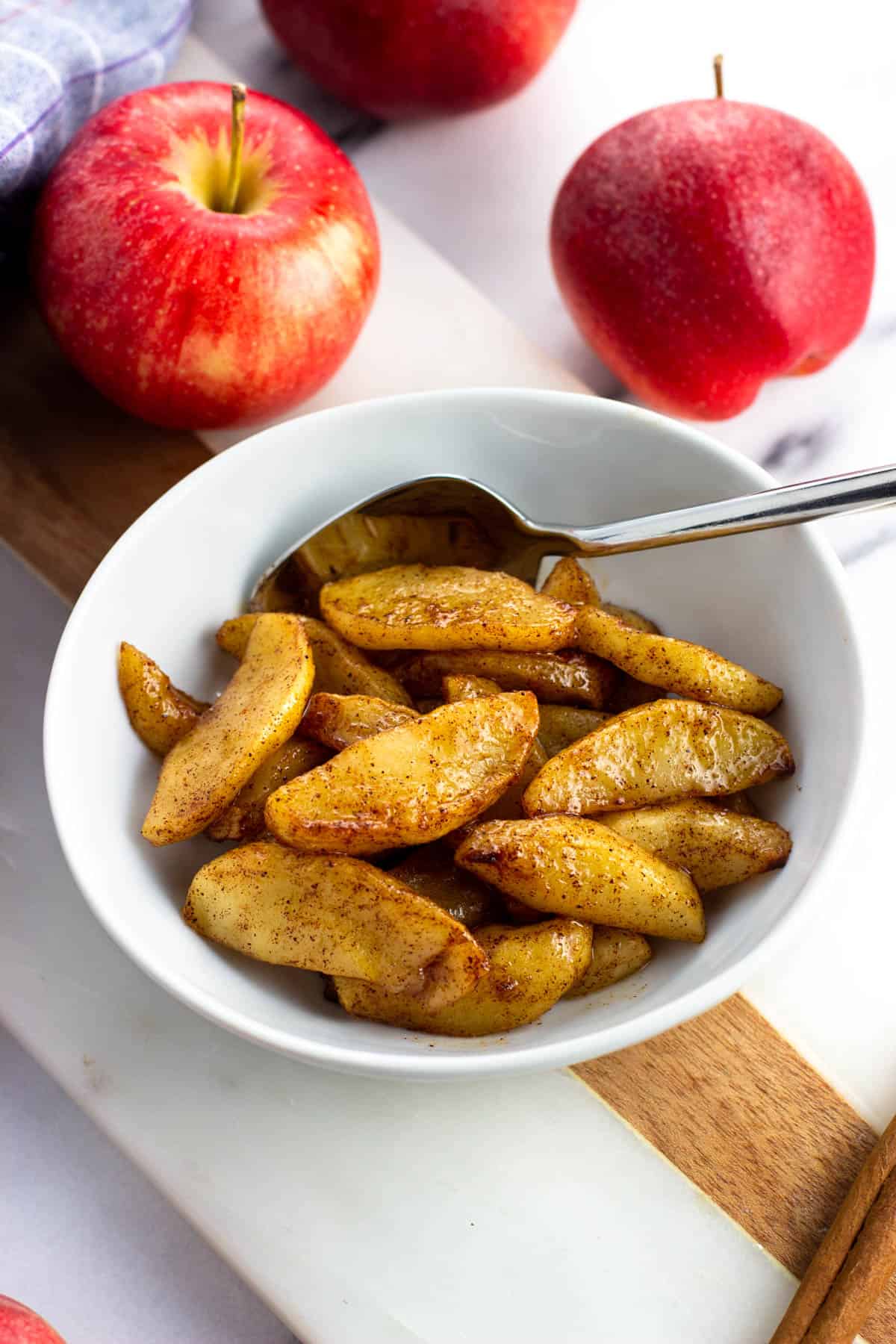 After happening upon a BOGO sale on our favorite snacking apples (Gala), I took full advantage and loaded up my cart Supermarket Sweet style. Apples last a really long time when stored in the refrigerator, and this sweet and firm variety holds up well to a variety of cooking and baking methods.
While I still picked up some Granny Smiths for apple crumble, I started to think about how I could use my haul of Galas beyond apple cinnamon baked oatmeal and puff pastry apple turnovers. I briefly considered apple pie ice cream, something I used to love as a kid, but decided that was frankly too much work. How about apples to go with ice cream instead?
These easy air fryer apples fit the bill and then some, for a wonderfully versatile snack/topping/dessert.
Reasons to Love This Recipe
These apples taste like warmly spiced, gooey fried apples but with less butter needed.
Using a sweet apple variety means you can get away with adding less sugar.
The hardest part might be peeling the apples! Since we're not going for crispy, you don't even need to flip them halfway through, as is typical with air frying.
Recipe Ingredients
Apples: Sweet apples that won't mush up when heated are best used here. Some common varieties you can likely find at the store include Gala, Honeycrisp, Fuji, and Ambrosia.
Canola oil: This, or another neutrally-flavored cooking oil you like, works to coat the apples evenly so they soften just right in the air fryer. I don't recommend melting butter or coconut oil (more on that later).
Brown sugar: A perfect pairing with apples, some coats the apples before air frying and after. The sugar that's added before caramelizes as they cook, with the remaining adding a punchier flavor to their "sauce" afterwards.
Cinnamon and nutmeg: Classic! Nutmeg is optional, though do use a light hand when measuring it out because it has a tendency to overwhelm the flavor.
Butter: These air fryer apples are tossed in the smallest amount, about half of a tablespoon, once they're cooked to provide a lightly gooey sauce.
Step-by-Step Instructions
Peel the apples, remove and discard the cores, and cut them into slices about a half-inch thick. Place them in a bowl and evenly toss with the oil, most of the brown sugar, cinnamon, and nutmeg.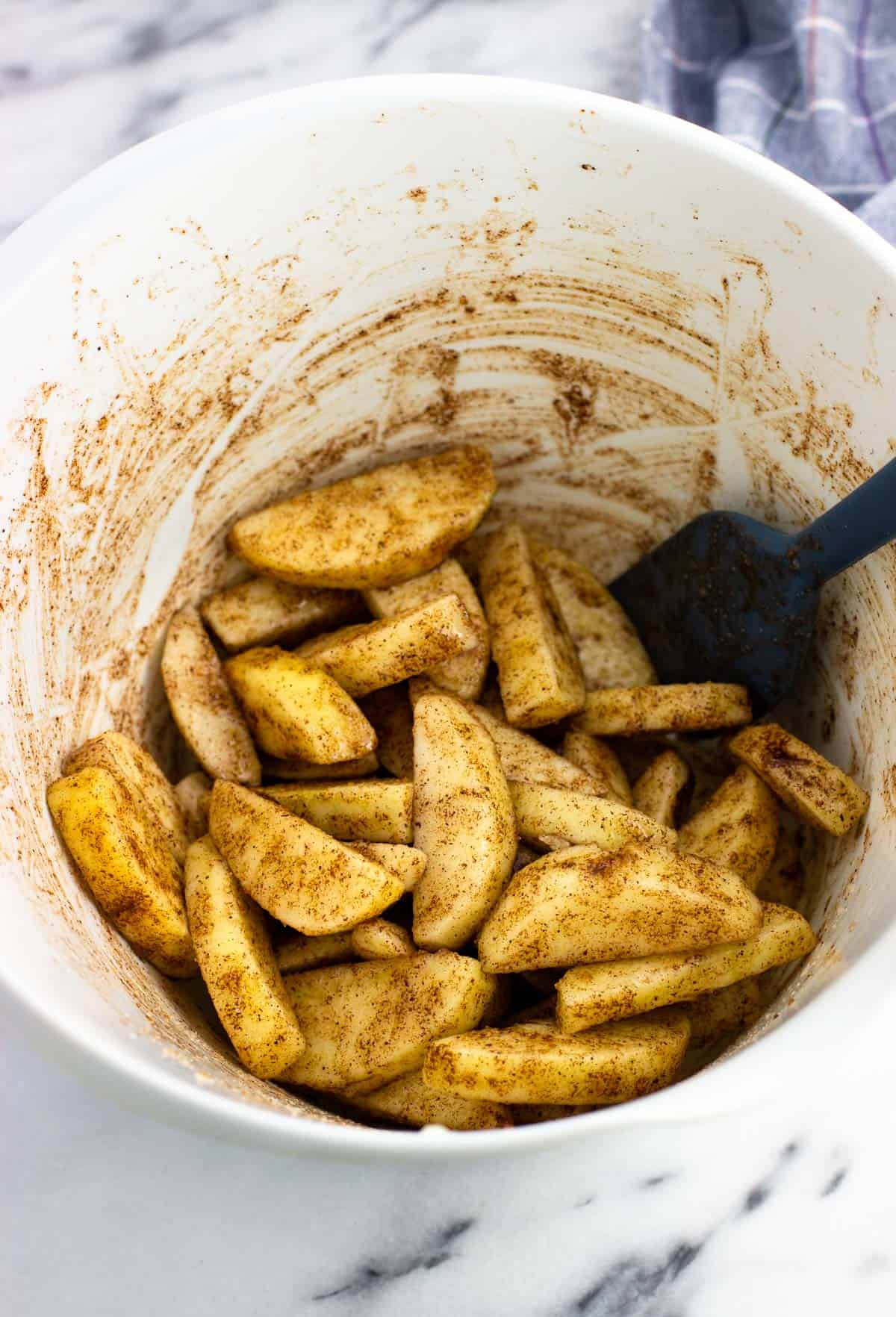 Give your air fryer basket a spritz of cooking spray so that the apples don't stick, then transfer the coated apple slices to the basket and arrange them in as close to a single layer as possible.
Air fry at 350°F (177°C) for 12-14 minutes, or until the apples have softened and are starting to brown around the edges.
Transfer the air fryer apples to a bowl and add the butter and the remaining teaspoon of brown sugar. Stir so that the butter melts and the apple slices are coated evenly. Serve while warm.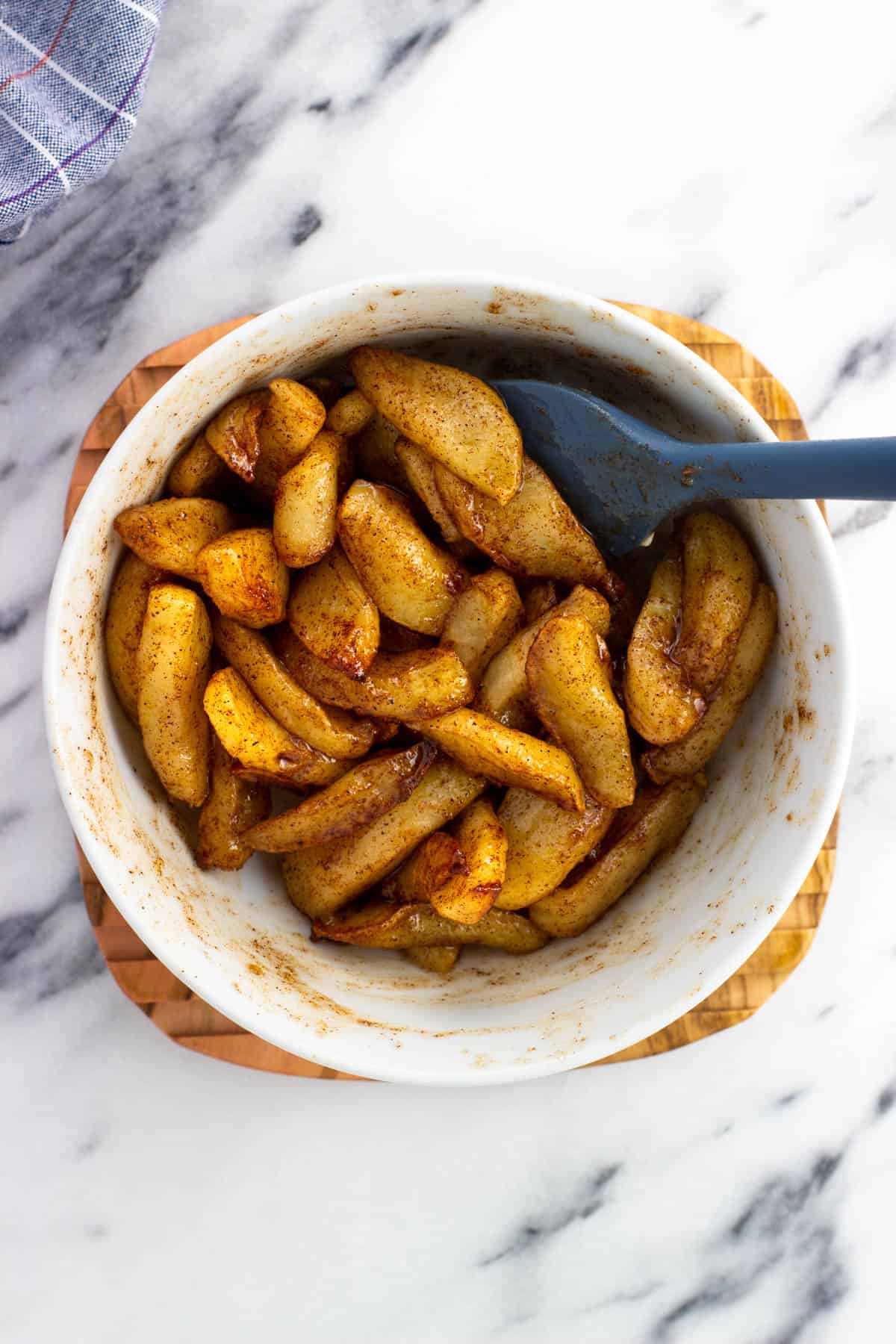 Recipe Tips and Tricks
Apple thickness: Don't cut the apples too thin. I tested this recipe with thinner apple slices, around a quarter-inch, and they browned too quickly and lacked the gooey soft texture.
Toss the apples in oil: I also experimented with tossing the apples with melted butter, however even the slightest chill on the apple slices from being stored previously in the refrigerator caused the butter to totally clump up and be unworkable. Should have seen that coming! Oil is your best bet.
Soft not crisp: A lower air fryer temperature is used to soften the apples while creating pockets of caramelized brown sugar. Nothing is crunchy or crispy here.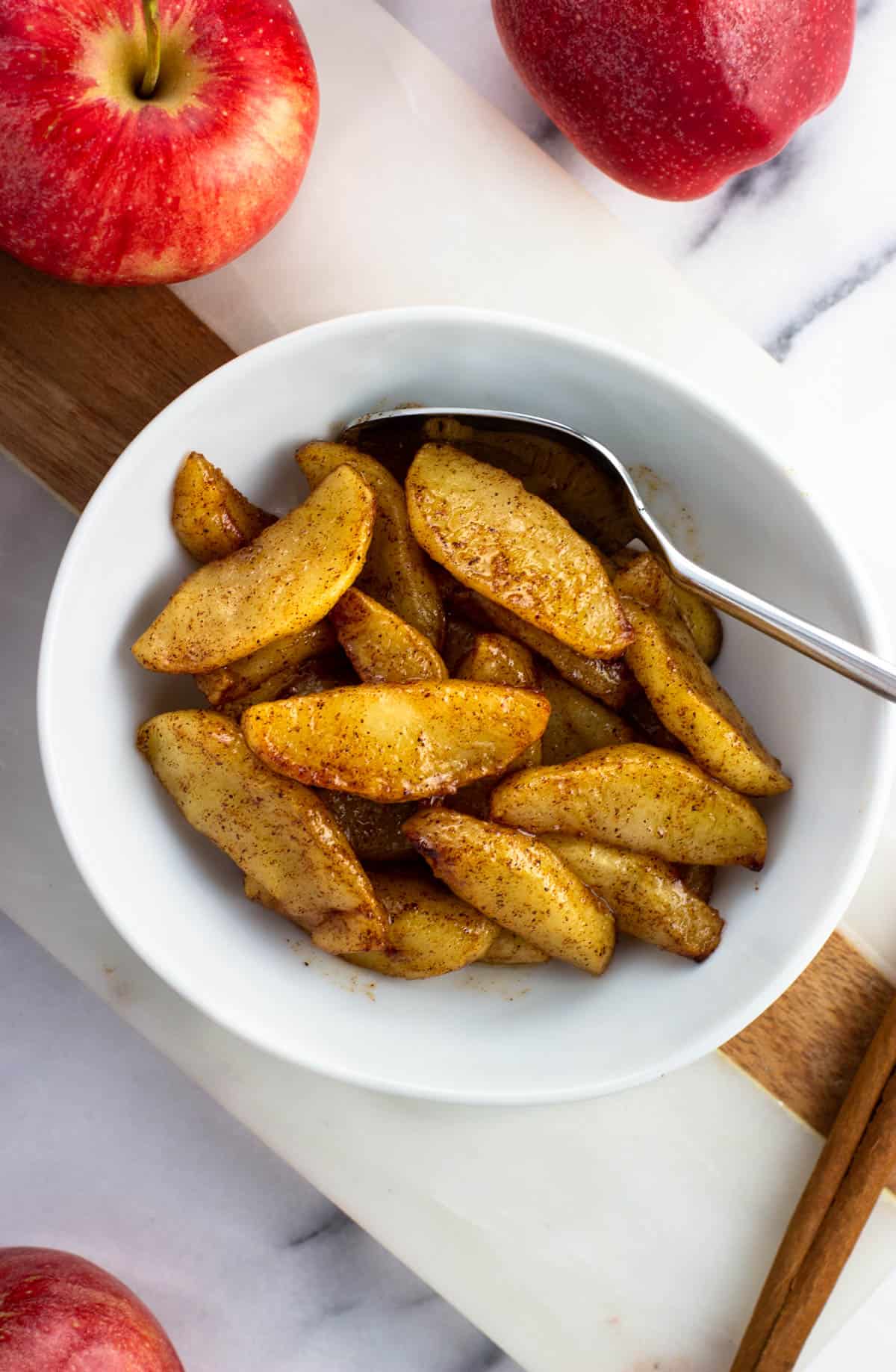 Recipe FAQs
Why aren't my apples soft enough?
Because there are so many different air fryer models and types, it would be impossible to note a precise timing that would be the same for everyone. This is the time range that works for my model, a Cuisinart air fryer/toaster oven combo. Yours may need more or less time, so I recommend keeping an eye on them toward the end of the cook time.
How can you serve air fryer apples?
While delicious on their own, you can garnish them with a scoop of vanilla ice cream for a decidedly dessert twist, add them on top of pancakes, waffles, or sour cream cheesecake (!), swirl them into yogurt, oatmeal, and chia pudding, and more.
How do you reheat air fryer apple slices?
As these are soft and gooey, not crisp, it's not necessary to reheat the apples in the air fryer or the regular oven. You can simply microwave them or heat them in a small saucepan on the stove over low heat.
Related Recipes
If you've enjoyed this recipe, I'd love for you to leave a star rating in the recipe card and/or a comment review below!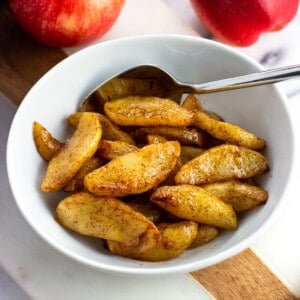 Air Fryer Apples
A handful of basic ingredients transforms plain apples into the best gooey and spiced air fryer apples. They're great for a snack or for dessert, with no flipping needed.
Print
Pin
Rate
Ingredients
1

pound (454g)

sweet firm apples

cut into ½-inch slices (see notes)

1

Tablespoon (15 ml)

canola oil

or other neutral cooking oil

1

Tablespoon (13g) plus 1 teaspoon (4g)

brown sugar

divided

1

teaspoon

ground cinnamon

Pinch of

ground nutmeg

optional

Half a

Tablespoon (7g)

unsalted butter
Instructions
Peel, core, and cut apples into ½-inch thick slices. Add them to a bowl and toss with canola oil, 1 Tablespoon of brown sugar, cinnamon, and nutmeg.

Spray air fryer basket with cooking spray then arrange apples on it in a single layer, leaving a little bit of space between slices if you can.

Air fry at 350°F for 12-14 minutes, or until tender and golden with browned edges. As all air fryer models cook differently, yours may need more or less time so stay close and check near the end of cook time.

Transfer apples to a bowl and stir with the remaining 1 teaspoon brown sugar and the butter until the butter melts and the apples are evenly coated. Serve warm.
Notes
Apples: One pound of whole apples is roughly equivalent to two large, three medium, and four small apples. Use a firm apple variety that's on the sweeter side (vs. tart) and won't mush up when cooked, such as Honeycrisp, Gala, Ambrosia, and Fuji. Oil: Another neutrally-flavored cooking oil can be used, such as sunflower, grapeseed, or vegetable. I don't recommend melted butter or coconut oil as even the slightest chill on the apples can cause them to clump up and not coat the slices evenly.
Nutrition
Serving:
0.33
batch
|
Calories:
156
kcal
|
Carbohydrates:
25.7
g
|
Protein:
0.7
g
|
Fat:
6.5
g
|
Saturated Fat:
1.5
g
|
Cholesterol:
5
mg
|
Sodium:
1
mg
|
Potassium:
9
mg
|
Fiber:
3.5
g
|
Sugar:
19.5
g
|
Calcium:
24
mg
Nutritional information is provided as an estimate. As it can vary due to many factors (brands used, quantities, etc.), we cannot guarantee its accuracy.
Food Safety and Nutrition Disclaimer