This easy cranberry apple margarita recipe is a crowd pleaser! Cranberry juice and apple cider join tequila and a splash of orange juice for a tart, extra fruity spin on a cocktail classic with a golden sugar rim.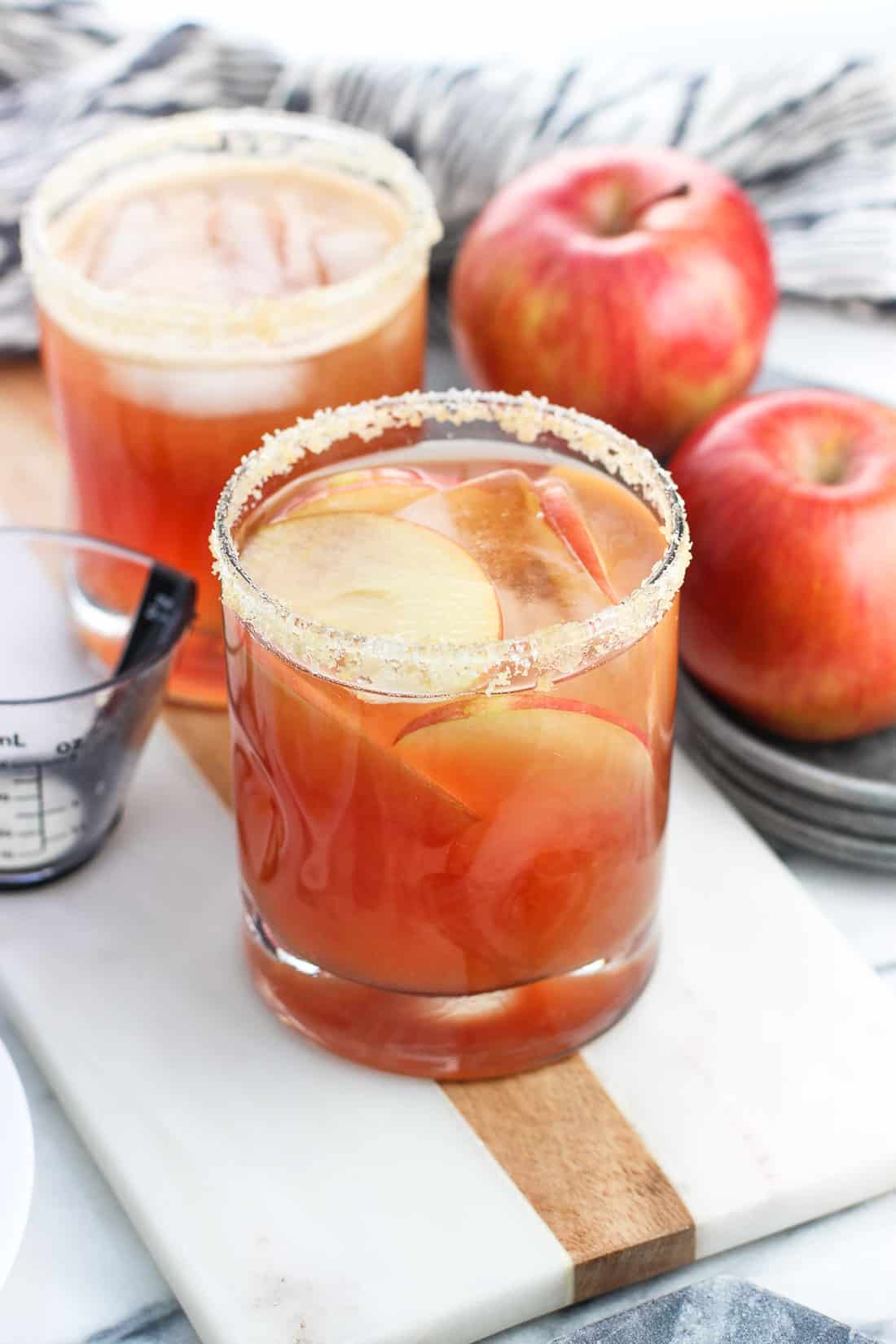 If there's one mixed drink that I'm nearly always a fan of, it's a margarita. Tart, citrus-y, and not too sweet. This holiday-ish version of a cranberry apple margarita incorporates the ubiquitous tequila, but is mixed with apple cider, cranberry juice, and a splash of orange juice for the citrus element.
One little twist here is the rim. It's not salt! Instead, the rim is edged with an equal mixture of brown sugar and granulated sugar, which almost resembles gold dust, right? Edible gold dust, of course. There are few things I love more than glitter/sequins/sparkle, and it's looking like food is no exception. While I haven't gone all out and actually bought or made edible glitter (because I'd probably sprinkle it on everything from sandwiches to salads), this golden sugar rim satisfies my eye for glitz and adds a hint of sweetness to pair with the tart and sour drink.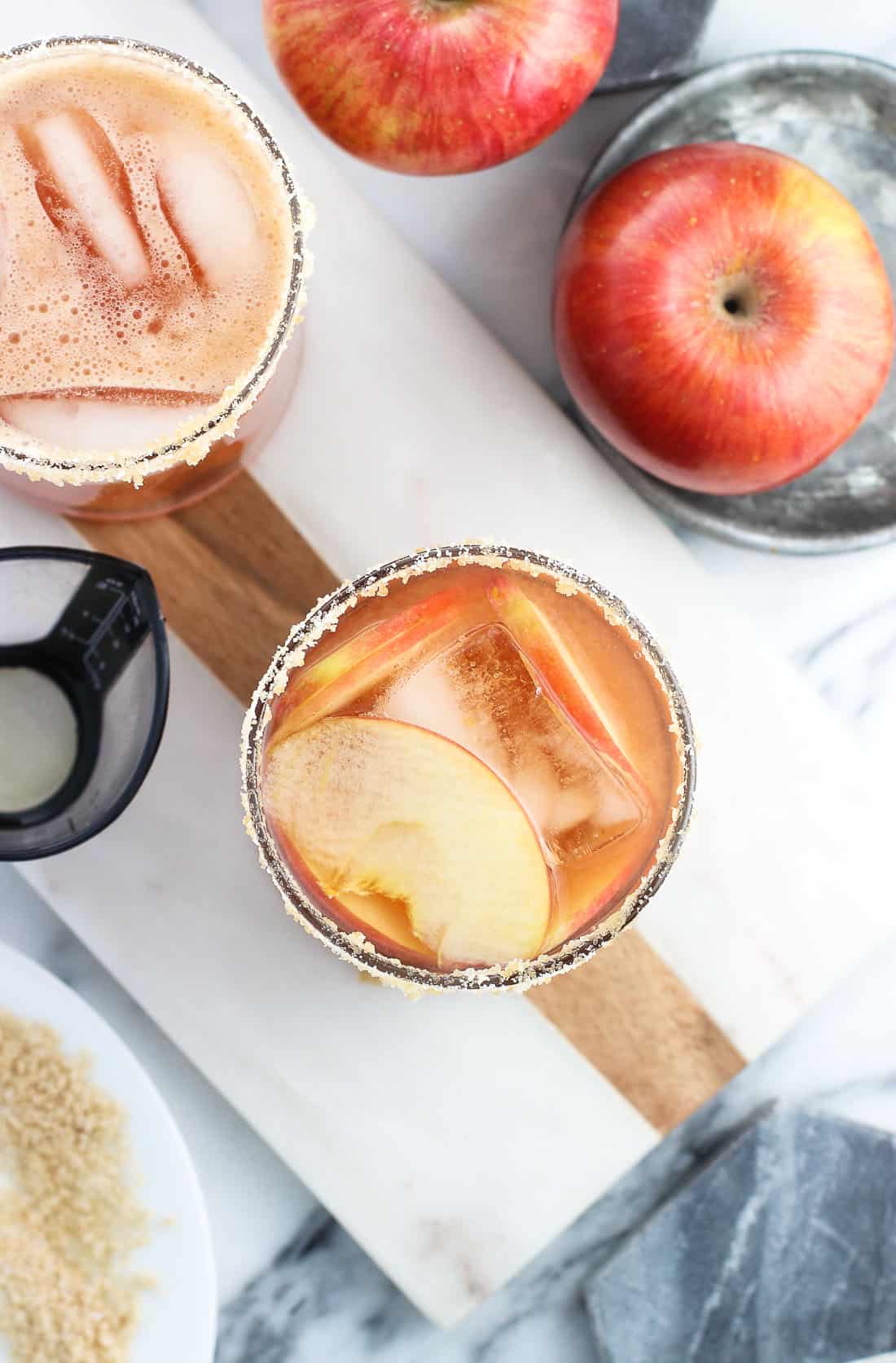 As with just about every drink recipe, feel free to tweak it to your tastes. I used regular apple cider in this version, but I've also used hard apple cider in the past and liked that way, too. That might be easier if you don't expect to make many of these (though, this cranberry apple margarita does happen to be a party favorite), as opening up one bottle of hard cider is easier to use up than a half gallon of apple cider.
Same goes for the cranberry juice and orange juice. Technically I used cranberry juice cocktail instead of no-sugar-added true blue cranberry juice, but I wanted a bit of sweetness to counter all the tartness. I also used the orange juice I had in the fridge which was a reduced-sugar version. Anything goes, really!
When it comes to mixing up cocktails, I love my mini angled measuring cup (affiliate link). I couldn't find the exact one I have, but the one I linked to is the same capacity and just as inexpensive. Love that it has both ounce and tablespoon measurements, visible both on the side and the top from the angled edge.

Cranberry Apple Margarita
Ingredients
2 oz silver tequila
2 oz apple cider
2 oz. cranberry juice
1 oz. orange juice
Ice
Brown sugar and granulated sugar, for rimming glass
Instructions
On a small plate, mix together small, equal parts of brown sugar and granulated sugar until evenly mixed. Dip the rim of each glass in a little bit of water, and then the sugar mixture until rim is coated evenly.
Add ice to a cocktail shaker. Pour in the tequila, apple cider, cranberry juice, and orange juice. Shake well, then pour. Pour over ice and/or with apple slices for serving if you like.
Notes
Feel free to tweak the amounts of cider and juices in line with your preferences.

This cranberry apple margarita recipe would be easy to make in pitcher form!