Can we talk about how we're less than three weeks out from Thanksgiving? Eeep! Wasn't it just Labor Day? It's been a few years since B and I have spent the fall and winter months in a climate that has actual seasons, so we're having quite the time digging through all but forgotten about cold weather clothes that we lugged all the way to California and now down to Tennessee.
Thankfully we're both from the Northeast so we're no strangers to the cold, but is it wrong that I'm just a liiiittle bit excited for chunky sweaters, winter coats, and flannel sheets? Of course after a few days of stinging ears and a red nose I'm sure I'll be OH-VER it, but until then I'll be dreaming of snowflakes, hot chocolate, and the holidays.
Speaking of the holidays – how festive does this Cranberry Apple Margarita look?
If there's one mixed drink that I'm nearly always a fan of, it's a margarita. Sour, citrus-y, and not too sweet. This holiday version incorporates the ubiquitous tequila, but is mixed with hard apple cider (another fave), cranberry juice for tartness, and orange juice for the citrus.
Then there's the brown sugar/granulated sugar rim, which almost resembles gold dust, right? Edible gold dust, of course. There are few things I love more than glitter/sequins/sparkle, and it's looking like food is no exception. While I haven't gone all out and actually bought or made edible glitter (because I'd probably sprinkle it on everything from sandwiches to salads), this golden sugar rim satisfies my eye for glitz and adds a hint of sweetness to pair with the tart and sour drink.
See? A match made in heaven. Like turkey and stuffing. And hot chocolate and marshmallows. And too many Christmas cookies and loosening your belt a notch or two.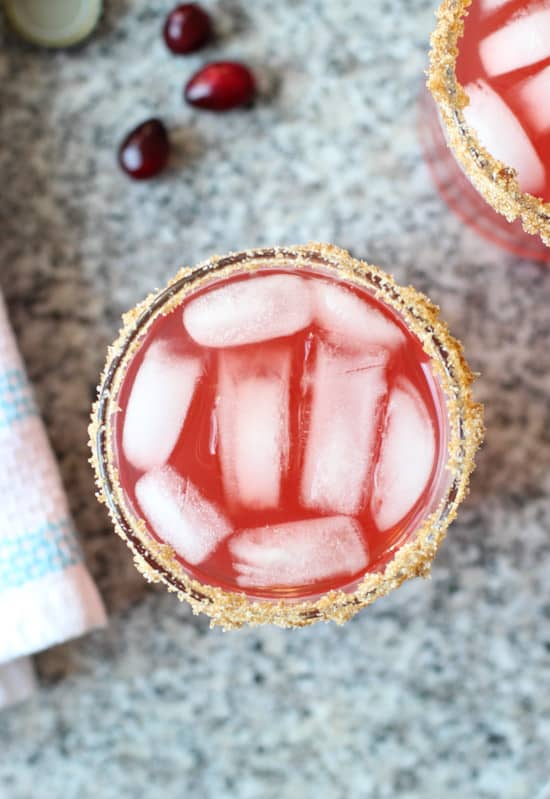 I used reduced-sugar orange juice and light cranberry juice in this drink, but the standard versions of both would certainly work just as well if that's what you prefer or have on hand. And while the quantity as written below yields one drink, feel free to double (or triple, or quadruple…) as you see fit if you're expecting a holiday crowd. A pitcher of this sounds like a perfectly festive way to quench your holiday thirst. 🙂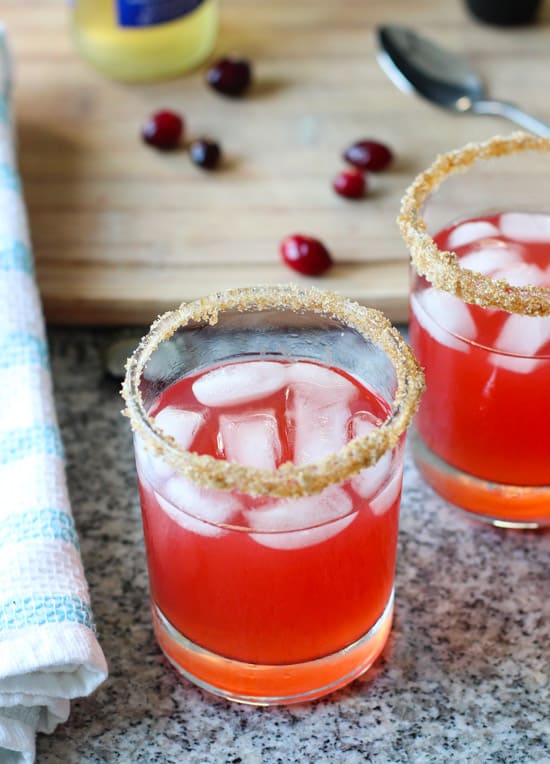 Cranberry Apple Margarita
Ingredients
1 1/2 oz. silver tequila
2 1/2 oz. hard apple cider*
3 1/2 oz. cranberry juice
1 oz. orange juice
ice
brown sugar + granulated sugar, for rimming glass
Instructions
On a small plate, mix together a bit of brown sugar and granulated sugar until evenly mixed. Dip the rim of the glass in a little bit of water, and then the sugar mixture until rim is coated evenly.
Add ice to glass. Over ice, pour tequila, cider, cranberry juice, and orange juice and stir until combined.
Notes
*Hard apple cider varies in terms of sweetness (and calories!). For this drink, I chose one that wasn't too heavy or sweet.