Curious how to make pico de gallo? It's not difficult! A few simple ingredients are all you need to make this versatile and classic fresh salsa recipe.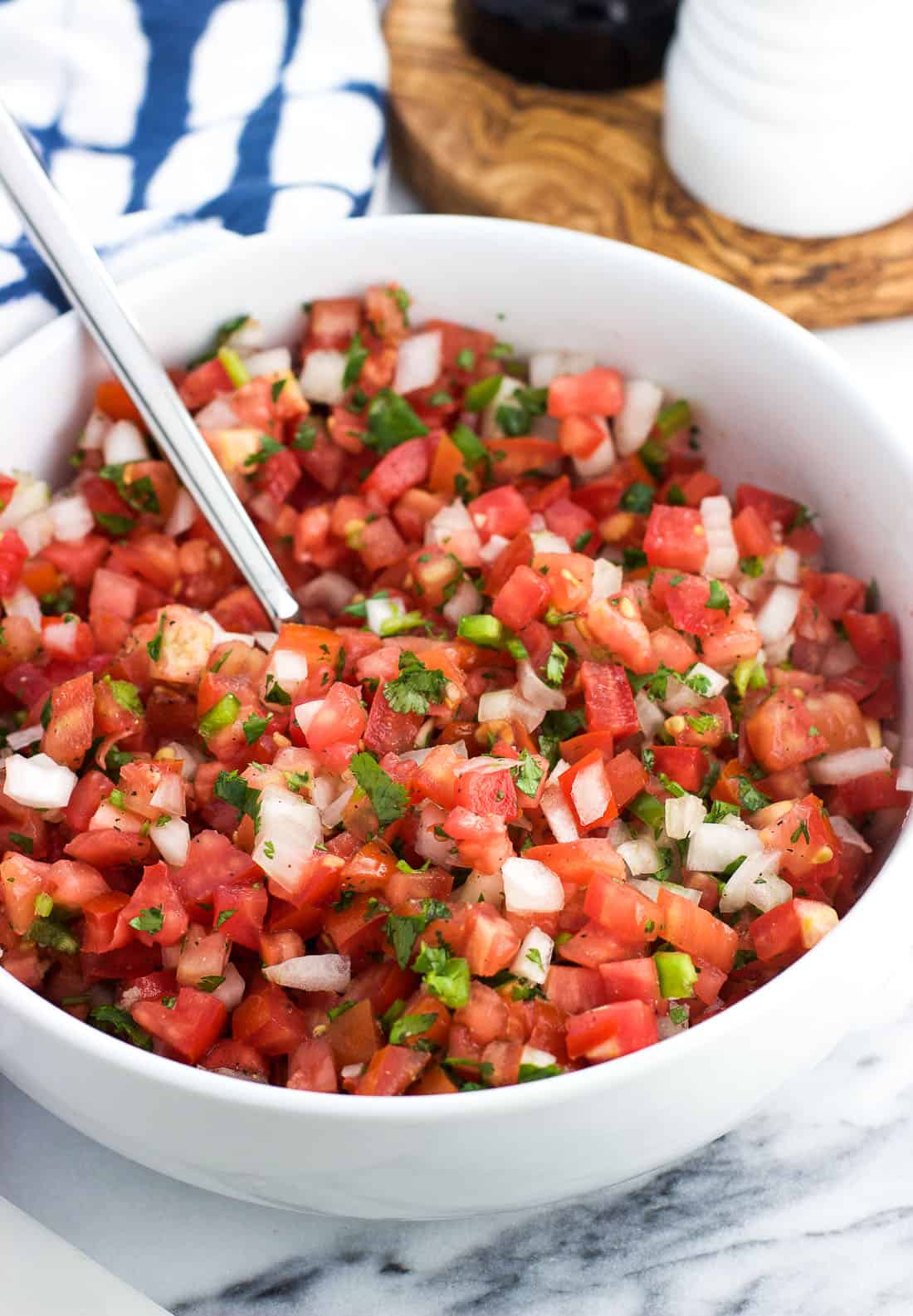 I'm not one to focus on food holidays. You know, those silly ones you'll only see online like national biscotti or bratwurst day? (February 12th and August 16th, if you're interested.)
I like to stick with 'food days' I don't have to consult a special calendar for, like Taco Tuesday or Pizza Friday...though maybe Pizza Friday is pushing it a bit. It's a big one in my house, at least!
It's been my mission to build up the How-To section of my blog, where you can find basic recipes that you can make and use in your already-favorite recipes. Recipes for ingredients, if you will, versus recipes for a final product.
So here's one more for the list! Homemade pico de gallo is a flavorful and easy salsa recipe that totally works by itself as a dip, or as a component in a ton of other recipes. And I promise it's a fortuitous coincidence that I'm sharing it on Cinco de Mayo weekend, one of my favorite foodie events in the year. 😉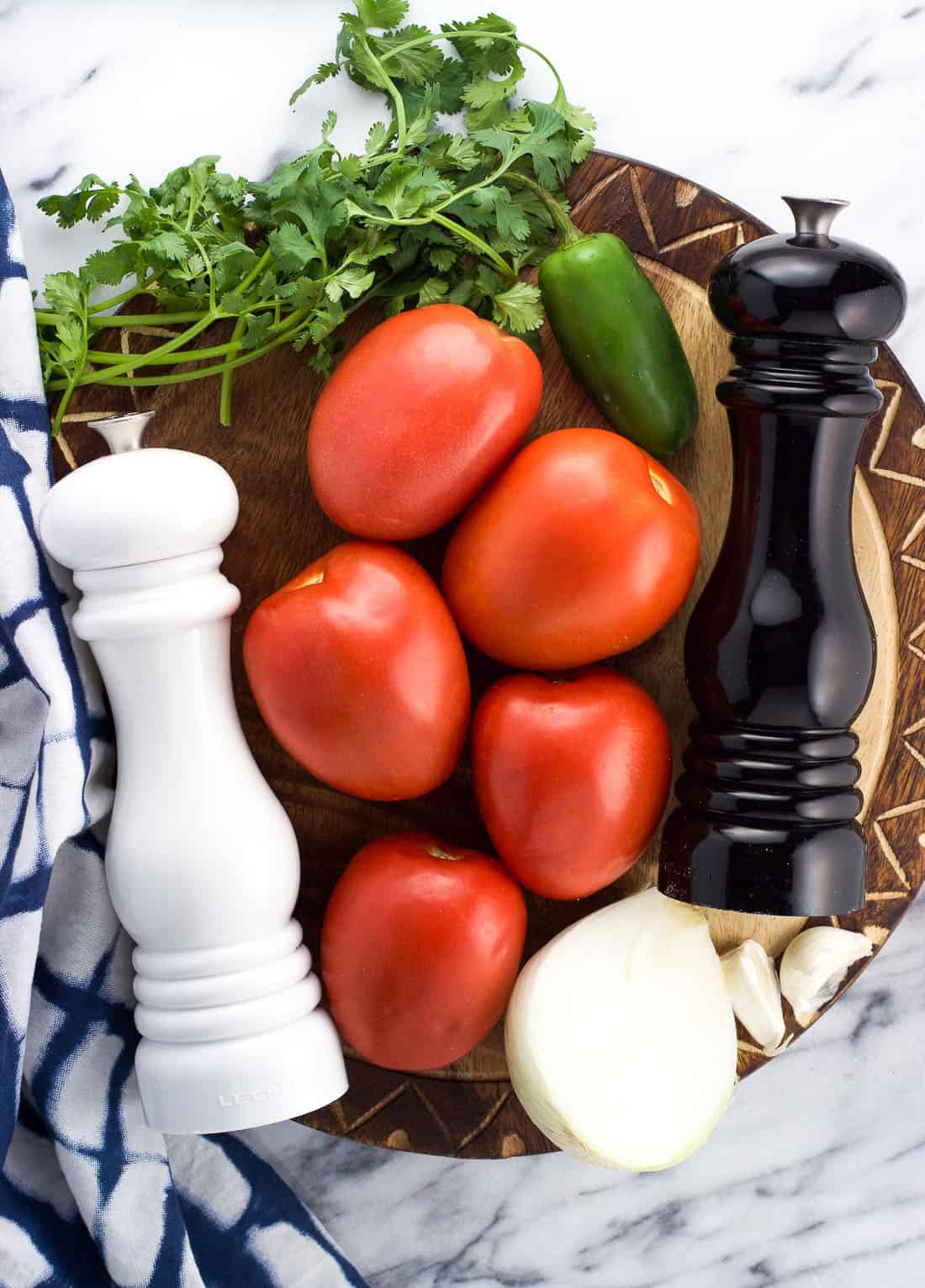 Fresh ingredients
While there's wiggle room with the flavors and types of produce used, classic pico de gallo at its core features the same ingredients:
Tomatoes
Onion
Peppers
Cilantro
Lime juice
Salt
I'm partial to adding a bit of ground black pepper and minced garlic to round out the flavor, so those two ingredients are included in my recipe below.
Tomatoes: Look for plum or Roma tomatoes for this recipe. They're a medium-sized variety and are firmer than other tomatoes, so they hold up well in a chunky raw salsa.
Onion: I picked a white onion (versus yellow) because of its bolder flavor, though you can use yellow or even red onion if you like. In fact a mix of white and red sounds like it would be delicious. *mental note for next time*
Pepper: I chopped up a jalapeño after removing the seeds to add to this pico. This led to a no- to very low-spice recipe. If you'd prefer some spice, you can 1) add more jalapeño, 2) leave in some jalapeño seeds, or 3) use a different variety of pepper such as a serrano and add at your discretion.

Recipe steps
In my opinion the hardest part of making pico de gallo comes first - dicing the tomatoes. They're slippery little buggers and my knife skills aren't the best. But like most things on this website, everything doesn't have to perfectly uniform so just do your best. After all, pico de gallo leans on the slightly rustic side of things. My kind of recipe.
After that keep dicing with the onion and the jalapeño, and then chop up the cilantro and mince or press the garlic. Squeeze the lime juice and season with salt and pepper and give everything a stir. Taste and adjust the seasonings as you like. It's ready to roll immediately, or it can be covered and refrigerated until ready to use.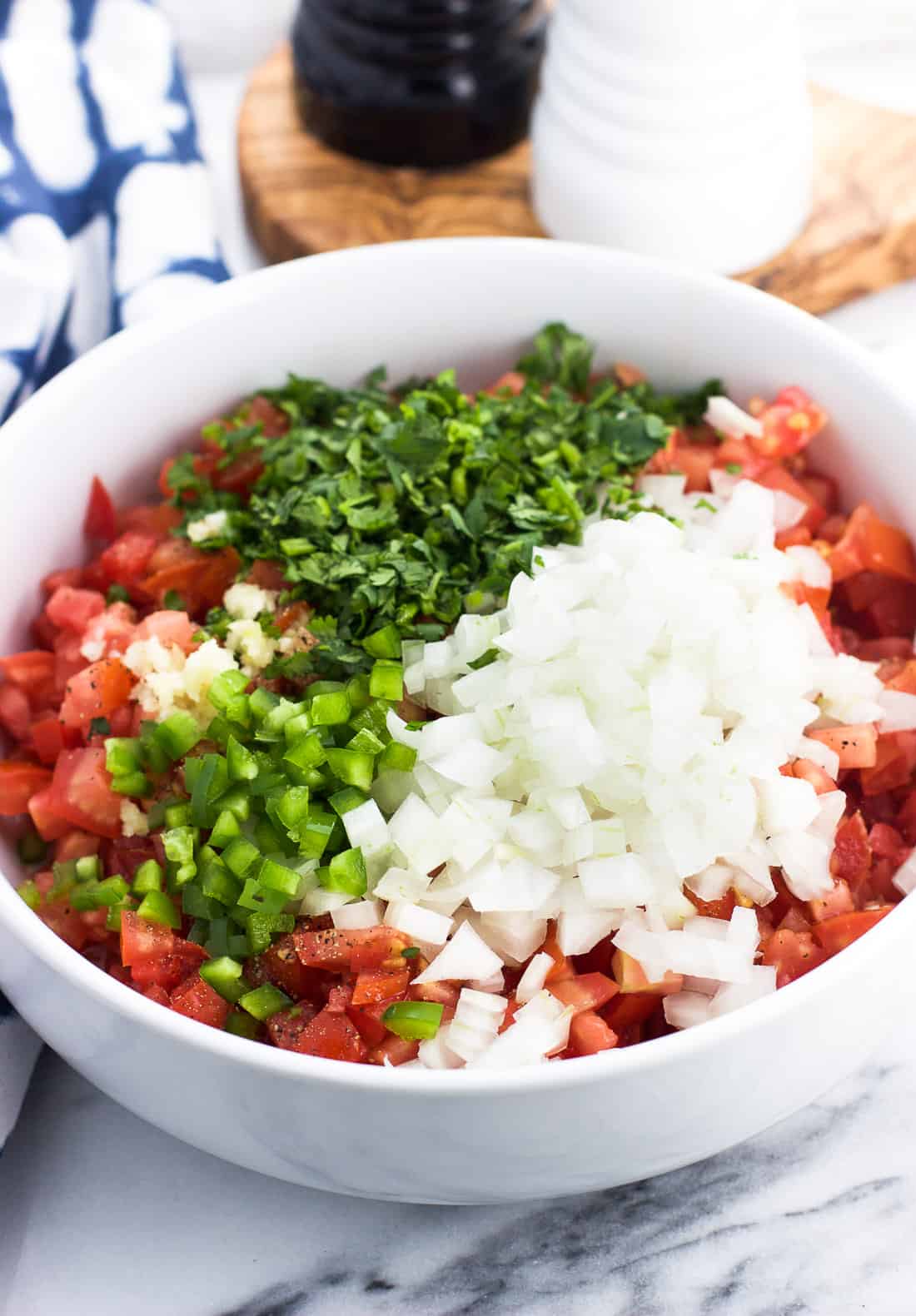 Is pico de gallo healthy?
While everybody has a different opinion on what constitutes 'healthy' to them, pico de gallo in my mind is one of the healthiest dips or condiments out there. It's gluten-free, dairy-free, fat-free, paleo, keto, Whole30-compliant, and features zero WW freestyle points. It's very low calorie and only features natural sugars, unlike some store-bought salsas which can sometimes sneak in added sugar.
Baked tortilla chips make a healthier dipping vehicle for pico de gallo than fried tortilla chips and aren't too hard to make at home. Scroll down in this easy salsa verde post to the recipe card to see the instructions. You don't have to use seasoned salt (just your preferred spices) and corn tortillas can be used if you're gluten-free.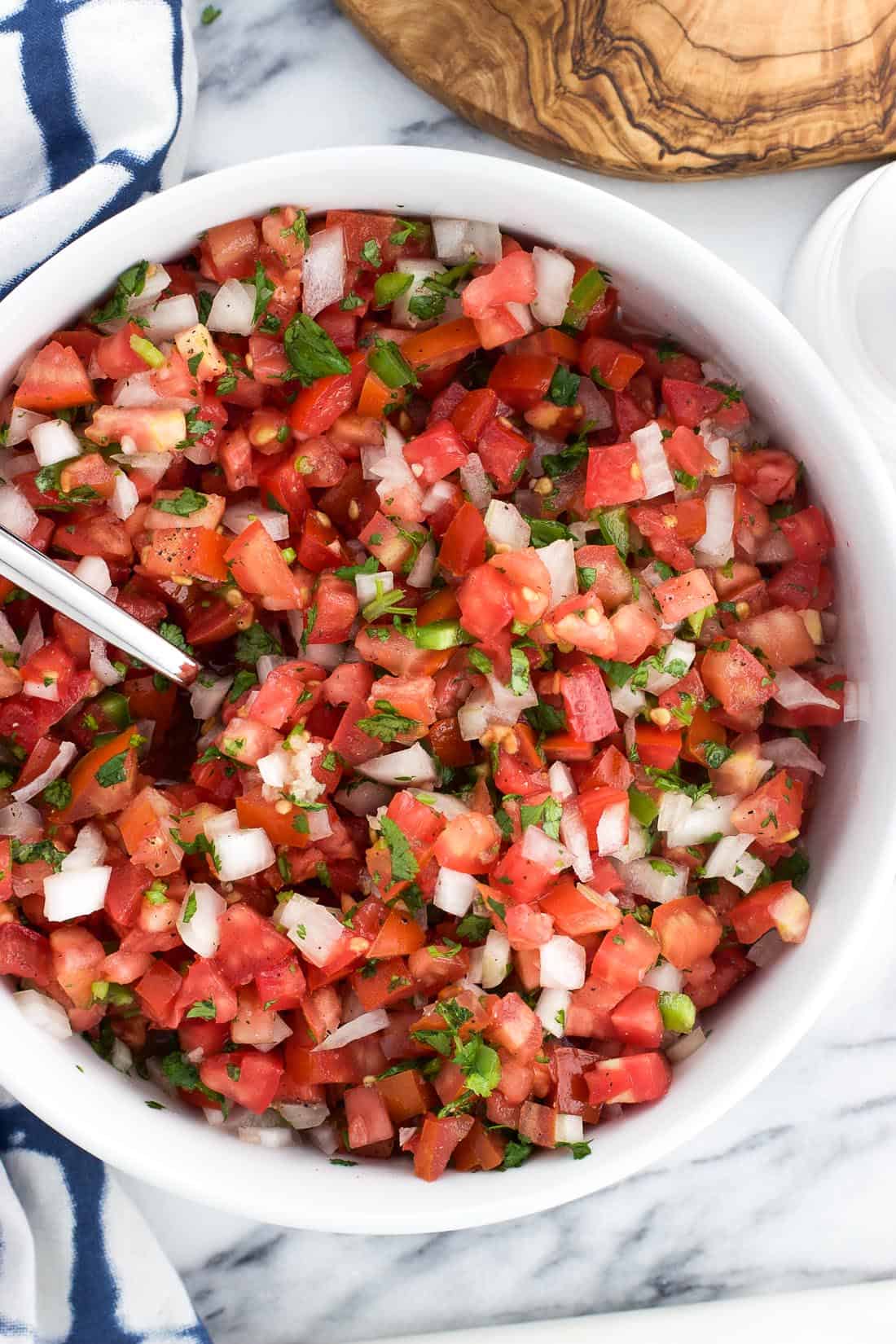 Can you make this ahead of time?
Yes!
Pico de gallo can be covered and refrigerated for several days. I find the flavors get stronger as time goes by as the ingredients meld. As the pico sits you may notice extra liquid released from the tomatoes. Simply drain off or use a slotted spoon for serving if you wish.
Although technically you could freeze pico de gallo, I wouldn't recommend it. My concern would be that freezing it would mess with the texture of the fresh tomatoes and onions, and result in a less-than-desirable dish once thawed.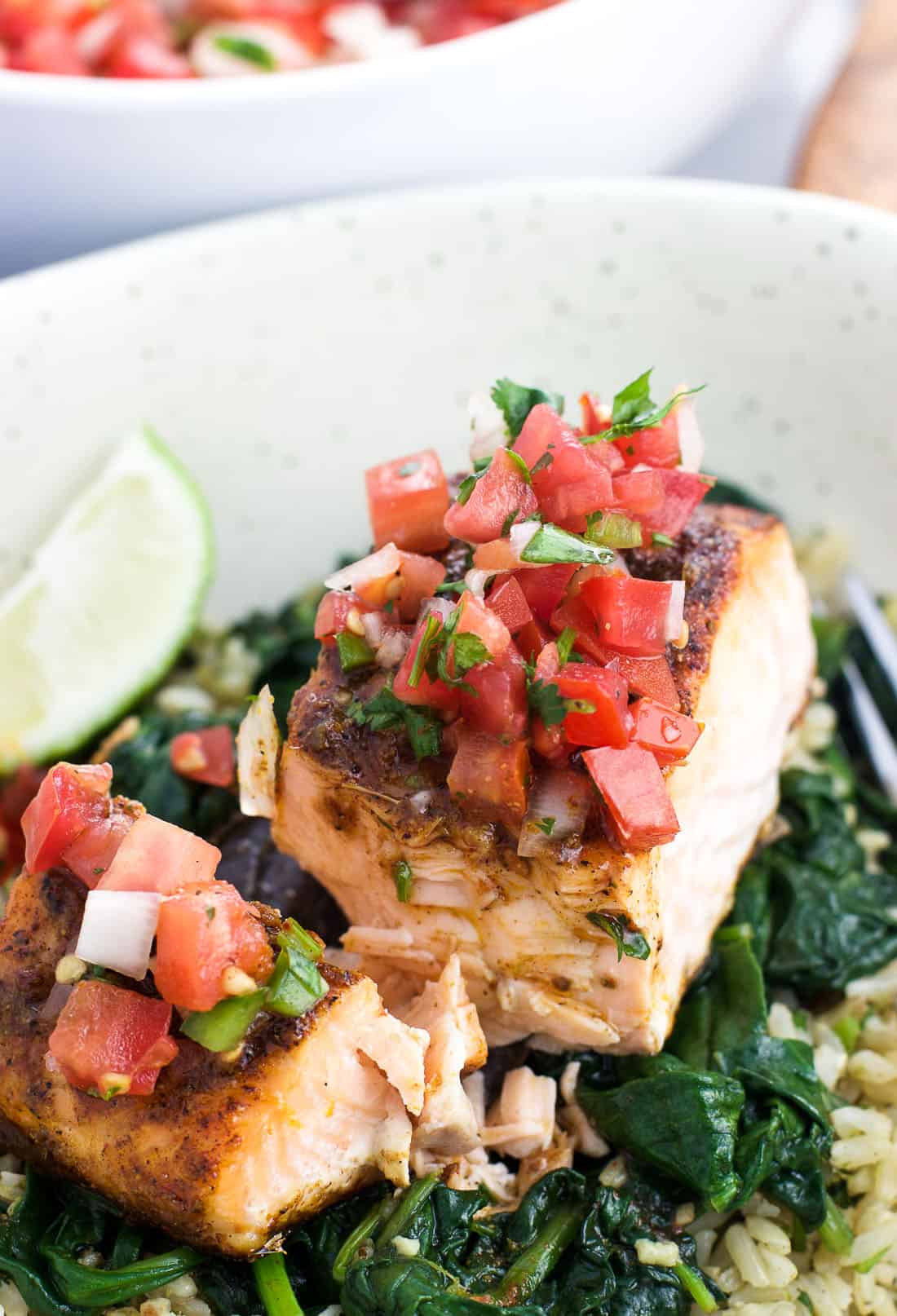 Serving suggestions
There are so many ways, so get creative!
Serve it alongside a southwestern frittata, on top of taco stuffed zucchini boats instead of the canned diced tomatoes/onion, add it to blackened shrimp street tacos...the sky's the limit.
Lately I've been loving pico de gallo as a topping to fish, like the baked salmon fillet you see above. Recipe for the salmon and the rice you kind of see both coming soon.
Recipe notes
I strongly recommend wearing disposable gloves when chopping peppers. No one wants burning fingers, and if you accidentally touch your eyes? Forget about it. I use powder-free disposable gloves all the time in the kitchen, from chopping peppers to hand mixing

meatballs

to even breading chicken. One of my kitchen MVPs.
Pico de gallo makes a wonderful part of a

DIY salsa bar

for warm weather (or really, anytime) gatherings.
An optional step you can take to prevent excess liquid in your pico is to place diced tomatoes in a large strainer and sprinkle with salt, which helps the tomatoes release excess moisture. Let everything drain for 20-30 minutes before adding to the bowl and mixing with the other ingredients. I usually skip this step because the excess liquid that develops doesn't bother me.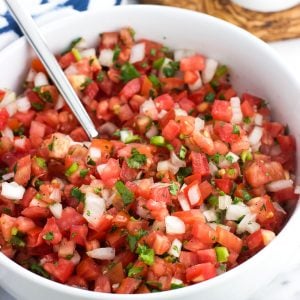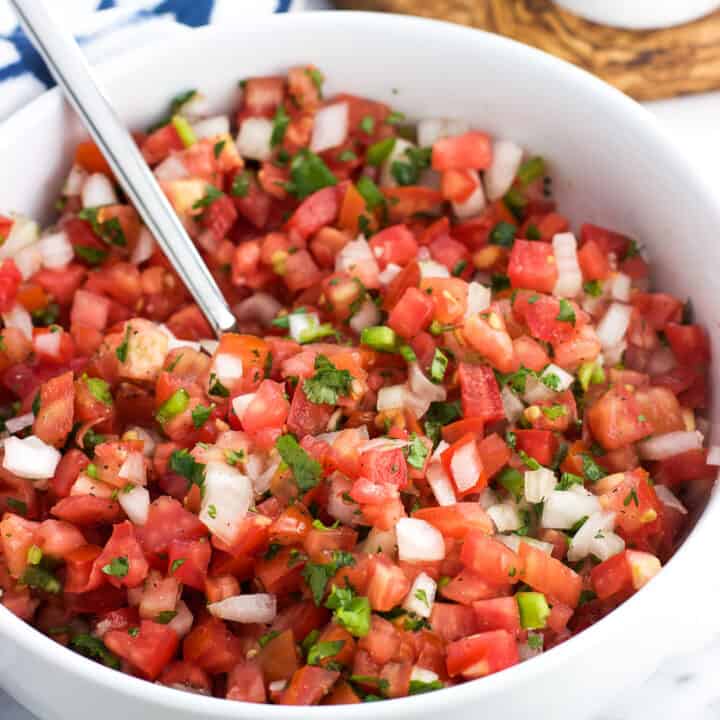 How to Make Pico de Gallo
Curious how to make homemade pico de gallo? It's not difficult! A few simple ingredients are all you need to make this versatile and classic fresh salsa recipe.
Print
Pin
Rate
Ingredients
5

plum or Roma tomatoes,

diced

½

white onion,

diced

¼

cup

chopped cilantro

1

tablespoon

lime juice

(from about ½ lime)

2

cloves

garlic,

minced

½

tablespoon

diced jalapeño pepper,

seeds removed (see note)

1

teaspoon

kosher salt,

or to taste

¼

teaspoon

ground black pepper,

or to taste
Instructions
Finely dice tomatoes and onion, then add them to a medium/medium-large bowl. Chop cilantro and add it to the bowl.

Add lime juice, minced garlic, and diced jalapeño to the bowl and stir to combine evenly. Season with salt and pepper to taste.

Cover with plastic wrap and refrigerate pico de gallo until ready to use. It will stay for several days.
Notes
I HIGHLY recommend wearing disposable gloves when working with peppers so you don't get burning fingers.
See note above the recipe card regarding ahead of time prep to remove out as much liquid from the tomatoes as you can. I tend to skip it as excess liquid doesn't bother me, especially when serving pico with a slotted spoon.
This pico de gallo recipe yields approximately 26 oz in total.
Nutrition
Calories:
17
kcal
|
Carbohydrates:
3.6
g
|
Protein:
0.6
g
|
Sodium:
203
mg
|
Potassium:
18
mg
|
Fiber:
0.7
g
|
Sugar:
1.8
g
|
Calcium:
10
mg
|
Iron:
0.4
mg
Nutritional information is provided as an estimate. As it can vary due to many factors (brands used, quantities, etc.), we cannot guarantee its accuracy.
Food Safety and Nutrition Disclaimer