This easy baked Chicken Parmesan recipe is a quick and satisfying meal made better for you. Done in around 30 minutes, this healthy Chicken Parmesan is so simple to put together and pop in the oven to bake. It's hard to beat speedy comfort food like this!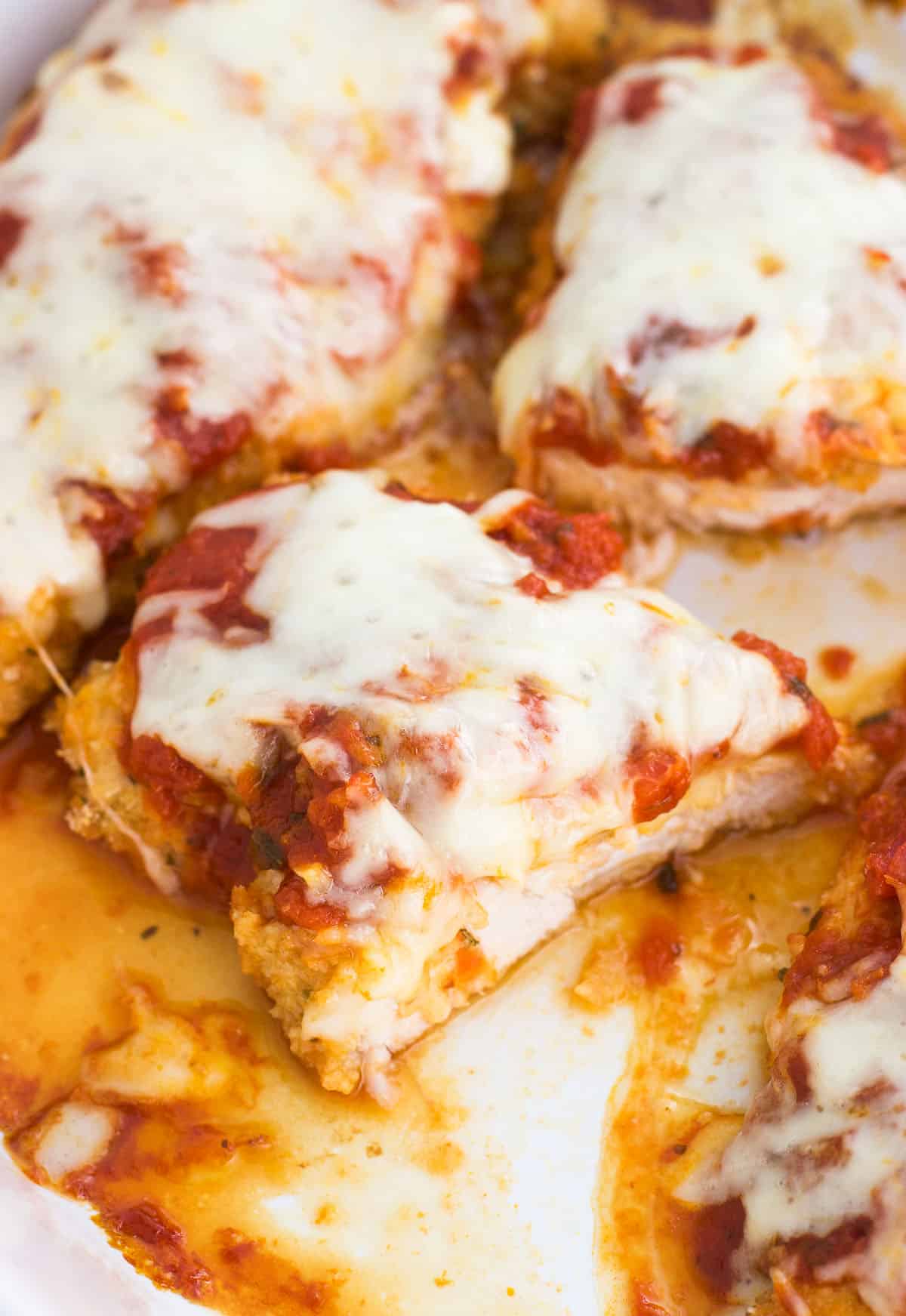 Did you ever notice that gooey, melted mozzarella is a must in any mental image of chicken Parmesan, not the actual Parmesan?
I'm not one to argue with lots of mozzarella, but rest assured my take on chicken Parmesan features lots of freshly-grated Parmesan under that (delicious) mess of marinara and mozzarella.
And yes, right from the jump here we're taking a big deviation from traditional chicken Parmesan recipes in that we're baking this chicken, not frying. Of course I think pan-fried chicken Parmesan is delicious, but I appreciate a healthier shortcut for weeknight meals we eat regularly.
Reasons to Love This Recipe
It's lightened up but doesn't skimp on the classic chicken parm flavors you know and love. (See also this reader favorite for chicken Parmesan gnocchi skillet).
It uses fairly basic ingredients. As long as I have chicken cutlets (or breasts I can cut into cutlets) I'm 99% certain I have everything I need for this recipe.
This recipe yields a fair number of servings (eight cutlets), but that's just fine for my small household as leftover pieces of baked chicken Parmesan make the best lunches.
Recipe Ingredients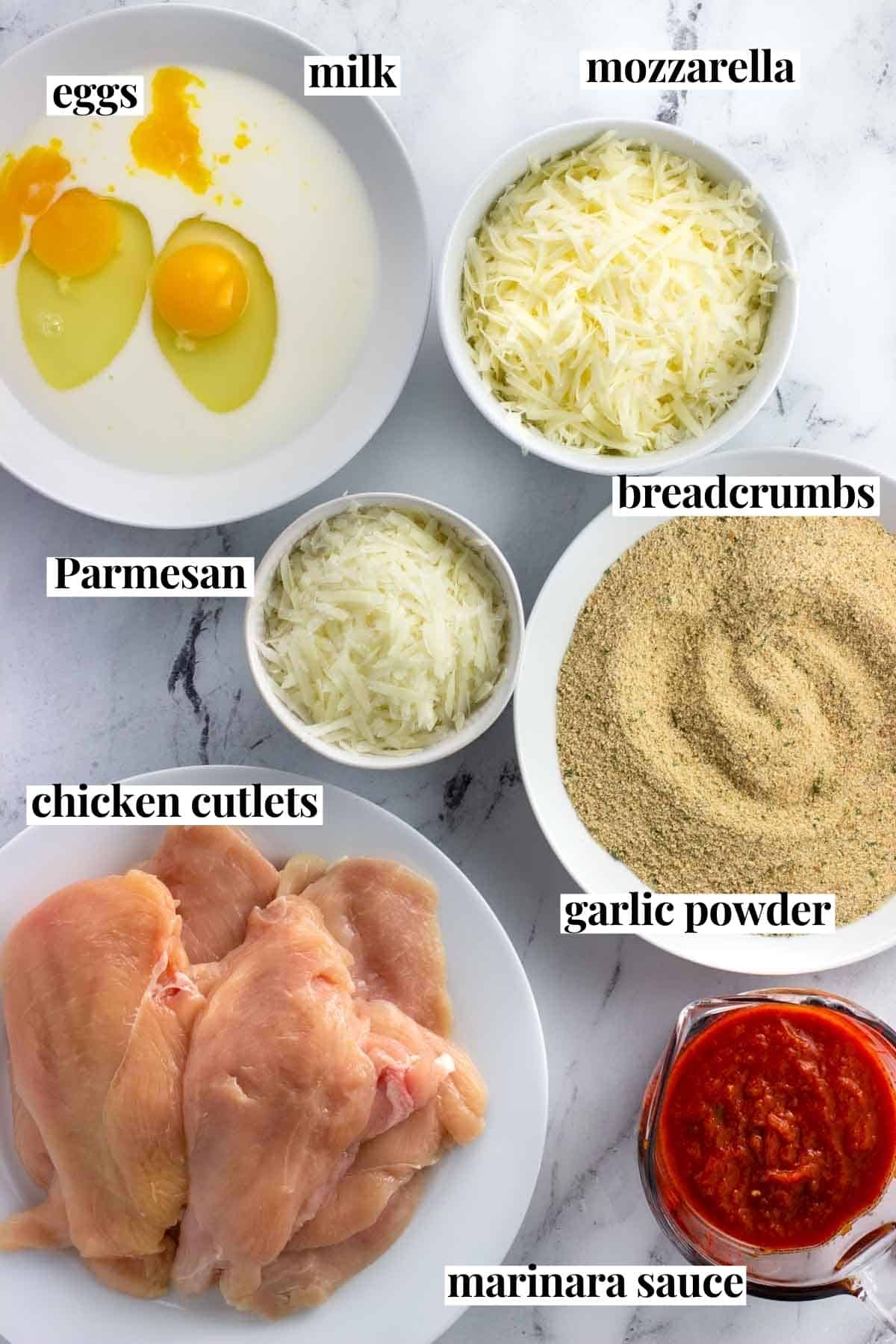 Chicken cutlets: If you can't find cutlets or would rather use up what you have at home, you can make your own cutlets from boneless skinless chicken breasts. Slicing the chicken breast in half horizontally should do the trick, though very large chicken breasts may require multiple slices.
Milk: This thins out the egg mixture enough so it isn't too gloopy.
Breadcrumbs: Italian seasoned breadcrumbs provide flavor. Regular breadcrumbs can be used, though it's recommended to add some Italian seasoning.
Garlic powder: I love garlic so I add some to the breadcrumbs.
Parmesan: For best quality, I recommend buying a wedge of Parmesan and grating it yourself. Second best would be buying pre-shredded/shaved from the refrigerated deli section of the supermarket.
Marinara sauce: This may sound weird but make sure you like the jarred marinara sauce you use as it really makes a difference. There are some not-so-great varieties out there that can put a damper on this baked chicken Parmesan.
Step-by-Step Instructions
Whisk together the eggs and milk. Thoroughly dunk a chicken cutlet in the egg mixture to moisten all sides.
Dip the egg-moistened cutlet into the breadcrumbs (stirred together with the extra garlic powder), ensuring all of the surface area is coated.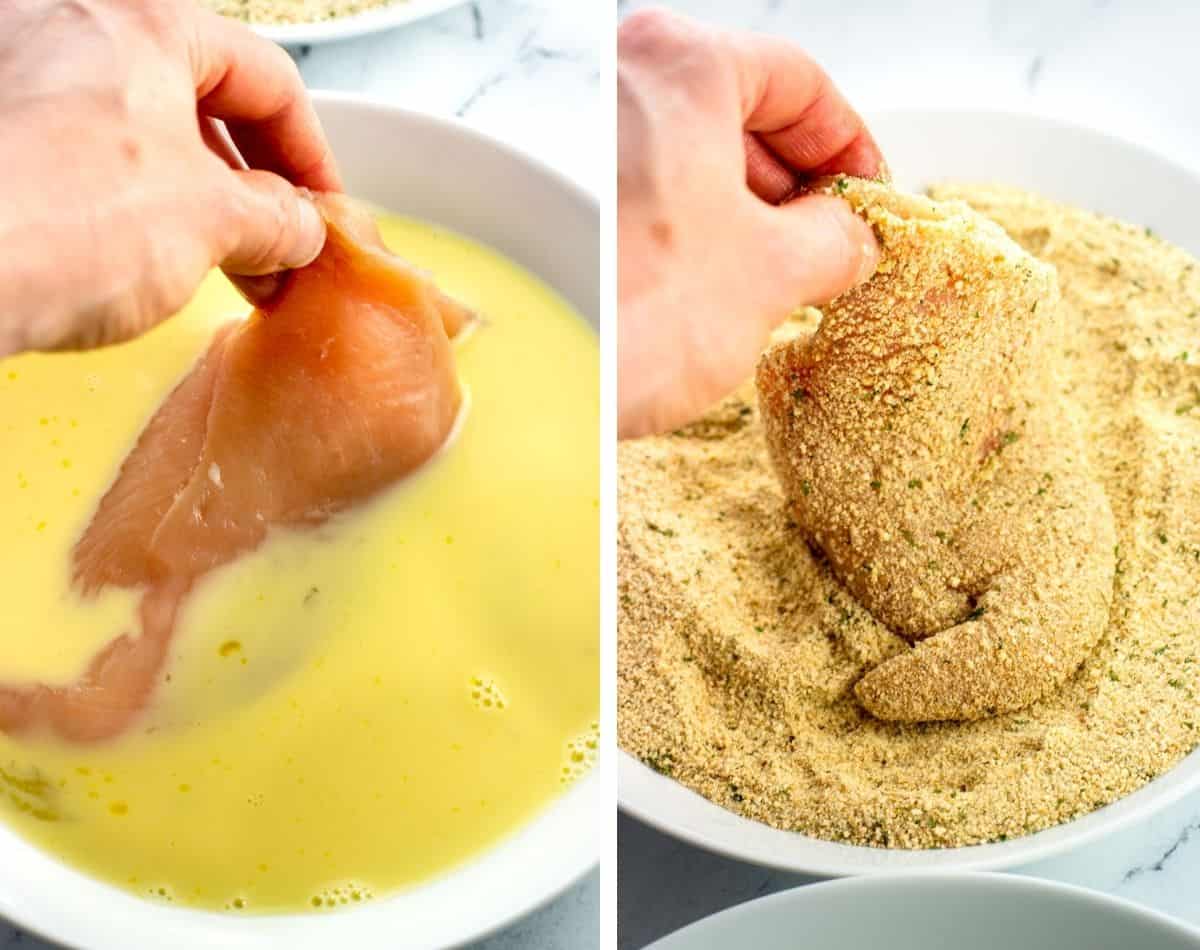 Place the breaded chicken cutlet in a large baking dish or sheet pan, then repeat with the remaining cutlets.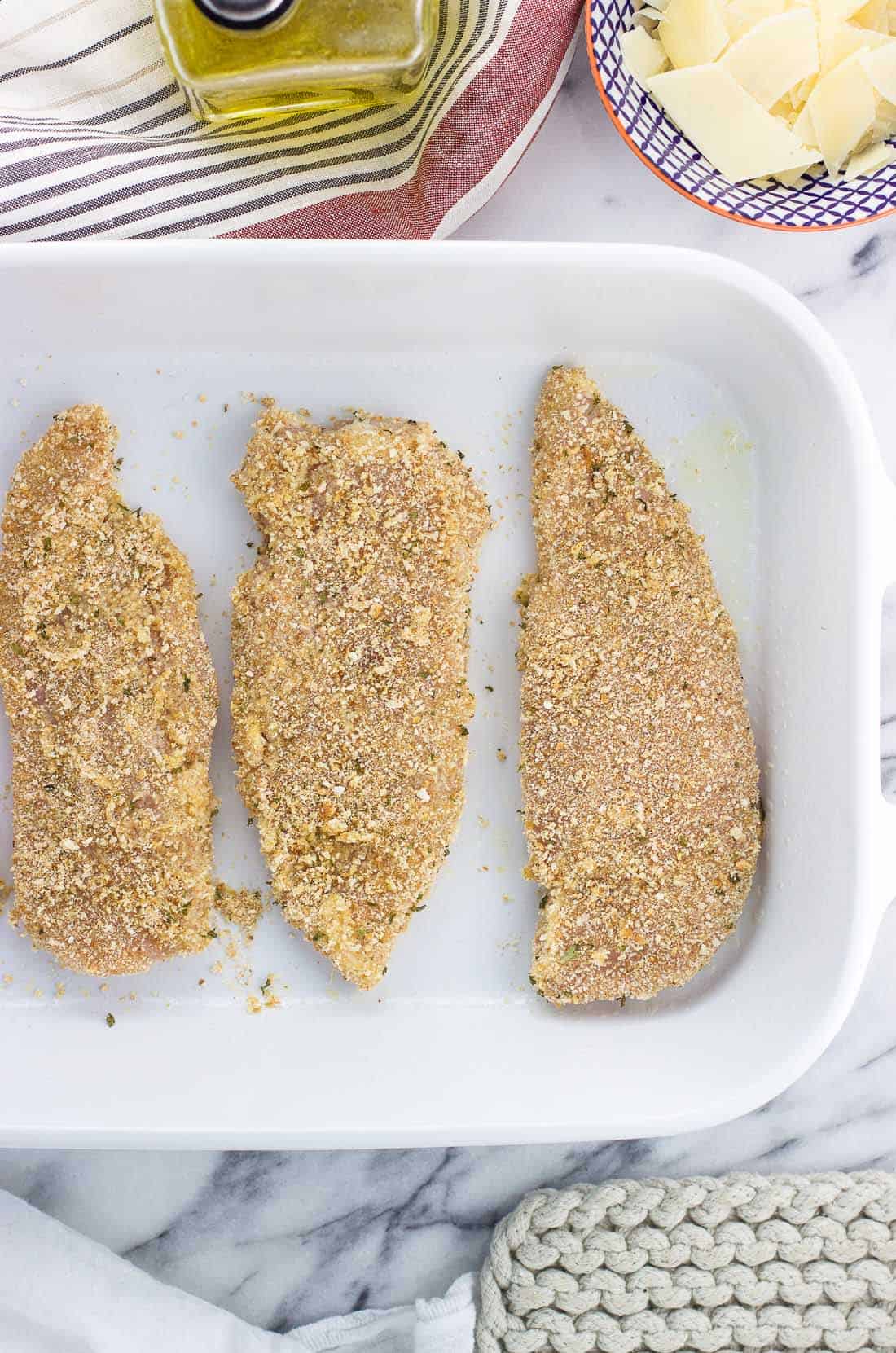 Bake the breaded cutlets for 10 minutes, then remove the pan from the oven. Cover each cutlet with a generous sprinkling of Parmesan...
...then a few spoonfuls of marinara sauce, taking care to gently spread the sauce near the edges of the chicken.
Next cover the sauce with mozzarella, then continue to bake for 10-12 more minutes, or until fully cooked. Top with basil chiffonade for serving.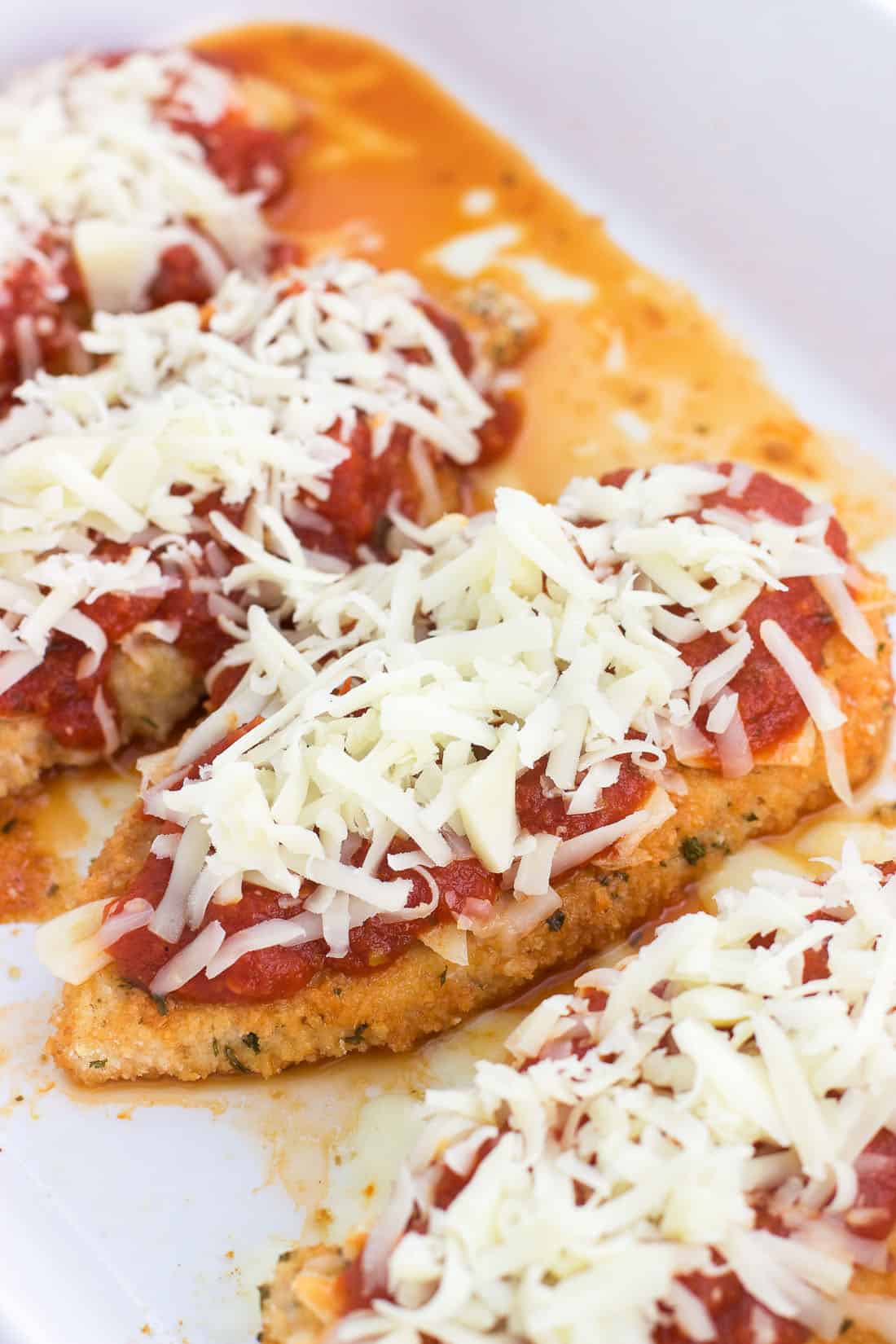 What to Serve with Chicken Parmesan
Lots of things pair well with oven baked chicken Parmesan! I usually serve this recipe with mixed green salads, though I have switched it up. Here are some suggestions beyond a side salad.
While a little outside the box, these

baked grits

are flavored with Italian herbs and Parmesan, which are what you see this chicken served over in one of the pictures here.
For a lower-carb and healthier side dish,

pesto cauliflower rice

is always a winner. And to keep that theme going,

pesto broccoli rice

works, too.
A

kale caprese salad

, made with lots of leafy greens, is a hearty kale salad brimming with Italian flavors. Massaging the raw kale in an olive oil and balsamic vinegar mixture is key.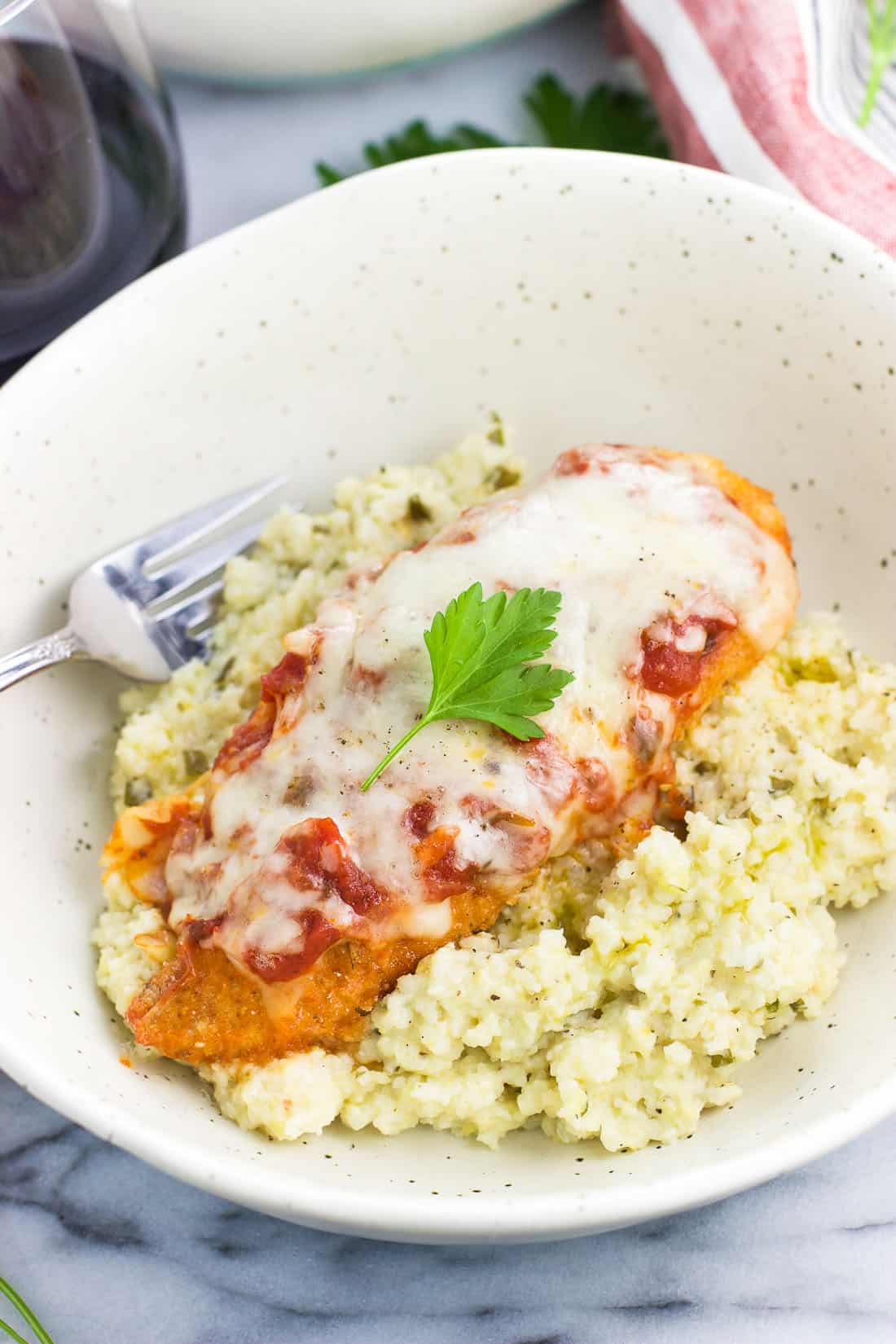 Recipe Tips and Tricks
Since the cheese won't need too long to melt in the oven, remember to allow the chicken cutlets time to partially bake before adding the cheeses and sauce.
I usually find chicken cutlets in approximately one-pound packages, and use two packages for this recipe. The recipe is fairly easy to halve if you'd rather just use one package.
If slicing chicken breasts into cutlets, be mindful of each piece's width and consider pounding them if uneven in height. You want each cutlet to be around the same thickness so that they cook evenly.
An

instant-read thermometer

(Amazon affiliate link) takes the guesswork out of cooking chicken to the proper internal temperature, 165°F. I seriously don't cook meat, prepare warm water for yeast doughs, or make homemade candy without it.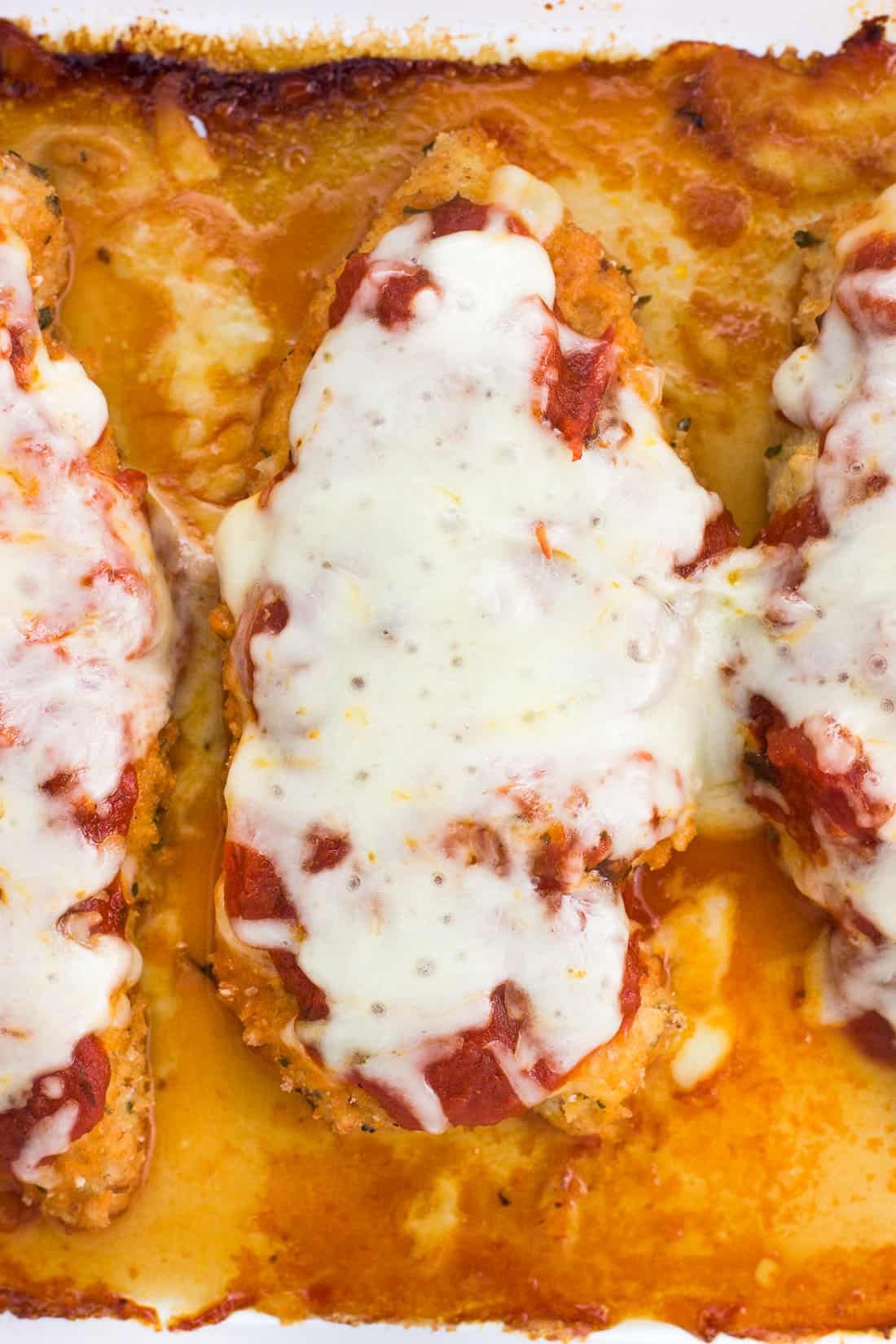 Recipe FAQs
What type of chicken to use for chicken Parmesan?
Ideally chicken cutlets. Since they're thinner than chicken breasts, they cook quicker and provide a nice and balanced ratio of chicken vs. toppings, especially in the case of this baked chicken Parmesan.

You can also use chicken breasts, cutting them in half thickness-wise. Keep in mind that chicken breasts can come in a huge range of sizes, so you may even need to slice some large ones more than once.
Can you prep this recipe ahead?
Yes! The chicken cutlets can be breaded ahead of time, and then covered and kept refrigerated for several hours, up to a day. I would not add the sauce/cheese to the chicken cutlets as they go on after the chicken has been partially cooked. You can also pre-grate the cheese and store it separately in the fridge to really streamline dinnertime.
How do you reheat baked chicken Parmesan?
Spritz a baking sheet or baking dish with cooking spray and place leftover cooked chicken parm cutlets on it in a single layer. Cover the sheet/dish with aluminum foil to retain the moisture and prevent the cheese from browning too much, then bake at 350°F (177°C) until thoroughly warmed and the chicken once again registers 165°F on an instant-read thermometer (per the USDA).
Related Recipes
If you've enjoyed this recipe, I'd love for you to leave a star rating in the recipe card and/or a comment review below!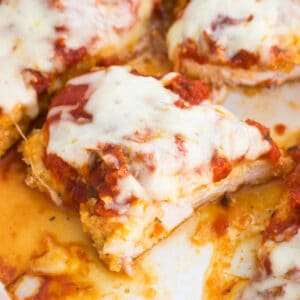 Easy Baked Chicken Parmesan
This easy baked Chicken Parmesan recipe is a quick and satisfying meal made better for you. Healthy Chicken Parmesan is so simple to put together and pop in the oven to bake. Done in around 30 minutes, it's hard to beat speedy comfort food like this!
Print
Pin
Rate
Ingredients
2

pounds (908g)

chicken cutlets

or thinly-sliced boneless skinless chicken breasts

2

large

eggs

¼

cup (60 ml)

milk

any variety

1

cup (112g)

Italian seasoned breadcrumbs

1

teaspoon

garlic powder

2

ounces (57g)

grated Parmesan

or shredded/shaved (about 1 cup)

12

ounces (340g)

marinara sauce

(about 1 ½ cups)

6

ounces (170g)

mozzarella cheese

shredded (about 2 ½ cups)
Instructions
Preheat oven to 400°F (204°C). Spray a baking sheet or baking dish with cooking spray and set aside.

Add eggs and milk to a shallow bowl and whisk until combined.

Stir together breadcrumbs and garlic powder in a separate shallow bowl.

Dip each chicken cutlet fully in the egg mixture, then press into the breadcrumbs to coat both sides completely. Place breaded chicken cutlets equally-spaced apart onto the prepared baking sheet/dish. Discard any excess breadcrumbs and egg.

Bake for 10 minutes, then remove from the oven. Evenly scatter the Parmesan over top of the chicken cutlets, then cover with the marinara sauce to the edges (about 3 Tablespoons per cutlet). Top each cutlet with shredded mozzarella.

Bake for an additional 10-15 minutes, or until chicken is fully cooked (no longer pink and the center of the thickest piece reaches 165°F). Garnish with fresh Italian herbs like basil, parsley, etc.
Notes
Ingredient Notes
Chicken: If you cannot buy cutlets specifically, you can use chicken breasts. Slice each chicken breast in half horizontally, then pound the sections if needed into an even thinness.
Breadcrumbs: You can substitute in regular breadcrumbs, but if going this route do add dried Italian seasonings to your liking.
Parmesan: For the best flavor I recommend grating a wedge of Parmesan for this recipe. The next best option would be to buy a container of pre-grated/shredded/shaved Parmesan from the refrigerated deli section of the grocery store. I would not use the shelf-stable canister of finely grated Parmesan from the inner aisles.
Marinara sauce: Make sure you like how this tastes, especially in a simple recipe like this. I've found a shocking difference in the jarred varieties - some are not very good.
Recipe Tips
Be sure to remember to partially cook the chicken before adding the cheeses and sauce as the mozzarella doesn't need long to melt.
The cook time listed in this recipe is for store-purchased cutlets, and not ones I cut down from breasts. Since thickness (and cook time) can vary, check to see that your chicken is done when it is no longer pink inside and the temperature in the center of the thickest part registers 165°F on an instant-read thermometer.
Make-Ahead Prep: You can bread the cutlets, cover them, and store them in the refrigerator for several hours, likely up to a day. Don't add the sauce and cheese to the cutlets, rather you can grate the cheeses and store separately for quick mealtime assembly.
Storage and Reheat Instructions: Store leftover chicken Parmesan cutlets in the refrigerator for up to 3-4 days. To reheat, spray a pan with cooking spray and add the leftover cooked chicken cutlets in a single layer. Cover the pan with foil (to both prevent moisture loss and the mozzarella from becoming too dark) and cook until thoroughly warmed through and reaches 165°F again.
Nutrition
Serving:
1
cutlet
|
Calories:
404
kcal
|
Carbohydrates:
17.5
g
|
Protein:
44.9
g
|
Fat:
16.3
g
|
Saturated Fat:
6.3
g
|
Cholesterol:
139
mg
|
Sodium:
740
mg
|
Potassium:
456
mg
|
Fiber:
1.9
g
|
Sugar:
5
g
|
Calcium:
110
mg
|
Iron:
2.5
mg
Nutritional information is provided as an estimate. As it can vary due to many factors (brands used, quantities, etc.), we cannot guarantee its accuracy.
Food Safety and Nutrition Disclaimer