This zippy and lightened up buffalo chicken alfredo pasta tastes as creamy and flavorful as the heavier version, thanks to the addition of blended cottage cheese. There's no butter or cream necessary in this better-for-you comfort food dish.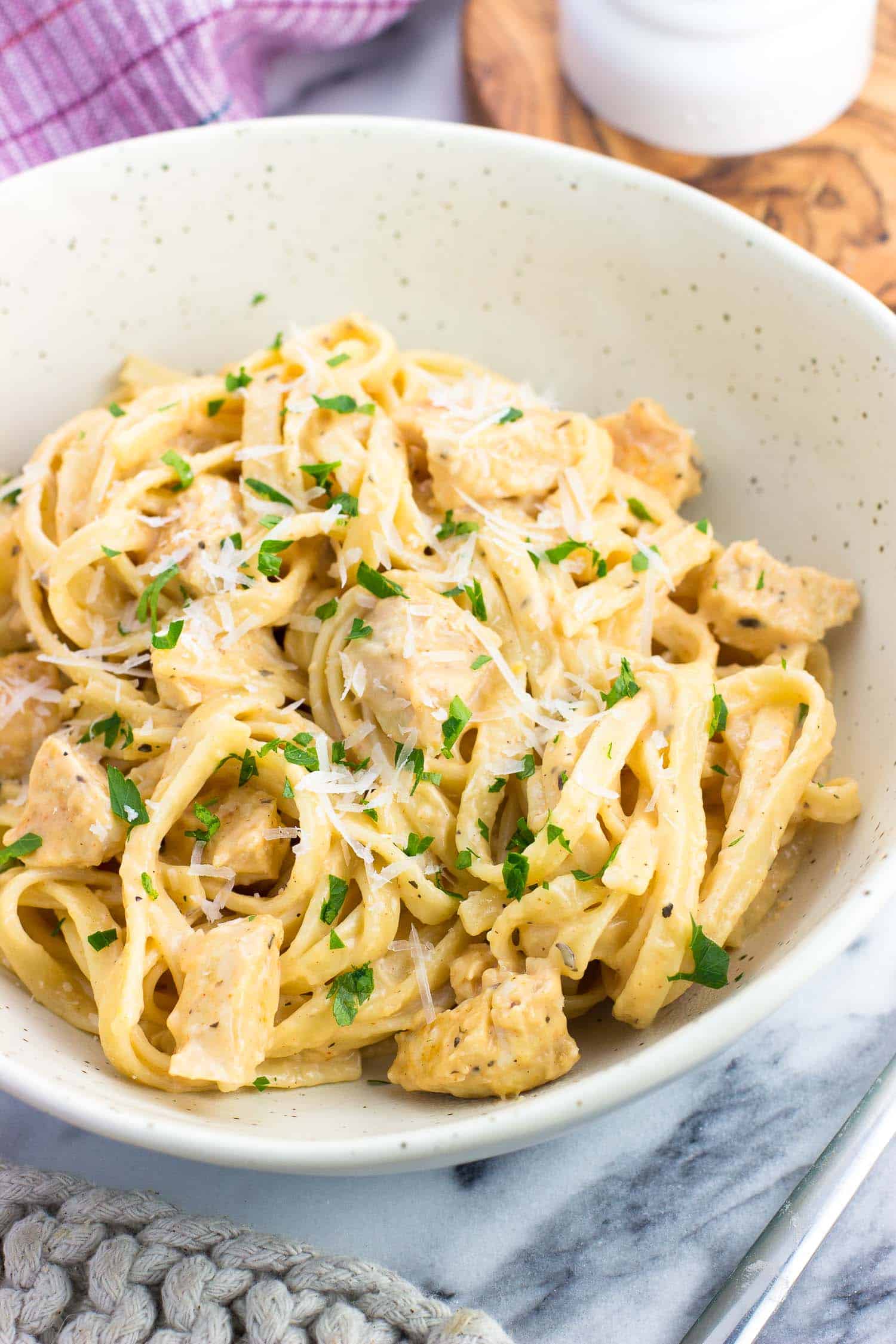 Sometimes I go through phases of craving sweets. Sometimes I go through phases of craving savory foods.
And then there's the phase where I wolf down lightened up buffalo chicken alfredo pasta cold from the fridge.
This is one of those phases.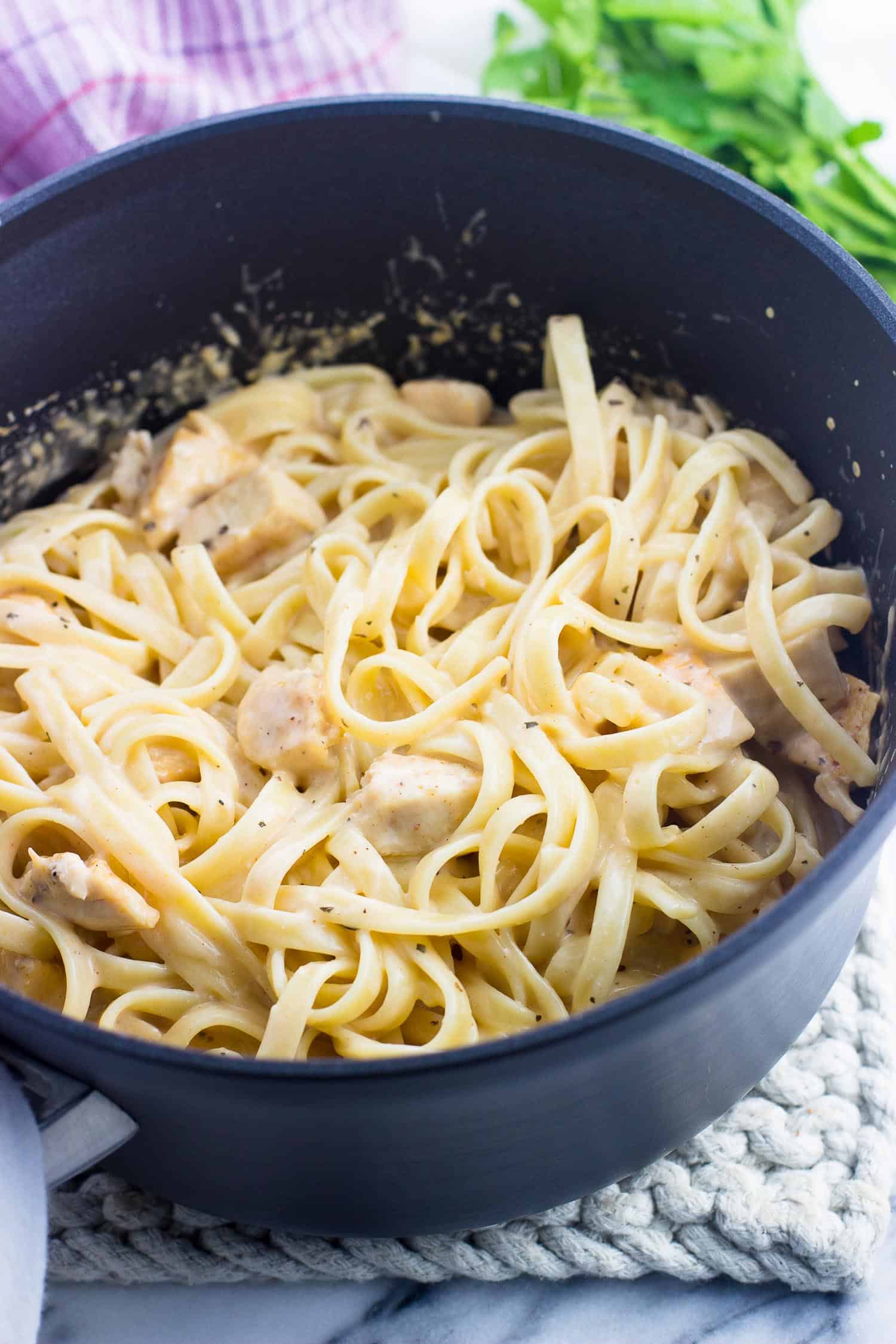 I have to tell you, I'm proud of myself with this one. Not because of my super keen skills to make a plate of pasta disappear, but because I beat a big time food aversion. COTTAGE CHEESE.
I didn't even make a face when I typed it, and that, my friends, is progress.
Honestly never once was there cottage cheese in my fridge growing up, so I'm thinking this whole cottage cheese thing was due to nurture (vs. nature). We're just not fans of that texture around here!
After all of these years though I decided enough was enough. Once you start wheeling your cart a little faster past that case in the dairy aisle it's time for an intervention.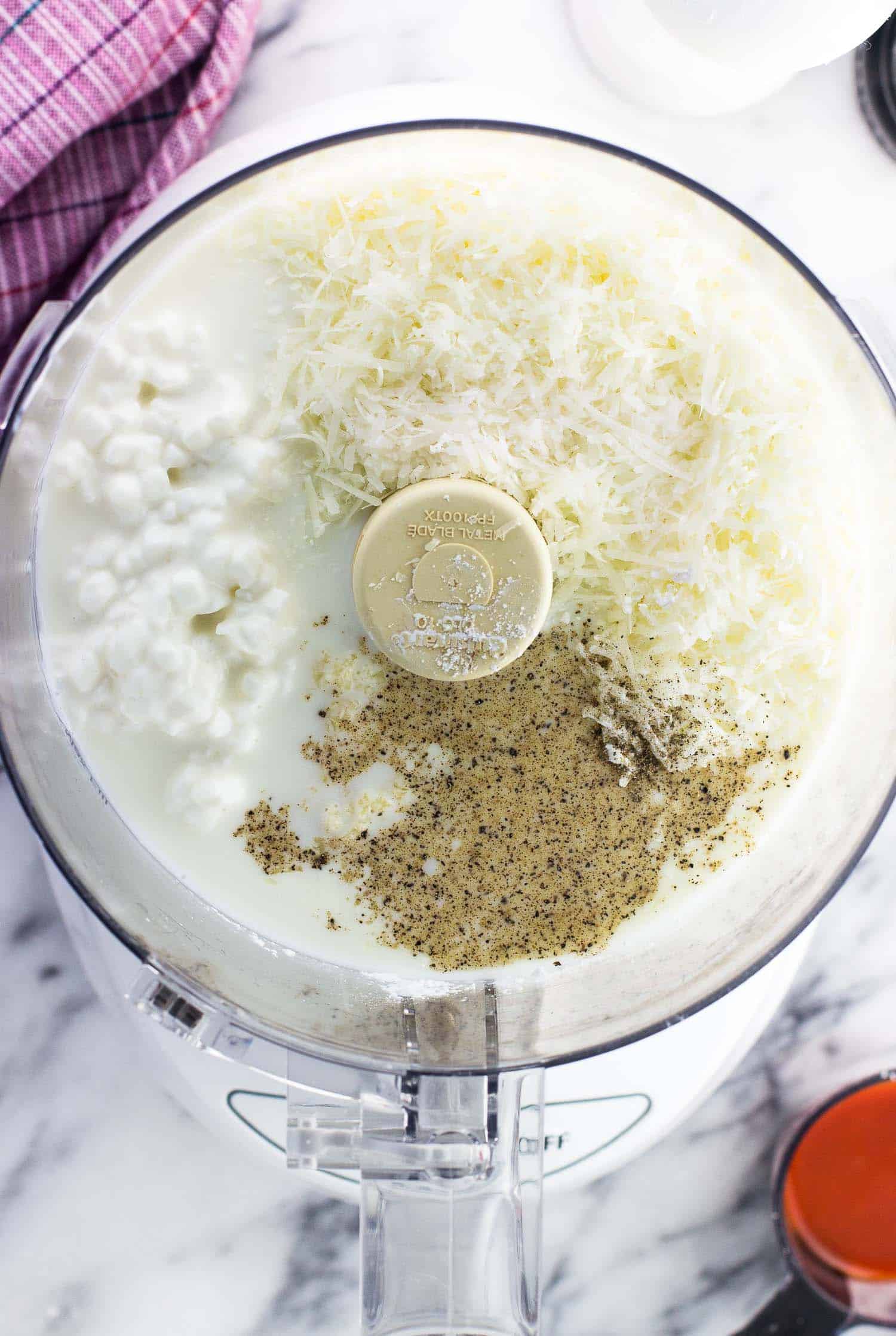 After taking my maiden voyage with cottage cheese in this lightened up buffalo chicken alfredo pasta, I can wholeheartedly ask WHAT was I waiting for??
It lightened up comfort food something serious, and was ultra creamy with a mild flavor. It set the stage perfectly for the addition of Parmesan cheese, spices and one of my favorite sauces of all time: Frank's Red Hot Wings.
Give everything but the Frank's and dried basil a whirl in the food processor, heat, and stir in the buffalo sauce/basil, and you've got yourself a pot full of heavy cream-free, butter-free, lighter and slightly spicy alfredo sauce.
Also one that is now curd-free. A win all around. 🙂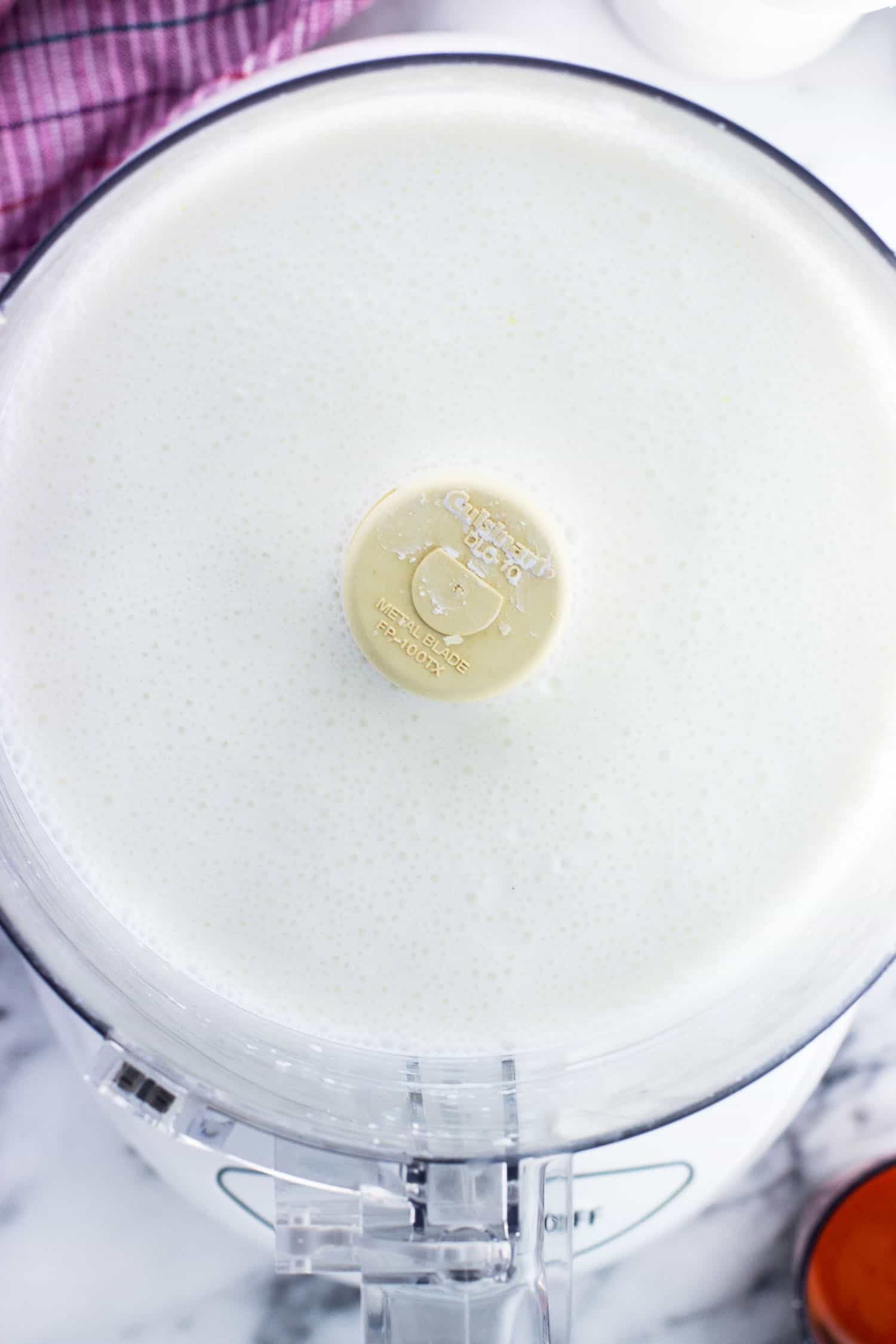 How to make buffalo chicken alfredo pasta
It all starts with the chicken. This is a great recipe for using up leftover cooked chicken breast, as one or two breasts chopped up will do it.
Otherwise just prepare them in your preferred way, either in a skillet, baked, air fried, etc. I like to bake the chicken breasts for this recipe, seasoning them with a simple creole or cajun spice blend (just store-bought). Those flavors work well with the little bit of buffalo sauce zip you'll get in the sauce.
Then it's time for the sauce. Instead of butter and heavy cream, we're using cottage cheese and milk to significantly lighten things up. Next comes Parmesan or Pecorino Romano (freshly grated is the best!), along with garlic, cornstarch, dried basil, salt, and pepper.
The sauce thickens a little bit once everything goes through the food processor, but the real thickening happens when it heats on the stove. The cornstarch blended throughout helps form an ultra thick and creamy buffalo chicken alfredo sauce.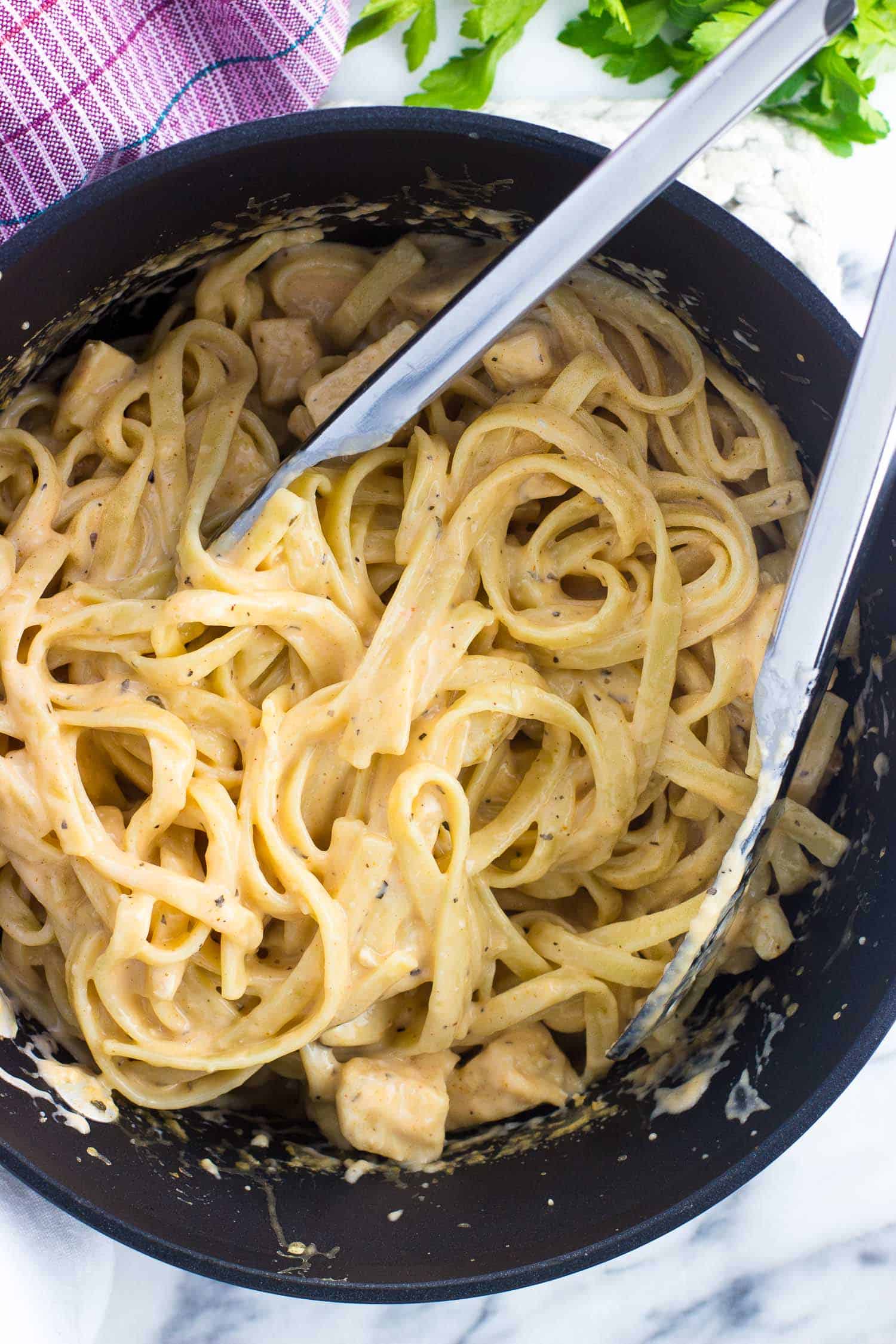 Two tablespoons of buffalo sauce are whisked in while everything heats to provide a nice and balanced zip without being too spicy.
Once the pasta is al dente and the sauce has thickened, it's time to add back the cooked chicken and toss everything to combine.
As for the pasta, fettuccine is my shape of choice here given that it's alfredo, but any and all would be fab. I'm thinking shells, orecchiette, or any other shape that holds onto sauce well sound great, too.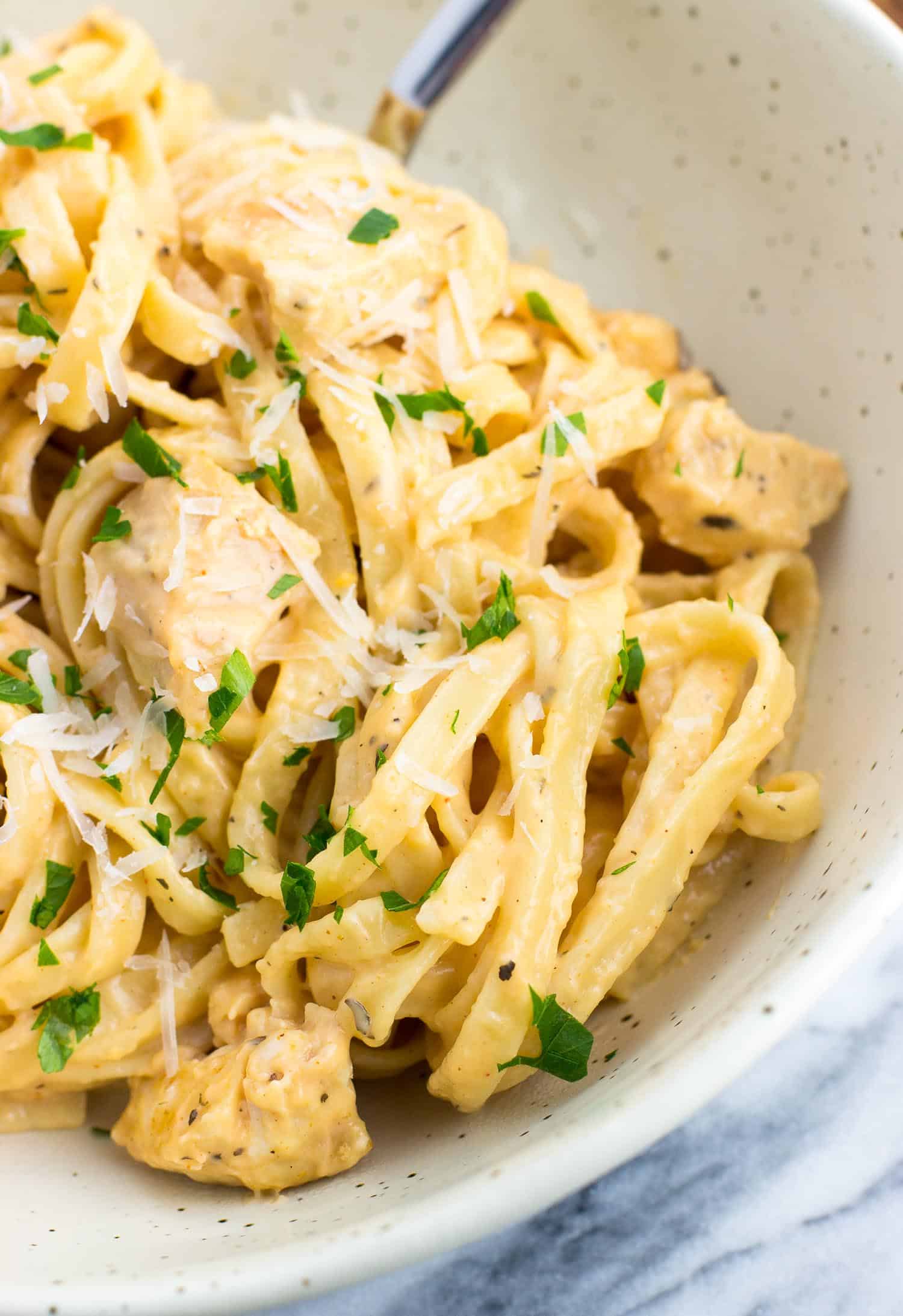 Recipe notes:
I highly recommend using freshly-grated Parmesan (vs. the kind that comes in a plastic jar with a green lid…). It makes a pretty big difference given that this sauce features such simple ingredients.
On that note, I've used freshly-grated Pecorino Romano here instead and that's delicious, too.
I'm a garlic head and use four cloves in this recipe. I gave it a range of two to four cloves to be more palatable for those who aren't as nuts about garlic as I am. Use the amount that seems right for you, keeping in mind this recipe uses half a box of pasta and yields about four servings.
The sauce can be made ahead of time and refrigerated. A little splash of hot pasta water can be whisked in to thin it out some if it becomes too thick in the fridge.
Lightened Up Buffalo Chicken Alfredo Pasta
This zippy and lightened up buffalo chicken alfredo pasta tastes as creamy and flavorful as the heavier version, thanks to the addition of blended cottage cheese. There's no butter or cream necessary in this better-for-you comfort food dish.
Print
Pin
Rate
Ingredients
1-2

cooked boneless skinless chicken breasts,

cut into small pieces

1

cup

milk

(I use 1% or 2%)

1/2

cup

cottage cheese

(I use 4%)

1/2

cup

freshly-grated Parmesan cheese

or Pecorino Romano

1

tbsp

cornstarch

2-4

cloves

garlic,

minced (use however many you like)

Salt and pepper,

to taste

2

tbsp

buffalo sauce,

such as Frank's Red Hot Wings

1/2

tsp

dried basil

8

oz.

uncooked fettuccine
Instructions
Chicken:
If you already have cooked chicken breasts, chop into bite-sized pieces and set aside for now. Skip down to the sauce section.

Otherwise cook your chicken in your preferred manner (oven, air fryer, skillet, grill, etc.) To bake chicken, heat the oven to 425°F. Place chicken breasts a few inches apart from one another on a baking sheet and brush both sides of the chicken with olive oil. Season both sides with creole or cajun seasoning (or whatever you like).

Bake for 18-25 minutes, or until the center of the thickest part registers 165°F and no pink remains. There's a range here because chicken breasts vary greatly in size and there's not one set time as to when they're cooked. I highly recommend using an instant-read thermometer. Let cooked chicken breasts cool before slicing.
Sauce:
Add milk, cottage cheese, Parmesan or Pecorino Romano cheese, cornstarch, minced garlic, salt, and pepper to a food processor and process until smooth.

Pour sauce into a small to medium saucepan set over medium-low heat. Whisk in buffalo sauce and dried basil until evenly combined. Heat, stirring occasionally, for 10-15 minutes or until the sauce has thickened to your liking.
Pasta:
While sauce is heating, add 6 cups of water to a large pot and place over high heat until boiling. Salt the water generously and then add the fettuccine. Cook the pasta according to package directions until al dente, about 11-12 minutes, stirring occasionally so the fettuccine doesn't stick together.

Drain pasta and add it to the pot with the alfredo sauce. Add the cooked, sliced chicken and toss to coat the pasta and chicken with the sauce. Serve immediately, garnishing with extra grated cheese, fresh parsley, etc.
Notes
I love garlic and use four cloves here. Use less if you're not huge fans, keeping in mind this recipe yields about 4 servings.
Nutrition
Calories:
381
kcal
|
Carbohydrates:
48.4
g
|
Protein:
33.7
g
|
Fat:
6.1
g
|
Saturated Fat:
2.7
g
|
Cholesterol:
56
mg
|
Sodium:
567
mg
|
Potassium:
131
mg
|
Fiber:
2
g
|
Sugar:
5.3
g
|
Calcium:
170
mg
|
Iron:
2.3
mg
Nutritional information is provided as an estimate. As it can vary due to many factors (brands used, quantities, etc.), we cannot guarantee its accuracy.
The pictures in this post were updated in February 2020 from the original publish date in April 2015. The recipe remains just about the same (I now use garlic cloves instead of garlic powder).
Alfredo sauce base adapted from food.com.