With a tender, deliciously maple-flavored texture and plump raisins, maple Irish soda bread is sure to please! This festive and easy quick bread recipe is on the smaller side and perfect for breakfast and snacks.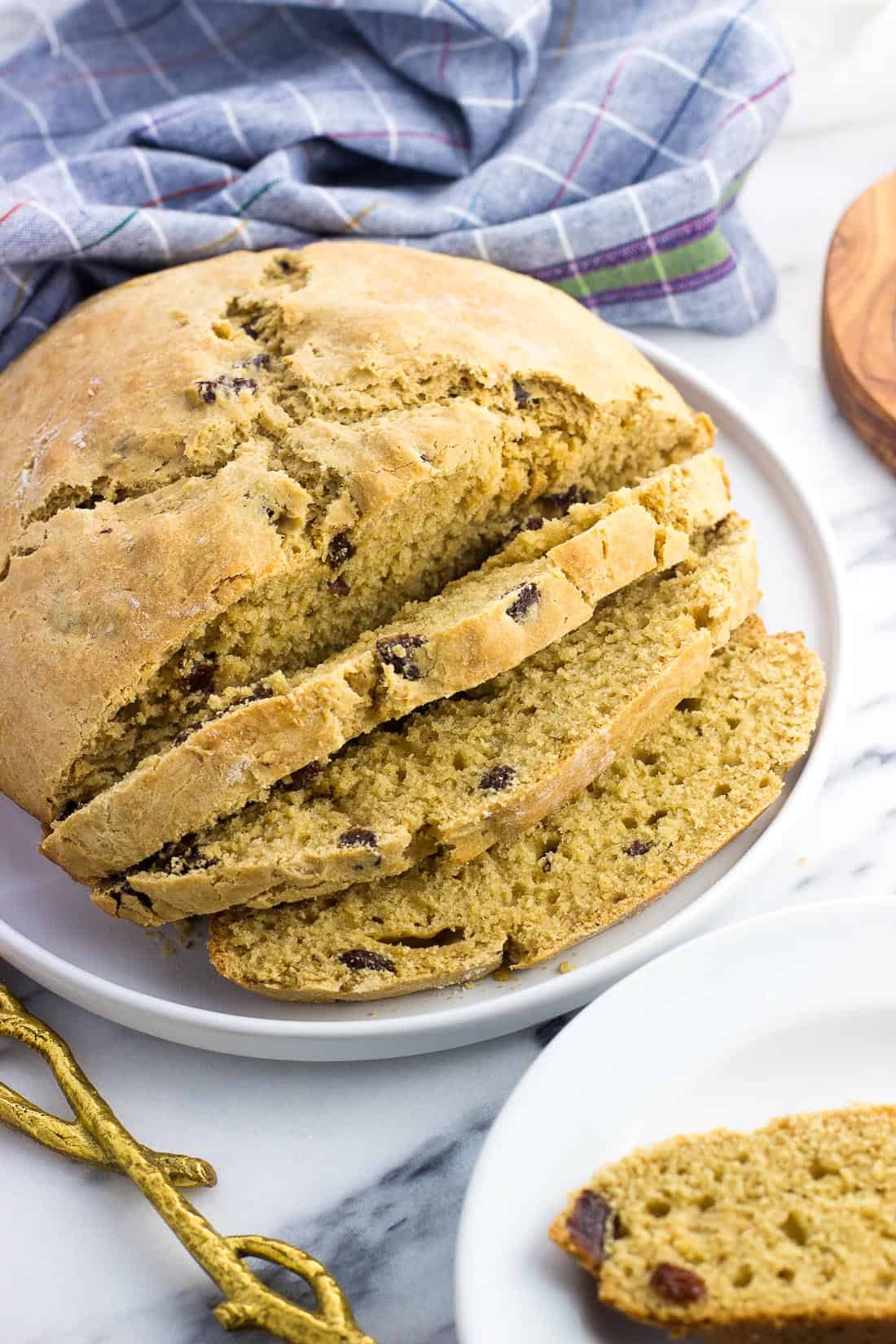 St. Patrick's Day is coming up, so that means now is the time to get your Irish soda bread recipe ready to go.
I'm not Irish at all, yet growing up my mom always made corned beef and Irish soda bread on March 17th. We just like a good themed meal!
I'm choosing to remember those happy St. Patrick's Day memories over the traumatizing kindergarten experience in which my teacher told us a leprechaun would sneak into our classroom overnight and we could trap him if we built a castle from blocks.
As a child who had real anxiety surrounding magical, mythical beings invading my space (I could barely stomach sleeping in the same room as my tooth fairy pillow and had a near panic attack the night before Easter over how the bunny could get into the house, and WHAT if 'bad guys' could get in the same way), I was not down with this.
Nowadays leprechauns can still stay away but I'll take all the festive carbs, Irish cream truffles, and even green beer, please.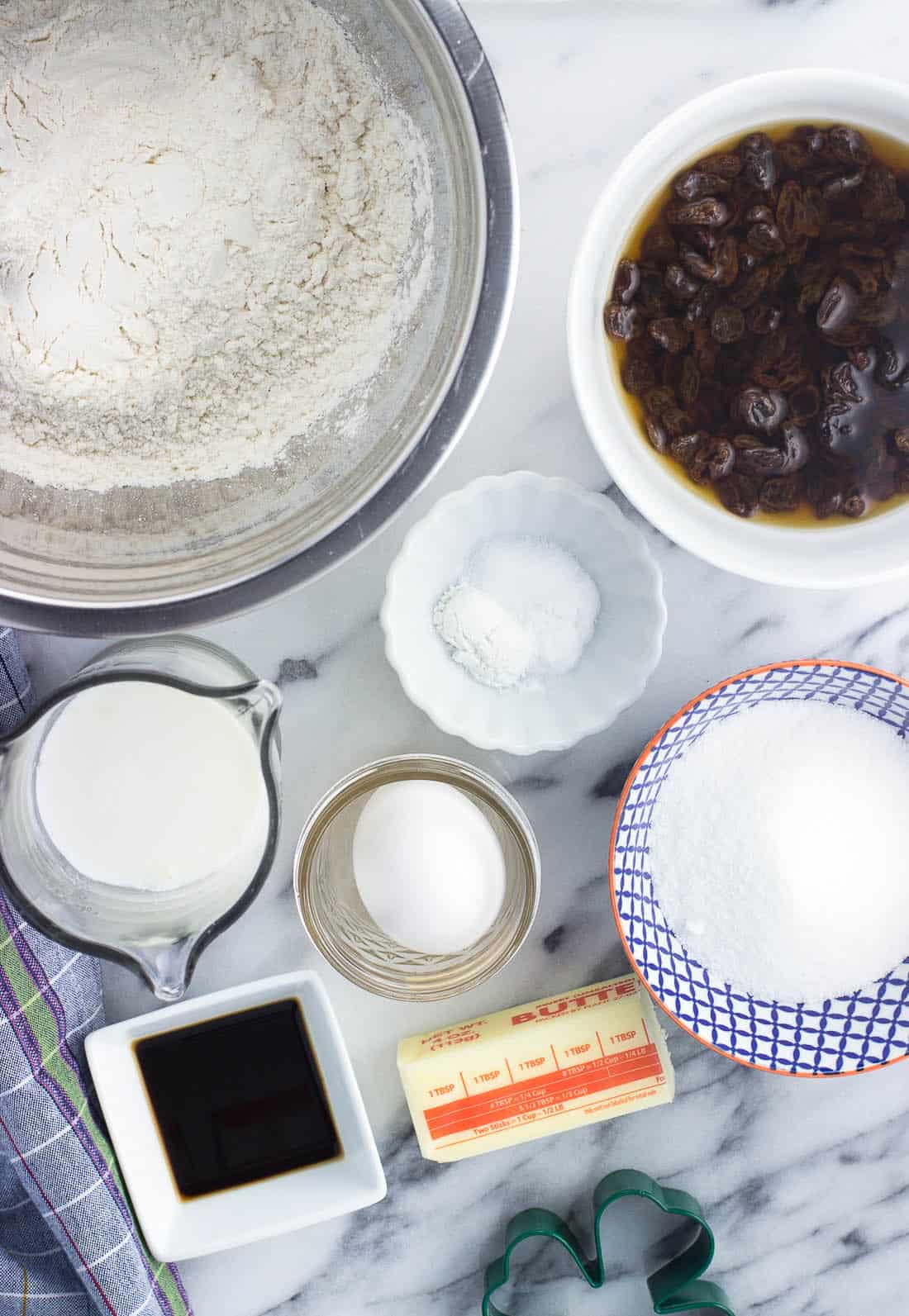 Irish soda bread at its base consists of just a few ingredients. It qualifies as a quick bread because it rises from baking soda (and powder) and not yeast. That means it's quick to make (yeah!) and is generally less fussy.
Please know that I'm not claiming this maple Irish soda bread to be authentic Irish soda bread in any form or fashion. I'm well aware of differences in opinion regarding the presence of added sugar, the state of butter (solid or liquid), etc. Let alone flavored extracts!
But what this bread lacks in authenticity it makes up in taste.
This soda bread has a soft and tender texture that holds up very well to slicing. It's perfect to eat as-is, of course, but the ability to toast leftover portions and slather with butter and/or jam without making a crumbly mess is big.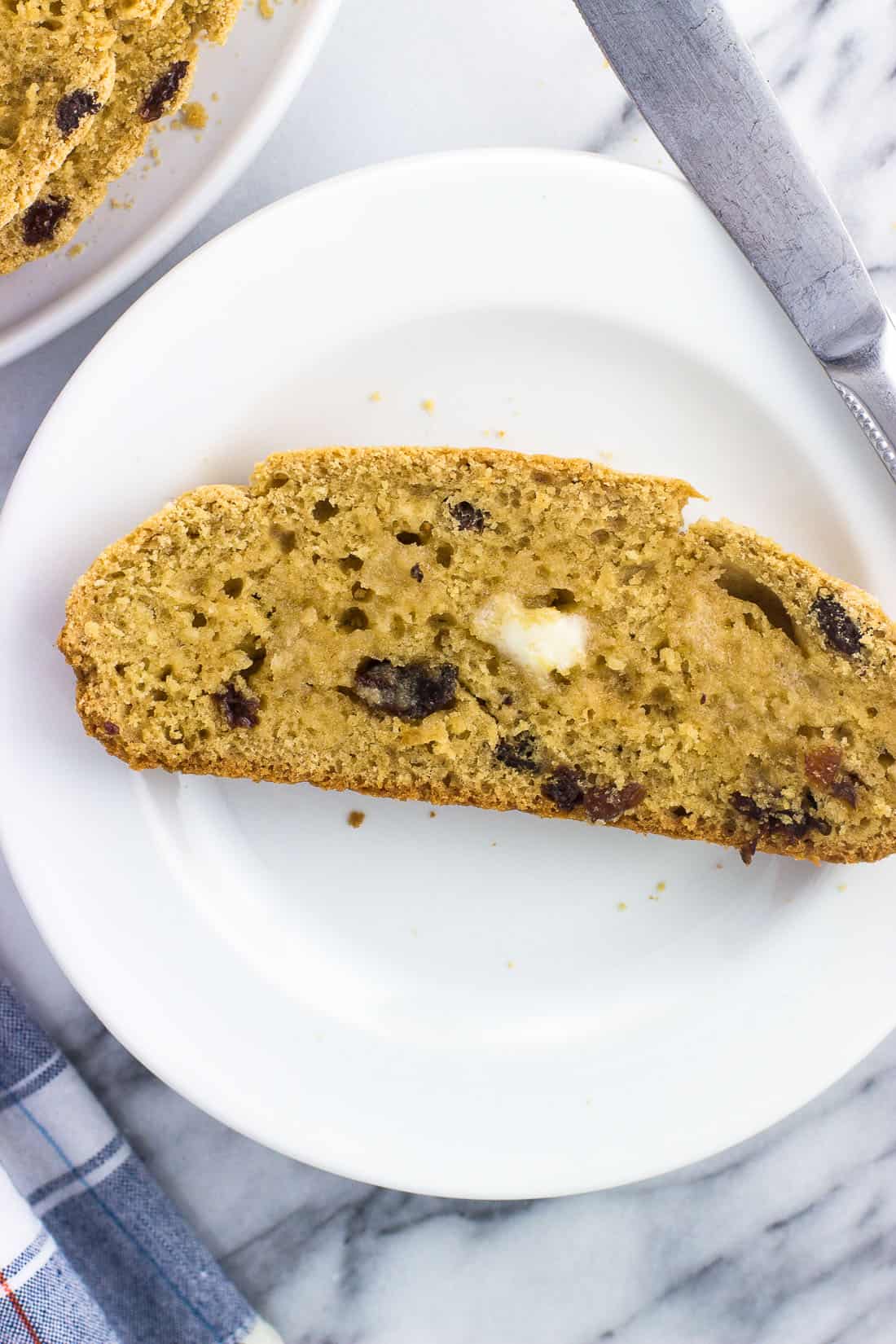 How to make maple Irish soda bread
While not a make-or-break step with this soda bread recipe, I always start by soaking the raisins to rehydrate them. This ensures they're extra moist, and depending on what you use can give them a flavor oomph.
Add your raisins to a small, heat-safe bowl and pour in enough boiling water to cover the raisins completely. If using water I like to add a little brown sugar (one tablespoon or so) to give them an extra touch of sweetness. Buuuuut if I feel like it I'll use bourbon instead of water.
Bourbon-soaked raisins? Sounds much more preferable to dried up raisins.
I'll do this first and let the raisins sit as long as the recipe of the recipe takes, up until they're ready to be stirred into the dough.
The second thing I do is to make a quick and dirty buttermilk substitute. I never have a carton of buttermilk on hand. Never, ever.
Instead I use the old vinegar-in-milk trick. Add two teaspoons to a liquid measuring cup, then pour in milk (I use 2%) up to the two-thirds cup line. Let sit for at least five minutes, then proceed with using it in the recipe.
Buttermilk is the pick for this maple Irish soda bread recipe over regular milk because the added acidity is necessary to react with the baking soda to help this bread rise.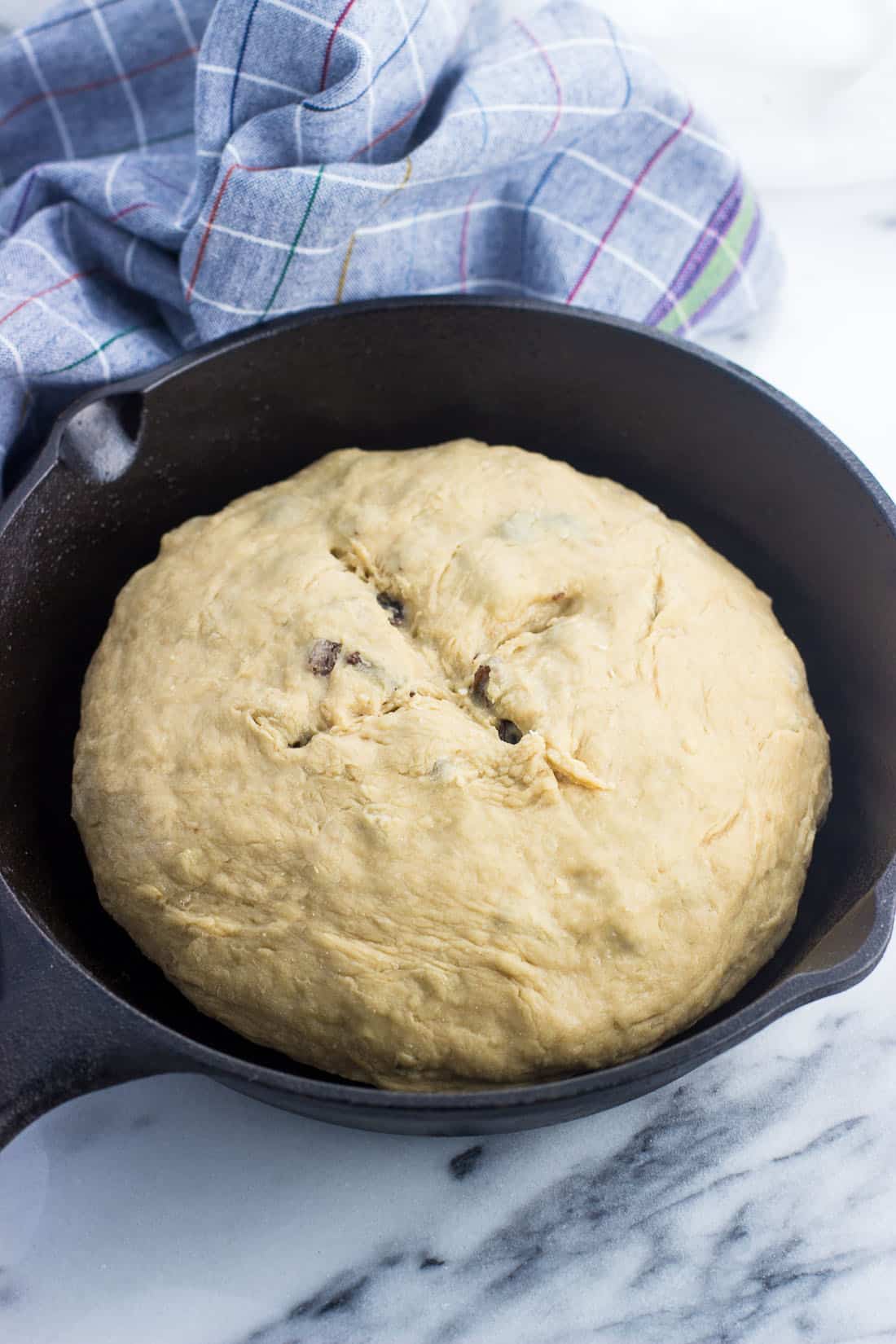 The third thing I do, also not make or break, is to melt the butter. I like to give it a bit of extra time to cool down some before adding it to the recipe. Just enough time to prep the rest of the ingredients, pre-heat the oven, etc.
Letting it cool some helps prevent any milk-curdling or partial egg-cooking from adding something super hot to cold.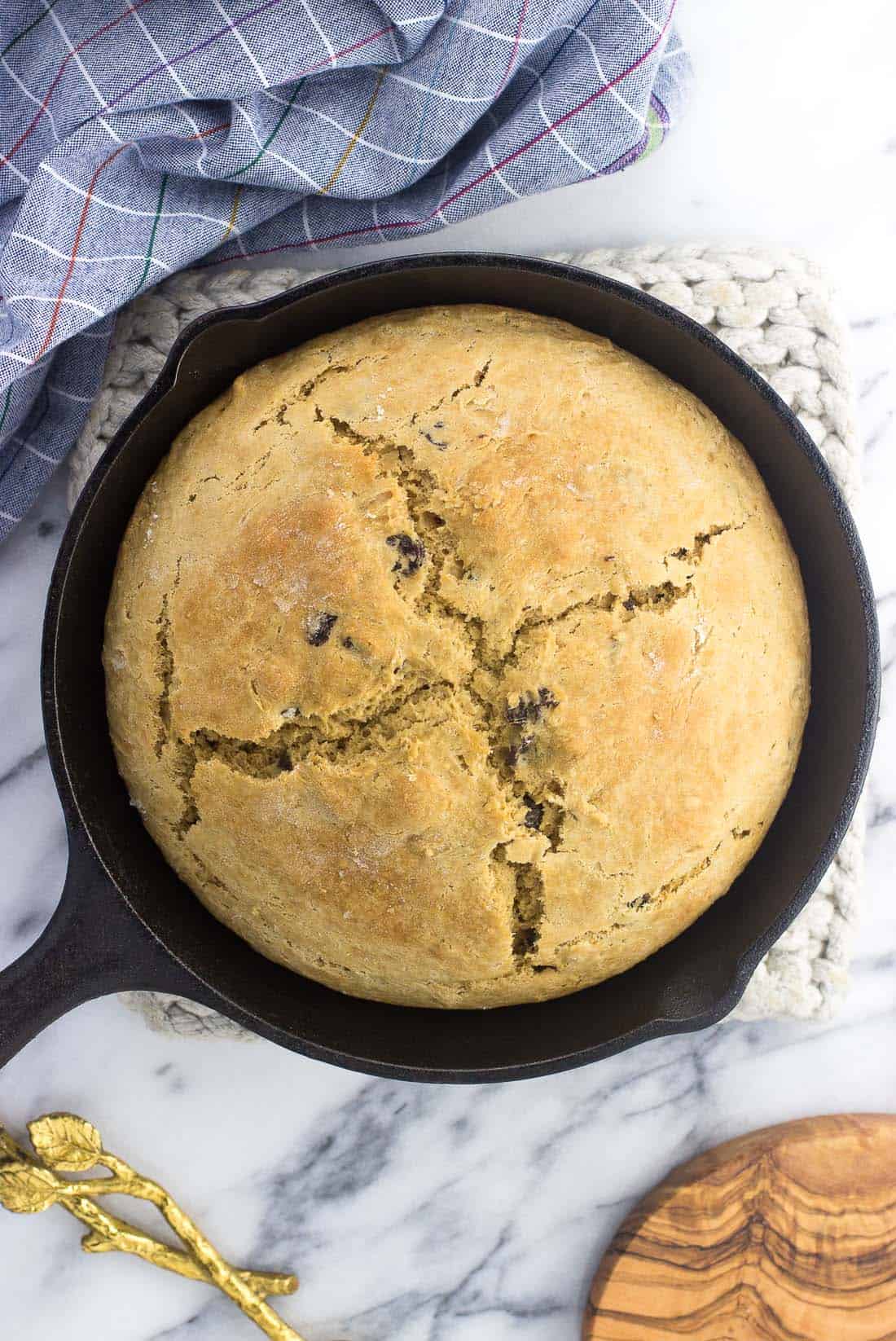 Next is combining the wet and dry ingredients separately.
Let's talk about flavor. The 'maple' part of this recipe title comes from maple extract and not maple syrup. While we always have a Costco-sized jug of pure maple syrup in our house, I find it's hard to use in baked goods recipes to provide a very present maple taste.
Usually this is because the amount of maple syrup necessary to have a bold flavor break through in a baked good would likely be far too much liquid for the recipe to actually hold together. Sugar too, for that matter.
Enter maple extract. Just a little bit will do the trick. One teaspoon added to this maple Irish soda bread recipe provides a moderately maple flavor that complements the raisins and other bread ingredients wonderfully.
You should be able to find maple extract in the baking aisle of your grocery store (I've seen it in two big chain conventional grocery stores around here) or on Amazon. I like the Frontier brand of maple flavoring but I can't seem to find it listed on Amazon at the moment to link.
Once all the ingredients are combined, you'll notice that the dough is still pretty sticky. Add extra flour as needed until most of the stickiness has gone away. After adding two cups of flour initially, I usually work another quarter-cup or so into the dough to make it workable and able to hold together in a ball.
While you can use a parchment-lined baking sheet to bake this maple Irish soda bread, I like to use a medium-sized cast iron skillet (affiliate link). Mine has an 8″ diameter and is very affordable! It does a great job of making sure the loaf stays perfectly round.
And that's it! Let the bread cool before slicing and enjoy with butter/jam, toasted or untoasted, or just as-is.
Recipe notes
This recipe doesn't make a huge loaf of bread, which I like because our household of two can go through it before it gets stale. While I haven't tried it myself, I bet you could double this recipe without issue.
Maple Irish Soda Bread
With a tender, deliciously maple-flavored texture and plump raisins, maple Irish soda bread is sure to please!
Print
Pin
Rate
Ingredients
For the Raisins:
1/2

cup

raisins

1/4

cup

boiling water

(or bourbon)

1

tbsp

brown sugar
For the Dough:
2 1/4

cups

all-purpose flour,

divided (start at 2 cups)

1

tsp

baking powder

1/2

tsp

baking soda

1/2

tsp

salt

1

egg

1/4

cup

granulated sugar

2/3

cup

buttermilk

(see note on DIY)

5

tbsp

unsalted butter,

melted and slightly cooled

1

tsp

maple extract

1/2

tsp

vanilla extract
Instructions
In a cup or bowl, add raisins, bourbon or water, and 1 tbsp brown sugar. Stir to dissolve brown sugar. Let raisins sit while you prepare the dough (about 15 minutes), making sure that all raisins are submerged.

Preheat oven to 350°F. Grease an 8" cast iron skillet or baking pan and set aside.

In a mixing bowl, whisk together 2 cups of flour, baking powder, baking soda, and salt.

In a separate bowl, mix together the egg, granulated sugar, buttermilk, melted butter, maple extract, and vanilla extract.

Add the dry ingredients to the bowl with the wet ingredients and stir until just combined and dough is cohesive. Drain the liquid from the raisins and stir them in.

The dough will likely be very sticky at this point. Stir/work in additional flour as needed until a ball of dough forms and is easier to handle. I work in around 1/4 cup of flour, or a small amount more, at this point. The dough will still be a little sticky but you should be able to get it into the greased skillet.

Add the ball of dough to the greased skillet and cut an 'X' into the top with a sharp knife or kitchen snips.

Bake for 35-40 minutes, or until the bread is golden and a tester comes out clean. Let bread cool before slicing. Store bread in an air-tight bag or container at room temperature.
Notes
DIY buttermilk: Add two teaspoons of white vinegar to a liquid measuring cup, then pour in milk up to the two-thirds cup line. Let sit for at least 5 minutes, then use in recipe.
Nutrition
Serving:
1
slice
|
Calories:
191
kcal
|
Carbohydrates:
31.8
g
|
Protein:
3.5
g
|
Fat:
5.3
g
|
Saturated Fat:
3.1
g
|
Cholesterol:
27
mg
|
Sodium:
170
mg
|
Potassium:
142
mg
|
Fiber:
0.9
g
|
Sugar:
12.5
g
|
Calcium:
30
mg
|
Iron:
1.3
mg
Nutritional information is provided as an estimate. As it can vary due to many factors (brands used, quantities, etc.), we cannot guarantee its accuracy.
Recipe adapted from allrecipes.
P.S…
Years ago I'd press this dough out and use a shamrock-shaped cookie cutter to make mini loaves. Aren't they cute? I'm not great with cutesy food and it can be a hassle to get the dough not to stick to the crevasses of the cookie cutter, so I prefer to make one big loaf now.
If you're so inclined, then by all means make mini loaves of maple Irish soda bread if you like!