This healthy alfredo sauce recipe is truly a comfort food game changer. Made with no heavy cream or butter, cottage cheese helps provide a silky smooth and luxuriously thick alfredo sauce made much better for you.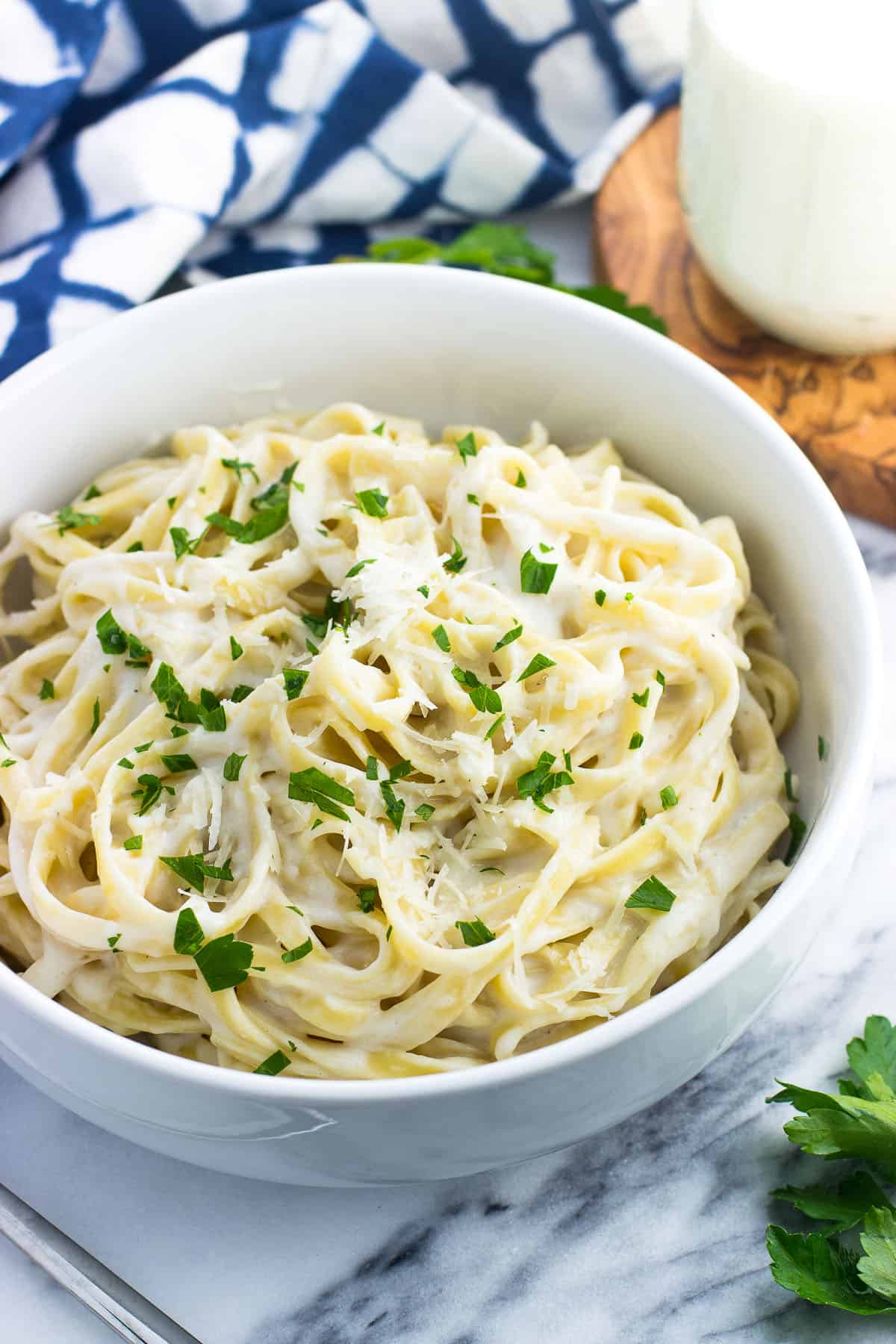 On a recent weeknight when I was making buffalo chicken alfredo pasta (it's in our regular rotation), I kept thinking it was a shame that this seriously delicious base healthy alfredo sauce wasn't on the blog.
Good thing I can do something about that!
Americanized alfredo sauce has just a few ingredients. Comprised mostly of heavy cream, butter, and Parmesan and then served over pasta, it's hard to find a healthy ingredient in the mix.
Probably just the fresh parsley for garnish.
While this won't win any points for Italian authenticity, this cottage cheese alfredo reliably produces a sauce that's just as thick and creamy as the original, with lighter real-food ingredients.
Reasons to Love This Recipe
This is a low fat alfredo sauce recipe as it's made without any heavy cream or butter, but is still thick and creamy for coating fettuccine.
Cottage cheese and cornstarch are big outliers here when compared to classic alfredo, but the cottage cheese provides heft, protein, and other nutrients while the cornstarch thickens this up beautifully.
For all those cottage cheese texture haters, all of these ingredients are blended in the food processor until smooth, so that means all of the curds are gone if you're texture-phobic in that way (like me). Blending it also comes in handy when making the sauce for this DELICIOUS high protein mac and cheese and whipped cottage cheese dip.
It can be made ahead of time for quicker and easier prep come mealtime.
Recipe Ingredients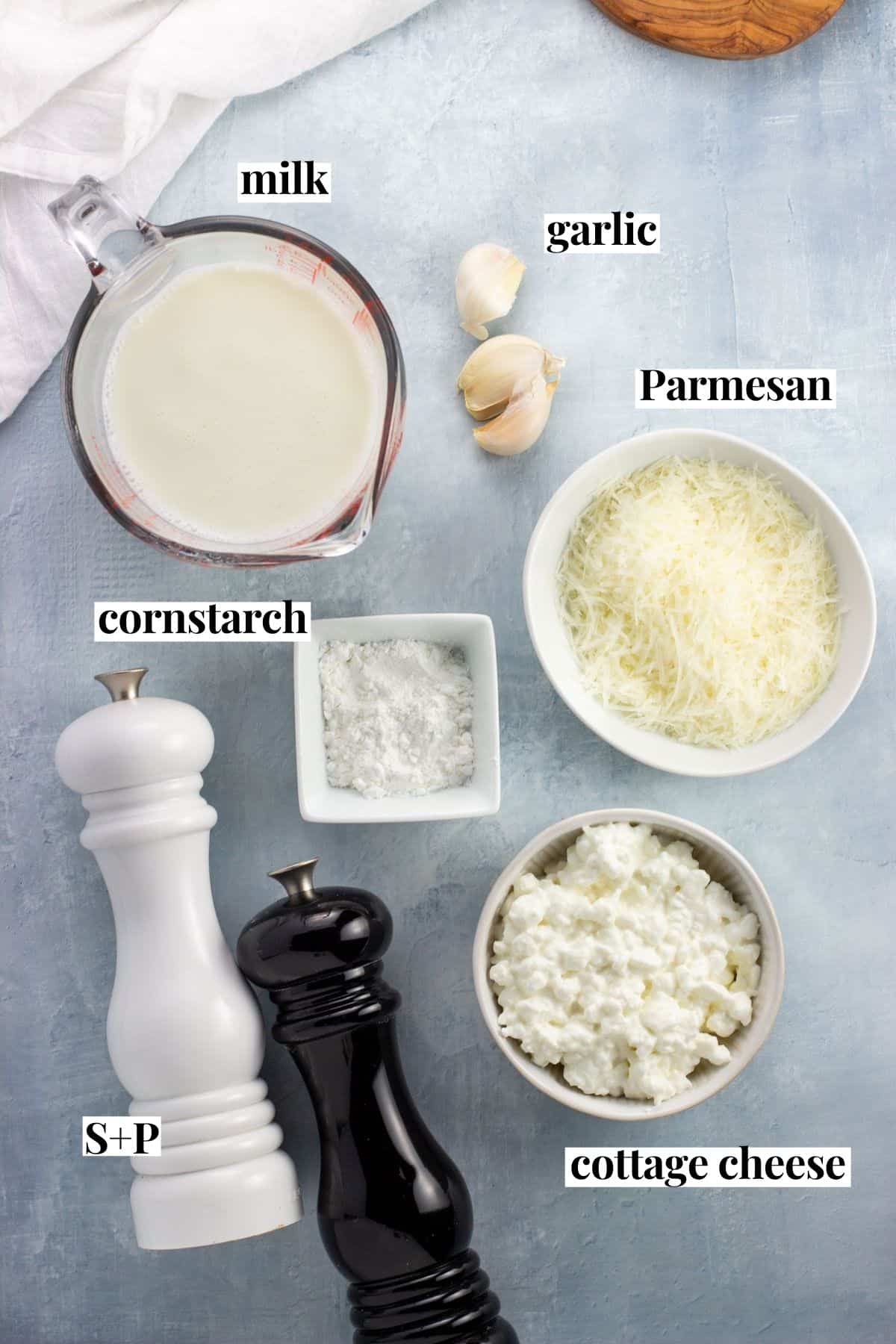 Cottage cheese: Either small or large curds are fine because it gets blended. Because this dish is already lightened up I go for full-fat cottage cheese, which has around 4% milkfat, over low-fat or non-fat varieties. Low-sodium is a good option, too.
Milk: The percentage you usually use will likely be fine here. My go-to is 2%.
Parmesan: I recommend grating a wedge of Parmesan or using pre-grated from the refrigerated case in the supermarket deli department, in that order. Those will have a better, fresher flavor than the shelf-stable canister alternatives.
Garlic: You don't need to mince the cloves finely or press it as it gets blended. A rough chop is just fine.
Cornstarch: This is critical for thickening the cottage cheese alfredo as it heats.
Step-by-Step Instructions
Blend all of the sauce ingredients in a larger food processor (at minimum a seven-cup capacity). If yours is smaller, blend everything up in batches to prevent spillover.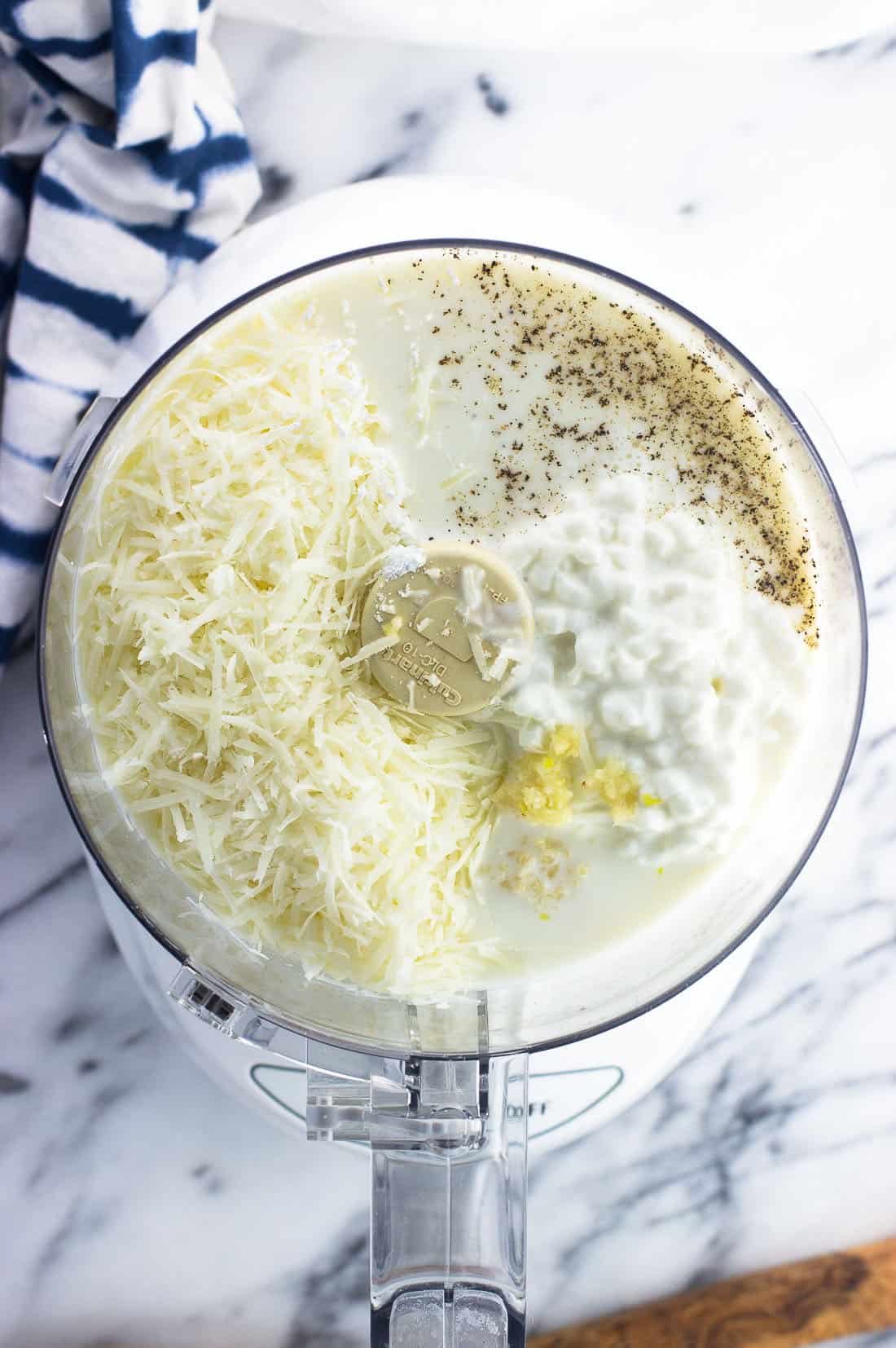 Then pour out the smooth sauce into a pan set over medium-low heat. Simply heat until the sauce is thick to your liking, stirring as it goes.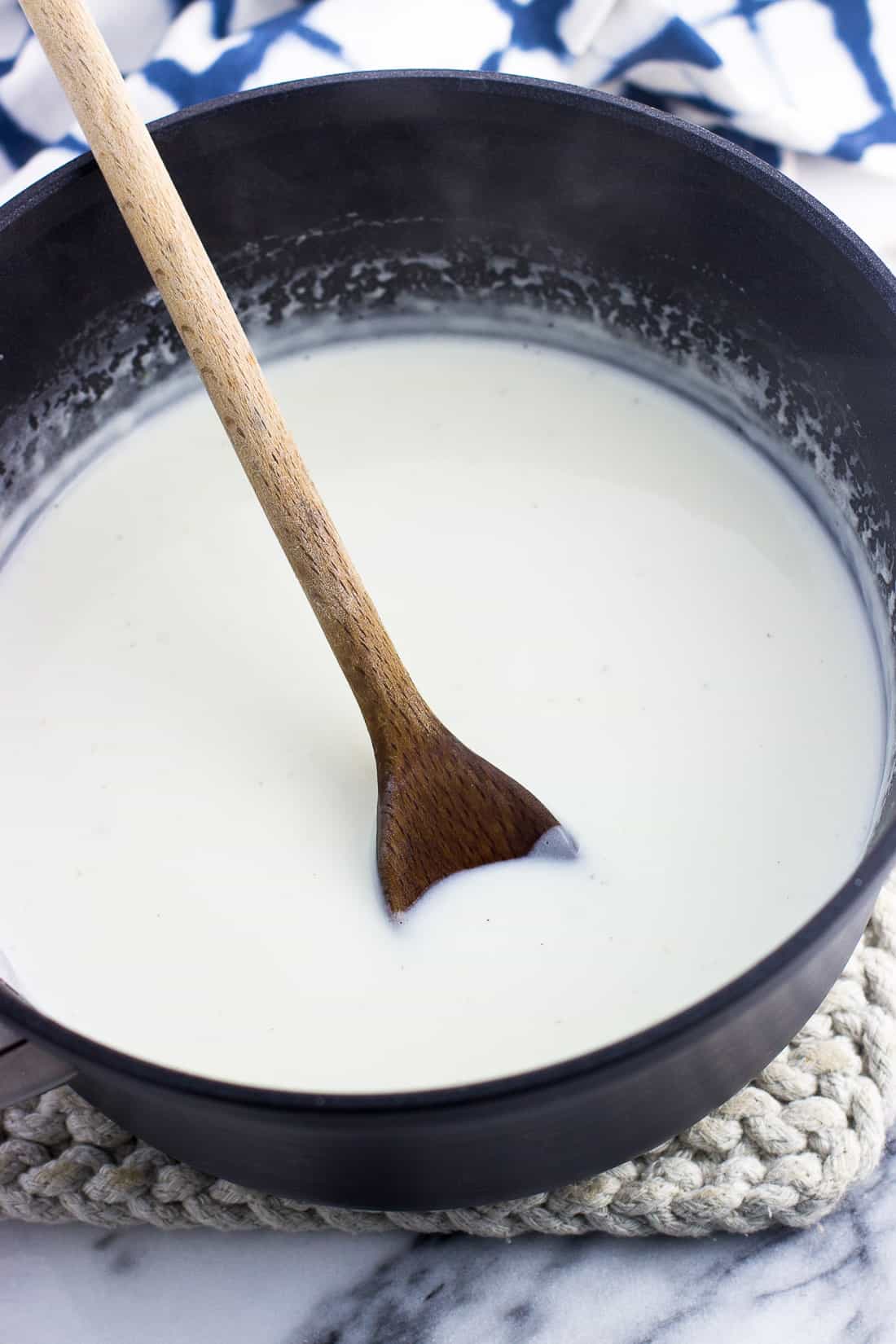 Most of the time I serve healthy alfredo sauce over fettuccine (classic), so I'll set a big pot of water up to boil once the sauce begins heating. Once the fettuccine is done, drain it and toss it in the sauce. Add cooked chicken if you have it for chicken alfredo, and there you go.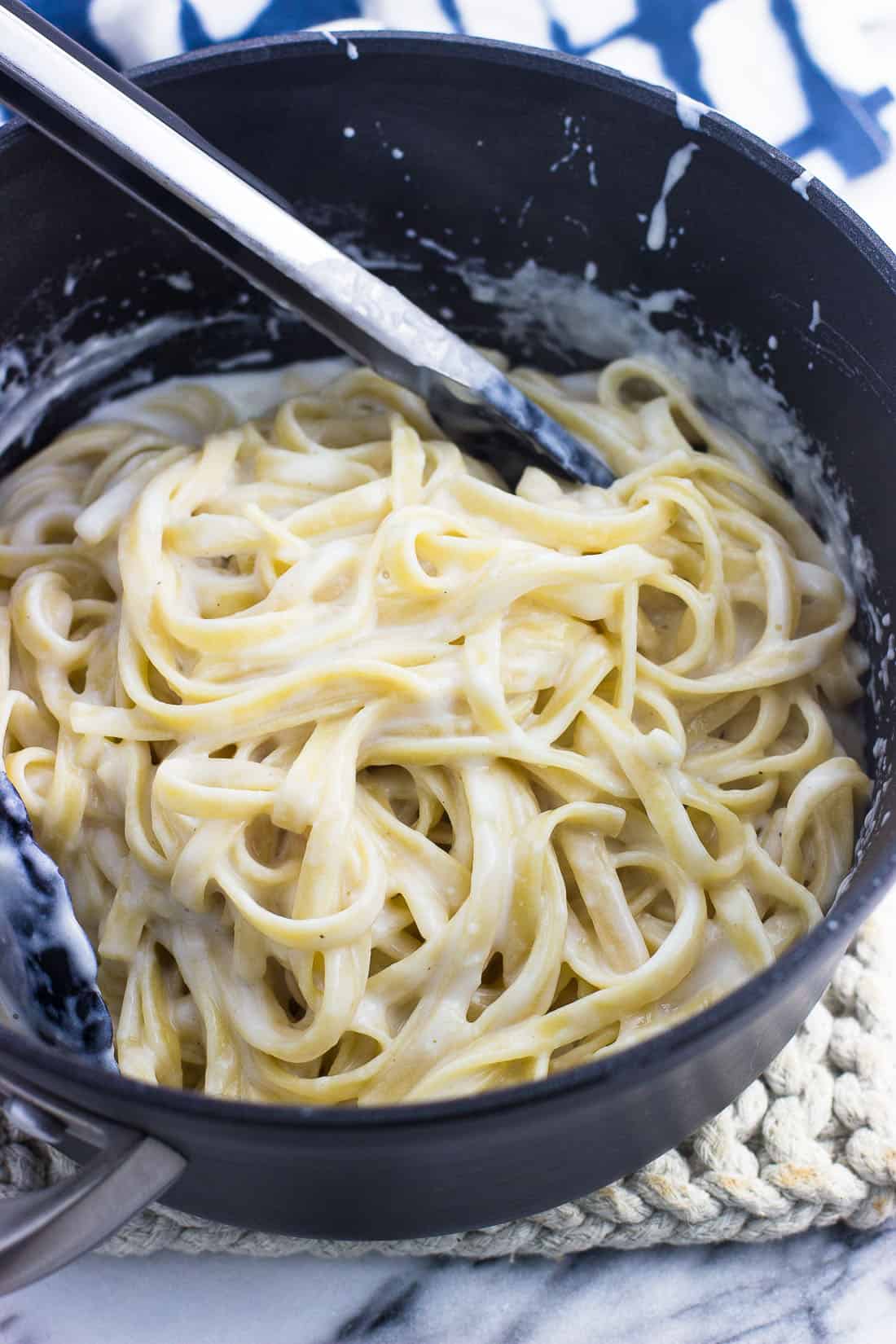 What Makes This Alfredo Sauce Healthy?
For starters - no heavy cream or butter.
The bulk of this sauce is made up of milk and cottage cheese. I most often use 2% milk and regular cottage cheese, which has about 4% milk fat. You can use low-sodium cottage cheese if you like.
Something to note when it comes to the healthier recipes here is that my definition of healthy/healthier isn't necessarily low calorie. They can be better for you in ways such as whole grain, more protein or fiber, less fat/different types of fats, etc.
One big thing to note when compared to classic alfredo is that this healthy alfredo sauce features a great deal less fat, and thus calories.
While I wouldn't necessarily call it low-calorie as it's not as low as some other "skinny alfredo" recipes that include ingredients like as pureed cauliflower, I don't think 99 calories for a generous four-ounce serving size of sauce is bad at all. Especially for a sauce that truly doesn't taste that far off from the creamy, rich original.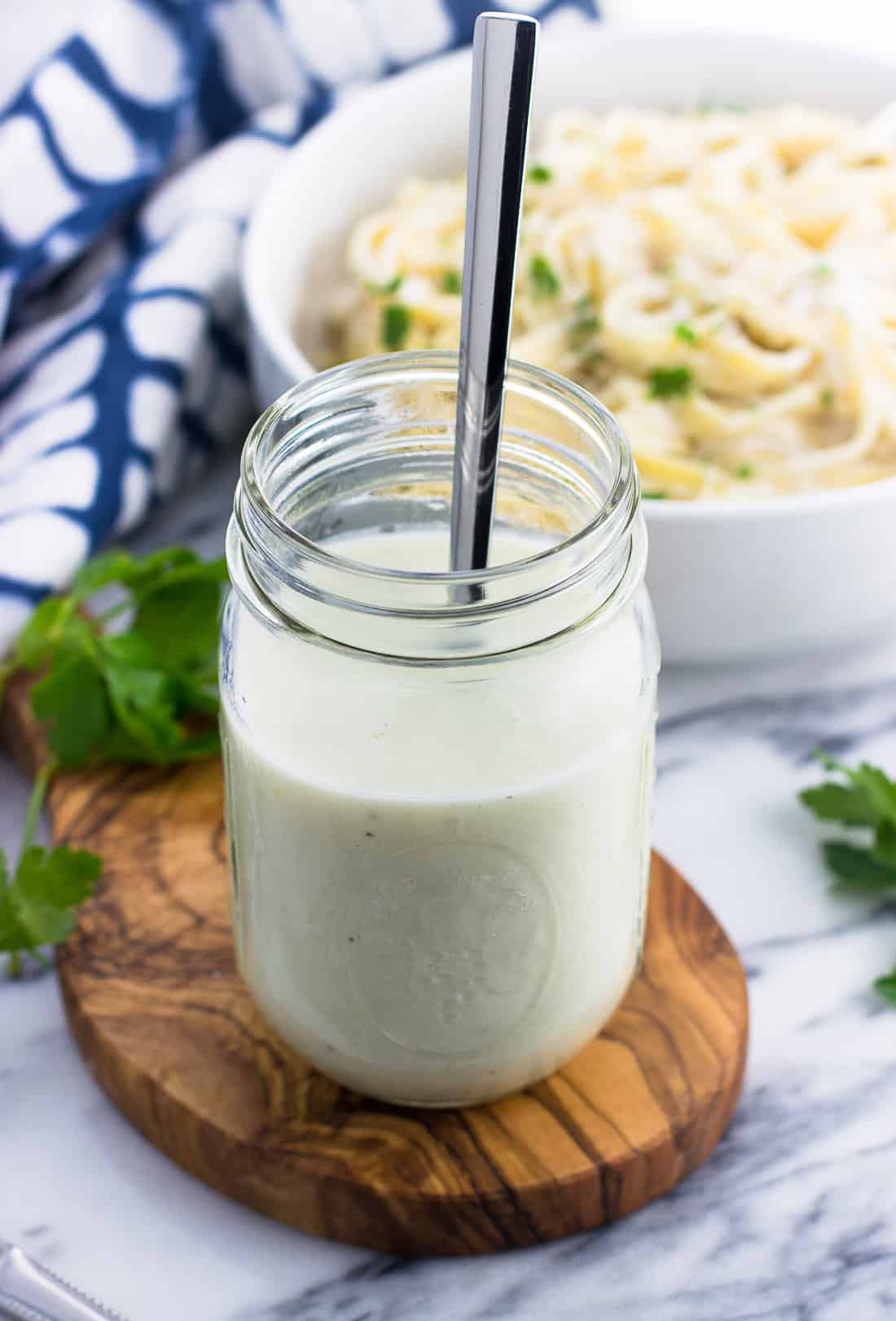 Recipe Tips and Tricks
Seriously don't skimp on the food processor size if blending this sauce all in one batch. You'll want it to have at least a seven-cup capacity as there's quite a bit of liquid in this recipe. Hold down the top of the processor to prevent excess liquid from dripping out when it gets going if you're pushing it, or consider blending the sauce in batches.
The batch of pasta you see in these photos uses half of the sauce (for eight ounces of pasta). Leftover sauce, if not being used, can be stored in an air-tight container in the fridge for several days.
Healthy fettuccine alfredo is best served right away as it'll be the most creamy then. The sauce will thicken as it cools.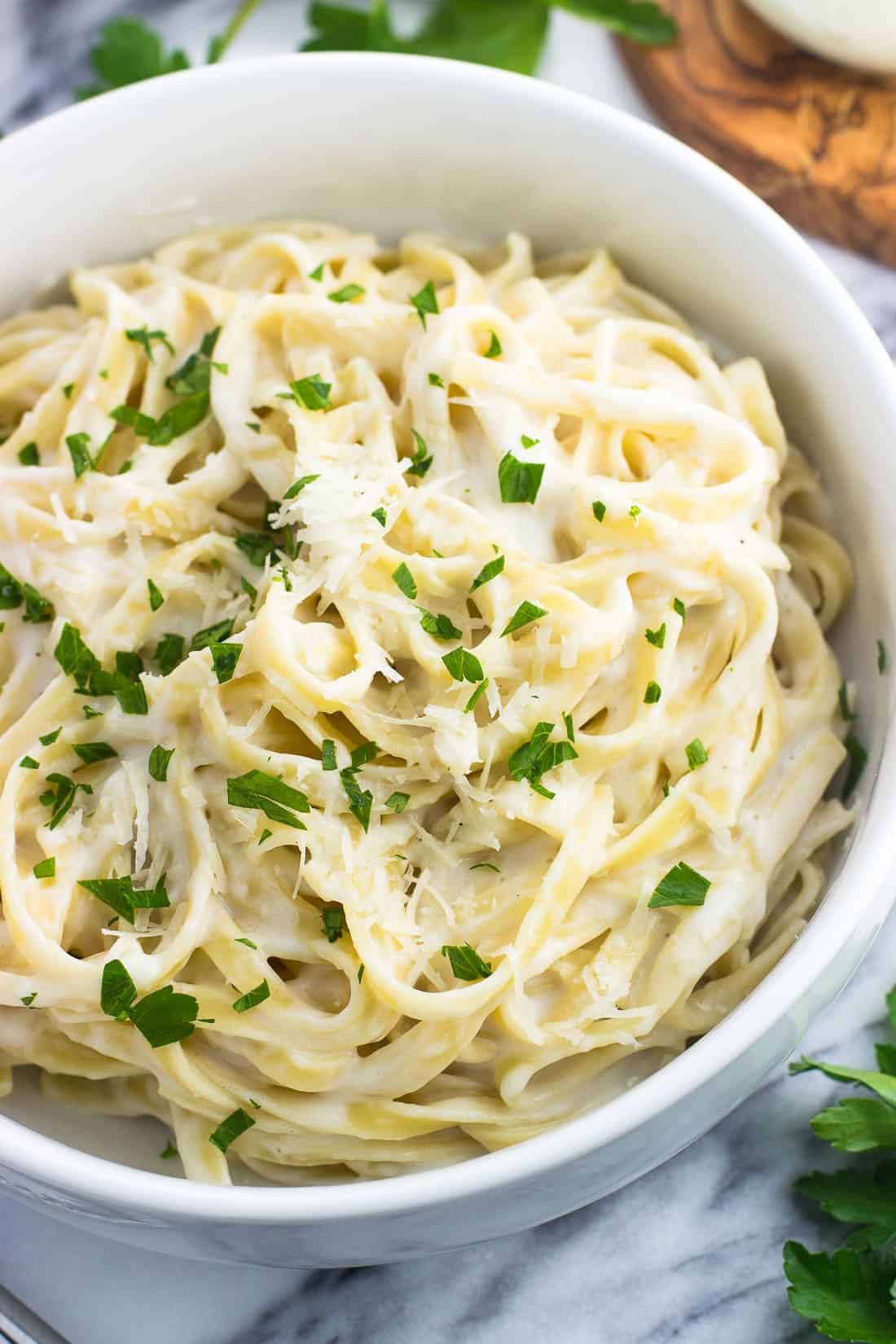 Recipe FAQs
Does cottage cheese melt when cooked?
Cottage cheese will partially melt, but it won't melt down completely smooth. That's why whizzing all of these cottage cheese alfredo ingredients in the food processor before heating is key in achieving an ultra smooth consistency.
How do you store healthy fettuccine alfredo?
Ideally store leftover sauce portions separately from pasta. Leftover sauce can stay in the refrigerator for several days. I haven't noticed any issues with the texture separating or otherwise getting weird. Gently reheat it, stirring in a splash of hot pasta water to thin it out if it thickens up too much in the fridge.

Leftover pasta portions coated in sauce can just be reheated in your preferred manner, with a little extra splash of milk to bring back some of the creaminess.
Related Recipes
If you've enjoyed this recipe, I'd love for you to leave a star rating in the recipe card and/or a comment review below!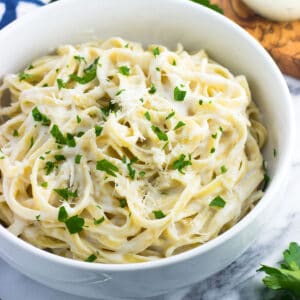 Healthy Alfredo Sauce Recipe
This healthy alfredo sauce recipe is truly a comfort food game changer. Made without heavy cream or butter, cottage cheese helps provide a silky smooth and luxuriously thick alfredo sauce made much better for you.
Print
Pin
Rate
Ingredients
2

cups

milk

(I use 1% or 2%)

1

cup

cottage cheese

(I use 4%)

2

Tablespoons

cornstarch

5

cloves

garlic

chopped

¾

cup

shredded Parmesan

or Pecorino Romano

¼

teaspoon

salt

or to taste

⅛

teaspoon

ground black pepper

or to taste
Instructions
Add all ingredients to the bowl of a larger food processor (at least 7-cup capacity). Process until smooth and creamy. Do this in multiple batches if your food processor is smaller.

Pour out sauce into a medium saucepan set over medium-low heat. Cook for 10-15 minutes, stirring/whisking occasionally, until the sauce has thickened to your liking. You don't want the sauce to boil.

Cook the pasta (if using) while the sauce is heating. Bring a large pot of water to a boil and salt generously. Add the pasta and cook according to package directions.

Drain pasta and add it back to the pot. Pour in thickened alfredo sauce and toss to combine evenly. Serve immediately as it'll thicken as it sits/cools.
Notes
Ingredient Notes
Cottage cheese: Small or large curd doesn't matter as it goes through the food processor. Low-sodium options work here too if that's a concern area.
Parmesan: Grating your own wedge of Parmesan is the best option for the freshest, punchiest flavor, but pre-grated from the refrigerated deli case at the supermarket also works. I would recommend against using the shelf-stable canister variety.
Recipe Tips
Use a food processor with at least a 7-cup capacity if making this sauce in one batch. I like to press down on the top of it when starting the food processor to prevent any of the liquid from leaking out. If your food processor is smaller, blend this sauce in multiple batches.
This healthy alfredo sauce comfortably yields enough sauce for 1 pound (16 ounces) of pasta. Total sauce yield is approximately 24 ounces.
Excess portions of cottage cheese alfredo sauce are best stored separately from pasta, but if the pasta has been dressed already, reheat it with a splash of milk to help it become creamy again.
Nutrition: Nutritional info is estimated for 4 ounces of the sauce, not including pasta, chicken, or whatever else you'd be serving it with.
Nutrition
Serving:
4
ounces
|
Calories:
99
kcal
|
Carbohydrates:
6.7
g
|
Protein:
8
g
|
Fat:
4.7
g
|
Saturated Fat:
3
g
|
Cholesterol:
18
mg
|
Sodium:
262
mg
|
Potassium:
146
mg
|
Fiber:
0.1
g
|
Sugar:
4
g
|
Calcium:
171
mg
Nutritional information is provided as an estimate. As it can vary due to many factors (brands used, quantities, etc.), we cannot guarantee its accuracy.
Food Safety and Nutrition Disclaimer