Guys, I have been dying to share this recipe with you. Dying.
If it were up to me, I would have spent this past weekend cozy in bed, gleefully typing away about this thick and creamy vodka sauce. How it's jazzed up with traditional Italian spices and an (optional) zing of red pepper flakes. How it's wonderful for doubling the quantities and freezing the leftovers so you can prepare future dinners in a flash. How the heavy cream is cut with fat-free half-and-half to seriously squash the calorie count and fat content. How incorporating fat-free dairy (along with full-fat dairy) in an acidic sauce actually works (!!!) – no curdling, no separating, nada.
Instead, as life often does, I was thrown a curve ball. I'll save you all the details, except to say that instead of the scenario above, I was hooked up to an IV, getting a CT scan, and cursing whichever restaurant we ordered from at work last week that decided to inflict such ungodly pain, taking down myself (and two coworkers).
Needless to say, waxing poetic about food was the farthest thing from my mind. But I'm back! It's always situations like these that make you appreciate the sometimes hum drum nature of everyday life. Going back to work was incredibly exciting, simply because it meant I was pain-free and feeling okay. I even had a food craving – the saltiness of a Wheat Thin. I savored it like it was a gourmet snack!
Enough about Wheat Thins though – back to the vodka sauce at hand.
We've made it a few times now, and after our initial meal, I'm always left racking my brain thinking of more ways I can incorporate it into my life. Over pasta =a delicious no-brainer. A jazzed up pasta bake (recipe coming next week!). I even poured it over my salad in place of salad dressing. B looked at me funny, but really it just meant more of this fab sauce for me. Mwahahaha.
I know you're supposed to get agita thinking about using fat-free dairy in sauces, especially ones that feature acidic ingredients such as tomatoes. I know. I've thrown caution to the wind and experimented with low or no fat dairy in cooking before and have ended up eating a reheated frozen veggie burger for dinner because of the whomp status of my Plan A meal. But this recipe has turned out exactly as I've hoped for each and every time I've made it, so I suppose I'm a bit superstitious.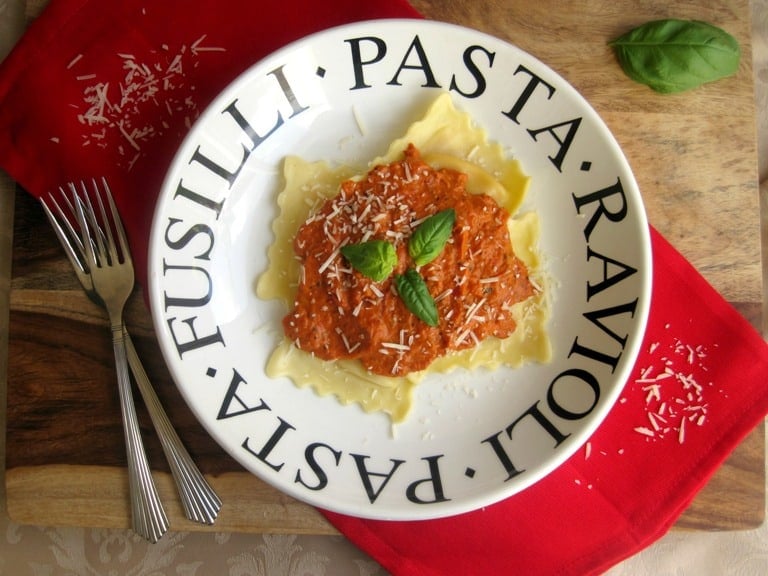 Each time, I stirred together the heavy cream and fat-free half and half before adding it at once to the sauce. In a silly way it seems like I'm trying to pull a fast one on the sauce. Silly sauce, nooope, there's no fat-free dairy here. Logically though, I figured mixing full fat + no fat = some fat, and some fat dairy > no fat dairy as far as sauces go.
I watched the sauce simmer with a critical eye; ready to pounce on the first sign of grainy separation or curdling, but my fears went unrealized. Instead, the veggie burgers stayed put in the freezer and we inhaled this creamy, slightly spicy, can't-believe-it's-lightened up, can-I-please-eat-it-with-a-ladle vodka sauce (with a side of pasta).
Lightened Up Vodka Sauce
Yield:
5-6 generous servings
Ingredients
2 tbsp olive oil
1/2 onion, diced
1/2 cup vodka
1 28-oz can crushed tomatoes
1 tsp minced garlic
1 tsp dried basil
1/2 tsp dried oregano
1/4 tsp red pepper flakes, optional
4 oz heavy cream
4 oz fat-free half and half
Instructions
Add olive oil and diced onion to a medium saucepan set over medium-low heat. Stir occasionally and let onion cook for about 5 minutes, or until onion pieces have begun to soften.
Slowly pour in vodka. Cook for 7-9 minutes, or until onion pieces have browned slightly.
Add crushed tomatoes, garlic, basil, oregano, and red pepper flakes, if using. Stir everything together and cook for 15-20 minutes. Stir occasionally.
In a small bowl or measuring cup, stir together heavy cream and fat-free half and half. Once tomato and onion mixture has cooked for 15-20 minutes in the above step, pour in cream mixture, stirring constantly while pouring. Cook for 5 minutes over medium-low heat while stirring frequently, then reduce heat to low to cook for 8-10 minutes, stirring occasionally.
Pour over pasta to serve or use in place of tomato sauce.