Smoky chicken salad lettuce wraps are a healthy lunch or dinner option with a bold and tangy flavor. Greek yogurt is an easy swap that makes this chicken salad a better-for-you meal.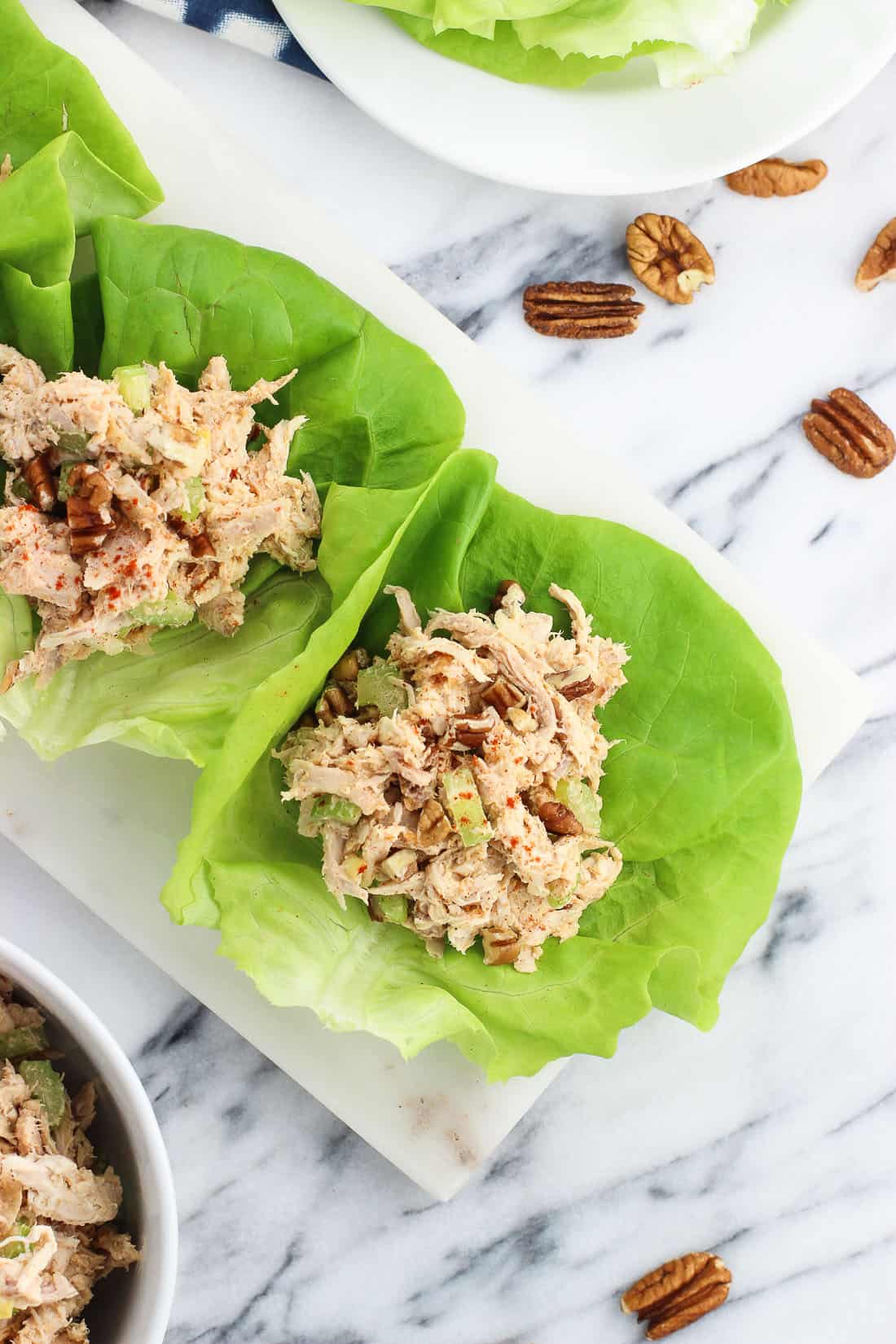 As it stands I have a love/hate relationship with lettuce wraps.
I love them because they're a healthier appetizer or main dish option that are usually filled with a delicious savory mixture, but if that mixture is even the slightest bit too liquid-y? That's not good. Soon I'm asking for extra napkins and trying my hardest to keep the sauce from running up my sleeves.
Not exactly the basis of a relaxing meal!
Thankfully with this recipe you won't have any of those help-sauce-is-running-up-my-wrists kind of concerns I just mentioned.
Not being a huge fan of gloppy salad recipes, I tend to shy away from prepared salads in the supermarket or when I'm out to eat. Too creamy and…just no.
This smoky chicken salad is a very cohesive chicken salad, if that makes sense. There's just enough of the binding ingredients (more on those in a sec) to hold everything together without excess moisture. A perfect mixture for lettuce wraps.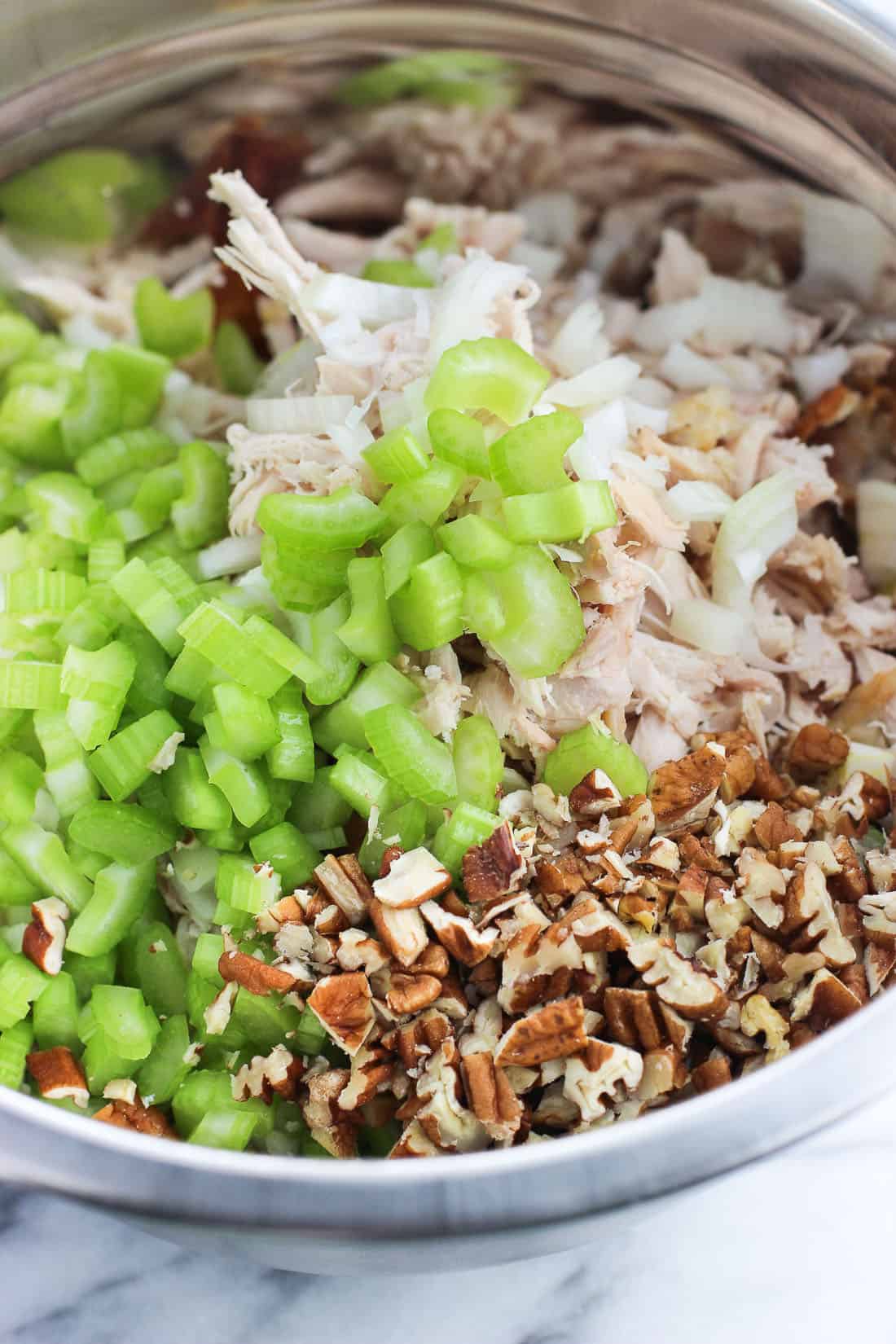 Recipe ingredients
As a variation of my curry chicken salad that has been my go-to for years, this smoky chicken salad can be eaten warm or cold straight from the fridge. The smokiness here comes from the addition of smoked paprika, which is an easy spice to add that brings the flavor in a big way.
Let's talk chicken! To keep things easy, you can simply use the meat from one whole rotisserie chicken. There's wiggle room where it doesn't have to be super precise. In my experience one whole chicken yields somewhere between four and five cups of meat. I measured when I took these photos and it came out to five cups, so that's what I included in the recipe card below.
(This is also a great recipe for using up leftover cooked chicken.)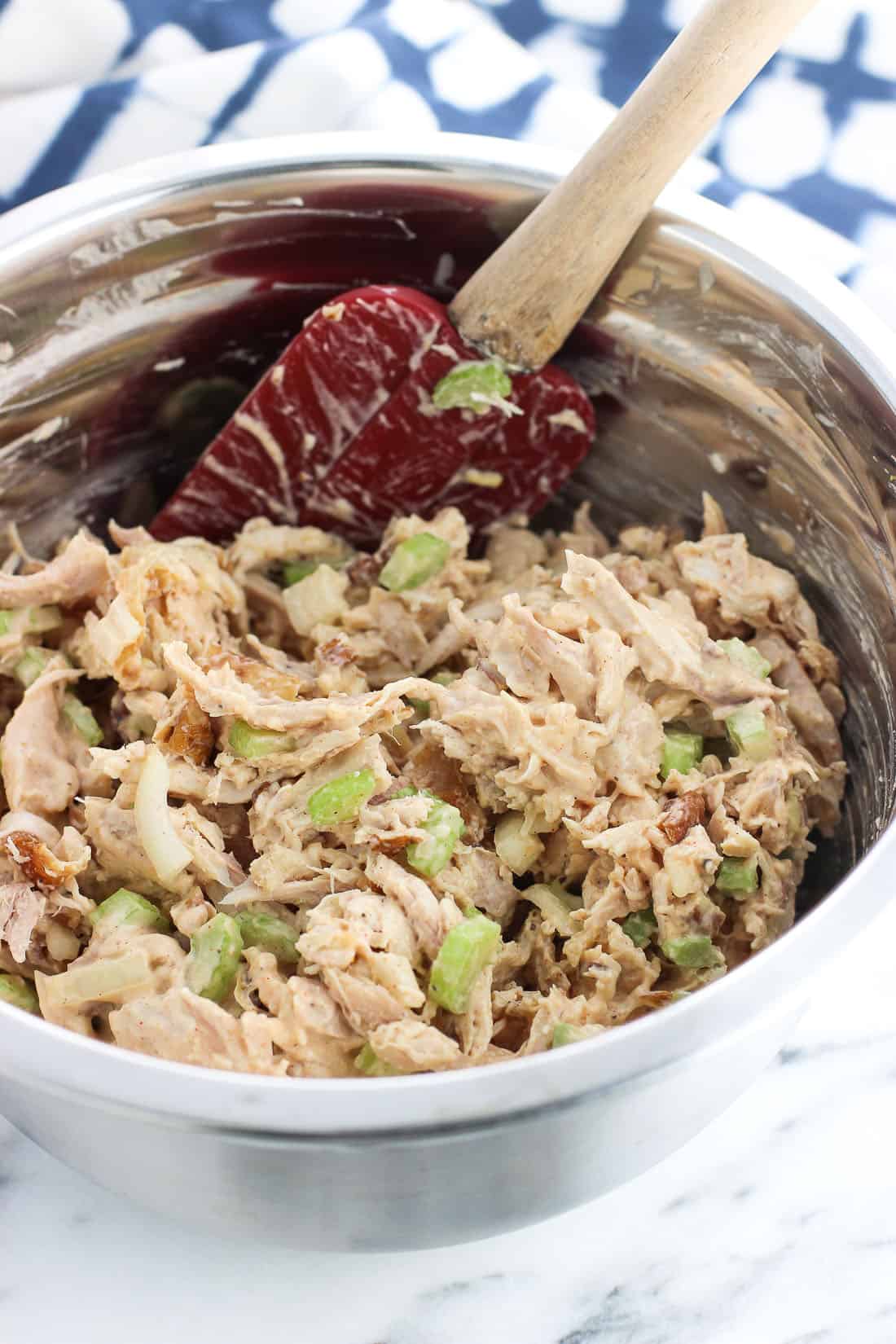 Now that we have the chicken covered, onto what holds everything together: mayonnaise.
While I'm not mayo-adverse, I do consider myself mayo-selective. This is the reasoning behind my steering clear of prepared creamy salads. Lately I've been experimenting with using Greek yogurt in place of a portion of the mayo typically used in chicken salad, and landed on this break out: half plain yogurt and half light mayonnaise.
With all the bold flavors here, from apple cider vinegar to smoked paprika and curry, the yogurt blends right in to act as a stealthy and healthier ingredient substitution.
Be sure to use plain yogurt, of course (I double check now after almost grabbing vanilla on one occasion). And if you don't want to use yogurt? You can also just use a full two-thirds cup of light (or regular) mayonnaise.
As for everything else, we have apple cider vinegar for some tang, diced onion, celery, and pecans (or walnuts or cashews) for crunch, spices to jazz things up, and lettuce to hold it all together.
And those spices? Totally open to your interpretation. Salt, pepper, and curry powder are my chicken salad staples, with the addition of garlic powder, smoked paprika, and ground mustard to round things out.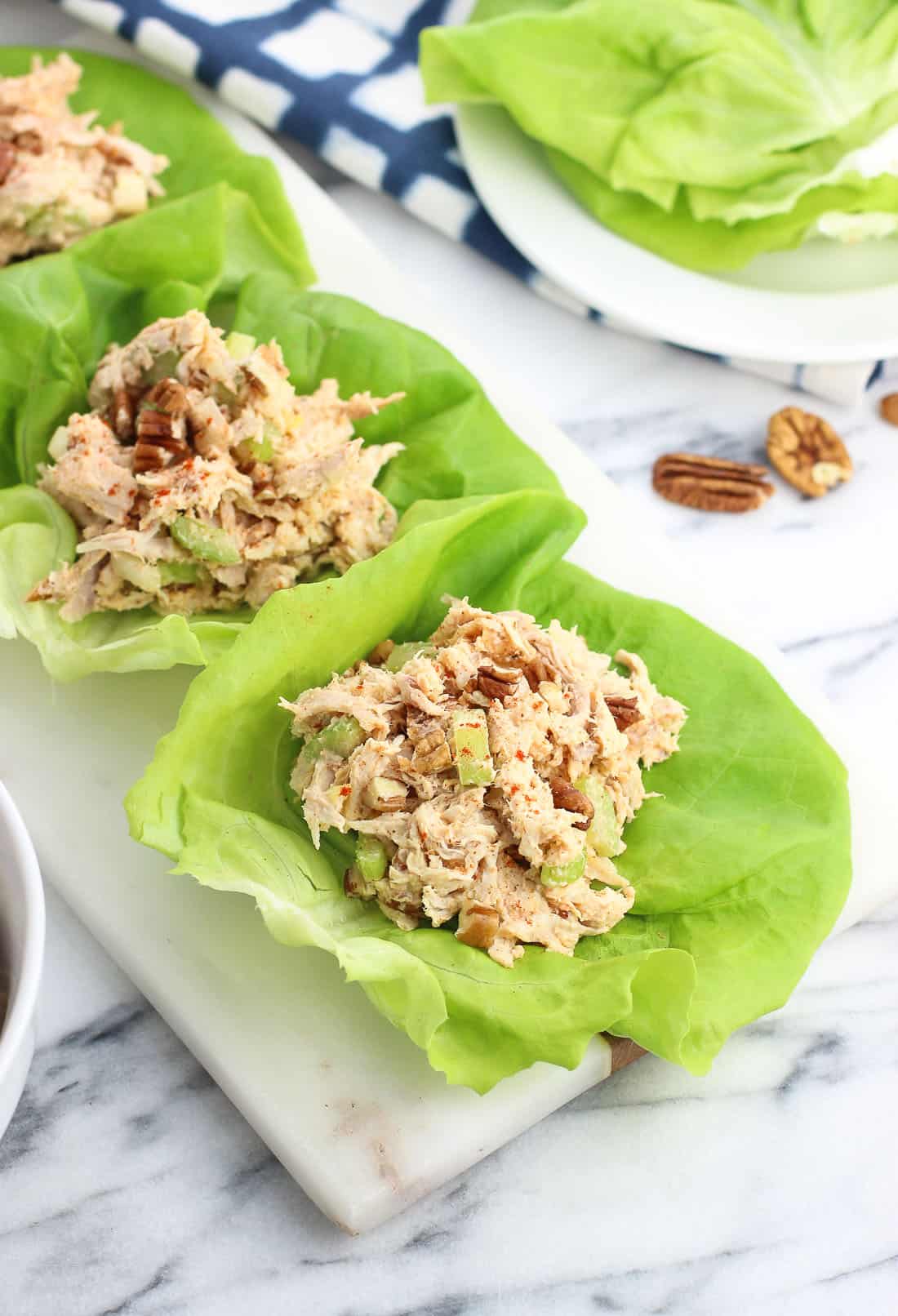 Easy recipe steps
The most time-consuming part of this recipe is probably shredding the chicken. Buying a whole rotisserie chicken for this recipe certainly streamlines the process, but you can also chop up cooked chicken or prepare your own.
If you have raw chicken breasts and would like to cook your own in the Instant Pot, you can see those instructions in my healthy buffalo chicken dip post. <– btw, YUM.
All that's left is to stir together all of your ingredients in a mixing bowl, adjust the seasonings to taste, and scoop. Either butter or bibb lettuce works well for these lettuce wraps as both varieties have wide, flexible leaves that can handle being wrapped around filling.
I love how this chicken salad can be served hot or cold straight from the fridge. If storing leftover portions, I recommend storing the chicken salad separately from the lettuce leaves and assembling just prior to eating.
Related recipe
For a similar but revved-up take on chicken salad, you may like to check out this buffalo chicken salad recipe. It features all of the classic wings-and-things flavors, such as zippy buffalo sauce, blue cheese, and celery, in an easy to prepare, not-fried manner.
Recipe notes
Pecans are pictured here, but walnuts, cashews, or even sliced almonds make great options. Of course, you don't have to include nuts at all, either.
Regular paprika can certainly be used if you don't have smoked, with the caveat that this recipe will be a little less "smoky". 🙂
Smoky Chicken Salad Lettuce Wraps
Smoky chicken salad lettuce wraps are a healthy lunch or dinner option with a bold and tangy flavor. Greek yogurt is an easy swap that makes this chicken salad a better-for-you meal.
Ingredients
5

cups

cooked shredded chicken

or amount from one rotisserie chicken

1/2

cup

chopped celery

about 2 ribs

1/4

cup

chopped onion

about half a small onion

1/4

cup

pecan halves

chopped (or walnuts or cashews)

1/3

cup

plain Greek yogurt

1/3

cup

light mayonnaise

2

tbsp

apple cider vinegar

3/4

tsp

smoked paprika

1/2

tsp

salt

1/4

tsp

ground black pepper

1/8

tsp

garlic powder

1/8

tsp

curry powder

1/8

tsp

ground mustard

Butter or bibb lettuce leaves
Instructions
Shred chicken and add to a large bowl. Add in celery, onion, and pecans.

In a separate bowl, whisk together the Greek yogurt, mayonnaise, apple cider vinegar, smoked paprika, salt, pepper, garlic powder, curry powder, and ground mustard.

Pour yogurt/mayonnaise mixture into the bowl with the chicken and stir until coated evenly.

Scoop chicken salad into lettuce leaves for serving. Top with additional pecans and smoked paprika if you like.
Notes
Yogurt/mayo: You can use all yogurt or all mayonnaise if you prefer. Storage: Refrigerate chicken salad separately from the lettuce leaves if you have leftover portions, assembling just prior to serving. The lettuce will stay crisper that way.
Nutrition
Calories:
318
kcal
|
Carbohydrates:
6.6
g
|
Protein:
48
g
|
Fat:
11
g
|
Saturated Fat:
2.6
g
|
Cholesterol:
103
mg
|
Sodium:
421
mg
|
Potassium:
349
mg
|
Fiber:
1
g
|
Sugar:
4
g
|
Calcium:
100
mg
|
Iron:
1.3
mg
Nutritional information is provided as an estimate. As it can vary due to many factors (brands used, quantities, etc.), we cannot guarantee its accuracy.