Spice up your sandwiches with this buffalo chicken salad! This easy chicken salad features almonds, blue cheese crumbles, celery, wing sauce, and more in a zippy and better-for-you sauce. Using a rotisserie chicken makes this chicken salad recipe a breeze!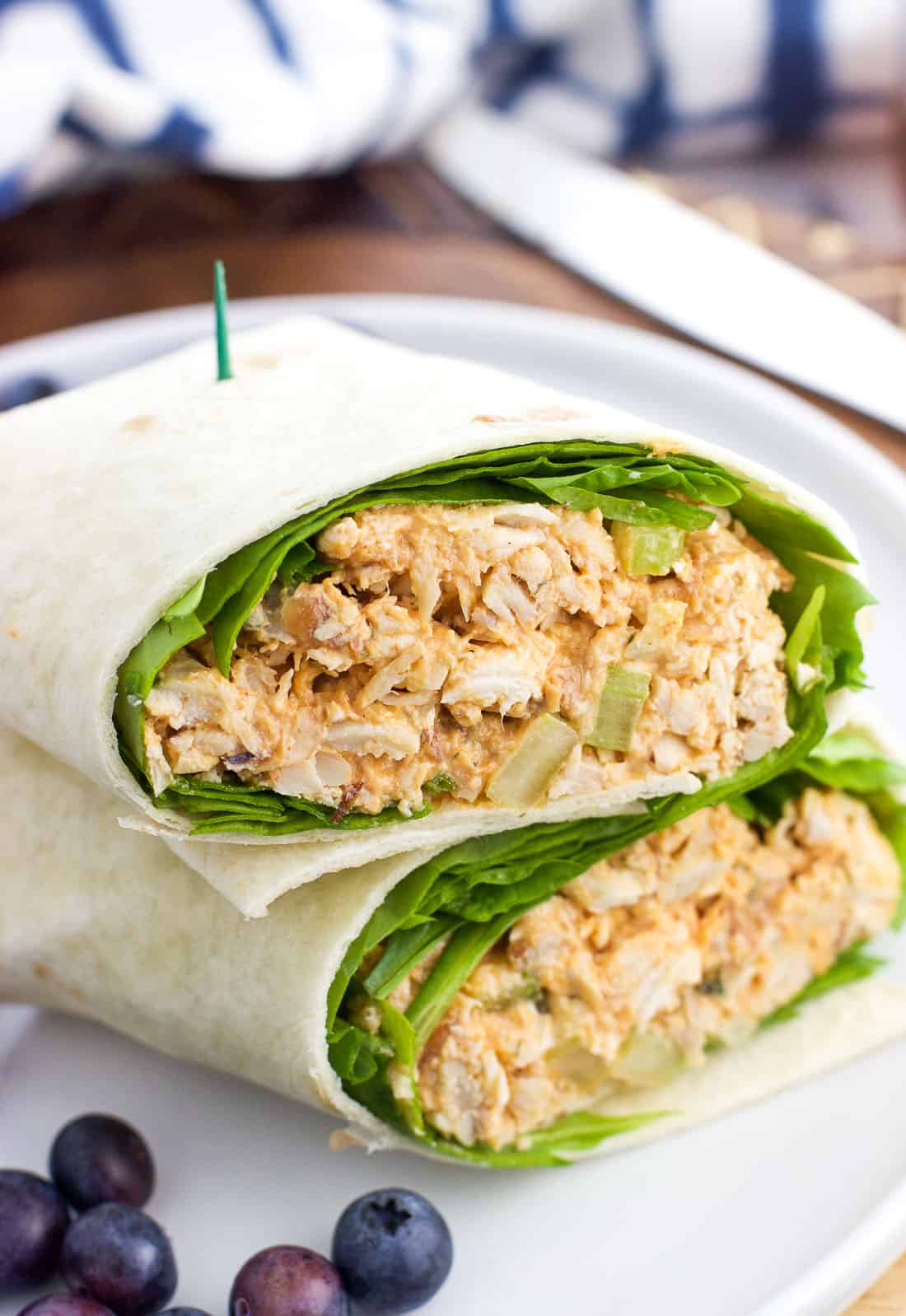 Another day, another buffalo chicken recipe. Or so it seems! Buffalo sauce makes frequent appearances in my off-blog eats, so it's not a stretch to say quite a few buffalo recipes have made it onto here, too.
This one came to fruition after I did a serious pantry inventory. We have a good amount of kitchen storage, which means I don't have to have much restraint stocking up on dry goods when I see a sale.
When you practically live in the grocery store like I do, that means that sometimes the pantry becomes full and cluttered, and you unintentionally stock up with multiples. Like three unopened bottles of buffalo sauce, upwards of ten boxes of pasta, and I'm not even going to tell you how many 28 oz cans of crushed tomatoes.
A few rounds of my big mama Sunday sauce recipe will make quick work of the last two, but if I ever needed encouragement to eat more buffalo sauce, the discovery of all those bottles would be it.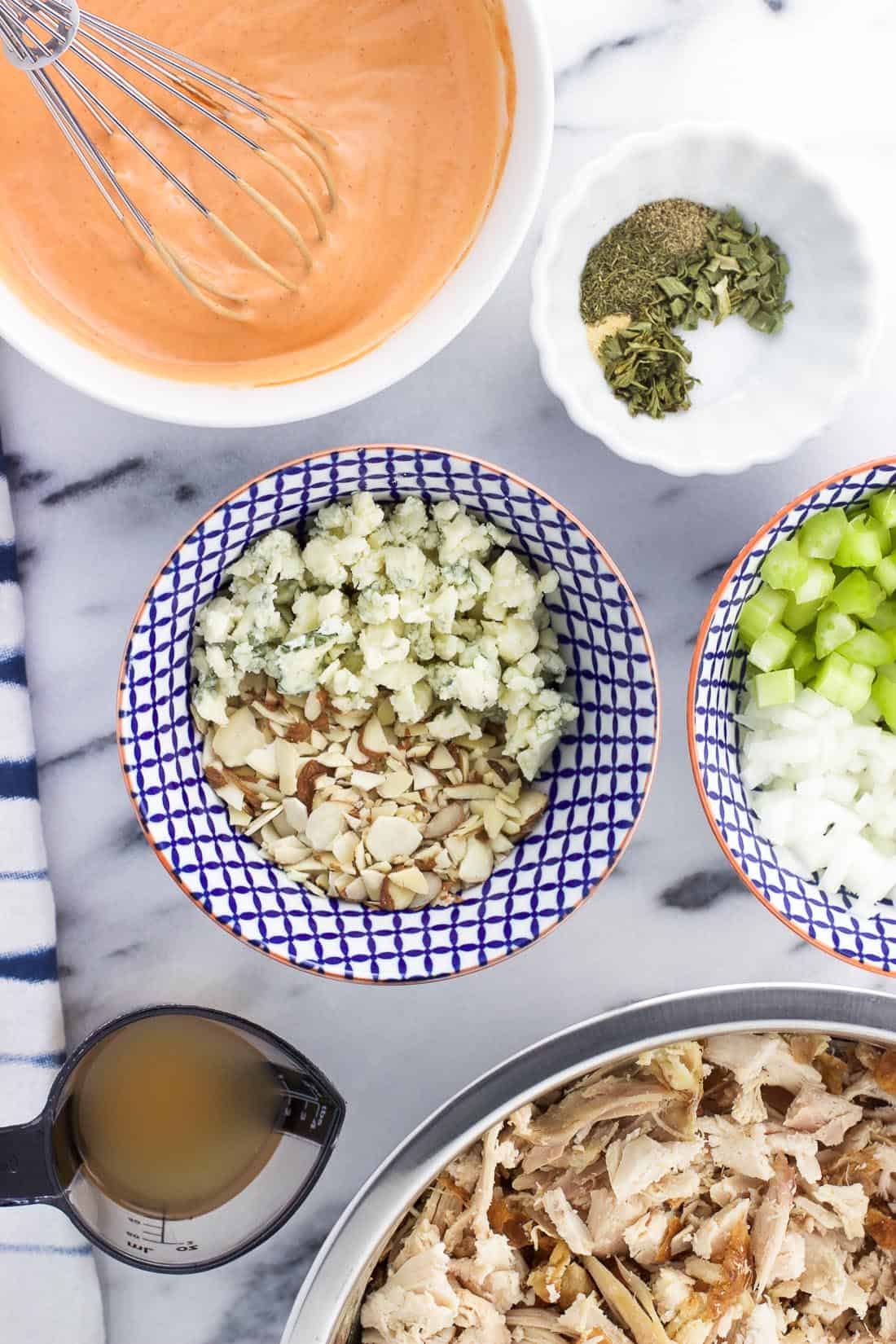 So! I started thinking about the chicken recipes I make often and landed on chicken salad. I make it every few weeks and we both enjoy it on salads or sandwiches for weekday lunches. It's easy, pretty healthy, and we never get sick of it (a big win when it comes to lunch!).
With a few ingredient switches from my go-to curry chicken salad recipe, this buffalo chicken salad was born. It's zippy but not overly spicy, NOT gloopy like some chicken salads out there, and features a nod to buffalo chicken staples like blue cheese and spices found in homemade ranch seasoning.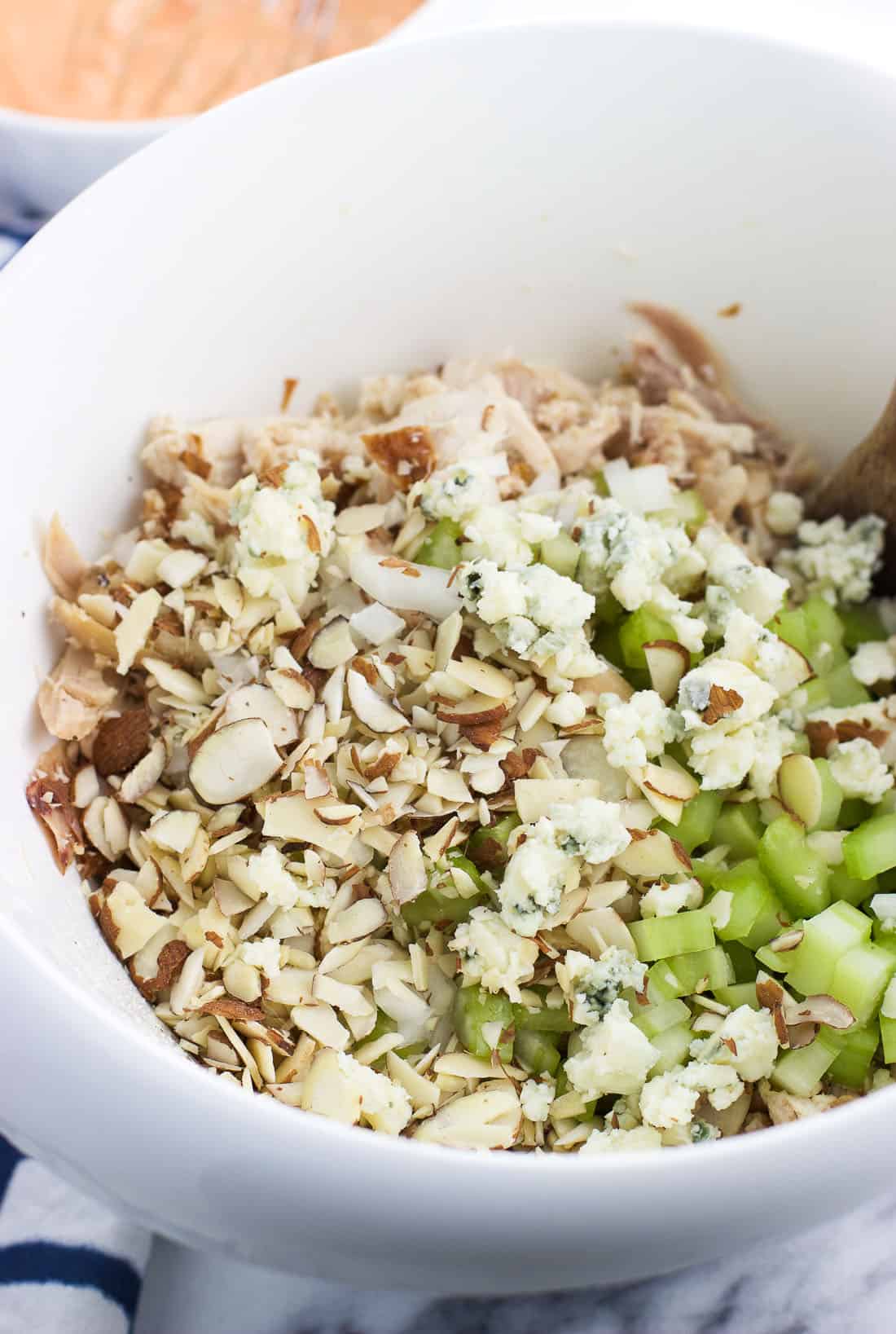 How to make buffalo chicken salad
The method is super easy – stir together cooked chicken and the remainder of the ingredients and you're good to go. The hardest part is prepping the chicken, which really isn't very hard at all.
You can cook the chicken yourself, orrrr if you appreciate a good shortcut, you can shred up a rotisserie chicken. How I quickly cook up the chicken myself is detailed in this healthy buffalo chicken dip post, though I will say that most of the time I shred up a store-bought rotisserie one. This buffalo chicken salad recipe uses one whole rotisserie chicken worth of meat, which came out to somewhere between four and five cups.
Into a big bowl it goes along with onions, celery, almonds, and crumbled blue cheese.
Next whisk together the wet ingredients, including light mayo, buffalo sauce, and apple cider vinegar, and the dry spices. Pour that into the bowl with the shredded chicken and stir everything up until coated evenly. That's it! This chicken salad is great served warm, room temperature, or cold making it a versatile meal.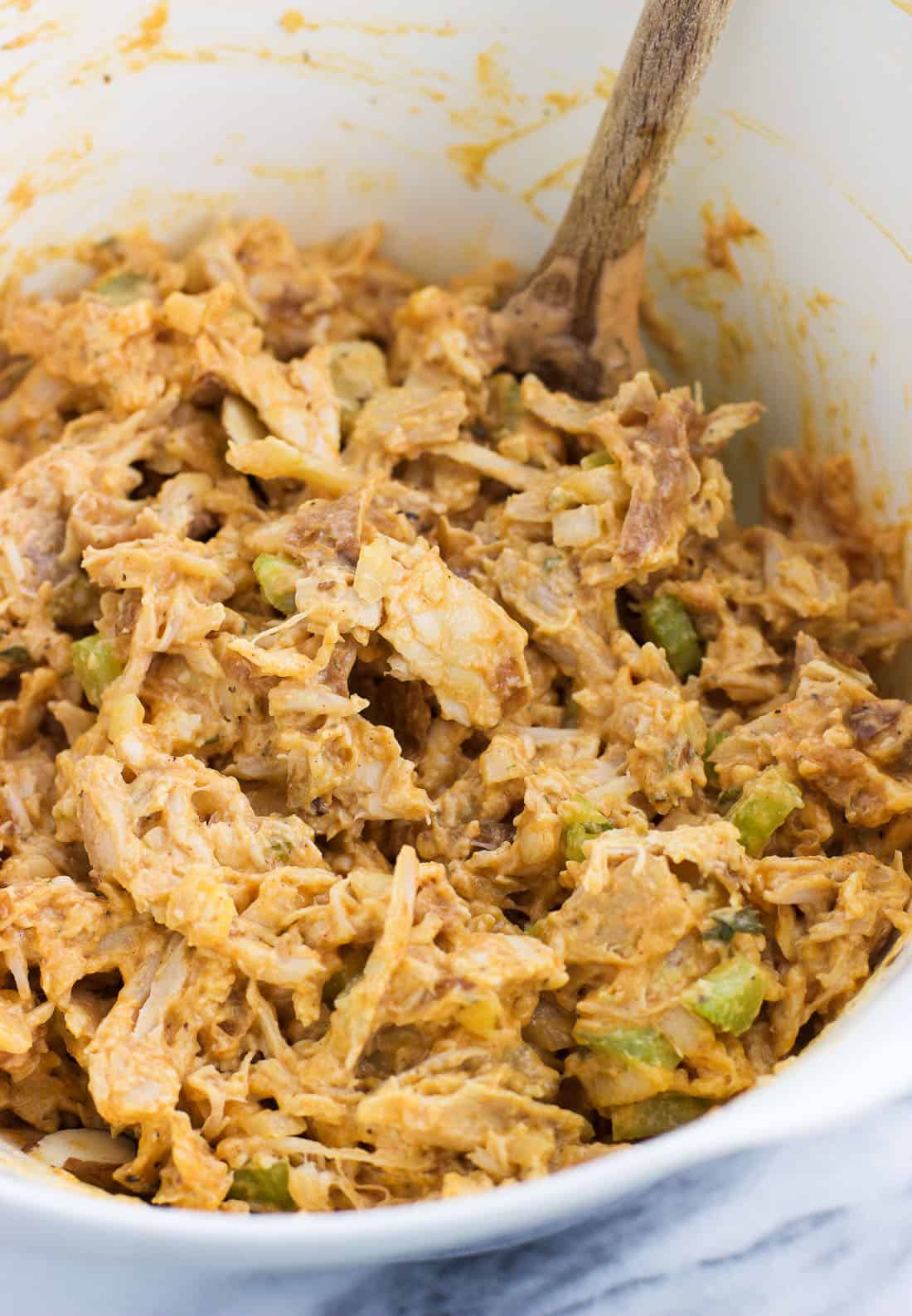 One thing I love about this buffalo chicken salad is that it doesn't hit you over the head with a ton of bold flavors. The buffalo sauce builds slightly in spice as you eat but doesn't overwhelm everything else. You shouldn't have to go running for a cup of milk while you eat this.
The blue cheese crumbles give a nod to a classic wings pairing, but is fairly subtle with the quantity used. I didn't want to overdo it with the blue cheese because it's an in-your-face type of ingredient, but take a taste and add more if you like once it's all mixed together.
That really goes for (most) of the ingredients here. Add or subtract as you wish!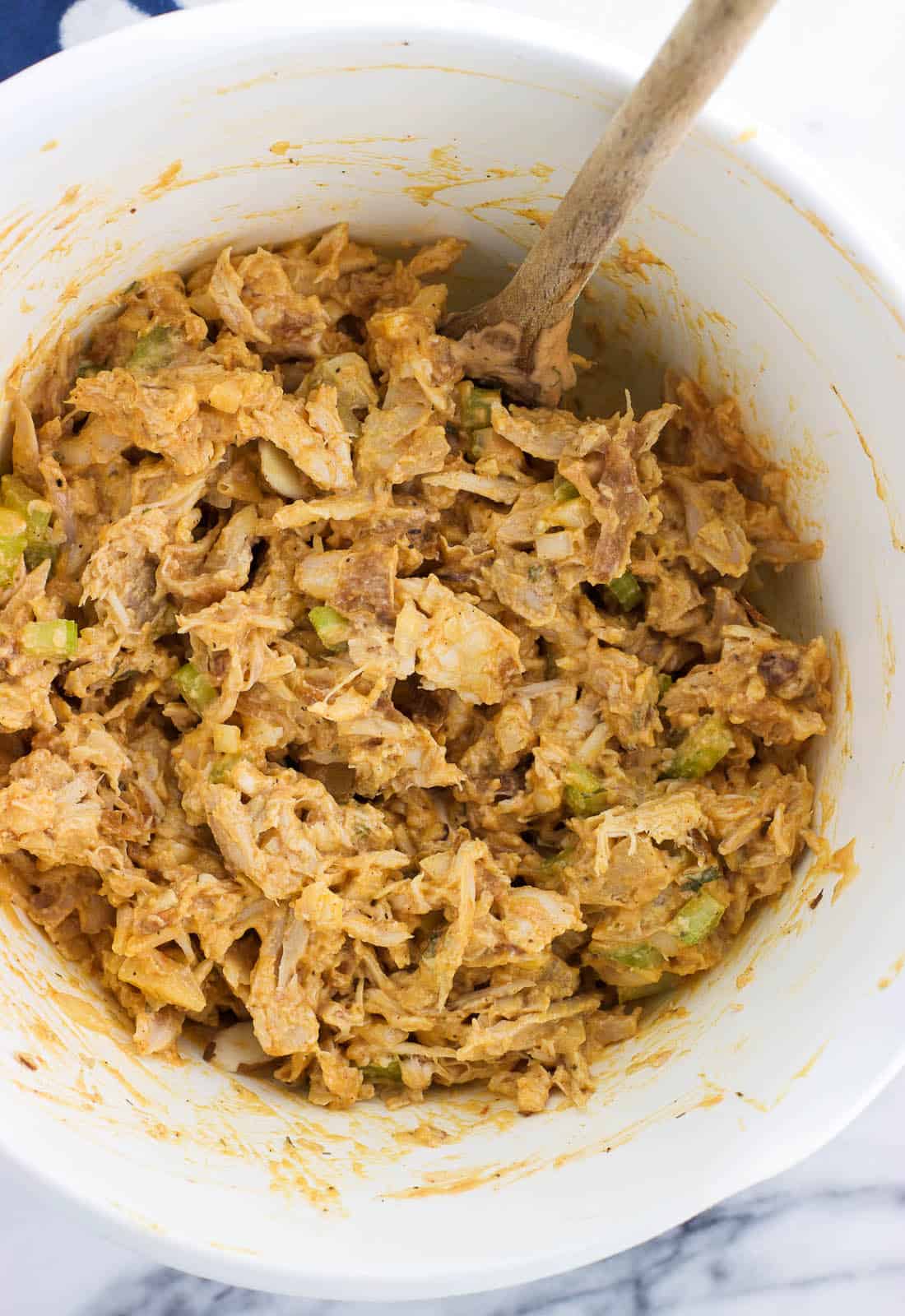 Looking for more buffalo chicken recipes? Instant pot buffalo chicken and slow cooker buffalo chicken are classics to use in a bunch of different recipes. Buffalo chicken tortilla pie is a great weeknight meal (30 min or less), as is this buffalo chicken grilled cheese. Yum.
For a few non-shredded chicken options, check out these oven baked buffalo chicken thighs or buffalo chicken meatball subs, which use ground chicken.
Recipe notes:
The ingredients here are really customizable! Regular mayo will work if you don't have/prefer light, leave out the blue cheese for dairy-free, and the dry spices can be changed up how you like them. For instance if you don't have dried chives or parsley, don't worry about it.
The first photo you see in this post is perhaps my favorite way to eat this buffalo chicken salad: in a wrap sandwich. It holds together very well and isn't too liquid-y, so it's a good candidate for a sandwich. The greens you see are spinach leaves.
My buffalo sauce preference is Frank's RedHot Wings, which I noted in the recipe card below. I'm not sponsored by Frank's in any way (though tbh I wish I was!) — it just has the consistency, flavor, and spice-level I love in buffalo recipes.
Buffalo Chicken Salad
Spice up your sandwiches with this buffalo chicken salad! This easy chicken salad features almonds, blue cheese crumbles, celery, wing sauce, and more in a zippy and better-for-you sauce. Using a rotisserie chicken makes this chicken salad recipe a breeze!
Ingredients
5

cups

cooked and shredded chicken

(or the amount from one whole rotisserie chicken)

1/2

cup

diced celery

1/4

cup

diced onion

1/4

cup

sliced almonds

1/4

cup

blue cheese crumbles,

more to taste

1/3

cup plus 2 tbsp

light mayonnaise

1/4

cup plus 1 tbsp

buffalo wings sauce,

more to taste (such as FRANK'S REDHOT®)

2

tbsp

apple cider vinegar

1/2

tsp

salt

1/2

tsp

dried parsley

1/2

tsp

dried chives

1/4

tsp

ground black pepper

1/4

tsp

garlic powder

1/4

tsp

dried dill
Instructions
Add shredded chicken to a large mixing bowl. Add celery, onions, almonds, and blue cheese crumbles and stir to combine.

Add light mayonnaise, buffalo wings sauce, and apple cider vinegar to a separate bowl and whisk until combined. Add salt, parsley, chives, pepper, garlic powder, and dill and whisk to mix in.

Pour mayonnaise mixture into the bowl with the chicken and other ingredients. Stir to coat everything evenly. Serve warm or cold.
Notes
Prep time includes an estimate for shredding up a rotisserie chicken. It does not include the time necessary to cook the chicken from raw.
You don't have to use five cups of shredded chicken precisely. A little more or a little less will work just fine.
The dry spices are not make-or-break here. Increase/decrease/omit/add spices as you like!
The nutritional info is an estimate for the chicken salad alone not anything else you might serve it with.
Nutrition
Calories:
283
kcal
|
Carbohydrates:
4.3
g
|
Protein:
36.7
g
|
Fat:
12.5
g
|
Saturated Fat:
3.3
g
|
Cholesterol:
104
mg
|
Sodium:
842
mg
|
Potassium:
286
mg
|
Fiber:
1
g
|
Sugar:
0.5
g
|
Calcium:
50
mg
|
Iron:
1.3
mg
Nutritional information is provided as an estimate. As it can vary due to many factors (brands used, quantities, etc.), we cannot guarantee its accuracy.