You know when you love something and think it couldn't possibly get any better? But then it does? That's been happening a lot around here lately. Not that I'm complaining. That bold yet silky smooth cup of coffee got kicked up a notch with frothed milk and a healthy shake of cinnamon. Hard apple cider turned into a slightly spicy drink perfect for fall with a drizzle of cinnamon whiskey. And now, pizza. Grilled pizza.
I'll always crave my mom's traditional pizza (made in the oven). But thrown on the grill, that same crust produces an entirely different effect altogether. Those crispy, nearly-charred-but-not-quite spots are TO. DIE. FOR. Same recipe, just prepared a new way. They say variety is the spice of life, don't they?
And I know, I know, November isn't quite prime-time grilling season. Totally not throwing it in anyone's faces that Southern California weather grants us the luxury of year-round grilling – we've been known to don our winter coats and face the cold for the sake of a grilled burger when we lived on the East Coast.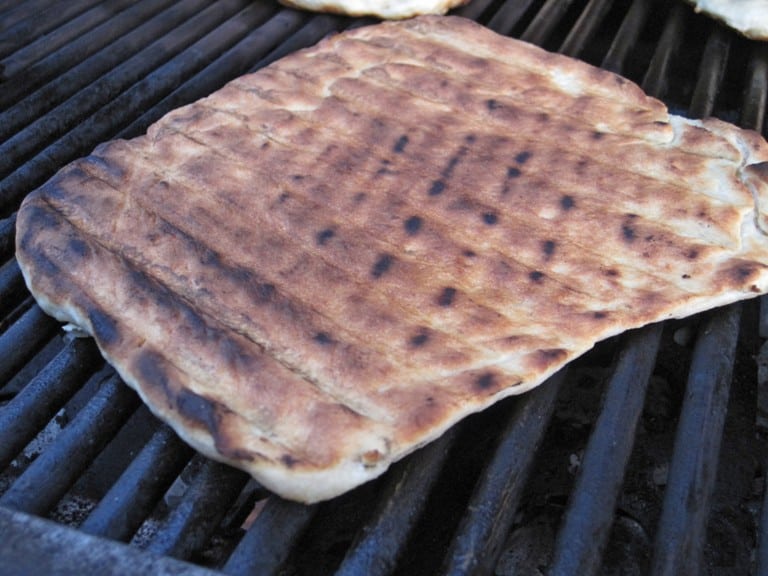 *Important announcement – If it's actual fall-bordering-on-winter where you live (and not this la-la-land perpetual summer) and you're contemplating never reading my blog again because I had the audacity to suggest you stand outside and grill in the cold, dark night, fear not. If you already have the dough kneaded out in a greased pan, post-rise, you can also just add your sauce and toppings at that point and bake in the oven at 400ºF for 20 minutes, or until cheese is melted and edges are golden. Phew.
One last thing – the first time I made this grilled pizza, I had it in my head that it would be a snap placing the dough on the grill and retaining a perfectly circular crust. If your experience is anything like mine, that probably won't happen. The dough stretches as you lift it up, the grill is hot and you can't really adjust it once it's down, etc. If this happens, just add the word "rustic" to the name – your pizzas just went from being strange looking to sounding gourmet and intentionally imperfect.
Grilled Pizza
This homemade pizza recipe is kicked up a few notches by being grilled. The crust crisps up significantly, and the slightly charred spots are crave-worthy.
Ingredients
For the crust:
10

oz

warm water

about 110 degrees F

1 0.25-

oz

pkg

equal to 2 1/4 tsp active dry yeast

1

tbsp

olive oil

3 1/4

cup

all-purpose flour*

1/2

tsp

salt

3/4

tsp

granulated sugar

Olive oil

for brushing
Toppings:
Sauce

Cheese

Basil

Meat

Veggies

Crushed red pepper flakes
Instructions
If using a bread machine – Combine flour and salt. In bowl of bread machine, add water, olive oil, flour/salt mixture, sugar, and yeast. Select setting for dough (uncooked).

If not using a bread machine - Mix together water and yeast. Whisk together, and let sit for five minutes until frothy. Meanwhile, in a large bowl dusted with flour, pour flour and make a well in the center. In well, add water/yeast mixture, olive oil, salt, and sugar. Mix well and knead until dough is pliable (about five minutes). Place dough in a greased bowl, cover with plastic wrap, and let rise for 1 to 1 1/2 hours in a warm place.

Grease a pan with olive oil or cooking spray. Place dough in pan and knead out to edges to make a flat crust. Cover with plastic wrap again and let rise for about 1 hour.

Preheat grill to medium heat (approx. 350ºF). You know your grill best – what you don't want to happen here is to cook over too high heat and not have the crust cook evenly all the way through, so adjust heat accordingly. Separate out dough into four pieces (for individual dinner portions), or as many as you'd like. Knead each section into flat crust (the thinner the better).

Brush one side of each crust with olive oil, and place oiled-side down over direct heat on grill. Let bottom side cook, checking the bottom occasionally for your desired crispness. While the first side is cooking, brush olive oil on side facing up. Once bottom is to your desired doneness, flip to the other side.

As soon as you flip it, spread pizza sauce onto side facing up. Add whatever toppings you'd like. Cook until cheese is melted (if using) and bottom side is cooked.
Notes
*On occasion I use a mix of 2 cups all-purpose and 1 1/4 cup white whole wheat flour without issue. Choose a ratio that you prefer!