Grilled pizza is a real treat! Simple, thin crust pizza dough develops a CRISP bottom when cooked right on the grill. No special tools required.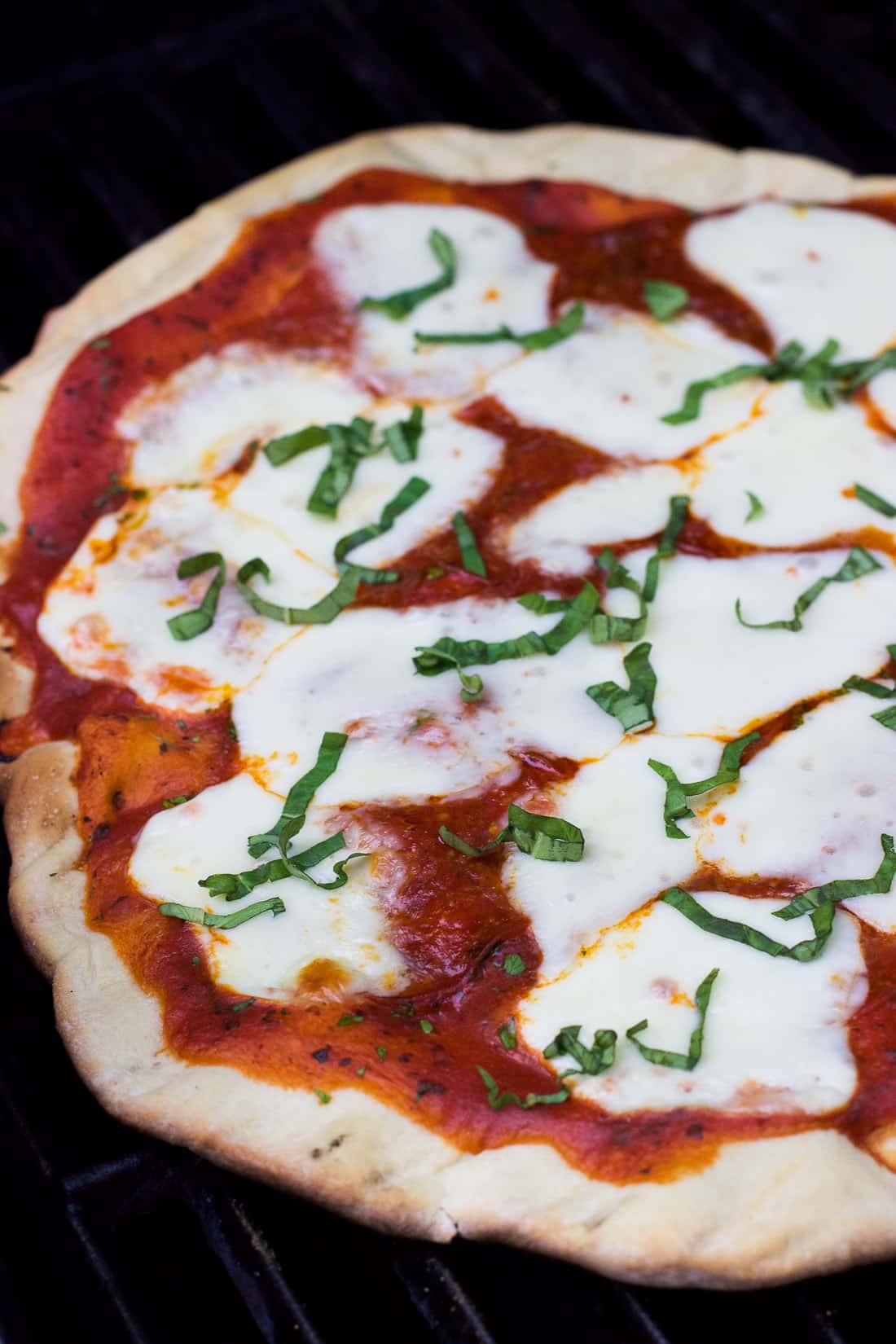 You know when you love something and think it couldn't possibly get any better? But then it does? That's been happening a lot around here lately.
(Not that I'm complaining.)
That bold yet silky smooth cup of coffee gets kicked up a notch with frothed milk and a healthy shake of cinnamon. Delish roasted brussels sprouts join up with bacon and maple syrup. Trader Joe's announces they're opening a second location in your city.
And now, pizza. Grilled pizza.
It goes without saying that homemade pizza is a staple year-round, but cooking it on the grill in the warmer months is something special! The crust becomes extra crisp with little sort of-charred spots that may just be my favorite part.
Plus you won't have to turn the oven on, which is HUGE here in the South where summer starts in the spring and ends in the fall. It also gives you the perfect opportunity to hang outside during the golden hour and sip a glass of wine, all the while getting dinner done and dusted.
Recipe steps
It all starts with the dough. While you can definitely use your preferred pizza dough recipe, I've included how I make it in the recipe card below. It's fairly straightforward and results in two pizza's worth of dough, of which you can grill both or wrap and freeze one for later use. I always feel good when I have pizza dough in the freezer, all risen and ready to thaw and use.
Starting with one pizza dough, roll it out until thin. I bring mine outside on a pizza peel coated with a little bit of cornmeal, but you can use a large cutting board if you don't have a pizza peel.
Since you'll be outside and the process will go fairly quickly once things get rolling, you'll want to prep all of your topping ingredients and have them with you once the pizza goes on the grill. Oil, sauce, cheese,, toppings, etc. I held back on adding the basil until shortly before the pizza was done cooking so it didn't wilt too much.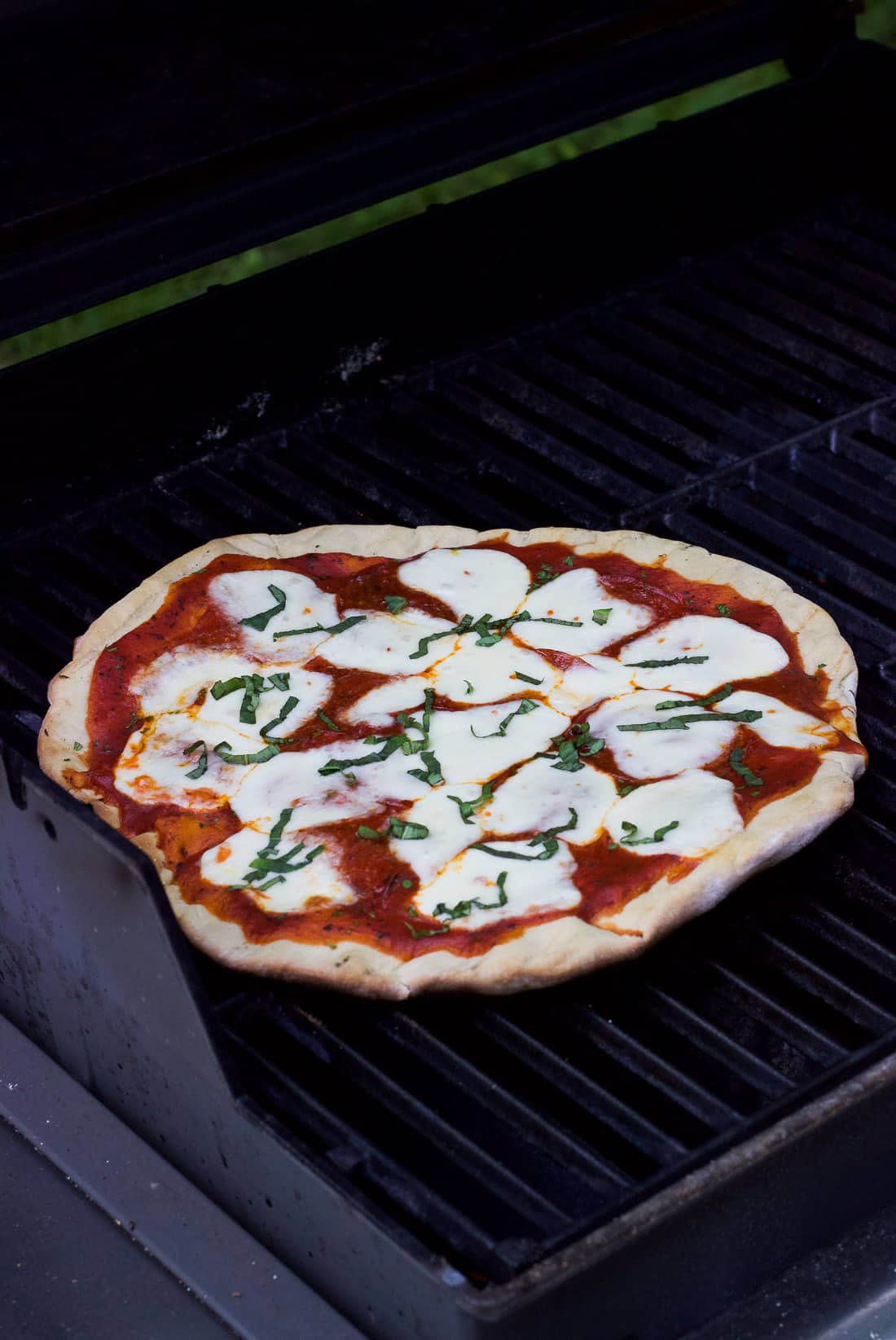 I used to mess around with oiling the pizza dough directly, but I've taken to oiling the grill grates instead. Just less messy and cumbersome that way. You'll want to use a neutral-tasting oil that can withstand high heat for this such as canola, corn, or vegetable oil. Please don't spray cooking spray onto a hot grill as this may cause flare-ups.
You can oil the grates either before heating the grill (my preference) or after, though do use caution if oiling them once hot. You'll want to use enough to coat the grates, but not too much that it's dripping off everywhere.
Crank the grill up to high heat, then carefully transfer the pizza dough onto the grill grates. Keep the lid shut while cooking to retain the heat. Give it a few minutes and open the lid to check how the bottom of the pizza is looking. Some charred spots are fine (actually more than fine, mmmm) but do use tongs to adjust the pizza around in case there are hot spots that'll cause it to cook unevenly.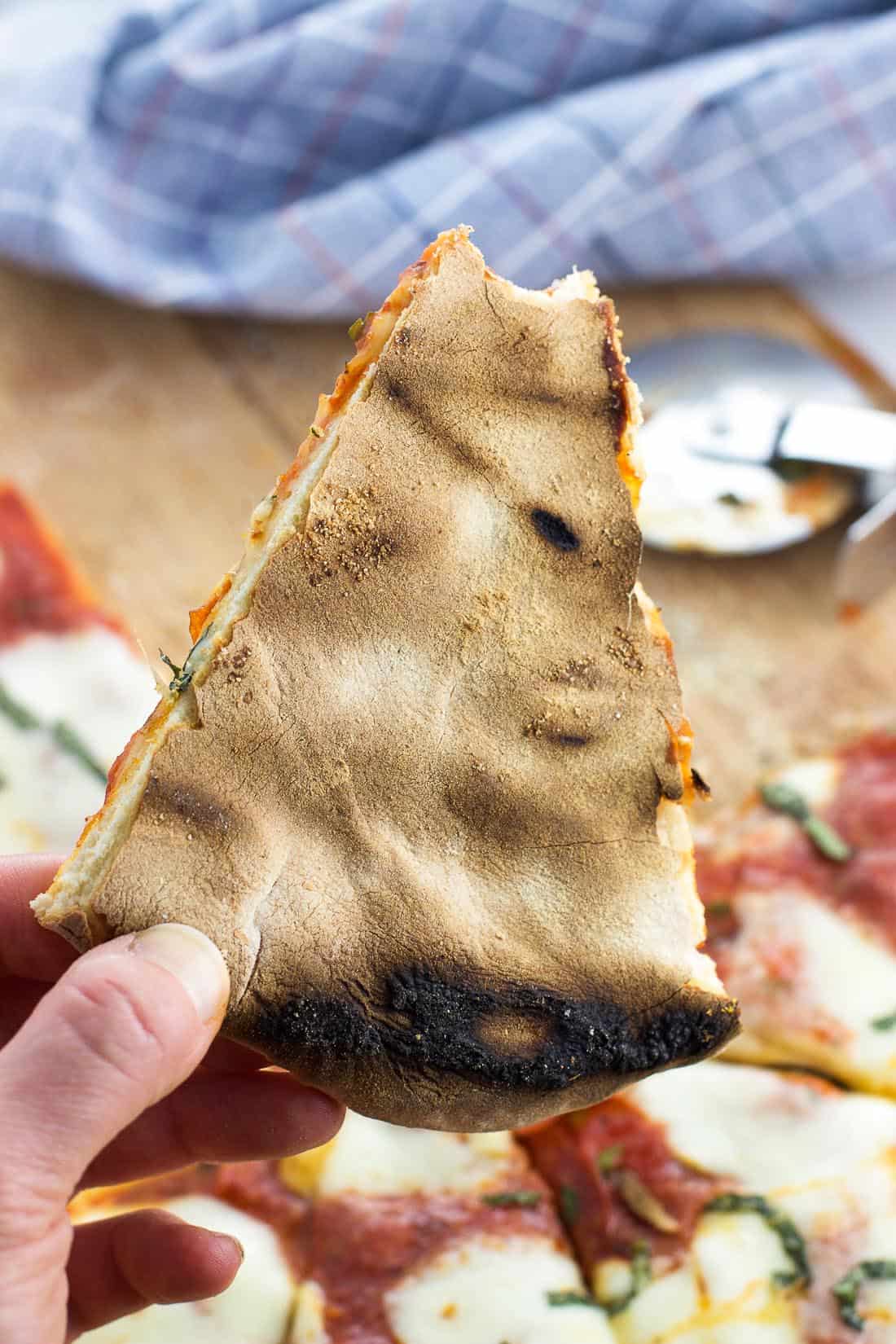 Once the bottom side has cooked and crisped up, flip the pizza onto the peel so that the cooked side is facing up. Now it's time to add toppings. You may prefer to flip the pizza and add the toppings to it right on the grill, but I find it less stress and less mess to do this off the grill. Just keep the grill lid shut to keep the heat in while doing it up with toppings.
Once the toppings are on, back onto the grill grates it goes. This part requires a little finessing as you'll want the toppings to heat/melt before the bottom burns up.
I usually do a mix of direct and indirect heat for this stage. Keeping one burner on high heat and one on low (or off) will allow the grill to stay hot, and you can move the grilled pizza between the zones as needed to cook fully without burning.
The bottom of the crust crisps up beautifully — no sagging pizza slices here!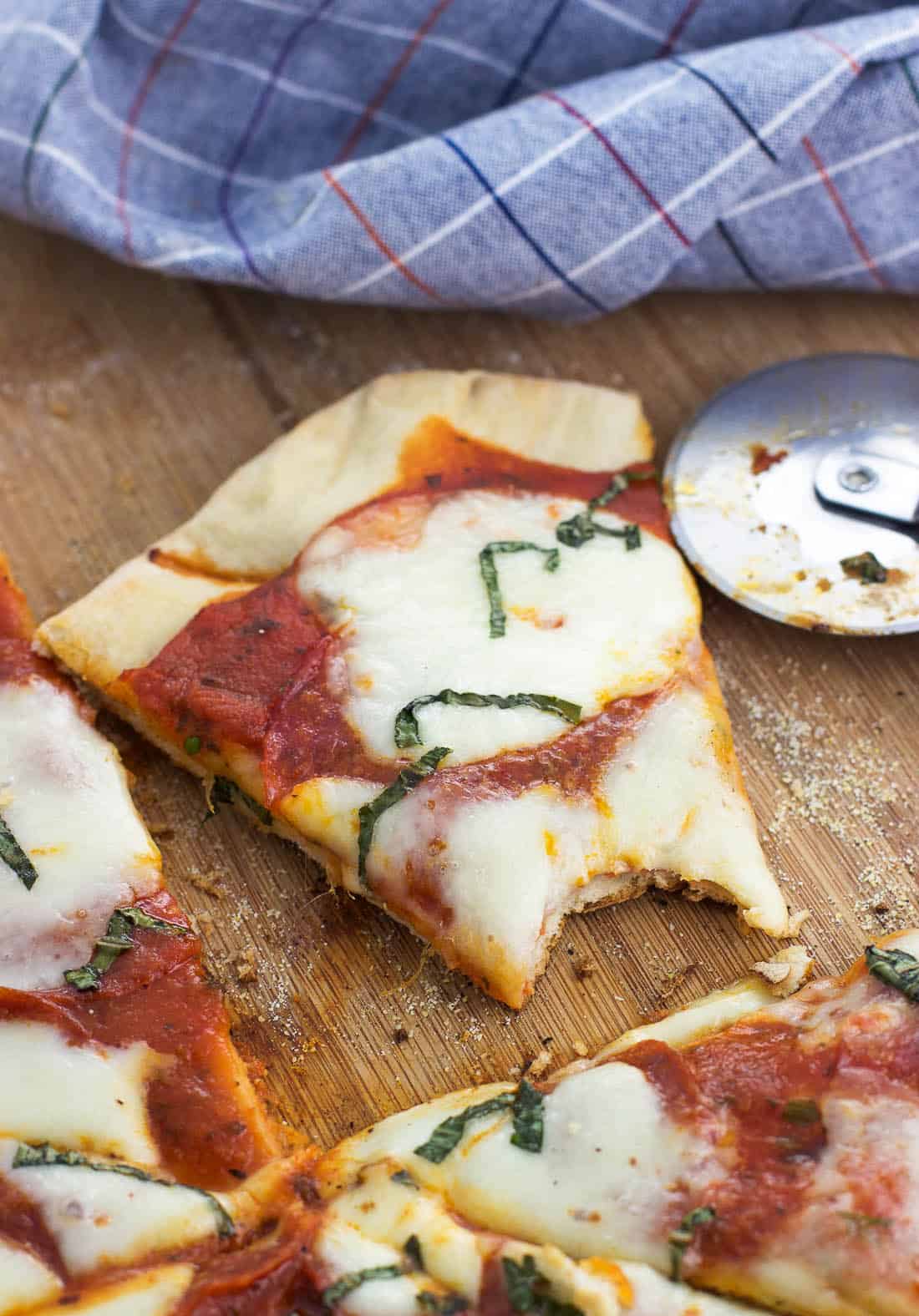 Do you need to use a pizza stone?
No, you don't need one. I have one for indoor pizza cooking, but I don't use it for grilling pizza. The pizza goes directly on the grill grates.
Recipe notes
My homemade pizza dough recipe is in the recipe card below, but your preferred pizza dough will likely work, as will store-bought ready-to-make pizza dough.
Be sure to roll out the pizza dough to your preferred thinness before putting it on the grill, as it's hard to straighten it out/adjust it once it goes over high heat on the grill.
There's wiggle room for cooking your pizza to the level of char that you like. I usually go heavier on the charring with the top side of the dough, but didn't want to put anyone off with it looking 'burnt'. 😉
All grills are different, so think of the instructions below as guidelines and not absolutes. After adding the toppings, be mindful of the heat level and direct/indirect grilling so that the toppings heat and melt before the bottom becomes too charred. Adjust as needed.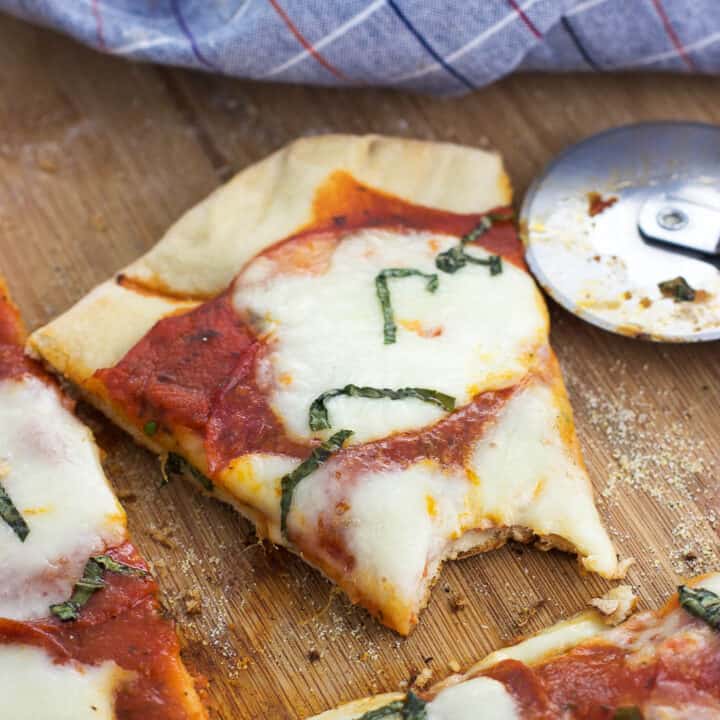 Grilled Pizza
Grilled pizza is a real treat! Simple, thin crust pizza dough develops a CRISP bottom when cooked right on the grill. No special tools required.
There are no specific measurements for the toppings as we all kind of do our own thing with those. Just be sure to use already cooked meat/veggies as they won't have time to sufficiently cook once added on top of the pizza.
Print
Pin
Rate
Servings:
8
servings (estimate)
Ingredients
For the pizza dough:
10

oz

warm water

(110° F)

2 1/4

tsp

active dry yeast

(equal to one 0.25-oz packet)

1

tbsp

olive oil

1

tsp

salt

1

tsp

granulated sugar

415

grams

all-purpose flour

(about 3 1/4 cups), extra for kneading
Toppings:
Olive oil,

for brushing

Pizza sauce

Mozzarella cheese

Meat

(pepperoni, any other cooked meat)

Veggies

(cooked)

Fresh basil
Instructions
For the pizza dough:
Pour water into the bowl of a stand mixer (or a large mixing bowl). Scatter the yeast over top and let sit for 10 minutes, or until it becomes frothy and the yeast dissolves.

Next add the olive oil, salt, and sugar, and then pour in the flour.

If you're using a stand mixer: add the bread hook attachment and mix on low speed until everything comes together and forms a ball. Increase speed to medium and mix for another 4-5 minutes. Scrape down the sides of the bowl/the hook as needed. The dough should be smooth, stretchy, and just slightly tacky. Add extra flour 1 tbsp at a time as needed if the dough is too wet/sticky. (I add about 2 tbsp during this stage.)

If you're not using a stand mixer: Stir to combine the ingredients in the bowl until a sticky dough forms. Turn out the dough onto a well-floured surface and knead with floured hands for 2-3 minutes, or until smooth. Add extra flour 1 tbsp at a time as needed if the dough is too wet/sticky. (I add about 2 tbsp during this stage.)

Transfer dough to a lightly oiled bowl. Cover bowl tightly with plastic wrap and place in a warm spot to rise for an hour, or until doubled.

Once the dough has doubled in size, turn it out onto a floured surface and cut it in half. You can grill both pizzas and repeat the next process twice, or you can wrap and freeze one for later (see instructions in notes below).

Flour a rolling pin and your hands to prevent sticking and roll out dough until thin (about 1/4"). Transfer to a pizza peel (or large cutting board) dusted with cornmeal or flour.
For grilling the pizza:
Brush grill grates with a high-heat cooking oil (such as canola, corn, vegetable, etc). See how I do it in the recipe notes below. Prep all your pizza toppings. Preheat grill to high heat (at least 400ºF).

Once heated, place rolled out dough directly onto the greased grill grates. You won't have much time to be picky with its shape as the grill is hot, so you might not get a perfectly round pizza. Once on the grill, close the lid and cook for several minutes, or until the bottom side is cooked and crisping up.

Once crisped to your liking, flip the pizza onto your pizza peel or cutting board so the cooked side is now facing up. Close the lid of the (now empty) grill.

Brush olive oil over your pizza, then add sauce and whatever toppings you're using.

Transfer the pizza back on the grill, and cook until the cheese is melted and the bottom has crisped to your liking. You know your grill best so play with the heat here. Consider keeping one burner on high and the other on low (or even off) so you can move the pizza to the indirect/cooler side if the bottom is crisping up too quickly.
Notes
Freezing dough: To freeze pizza dough, wrap each ball of dough tightly in plastic wrap and place in zip-top bags. Frozen pizza dough can be stored for up to three months. Allow dough to thaw completely in the refrigerator prior to use. Greasing grates: The grease the grill grates, I pour a small amount of my high-heat cooking oil into a bowl, dip a paper towel into the bowl, and then use heat-safe tongs to brush the grates with the oiled paper towel. Nutrition: The calories listed are a rough estimate for a serving of grilled pizza made with the dough recipe here and pizza sauce, fresh mozzarella, and pepperoni (the toppings I used for this particular pizza). Since the ingredients and quantities used will differ I suggest inputting your specific toppings into an online nutritional calculator if you're curious to see a more accurate readout.
Nutrition
Nutritional information is provided as an estimate. As it can vary due to many factors (brands used, quantities, etc.), we cannot guarantee its accuracy.